AIDS and the arts
From the Quilt to Hollywood to Broadway, pop culture helped us make sense of grief, loss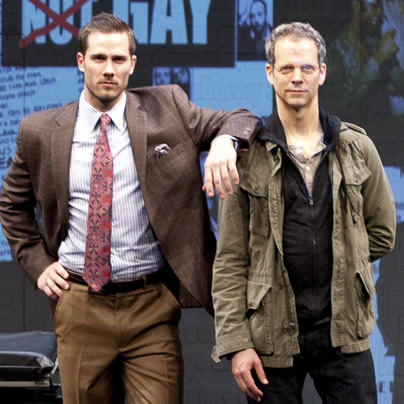 The International AIDS Conference in Washington offers an opportunity to look back at how artists have responded to the disease. Since the very first days of the crisis, artists of all kinds have actively responded, both in their artistic works and as fundraisers and activists.
THE NAMES PROJECT AIDS MEMORIAL QUILT
The Names Project AIDS Memorial Quilt, on display throughout the city through the month of July, is the largest community art project in the world. More than 48,000 panels have been created by lovers, family members and friends to memorialize those who have died of AIDS. The Quilt has redefined the traditional folk-art of quilt-making into a modern art form that serves as a memorial, a tool for education, a work of art and a call to arms. Each of the panels has been photographically preserved in the AIDS Memorial Quilt Archive. About 14 million around the world have seen panels from the Quilt.
The Quilt has its root in a powerful piece of political theater. While preparing for the annual candlelight march honoring Harvey Milk and George Moscone in 1985, San Francisco activist Cleve Jones was shocked to learn that more than 1,000 people in the city had already died of AIDS. He asked his friends to bring placards with the names of the dead to the march. After the march, the activists taped the placards to the side of the San Francisco Federal Building and realized that the signs now looked like a patchwork quilt. Inspired by the sight, Jones and his friends made plans for a larger memorial and in 1986 Jones created the first quilt panel in honor of his friend Marvin Feldman.
THE ART OF ACTIVISM
One of the remarkable features of the fight against AIDS has been the ability to use visual art to generate a powerful public response. This was especially true for the AIDS Coalition to Unleash Power (ACT UP), an international direct action advocacy group that worked to impact the lives of people with AIDS. Founded in New York City in 1987, the leaderless anarchist network effectively combined powerful direct action protests with provocative visual images to effectively generate media attention for their cause.
Veteran media activist Cathy Renna, who describes herself as "coming out and coming of age" when ACT UP was forming, says the global impact of the group came from its ability to use visual art to drive home a message.
"They had people like Ann Northrup and Larry Kramer who understood the media really well and who understood the power of images," Renna says. "They created iconic images that demanded the attention of the media and became embedded in the minds of people."
Renna notes that the members of ACT UP really showed the power of visual art to move people and the power of creativity and humor to reach people.
"Not everyone agreed with their tactics, but at the end of the day none of us can argue with the indelible impact they had on the public perception of AIDS and the entire LGBT movement," she says.
CLASSICAL MUSIC
For centuries, there's been a debate about how well classical music can respond to specific cultural events. Gay composer John Corigliano leapt into this fray when he wrote his Symphony No. 1 in 1991 as a response to the AIDS epidemic.
"During the past decade I have lost many friends and colleagues to the AIDS epidemic, Corigliano writes in his notes to the first recording of the symphony. "My First Symphony was generated by feelings of loss, anger and frustration."
Corigliano, best known for his opera "The Ghost of Versailles" and his Oscar-winning score for "The Red Violin," says that the form of his AIDS symphony was inspired by a viewing of the NAMES Project AIDS Memorial Quilt.
"A few years ago I was extremely moved when I first saw 'The Quilt,' an ambitious interweaving of several thousand fabric panels, each memorializing a person who had died of AIDS, and most importantly, each designed and constructed by his or her loved ones," he wrote. "This made me want to memorialize in music those I have lost, and reflect on those I am losing."
THEATER
Perhaps no other artistic medium has been as responsive to the AIDS crisis as theater. From ground-breaking pieces like Larry Kramer's "The Normal Heart" (an Arena Stage production runs through July 29) and William Hoffman's "As Is" to such recent works as "The Book of Mormon." The theatrical community has been deeply involved in the artistic and activist response to AIDS. Here's a sampling of plays and musicals that have AIDS as a central theme.
"Angels in America: A Gay Fantasia on National Themes." Part One of Tony Kushner's sprawling epic ("Millennium Approaches") opened on Broadway in May 1993, and Part Two ("Perestroika") followed in November of that year. The play centers on Prior Walter, a gay man in Manhattan who has just been diagnosed with AIDS as the play opens. Over the course of the seven-hour theatrical extravaganza, Prior is abandoned by his lover Louis, who leaves him for a closeted Republican lawyer; befriends the Mormon's mother and wife, who takes Valium in "wee little fistfuls," is nursed by his ex-lover, the fierce snap queen Belize; and, is visited by an angel who wants to recruit him as a prophet. The play won the Pulitzer Prize and several Tony Awards and was adapted into both an award-winning movie by HBO Films and an opera by Hungarian composer Péter Eötvös.
"The Normal Heart" by Larry Kramer was one of the earliest plays to deal with AIDS. Now playing at Arena Stage, the play is a thinly veiled autobiography of the author and the founding of Gay Men's Health Crisis.
"Before It Hits Home" by Cheryl West was one of the first dramas to focus on the impact of AIDS on the African-American community. Wendal is a bisexual jazz musician who denies his sexual encounters with men even after he is diagnosed with AIDS. He tries to hide the truth from his pregnant girlfriend and his married boyfriend, but as his health deteriorates, he is forced to return to his family and confess the truth.
"Rent" is Jonathan Larson's hit musical and a loose adaptation of Puccini's "La Boehme" set on the lower East Side of Manhattan in the early 1980s. Larson's musical landscape includes a variety of artists in a variety of straight and LGBT sexual situations. Many of the characters have AIDS and the Act II opener, "Seasons of Love" has become a popular anthem for the fight against AIDS.
The musical "Falsettos," produced in Washington in 2010 by the now-closed Ganymede Arts, brings together two one-act musicals by William Finn written a decade apart. In "March of the Falsettos," Marvin moves in with his male lover Whizzer, much to the distress of his ex-wife, his psychiatrist and his son. In "Falsettoland," the extended family, now including "the lesbians from next door," reunite to support Whizzer and Marvin as they deal with an AIDS diagnosis.
Perhaps most noticeably in theater, it's possible to also trace how AIDS dramas have evolved over the years.
"'The Normal Heart' was so significant in its time, but it's dated now because the disease has changed so much," says David Jobin, executive director of the Gay Men's Chorus of Washington, a group that along with its sister choruses has also dealt extensively with AIDS themes. "You see plays now, like 'Octopus' by Steve Yockey and it's dealing with how different generations have responded to the crisis. We now have a whole generation of people whose experience is different and it's not about loss at all. … all people could concentrate on in 'The Normal Heart' was grieving, so it's become like 'The Dollhouse,' a great period piece but not really relevant to today. Which is great in a way that something that's only 20 years old can already seem so dated. It shows how far we've come in treating the disease."
Jobin says the greatest examples of AIDS-themed art transcend their subject matter.
"You watch something like the HBO adaptation of 'Angels in America,' and it becomes so much more than just a statement about AIDS," he says. "It's a tour de force for great acting and it's in a league of its own. I can't think of a musical or other work that even comes close."
ARTISTS AS ACTIVISTS
The theatrical community, and the performing arts community in general, have also been incredibly effective at blending art and activism. For example, since 1987 Broadway Cares/Equity Fights AIDS has been raising awareness and funds for AIDS organizations throughout the country. Their popular fundraisers include Broadway Bares, Broadway Barks, Broadway Bears, the annual Easter Bonnet and Gypsy of the Year competitions and the Fire Island Dance Festival.
One of the group's most effective efforts has been its collaboration with the International Thespian Society, a national network of high school theater troupes. Starting in 1999, high school thespians have organized audience appeals, bucket brigades, silent auctions and special performances to raise money to fight AIDS.
During their annual festival in July 2012, Joe Norton, Broadway Cares' director of education and outreach, announced that the student artists and activists had raised more than $1 million to support organizations in their communities.
"Thespians know how to effect change by working together and celebrating their love of theater," Norton says. "And, in the process, they become leaders who raise awareness about HIV/AIDS where they live, while making a difference for so many people in need in their local communities and around the country."
TELEVISION
Sometimes the artistic response to AIDS has been more about context than content. The popular nighttime ABC soap opera "Dynasty" was groundbreaking in its portrayal of Steven Carrington, the openly gay son of a wealthy Denver oil clan. But its role in the emerging AIDS crisis was due to an off-screen drama.
In 1984, closeted gay Hollywood icon Rock Hudson was cast as Daniel Reece, father of the scheming Sammy Jo Carrington (Heather Locklear). Hudson's character had a romantic interest in Krystle Carrington, played by series star Linda Evans. Although viewers gossiped about Hudson's gaunt appearance and producers were worried enough about Hudson's health to write his character out of the series, no one blinked an eye when Hudson and Evans shared an on-screen kiss.
That changed on July 25, 1985 when Hudson publicly announced that he had AIDS, the first celebrity to reveal his HIV status. He learned that he had AIDS while he was appearing on "Dynasty," and the soap set suddenly became the focus of a public health controversy. The CDC warned the public about exchanging saliva with members of high-risk groups. Aaron Spelling and the producers of "Dynasty" offered to arrange for AIDS tests for the entire cast. The Screen Actors Guild wrote new rules to regulate on-screen kisses.
Hudson's revelation, and the subsequent revelation of his homosexuality, suddenly put a public face on the disease and his death on Oct. 2, 1985 set the stage for the first television movie on AIDS. On Nov. 11, 1985, NBC broadcast "An Early Frost" starring Aidan Quinn as Michael Pearson, a successful Chicago lawyer who has not told his colleagues and family about his lover Peter Hilton (D.W. Moffett). When he's diagnosed with AIDS, he's forced to go home and tell his family the truth about himself.
MOVIES
A short sampler of independent and mainstream movies that have dealt directly with the AIDS crisis include:
"Parting Glances," Bill Sherwood's moving 1986 indie film that was one of the first to deal with AIDS. Richard Ganoung plays Michael who is dealing with concurrent crises: caring for his ex-lover Nick (Steve Buscemi) while his lover Robert (John Bolger) is preparing to leave for a two-year work assignment in Africa.
"Philadelphia," Jonathan Demme's 1993 drama that was among the first mainstream Hollywood movies to deal with AIDS. Tom Hanks won a Best Actor Oscar for his performance as Andrew Beckett, a closeted lawyer who is fired from his conservative law office when his partners learn he has AIDS. Denzel Washington plays Joe Miller, a homophobic lawyer who helps Beckett sue his former law firm.
"Longtime Companion," is a 1990 film that takes its title from the homophobic term used by the New York Times and other newspapers to refer to the surviving partners of deceased gay men. It chronicles the early years of the AIDS epidemic from the 1981 article on the mysterious disease occurring among gay men to the beginnings of AIDS activism.
"Tongues Untied" is Marlon Riggs' stunning 1989 film sought to "shatter the nation's silence on matters of sexual and racial difference." It combines documentary footage with fictional stories and episodes from Riggs' life, as well as footage from civil rights marches and a homophobic stand-up routine by comedian Eddie Murphy.
FICTION
Since the 1980s, countless novelists have tackled the topic of AIDS. From early efforts, such as Armistead Maupin's "Tales of the City" series to recent books such as Edmund White's "Jack Holmes and His Friend," the novel has been a fertile ground for exploring the devastating impact of AIDS on individuals and their society.
One of the most controversial has been "People in Trouble" by lesbian writer and activist Sarah Schulman. The novel deals with a love triangle among artists in the East Village. The controversy, however, arose from Schulman's accusation that Jonathan Larson lifted the gay plot of "Rent" from her novel. In her 1998 book "Stagestruck: Theater, AIDS and the Marketing of Gay America," she details the similarities between the two works and critiques how Larson depicts LGBT people and people with AIDS.
Examples 
THEATER
Terrence Mc Nally, "Love! Valour! Compassion!"
Cheryl West, "Before It Hits Home"
William Finn, "Falsettos"
William Hoffman, "As Is"
Jonathan Larson, "Rent"
Paula Vogel, "The Baltimore Waltz"
Paul Rudnick, "Jeffrey"
Harvey Fierstein, "Safe Sex"
Larry Kramer, "The Normal Heart" and "The Destiny of Me"
Tony Kushner, "Angels in America"
Robert Lopez, Matt Stone and Trey Parker, "The Book of Mormon"
Broadway Cares/Equity Fights AIDS
POETRY
Mark Doty, "My Alexandria"
Essex Hemphill, "Ceremonies"
Marie Howe, "What the Living Do"
Paul Monette, "Love Alone: 18 Elegies for Rog"
Rafael Campo, "What the Body Told"
Tim Dlugos, "Powerless"
Tory Dent, "What Silence Equals"
TELEVISION
"An Early Frost"
"Dynasty"
"Another World"
"As The World Turns"
"Common Threads: Stories from the Quilt"
"And The Band Played On"
"The Real World"
"Any Mother's Son"
"In The Gloaming"
FICTION
Christopher Bram, "In Memory of Angel Clare"
Sarah Schulman, "People in Trouble"
Alice Hoffman, "At Risk"
Armistead Maupin, "Tales of the City"
Paul Monette, "Afterlife"
Edmund White, "Jack Holmes and his Friend"
Dale Peck, "Martin and John"
E. Lynn Harris, "Invisible Life"
Felice Picano, "Like People in History"
Sapphire, "Push"
David B. Feinberg, "Spontaneous Combustion"
Samuel R. Delaney, "The Tale of Plagues and Carnivals"
Geoff Ryman, "Was"
CLASSICAL MUSIC
John Corigliano, "Symphony No. 1"
"Classical Action"
MUSIC
"NakedMen"
"Exile"
"Metamorphosis"
"In This Life" by Madonna (from "Erotica")
ARTS ACTIVISM
ACT UP
Broadway Cares
Names Project AIDS Memorial Quilt
ESSAY
Susan Sontag, "AIDS and Its Metaphors"
Larry Kramer, "The Tragedy of Today's Gays"
MEMOIRS
Paul Monette, "Borrowed Time"
Reinaldo Areñas, "Before Night Falls"
Mark Doty, "Heaven's Coast"
Derek Jarman,  "At Your Own Risk"
Jamaica Kincaid, "My Brother"Paula W, Peterson, "Women in the Grove"
John Preston, "Winter's Light"
David Wojnarowicz, "In the Shadow of the American Dream"
PERFORMANCE ART
Ron Athey
Ron Vawter
David Drake
MOVIES
"Longtime Companions"
"Parting Glances"
"Paris is Burning"
"Philadelphia"
"Patient Zero"
"The Living End"
"The Hours"
"It's My Party"
"Tongues Untied"
VISUAL ARTS
Visual AIDS
Keith Haring
ACT UP and Gran Fury
DANCE
Bill T. Jones, Absence
Neil Greenbery, Not-About AIDS-Dance
UCLA Dance Marathon
Dancers Responding to AIDS
30 LGBTQ events today
Celebrate Pride in the DMV with family and friends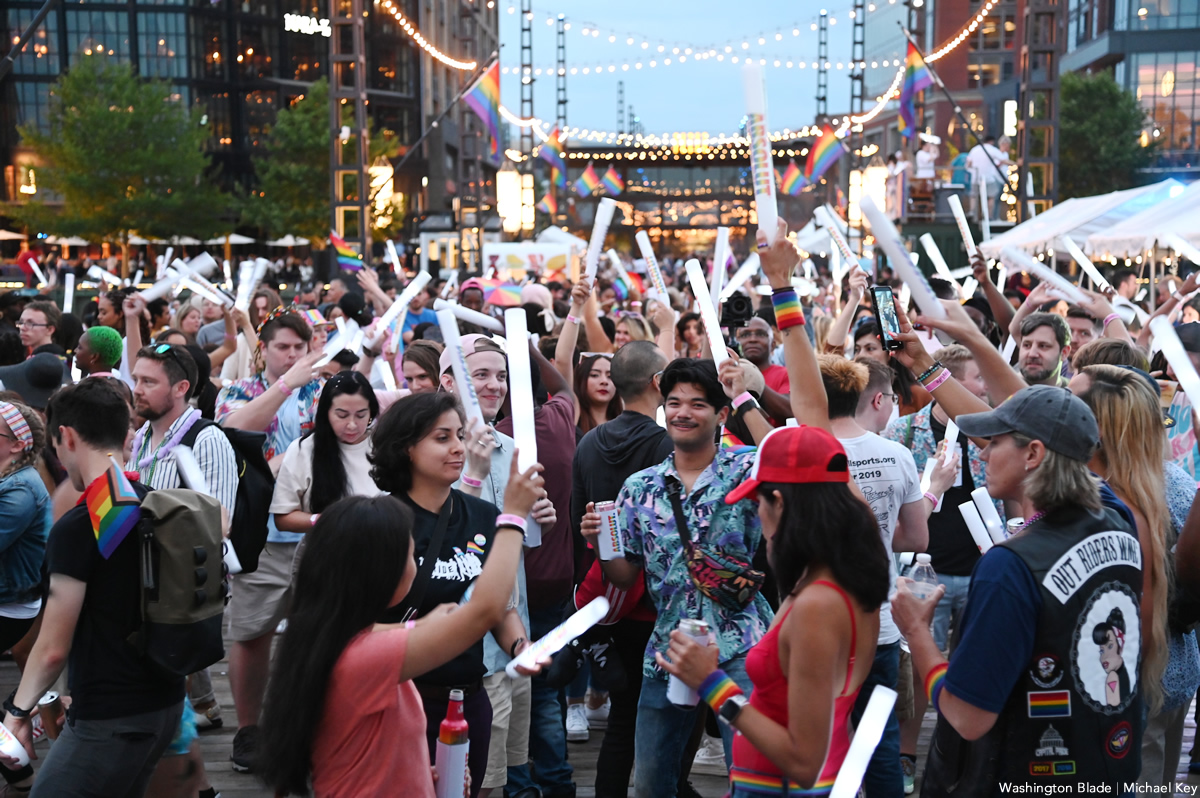 Happy Pride! Below are our picks for some of the most fun and creative things to do today (Saturday, June 10) in the DMV that are of special interest to the LGBTQ community.
---
Unholy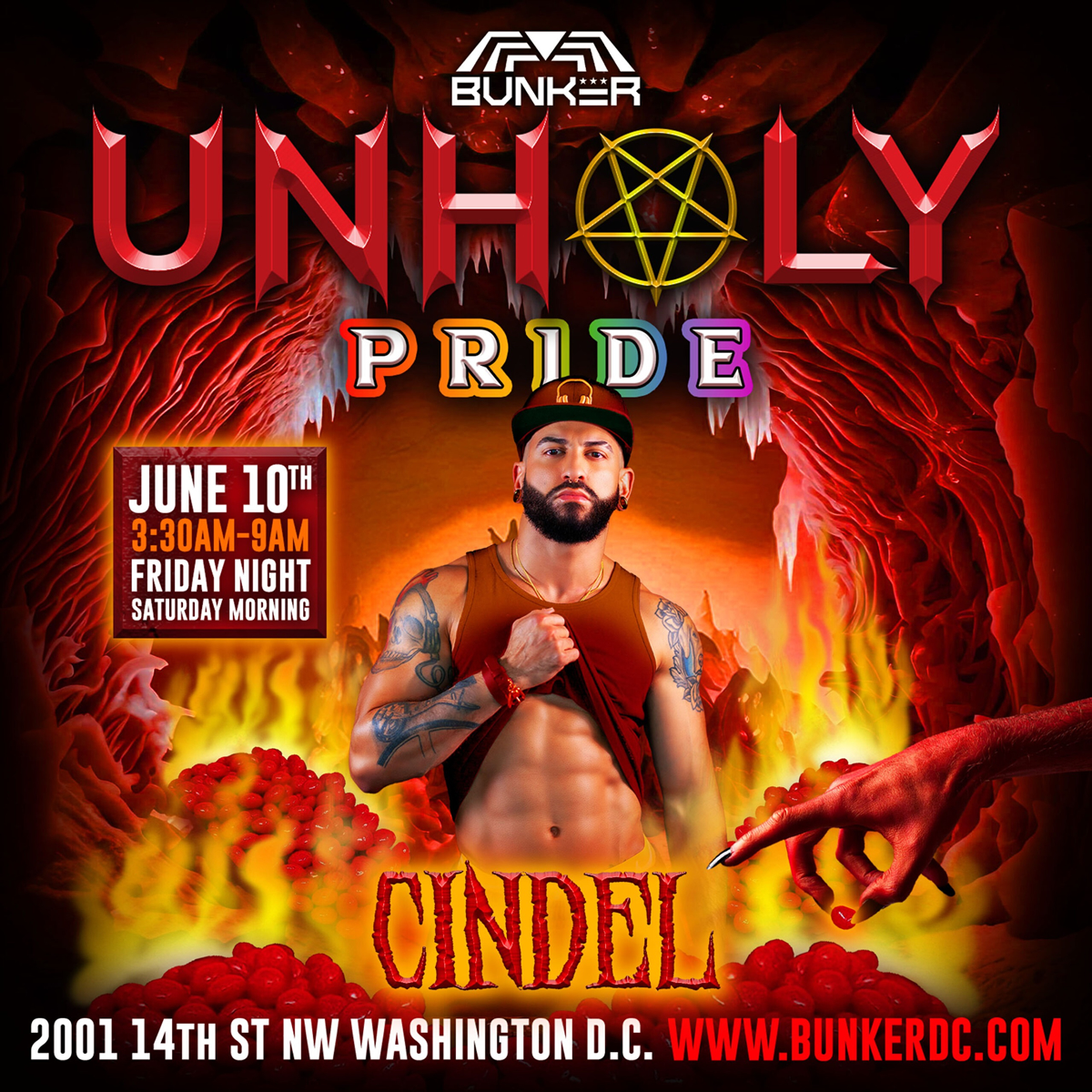 Saturday, June 10
3:30 a.m.-9 a.m.
Bunker
2001 14th Street, N.W.
Some tier 2 priority entry tickets available at $50
Tickets
Bunker's late night party rages through 9 in the morning.
---
LGBTQ+ Pride Brunch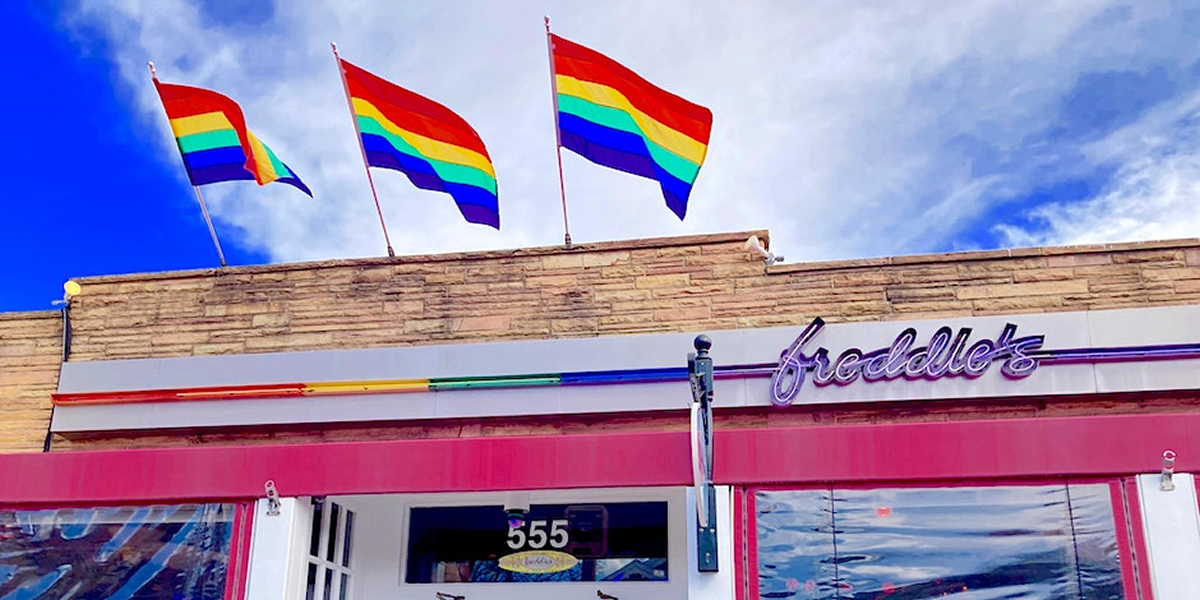 Saturday, June 10
10 a.m.-12 p.m.
Freddie's Beach Bar
555 23rd Street South
Arlington, Va.
Eventbrite
Go Gay DC has organized an LGBTQ+ Pride Brunch at Freddie's Beach Bar in Arlington, Va. this morning.
---
Flower Crown Bar for Pride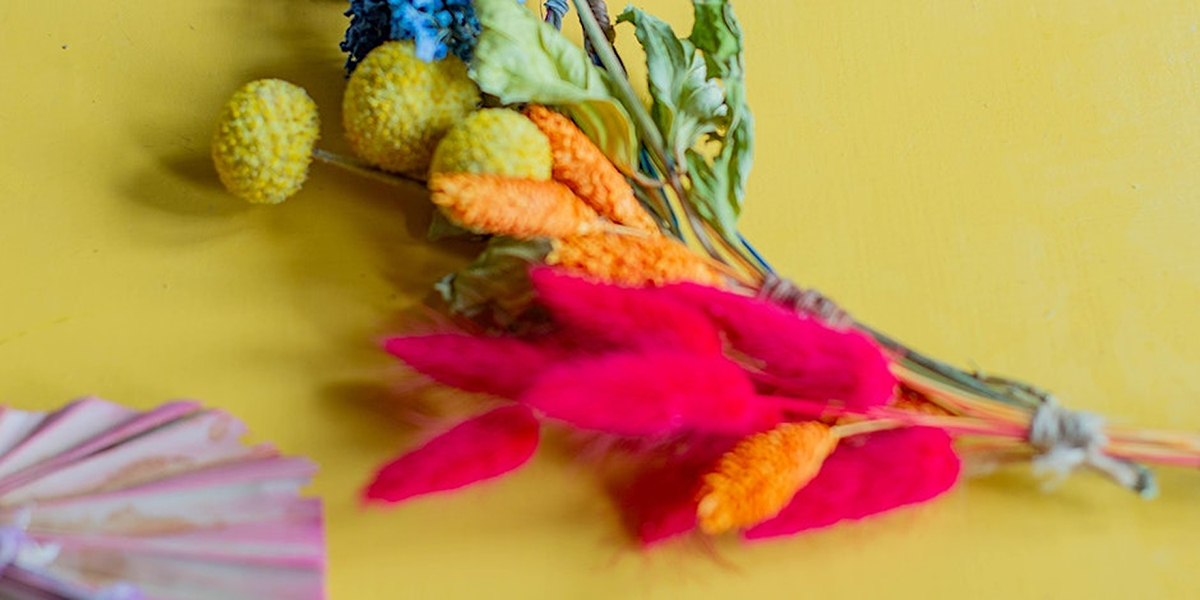 Saturday, June 10
11 a.m.-1 p.m.
PLNTR
1825 18th Street, N.W.
$25
Eventbrite
If you are looking to make a striking impression at Pride, you could make your own rainbow flower crown! Go to the Flower Crown Bar for Pride today from 11 a.m. to 1 p.m. at PLNTR to make your crown. $25 for materials and instruction.
---
Friendship Place Pride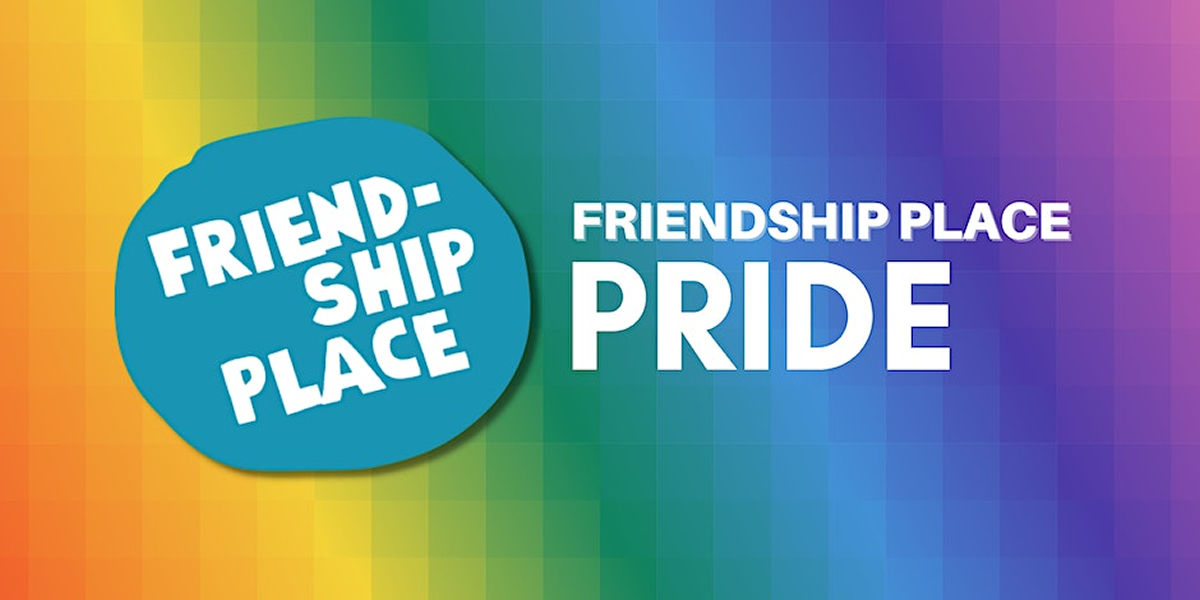 Saturday, June 10
11 a.m.-1 p.m.
1436 U Street, N.W.
Free
Eventbrite
Organizers promise fun and prizes in the tents and booths set up in the courtyard of Friendship Place for Pride today.
---
PRIDE Drag Brunch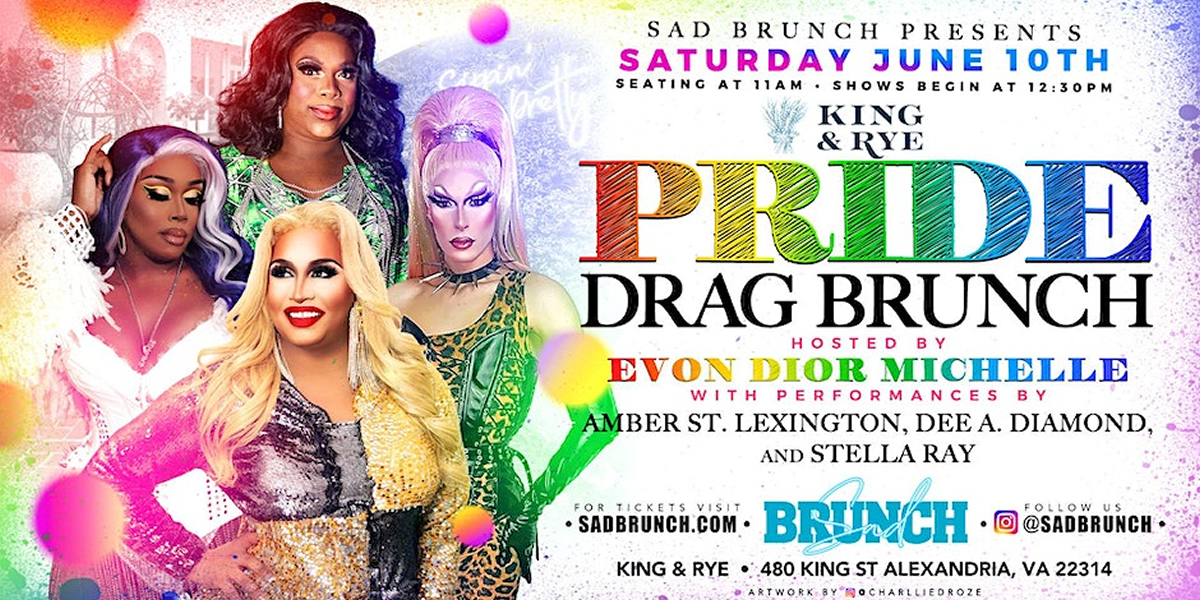 Saturday, June 10
11 a.m. seating / 12:30 p.m. show
King & Rye
480 King Street
Alexandria, Va.
$45
Eventbrite
Evon Dior Michelle hosts a Pride Drag Brunch at King & Rye in Alexandria, Va. today. Performers include Amber St. Lexington, Dee A. Diamond and Stella Ray.
---
Capital Pride Crack of Noon Pride Parade Brunch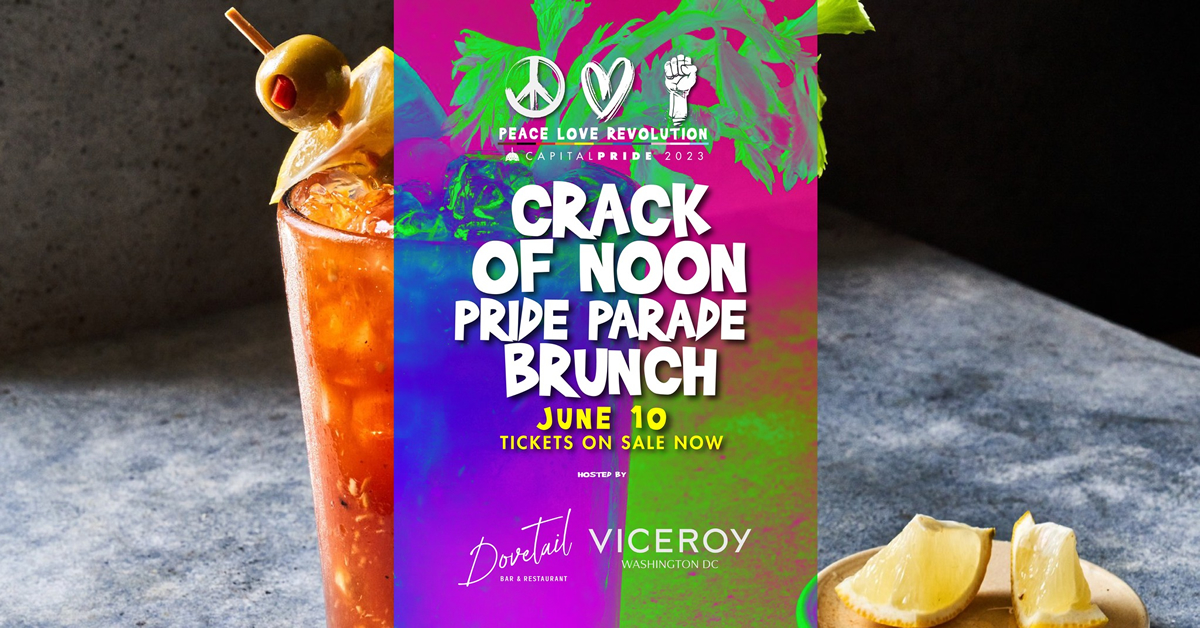 Saturday, June 10
11:30 a.m.-3 p.m.
Viceroy Washington D.C.
1430 Rhode Island Avenue, N.W.
$60-$75 / 21+
Facebook
The Capital Pride Alliance holds its Capital Pride Crack of Noon Parade Brunch on Saturday from 11:30 a.m. to 3 p.m. at the Viceroy Washington DC. It is 21+ to enter and tickets range from $60-$75.
---
Monarch Drag Brunch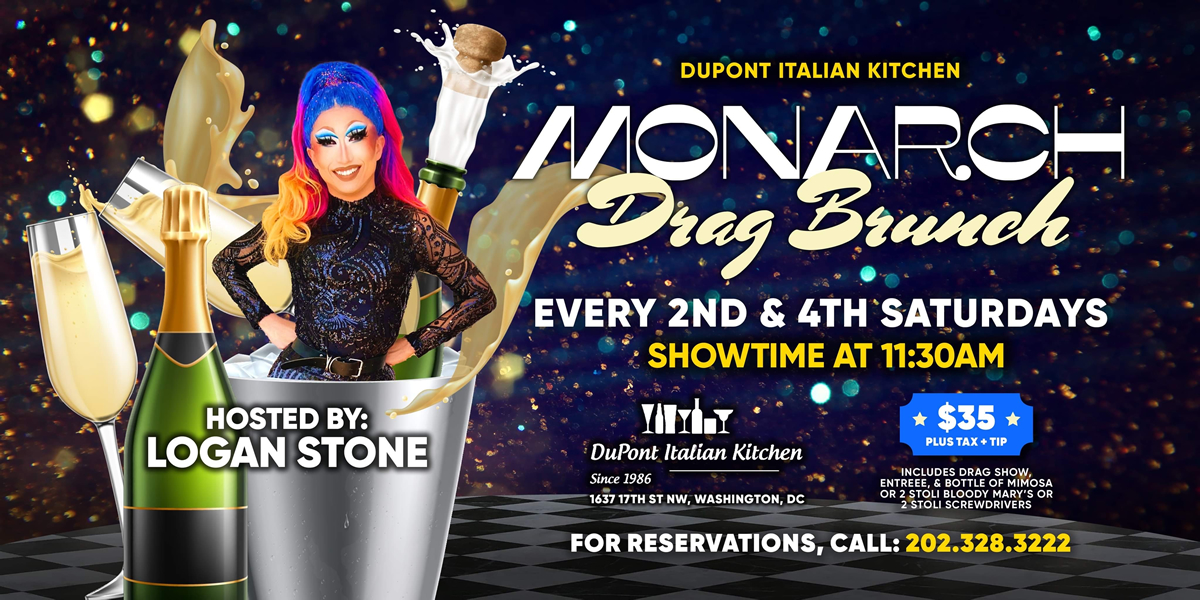 Saturday, June 10
11:30 a.m.
Dupont Italian Kitchen Bar
Upstairs at 1637 17th Street, N.W.
$35
The regular Monarch Drag Brunch will be upstairs at Dupont Italian Kitchen Bar this morning.
---
Capital Pride Block Party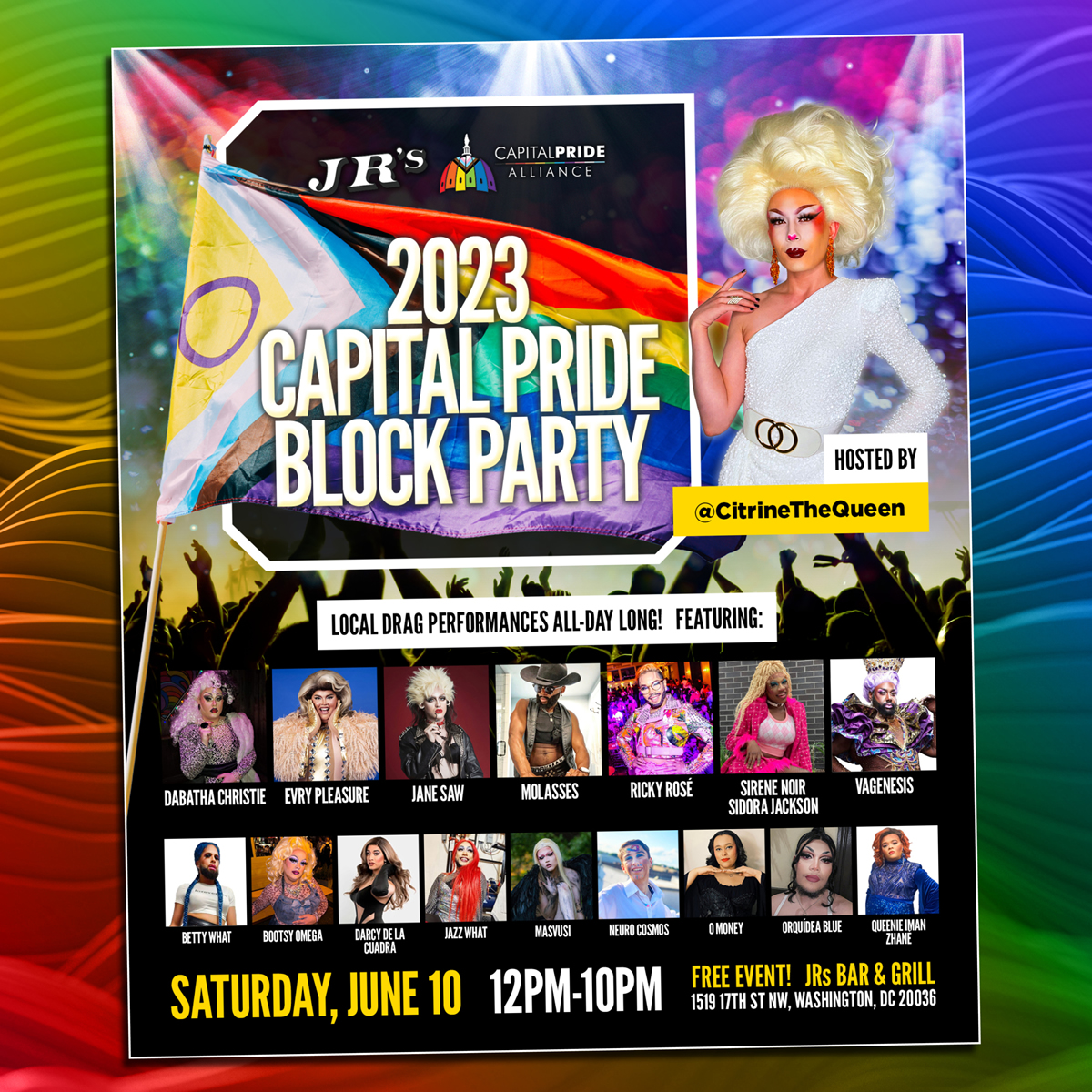 Saturday, June 10
12-10 p.m.
17th Street, N.W.
Between P Street and Q Street
Website
The free Capital Pride Block Party rages on throughout the Capital Pride Parade on Saturday from noon to 10 p.m. on 17th Street between P and Q Streets. There will be booths and entertainment provided with some of D.C.'s best drag kings and queens.
---
Sassy Saturdays Drag Brunch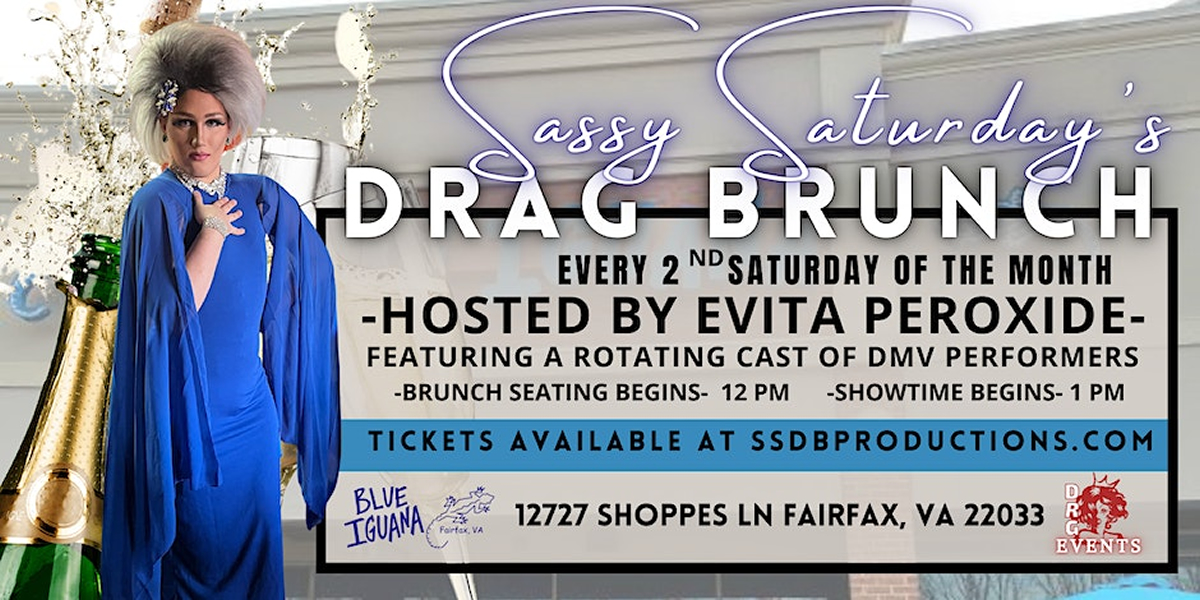 Saturday, June 10
12 p.m. seating / 1 p.m. show
Blue Iguana
12727 Shoppes Lane
Fairfax, Va.
$15.
Eventbrite
Evita Peroxide hosts Sassy Saturday's Drag Brunch at The Blue Iguana in Fairfax, Va. at noon.
---
Green Lantern Pride Parade Afterparty by Lobo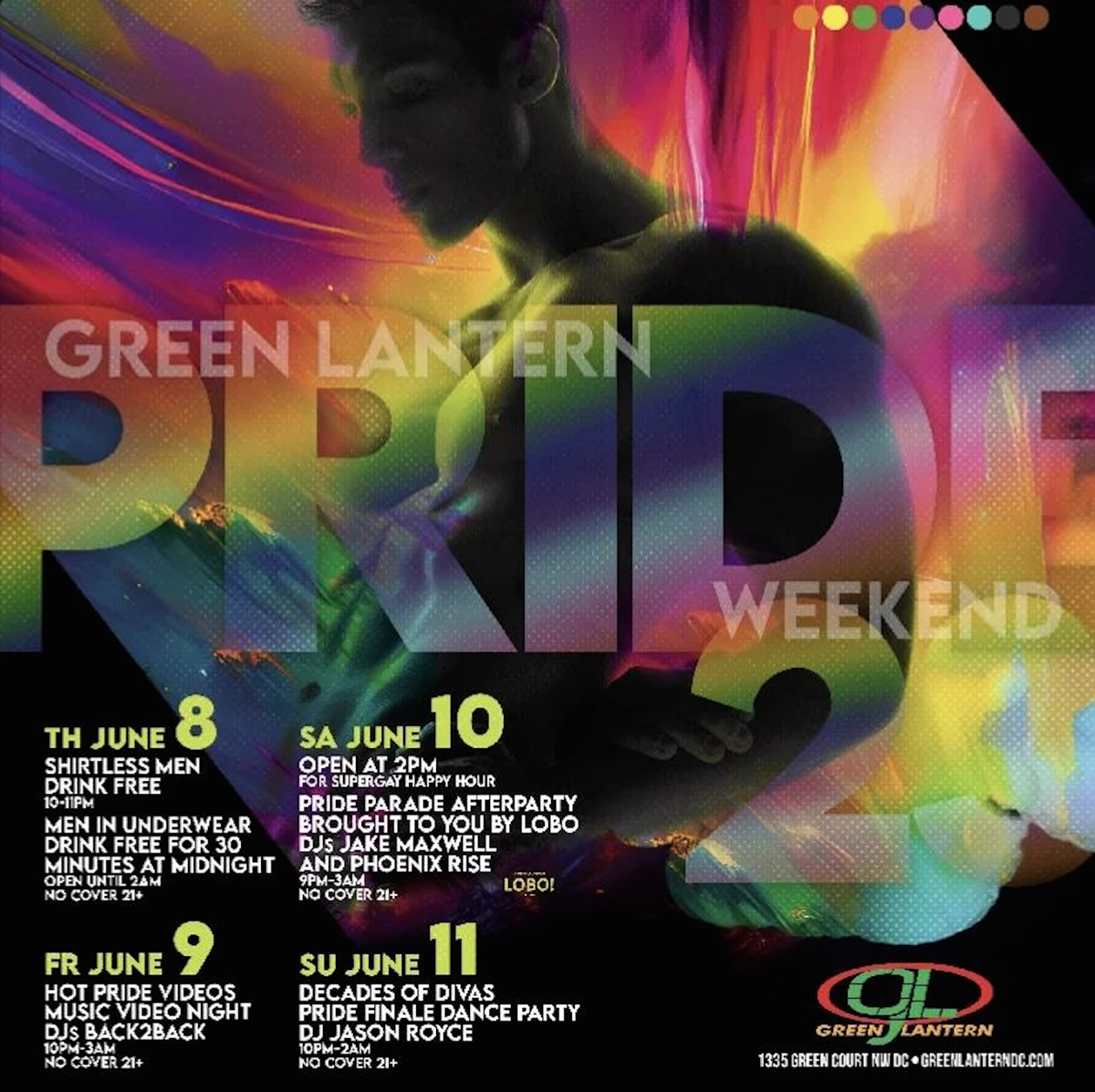 Saturday, June 10
Open at 2 p.m. for Supergay Happy Hour / 9 p.m.-3 a.m.
Green Lantern
1335 Green Court, N.W.
No cover / 21+
Instagram
The Green Lantern is holding a Pride Parade Afterparty sponsored by Lobo. Doors open at 2 p.m. for Supergay Happy Hour with the big party planned for 9 p.m.- 3 a.m.
---
Lambda Sci-Fi Pride Tabletop Gaming Party and Parade Viewing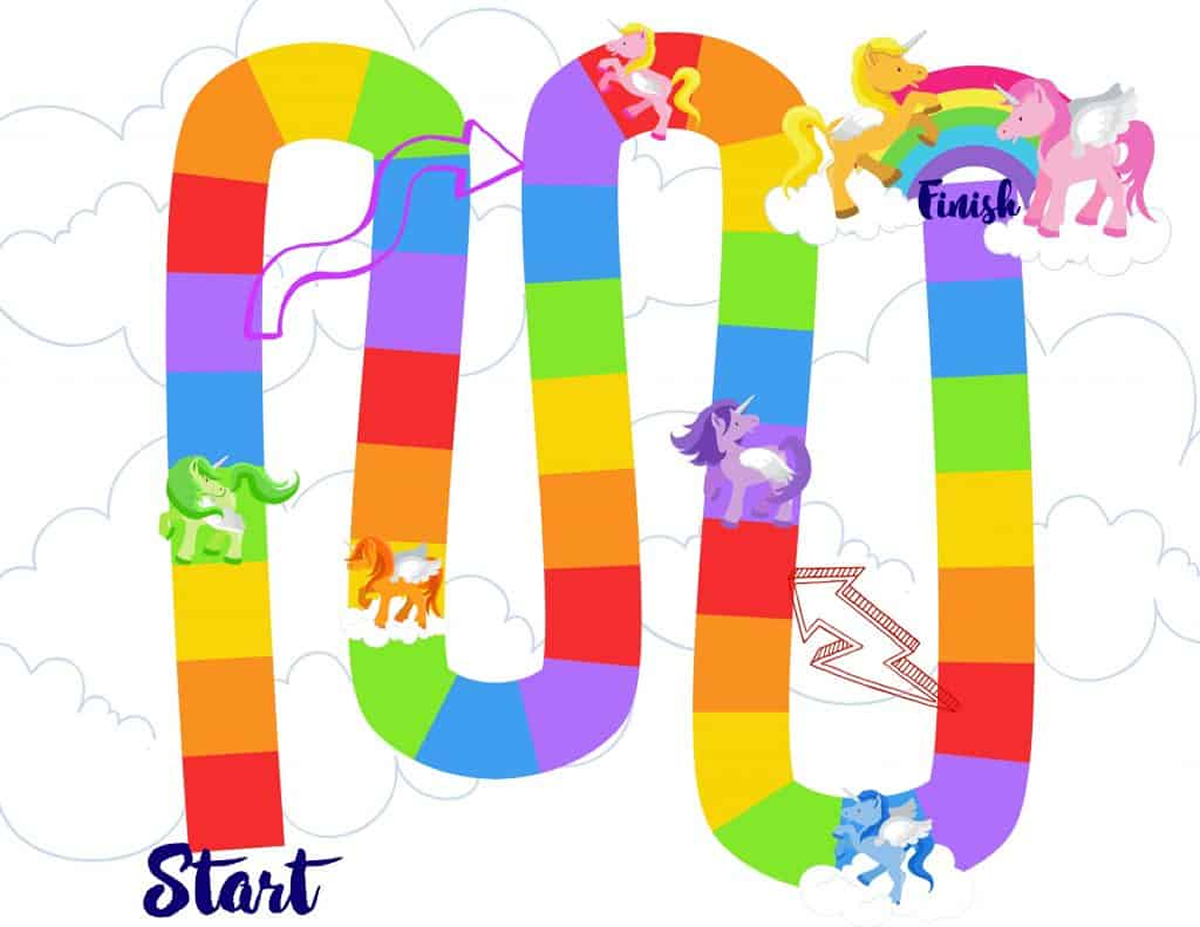 Saturday, June 10
2-11 p.m.
1425 S Street, N.W.
$10
Facebook
Lambda Sci Fi is holding a Tabletop Gaming Party and Parade Viewing at 1425 S Street, N.W. from 2-11 p.m. Bring $10 cash for pizza.
---
Pride on the Pier and Fireworks Show!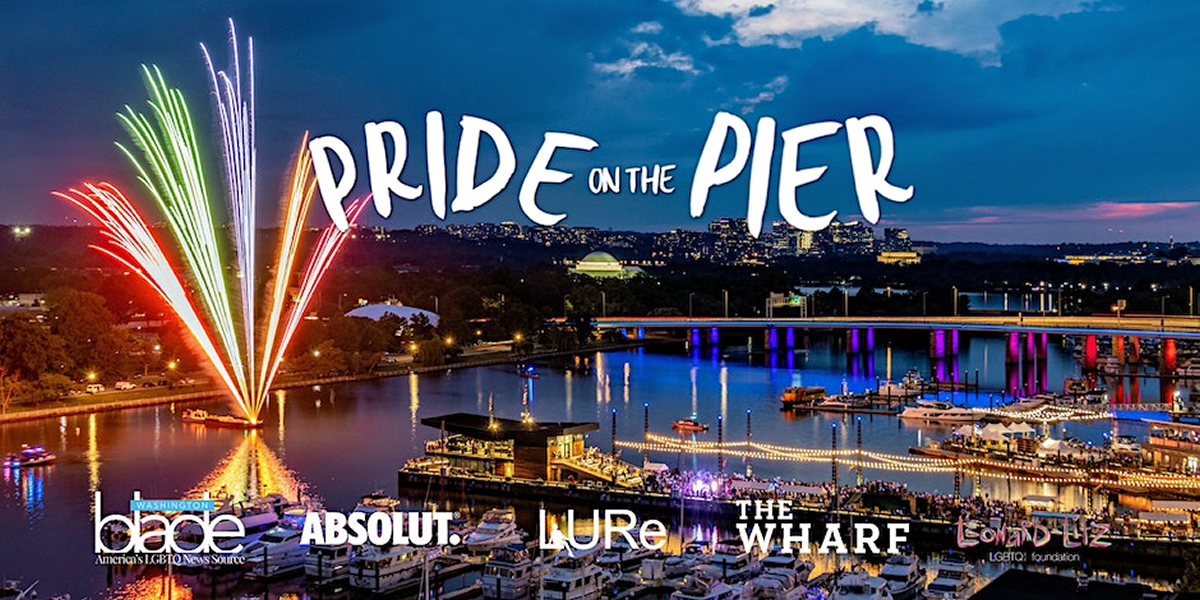 Saturday, June 10
2-9 p.m.
The Wharf DC: District Pier
101 District Square, S.W.
$0-$125
Eventbrite
The Washington Blade and the Ladies of LURe present the annual Pride on the Pier and Fireworks Show on Saturday from 2-9 p.m. at the Wharf DC: District Pier. The event is free, but you can purchase a VIP spot in an air conditioned space with an open bar, food, DJs and more.
---
Uptown Pride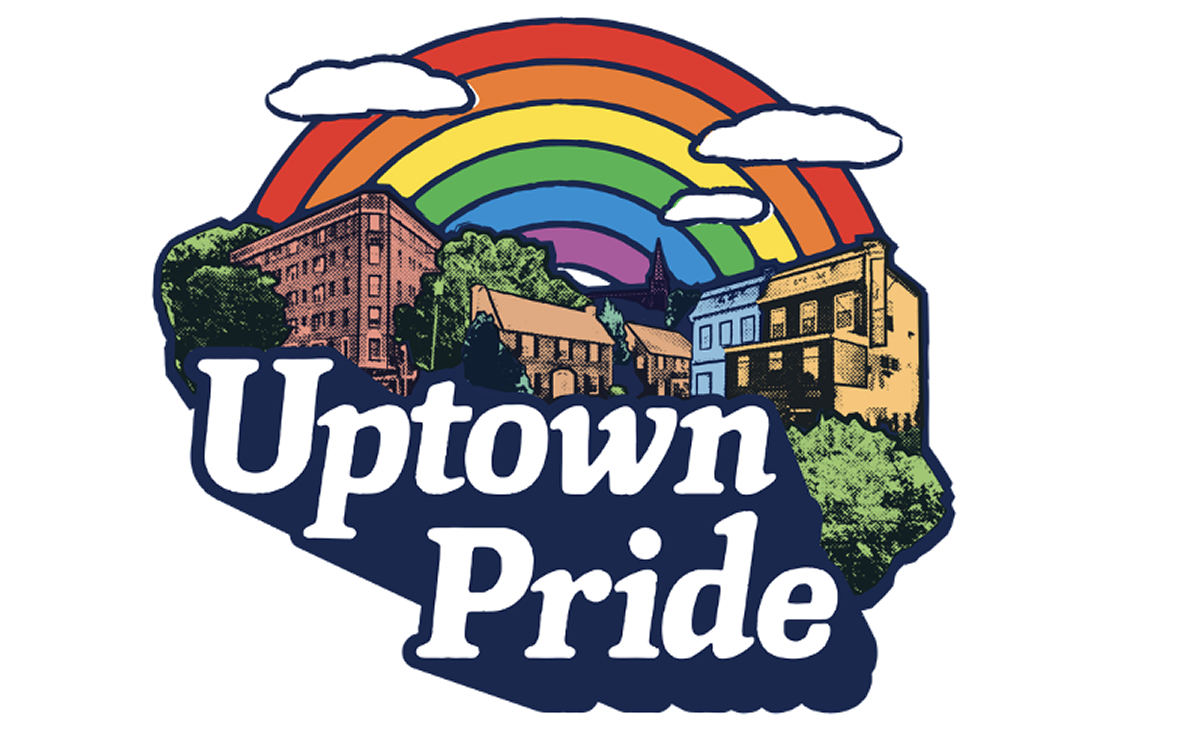 Saturday, June 10
2-7 p.m.
Kennedy Street and 14th Street, N.W.
Free
Website
A new effort to create a Pride atmosphere for those in the northern part of D.C. who don't want to brave the crowds of Dupont brings us Uptown Pride.
---
Capital Pride Parade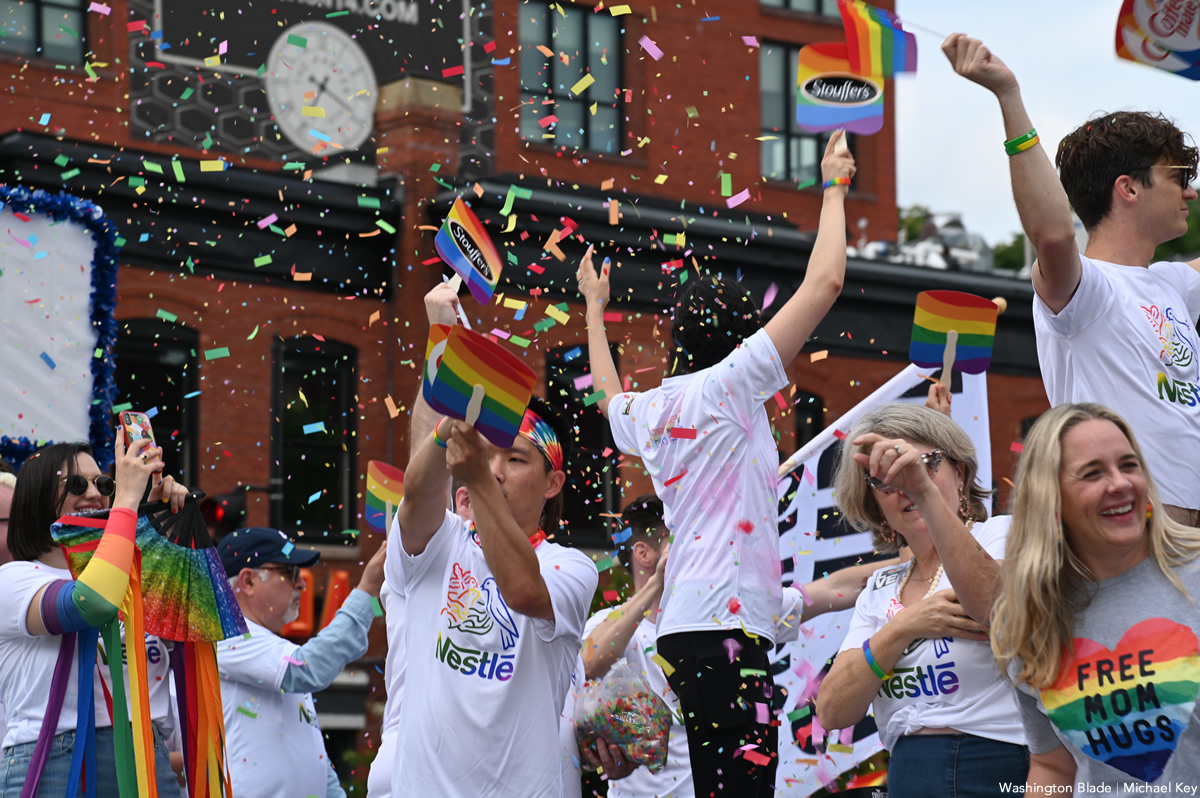 Saturday, June 10
3-7:30 p.m.
Logan and Dupont Circle neighborhoods
Website
The 2023 Capital Pride Parade will follow a 1.5-mile route that begins on 14th Street at T Street, N.W., and ends on P Street at 21st Street, N.W. See the map here: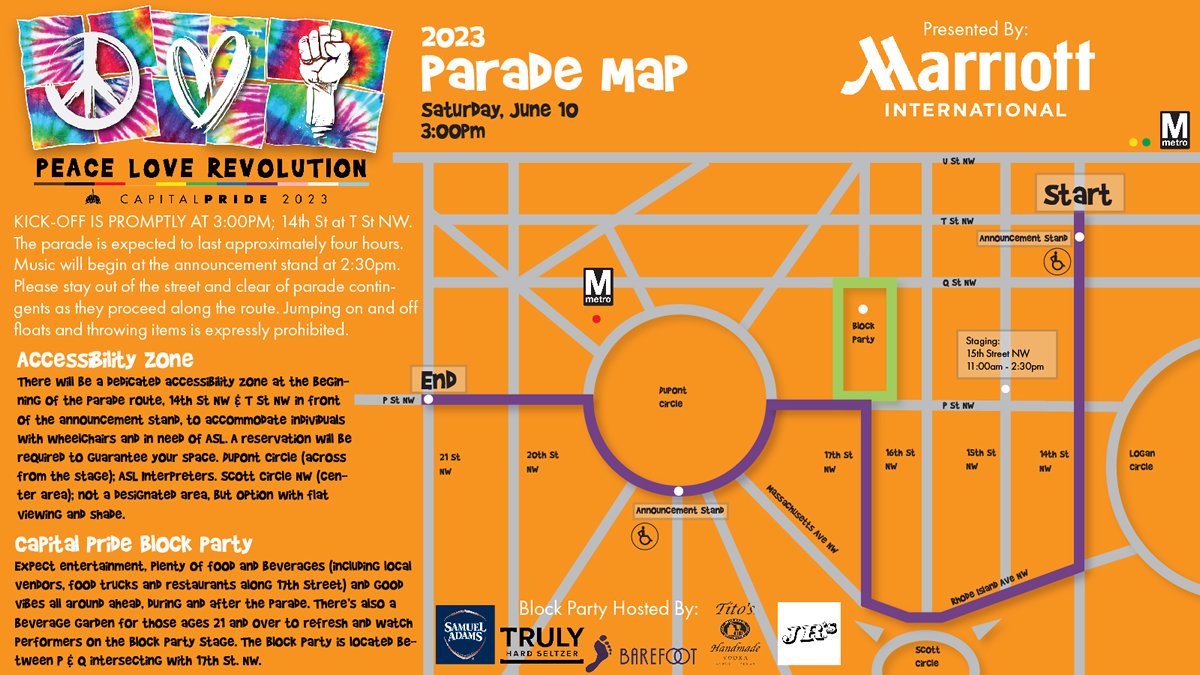 ---
Pride Tea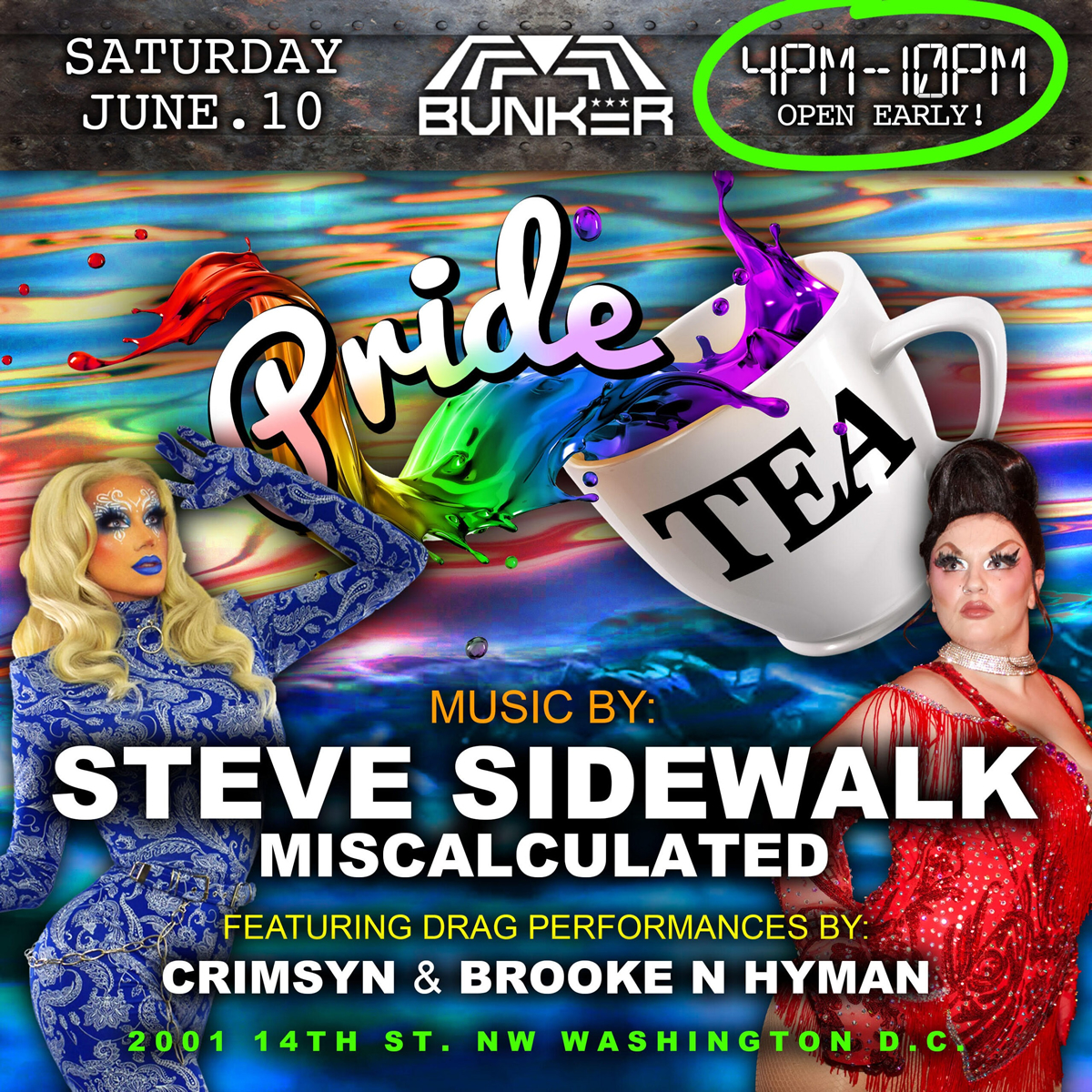 Saturday, June 10
4-10 p.m.
Bunker
2001 14th Street, N.W.
Website
Crimsyn and Brooke N Hyman perform at Bunker's Pride Tea this afternoon. Music is probvided by Steve Sidewalk and Miscalculated.
---
Rooftop Day Party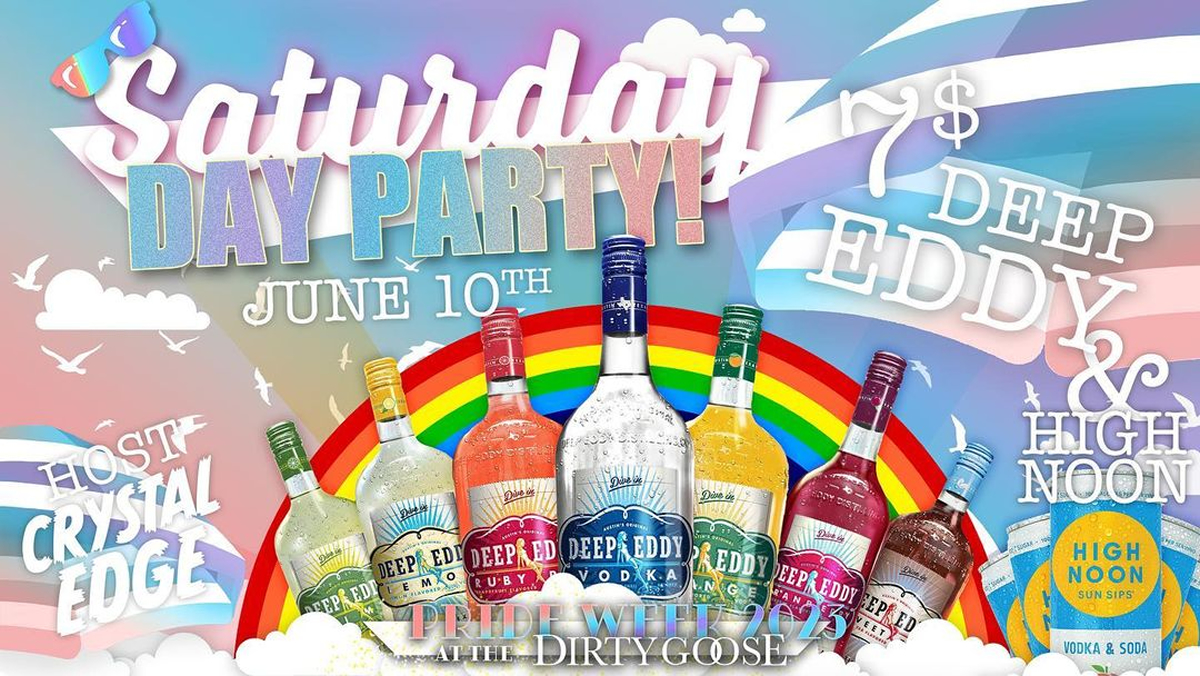 Saturday, June 10
4 p.m.
The Dirty Goose
913 U Street, N.W.
Instagram
Crystal Edge hosts a Day Party at Dirty Goose today.
---
Phantom Dupont Circle Pride Afterparty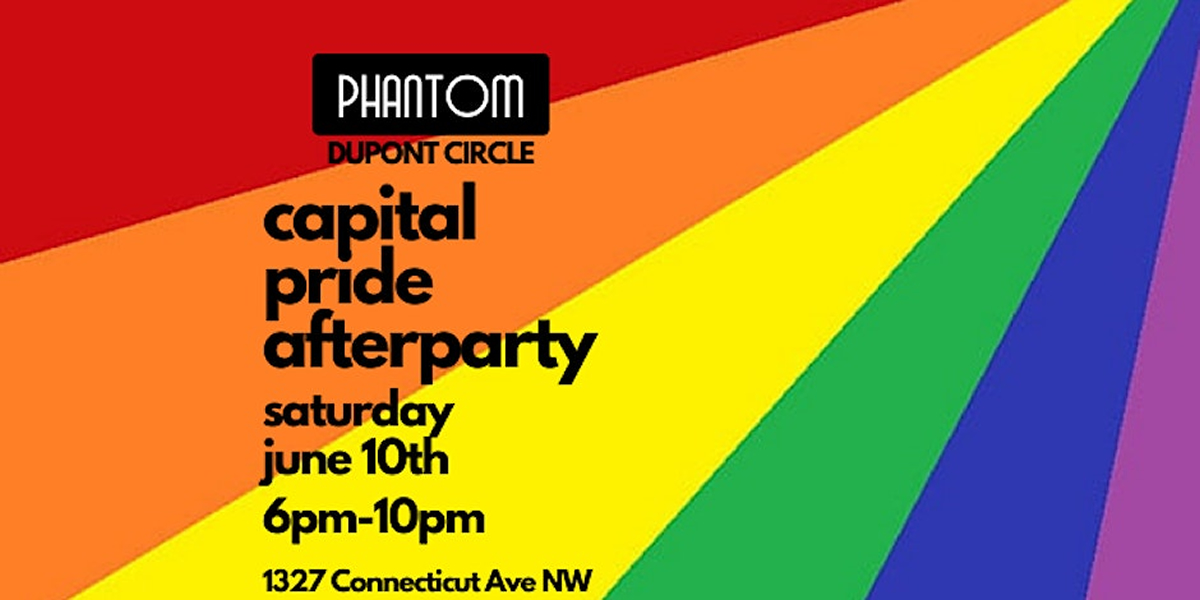 Saturday, June 10
6-10 p.m.
Phantom Lounge
1327 Connecticut Avenue, N.W.
$2
Eventbrite
Phantom Lounge Dupont Circle has its own parade afterparty tonight.
---
H!Gh Pride Fest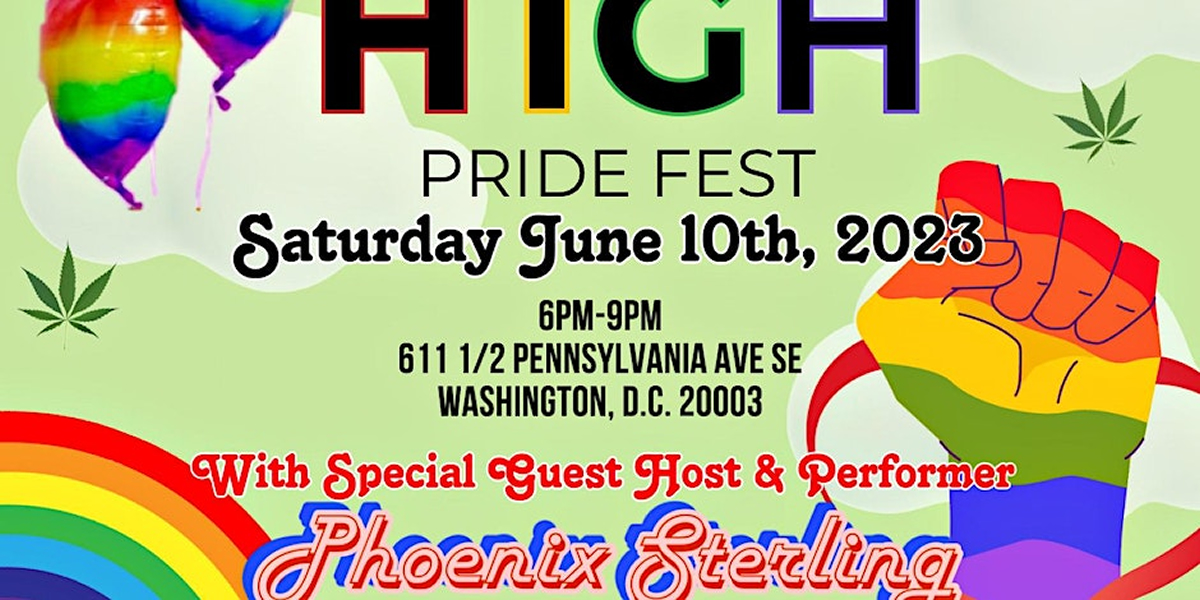 Saturday, June 10
6-9 p.m.
Euphoria DC
611 1/2 Pennsylvania Avenue, S.E.
$0-$50
Eventbrite
If you are looking for a buzz among fellow heads, look no further than the H!Gh Pride Fest at Euphoria DC tonight. A $35 donation will garner you a "free gift."
---
Capital Trans Pride Pool Party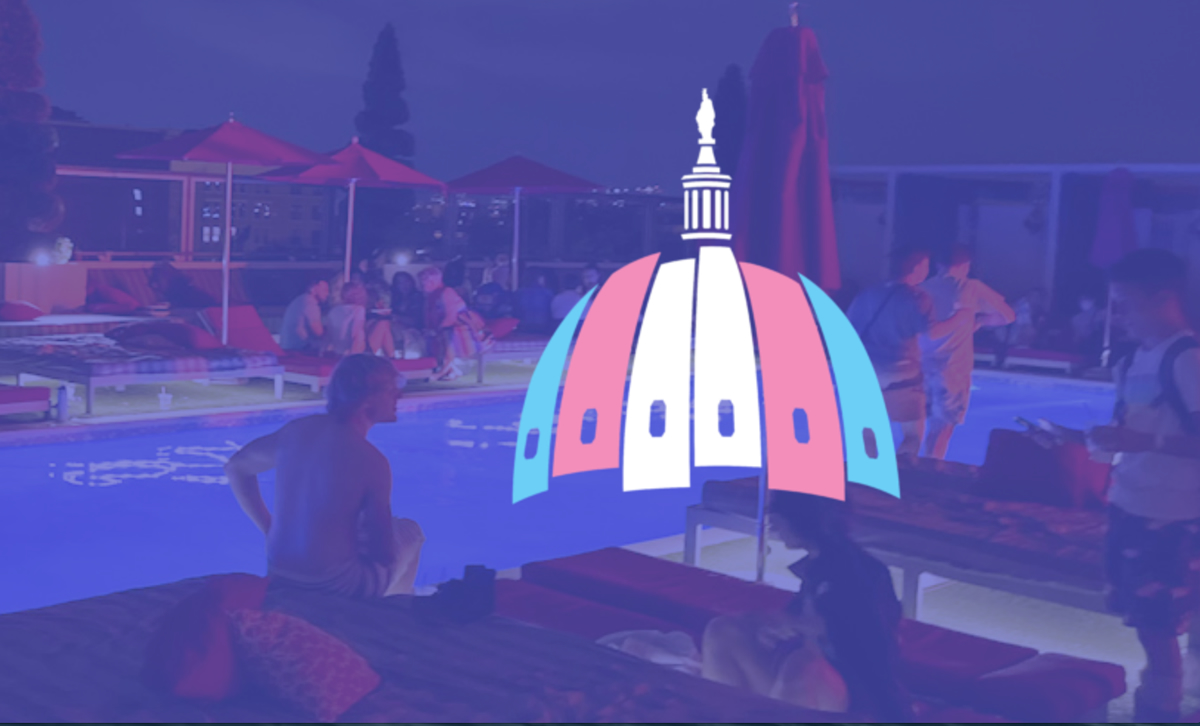 Saturday, June 10
8 p.m.-12 a.m.
Penthouse Pool and Lounge
1612 U Street, N.W., fourth floor
Free / Ticket required
Website
Cool off at the Capital Trans Pool Party tonight at the Penthouse Pool and Lounge.
---
Electric Disco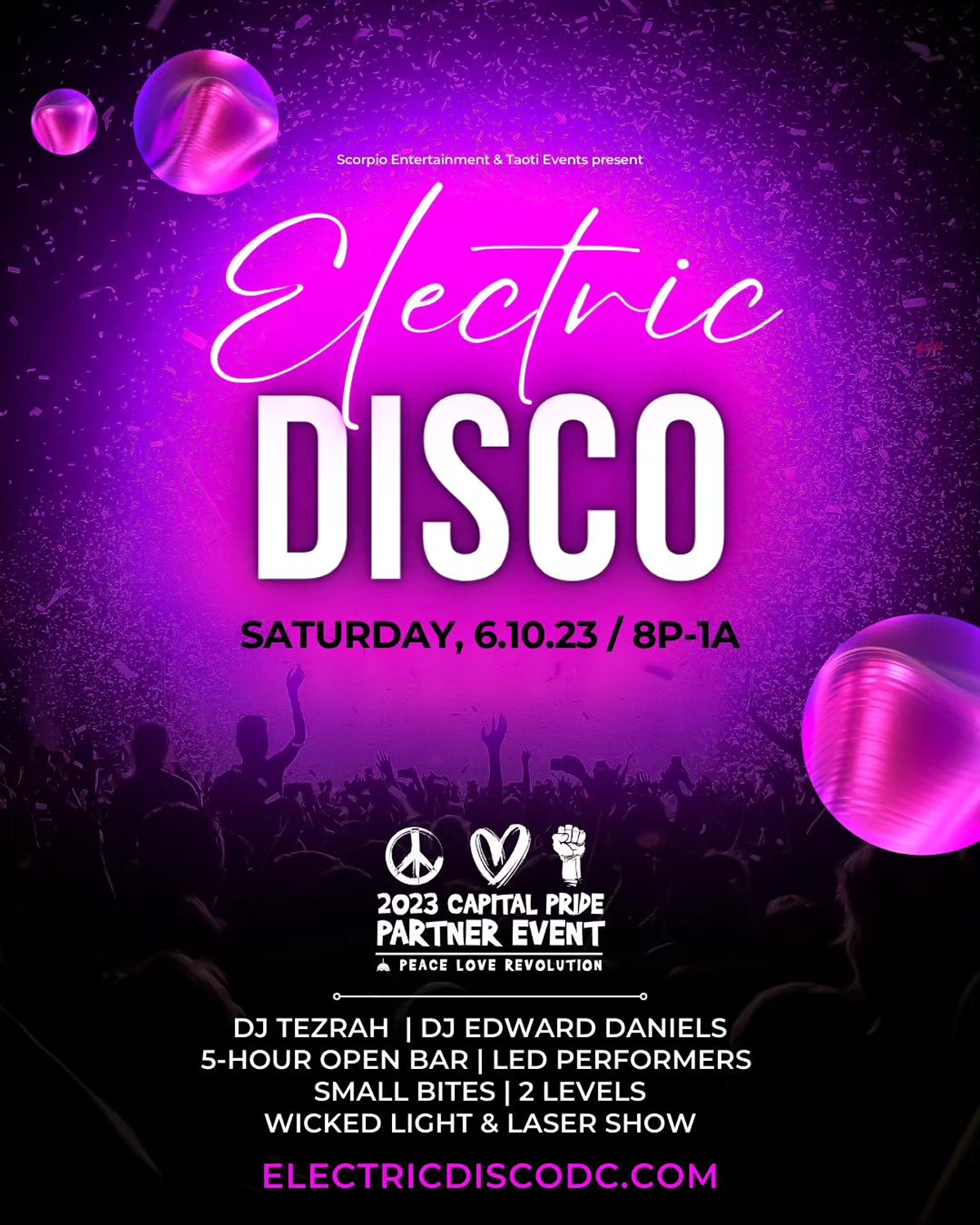 Saturday, June 10
8 p.m.
507 8th Street, N.E.
Website
Scorpio Entertainment and Taoti Creative produce the Electric Disco tonight with DJ Tezrah, DJ Edward Daniels and DJ Philly Phill.
---
Hellboiz! A priDEMONth Drag King Show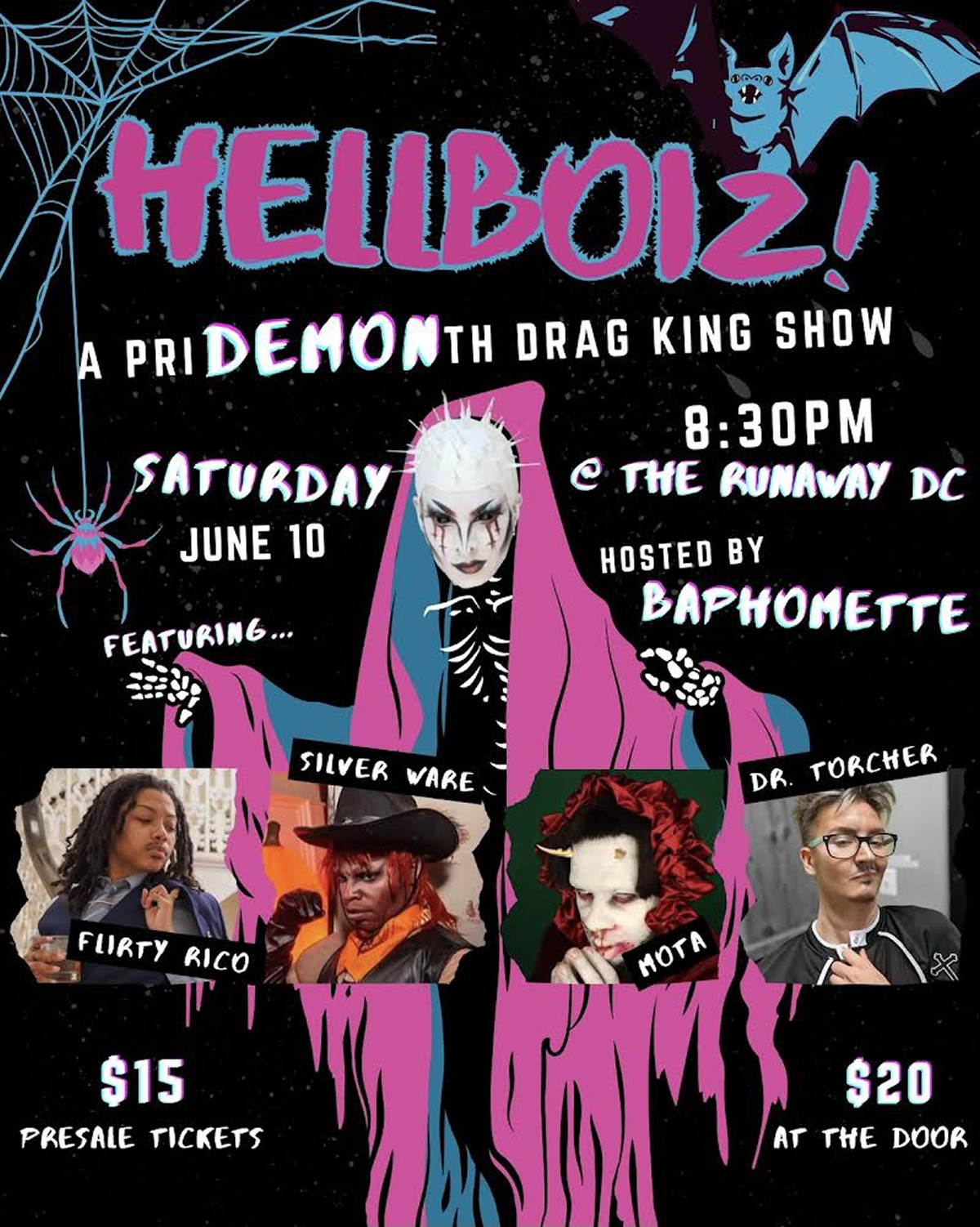 Saturday, June 10
8:30 p.m.
The Runway
3523 12th Street, N.E.
$15-$20
Facebook | Eventbrite
Baphemette hosts "Hellboiz, a priDEMONth Drag King Show tonight at The Runway DC. Performers include Mota, Flirty Rico, Silver Ware and Dr. Torcher.
---
Revolution! The Official Capital Pride Saturday Party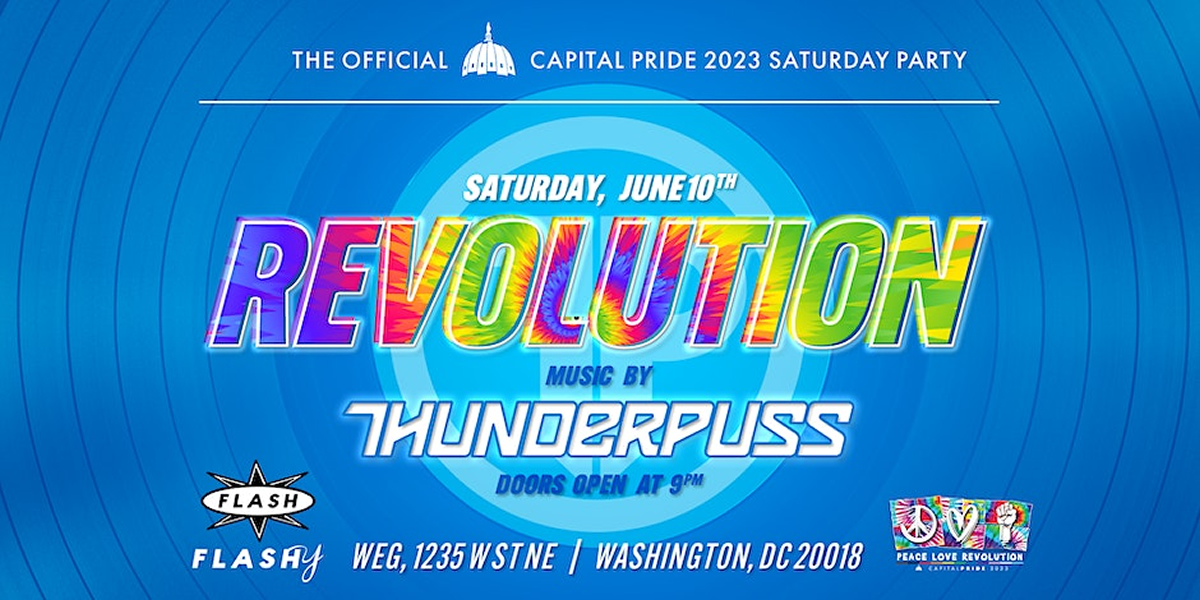 Saturday, June 10
9 p.m.-3 a.m.
WEG
1235 W Street, N.E.
$35-$55
Eventbrite
The Capital Pride Alliance holds the official Saturday Pride party at WEG tonight.
---
Vanguard Pride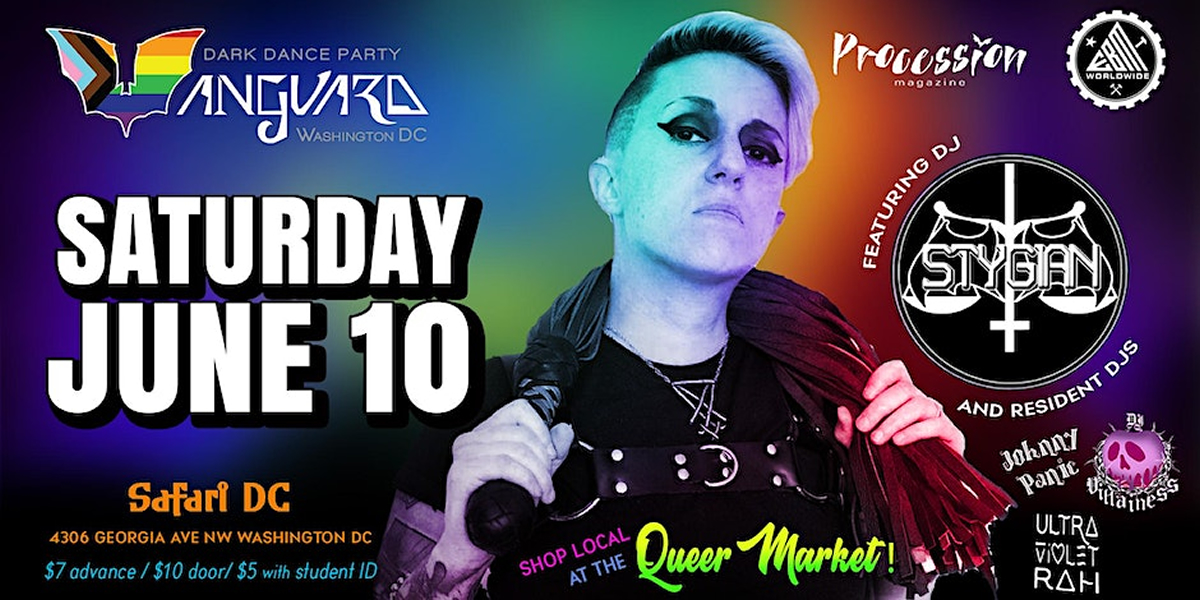 Saturday, June 10
9 p.m.-2 a.m.
Safari DC
4306 Georgia Avenue, N.W.
$7-$10
Eventbrite
Vanguard Dark Dance Party brings you Vanguard Pride at Safari DC tonight. Admission is $7 in advance, $10 at the door and only $5 with a student ID.
---
FUSE: Main Womxn's DC Pride Party
Saturday, June 10
9:30 p.m.-3 a.m.
Howard Theatre
620 T Street, N.W.
$20 / 18+
Facebook | Tickets
The Ladies of LURe and Tagg Magazine present the Main Womxn's DC Pride Party: fuse. The Howard Theatre event features the DystRucXion Dancers, DJ Honey, DJ Jai Syncere and DJ Eletrox.
---
All That Glitters Drag Ball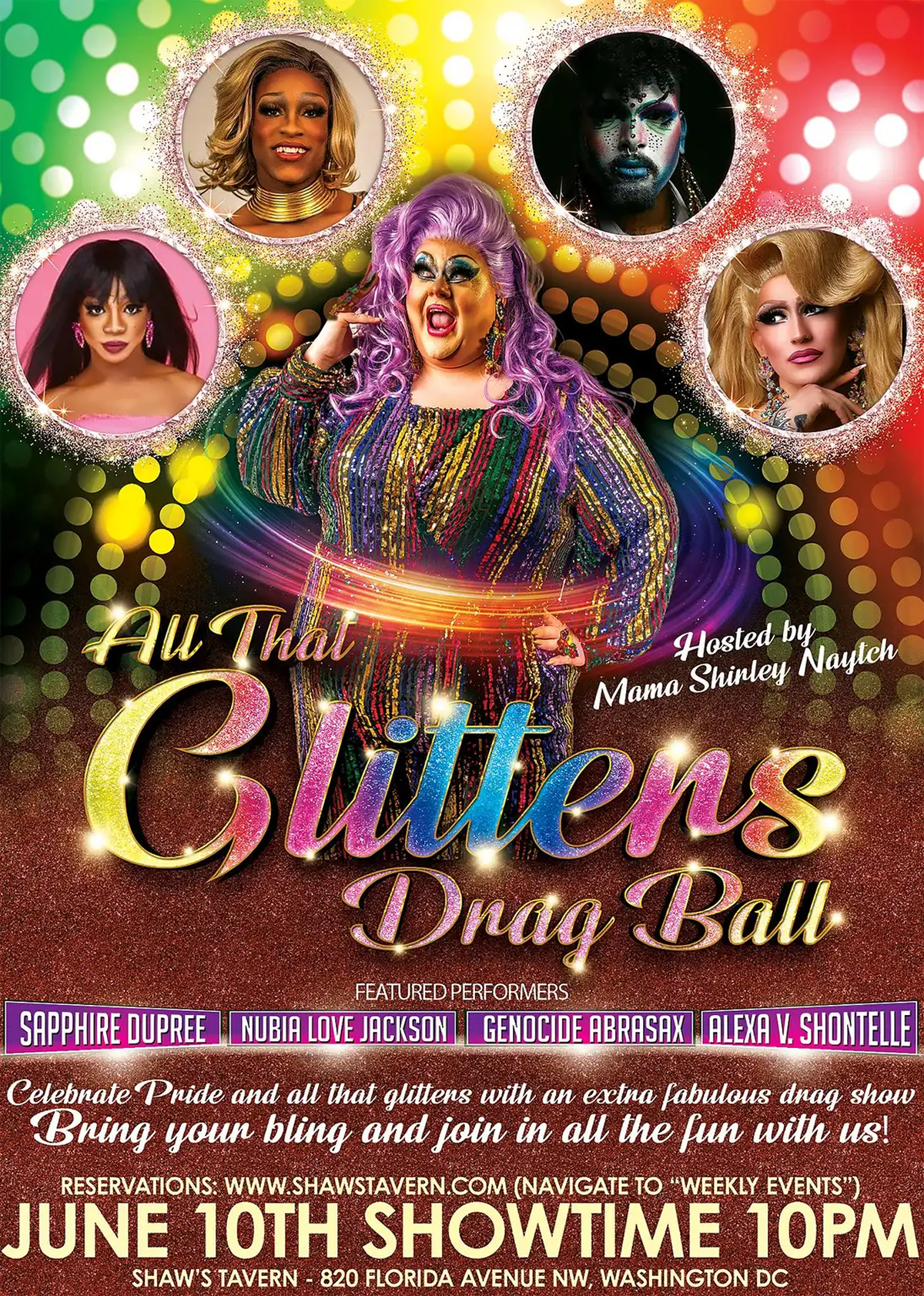 Saturday, June 10
10 p.m.
Shaw's Tavern
520 Florida Avenue, N.W.
Reservations
Shaw's Tavern is holding an "All That Glitters Drag Ball" tonight featuring Sapphire Dupree, Nubia Love Jackson, Genocide Abrasax and Alexa V. Shontelle.
---
Dirty Pop Pride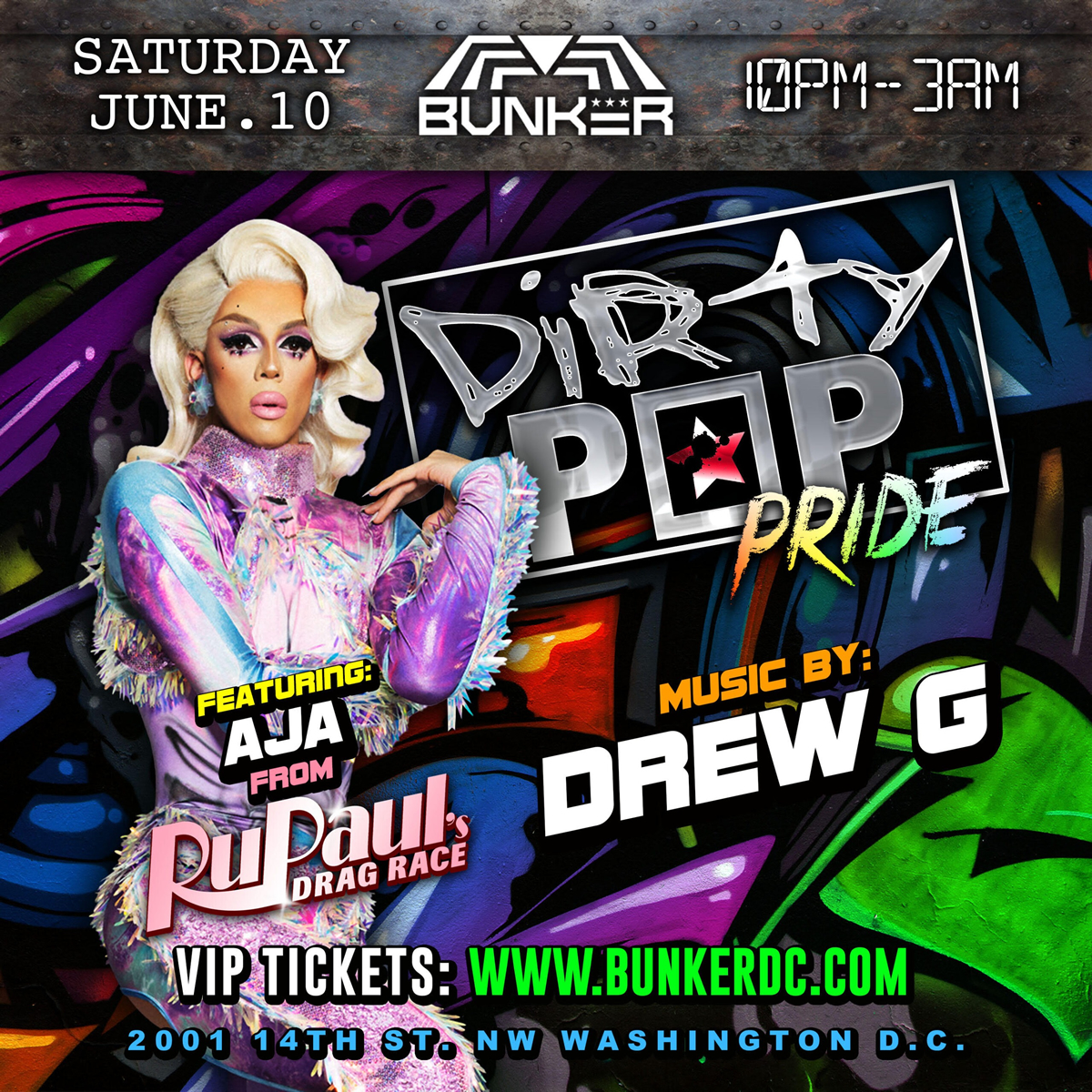 Saturday, June 10
10 p.m.-3 a.m.
Bunker
2001 14th Street, N.W.
Some VIP express entry final tier tickets available at $25
Tickets
"RuPaul's Drag Race" alum Aja is featured at Dirty Pop Pride at Bunker tonight.
---
KINETIC: Candyland with Betty Who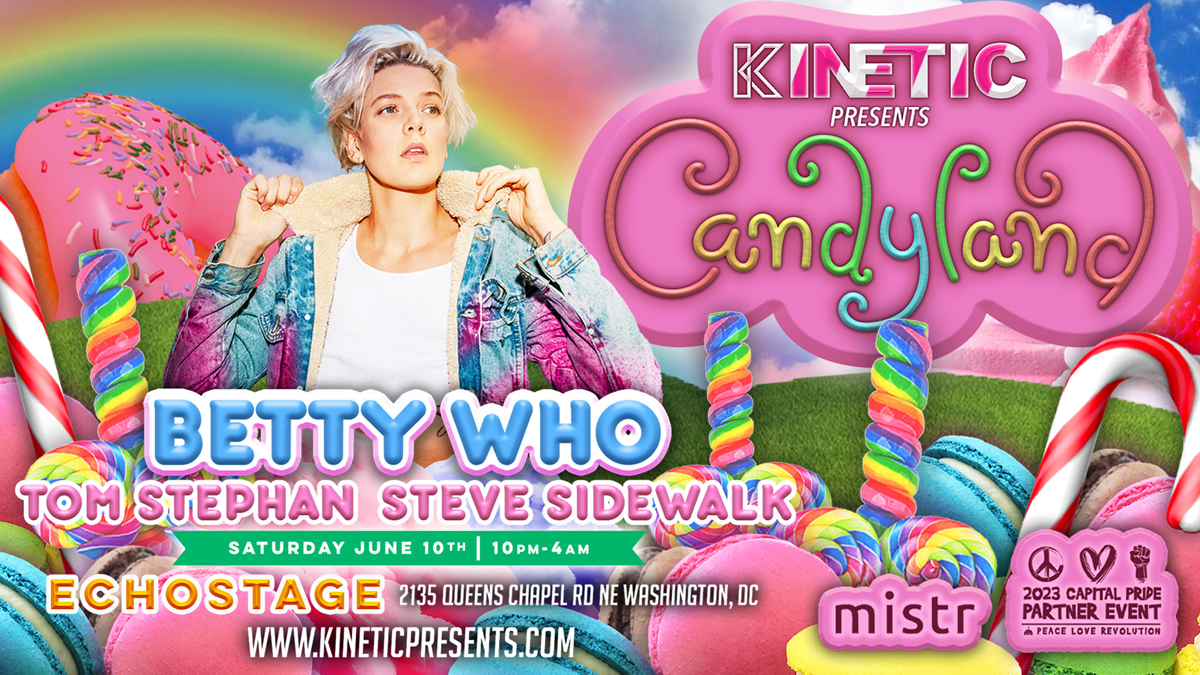 Saturday, June 10
10 p.m.-4 a.m.
Echostage
2135 Queens Chapel Road, N.E.
$65-$80 (or purchase weekend pass)
Facebook | Tickets
The big Pride parties continue with KINETIC: Candyland with Betty Who at Echostage from 10 p.m. to 4 a.m.
---
Kinki. Leather Night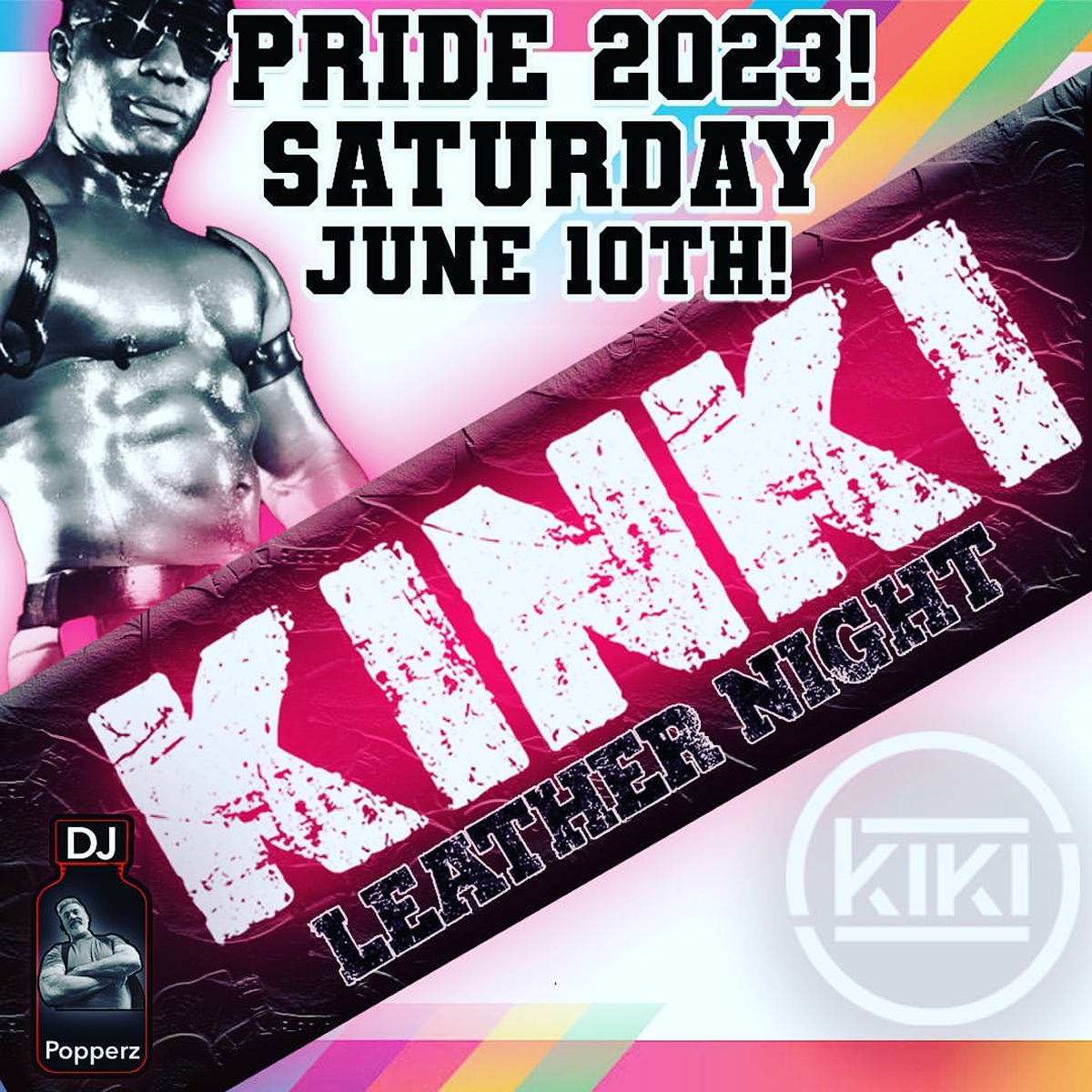 Saturday, June 10
10 p.m.
Kiki
910 U Street, N.W.
Instagram | Facebook
Kiki is holding its leather night, "Kinki," tonight at 10 p.m.
---
Leather Dykes: Pride 2023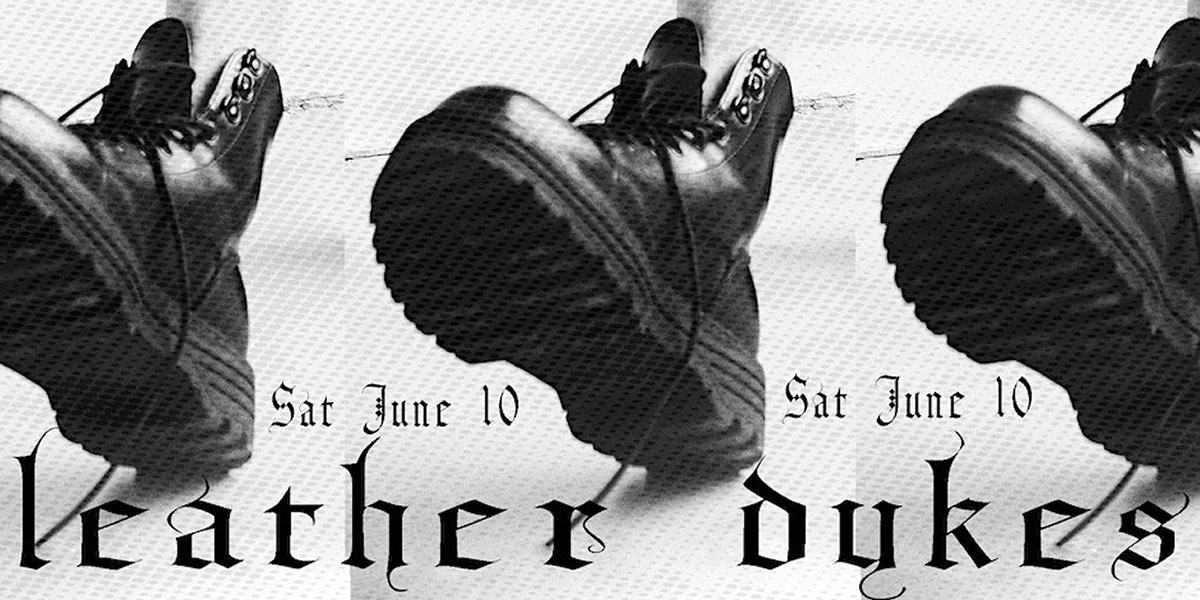 Saturday, June 10
10 p.m.-3 a.m.
DC9 Nightclub
1940 9th Street, N.W.
$15
Eventbrite
Leather aficionados are spoiled for choice as DC9 Nightclub holds Leather Dykes: Pride 2023 tonight.
Signature's acclaimed music director tackles 'Sweeney Todd'
Kalbfleisch excited to conduct 15-piece orchestration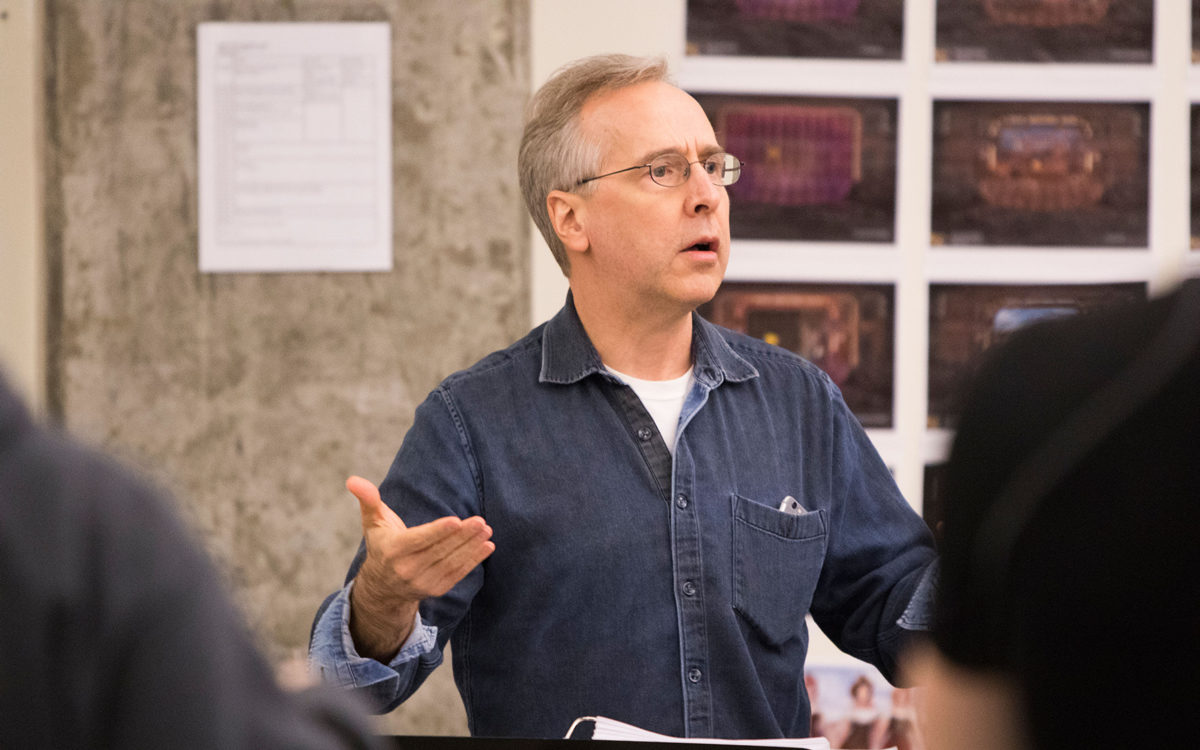 'Sweeney Todd'
Through July 9
Signature Theatre
4200 Campbell Ave.
Arlington, Va. 22206
$40-119
Sigtheatre.org
Typically, music directors play second fiddle to directors. "That's just how it is in theater," says Jon Kalbfleisch, longtime resident music director at Signature Theatre. "It's different with opera. But those audiences have altogether different expectations."
For the hugely talented Kalbfleisch, vying for attention has never been a concern. With 10 Helen Hayes Awards and an astounding 30 nominations under his belt, he's had his time in the limelight, and more importantly, the out music director is focused on the work.
Currently he's music directing his fourth production of composer Stephen Sondheim's "Sweeney Todd" at Signature Theatre and he couldn't be happier. He counts the famously hard to sing "Sweeney" as both his favorite Sondheim show and among his all-time favorite scores overall. He says "like all Sondheim shows it has a lot of challenges, the ensemble stuff is particularly hard and the finale is really tricky. When it goes perfectly though, it's wonderful."
A tale of revenge soaked in melodrama and dark humor, the 1979 hit musical set in grubby 19th century London is rife with memorable numbers including "The Worst Pies in London," "A Little Priest," "Johanna" and "Not While I'm Around." In Signature's current offering directed by Sarna Lapine, Sweeney, the disgruntled, murderous barber, and his ruthless pie-making accomplice Mrs. Lovett are played respectively by Broadway actors Nathaniel Stampley and Bryonha Marie.
Kalbfleisch first music directed "Sweeney" (Signature's first ever musical) in 1991 at the company's then home, the Gunston Arts Center in Arlington; his second Signature "Sweeney" starring Norm Lewis and Donna Migliaccio was in 1998 at Signature's legendary garage space; and there was a third production in the MAX Theatre, their top-notch permanent home in Shirlington in 2010 with Ed Gero and Sherri L. Edelen.
"What makes the current production unique," explains Kalbfleisch, who lives just a short walk from Signature, "is a 15-piece orchestration that Jonathan Tunick [famed longtime Sondheim collaborator] did for a production in the UK. When Tunick takes his own work and makes it for a small ensemble it feels utterly complete. The way he redid it, it doesn't feel smaller than the original."
Long before the cast convenes, Kalbfleisch begins his preparation, attacking a score as if he's never seen it before. For several weeks, he rehearses the orchestra, ensemble, and leads separately and together. Once the show opens, he conducts the 15-piece orchestra at every performance. Arduous? Maybe. But he enjoys every moment.
A meticulous professional prone to generous laughter, Kalbfleisch's first love is piano, but conducting runs a close second. He says "the opportunity to stand up and conduct 15 players with the terrific cast of 'Sweeney' that we have right now I'm in a very happy place."
Like many talented young pianists, the Lawton, Okla., native was recruited into musical theater: "My high school's choir director said you're going to be my accompanist. Similarly, my band director volunteered me to play piano for the school music 'You're a Good Man Charlie Brown' I had little choice."
"The experience was lots of fun, but it never occurred to me that it would be a big part of my career."
He studied classic piano at Cameron University in Oklahoma, and went on to earn a Master of Music, at Southern Methodist University in Dallas. It was in Texas that he really dipped his toe into music direction at a small professional theater with shows like "Pirates of Penzance" and a fully orchestrated "A Chorus Line."
Over his more than 30-year tenure at Signature, Kalbfleisch has music directed 33 Sondheim musicals. As an integral part of Signature, a Tony Award-winning regional theater, he's had the chance to collaborate with Broadway luminaries including Sondheim, Angela Lansbury, Chita Rivera, and Tunick. He's humbled and happy by the way things have worked out.
Looking forward, Kalbfleisch is ready for more pared down, big music Sondheim shows. He says, "Matthew [Matthew Gardiner, Signature's artistic director] is very appreciative of the music and keen on maintaining doing shows with as big of an orchestra that we can manage."
He's a terrifically busy guy. In addition to his work at Signature, Kalbfleisch is – among a zillion other things — the conductor of his hometown Lawton Philharmonic Orchestra and serves as the music director and organist at Capitol Hill United Methodist Church.
Sundays can be complicated. They might include church service, a matinee, and an evening performance. When his schedule is tight, it's just eating, sleeping, and working and not much else.
And when "Sweeney" closes in July? Kalbfleisch says he'll drop. Until the next job.
Virginia Queer Film Festival to debut
Inaugural event to hold screenings at ODU's University Theater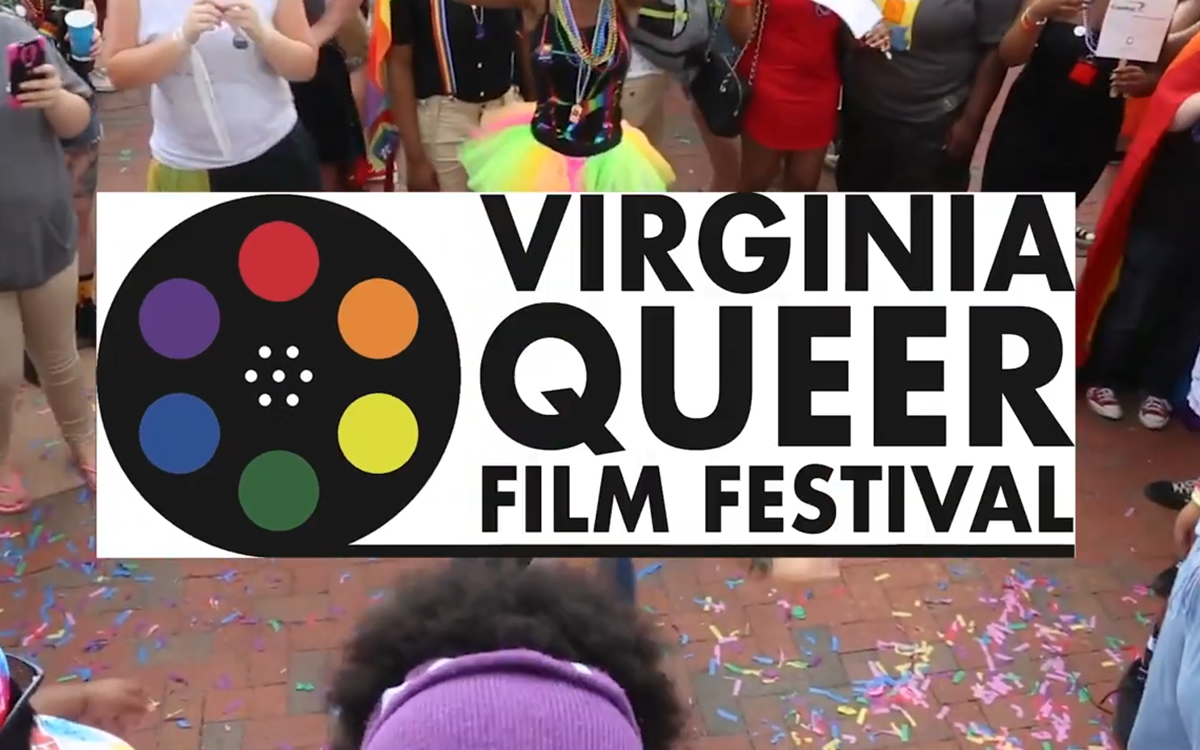 The inaugural Virginia Queer Film Festival will start on Wednesday, June 14 on the campus of Old Dominion University at the University Theater.
More than 35 films, including short packages, features and documentaries, will be screened. In addition to the films, there will be filmmaker talkbacks, educational workshops and opening and closing ceremonies.
Tickets are available on the festival's website.