Lesbian restaurant owner wins fight to expand outdoor patio
Liquor board decision considered rebuke to nightlife opponents

The D.C. Alcoholic Beverage Control Board released a decision on Thursday allowing lesbian chef Jamie Leeds to expand the outdoor seating and operating hours of her popular Dupont Circle area restaurant Hank's Oyster Bar.
The board's decision appears to have ended a two-year dispute in which a group of six neighborhood activists sought to block the restaurant's application to expand its outdoor patio to accommodate 20 additional customers, an increase from 20 to 40.
"It feels like such a relief," Leeds told the Washington City Paper. "We're thankful that it's over and that we can move on."
Hank's bills itself as a neighborhood restaurant rather than a gay bar, and Leeds and her supporters have said opponents did not appear to be targeting the establishment because it's gay owned.
But D.C. nightlife advocates, both gay and straight, said Leeds emerged as one of the first neighborhood businesses with a liquor license to rally public support behind her challenge to a longstanding city policy that allows just five citizens to protest a liquor license and impose a "voluntary agreement" to restrict the hours of operation and prohibit the lateral expansion of a bar or restaurant.
At the time Hank's first applied for the expanded patio space in 2010 a group of six citizens, one of whom didn't live in the immediate neighborhood, invoked their legal right to protest the proposal. The "Gang of Six," as nightlife advocates called them, acknowledged that no problems had been reported with Hank's during its five years in business. But they said the termination of a voluntary agreement would set a harmful precedent for future businesses that did cause problems in the neighborhood. The six citizens argued that as a matter of principle, they would oppose ending all voluntary agreements, including the one signed by Hank's five years earlier.
The dispute received widespread media attention in June of this year when one of the citizens opposed to Hank's patio expansion reportedly called the liquor board to report that Hank's was planning to use the additional patio space on the day of the city's Capital Pride Parade, which passes next the restaurant on 17th Street.
City inspectors responded on the night before the parade by ordering Hank's shut down the expanded patio space, citing a court order obtained by the opponents several weeks earlier.
"The ongoing harassment by this small band of residents is astonishing and the timing of this individual's complaint before the annual celebration is despicable," Leeds wrote in an open letter to the community.
Leeds called for the repeal of the law that allows as few as five citizens to contest liquor license applications.
She said that at the time she first opened Hank's Oyster Bar in 2005 at 1624 Q Street, N.W., in the heart of the 17th Street business and restaurant district, she was pressured by some of the same nearby residents into signing the voluntary agreement. Among other things, the agreement prevented Hank's from laterally expanding its seating and occupancy. The agreement also required that the restaurant close both its indoor and outdoor space at midnight.
Leeds said that had she resisted signing the agreement the neighborhood activists pushing it threatened to continue their legal protest against her license application, forcing her to spend large sums in legal fees and delaying for months if not more than a year her ability to open for business.
Five years later, when Leeds learned that an adjacent restaurant was closing, she applied to the ABC Board to have her voluntary agreement terminated to enable her to expand into the adjacent space, which would allow for more outdoor seating. She noted that in her five years of operating Hank's she had yet to encounter any complaints or problems with nearby residents.
Most neighborhood residents supported the expansion request, saying the popular restaurant was often full, requiring loyal customers to wait as long as an hour to be seated, according to gay activist and nearby resident Peter Rosenstein.
The Dupont Circle Advisory Neighborhood Commission quickly approved Leeds' request and forwarded its decision to the ABC Board, which has authority to make the final decision on liquor related matters.
The board approved the request, saying that various changes, including a change in zoning regulations for 17th Street and the elimination of a moratorium on new liquor licenses, met the legal requirements for voiding a voluntary agreement.
Earlier this year, the six citizens that initiated the 2005 voluntary agreement and who opposed Hank's 2010 application for the expansion appealed the board's decision before the D.C. Court of Appeals.
The appeals court overturned the board's decision and remanded the case back to the board, requiring that the board review issues the court said it had not reviewed thoroughly enough when it issued its decision granting the request to end the voluntary agreement.
Michael Hibey, the attorney representing the six residents opposed to eliminating the agreement, couldn't' immediately be reached for comment and to determine whether the residents plan to appeal the board's latest decision in favor of Hank's.
Andrew Kline, who has represented Hank's as an administrative counsel, said the difficulties Leeds encountered in applying for a modest expansion of what he called a well-run, problem-free restaurant has drawn attention to the need for regulatory changes in the city's liquor licensing procedures.
"This situation with Hank's has highlighted the abuses in this process and caused people to come forward and say we have had enough of this," Kline said.
Local scientific non-profit U.S. Pharmacopeia kicks off Pride month
Council member Glass helps raise Progress Pride flag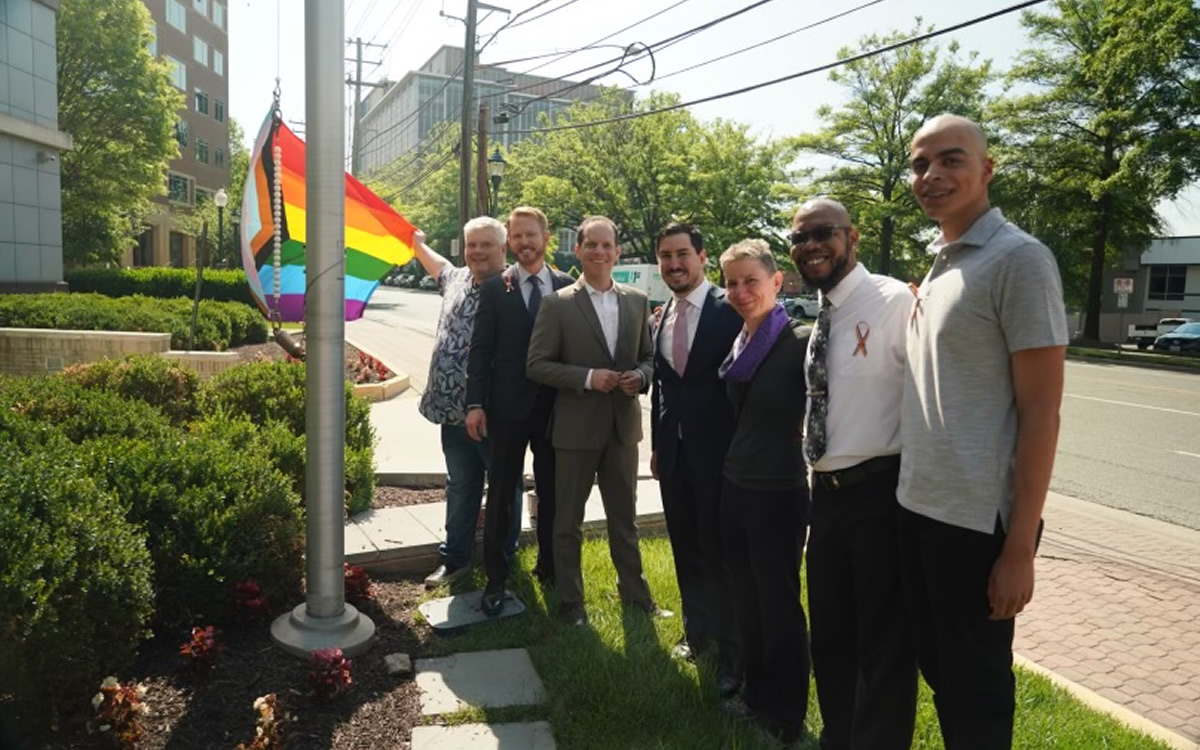 Montgomery County Council Member Evan Glass, joined almost 100 staff members and their families at U.S. Pharmacopeia (USP) to raise the "Progress Flag" and kick off a month-long celebration of Pride at the scientific non-profit in Rockville and in their offices around the world.
USP leadership and Council Member Glass each shared personal stories of their own journeys in addition to recalling the evolution of Pride from a day of protest to a month of celebration. Laurel Faust, USP Principal Scientific Editor – Publications recalled how in the 1980s a task many in D.C. now take for granted, getting a security clearance for a job, involved pointed questions that could lead to termination, investigation, or both.
Pride is much more than gay rights – it is an intersectional issue that speaks to the importance of human rights, said both Council Member Glass and Brandon Bickerstaff, head of the USP Black Employee Resource Group. They each reminded the audience that Black trans women were the original targets of police brutality during the Stonewall Uprising that served as the catalyst to the Pride movement.
"USP recognizes that Pride month has evolved to become much more than a march, a celebration, or the commemoration of an anniversary," said Anthony Lakavage, Senior Vice President, Global External Affairs & Secretary, USP Convention & Board of Trustees and eQuality Alliance Executive Sponsor. "It is a time that brings the LGBTQ+ and straight community together in the shared mission of advancing human rights and dignity."
The day's events were sponsored by the eQuality Alliance, USP's LGBTQ+ Affinity Group, and the USP Office of Organizational Culture, Equity and Inclusion (Equity Office). USP's Equity Office focuses on driving a more inclusive culture at the organization. The Equity Office encourages staff to participate in Affinity Groups, which comprise of employees who drive dialogue and educate staff about challenges faced by and the history these marginalized communities often share. USP's Affinity Groups include those around race, gender, national origin, sexual orientation, Veterans' status, disability and diverse minds & bodies. The groups enable staff to support one another, connect frequently, and contribute to each other and the organization at a high level, thereby instilling a more inclusive work environment.
Michael Schmitz, International Advocacy Director and Laurel Faust, Principal Scientific Editor – Publications, are co-leads of the U.S. Pharmacopeia Affinity Group.
Study: One in ten LGBT workers experienced discrimination at work
LGBTQ employees of color were more likely to report being denied jobs and verbal harassment at work as opposed their white counterparts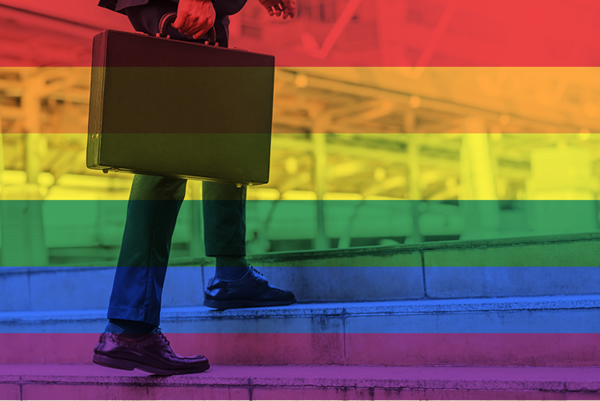 LOS ANGELES – A new study by the Williams Institute at UCLA School of Law finds an estimated 46% of LGBT workers have experienced unfair treatment at work at some point in their lives, including being fired, not hired, or harassed because of their sexual orientation or gender identity.
An estimated 9% of LGBT employees reported experiences of discrimination in the past year, despite the U.S. Supreme Court's 2020 decision in Bostock v. Clayton County, which extended employment non-discrimination protections to LGBT people nationwide. Approximately 11% of LGBT employees of color reported being fired or not hired because of their sexual orientation or gender identity in the last year.
Using survey data collected in May 2021 from 935 LGBT adults in the workforce, researchers examined lifetime, five-year, and past-year discrimination among LGBT employees.
Results show that over half (57%) of LGBT employees who experienced discrimination or harassment at work reported that the unfair treatment was motivated by religious beliefs, including 64% of LGBT employees of color and 49% of white LGBT employees.
"Employment discrimination and harassment against LGBT people remain persistent and pervasive in 2021," said lead author Brad Sears, Founding Executive Director at the Williams Institute. "Passing the Equality Act would ensure that LGBT people—particularly transgender people and LGBT people of color—are allowed to participate fully in the workplace as well as other public settings."
ADDITIONAL FINDINGS:
Discrimination
30% of LGBT employees reported experiencing at least one form of employment discrimination (being fired or not hired) because of their sexual orientation or gender identity at some point in their lives.
29% of LGBT employees of color reported not being hired compared to 18% of white LGBT employees.
Harassment
38% of LGBT employees reported experiencing at least one form of harassment (including verbal, physical, or sexual harassment) at work because of their sexual orientation or gender identity at some point in their lives.
LGBT employees of color were significantly more likely to experience verbal harassment than white employees.

36% of LGBT employees of color reported experiencing verbal harassment compared to 26% of white LGBT employees.
Religious Motivation
Of employees who experienced discrimination or harassment at some point in their lives, 64% of LGBT employees of color said that religion was a motivating factor compared to 49% of white LGBT employees.
Avoiding Discrimination
Half (50%) of LGBT employees said that they are not open about being LGBT to their current supervisor and one-quarter (26%) are not out to any of their co-workers.
Many LGBT employees reported engaging in "covering" behaviors to avoid harassment or discrimination at work, such as changing their physical appearance and avoiding talking about their families or social lives at work.

For example, 36% of transgender employees said that they changed their physical appearance and 28% said they changed their bathroom use at work to avoid discrimination and harassment.
Time to dust off your pre-pandemic budget
We can no longer rely on closures to restrict us from spending money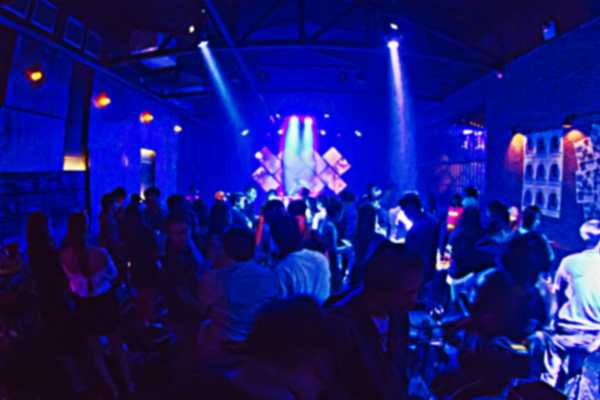 D.C.'s first 'mostly open' weekend shows there is a year's worth of socializing built up. It was amazing to feel the energy of the District roar back to life. From long lines outside bars to literal dancing in the streets – this is the city we all came to love. Now that the physical hangover may have subsided, you should prepare for the financial hangover. If you were lucky to keep your full pay and position through the pandemic, data tells us most of you were paying down debt.
The first thing everyone needs to do is dust off that old pre-pandemic budget. Sadly (or really luckily), we can no longer rely on health restrictions to naturally restrict us from spending. If you need a refresher, start with your post-tax income. From there, subtract 'fixed' or required expenses, like rent, and the balance is what you get to play with. Some may ask why I don't use gross income (aka the before tax income) like many financial institutions do for credit applications. Frankly, it's because net income (aka the money you actually receive) is the most practical number to budget daily life with. It's what you can tangibly use to live.
Now as you develop your budget, return to using an app like Mint to take some of the work out of it. If you prefer to retain some level of privacy, many banks offer their own version of 'spending trends' that you can use to put together a more simple budget. This time the challenge is a bit different – we are all 'restarting' our social lives. So instead of having to 'cut' things, we can better prioritize what we actually want to do. Still – it is not easy or fun to have to choose, but every dollar you don't spend today, will be there for the next rainy day.
Finally, so many of our friends and family lost their jobs or had their wages cut during the pandemic. Expanded unemployment benefits helped, but anyone trying to budget for life in D.C. knows that choices had to be made and often rent/utilities took a back seat to eating. Luckily, a state-run, but federal program will help people pay back rent and utilities, so they can focus on getting back to work. In D.C., this is called StayDC, but each jurisdiction offers a similar program.
Be prepared to do a little homework, you will need proof of income (or lack thereof) and documentation of the late payments. Finally, your landlord will need to complete separate forms, but it is in their best interest to receive those funds, so don't let them drag their feet. The program will cover back rent to April 2021, three months of future rent, and past utilities. Do not delay, nor feel any shame by participating – this is the key to your long term success and, frankly, is a drop in the bucket compared to other spending priorities.
I hope this helps and I wish everyone a much more fun and prosperous 2021.

Information contained herein is for informational purposes only and should not be considered investment advice or recommendations. Advice may only be provided after entering into an advisory agreement with an advisor.
Alex Graham is a Principal at Graham Capital Wealth Management, a registered Investment Advisor located on K Street.