High stakes in marriage cases awaiting Supreme Court
Legal experts weigh in on what to expect next week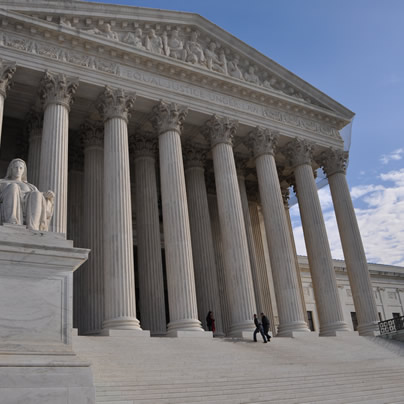 All eyes will be on the U.S. Supreme Court next week when it could announce whether it will take up high-profile LGBT-related cases challenging the Defense of Marriage Act and California's Proposition 8 — and the results of those decisions could have an immediate impact on the marriage rights of same-sex couples.
On Monday, justices are scheduled to hold their first conference to decide cases they will consider when they reconvene in October following their summer recess. Among the cases docketed for this meeting is federal litigation challenging Prop 8, now known as Hollingsworth v. Perry, and one of the cases challenging Section 3 of DOMA, Windsor v. United States.
Justices can decide to take up a case, decline to hear it or put off the decision on considering the lawsuit for a future conference. It takes a vote of four justices to grant a writ of certiorari (to take up a case) but the decision will be put off if any one justice wants more time to decide.
The decision on the Prop 8 case is of particular note because if the court decides against taking up the case and lets stand an appeals court decision against the same-sex marriage ban, gay couples would once again have the right to marry in the nation's most populous state immediately following a mandate from the U.S. Ninth Circuit of Appeals.
But if the Supreme Court decides to take up the case, the ban would remain in effect until the justices make their own ruling in the lawsuit. It's possible the court could make a decision saying lower courts erred in overturning Prop 8. For the same-sex marriage ban to come to an end at that point, another lawsuit coming up from the district courts or repeal of Prop 8 at the ballot would be necessary.
Jennifer Pizer, legal director for the Williams Institute, said while she thinks the court is likely to take up cases related to DOMA, it's a "much harder guess" whether justices will decide to hear the Prop 8 litigation.
"There might well be four justices that disagree with what the Ninth Circuit held, but I think it would be challenging for them probably — as it is for everybody else who's watching the court — to wonder where a fifth vote might go," Pizer said. "So I think it's even odds that the court will not review in Perry."
Jon Davidson, legal director for Lambda Legal, said in the event that the Supreme Court decides not to hear the Prop 8 case, gay couples should wait for the mandate from the Ninth Circuit before marrying in California.
"My advice to people is plan a nice wedding as opposed to running that day to go get married because there's always some risk for couples that get married and 10 years split up, one might say, 'You didn't really get legally married because the injunction wasn't in place yet and Prop 8 was still the law and they shouldn't have married us,'" Davidson said. "Although I think that argument would lose, people don't need to take on potentially having to fight about that later. If they just wait until the mandate, there won't be any question."
There could be an advantage for the LGBT community if the Supreme Court takes up the lawsuit because it could produce a ruling that would affect not only California, but all states with same-sex marriage bans throughout the country. Still, this level of examination bring a new scope of review to the Prop 8 lawsuit because the Ninth Circuit was limited in the way it restricted its reasoning to California.
Pizer said the Supreme Court could rule with a larger scope when considering the constitutionality of Prop 8, but such an evaluation would be unlikely given the limited nature of the Ninth Circuit ruling.
"I think it's extremely unlikely that there would be a ruling either calling in question all the marriage restrictions of all the states that have them, or on the flip-side, holding that marriage absolutely as a matter of federal law must be restricted just to different-sex couples," Pizer said. "The things that could be done on the more extreme ends of something favorable or unfavorable to same-sex couples is not so likely."
The situation is slightly different for the DOMA lawsuits because the Windsor case is the only one that has been fully briefed and docketed for the Sept. 24 conference. The court may not issue a decision on reviewing DOMA until the full range of lawsuits challenging the anti-gay law have been scheduled for consideration.
More DOMA-related cases haven't yet been set for consideration even though the high court has been asked to consider them. They're the consolidated case of Gill v. Office of Personnel Management and Commonwealth of Massachusetts v. Department of Health & Human Services, the only lawsuit in which an appeals court has ruled against DOMA, as well as Golinski v. Office of Personnel Management and Pedersen v. Office of Personnel Management.
Davidson said the Supreme Court could also wait to make a decision on whether to hear the Prop 8 lawsuit until making a decision on whether to hear the DOMA cases.
"Different issues in the cases, but they might say, 'Well, let's think about all these at the same time to think about whether we should grant review in both kinds of cases or one, and which order," Davidson said.
As with the Prop 8 case, if the Supreme Court decided against hearing the DOMA cases, it would have significant immediate impact. The federal government would recognize the same-sex marriages of states within the jurisdiction of the First Circuit and other challenges against DOMA would continue up the pipeline.
But the court is widely expected to decide to take up the constitutionality of DOMA because unlike Prop 8, the issue is related to federal law and the U.S. Justice Department has interceded — first in July and again this month — to ask the court to take up each of the four cases pending before the court related to the law. And a ruling from the Supreme Court would almost certainly have a nationwide scope that would enable federal recognition of same-sex marriages throughout the country as opposed to a ruling that would affect only one state.
There's another benefit to the LGBT community if the Supreme Court were to take up the cases: the application of higher standard of review for cases related to sexual orientation. The Golinski and Pedersen cases are unique among the other DOMA lawsuits because they are the only ones in which lower courts have ruled against DOMA on the basis that they don't meet the standards of heightened scrutiny, or the assumption they're unconstitutional. If the Supreme Court were to consider these cases along with other DOMA cases, it could set precedent for applying heightened scrutiny to other laws in the future.
A Supreme Court ruling in favor of the anti-gay side would be significantly burdensome for supporters of same-sex marriage. That would mean opponents of the law would have to fight through the legislative process to lift the ban — a daunting task especially if Republicans were to retain control of the House.
Justices also have an opportunity in taking up the DOMA cases to assert whether the House Republican-led Bipartisan Legal Advisory Group, which took up defense of DOMA after the Obama administration declined to defend the law, has standing to defend it. Some lower courts have hinted BLAG may lack standing to defend DOMA because it's a committee within the House that hasn't been approved by a floor vote in either chamber of Congress.
Doug NeJaime, who's gay and a law professor at Loyola Law School, said the role of BLAG and where the committee derives its authority presents an interesting question to the Supreme Court.
"It would be interesting to see whether the justices actually ask those threshold questions about what the status and standing of BLAG actually is," NeJaime said. "Because both sides want a substantive determination, I think that's partly why we haven't seen it become a huge issue, but it is an interesting question."
It's unclear what the schedule will be like for the cases if the Supreme Court decides to take them up. Briefings would ensue in the months that follow and oral arguments may take place in the spring for the court to make a ruling before it adjourns in June. For the DOMA lawsuit, the Supreme Court may take up the cases, but decline to take action until more appellate courts have made decisions on the pending litigation.
Pizer said the Supreme Court may seek to hear arguments on the Prop 8 cases at the same time because they're both related to marriage.
"The DOMA cases are quite distinct from Perry, but at the same time, they concern marriage for same-sex couples, and certainly some of the arguments made in all these cases resemble, so it wouldn't be that surprising for the justices to decide to consider a number of them at the same time," Pizer said.
Legal experts also say the votes of each of the justices in granting a writ of certiorari shouldn't be an indication of how they'll ultimately rule in each of the cases.
NeJaime said observers "can't read too much into" the certiorari votes because justices may decide to take up the cases either because they want to uphold or strike down the laws at hand.
"I think there are clearly going to be justices, for instance, on the DOMA cases that want to take it to overturn, and will overturn DOMA, and, I think, there are justices that want to take it and would uphold DOMA, so I think it's hard to tell, although I think the DOMA cases are the stronger cases for the LGBT side," NeJaime said.
Other LGBT cases pending before the Supreme Court are scheduled for September conference, but they aren't as high-profile as the marriage cases. Justices will consider whether to take up the case of Diaz v. Brewer, in which Gov. Jan Brewer (R) has appealed an injunction placed by a district court prohibiting her from enforcing a law taking away domestic partner benefits from Arizona state employees. Another pending case is National Organization for Marriage v. McKee, in which the anti-gay organization is challenging Maine disclosure laws requiring it to reveal donors regarding its involvement in the 2009 marriage ballot initiative in the state.
Conservative West Virginia state GOP lawmaker comes out during Pride
"I'm still a conservative Republican. That's rare, I know, but you can be gay and Republican. You can be gay and conservative."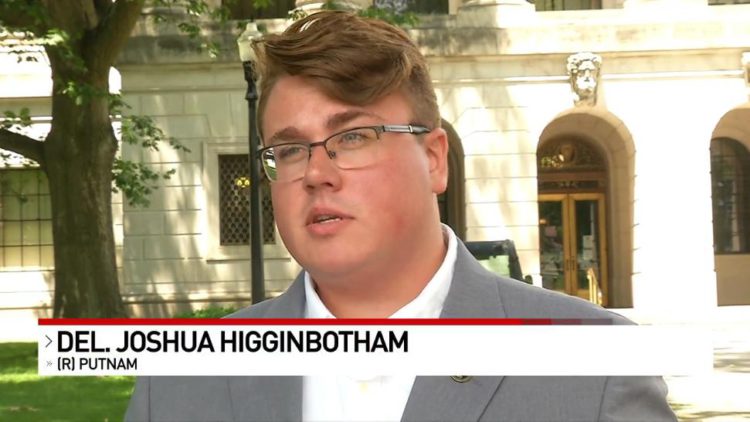 CHARLESTON, WVA. – A conservative Republican lawmaker in the House of Delegates took to Twitter and other social media platforms this past weekend announcing that he is gay. Twenty-four year old Joshua Higginbotham said that he felt he owed it to the voters of West Virginia, after recently deciding to share it with his family and friends.
Higginbotham, who was first elected to the House when he was only 19, represents rural Putnam County located alongside Interstate 64 between the state's capital city of Charleston to the East and Huntington to the West. His campaign adverts have all trumpeted his avid support of the Second Amendment as well as taking a pro-life position.
However, a check of some of his recent legislation shows a more progressive mindset. He is lead sponsor on House Bill 2998, a measure amending the State's current codes relating to unlawful discriminatory practices in four categories covered by the West Virginia Human Rights Act and the Fair Housing Act, adding language that prohibits discrimination based upon age and sexual orientation, or gender identity; and defining "sexual orientation" and "gender identity."
That measure, earlier in the legislative session, led to a series of conflicts which involved the state's only other openly gay lawmaker, Democratic Delegate Cody Thompson (D43-Marion). Republican House Delegate John Mandt, who resigned after posting an anti-gay slur but then was re-elected drew harsh criticism for an extended online diatribe opposing protections against discrimination based on sexual orientation and gender identity the Associated Press reported earlier this year on February 7, 2021.
In his social media video as well as in an interview with reporter Anthony Conn from the local ABC News affiliate WCHS 8 in Charleston, Higginbotham said, "I am still a Christian. People think that gay people can't be Christians. I believe God loves me no matter what. I'm still a conservative Republican. That's rare, I know, but you can be gay and Republican. You can be gay and conservative."
He added referring to his conservative politics that "nothing changes except now [you] know about my personal life."
The statewide LGBTQ advocacy group Fairness West Virginia applauded the delegate's decision to come out. "We think that it's great that Delegate Higginbotham can lead his authentic life now. This must be a big burden that's lifted off his shoulders," Executive Director Andrew Schneider told WCHS ABC 8.
There are some in the state who are critical of Higginbotham. One source who asked to not be identified, told the Blade in a phone call Tuesday that Higginbotham's support of former President Trump raised some doubts as to his veracity especially in issues surrounding Transgender West Virginians.
Biden admin: Discrimination against LGBTQ kids illegal under Title IX
In contrast, Trump DOJ sided with anti-trans laws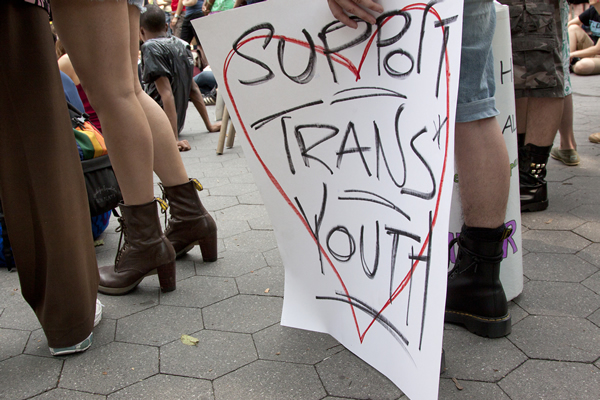 The Biden administration made official on Wednesday its position that discrimination against LGBTQ kids in schools is illegal under federal law at a time when states have enacted measures prohibiting transgender kids from playing in school sports or obtaining transition-related health care.
The Education Department, in a notice of interpretation signed by Secretary of Education Miguel Cardona, declared it would enforce Title IX of the Education Amendments of 1972, which bars discrimination on the basis of sex in schools, to prohibit discrimination both on the basis of sexual orientation and gender identity.
"The Supreme Court has upheld the right for LGBTQ+ people to live and work without fear of harassment, exclusion, and discrimination – and our LGBTQ+ students have the same rights and deserve the same protections" Cardona said in a statement. "I'm proud to have directed the Office for Civil Rights to enforce Title IX to protect all students from all forms of sex discrimination. Today, the Department makes clear that all students — including LGBTQ+ students — deserve the opportunity to learn and thrive in schools that are free from discrimination."
In contrast, the Trump administration had interpreted Title IX to exclude cases of anti-transgender discrimination in schools. In fact, the Justice Department under former President Trump filed a legal brief in defense of an Idaho law against transgender kids in sports in ongoing litigation against the statute.
Just this year, a number of states have enacted similar laws. Florida Gov. Ron DeSantis, a potential 2024 presidential candidate, said upon signing into law a measure banning transgender kids, that status would go "based on biology." Arkansas has enacted a law over the veto of its governor making criminal the providing of transition-related care to transgender kids.
The notice of interpretation is consistent with the executive order President Biden signed on his first day in office instructing federal agencies to prohibit anti-LGBTQ discrimination to the furthest extent possible in the wake of the U.S. Supreme Court's decision in Bostock v. Clayton County. In his executive order, Biden specifically spelled out students should be able to go school without being  "denied access to the restroom, the locker room or school sports."
It wasn't immediately clear whether the Biden administration would follow up on the memo with legal action against states with anti-transgender laws. The Education Department didn't immediately respond to an inquiry on the issue.
The White House has consistently referred questions on whether the Biden administration would take up legal action against states enacting anti-transgender laws to the Justice Department, which hasn't responded to multiple requests for comment.
As NYC Pride nears, ban on police seen as support for trans, BIPOC attendees
Organizers to provide 'community-based security and first responders'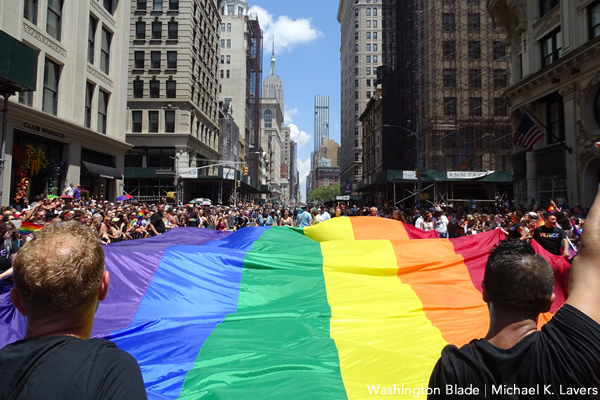 NYC Pride announced last month that it would no longer allow corrections and law enforcement exhibitors to participate in NYC Pride events until 2025. The decision is in accordance with NYC Pride's commitment to create safe spaces for marginalized LGBTQ groups including BIPOC and transgender individuals at their Pride festivities.
"Effective immediately, NYC Pride will ban corrections and law enforcement exhibitors at NYC Pride events until 2025. At that time their participation will be reviewed by the Community Relations and Diversity, Accessibility, and Inclusion committees, as well as the Executive Board," reads NYC Pride's statement. NYC Pride is scheduled for June 27.
To make sure that safety regulations are still adhered to at events, NYC Pride will "transition to providing increased community-based security and first responders, while simultaneously taking steps to reduce NYPD presence at events."
Police officers being banned from participating in Pride parades and festivities is not an unfamiliar conversation to LGBTQ advocacy and activist groups in North America. In 2018, Capital Pride in D.C. announced that uniformed officers would not be allowed to march in the Pride parade. In 2019, Pride Toronto announced that uniformed police officers would not be permitted to attend any Pride Toronto events.
The announcement was preceded by a voting session that took place among Pride Toronto members. Global News, a Canadian news platform, reported a final result of 163-161, disallowing police participation in Pride Toronto events.
Global News also reports that Pride Toronto committed to using their $1.25 million federal grant to examine the LGBTQ community's feelings regarding police, and to forge a way forward.
In solidarity with the #BlackLivesMatter movement, Vancouver Pride Society announced in 2020 that police officers were no longer welcome to march and exhibit during any of Vancouver Pride Society's festivities.
"The roots of Pride are in righteous anger, riot and uprising against police brutality. These riots against the violence of the police were led by Black and Brown trans women and queer people. The Stonewall Riots propelled gay movements from assimilationist tactics towards unapologetic Pride. These riots worked," reads Vancouver Pride Society's statement.
The organization also pledged to ensure public safety by participating in calls to defund the police and "commit to learning and convening community dialogues about what these alternative forms of managing public safety look like."
Why ban the police? The decision from NYC Pride was simple: given the law enforcement's history of police brutality in America, there is a need to ensure that BIPOC and transgender individuals who attend Pride events can do so comfortably, without feeling vulnerable at events meant to be safe havens that allow full, unabashed identity expression and manifestation.
"After many interactions between the police and LGBTQ community locally, [including] the passive aggressive moves between the NYPD and peaceful protestors in Washington Square Park last year, we have to look at the history," said André Thomas, NYC Pride co-chair. "The ability to welcome Black, Brown, and trans Americans at our events is an even higher priority than for someone to be able to wear police uniform in a parade."
It is no secret that BIPOC and transgender communities are some of the most vulnerable groups when it comes to interactions with corrections and law enforcement officers.
Mapping Police Violence reports that in 2020, Black people constituted 28% of those killed by the police despite only constituting 13% of the country's population. The 2015 U.S. Transgender Survey also reports that Black transgender people were 50% more likely to report that their interactions with police officers as suspecting them of soliciting sex work and leading to an arrest. In addition, the Movement Advancement Project reports in a 2017 study that nearly 40% of incarcerated girls identify as LGB and 85-90% of incarcerated LGBTQ youth are LGBTQ youth of color.
With this in mind, NYC Pride's goal is to make their events harm-and-fear-free for members of the LGBTQ community.
To supplement the absence of corrections and law enforcement officers at NYC Pride events, the organization will provide community-based security companies and first responders who will ensure that Pride events are secure and will also be on standby in case of emergencies.
As part of their training, the security companies are primed on how to deal with all kinds of situations including responding to an active shooter.
"Our staff has gone through active shooter training and everything it entails including what they're wearing and how they're identifiable to the community," said Thomas. "We want to ensure people that even though the NYPD may be a block away, there is still security [present] to take care of your needs."
A lot of NYC Pride's information regarding security measures is currently being relayed through social media and reportage from various news sources.
"We tweeted about our meetings that we had with the NYPD to reinforce public safety after the initial news broke out of what's been going on," said Thomas.
Regarding whether NYC Pride will implement this year's model for next year's Pride, "[NYC Pride is] figuring out what works and what doesn't," said Thomas. "We're trying to do things in a hybrid model with some limited in-person and some virtual events. We're going to figure out what to keep and what to change, and this will influence the planning and processes that we do."
As for future Prides, Thomas wants everyone to remember this: "It's always someone's first Pride, and so, you want to be able to give someone that special experience. So, for future Prides, we'll be working on greater inclusivity and representation."