Mullen honored at NYC "Don't Ask, Don't Tell" repeal celebration
The repeal of "Don't Ask, Don't Tell" became official on Sept. 20, 2011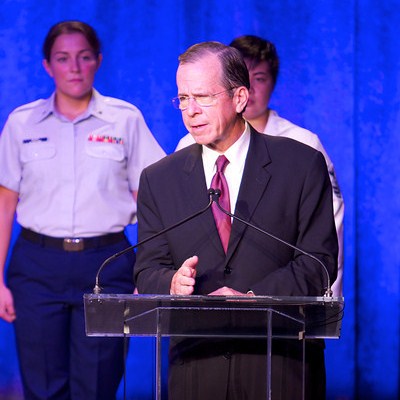 NEW YORK — More than 1,000 people gathered at the Intrepid Sea, Air and Space Museum in Manhattan on Tuesday to commemorate the first anniversary of the repeal of the military's ban on openly gay and lesbian servicemembers.
Servicemembers Legal Defense Network, OutServe and the Interbank Roundtable Committee honored former chair of the Joint Chiefs of Staff Adm. Mike Mullen for the role he played in the repeal of 'Don't Ask, Don't Tell.' Advocates note that his testimony before the Senate Armed Service Committee in Feb. 2010 in support of openly gay and lesbian servicemembers was a pivotal moment in the fight against the Clinton-era law.
President Obama signed the repeal bill into law later that year after it passed with bi-partisan support.
"One of the things I pass on and I know you know this is it's actually pretty easy to stand up for what you believe in," said Mullen, who attended the event with his wife Deborah. "It's pretty easy to stand up and represent the values you have held close for your entire life and be fortunate enough to be in a leadership position where that value actually crosses over in a time and a place and in a way where you as a leader can really make a difference. So I feel blessed to [have been] there and blessed to [have represented] all of us in the United States military at a time that made such a difference in so many lives."
Mullen, who retired from the U.S. Navy last September, further noted that 70,000 servicemembers remain in Afghanistan nearly 11 years after the war began after the Sept. 11 terrorist attacks.
"Keep them in our thoughts and our prayers," he said. "They're courageous young people who have made such a difference as you have, so this celebration tonight is one of great gratitude."
ABC newswoman Barbara Walters, who emceed the event, described Mullen as her "hero" before she applauded gay servicemembers and those who fought to repeal "Don't Ask, Don't Tell."
"You have fought for something that is right — the end of the 'Don't Ask, Don't Tell' policy, so tonight is about history. Tonight is also honoring each and every one of you who has served our nation," she said. "Tonight for the first time in American history, you have the chance to stand before this leader, an admiral, the chairman of the Joint Chiefs of Staff and the man who helped you on this journey and we all simply say, thank you sir."
As the Washington Blade reported late last month, U.S. Marine Corps Commandant Gen. James Amos echoed other military commanders who have said the integration of openly gay men and lesbians into the armed forces has gone smoothly since the repeal of "Don't Ask, Don't Tell" became official on Sept. 20, 2011.  
"In how's effected the military, it's only been positive," retired U.S. Army Brigadier Gen. John Adams told the Blade before Mullen spoke. "The military works, the services work, there's been zero effect on combat cohesion as some people said there would be. In fact if nothing else what it's meant is tens of thousands of gays and lesbians who were already serving now can serve without being afraid of somebody looking over their shoulder and finding out who they're spending their off-duty time with and asking them to deny who they are. That's ridiculous. That's history. Thank goodness."
Josh Seefried, co-director of OutServe, agreed.
"People can go to work and feel like they don't have to look over their shoulder anymore," he said when asked how things have changed since the Pentagon allowed gays and lesbians to serve openly. "It's a lot easier to go to work and not have to worry bout losing their career they love and being fired."
Will "Don't Ask, Don't Tell" once again become law?
Ohio Congressman Jim Jordan, who chairs the Republican Study Committee, said last week that he supports the reinstatement of "Don't Ask, Don't Tell." GOP presidential candidate Mitt Romney has previously indicated that he would not seek to reinstate the policy as president.
'There's just no turning back the clock," said R. Clarke Cooper, executive director of Log Cabin Republicans, told the Blade. An Army Reserve officer, Cooper attended the Intrepid event in uniform. "Open service has not been an issue, in fact if anything it's been beneficial for recruitment and retention. People can be honest and open about who they are. They don't have to hide from themselves or their command. And it's been a good thing."
Former Pennsylvania Congressman Patrick Murphy, who helped spearhead "Don't Ask, Don't Tell" repeal efforts on Capitol Hill, took a more partisan approach.
"It's absolutely going to happen if they win the White House and get control of the Senate because they [the Republicans] already have control of the House," he told the Blade. "It's in their platform. It's going to happen if we let it happen, but hopefully we all continue the march to full equality in America. It was a proud moment to pass 'Don't Ask, Don't Tell' repeal and then to see seven states pass marriage equality, but there's still over 40 states that we have to make sure every American has full equality in our country in 2012."
Seefried echoed Murphy, Cooper and others who described the end of "Don't Ask, Don't Tell" is one step towards full equality for LGBT servicemembers and Americans.
"There's still a lot more work to do," he said. "A lot more people don't have harder support right now. We have the Defense of Marriage Act and there's a lot of things that the Pentagon can do right now that they just haven't done. And we also have transgender service to achieve, so I think we have a lot of work to do and we have to realize that."
Lesbian New York City Council Speaker Christine Quinn, gay MSNBC anchor Thomas Roberts, former Human Rights Campaign President Elizabeth Birch, Fox Morning Extra co-host Tom Murro and Brent Ridge and Josh Kilmer-Purcell of "The Fabulous Beekman Boys" were among those who attended the event.
Tammy Majors of Arizona said she was discharged from the U.S. Air Force under "Don't Ask, Don't Tell" when a woman she had dated told her commanding officer about their relationship. She became emotional as she waited to greet Mullen after he spoke.
"I think this is a great honor and I never thought I would see this happen, ever. I'm just really happy. I'm excited," she told the Blade about the ability of gays and lesbians to serve openly. "I just wanted to celebrate with everyone else."
The event also doubled as a fundraiser that raised more than $700,000. Mullen said this money will benefit wounded veterans and other related causes.
HHS secretary meets with LGBTQ leaders, orgs
HRC, GLSEN, SAGE officials among attendees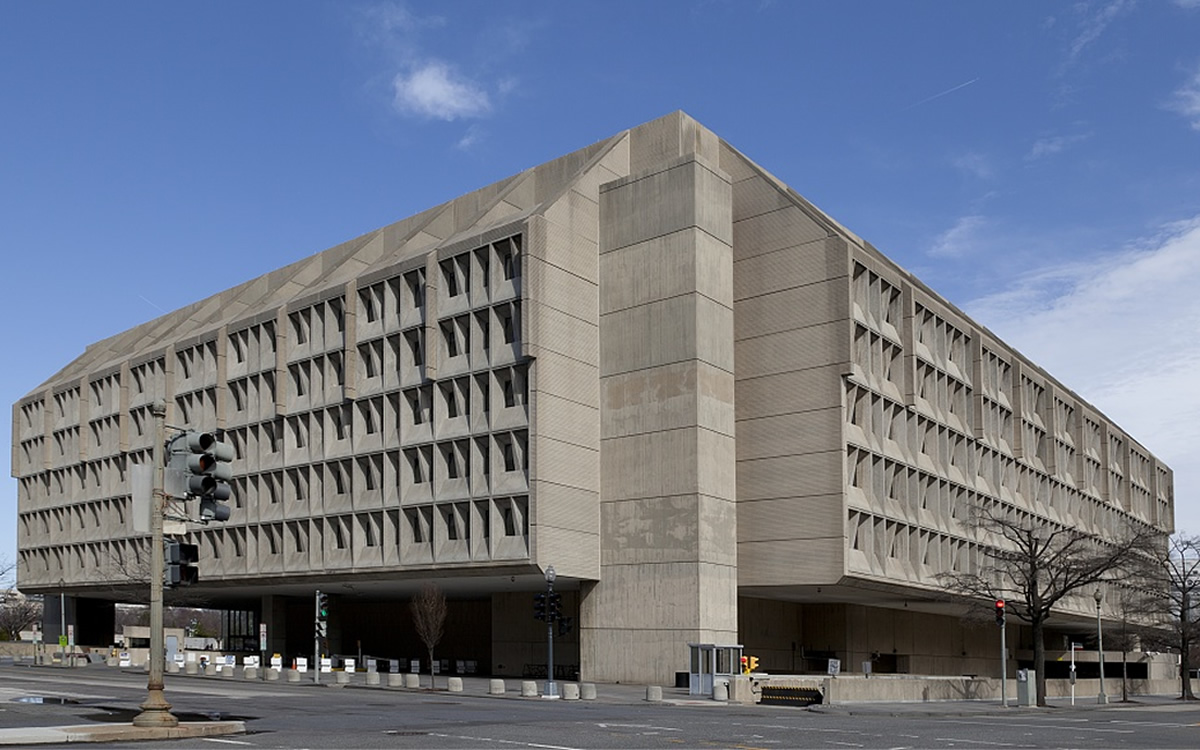 U.S. Department of Health and Human Services Secretary Xavier Becerra hosted LGBTQ leaders and organizations for a meeting on Monday featuring senior staff at the agency, "to build on the progress made in advancing health and human services equity for the community," according to a press release.
Specifically, HHS said, the discussion concerned efforts to "increase access to health care, secure non-discrimination protections, and increase access to behavioral health for the LGBTQI+ community."
Becerra highlighted actions including measures to improve Sexual Orientation and Gender Identity (SOGI) data collection to better identify disparities; investments in research to address health disparities; support for youth, including through issuance of the new ASPE brief with best practices for "the needs and well-being of LGBTQI+ young people in their programs and communities"; and regulations intended to protect against anti-LGBTQ discrimination.
In attendance on Monday according to HHS were:
Secretary Xavier Becerra, HHS
ADM Rachel Levine, Assistant Secretary for Health
Dr. Melanie Egorin, Assistant Secretary for Legislation
Melanie Fontes Rainer, Director, HHS Office for Civil Rights
Jess Smith, Acting Director, HHS Office of Intergovernmental and External Affairs
Michael Adams, CEO, SAGE USA
Carl Baloney Vice President for Public Affairs & Chief Policy Officer, AIDS United
Brian Bond, Executive Director, PFLAG
Kahlib Barton-Garcon, Chief Program Officer, True Colors United
Melanie Willingham-Jaggers, Executive Director, GLSEN
Casey Pick, Director of Law and Policy, The Trevor Project
Alex Sheldon, Interim Executive Director, GLMA
Kelley Robinson, President, Human Rights Campaign (HRC)
JoDee Winterhof, Senior Vice-President, Policy and Political Affairs, Human Rights Campaign
Supreme Court upholds conversion therapy ban in Washington State
Kavanaugh, Alito, Thomas wanted to consider challenge to ban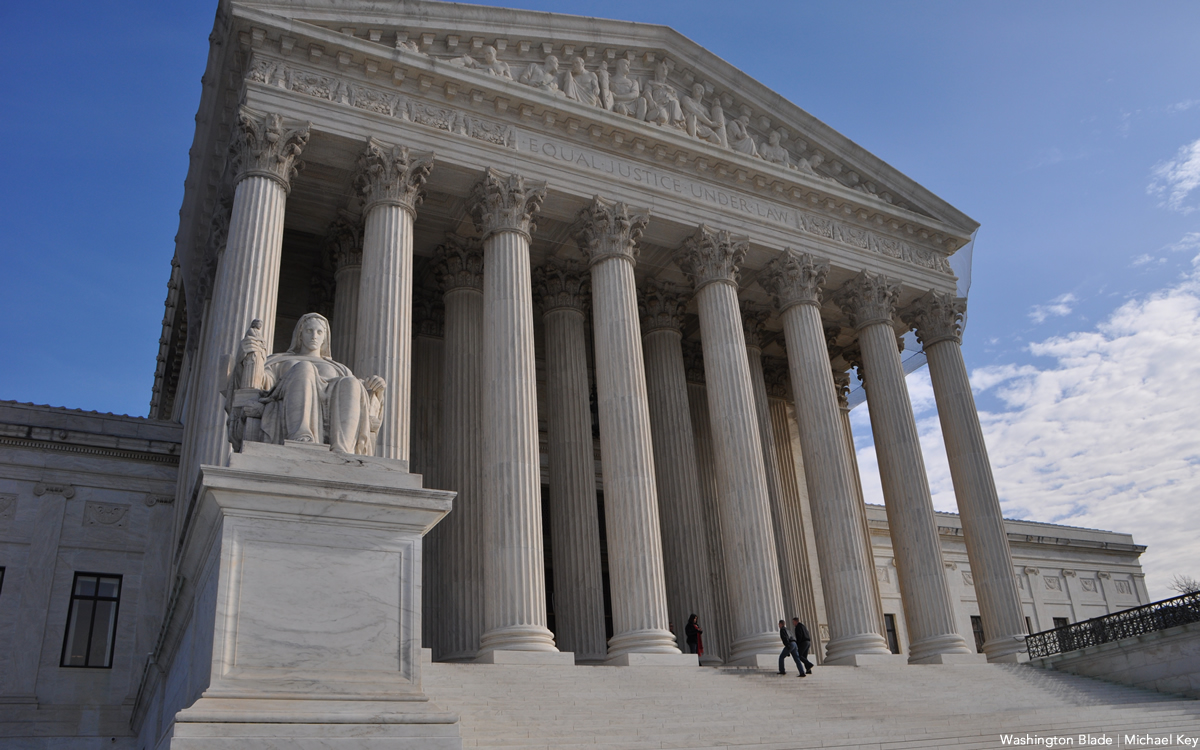 The U.S. Supreme Court on Monday allowed Washington State to continue enforcing its ban on conversion therapy for minors, another blow to the dangerous and discredited practice of endeavoring to change a patient's sexual orientation or gender identity.
With a 6-3 vote declining to hear a challenge brought by the anti-LGBTQ Alliance Defending Freedom, the Supreme Court allowed the U.S. Court of Appeals for the Ninth Circuit's decision protecting the law to remain in effect.
Conservative Justices Brett Kavanaugh, Samuel Alito, and Clarence Thomas voted to take up the case, with Thomas writing a five-page dissent in which he argued "licensed counselors cannot voice anything other than the state-approved opinion on minors with gender dysphoria without facing punishment."
"In recent years, 20 States and the District of Columbia have adopted laws prohibiting or restricting the practice of conversion therapy," Alito wrote in a brief dissent. "It is beyond dispute that these laws restrict speech, and all restrictions on speech merit careful scrutiny."
"This is a huge victory, albeit by the narrowest of margins given that three justices would have taken the case," Shannon Minter, legal director for the National Center for Lesbian Rights (NCLR), told the Blade in a statement reacting to Monday's decision.
"It is chilling that the dissents focused on transgender youth and appeared to endorse conversion therapy to prevent them from being who they are," he said, adding, "Now that we have been given this reprieve, we must do everything possible to educate the public about the terrible harms of conversion therapy for all LGBT youth, including those who are transgender."
NCLR represents one of the litigants in the case, Equal Rights Washington, which was involved in defending the law — which allows providers to discuss conversion therapy with patients younger than 18 or recommend that it be administered by a religious counselor, but prohibits licensed therapists from performing it.
Major scientific and medical groups as well as LGBTQ and other civil rights organizations support conversion therapy bans for minors, which have passed in 22 states and D.C. according to the Movement Advancement Project.
Judge Ronald M. Gould, writing for the three-judge panel of the 9th Circuit, argued in his decision on the case challenging Washington's ban that, "States do not lose the power to regulate the safety of medical treatments performed under the authority of a state license merely because those treatments are implemented through speech rather than through scalpel."
Gould noted that Brian Tingley, a family counselor and advocate for conversion therapy who challenged the law, was still able to communicate about conversion therapy, express his personal views on the subject to his patients, practice conversion therapy on adults, and refer minors to counselors not licensed by the state.
"For decades," wrote Washington state Attorney General Robert W. Ferguson in a brief, "this court has held that states can regulate conduct by licensed professionals, even if the regulations incidentally impact speech."
"Conversion therapy," he added, "puts minors at risk of serious, long-lasting harms, including increased risks of suicide and depression."
"The Supreme Court has allowed a lower court's ruling on Washington state's 'conversion therapy' ban to stand—a decision that should have been status-quo and not at all controversial," Cathryn Oakley, senior director of legal policy at the Human Rights Campaign, told the Blade in a statement.
"But given the recent decisions of this Court, today's ruling is an important victory as we fight to protect the rights and wellbeing of LGBTQ+ youth across the country," Oakley said. "Thank you to NCLR for fighting so tirelessly everyday to safeguard these hardfought rights."
Country's first nonbinary state lawmaker participates in Gaza ceasefire hunger strike
Oklahoma state Rep. Mauree Turner is Muslim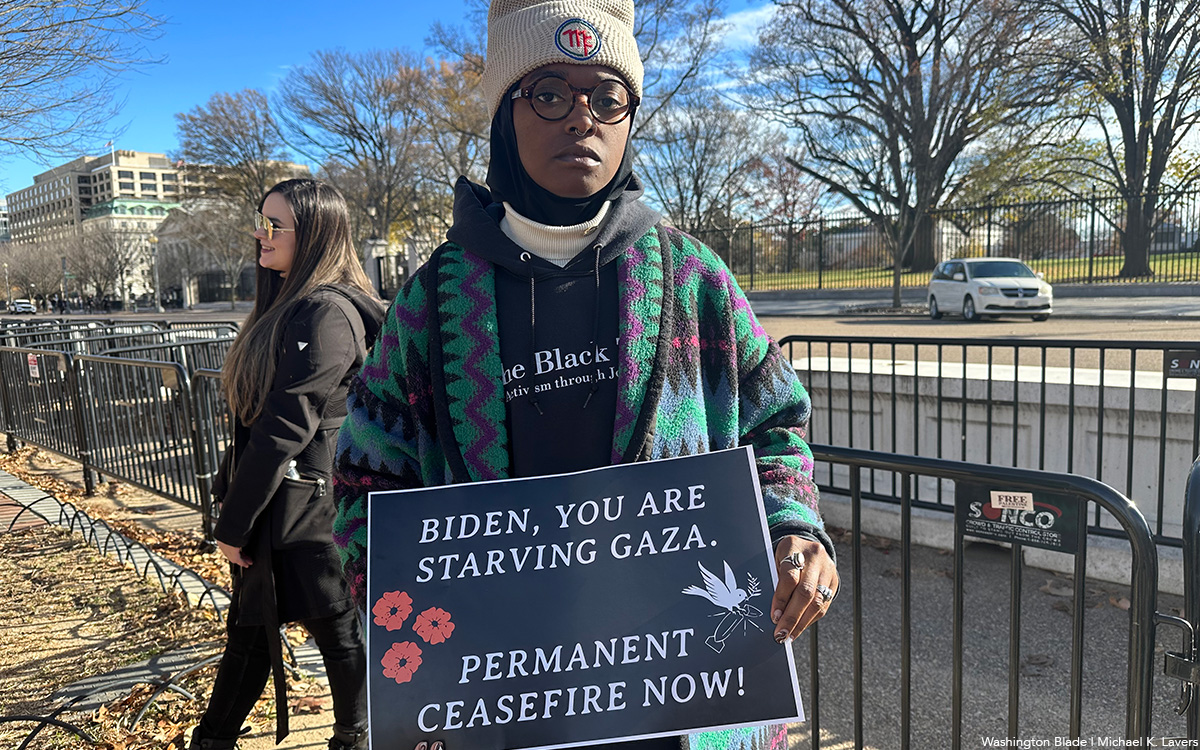 The country's first nonbinary state lawmaker last week participated in a hunger strike for a permanent ceasefire in the Gaza Strip that took place in front of the White House.
Oklahoma state Rep. Mauree Turner took part in the 5-day action alongside actress Cynthia Nixon, Virginia state Del. Sam Rasoul, Delaware state Rep. Madinah Wilson-Anton, New York State Assemblymember Zohran Mamdani, Michigan state Rep. Abraham Aiyash, former New York Congressional candidate Rana Abdelhamid, Muslim Girl.com Founder Amani Al-Khatahtbeh, Adalah Justice Project Director of Strategy and Communications Sumaya Awad and Linda Sarsour. The U.S. Campaign for Palestinian Rights, Jewish Voice for Peace, Democratic Socialists of America, IfNotNowMovement, Dream Defenders, the Institute for Middle East Understanding and the American-Arab Anti-Discrimination Committee are the organizations that either participated in the hunger strike or endorsed it.
"This is the place where you should be," Turner told the Washington Blade on Nov. 30 while they were standing in front of the White House.
Turner is from Ardmore, Okla., and has been a member of the Oklahoma House of Representatives since 2021. They are the first Muslim person elected to the Oklahoma Legislature.
"Oklahoma is no stranger to genocide, displacement, uprooting communities — beautiful, vibrant, vulnerable communities — just because they could," said Turner, referring to the treatment of Native Americans in what became Oklahoma during the 1800s and early 1900s. "Specifically as a Muslim and as an Oklahoman it is my duty to be here."
The hunger strike took place nearly two months after Hamas, which the U.S. has designated a terrorist organization, launched a surprise attack against communities in southern Israel from Gaza.
The Israeli government has said roughly 1,200 people have been killed, including at least 260 people who Hamas militants murdered at an all-night music festival in a kibbutz near the border between Israel and Gaza. The Israeli government also says more than 5,000 people have been injured in the country since the war began and Hamas militants kidnapped more than 200 others.
Yarden Roman-Gat, whose gay brother, Gili Roman, spoke with the Washington Blade on Oct. 30 in D.C., is one of the 105 people who Hamas released during a truce with Israel that began on Nov. 24 and ended on Dec. 1.
The Hamas-controlled Gaza Health Ministry says more than 15,000 people have died in the enclave since the war began. Israel after Oct. 7 cut electricity and water to Gaza and stopped most food and fuel shipments.
"It's absolutely wild to think about what is happening to the Palestinian people in Gaza and in the West Bank," said Turner.
Turner noted the war began two days before Indigenous Peoples' Day.
"By October the 10th, when the world was really seeing what was happening in Gaza," they said. "So many people who had celebrated specifically Indigenous Peoples' Day had also sided with the Israeli government over the indigenous people of the land."
'The death of civilians is absolutely horrible'
Turner in response to the Blade's question about the Israelis who militants killed on Oct. 7 emphatically said "the death of civilians is absolutely horrible." Turner added they "cannot stress enough that when we back people into a corner, we don't know what will happen."
"The truth of the matter is our governments, our governmental officials do not have to put people in a corner," said Turner.
Turner was particularly critical of the Israeli government's actions in Gaza after Oct. 7.
"I don't think there's any place where a government has the power to shut off right water, food, healthcare supplies, things like that," they said. "It's just in doing so against a population that has 2 million people … that's not anyone looking for equitability or justice. That is genocide against its people."
Turner noted Republican Oklahoma Gov. Kevin Stitt continues to publicly support Israeli Prime Minister Benjamin Netanyahu. Turner told the Blade "when we oppress people over decades and decades … we cannot, we don't get to cherry pick" or "we don't get to tone police or however they are fighting back to be heard, to be, to live for vibrant lives."
"We cannot tell oppressed people how to hurt out loud," they said, specifically referring to Palestinian people. "We can create governments that care for people from a community standpoint who are thinking creatively about how we provide aid and support and we can ask our elected officials (members Congress, President Joe Biden, state and local officials) to teach truth. We can ask them to continuously make sure that we are providing the best care and understanding of the situations at hand. We can ask them to do a ceasefire to stop sending aid to the Israeli government and emboldening their military forces."