October 19, 2012 at 8:31 am EDT | by Phil Reese
Media outlets go purple for 'Spirit Day'
WASHINGTON — The Washington Blade will join sports teams, New York and Las Vegas landmarks, and dozens of major media organizations in turning our logos purple across platforms to raise awareness of anti-gay bullying.
Joining the cause are the hosts of "Good Morning America," "Extra," and "E! News" who will wear purple on air, as well as celebrities including TV icon George Takei, NBA legend Shaquille O'Neal, celebrity blogger Perez Hilton, "Glee" star Dianna Agron, star of ABC Family's "Pretty Little Liars" Shay Mitchell, Wendy Williams, Chelsea Handler, Chaz Bono, Fran Drescher, the band Fun, Paris Hilton, Sir Ian McKellen, and Joel McHale.
Watch the Washington Blade's Facebook page for more information about bullying Friday, Saturday and Sunday.
If you're in the Washington area, and you'd like to keep this special edition as a collector's item, you can locate all of our Washington area boxes here!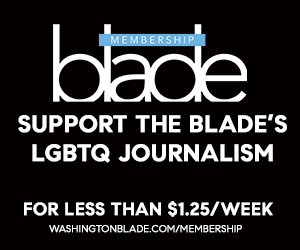 Sign Up for Blade eBlasts