O'Malley: Md. marriage campaign 'is in good shape'
Maryland governor said pro-Question 6 campaign needs to raise an additional $400,000 before Election Day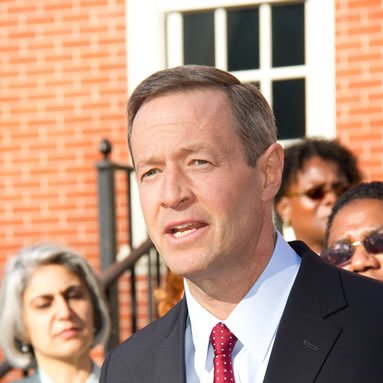 Maryland Gov. Martin O'Malley told journalists during an Oct. 31 conference call that the campaign defending his state's same-sex marriage law needs to raise roughly $400,000 to ensure Question 6 passes on Election Day.
HOW DO PRESIDENT OBAMA AND GOVERNOR ROMNEY COMPARE ON LGBT ISSUES?
"We're now about $400,000 away from having on hand what we need to have, so this last push is critically important," he said. "We continue to raise dollars, and the interest in this question continues — more and more people are becoming interested in this, so I appreciate your coverage on it. And hopefully with your coverage of what you're doing and what the campaign we'll be able to get the word out and rally people to this cause."
Marylanders for Marriage Equality's Oct. 12 campaign finance report noted it had raised slightly under $3.3 million. O'Malley said the pro-Question 6 group has raised another $1.5 million since he spoke with LGBT bloggers and journalists during a Sept. 24 conference call. This figure includes the $1,205,392.87 that Marylanders for Marriage Equality raised between Oct. 8-21, according to its latest campaign finance report it filed with state election officials on Oct. 26.
The Maryland Marriage Alliance, which opposes Question 6, raised only $846,865.23 during the same period.
"We have one week to go," said O'Malley. "The campaign is in good shape."
The governor noted both the Washington Post and the Baltimore Sun have endorsed Question 6. He further referenced Baltimore Congressman Elijah Cummings who told the Washington Blade last week he plans to vote for Maryland's same-sex marriage law.
O'Malley also pointed out Prince George's County Executive Rushern Baker, gay former Republican National Committee Chair Ken Mehlman, New York City Mayor Michael Bloomberg and President Obama as among Question 6's most prominent local and national supporters.
"All of that said, we still have a lot of work to do," said the governor.
A Goucher College poll released on Oct. 29 found 55 percent of Marylanders support marriage rights for same-sex couples in the state, compared to 39 percent who oppose them. A Baltimore Sun survey conducted between Oct. 20-23 found only 46 percent of respondents would vote for the law. A Washington Post poll published on Oct. 18 noted 52 percent of Maryland voters support Question 6, compared to 42 percent who said they oppose it.
"We always expected this race to tighten up," said Josh Levin, campaign manager for Marylanders for Marriage Equality, during the call. "What we've always said is that we expect this to be a very close race, which is why we're asking so much of our volunteers and our supporters both in terms of the fundraising and the volunteering on the ground."
N.H. MARRIAGE EQUALITY AT STAKE IN GUBERNATORIAL RACE
Marylanders for Marriage Equality, the National Association for the Advancement of Colored People and the Maryland Marriage Alliance continue to air television and radio ads for and against Question 6 in the Baltimore and D.C. media markets. Marylanders for Marriage Equality's latest campaign finance report indicates the group spent $2,044,748 on media between Oct. 8-21, compared to slightly more than $1 million of air time the Maryland Marriage Alliance bought during the same period.
O'Malley predicted the National Organization for Marriage will come into Maryland with what he described as a "last minute infusion" of money in the campaign's final days. The governor said the bulk of these funds will go towards anti-Question 6 television ads.
"They're the same ads you've seen in other states [with same-sex marriage campaigns;] ads even some of those that ran the ads admitted were false," said O'Malley.
O'Malley also responded to the Blade's question about Rev. Robert Anderson of Colonial Baptist Church in Randallstown who suggested during an Oct. 19 town hall meeting at a Baltimore church that those who don't vote against Question 6 "are approving these things that are worthy of death." Reverend Phillip Goudeaux of Calvary Christian Center in Sacramento, Calif., described gay men as "predators" who seek to indoctrinate children during an anti-Question 6 gathering at another Baltimore church on Oct. 21 that Family Research Council President Tony Perkins, Bishop Harry Jackson of Hope Christian Church in Beltsville, Maryland Marriage Alliance Chair Derek McCoy and roughly 100 others attended.
"That sort of rhetoric is going to be rejected by the people of our state," said O'Malley. "We are a very diverse state, ethnically and also religiously. And we're a people who understand that we're all in this together. And that sort of rhetoric of fear and division and vilifying people that are not like us for whatever reason is not the sort of thing that builds consensus in Maryland."
Levin reaffirmed his belief the campaign has had what he described as "a pretty good week or two here" despite Superstorm Sandy that forced Marylanders for Marriage Equality to cancel volunteer activities on Oct. 29.
GAY DELAWARE STATE SENATE CANDIDATES POISED TO MAKE HISTORY
Campaign supporters spoke with friends and family about Question 6 during the storm after they made sure they were safe. Levin also noted the campaign saw "a lot of support" for Question 6 over the weekend at early vote locations across the state before Sandy forced officials to postpone early voting for two days.
"At this point it is sort of all hands on deck raising those last few dollars as you said and getting as many volunteers together as we can for Election Day to help us have a presence at the polls, to help us get out our voters and help us spread the word about Question 6 coming down to the very end," he said. "The good news is that we continue to see what I think is momentum."
O'Malley agreed.
"The bottom line is this; we're doing well," he said. "We need to continue to work hard. We have a real shot at prevailing here. Our message is getting through thanks to the good work and help of a lot of people. This is about fairness. This is about equality. This is about respecting the human dignity of every individual and making sure that our laws protect religious freedom while also protecting every individual equally under the law-in other words that no family's home should receive lesser protections under the law than another family's home."
McAuliffe participates in Virginia Pride roundtable
Gubernatorial candidate highlighted plans to keep Va. 'open and welcoming'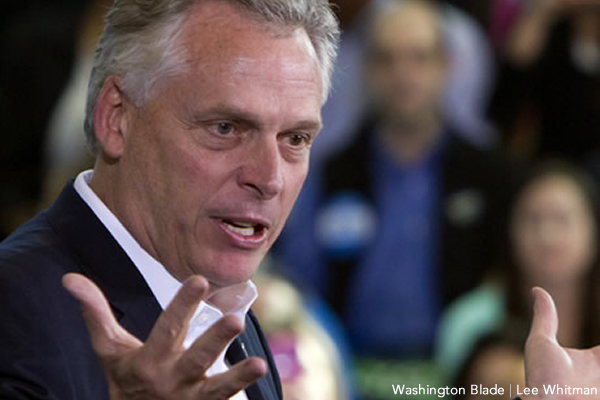 Terry McAuliffe on Monday met with Virginia Pride in Richmond to discuss his plans to keep the state "open and welcoming" for the LGBTQ community.
"Great opportunity to speak with @VA_Pride in Richmond this AM," McAuliffe tweeted following the roundtable that took place at Diversity Richmond's headquarters. "VA is the #1 state for business because we are open and welcoming — but that's all at risk this November. Glenn Youngkin's far-right social agenda would harm LGBTQ+ Virginians and send our economy into a ditch."
Great opportunity to speak with @VA_Pride in Richmond this AM. VA is the #1 state for business because we are open and welcoming — but that's all at risk this November. Glenn Youngkin's far-right social agenda would harm LGBTQ+ Virginians and send our economy into a ditch. pic.twitter.com/7VQGwGZQ7e

— Terry McAuliffe (@TerryMcAuliffe) September 20, 2021
McAuliffe and Youngkin are running a close race for the governorship, according to a Washington Post-Schar School poll released Saturday that shows the former Virginia governor leading by a 50-47 percent margin among likely voters.
The Human Rights Campaign endorsed McAuliffe, who was governor from 2014-2018, for his record of supporting LGBTQ rights, including supporting marriage equality and signing an executive order prohibiting discrimination against LGBTQ state employees as his first action in office.
"LGBTQ leaders in Richmond had a great meeting with Gov. McAuliffe where he was able to lay out his agenda for building on the tremendous progress Virginia has made towards equality," said Virginia Pride Program Director James Millner in an email to the Washington Blade. "The governor talked extensively about his record on LGBTQ issues and promised to work with us to ensure that every LGBTQ Virginian is able to live openly and authentically."
McAuliffe's legacy includes welcoming businesses turned off by North Carolina's passage of its anti-transgender "bathroom bill."
When North Carolina's House Bill 2, a law requiring students to use public restrooms and locker rooms aligned with the gender on their birth certificates, took effect in 2016, McAullife recruited CoStar, a real estate information company that operates databases for Apartments.com, ApartmentFinder.com and similar companies, to move its headquarters to Richmond. This recruitment brought 730 jobs to the state.
David Dorsch, a senior vice president at Cushman and Wakefield, which represented CoStar nationally, told the Charlotte Business Journal that CoStar's primary reason for choosing "Richmond over Charlotte was HB 2."

Youngkin is a former business executive who previously ran the Carlyle Group, a private equity firm named by the HRC in 2019 as a "Best Place to Work for LGBTQ Equality" in its annual Corporate Equality Index. HRC, however, has called out Youngkin for "anti-LGBTQ and transphobic language" during his current campaign.
McAuliffe in April released an LGBTQ rights platform that includes a call to repeal the so-called "conscience clause," which allows religious-based adoption agencies to discriminate against same-sex couples.
Governor Ralph Northam, who was McAuliffe's former lieutenant governor and has signed historic LGBTQ-inclusive legislation during his time in office, also endorsed McAuliffe for governor.
McAuliffe: School boards should make 'own decisions' on trans students policy
Former Va. governor debated Republican challenger on Thursday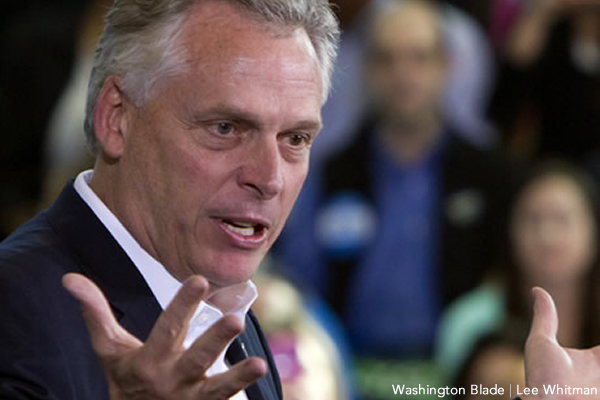 Terry McAuliffe on Thursday hotly debated Republican challenger Glenn Youngkin at the Appalachian School of Law in southwestern Virginia on a variety of issues that include vaccine mandates, economic development, abortion access and policing. The former Virginia governor's support for a law that protects transgender students, however, seemed less clear.
When the moderator asked if local school boards should be allowed to reject Virginia Department of Education "model policies" developed as part of a state law passed last year to protect trans and non-binary students from discrimination, McAuliffe said school boards "should be making their own decisions."

This soft support for the law that Gov. Ralph Northam signed is in contrast to the Human Rights Campaign's endorsement this week for his work as governor that includes signing an executive order prohibiting discrimination against LGBTQ state employees and vetoing anti-LGBTQ bills.  

HRC called out Youngkin, a former business executive and vocal Trump supporter, for "anti-LGBTQ and transphobic language" during his campaign. (HRC in 2019 named the Carlyle Group, the private equity company that Youngkin previously ran, as a "Best Place to Work for LGBTQ Equality" in its annual Corporate Equality Index.)
"Once again, we are proud to have achieved a perfect score on the @HRC's Corporate Equality Index. We know there is much work to be done and look forward to continuing the progress for our LGBTQ colleagues." – Carlyle Co-CEOs, Kewsong Lee & Glenn Youngkin https://t.co/lwm53kZiKY pic.twitter.com/xatLs2WmOk

— The Carlyle Group (@OneCarlyle) March 28, 2019
Younkin has supported Tanner Cross, a Loudoun County elementary school teacher who was suspended in June after he spoke against the Virginia Department of Education policy known as Policy 8040. The Virginia Supreme Court last month supported Cross' reinstatement on First Amendment grounds.
"As governor, I will stand up for teachers like Tanner Cross," the Republican candidate tweeted.

Youngkin also told Fox News the school board was trying to "cancel" Cross "simply for expressing his views that are in the best interests of the children and expressing his faith."

But state Del. Danica Roem (D-Prince William County), one of the bill's co-sponsors, told the Washington Blade in an earlier interview that the 2020 law passed with bipartisan support and most school boards are acting in accordance with the nondiscrimination law.

"Loudoun is catching headlines, but look at all of the other school districts who have adopted this without controversy," said Roem, who in 2018 became the first openly trans person seated in a state legislature in the U.S. "They are acting in compliance with Department of Education best practices for how to humanely treat transgender kids in schools."

McAuliffe, after stating that decisions regarding implementing trans student protections should be left to local school boards, said he hated seeing all of the "divisiveness" and "children being demonized." He then pivoted to his talking points about increasing both teacher pay and broadband access for students.

Early in-person voting in Virginia is underway and lasts until Oct. 30. Election day is Nov. 2.
Black gay man hopes to 'shatter lavender ceiling' in Annapolis
Keanuú Smith-Brown is running to unseat Ward 3 incumbent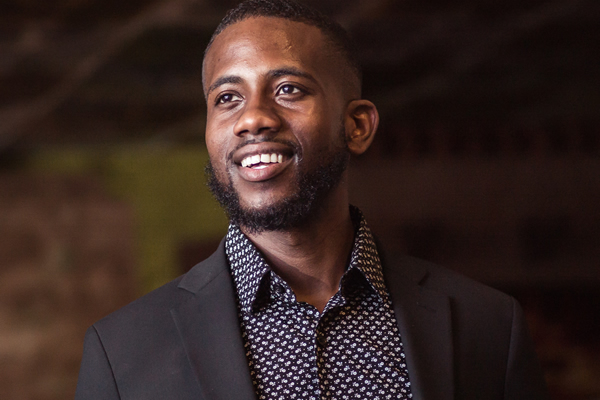 Keanuú Smith-Brown, who is affectionately called KSB by his friends, is running to unseat incumbent Annapolis Alderwoman Rhonda Pindell Charles (D-Ward 3) and become the first out LGBTQ elected official in the city.

"Keanuú is on-track to shatter a lavender ceiling in Annapolis, becoming the first out LGBTQ person ever elected in the city," Victory Fund Vice President of Communications Elliot Imse told the Washington Blade.
Smith-Brown, a 26-year-old substitute teacher, announced in February that he was challenging Pindell Charles, who has represented his ward since 2013. They will face off in a Democratic primary on Sept. 21, then the winner advances to the general election on Nov. 2.
The Annapolis native is the eldest of six siblings, raised by a single mother and a first-generation college graduate who describes himself as a proud Black gay man. His opponent, also a Democrat, stated on an Annapolis Pride survey that she supports the LGBTQ community, just "not overtly."

"But his candidacy is about more than just making history," Imse said. "When in office, Keanuú will ensure the interests of the LGBTQ community are considered in every policy discussion and every piece of legislation that comes before the council."

Smith-Brown told the Blade he is running to represent "those who have been left out," emphasizing that "there is an urgent need for change in our ward."

The Annapolis native first came out as gay while still a senior in high school, the same year Pindell Charles was first elected as his Ward 3 representative.

"I grew up surrounded by drug addiction and witnessed domestic violence both in my family and in my community," he told the Blade, sharing he was raised by a single mom while his father was incarcerated during most of his life.

He still lives in the home in which he grew up, and within five minutes of his partner's house "if you're driving fast."

After graduating from the University of Baltimore in 2017 with a bachelor's degree in government and public policy, Smith-Brown began working with legislators and advocating for LGBTQ bills in Maryland.

As president of the District 30 Democratic Club, Smith-Brown advocated for House Bill 1147 and its companion Senate Bill 401, which were both similar to neighboring D.C.'s requirement for single-occupancy bathrooms to be marked gender-neutral.

Both bills died in committee during the General Assembly's pandemic-shortened session in 2020, but Smith-Brown's advocacy continued.

He marched during the Black Lives Matter protests following the murder of George Floyd by then-Minneapolis police officer Derek Chauvin, and he continued to be a public advocate for LGBTQ rights and visibility as a member of Annapolis Pride.

"I have led and joined LGBTQ+ marches, rallies and events, even hosting a campaign 'Love with Pride and Unity' Drag Brunch," Smith-Brown wrote in response to Annapolis Pride's first LGBTQ-issues survey. "I helped organize for Maryland's Health Care Decisions Act which would extend the rights of partners when making medical or funeral decisions."
Pindell Charles, by contrast, in her survey response stated she did not consider her advocacy for the LGBTQ community to be "overt."

"My support for the LGBTQ+ community, and even other communities, usually revolves around me working with persons individually, which I prefer," she wrote. "One-on-one, rather than as a group, or public displays."
FreeState Justice, Maryland's statewide LGBTQ rights organization supports public advocacy.

"It's extremely important for LGBTQ community members to participate in civic engagement — especially as elected officials," Executive Director Jeremy LaMaster told the Blade in an email.

FreeState Justice has encouraged LGBTQ Marylanders to speak out at public hearings in support of legislation such as the state's "panic defense" ban, waiving the publication of name change petitions and the establishment of a state commission on LGBTQ affairs. All of these measures passed during the 2021 legislative session.

"There is such immense power for our community that can be built at the grassroots level. From leading neighborhood associations to sitting on city councils, or representing the community in the General Assembly," said Smith-Brown. "As the world changes, so do the ways in which issues disproportionately or uniquely impact the LGBTQ community, especially for our youth, elders, trans and Black siblings."

Pindell Charles, who did not respond to the Blade's requests for comment prior to publication, is a retired Baltimore City prosecutor and chairs the Annapolis City Council's Public Safety Standing Committee.
During her time in public service, her advocacy included a variety of "groups and communities considered to be 'underrepresented,'" according to her Annapolis Pride survey response.

Smith-Brown said Ward 3 deserves better.

"She is saying this is in a position of power, that she's not willing to get out of her comfort zone," he told the Blade. "You may not be okay with seeing two men or two women together, but when you don't allow yourself in your position to be inclusive of all people you are now failing in your position."

"If someone said that about the Black community, it would not be taken in the same way," he added. "Admit that you don't need to be here in this way. We can all do our best to do better."

The Capital Gazette in February reported Pindell Charles intends to run for a third term and welcomes Smith-Brown's challenge.

"We need to win this," Smith-Brown said, encouraging LGBTQ and all voters to get out and vote. "My being at that seat at the table means that we are all in that seat. What is it they say? If I eat, we eat. That is the impact on our future, and I'm in it to win it."