Equality Maryland sets post-marriage agenda
Transgender rights bill, HIV/AIDS, immigration among issues on which organization hopes to work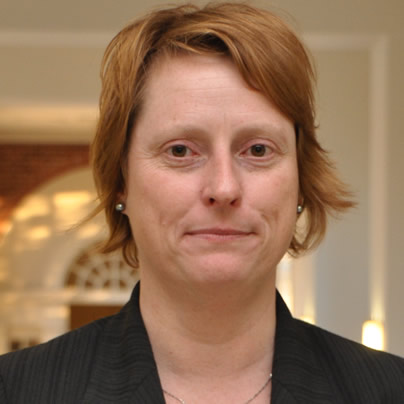 Equality Maryland executive director Carrie Evans decided to stand along the side of the stage at the Baltimore Soundstage shortly after midnight on Nov. 7 as Gov. Martin O'Malley, gay state Sen. Rich Madaleno (D-Montgomery County) and others officially proclaimed the referendum on Maryland's same-sex marriage law had passed. She said in a post-Election Day interview in D.C. it was the "best vantage point to look out at everyone" who had played a role in the long fight to secure marriage rights for same-sex couples in the state.
"I was crying like a baby," Evans told the Washington Blade. "You'd see every person out there whose been a part of this in some way, shape or form. Everybody out there was crying and hugging and kissing. We will never experience this moment again, ever. And I just wanted to absorb it all."
Election Day capped off a long and often tumultuous effort for Maryland's same-sex marriage advocates that began in 1997 when three lawmakers introduced the first bill that would have allowed nuptials for gays and lesbians.
Equality Maryland and the American Civil Liberties Union in 2004 filed a lawsuit on behalf of Lisa Polyak and Gita Deane and eight other same-sex couples and a gay widow who sought the right to marry in the state. Baltimore Circuit Court Judge M. Brooke Murdock in 2006 found Maryland's same-sex marriage ban unconstitutional. The Maryland Court of Appeals a year later upheld the prohibition on nuptials for gays and lesbians.
State lawmakers in 2011 narrowly defeated a same-sex marriage bill, but legislators approved it in February. O'Malley signed the law on March 1.
Evans said Equality Maryland, the Human Rights Campaign, the ACLU and other organizations that had fought for the same-sex marriage bill knew opponents would almost certainly collect enough signatures to force a referendum on the issue. The coalition that eventually became known as Marylanders for Marriage Equality formed before the legislative session ended in April.
"We've won in the Baltimore trial court, got excited but we knew we had to go to Court of Appeals, lost there," Evans said. "[We] went to the legislature, couldn't even really celebrate after that because you knew it was going to referendum. We had our little woohoo, but knowing this is going to referendum and being able to finally say 'This is it, we're done.'"
Evans, who took the helm of Equality Maryland last December, said her organization contributed more than $200,000 to Marylanders for Marriage Equality. The campaign ultimately raised nearly $6 million, but she said Equality Maryland's contribution is remarkable considering her organization nearly closed its doors in the summer of 2011 in the wake of former executive director Morgan Meneses-Sheets' termination.
"I'm so proud because 12 months ago Equality Maryland was pretty much broke and struggling," said Evans. "Not only have we come out of that and had a good 2012 budget for the organization, we raised over $200,000 for the campaign, which is amazing."
Mass., Iowa groups re-evaluate missions after marriage victories
Advocacy groups in other states have had to re-evaluate their agenda once same-sex couples won the right to marry.
Love Makes a Family of Connecticut, which spearheaded the passage of the state's same-sex marriage law, disbanded in 2009 after then-Gov. Jodi Rell signed the measure. It took effect in Oct. 2010.
MassEquality also re-evaluated its mission after lawmakers in 2007 rejected a proposed referendum on amending the state constitution to ban nuptials for gays and lesbians. Massachusetts' same-sex marriage law took effect in 2004.
"There were town halls that were done all over the state to ask people should MassEquality continue to exist, should we change the resources and the political power and the reputation, the expertise we had developed and leverage it to a multi-issue agenda that would basically lift up the other existing LGBT groups throughout the state," Kara Suffredini, the group's executive director, told the Blade. "The conclusion was yes: We have all the resources, we have all this political power. Yes, let's use it to leverage other groups. And that's what we've done since."
Since the same-sex marriage debate ended in Massachusetts, MassEquality has worked with the Massachusetts Transgender Political Coalition to advocate on behalf of a trans rights bill Gov. Deval Patrick signed into law last November. The group has also worked with the LGBT Aging Project to address health disparities among LGBT elders and the Boston Alliance of Gay, Lesbian, Bisexual and Transgender Youth (BAGLY) to address homelessness among LGBT youth and bullying.
MassEquality has a seat on a commission state lawmakers created earlier this year to study the issue of homelessness among young people.
"Obviously marriage equality is an issue that garners a lot of attention and resources," said Suffredini. "Once it's done, there is plenty else to do and it was not difficult for us to figure out what else there was to do."
Same-sex couples have been able to legally marry in the Hawkeye State since the Iowa Supreme Court in 2009 unanimously struck down the ban on nuptials for gays and lesbians. Voters in 2010 removed three of the justices who backed the ruling from the bench. Opponents failed to unseat a fourth on Nov. 6.
"Just because you have marriage, it doesn't mean you stop being vigilant," Donna Red Wing, executive director of One Iowa, told the Blade. "Here in Iowa if we don't maintain a Democratic Senate majority at this time, we might see marriage on the ballot. And so we need to really make sure that we not only continue to hold back the forces working against us, but that we do the work that needs to be done across the state and that's putting a face and a voice to what it means to be gay and lesbian or bi or trans in Iowa."
One Iowa continues to fight to secure parental rights for same-sex couples — she noted the state's Department of Public Health refused to allow a married lesbian who had a child with her wife to be recognized on their birth certificate. Red Wing pointed to another case in which officials "crudely whited-out" a lesbian mother's name on her stillborn child's birth certificate because she said the Department of Public Health would not recognize the two women as parents.
The group is also working with HIV/AIDS service providers to decriminalize those living with the virus and to address LGBT-specific health care disparities across Iowa.
"From birth to death we're looking at the issues that impact Iowans — specifically LGBT Iowans – and how we can really strengthen and deepen what equality means for them," Red Wing said.
Back in Maryland, Evans said Equality Maryland plans to work to make sure the same-sex marriage law is fully implemented once it takes effect on Jan. 1.
"We have to clean up a few regulations," she said. "There may even be some litigation for clerks of court who aren't complying. We still have some counties that aren't offering spousal benefits to same-sex couples to same-sex spouses despite the Port v. Cowan court case [where the Court of Appeals in May unanimously ruled same-sex couples who legally married in another state can obtain divorces in Maryland] and attorney general."
Equality Maryland continues to strategize with the Maryland Coalition for Trans Equality on how to advance a bill during the upcoming legislative session that would add gender identity and expression to the state's anti-discrimination law. The organization also hopes to work with the NAACP and Revs. Delman Coates of Mt. Ennon Baptist Church in Prince George's County and Donté Hickman of Southern Baptist Church in Baltimore and other groups to address health disparities and reduce HIV/AIDS rates among disproportionately affected populations in the state.
Evans further stressed she hopes to continue Equality Maryland's work on immigration-related issues that began in August when it and CASA de Maryland announced a campaign to build additional support for the same-sex marriage and a law that provides in-state tuition to undocumented immigrants — voters on Nov. 6 approved the Maryland Dream Act by a 59-41 percent margin.
Equality Maryland also plans to work with the Maryland State Department of Education to ensure the state's anti-bullying regulations are properly implemented.
"We're going to start really focusing on that, making sure the way students are treated in Montgomery County is the way they're treated in Garrett County and the way they're treated in Cecil [County]," Evans said.
Biden endorses Roem for re-election
Former journalist is first out trans person in any state legislature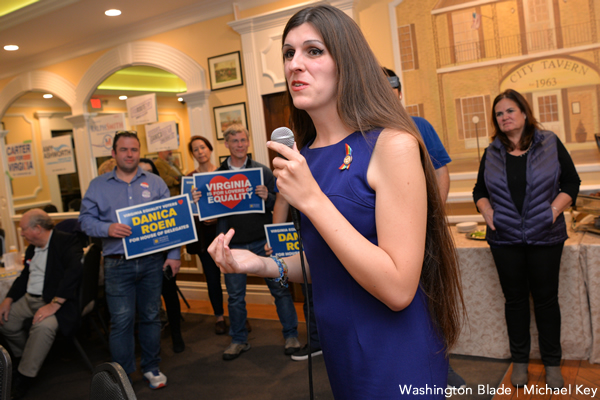 President Biden on Tuesday endorsed Virginia state Del. Danica Roem (D-Manassas) for re-election.
Speaker Eileen Filler-Corn (D-Fairfax County) is among the other Democratic members of the Virginia House of Delegates who Biden backed. Biden in his tweet also stressed his support of Terry McAuliffe, who is running against Republican Glenn Youngkin to succeed Democratic Gov. Ralph Northam.
"Building back better starts in the states," tweeted Biden. "Since flipping the legislature in 2019, Virginia Democrats have been a model of progress—including helping us vaccinate folks to beat the pandemic. To keep our progress, we must elect Terry McAuliffe and Democrats up and down the ballot."
Building back better starts in the states. Since flipping the legislature in 2019, Virginia Democrats have been a model of progress—including helping us vaccinate folks to beat the pandemic. To keep our progress, we must elect @TerryMcAuliffe and Democrats up and down the ballot. pic.twitter.com/NsJiiPNzlv

— Joe Biden (@JoeBiden) October 19, 2021
Roem, a former journalist, in 2018 became the first openly transgender person seated in any state legislature in the U.S.
Biden called Roem on the night she defeated then-state Del. Bob Marshall and congratulated her. A Washington Post picture that showed Roem crying moments later went viral.
The Manassas Democrat who represents the 13th District in 2019 easily won re-election. Christopher Stone, the Republican who is running against Roem in this cycle, opposes marriage and adoption rights for same-sex couples.
Conservatives blame pro-trans policy after assaults in Loudoun schools
'Gender fluid' 15-year-old accused of attacking female students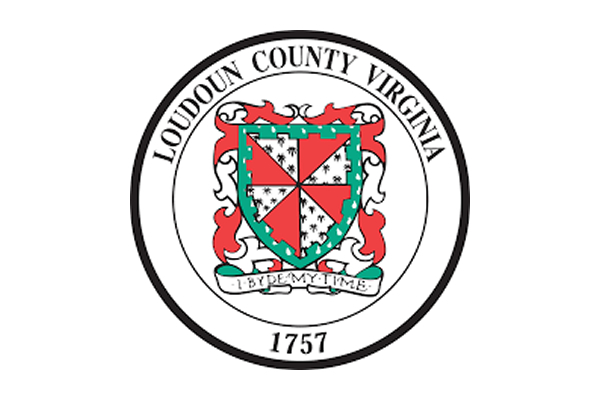 The Loudoun County, Va., public school system's recently adopted policy of allowing students to use the bathroom that matches their gender identity has come under fire over the past two weeks by outraged parents and conservative political activists following reports that a 15-year-old "gender fluid" boy allegedly sexually assaulted two girls in different high schools.
The parents of one of the girls released a statement through the Virginia-based Stanley Law Group blaming school officials for failing to put in place safeguards to prevent the boy, who they say was dressed in a skirt, from entering the girl's bathroom to assault their daughter at Stone Bridge High School in Ashburn, Va., on May 28.
The statement accuses Loudoun County Schools officials and the Loudoun County Board of Education of failing to take steps to prevent the same 15-year-old boy from allegedly sexually assaulting another female student at Broad Run High School, also located in Ashburn, on Oct. 6 in a vacant classroom.
School officials acknowledge that the boy was transferred to the second school after law enforcement authorities released him from a juvenile detention facility following his arrest for the first case, in which the Loudoun County Sheriff's Office said he was charged with two counts of forceable sodomy against his female victim.
"The sexual assault on our daughter and the subsequent sexual assault by the same individual were both predictable and preventable," the parents' statement says. "Subsequent to the sexual assault on our daughter, Loudoun County Public Schools formalized the policy regarding restroom use that was easily exploitable by a potential sexual assailant," the statement continues.
"Because of poor planning and misguided policies, Loudoun Schools failed to institute even minimal safeguards to protect students from sexual assaults," says the statement.
Loudoun County Schools Superintendent Scott A. Ziegler apologized at an Oct. 15 news conference for what he acknowledged was the school systems' mishandling of the two sexual assault cases. He noted that school officials should have publicly disclosed the two cases or at least alerted parents at the time they occurred. But he said a federal civil rights law known as Title IX that mandates how schools must respond to cases of sexual harassment appeared to prevent Loudoun school officials from initially disclosing the two cases of sexual assault until they were investigated by law enforcement authorities.
Ziegler said the school system was revamping its disciplinary procedures and its interaction with the Loudoun Sheriff's Office to ensure that parents and students are alerted to potential danger similar to the cases where the 15-year-old boy allegedly assaulted the two female students.
Meanwhile, school officials and the LGBTQ advocacy group Equality Loudoun have pointed out that law enforcement officials have yet to confirm whether the 15-year-old boy charged in the two cases was actually dressed in women's clothes during the first incident or whether he is trans or gender fluid.
Equality Loudoun's president, Cris Candice Tuck, released a statement to the Washington Blade on Oct. 18 that she said was the first official known statement responding to the Loudoun school controversy from an LGBTQ organization.
"In light of the reporting of recent sexual assault allegations, the Board of Directors of Equality Loudoun wishes to extend our deepest sympathies to the victims of these heinous attacks and their families," the statement says. "Equality Loudoun advocates for due process and justice for the victims regardless of whether the alleged perpetrator was a member of the LGBTQ+ community," the statement continues. "Such actions have no place in our community, and Equality Loudoun does not condone any form of sexual violence, assault, or harassment," it says.
"However, the accusations that the alleged perpetrator of these assaults is transgender or genderfluid have so far been unverified," the Equality Loudoun statement asserts. "Attempts to shift blame of this incident to any individual, group, or policy – other than the alleged perpetrator – does a grave disservice to the victims of these crimes and already marginalized youth in our community."
The statement adds, "We remind those advocating for change to the laws and policies that the initial assault predated any enactment of Policy 8040 by almost 4 months."
The Equality Loudoun statement was referring to the fact that the Loudoun County School Board did not vote to approve the school system's trans nondiscrimination policy until August of this year, more than three months after the first of the two sexual assault incidents occurred.
The policy, among other things, allows transgender and genderfluid students to use the school bathrooms and locker rooms that match their gender identity. The policy also requires that teachers, school administrators and fellow students address a trans or genderfluid student by their chosen name and pronouns.
"Inadvertent slips in the use of names and pronouns may occur," the policy states. "However, staff or students who intentionally and persistently refuse to respect a student's gender identity by using the wrong name and gender pronoun are in violation of this policy," it states.
The statement says that rumors of a bathroom "pilot" program that predated the official approval of Policy 8040 that would have allowed female trans or genderfluid students to use the girls' bathrooms "are simply untrue" and were never put in place.
In a separate statement to the Blade, Equality Loudoun's Cris Candice Tuck challenged claims by some parents and conservative political activists, some of whom are supporting Virginia's GOP gubernatorial candidate Glenn Youngkin over Democrat Terry McAulliffe, that the trans nondiscrimination policy is placing students at risk for sexual assault.
"The adoption of nondiscrimination policies are in no way endangering students," Candice Tuck said. "Across the country, sexual assaults have occurred in schools for decades before any transgender inclusive policies were passed," she said. "And in those counties and states where such protections have passed in recent years, there has been no verified incidence of anyone abusing such policies to commit such attacks in schools."
Candice Tuck added, "The focus should be on improving systems of reporting, coordination, and investigation, protecting the victims of these attacks, and creating safer school environments by creating modernized areas and bathrooms that increase protection for all students, including LGBTQ+ students who are statistically more likely to be the victim of such a crime."
D.C. rejects request by gyms to lift mask mandate
LGBTQ-owned venues sign letter calling requirement 'devastating' for business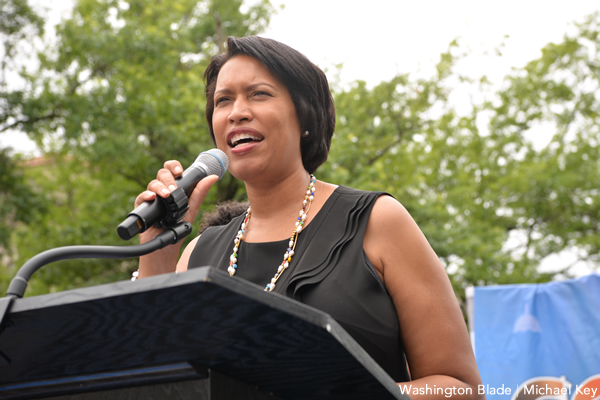 Owners of two LGBTQ-owned D.C. fitness studios and one gym signed on to a joint letter with the owners of six other similar businesses urging D.C. Mayor Muriel Bowser and D.C. Department of Health Director Dr. Laquandra Nesbitt to lift a city mandate requiring patrons of gyms and fitness studios to wear masks.
The Oct. 4 letter, written by gay businessman Bryan Myers, the CEO and president of a chain of local fitness studios using the trademark name of [solidcore], states that the mask mandate, which applies to people who are fully vaccinated for the coronavirus, is based largely on outdated data pertaining to gyms and fitness studios collected prior to the widespread availability of the COVID vaccine.
"More relevant data to inform decision-making would be to study the data from two, large Northeastern cities that have opted to allow fitness classes to continue with the requirement of vaccination in lieu of a mask requirement," the letter states. "In both New York City and Philadelphia, which have opted for this approach, we have not seen an increase in the trajectory of the Delta variant," Myers says in the letter.
In the last week of July, the U.S. Centers for Disease Control and Prevention issued a recommendation that cities and local jurisdictions with 50 new COVID cases per 100,000 residents per week, which at that time included D.C., should ask residents to voluntarily resume wearing masks indoors. That same week, Bowser announced she would go one step further by mandating the indoor use of masks in most public places, including gyms and fitness spas or studios.
Bowser and Nesbitt said their intention was to take immediate steps to curtail the spread of the coronavirus so that the city would not be forced to return to the full shutdown mode, including the closing of businesses, that the mayor lifted earlier this year.
Maryland Gov. Larry Hogan and Virginia Gov. Ralph Northam announced they would ask residents of their states to consider using masks in crowded indoor spaces as recommended by the CDC, but said they would not require mask use.
In their letter to Bowser and Nesbitt, the gym and fitness studio owners called on the mayor to provide the same exemption to their businesses as the city has provided for restaurants, bars, and nightclubs, which requires masks except when patrons are eating and drinking.
"While it is true that bars, restaurants, and clubs technically have to follow the same guidelines, we know that in practice, these venues have been granted exceptions by D.C. Health," the letter says. "On any given night, you can find hundreds of individuals crowded into a U Street bar, at a Capitol Hill restaurant, or thousands at a performance or party at The Anthem enjoying themselves – singing, dancing and physically exerting themselves, shouting – maskless – so long as they have a drink somewhere nearby," says the letter.
"And to be unequivocally clear, we are not advocating that there is anything wrong with what is happening in other industries or that there be a change to the management of those industries/venues," the letter continues. "We are simply advocating that we be treated the same as they are."
The letter adds, "Finally, but perhaps most importantly, the mask mandate for fitness studios and gyms has resulted in devastating financial impact to these businesses – many of which are small locally owned."
It says patronage has dropped 50 percent for some of the fitness centers and gyms since the mayor's mask mandate took effect July 29. It points out that the drop in customers comes at a time when many of these businesses have spent thousands of dollars and in some cases hundreds of thousands to upgrade their ventilation and filtration systems and other structural steps to curtail the spread of the coronavirus.
Myers told the Washington Blade in a statement that neither the Department of Health nor the mayor's office replied directly to the gym and fitness studios' letter.
Channel 7 News reported that in response to its request for the city's reaction to the gym and fitness studios' concerns, the Department of Health released a statement saying, "D.C. Health's stance is that persons should wear masks in gyms and during this time [we] do not have plans to change our stance on this guidance."
In his statement to the Blade, Myers said the D.C. gym and fitness studios were frustrated and disappointed that the city at this time is not open to reconsidering the mask mandate for gyms and fitness studios, many of which he said are barely surviving.
"This mandate is directly affecting the livelihoods of residents of the District, many of whom are women, people of color, and/or LGBTQ+ in a policy that is simply not equitable, and is steering residents away from services that can help improve the overall health of our community," Myers said.