Attorney says invalidating Stein Club election would violate bylaws
Dispute over club takeover by influx of new members to be debated at special meeting Wednesday night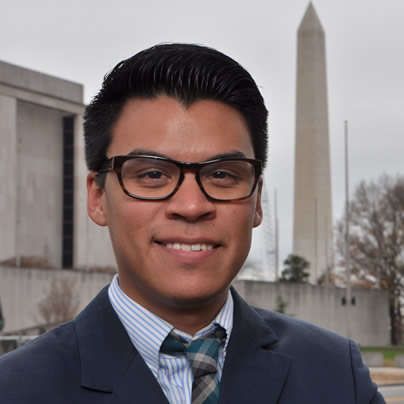 An attorney representing Martin Garcia, the president-elect of the Gertrude Stein Democratic Club, said a proposal by several club members to invalidate Garcia's election and the election of two other officers aligned with Garcia would "flagrantly" violate the club's bylaws.
Joseph E. Sandler, former general counsel to the Democratic National Committee, said in a Dec. 17 letter to Stein Club members that a call to overturn the election of Garcia and the two other officers by disqualifying 17 people who voted in the club's Dec. 3 election would be a "breach of contract."
He said a legal opinion by Donald Dinan, an attorney for the D.C. Democratic State Committee, whom the Stein Club's current officers consulted about the election, incorrectly interpreted the bylaws.
Dinan stated in a Dec. 12 memorandum that the votes by 17 people could be invalidated if the addresses they gave were not correct or if it could be shown they did not qualify for the special reduced membership fee of $15 under which they joined the club in the week prior to the election.
Under club rules, eligibility for the special membership is restricted to students, senior citizens, and people with a "limited income."
Dinan noted that the 17 votes cast by people whose membership is now under question is greater than the two to seven-vote margin in which Garcia and the other two officer candidates won the election. He said that since the vote was conducted by secret ballot, there is no way to determine which candidates received votes by a potentially disqualified member.
Thus Dinan concluded that if the Stein Club membership decides at the special meeting set for Wednesday night to disqualify a number of new members that exceeds the margin of victory for the three officers, the club has the authority to invalidate the election and call a new election.
Sandler, however, argues that the club's bylaws do not provide any residency requirements for members and do not define "limited income" or whether a "student" should be full-time, part-time, or someone enrolled in a trade school rather than a college.
In addition, Sandler states in his letter, "The Dinan Memorandum… simply does not set forth any remotely reliable facts that would indicate that any of the 17 new members whose votes are being questioned were other than legitimate, dues-paying members of the Stein Club, under the Bylaws and Standing Rules of Procedure, at the time of the election."
He said the club's current officers and members should know that the club "is not free to ignore its own bylaws, or to make up new rules not found in the bylaws, to the detriment of certain members, whenever it seems convenient to do so."
Dinan told the Blade that his memorandum was not a fact finding document and it was up to the club's officers or members to make any determination on whether the 17 new members should be disqualified based on "irregularities" over their residential address or special membership qualification.
Sandler noted that Dinan cited specific claims of problems associated with the new members' addresses and special membership status brought to Dinan's attention by the club's current officers. None of the issues about membership status raised could be grounds for disqualifying a member under the bylaws.
Sandler suggested in his letter that Garcia and the other two candidates who won election to the club's vice presidential posts – Angela Peoples and Vincent Villano – would have grounds to take legal action against the club if their elections are overturned.
"[I]t is Mr. Garcia's position that any decision to invalidate the December 3 election and/or to hold another election would be a flagrant violation by the Stein Club of its own bylaws, a violation that obviously directly injures Mr. Garcia, and that would constitute action ultra vires and in breach of contract," he says in his letter.
"Ultra vires" is a Latin term used to say a corporation or entity went "beyond the powers" or authority they have to take a certain action, according to BusinessDictinary.com.
Garcia told the Blade on Tuesday that he and the other new officers have no intention of taking legal action against the club.
"That would not be beneficial to anyone involved in the club," he said. "Our hope is to build unity and move forward with greater participation by folks who haven't been involved."
"After reading Mr. Sandler's memo, I am more convinced that this special meeting is an attempt to push new members out of the election process," Garcia said in a statement on Tuesday. "The Stein Club founders stood against the disenfranchisement of LGBT people, and I believe that, when presented with all the information, today's Stein members will stand together at the special meeting and vote to move us forward as a united organization."
D.C. area LGBTQ bars, eateries receive $100K COVID-19 relief grant
Pitchers, League of Her Own received NGLCC, Grubhub funds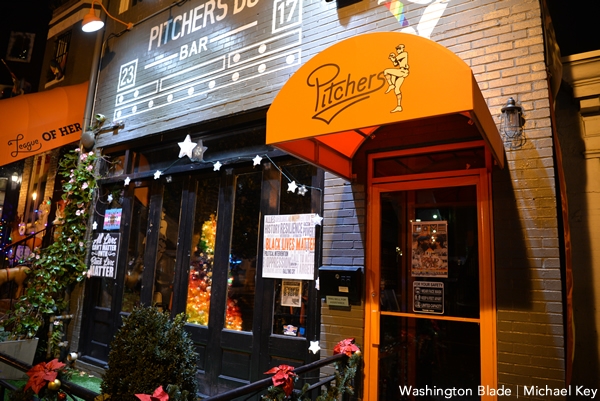 The D.C. LGBTQ sports bar Pitchers and League of Her Own, its adjoining lesbian bar, are among the nation's first LGBTQ bars that serve food as well as alcoholic beverages to receive a $100,000 COVID-19 relief grant under a $2 million Community Impact Grant Program.
The program, aimed at supporting LGBTQ-owned and LGBTQ-allied small businesses struggling from the pandemic, was launched in September as a joint project of the National LGBT Chamber of Commerce, which goes by the initials NGLCC, and the global online food delivery company Grubhub.
In a Tuesday announcement, NGLCC and Grubhub said Pitchers and League of Her Own, which operate as one business in adjoining buildings in D.C.'s Adams Morgan neighborhood, are among the first three recipients of $100,000 grants under the Community Impact Grant Program. The other two recipients are FOODE + Mercantile of Fredericksburg, Va., and Café Gabriela of Oakland, Calif.
"Following this initial round of recipients, more grants will be issued in late 2021 and early 2022," the announcement by the two groups says. In an earlier announcement, the groups said the application period for the grants program took place from September through Oct. 12, and the grants would range in amounts from $5,000 to $100,000.
"The impact of COVID-19 has been debilitating for countless restaurant and bar owners, including the many LGBTQ+-owned restaurants across the country who have persisted through lockdowns, operational changes and labor supply shortages," said NGLCC Co-Founder and President Justin Nelson. "We're grateful to have partnered with Grubhub to offer real lifelines to support businesses throughout the nation," Nelson said.
"Building community in a fun and safe place has been our mission since the very beginning," said David Perruzza, the owner of Pitchers and League of Her Own. "We're relieved and thankful for these funds, and are looking forward to more stable days ahead," Perruzza said.
"As a trans masculine and queer immigrant person of color, I've worked hard and put all my love and energy into building a beautiful and welcoming space in Café Gabriela," said owner Penny Baldado. "I've remained resilient through COVID, and this grant is the injection of funds that we need to continue along our journey to full recovery," Baldado said.
The statement announcing the first three grant recipient says funds for the $2 million grant program were generated by Grubhub's "Donate the Change" program of which NGLCC became a partner in June. Grubhub says the program asks customers receiving food delivered by Grubhub "to round out their order and donate the difference" to the charitable fund.
"COVID has turned the restaurant industry on its head the last 18 months, and at Grubhub, we've been working hard every day to support our restaurant partners across the country," said Amy Healy, Grubhub's vice president of government relations. "As the world starts to return to a new normal, we're proud to partner with the NGLCC and provide these grants to LGBTQ+-owned and LGBTQ+ ally-owned restaurants across the country that are pillars of their communities."
Va. businessman apologizes for burning of rainbow flag poster
'Shocked and horrified': Ashburn incident caught on video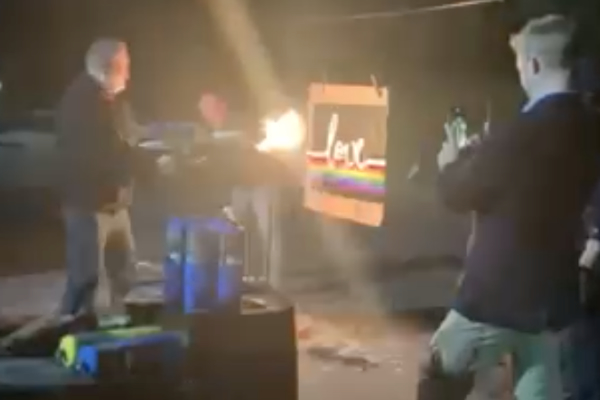 The owner of a Virginia technology company that hosted a private Veterans Day party on the grounds of an Ashburn, Va., brewery in which a company employee used a flame-throwing device to ignite a rainbow flag poster said the selection of the poster was a mistake and he and his company have no ill will toward the LGBTQ community.
The Washington Blade learned about the poster burning from a customer of the Old Ox Brewery in Ashburn, where the incident took place on its outdoor grounds. The customer made a video of the incident with his cell phone and sent a copy of the video to the Blade.
The video, which includes an audio recording, shows a man using a hand-held flame-throwing device to ignite the rainbow poster, which was hanging from a cable and appeared to be mounted on cardboard or a thin sheet of wood. Bystanders can be heard laughing and cheering as the poster is set on fire.
The poster consisted of a variation of the LGBTQ Pride rainbow flag that included the word "love" configured from an upper white stripe on the rainbow symbol.
The customer who took the video, who has asked not to be identified, thought the decision to set the poster on fire was a sign of disrespect if not hatred toward a longstanding symbol of LGBTQ equality and pride.
Chris Burns, Old Ox Brewery's president, shared that view, telling the Blade he and his staff were "shocked and horrified" when they learned later that a rainbow flag poster had been burned on the brewery's grounds. Burns said Old Ox supports the LGBTQ community and participated in LGBTQ Pride month earlier this year.
He said the company that held the private party paid a fee to hold the event on the brewery's grounds, but the brewery did not know a rainbow poster would be burned.
"I'm mortified that our event was interpreted in this way," said Nate Reynolds, the founder and partner of Hypershift Technologies LLC, the Falls Church, Va.-based technology company that organized the Nov. 11 party at Old Ox Brewery. "I can assure you that ZERO ill-will or offense was meant," Reynolds told the Blade in a Nov. 24 email.
"We held a small private party for a few clients, which included a demonstration of Elon Musk's Boring Company 'Not a Flamethrower,'" he said in his message. He was referring to one of billionaire businessman Elon Musk's companies that specializes in boring through the ground to create tunnels for cars, trains, and other purposes.
"After so many being isolated during COVID, we wanted to have an event that was lighthearted and to some small effect, silly," Reynolds said in his message to the Blade.
According to Reynolds, in thinking about what should be used for "fodder" for the flame-thrower, he went to a Five Below discount store and purchased items such as stuffed animals and posters, including a "Space Jam" movie poster as well as what he thought was a poster of the British rock group The Beatles.
"When I pulled the Beatles poster out of the tube it was instead the 'Love' poster," he said, referring to the rainbow flag poster the Blade asked him about in an earlier email.
"All I focused on was the 'Love' wording and not the rainbow and did not draw the conclusion that the poster was an icon that represents the LGBTQ community," Reynolds said. "It was my own ignorance of not connecting the symbolism of the poster. If I had realized it was a symbol of the LGBTQ community, I would not have used it," he said.
"I feel terrible, and I want to emphasize that I am solely responsible for this mistake – not the Old Ox Brewery," he wrote in his message. "Nobody at Old Ox had anything to do with this activity."
Reynolds added, "Hate has no place in my heart, and I sincerely apologize for any offense that could have been drawn from what I now realize was poor judgement on my part. I simply didn't correlate this poster with the LGBTQ pride symbol."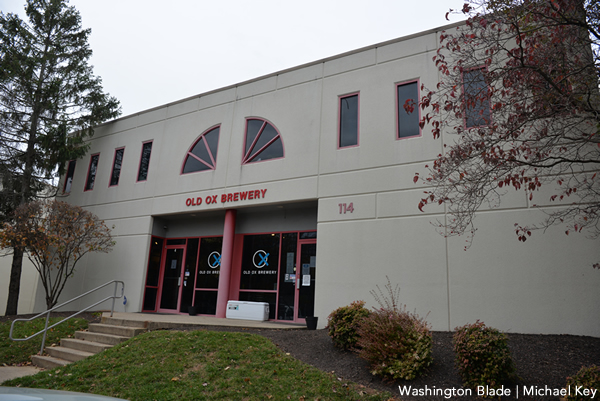 Before Reynolds issued his statement of apology, Burns, the Old Ox Brewery co-owner, told the Blade in an email he was "saddened and upset" over the rainbow poster burning on the grounds of his brewery.
"We do not wish to benefit from this event," he said in his email message. "Therefore, Old Ox is donating 100% of the revenue generated from the private event to GLSEN."
GLSEN is a national LGBTQ advocacy group that focuses on education and support for LGBTQ youth. Burns said Old Ox Brewery also donated proceeds from a Pride month event it organized earlier this year to GLSEN.
LGBTQ activists and organizations contacted by the Blade said they were unfamiliar with the variation of the rainbow flag with the word "love" that was the subject of the poster burning incident. The poster is available for sale at Five Below stores in the D.C. metropolitan area for $5.
Small print writings on the poster show it is produced by Trends International LLC, which describes itself on its website as "the leading publisher and manufacturer of licensed posters, calendars, stickers and social stationery products." The Blade couldn't immediately determine who designed the poster.
The video of the poster burning incident can be viewed here:
Fairfax schools returns LGBTQ-themed books in high school libraries
Review found 'no pedophilia' in texts as critics claimed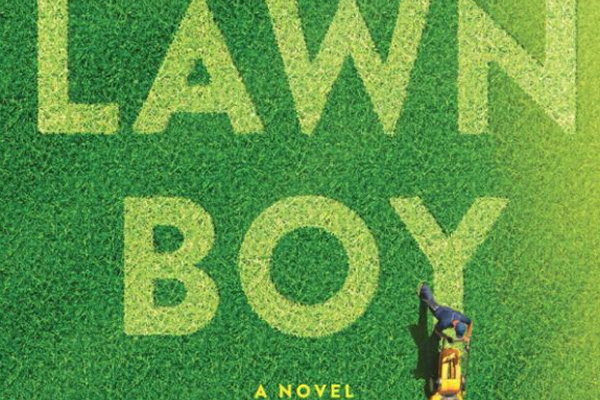 The Fairfax County Public Schools announced on Tuesday that following a detailed review by two committees appointed by school officials it has returned two LGBTQ themed books to its high school libraries that had been temporarily withdrawn after being challenged by critics who claimed they included sexually explicit content inappropriate for students.
The two books, "Lawn Boy," a novel by author Jonathan Evison, and "Gender Queer: A Memoir," which is described as an illustrated autobiography by non-binary author Maia Kobabe, each contain descriptions of sexual acts.
But supporters of the books have argued that they have won praise by literary critics and, while describing intimate relationships, they tell stories that do not fall into the category of pornography.
Fairfax County Public Schools, the name used for the county's public school system, on Tuesday said in a statement that a thorough review of the books by two committees consisting of educators, school officials, parents and some students found that neither book contained content that could be considered to depict pedophilia as claimed by some parents and others opposing the two books.
School officials announced they had temporarily withdrawn the two books from school libraries following a Sept. 23 meeting of the Fairfax County School Board where strong objections to the two books were raised by parents.
"Two books that were subject to formal challenge have been deemed appropriate for high school readers following a two-month review process and will be reinstated to Fairfax County Public Schools (FCPS) libraries," Tuesday's statement by the school system says.
"The decision reaffirms FCPS's ongoing commitment to provide diverse reading materials that reflect our student population, allowing every child an opportunity to see themselves reflected in literary characters," the statement continues. "Both reviews concluded that the books were valuable in their potential to reach marginalized youth who may struggle to find relatable literary characters that reflect their personal journey," the statement says.
The statement says the final decision to reinstate the books was made by Noel Klimenko, the Fairfax County Public Schools' assistant superintendent for its Instructional Services Department.
The two books have received favorable reviews in various literary publications. Both have received the American Library Association's Alex Award, an annual award that recognizes the year's 10 books written for adults that the association says have a special appeal to young adults ages 12 through 18.
"The robust committee process took place over several weeks and considered whether the books flouted regulations by being obscene or harmful to juveniles as defined by the Code of Virginia," the school system statement says. "The members also considered the work in line with an excerpt from the FCPS Student Rights and Responsibilities Handbook pertaining to possessing obscene visual imagery as defined in the Code of Virginia," the statement says.
"After careful consideration, neither books were deemed to have fallen foul of these regulations," it concludes.
The decision by Fairfax school officials to reinstate the two books came about six weeks after more than 425 LGBTQ students and allies from over 30 Fairfax County public high schools sent a letter to the school board and the school system's superintendent urging them to reinstate the two books.
The Pride Liberation Project, a coalition of LGBTQ and allied students in Fairfax County, organized the joint letter.
"Student representatives from over 30 schools, including nearly every high school in Fairfax County Public Schools, have signed this letter, and many of us are students of color, low-income, gender expansive and not out to our families and communities," the letter states.
"We are writing to ask you to reject calls to remove Maia Kobabe's 'Gender Queer' and Jonathan Evison's 'Lawn Boy' from Fairfax County Public Schools libraries," the letter says.
It points out that "hundreds of books in our schools already depict heterosexual relationships and physical intimacy," and says singling out LGBTQ themed books with similar stories of intimacy for rejection is unfair.