A gem loses its luster
Despite a magnificent star, 'Lescaut' needs some polishing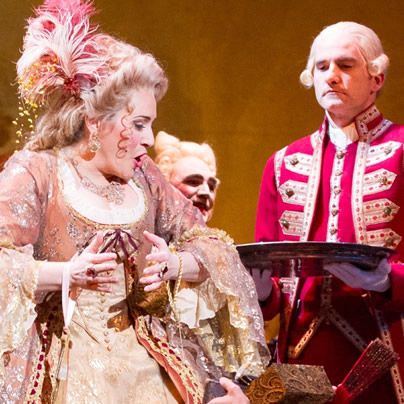 'Manon Lescaut'
Through March 23
Kennedy Center Opera House
2700 F St., NW
$25-$300
202-467-4600
kennedy-center.org
Opera can be an exquisite combination of art forms when done well — lush instrumentals combine with soaring vocals and engaging theatricality to create a passionate and transformative evening. That's why the opening night of Washington National Opera's "Manon Lescaut" was so teeth-grindingly frustrating. It polluted a sumptuous opera with high school-level missteps in directing, performance and conducting.
Rightfully lauded soprano Patricia Racette (a lesbian) made her role debut as Manon, and as expected she hit it out of the park. Her ability to convey pathos, both vocally and as an actress, lifted the character out of her two-dimensionality, suggesting a true conflict between Manon's desire for real love and her gold-digging tendencies. At opera's end, when Racette managed as she had throughout the evening to keep us spellbound by her vocal line and dramatic heft, the young girl's demise became a heartbreaking cautionary tale about living for anything other than love.
Too bad, then, that this remarkable artist had to battle an orchestra run amok. Puccini's score is rife with sweeping gestures of romantic tragedy and under the baton of Philippe Auguin, the orchestra certainly, but not always wisely, matched the mood. The players sounded so intoxicated with the score that, at times, they sawed away at it drunkenly, often drowning out the principles. The duet between Manon and her lover Des Grieux, Bulgarian tenor Kamen Chanev, leaned perilously close to becoming a shouting match.
Chanev was clearly hired for his money notes, the bread-and-butter of any tenor, and here he delivered in spades. His passionately ringing high note and legato in the act three aria, "No! Pazzo son! Guardate," would crack the heart of the most hardened opera aficionado, yet, high notes only do not a good tenor make. Often employing vocal parlor tricks to cover a lack of dynamic subtlety, the large-voiced Chanev stumbled clumsily through much of Puccini's lyric writing. (Perhaps he should have taken phrasing cues from Raúl Melo's stylistically charming Edmondo.)
This "Manon Lescaut," a revival of the 2007 production, was created and directed by gay opera director John Pascoe, who also helmed Washington National Opera's "Don Giovanni," seen earlier this season, and 2008's dynamic "Lucrezia Borgia."
Some brilliant and unexpected design choices — a large bust-topped pillar transformed into a human-sized jewel box for Manon and broken palace pieces as the heroine's final resting place — highlighted the shallow artifice of 18th-century Paris juxtaposed with the lonely end we all crawl toward.
The grand desolation of Manon, who goes from dancing in the glittering salons of Paris to dying on a windswept plain in America, is one hair's breadth away from melodrama, and some of Pascoe's blocking and set choices only highlighted this unfortunate tendency. Using a large scrolled page as a screen for projecting quotes from the original Manon story written in the 17th-century by Abbé Prévost, this page regularly split in two, framing the stage and suggesting a grand fairy tale. At times, the halves would draw closer together, unnecessarily highlighting a lead character's aria in a ham-handed attempt to let the audience know this moment was important — as if the writing and performance alone couldn't do that.
Hackneyed operatic staging threatened to turn the piece into a silent film. Des Grieux and Manon often didn't sing to each other at all in moments of high passion, and sometimes they weren't even near one another. During her death scene, the heroine was draped languidly in a sepulchral broken pillar, only then to sing about being in her tomb. Yeah. We got that, already.
Perhaps in the relentless march to make opera easily accessible, the production team sacrificed the delicacy and infinite emotional variations that reflect real life. Manon's story is not so absurd in an era when people will just as easily sell their soul for a shot on reality TV as they would sell out true love for a chance to wear jewel-encrusted gowns.
10 LGBTQ events this week
Set sail on the Potomac and celebrate the beginning of summer in Rehoboth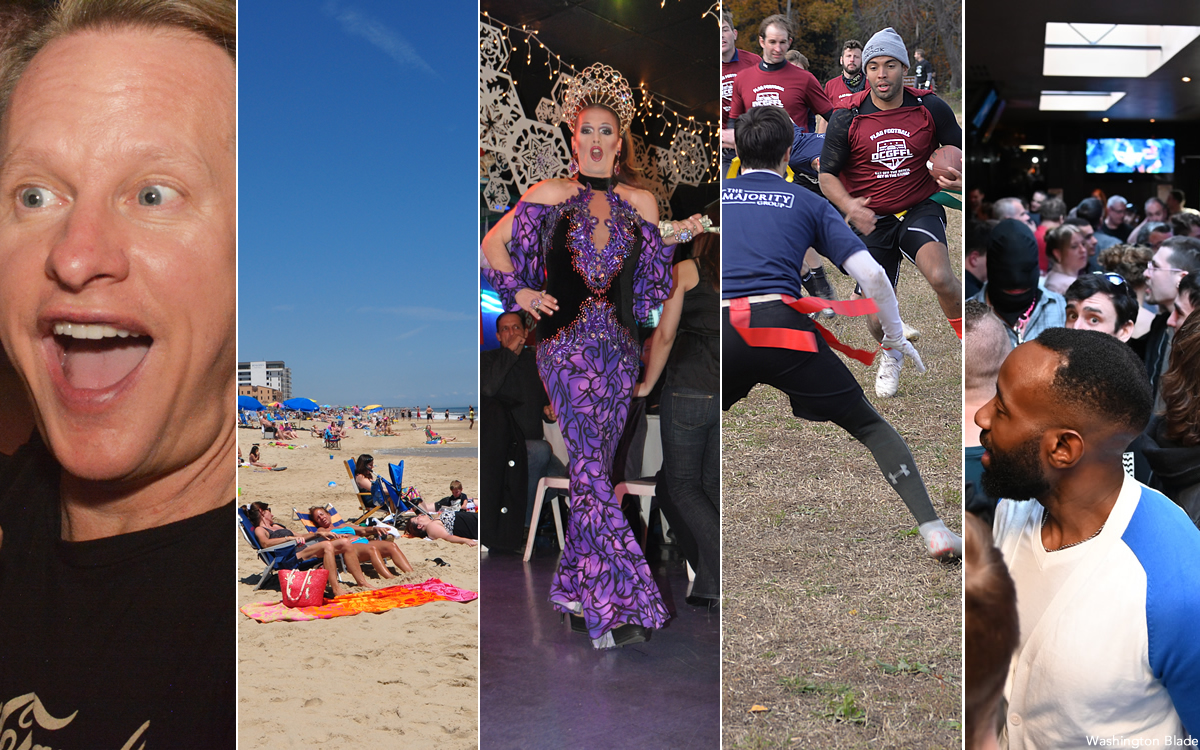 Below are our picks for some oDf the most fun and creative things to do this week in D.C. that are of special interest to the LGBTQ community.
Number Nine 11th Anniversary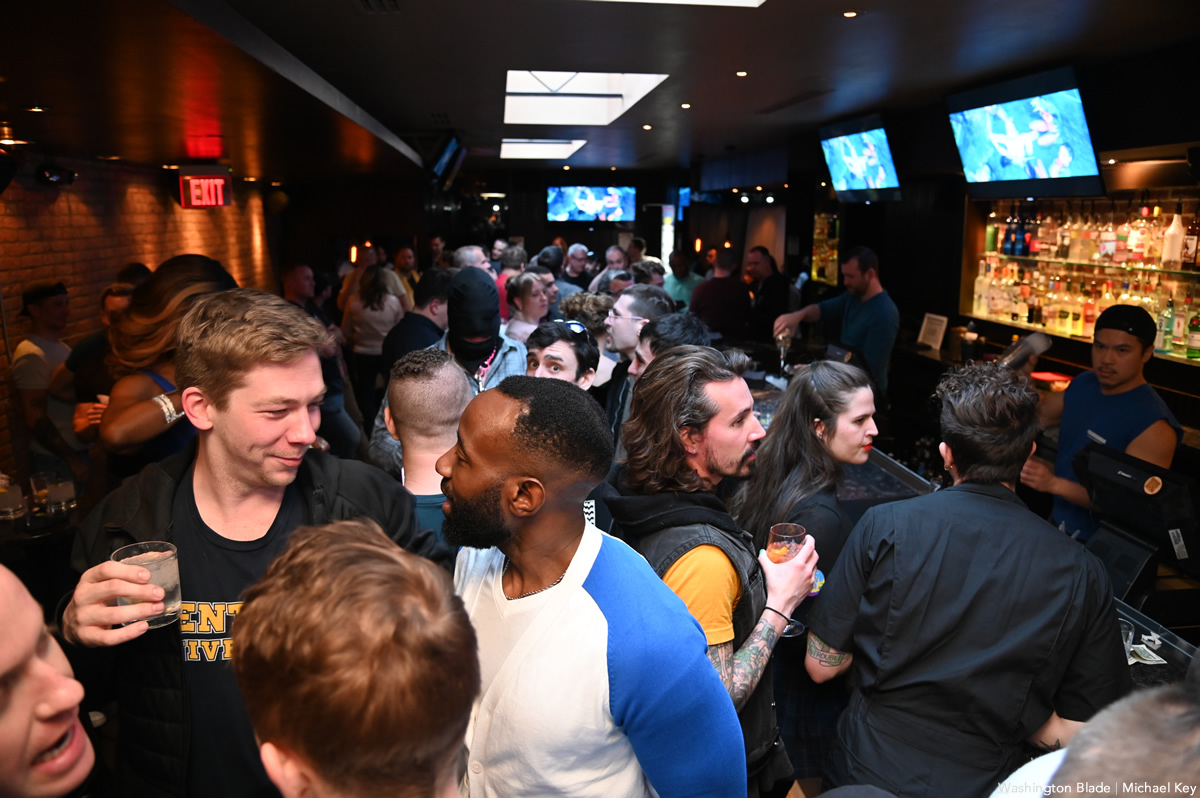 Wednesday, May 19
5 p.m.
Number Nine
1435 P Street, N.W.
Facebook
The gay bar Number Nine celebrates 11 years of business on Wednesday with an old school 2-4-1 happy hour.
DC Boys of Leather Happy Hour (fundraiser for DC Abortion Fund)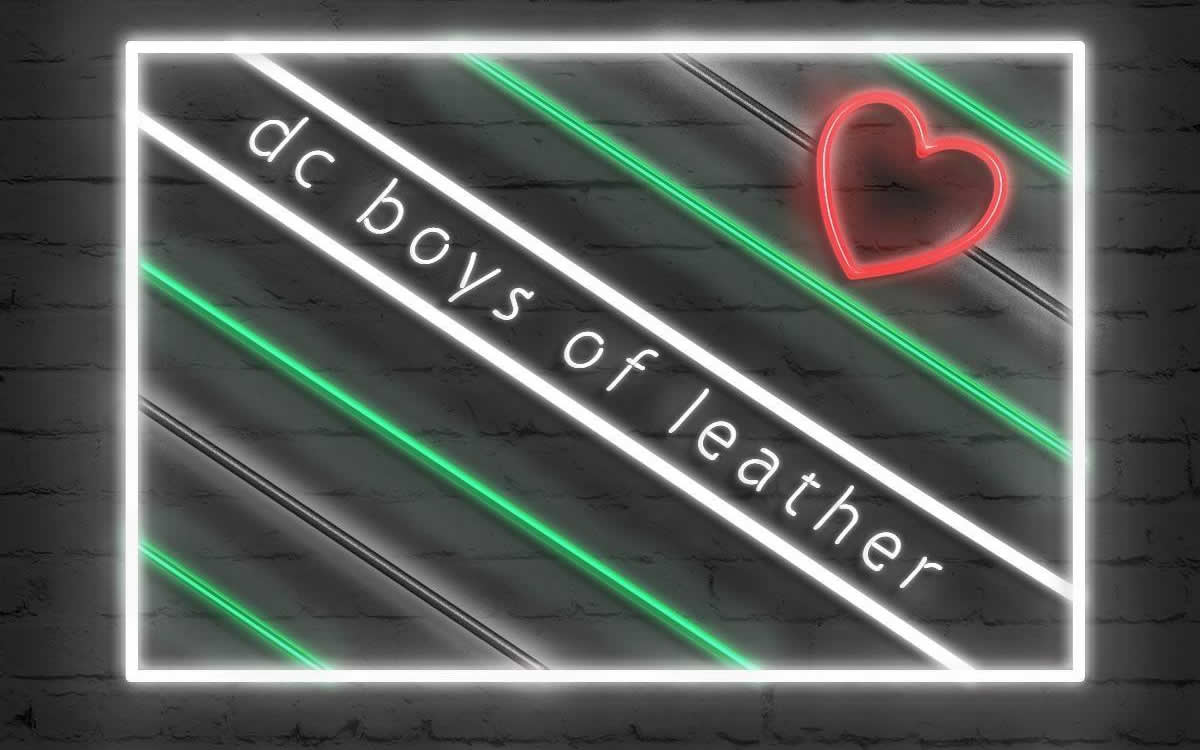 Thursday, May 19
6-9 p.m.
Trade
1410 14th Street, N.W.
Facebook
Join the DC boys of Leather for its monthly happy hour. This month's gathering is raising money for the DC Abortion Fund: a local DC organization that provides financial support for residents of and visitors to DC in their reproductive health care.
Taste of Point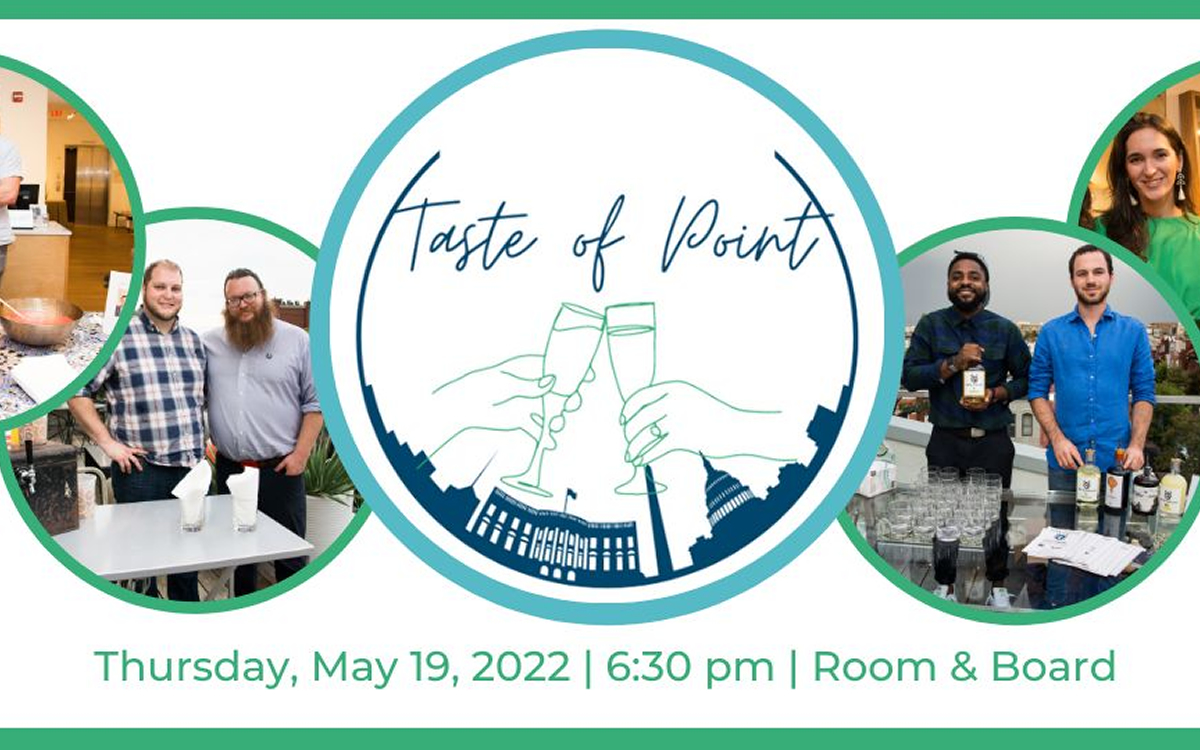 Thursday, May 19
6:30-8:30 p.m.
Room & Board
1840 14th Street, N.W.
$50-$100 advance / $120 door
Facebook
The Point Foundation, an organization that provides LGBTQ youth scholarships and mentorships, is holding its "Spring Garden Party" on May 19th at Room & Board. Several local restaurants are participating.
Blade Summer Kickoff Party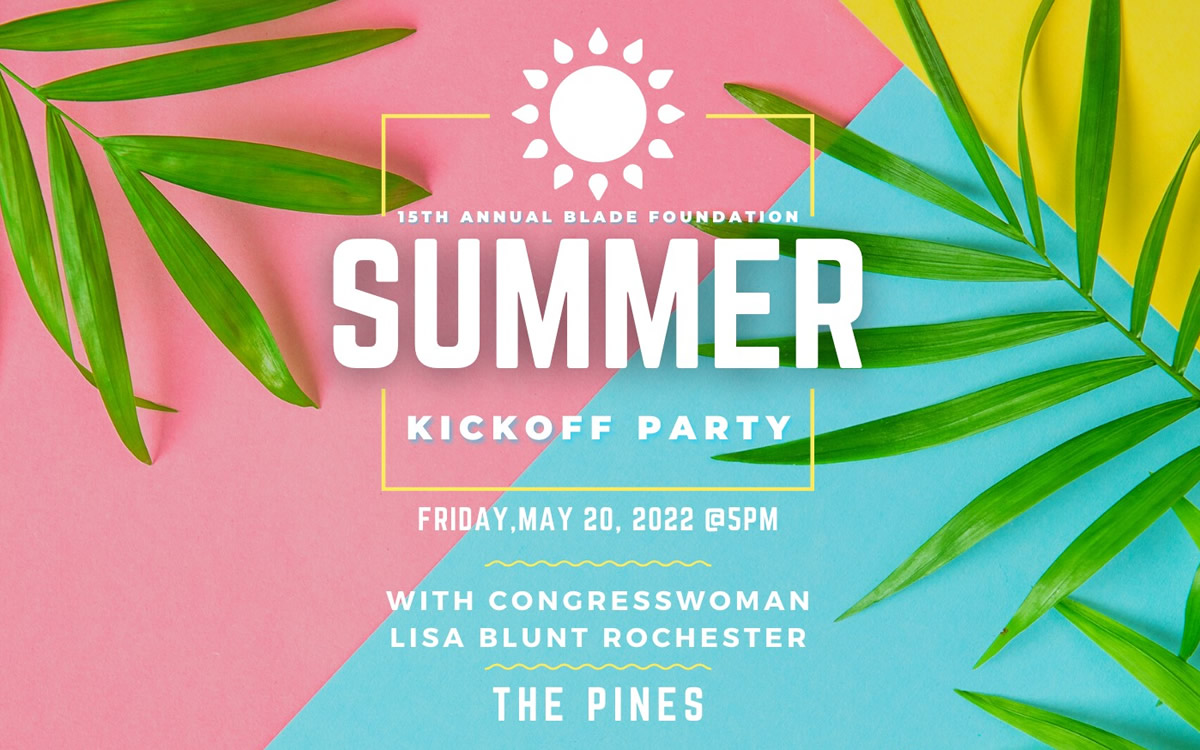 Friday, May 20
5-7 p.m.
The Pines
56 Baltimore Avenue
Rehoboth Beach, Del.
$20
Facebook
Join the Washington Blade for our 15th annual Summer Kickoff Party in Rehoboth Beach, Del. The special guest this year is Rep. Lisa Blunt Rochester.
Miss Freddie's 2022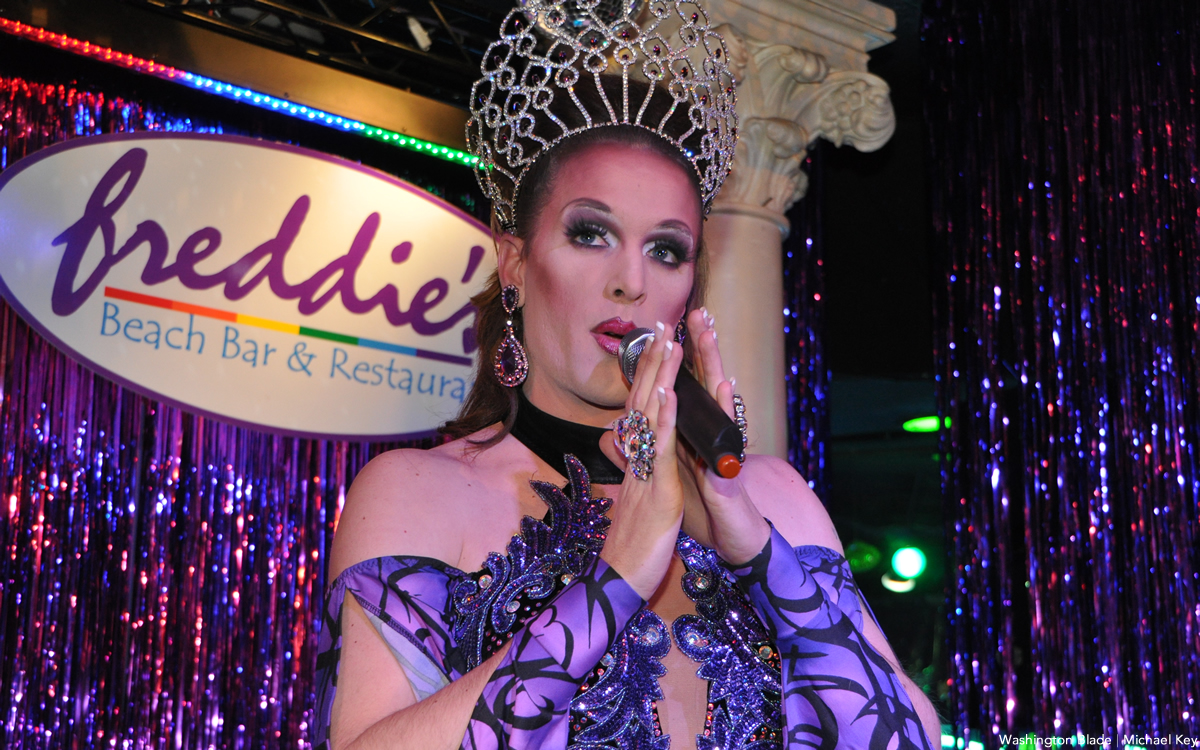 Friday, May 20
5-7 p.m.
Freddie's Beach Bar & Restaurant
555 23rd Street S
Arlington, Va.
$10 cover
Facebook
The annual Miss Freddie's drag pageant returns in person at Freddie's Beach Bar & Restaurant in Arlington, Va. on Friday.
Rough House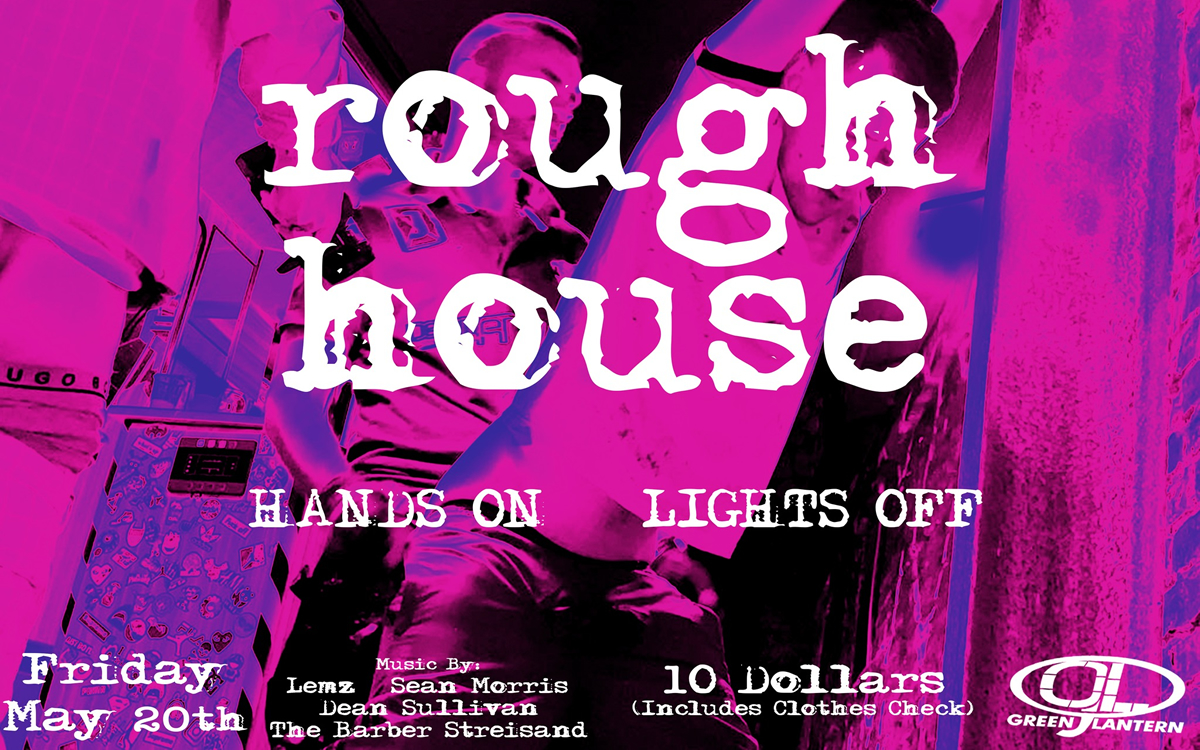 Friday, May 20
10 p.m.
Green Lantern
1335 Green Court
$10
Facebook
Join DJs Lemz, Sean Morris, Dean Sullivan and the Barber Streisand and check your clothes at the door for a night of "hands on, lights off" dancing.
Booty Cruise Tea Dance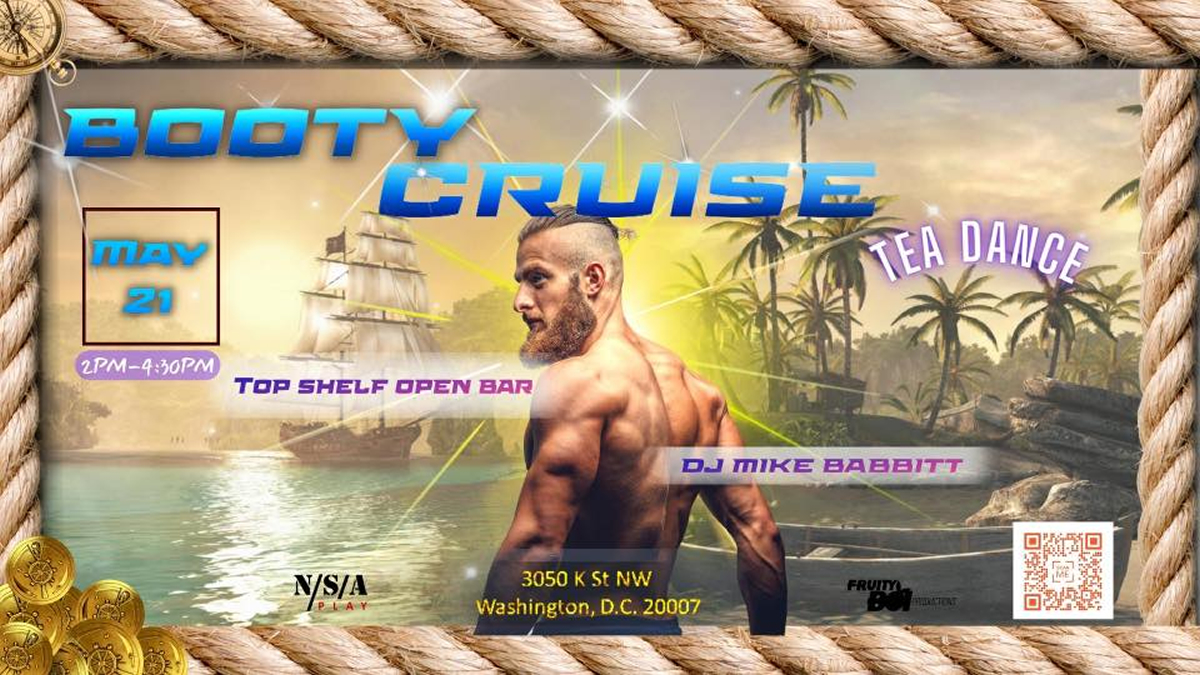 Saturday, May 21
2-4:30 p.m.
Potomac River
Meet at 3050 K Street, N.W.
$76
Facebook | Eventbrite
Set sail with Fruity Boi Productions & N/S/A Play on the Booty Cruise Tea Dance with an open bar on Saturday. The boat leaves promptly at 2 p.m.
Worthy Mentoring Pride Brunch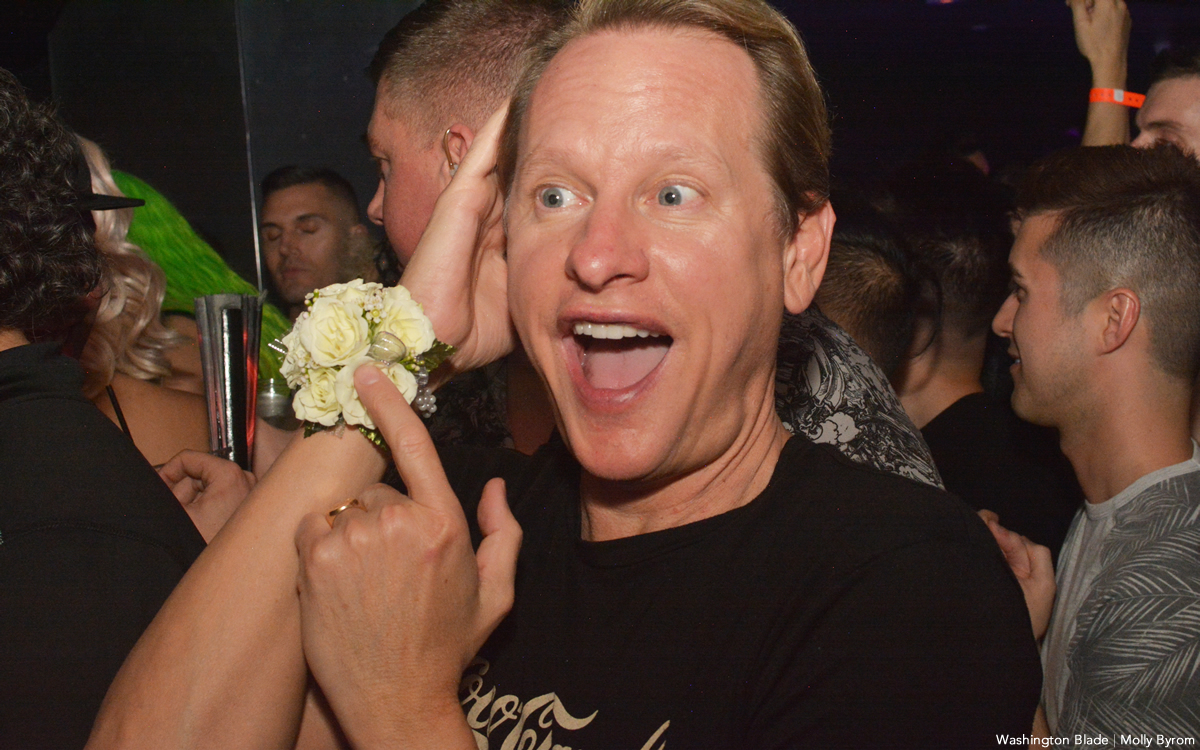 Sunday, May 22
12-3 p.m.
Four Seasons Hotel
2800 Pennsylvania Avenue, N.W.
$150+
Facebook | Website
Original "Queer Eye" guru Carson Kressley hosts the Worthy Mentoring brunch. With a gourmet brunch, bottomless drinks, multiple DJs, drag queens and a good cause, Sunday's event is one of the hottest tickets in town.
DC Gay Flag Football League Finals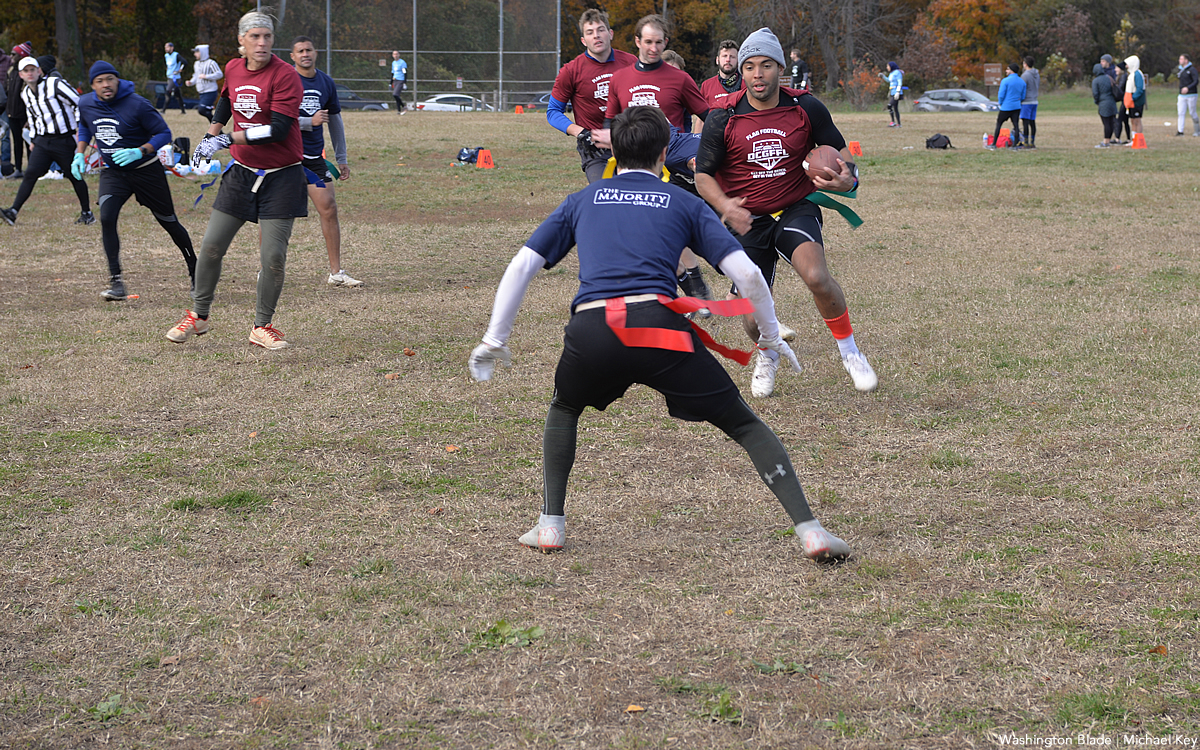 Sunday, May 22
games 10 a.m.-1 p.m. at Carter Barron Fields
afterparty and awards 3 p.m. at the Dirty Goose
913 U Street, N.W.
Website
The D.C. Gay Flag Football League holds their final games of the season at Carter Barron Fields and then celebrates with an end-of-season party and awards ceremony at the Dirty Goose on Sunday.
Onyx Code Red: Crimson Cosplay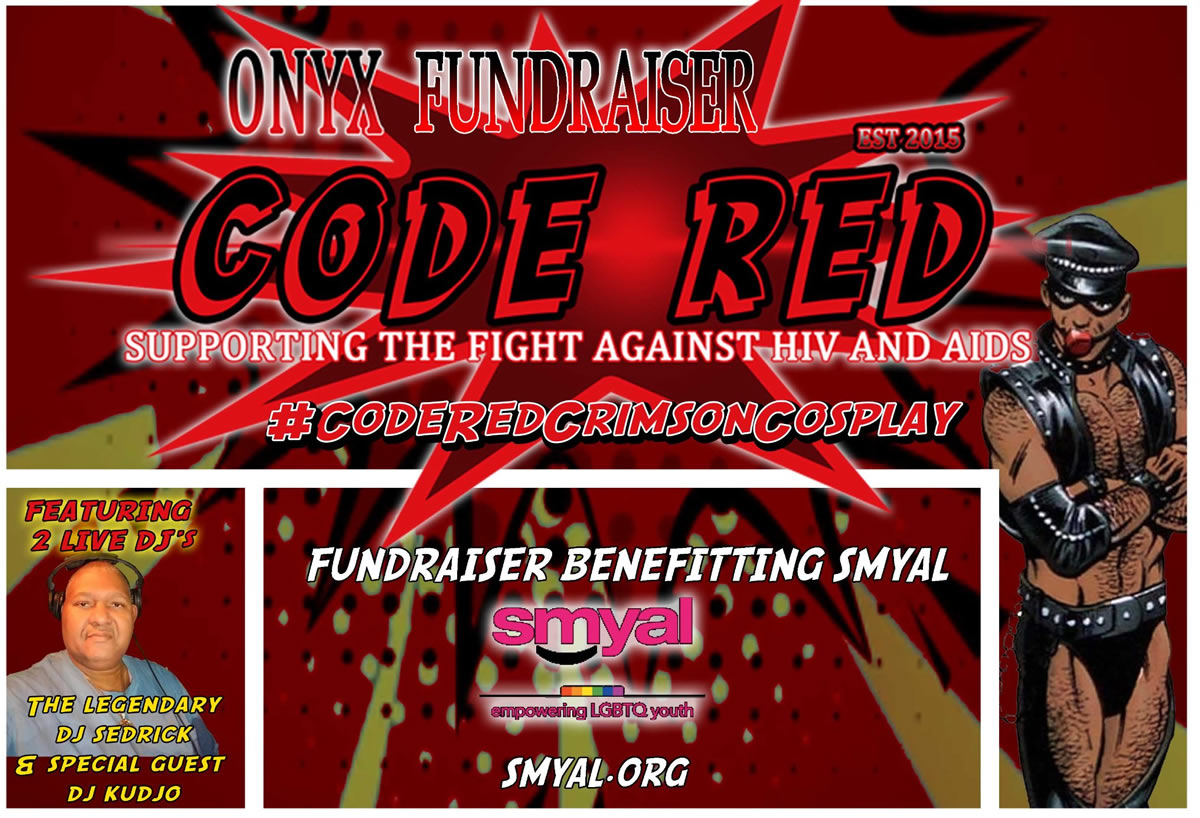 Sunday, May 22
9 p.m.-2 a.m.
5380 Eisenhower Avenue, Suite C
Alexandria, Va.
$25-$100
Eventbrite
Break out your leather, fetish, and kinky looks for a night of fun and a great cause. Red is the color, cosplay is the theme on Sunday night.
If you would like to let us know about an upcoming event, email [email protected] with details.
Disney donating all profits from Pride Collection to LGBTQ+ organizations and charities
"Disney has a long history of supporting LGBTQ+ organizations & charities- the Pride Collection is showing our support for the community"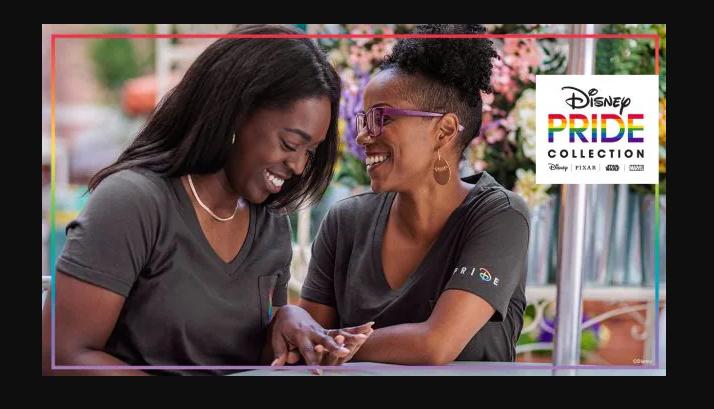 The Walt Disney Company announced Monday that it is donating all of the profits of its pride merchandise to charities that help the LGBTQ community. The announcement comes over the company's battles with Florida's Republican political leadership over the passage of the 'Don't Say Gay' measure and more recent government actions that removed the self-governing law over Disney-held properties known as the Reedy Creek Improvement District.
In a post on the company's blog, Disney Senior Vice President, Global Marketing Lisa Becket, who identifies a member of the LGBTQ+ community herself wrote:
"Disney has a long history of supporting LGBTQIA+ organizations and charities around the world, including GLSEN in the U.S. This year, we are further deepening our support. We will be donating all of our profits from the Disney Pride Collection sales now through June 30, 2022, to organizations that support LGBTQIA+ youth and families. This includes merchandise from Disney, Pixar, Marvel, and Star Wars.
In the U.S., profits from the collection will benefit GLSEN, PFLAG, The Trevor Project, Zebra Coalition, Los Angeles LGBT Center, LGBT Center Orange County, San Francisco LGBT Center and Ali Forney Center. Profits from other regions around the world will continue to support local charities in those countries. You can learn more about these organizations and their incredible, impactful work by visiting TWDCPrideCollection.com.
I'm proud to share just a bit about what we are doing for the LGBTQIA+ community and to joyfully celebrate Pride not just for the month of June, but all year-round."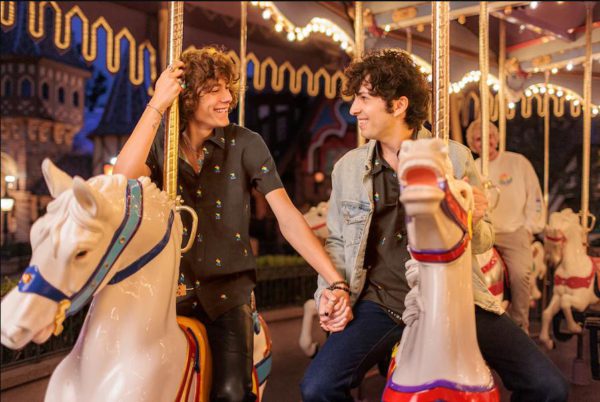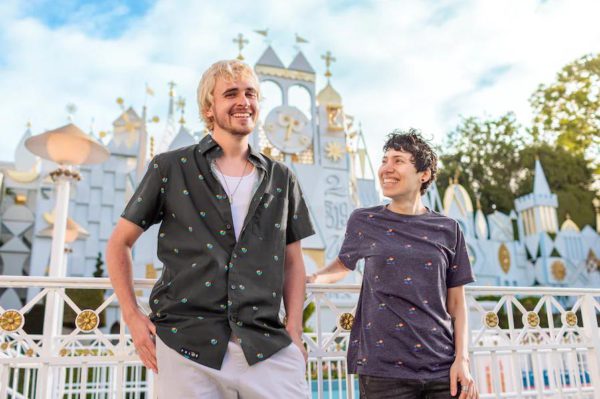 The company also noted:
"The Disney Pride Collection is just one way Disney Parks, Experiences and Products is showing our support for the LGBTQIA+ community during the month of June. There's plenty to celebrate at our theme parks and resorts, from entertainment and art displays to festive décor, Disney PhotoPass Service photo opportunities, and themed food and beverage offerings. We'll also be highlighting inspirational and celebratory stories about our guests, cast and community on the Disney Parks Blog and across our social media channels."
British soccer player comes out
Jake Daniels is Blackpool FC forward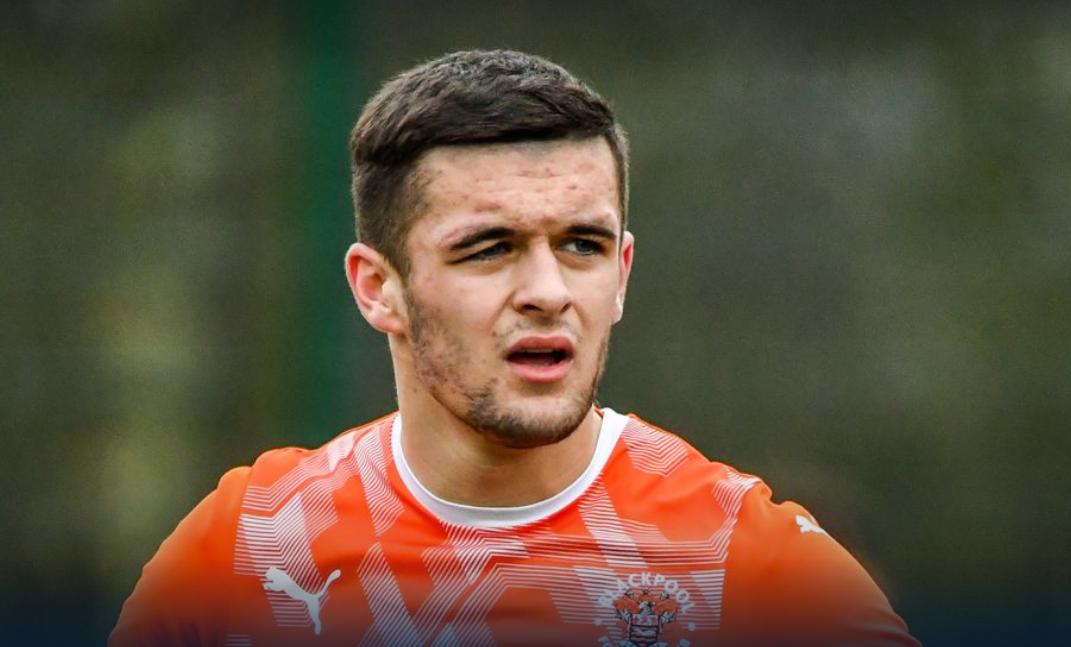 A 17-year-old professional soccer player has made history only the second person in the past 30 years to acknowledge their sexual orientation publicly in the sport in the U.K.
Blackpool FC forward Jake Daniels joins with Justinus Soni "Justin" Fashanu as the only two footballers to declare themselves openly out. Fashanu had come out in an exclusive with The Sun tabloid newspaper on Oct. 22, 1990, and later retired in 1997. He later passed away in London in May 1998.
Daniels made his announcement via a statement released by the team on its webpage:
"This season has been a fantastic one for me on the pitch. I've made my first-team debut, scored 30 goals for the youth team, signed my first professional contract and shared success with my teammates, going on a great run in the FA Youth Cup and lifting the Lancashire FA Pro-Youth Cup.
But off the pitch I've been hiding the real me and who I really am. I've known my whole life that I'm gay, and I now feel that I'm ready to come out and be myself.
It's a step into the unknown being one of the first footballers in this country to reveal my sexuality, but I've been inspired by Josh Cavallo, Matt Morton and athletes from other sports, like Tom Daley, to have the courage and determination to drive change.
In reaching this point, I've had some of the best support and advice from my family, my club, my agent and Stonewall, who have all been incredibly pro-active in putting my interests and welfare first. I have also confided in my team-mates in the youth team here at Blackpool, and they too have embraced the news and supported my decision to open up and tell people.
I've hated lying my whole life and feeling the need to change to fit in. I want to be a role model myself by doing this.
There are people out there in the same space as me that may not feel comfortable revealing their sexuality. I just want to tell them that you don't have to change who you are, or how you should be, just to fit in.
You being you, and being happy, is what matters most.
Jake"
The team itself also noted:
"Blackpool Football Club has worked closely with Stonewall and the relevant footballing organizations to support Jake and is incredibly proud that he has reached a stage where he is empowered to express himself both on-and-off the pitch.
It is vital that we all promote an environment where people feel comfortable to be themselves, and that football leads the way in removing any form of discrimination and prejudice."
The largest LGBTQ advocacy organization in the UK, Stonewall tweeted:
We are proud that Jake has felt able to share his truth with the world. To come out publicly as the first openly gay player in men's professional football in the UK in the last 30 years takes courage. We're honoured to be supporting him! 🏳️‍🌈⚽ https://t.co/4q1j9PSNxD

— Stonewall (@stonewalluk) May 16, 2022
Blackpool Football Club is a professional association football club based in seaside resort of Blackpool on the Irish Sea coast of England.