Gay man seeks Dupont ANC seat Wednesday
Dito Sevilla, Abigail Nichols disagree over nightlife issues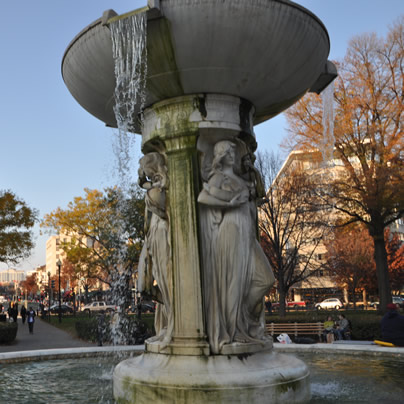 Gay restaurant manager Eduardo "Dito" Sevilla and civic activist Abigail Nichols have expressed differing views on the city's liquor licensing policies and nightlife issues in a little-noticed race for a vacant seat on the Dupont Circle Advisory Neighborhood Commission.
The new commissioner for the ANC's Single Member District 2B05, which covers most of the 17th Street, N.W., commercial and residential strip near Dupont Circle, will be chosen in a special election Wednesday, March 13, between 7:15 and 9:30 p.m. during the ANC's regularly scheduled meeting at the Brookings Institution, 1775 Massachusetts Ave., N.W.
District 2B05 stretches from Q Street, N.W., between 15th and 17th streets on its northern boundary along part of 18th Street at Massachusetts Avenue to Pennsylvania Avenue, almost to the White House gate, as ANC observers like to point out.
Sevilla has worked since 2004 as restaurant and bar manager at Floriana's, a popular restaurant on the 1600 block of 17th Street, N.W. in the heart of the 17th Street commercial strip. Sevilla also lives on 17th Street one block from where he works.
Nichols has lived a few blocks away on 18th Street near Connecticut Avenue for 33 years, according to information posted on her website. She has worked for 20 years as a policy analyst and manager at the U.S. Department of Agriculture.
She serves as treasurer of the D.C. Chapter of the League of Women Voters and is co-founder of the Alcohol Sanity Coalition D.C., a recently formed group that, according to its website, favors stricter city regulations over bars, restaurants and nightclubs. She has also served as chair of an ANC 2B committee that monitors liquor licensing issues.
In an interview published by the Dupont Circle news and civic blog Borderstan, Nichols said she didn't have a position on one of the most contentious issues facing the Dupont Circle ANC — whether a longstanding city-enforced moratorium preventing new businesses with liquor licenses from opening along the 17th Street strip should be continued or allowed to expire.
She said she would study the issue and talk to residents before making a decision on the matter when it comes up before the ANC later this year.
Sevilla, when asked about liquor moratoriums by Borderstan, said he doesn't discuss moratoriums. He told the Blade on Saturday that he personally favors allowing the 17th Street moratorium to expire. But he said he would recuse himself from voting on the issue if he's elected to the ANC because his job at Floriana's, which has a liquor license, would be viewed as a conflict of interest.
Ironically, Sevilla said, a continuation of the moratorium would be advantageous to Floriana's and all other existing bars and restaurants on 17th Street —  including three gay bars and a gay restaurant — because it prevents competitors from opening. However, as a resident and concerned citizen of the neighborhood, he said ending the moratorium would improve the area by allowing responsible and "resident-friendly" restaurants and cafes to open in several spaces along the street that have been vacant for a long time.
"I think a little café or a bakery that served beer wouldn't be the worst thing on earth," he said. "It would be better than the vacant spaces that have been left there."
The moratorium is scheduled to expire later this year unless the city's Alcoholic Beverage Regulation Administration (ABRA) renews it. Under city law, ABRA makes the final decision but is required to give "great weight" to the views of ANCs.
Nightlife advocates, both gay and straight, have expressed concern over Nichols' positions on liquor licensing issues as the lead spokesperson for her group Alcohol Sanity Coalition D.C. The group opposed a number of provisions in a City Council bill last year seeking to reform the city's liquor law.
One of the provisions Nichols opposed called for disqualifying ad hoc groups of as few as five citizens from having legal standing to challenge a liquor license application or renewal of an existing license if the applicant and the ANC reach an agreement and the ANC approves the application.
D.C. Council observers say support for the provision in the liquor bill to restrict the powers of small, ad-hoc groups to block liquor licenses emerged from a bitter fight over a proposal by Hank's Oyster Bar, a popular seafood restaurant at 17th and Q Streets, N.W., to expand its outdoor patio.
An ad hoc group blocked the proposal for several years, even though nearly all nearby residents and the 17th Street community as a whole supported the patio expansion, according to residents familiar with the dispute. In December, over the objections of Alcohol Sanity Coalition D.C., the Council voted to retain the provision restricting the authority of ad-hoc groups to challenge licenses. The Council passed the bill itself by a unanimous vote.
Sevilla said Nichols, who lives in a condo building just off Connecticut Avenue next to a bustling commercial area where nightclubs and bars are located, appears ready to support overly restrictive regulations on all businesses with a liquor license on the entire ANC district.
"We don't have the issues on 17th Street that she has where she lives," Sevilla said. "I absolutely believe in my heart of hearts that [the moratorium] should be discontinued. I think some people like to jump on a bandwagon that lifting the moratorium would immediately turn us into Adams Morgan," he said.
"I think that is a little bit alarmist and ridiculous," said Sevilla. "Seventeenth Street is not 18th Street [in Adams Morgan]. We don't have that many commercial spaces…It's just two or three new spaces that could take hold."
Nichols disputed claims that she would impose excessive restrictions on bars and restaurants located in ANC 2B.
She told the Blade on Monday that the Hank's Oyster Bar case was not a representative example of how groups of five citizens handle ABC license challenges. She said she has organized groups of five residents in her apartment building that negotiated agreements with at least seven bars or nightclubs after the groups of five filed a protest, or challenge, to the club's liquor license application.
"We say up front that we do not want to stop them from opening," Nichols said. "Our objective is to work out a common sense agreement to cut down the noise." In several cases, she said, the agreements called for the clubs, whose main entrances are on Connecticut Avenue, to close their rear entrances on 18th Street at 10:30 p.m. Her apartment building, the Palladium at 1325 18th Street, is close to the clubs' rear entrances and subjected to noise by patrons entering or leaving the clubs, she said.
"We don't blame the owners, who usually run good businesses, she said. "But you can't avoid noise from liquor serving establishments, and that's why you need these agreements."
"Voters should ask both of us about the positions we already hold and whether we have any conflicts of interest that might affect our ANC service," she told Borderstan. "How would we handle such conflicts?"
The ANC 2B05 seat became vacant when incumbent Victor Wexler, who was running for re-election last year unopposed, dropped out of the race in October due to a back ailment. It was too late to remove his name from the ballot in the November election.
Nichols announced her candidacy as a write-in candidate for the seat, but it was uncertain whether most voters were aware that Wexler had dropped out of the race. He received 530 votes; 112 votes were cast for a write-in candidate, which was presumed to have been Nichols.
Bowser's highest-level adviser resigns after sexual harassment allegation
Female staffer accuses John Falcicchio of longstanding abuse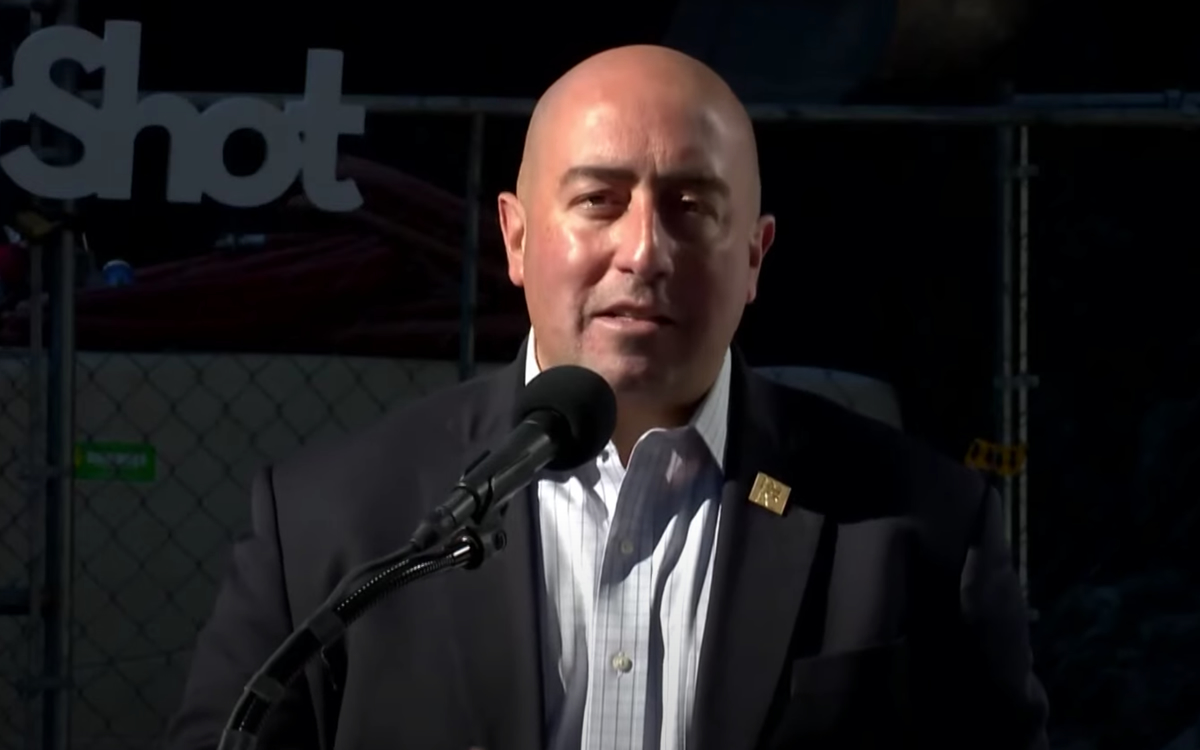 Lawyers representing a D.C. government employee shook up the city's political establishment on Monday when they announced that the employee filed a sexual harassment complaint against John Falcicchio, the now former D.C. Deputy Mayor for Planning and Economic Development and Mayor Muriel Bowser's longtime chief of staff.
The attorneys, Debra Katz and Kayla Morin, did not identify the city employee.
The announcement by Katz and Morin in a press release came shortly after Mayor Bowser issued her own announcement at a news conference on the same day. The mayor confirmed that Falcicchio's sudden resignation last Friday, March 17, followed her decision to launch an investigation into allegations against Falcicchio.
But Bowser said issues surrounding her longtime adviser's departure amounted to "a sensitive matter that includes privacy concerns" that prevented her from disclosing why she initiated the investigation and why Falcicchio abruptly resigned.
She said the investigation was being conducted by the city's Office of Legal Counsel, which is "following established policies and procedures" and that all relevant D.C. government staff members were fully cooperating with the investigation.
"I can also tell you that this investigation does not involve any allegations of improprieties related to business transactions," Bowser told reporters attending the news conference, which was initially called to celebrate the completion of the city's 9th Street, N.W. protected bike lane project and to discuss updates on the Capital Bikeshare program.
"I have every confidence in my new chief of staff, Lindsey Parker, and in our new Interim Deputy Mayor for Planning and Economic Development, Keith Anderson," Bowser said at the news conference. "And I have immense confidence in the 37,000 employees of the D.C. government who will keep us moving forward," she said.
Parker has served as the city's chief technology officer since 2019 and as assistant city administrator since 2022. Anderson has served as director of the D.C. Department of General Services, which oversees the city's buildings and properties.
"We represent an employee of the District of Columbia who came forward to report serious allegations of sexual harassment by former Chief of Staff and Deputy Mayor for Planning and Economic Development John Falcicchio," the statement released by attorneys Katz and Morin says.
"It is our understanding that this behavior is longstanding, and our client is cooperating fully with the investigation, which Mayor Bowser initiated immediately," the statement continues. "Our client is courageous. She came forward to ensure accountability and protect other women," it says. "Given the gravity of our client's allegations – which involve unwelcome advances and sexual contact – we ask the media to respect her privacy," the statement says.
It concludes by encouraging "everyone affected" to contact Maia Ellis, the Associate Director of the Mayor's Office of Legal Counsel, who's leading the investigation, at [email protected].
Katz is a founding partner and Morin is an associate of the D.C. law firm Katz Banks Kumin, which specializes in sexual harassment law, whistleblower law, and employment law, according to a write-up on its website.
Md. Senate approves transgender rights bill
Maryland House of Delegates passed similar measure on Saturday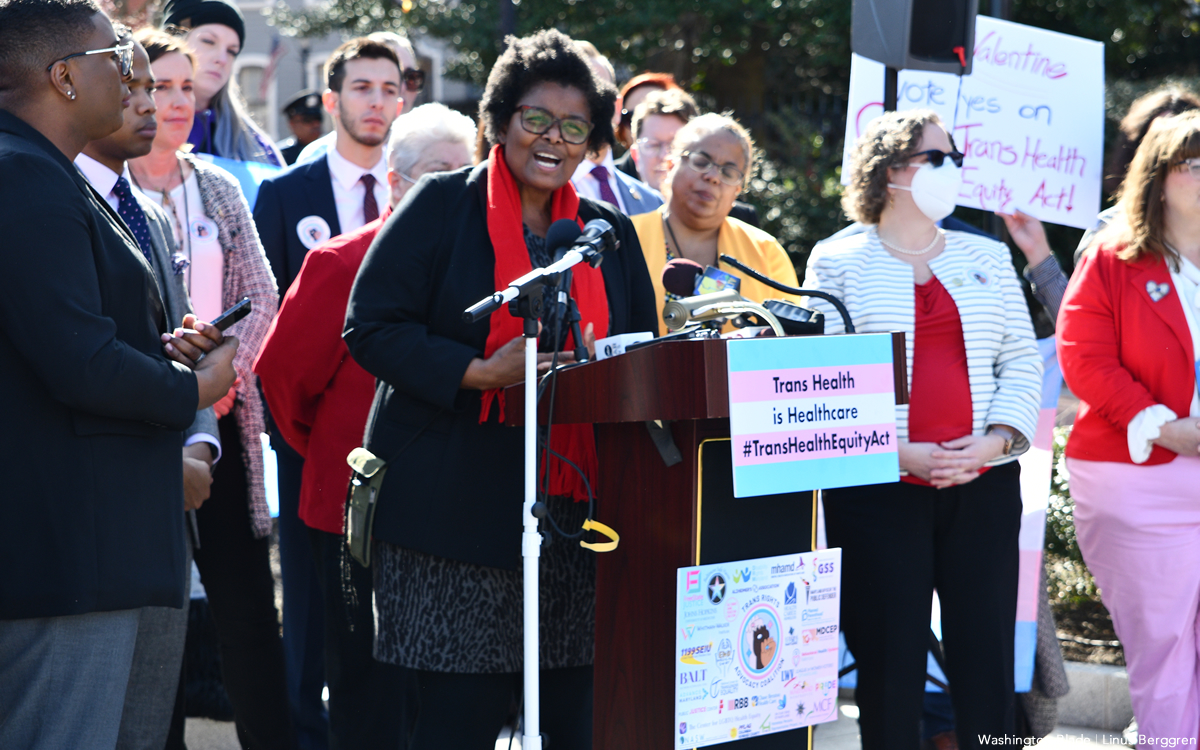 The Maryland Senate on Monday approved a bill that would require the state's Medicaid program to cover gender-affirming treatment for transgender people.
Senate Bill 460 or the Trans Health Equity Act passed by a 31-15 vote margin.
"Requiring, beginning on Jan. 1, 2023, the Maryland Medical Assistance Program to provide gender-affirming treatment in a nondiscriminatory manner; requiring that the gender-affirming treatment be assessed according to nondiscriminatory criteria that are consistent with current clinical standards; prohibiting the issuance of an adverse benefit determination related to gender-affirming treatment unless a certain experienced health care provider has reviewed and confirmed the appropriateness of the determination; etc," reads a summary of the bill.
The Maryland House of Delegates on Saturday passed a similar measure.
Md. House of Delegates approves transgender rights bill
State Medicaid program would be required to cover gender-affirming treatment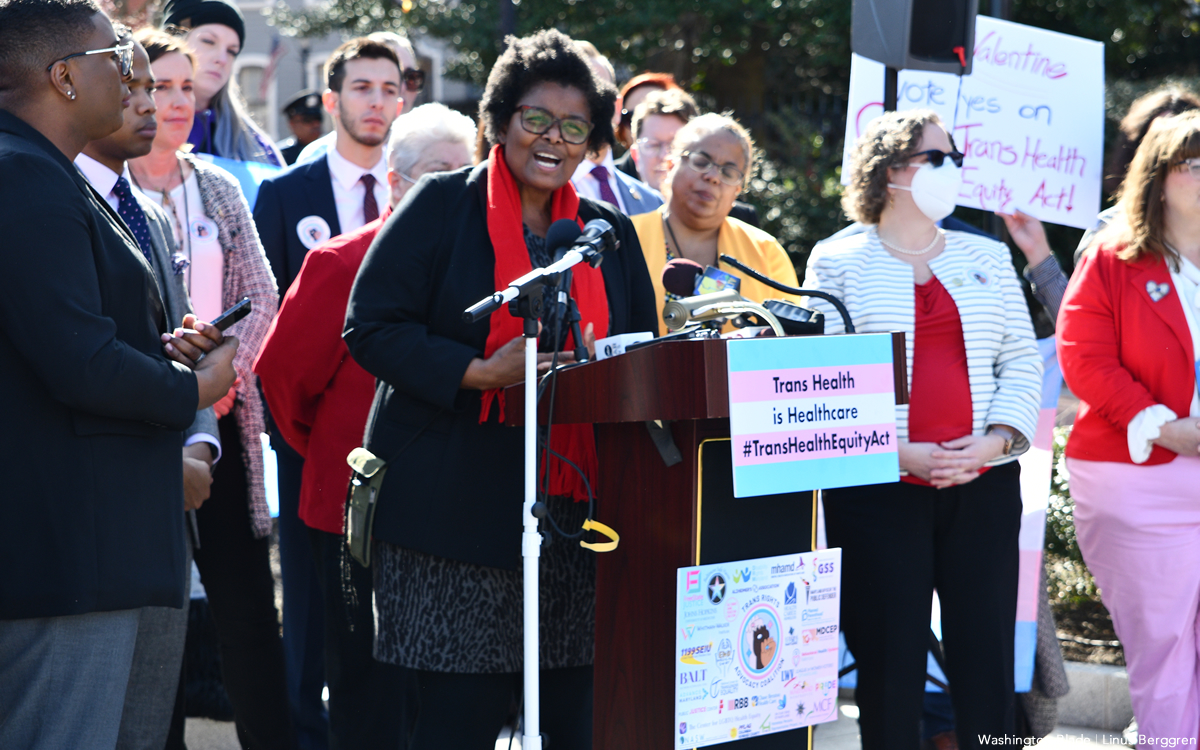 The Maryland House of Delegates on Saturday approved a bill that would require the state's Medicaid program to cover gender-affirming treatment for transgender people.
House Bill 283, or the Trans Health Equity Act, passed by a 93-37 vote margin. The measure now goes before the Maryland Senate.
"Proud that the MD House of Delegates passed the Trans Health Equity Act with such a strong majority," tweeted state Del. Anne Kaiser (D-Montgomery County), who introduced HB 283.
Proud that the MD House of Delegates passed the Trans Health Equity Act with such a strong majority. #TransHumanity pic.twitter.com/1E8MoDFQex

— Anne R. Kaiser (@DelegateKaiser) March 18, 2023