Dan Choi convicted in White House protest case
Former Army Lt. breaks down in courtroom, vows to appeal verdict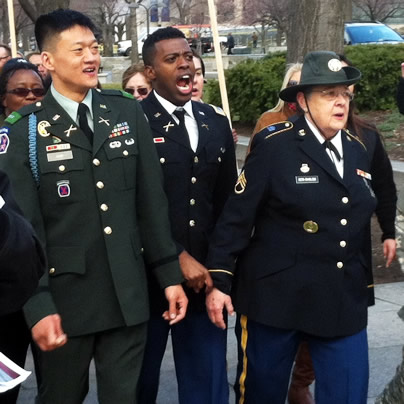 A federal judge on Thursday found gay former Army Lt. Dan Choi guilty of a misdemeanor offense of disobeying a lawful order by police to disperse from the White House fence during a November 2010 protest against "Don't Ask, Don't Tell."
U.S. District Court Magistrate Judge John Facciola issued his verdict and sentenced Choi to a $100 fine on the last day of a non-jury trial in a case that has dragged on for two-and-a-half years.
Choi and 12 others had handcuffed themselves to the White House fence at a time when the activists said President Obama and Congress weren't doing enough to advance legislation to repeal the "Don't Ask, Don't Tell" law that barred gays from serving openly in the military.
The verdict and sentence came after an emotionally distraught Choi broke down and cried repeatedly during the five-hour court session on Thursday as more than 50 friends and supporters, many of whom came from throughout the country, looked on in a packed courtroom.
Choi began the day's activities by leading a contingent of supporters to the White House, where they stood at the site of the White House fence before walking about a mile to the courthouse.
He and several of his supporters who are military veterans arrived at the courthouse wearing their military uniforms.
"I apologize for my emotions but I don't apologize for my humanity," Choi told Facciola as he represented himself without an attorney.
When Facciola pronounced Choi guilty beyond a reasonable doubt, Choi replied that he would appeal the verdict. When the judge announced the sentence would be limited to a $100 fine, which many of Choi's supporters considered a rebuke to prosecutors, Choi shouted, "I refuse to pay it…Send me to jail."
"You have a right to appeal," Facciola said before adjourning the trial without responding to Choi's assertion that he would not pay the fine.
"This trial began in August 2011 and was suspended, and what do you think Dan was doing for the next two years," asked Choi's friend, former Army Capt. James Pietrangelo, an attorney who provided Choi with legal help. "This case was basically crushing him to death. And you saw the result of his mental state in there today."
Pietrangelo told supporters before the trial resumed on Thursday that Choi was struggling with a recurring bout of post-traumatic stress disorder. Choi has said in media interviews that the stress disorder stemmed from his combat duty in the Iraq war, where he served as an Arabic linguist and field engineer.
Choi emerged as a nationally recognized advocate for the repeal of DADT in 2009, when he came out as gay in an interview on the Rachel Maddow show while a member of the Army Reserves. Army authorities discharged him under "Don't Ask, Don't Tell" a short time later.
Pietrangelo and other supporters of Choi have rallied behind Choi's decision to fight what he has said was an effort by prosecutors, at the behest of the White House, to single him out for a harsher prosecution because of his criticism of the Obama administration on the "Don't Ask, Don't Tell" issue.
Choi and his lawyers argued during the first week of the trial in August 2011 that prosecutors charged him and the other 12 protesters who handcuffed themselves to the White House fence under a federal rather than local D.C. regulation that carried a maximum sentence of six months in jail and $5,000 fine.
In nearly all previous civil disobedience arrests at the White House, protesters have been charged under a D.C. municipal regulation that carries no jail time and a small fine similar to a parking ticket, Choi's attorneys argued.
Choi was the only one of the 13 people arrested in the November 2010 White House protest that did not agree to plead guilty to the charge in exchange for having the case dismissed if they weren't arrested again at the White House within a four-month period.
Assistant United States Attorney Angela George, the lead prosecutor in the case, said during her closing arguments on Thursday that Choi's political beliefs were irrelevant to the prosecution.
At an earlier stage of the trial she said prosecutors chose to charge Choi under the stricter federal regulation because he had two prior arrests at the White House related to protests against DADT, and the government has the discretion to adjust its charges for repeat offenders.
Observers of the early stage of Choi's trial considered Facciola to be sympathetic to Choi's contention that he was targeted for "selective" and "vindictive" prosecution because of his criticism of the Obama administration over DADT. In an important procedural ruling during the first week of the trial in August 2011, Facciola found that Choi and his lawyers presented sufficient evidence to move ahead with a vindictive prosecution defense.
But in a development considered highly unusual, prosecutor George filed a motion for a Writ of Mandamus to contest Facciola's ruling. Following a special hearing on the issue, U.S. District Court Chief Judge Royce Lamberth overruled Facciola, ordering him not to allow Choi to pursue a vindictive or selective prosecution defense.
Choi and his attorneys responded by appealing Lamberth's action to the U.S. Court of Appeals, putting in motion additional court hearings while the trial itself was put on hold.
After losing the appeal, Choi dismissed his lawyers, who had been providing pro bono representation, and announced he would represent himself going forward in an action known as pro se representation.
Over the past several months, Choi — with help from lawyers behind the scenes — introduced a flurry of procedural motions that Facciola denied. Choi also filed subpoenas to call 21 government and law enforcement officials, including Secret Service agents, to testify at the trial as defense witnesses. Facciola granted a series of motions by prosecutor George to quash the subpoenas for nearly all of the witnesses Choi sought to call.
At the trial on Thursday, Choi called just four witnesses, two U.S. Park Police officers who played a role in his arrest at the White House fence and two people who supported his defense – lesbian former Army Sgt. Mariam Ben-Shalom and Rev. C.T. Vivian, a nationally recognized civil rights leader and colleague of Rev. Martin Luther King Jr. during the 1960s civil rights movement.
Choi asked Vivian on the witness stand about his philosophy on civil rights and what he thought about Choi's arrest at the White House. Vivian acknowledged that he was not present at the protest in which Choi was arrested and could not offer an opinion.
"As far as I'm concerned, you were there in my heart," Choi told him.
Ben-Shalom, who was among the protesters arrested with Choi at the 2010 White House protest, testified that she supports Choi's First Amendment right to participate in such a protest.
Choi questioned U.S. Park Police Lt. Robert LaChance and Park Police Sgt. Timothy Hodge, who he called as witnesses to discuss the procedures and actions surrounding Choi's arrest at the White House protest. Both played a role in Choi's arrest. In response to Choi's questions, the two said they did not single out Choi for his political beliefs and had no knowledge of whether higher ups at the Park Police sought to target Choi or any of the other protesters for their political views related to DADT.
Choi also pressed the officers on what he has claimed all along – that the order by police directed the protesters to leave the sidewalk in front of the White House when Choi and some of the others were standing on a ledge to which the White House fence is attached. In what Choi and his supporters acknowledge is a technicality, Choi has argued that he could not be legally charged with disobeying an order to leave the sidewalk if he was not on the sidewalk when the order was issued.
Facciola, however, said when handing down his verdict that prosecutor George established sufficient evidence through police witnesses that the order called on Choi and the other protesters to leave the area of the fence, not just the sidewalk.
One of the most dramatic moments of Thursday's trial session came when Choi played a video, while LaChance was on the witness stand, of the 2009 interview of Choi by Rachel Maddow, in which Choi came out as gay. He said the video would provide evidence helpful to his case.
But with the lights dimmed in the courtroom and the video playing on several screens, Choi began to sob uncontrollably before shouting to the judge, "The defense rests!" He then called on Facciola to immediately begin the closing arguments for the trial.
Facciola responded by calling a recess for lunch, prompting Choi to lie on the courtroom floor yelling and cursing. At Facciola's orders, two U.S. Marshals lifted Choi from the floor, carried him out of the courtroom and into an elevator. It couldn't immediately be determined where they took Choi.
But when the trial resumed about two hours later, Choi returned to the courtroom with Ben-Shalom helping him walk. After George delivered her closing argument, Choi delivered a 40-minute closing argument in which he discussed his views on civil rights, religion, the First Amendment, the Iraq war and strife between Iraq's Shiite and Sunni Muslim factions, among other topics that Choi said touched on his theme of justice and equality.
At various times during the trial and in his closing argument Choi spoke in Arabic.
"The lesson we learned today is we need to start taking care of our activists who are willing to stand up and fight back against injustice," Ben-Shalom said after the trial ended. "Today we have as pure an example as I can ever come up with about the toll it takes on a human being to stand up and fight back," she said.
In addition to Ben-Shalom and Pietrangelo, out-of-town activists who came to the courthouse to support Choi were Ian Finkenbinder of Seattle and Michael Bedwell of San Francisco, who were among those who were arrested with Choi at the 2010 White House protest; marriage equality activists Robin Tyler and Diane Olson of Los Angeles; and California activist Robin McGehee, co-founder of the national LGBT direct action group GetEqual.
D.C. area LGBTQ bars, eateries receive $100K COVID-19 relief grant
Pitchers, League of Her Own received NGLCC, Grubhub funds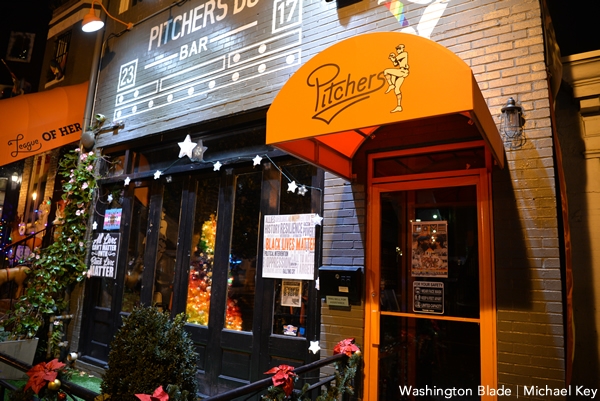 The D.C. LGBTQ sports bar Pitchers and League of Her Own, its adjoining lesbian bar, are among the nation's first LGBTQ bars that serve food as well as alcoholic beverages to receive a $100,000 COVID-19 relief grant under a $2 million Community Impact Grant Program.
The program, aimed at supporting LGBTQ-owned and LGBTQ-allied small businesses struggling from the pandemic, was launched in September as a joint project of the National LGBT Chamber of Commerce, which goes by the initials NGLCC, and the global online food delivery company Grubhub.
In a Tuesday announcement, NGLCC and Grubhub said Pitchers and League of Her Own, which operate as one business in adjoining buildings in D.C.'s Adams Morgan neighborhood, are among the first three recipients of $100,000 grants under the Community Impact Grant Program. The other two recipients are FOODE + Mercantile of Fredericksburg, Va., and Café Gabriela of Oakland, Calif.
"Following this initial round of recipients, more grants will be issued in late 2021 and early 2022," the announcement by the two groups says. In an earlier announcement, the groups said the application period for the grants program took place from September through Oct. 12, and the grants would range in amounts from $5,000 to $100,000.
"The impact of COVID-19 has been debilitating for countless restaurant and bar owners, including the many LGBTQ+-owned restaurants across the country who have persisted through lockdowns, operational changes and labor supply shortages," said NGLCC Co-Founder and President Justin Nelson. "We're grateful to have partnered with Grubhub to offer real lifelines to support businesses throughout the nation," Nelson said.
"Building community in a fun and safe place has been our mission since the very beginning," said David Perruzza, the owner of Pitchers and League of Her Own. "We're relieved and thankful for these funds, and are looking forward to more stable days ahead," Perruzza said.
"As a trans masculine and queer immigrant person of color, I've worked hard and put all my love and energy into building a beautiful and welcoming space in Café Gabriela," said owner Penny Baldado. "I've remained resilient through COVID, and this grant is the injection of funds that we need to continue along our journey to full recovery," Baldado said.
The statement announcing the first three grant recipient says funds for the $2 million grant program were generated by Grubhub's "Donate the Change" program of which NGLCC became a partner in June. Grubhub says the program asks customers receiving food delivered by Grubhub "to round out their order and donate the difference" to the charitable fund.
"COVID has turned the restaurant industry on its head the last 18 months, and at Grubhub, we've been working hard every day to support our restaurant partners across the country," said Amy Healy, Grubhub's vice president of government relations. "As the world starts to return to a new normal, we're proud to partner with the NGLCC and provide these grants to LGBTQ+-owned and LGBTQ+ ally-owned restaurants across the country that are pillars of their communities."
Va. businessman apologizes for burning of rainbow flag poster
'Shocked and horrified': Ashburn incident caught on video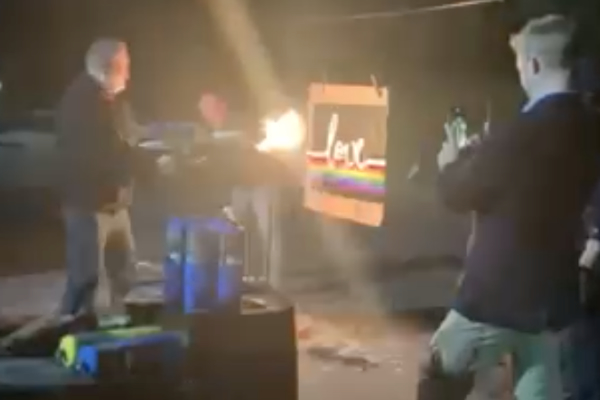 The owner of a Virginia technology company that hosted a private Veterans Day party on the grounds of an Ashburn, Va., brewery in which a company employee used a flame-throwing device to ignite a rainbow flag poster said the selection of the poster was a mistake and he and his company have no ill will toward the LGBTQ community.
The Washington Blade learned about the poster burning from a customer of the Old Ox Brewery in Ashburn, where the incident took place on its outdoor grounds. The customer made a video of the incident with his cell phone and sent a copy of the video to the Blade.
The video, which includes an audio recording, shows a man using a hand-held flame-throwing device to ignite the rainbow poster, which was hanging from a cable and appeared to be mounted on cardboard or a thin sheet of wood. Bystanders can be heard laughing and cheering as the poster is set on fire.
The poster consisted of a variation of the LGBTQ Pride rainbow flag that included the word "love" configured from an upper white stripe on the rainbow symbol.
The customer who took the video, who has asked not to be identified, thought the decision to set the poster on fire was a sign of disrespect if not hatred toward a longstanding symbol of LGBTQ equality and pride.
Chris Burns, Old Ox Brewery's president, shared that view, telling the Blade he and his staff were "shocked and horrified" when they learned later that a rainbow flag poster had been burned on the brewery's grounds. Burns said Old Ox supports the LGBTQ community and participated in LGBTQ Pride month earlier this year.
He said the company that held the private party paid a fee to hold the event on the brewery's grounds, but the brewery did not know a rainbow poster would be burned.
"I'm mortified that our event was interpreted in this way," said Nate Reynolds, the founder and partner of Hypershift Technologies LLC, the Falls Church, Va.-based technology company that organized the Nov. 11 party at Old Ox Brewery. "I can assure you that ZERO ill-will or offense was meant," Reynolds told the Blade in a Nov. 24 email.
"We held a small private party for a few clients, which included a demonstration of Elon Musk's Boring Company 'Not a Flamethrower,'" he said in his message. He was referring to one of billionaire businessman Elon Musk's companies that specializes in boring through the ground to create tunnels for cars, trains, and other purposes.
"After so many being isolated during COVID, we wanted to have an event that was lighthearted and to some small effect, silly," Reynolds said in his message to the Blade.
According to Reynolds, in thinking about what should be used for "fodder" for the flame-thrower, he went to a Five Below discount store and purchased items such as stuffed animals and posters, including a "Space Jam" movie poster as well as what he thought was a poster of the British rock group The Beatles.
"When I pulled the Beatles poster out of the tube it was instead the 'Love' poster," he said, referring to the rainbow flag poster the Blade asked him about in an earlier email.
"All I focused on was the 'Love' wording and not the rainbow and did not draw the conclusion that the poster was an icon that represents the LGBTQ community," Reynolds said. "It was my own ignorance of not connecting the symbolism of the poster. If I had realized it was a symbol of the LGBTQ community, I would not have used it," he said.
"I feel terrible, and I want to emphasize that I am solely responsible for this mistake – not the Old Ox Brewery," he wrote in his message. "Nobody at Old Ox had anything to do with this activity."
Reynolds added, "Hate has no place in my heart, and I sincerely apologize for any offense that could have been drawn from what I now realize was poor judgement on my part. I simply didn't correlate this poster with the LGBTQ pride symbol."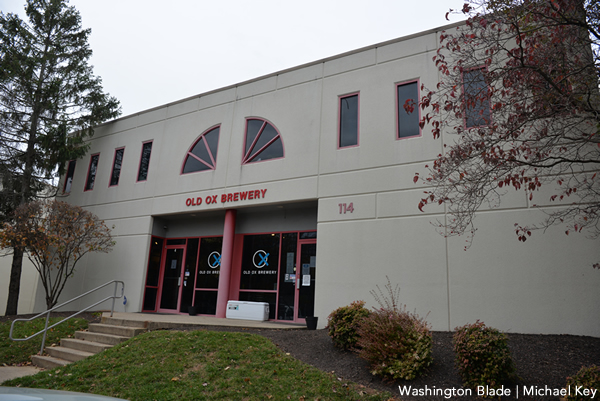 Before Reynolds issued his statement of apology, Burns, the Old Ox Brewery co-owner, told the Blade in an email he was "saddened and upset" over the rainbow poster burning on the grounds of his brewery.
"We do not wish to benefit from this event," he said in his email message. "Therefore, Old Ox is donating 100% of the revenue generated from the private event to GLSEN."
GLSEN is a national LGBTQ advocacy group that focuses on education and support for LGBTQ youth. Burns said Old Ox Brewery also donated proceeds from a Pride month event it organized earlier this year to GLSEN.
LGBTQ activists and organizations contacted by the Blade said they were unfamiliar with the variation of the rainbow flag with the word "love" that was the subject of the poster burning incident. The poster is available for sale at Five Below stores in the D.C. metropolitan area for $5.
Small print writings on the poster show it is produced by Trends International LLC, which describes itself on its website as "the leading publisher and manufacturer of licensed posters, calendars, stickers and social stationery products." The Blade couldn't immediately determine who designed the poster.
The video of the poster burning incident can be viewed here:
Fairfax schools returns LGBTQ-themed books in high school libraries
Review found 'no pedophilia' in texts as critics claimed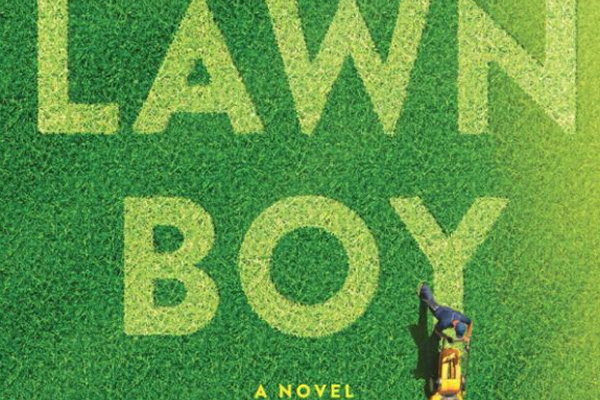 The Fairfax County Public Schools announced on Tuesday that following a detailed review by two committees appointed by school officials it has returned two LGBTQ themed books to its high school libraries that had been temporarily withdrawn after being challenged by critics who claimed they included sexually explicit content inappropriate for students.
The two books, "Lawn Boy," a novel by author Jonathan Evison, and "Gender Queer: A Memoir," which is described as an illustrated autobiography by non-binary author Maia Kobabe, each contain descriptions of sexual acts.
But supporters of the books have argued that they have won praise by literary critics and, while describing intimate relationships, they tell stories that do not fall into the category of pornography.
Fairfax County Public Schools, the name used for the county's public school system, on Tuesday said in a statement that a thorough review of the books by two committees consisting of educators, school officials, parents and some students found that neither book contained content that could be considered to depict pedophilia as claimed by some parents and others opposing the two books.
School officials announced they had temporarily withdrawn the two books from school libraries following a Sept. 23 meeting of the Fairfax County School Board where strong objections to the two books were raised by parents.
"Two books that were subject to formal challenge have been deemed appropriate for high school readers following a two-month review process and will be reinstated to Fairfax County Public Schools (FCPS) libraries," Tuesday's statement by the school system says.
"The decision reaffirms FCPS's ongoing commitment to provide diverse reading materials that reflect our student population, allowing every child an opportunity to see themselves reflected in literary characters," the statement continues. "Both reviews concluded that the books were valuable in their potential to reach marginalized youth who may struggle to find relatable literary characters that reflect their personal journey," the statement says.
The statement says the final decision to reinstate the books was made by Noel Klimenko, the Fairfax County Public Schools' assistant superintendent for its Instructional Services Department.
The two books have received favorable reviews in various literary publications. Both have received the American Library Association's Alex Award, an annual award that recognizes the year's 10 books written for adults that the association says have a special appeal to young adults ages 12 through 18.
"The robust committee process took place over several weeks and considered whether the books flouted regulations by being obscene or harmful to juveniles as defined by the Code of Virginia," the school system statement says. "The members also considered the work in line with an excerpt from the FCPS Student Rights and Responsibilities Handbook pertaining to possessing obscene visual imagery as defined in the Code of Virginia," the statement says.
"After careful consideration, neither books were deemed to have fallen foul of these regulations," it concludes.
The decision by Fairfax school officials to reinstate the two books came about six weeks after more than 425 LGBTQ students and allies from over 30 Fairfax County public high schools sent a letter to the school board and the school system's superintendent urging them to reinstate the two books.
The Pride Liberation Project, a coalition of LGBTQ and allied students in Fairfax County, organized the joint letter.
"Student representatives from over 30 schools, including nearly every high school in Fairfax County Public Schools, have signed this letter, and many of us are students of color, low-income, gender expansive and not out to our families and communities," the letter states.
"We are writing to ask you to reject calls to remove Maia Kobabe's 'Gender Queer' and Jonathan Evison's 'Lawn Boy' from Fairfax County Public Schools libraries," the letter says.
It points out that "hundreds of books in our schools already depict heterosexual relationships and physical intimacy," and says singling out LGBTQ themed books with similar stories of intimacy for rejection is unfair.