Lesbian couple on origins of Calif. marriage fight
Tyler, Olson filed first lawsuit to challenge ban in 2004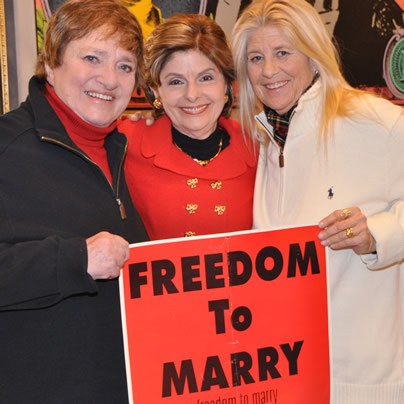 For lesbian activists Robin Tyler and Diane Olson, who have been a couple for more than 19 years, last week's Supreme Court hearing on California's Proposition 8 had a special meaning.
In February 2004, Tyler and Olson were among the first two couples to file a lawsuit challenging the California law prohibiting same-sex couples from marrying. The lawsuit led to the California Supreme Court's decision in 2008 declaring that same-sex marriages must be recognized under the state's constitution.
The two were among the 18,000 same-sex couples to marry in California before marriage equality opponents placed Prop 8 on the ballot that same year. Upon its approval by voters in November 2008, recognition of all subsequent same-sex nuptials ended. Marriage equality activists, however, responded by filing another lawsuit challenging Prop 8, which took the fight to the U.S. Supreme Court.
As Tyler and Olson sat in the Supreme Court chambers on March 26 watching the attorneys argue for and against whether Prop 8 should be declared unconstitutional, each said they couldn't help but recall how it all started for them 12 years earlier in Beverly Hills, where Olson was raised.
"What happened is starting in 2001 Diane and I would go…to the Beverly Hills courthouse every year to try to get a marriage license," Tyler said. "And of course they turned us down."
Added Tyler, "The first year we almost got arrested because MCC brought a cake and they said we couldn't serve a cake on the sidewalk." She was referring to the LGBT supportive Metropolitan Community Church, a longtime advocate for marriage equality.
Tyler, an out lesbian comic and entertainer since the 1970s, served as an organizer for the 1979 LGBT march on Washington and two subsequent LGBT marches on Washington in 1987 and 1993. At all three marches, Tyler helped organize same-sex marriage rallies outside the IRS headquarters in downtown D.C., in which hundreds of same-sex couples participated in marriage ceremonies they considered symbolic but that had no legal recognition.
With that as a backdrop, Tyler said the proverbial 'last straw' happened to her and Olson in 2004 shortly before she and Olson planned their annual ritual of going to the Beverly Hills courthouse to request a marriage license on or around Valentine's Day. At the time, the two had been a couple for 10 years.
"I was going to be 65," she said. "So I called the American Federation of Radio and Television Artists. I've been in the union for years because I was a comic. And I say, you know, I can purchase domestic partnership insurance for Diane," Tyler recalled.
"But when I retired they said no you are not. And I said why not?" Tyler told the Blade. "And they said because you're not married. And I said we can't get married. And the woman said to me, 'That's just the way it is, hon.' And she hung up on me."
Tyler said she immediately called Gloria Allred, a nationally recognized civil rights lawyer based in Los Angeles, whose clients have been among some of the most famous Hollywood figures. Tyler said she and Allred had been friends for a long time.
"And the next morning she called and said you know what? I'm going to take the case. I'm going to sue for your right to get married to Diane and I'm going to do it pro bono," Tyler said.
At Allred's suggestion, Tyler and Olson agreed to invite Rev. Troy Perry, head of the MCC churches, and his husband, Philip De Blieck, who he married in Canada, to be a party to the suit.
Since Valentine's Day fell on a Saturday in 2004, Tyler said the two couples and Allred decided to go to the Beverly Hills courthouse that year on Feb. 12.
"They handed us this little thing like they did every year – you know, you can't get married because marriage is a between a man and a woman," said Tyler. "Gloria was with us and we walked outside and had a huge press conference, and Gloria announced our right to marry."
Allred said she informed the media that the lawsuit would challenge a state family code that banned same-gender marriage.
In a development that surprised them and their supporters in L.A., then San Francisco Mayor Gavin Newsom that same week began performing same-sex marriages in City Hall in defiance of the state law banning such marriages. The first couple that Newsom himself married was veteran lesbian activists Del Martin and Phyllis Lyon, who were in their 80s.
"Someone called me and said Del and Phyllis, who were friends of ours, are getting married," Tyler said. "I said what? And we turned on the television and there is Gavin Newsom Marrying Del and Phyllis."
Allred said some have confused the role that Newsom and litigants like Tyler and Olson played in the marriage equality battle.
"The most important thing was that we were challenging the law, which prohibited them from being able to enjoy the right to marry each other," Allred said. "What happened in San Francisco was slightly different. The mayor started marrying couples without getting a judicial declaration that the family code prohibiting such marriages was unconstitutional."
Marriage equality opponents quickly obtained a court order halting San Francisco from performing same-sex marriages. Opponents next persuaded the court to invalidate all of those marriages on grounds that they had no legal standing.
Many of the couples whose marriages were invalidated joined the San Francisco County Attorney in filing their own lawsuits challenging the state's same-sex marriage ban. The court later merged those suits with the suit filed by Tyler, Olson, Perry, DeBlieck and others.
After four years of litigation, the California Supreme Court ruled in early 2008 that the state's same-sex marriage ban violated the California Constitution and that same-sex marriages must be recognized in the state.
Due to their role as the first to file suit over the marriage question, Tyler and Olson were given permission to be the first same-sex couple to marry in L.A. County – one day ahead of everyone else.
Tyler and Olson acknowledge that the joy of their wedding was dampened later in the year when Prop 8 passed, even though the state Supreme Court ruled their marriage and those of the 18,000 other same-sex couples who married prior to the approval of Prop 8 would remain valid.
But the two said their wedding on the steps of the Beverly Hills courthouse was a special moment for them and their friends and supporters.
"And I want to tell you the mayor of Beverly Hills offered us City Hall, which would have been my dream," Tyler said. "But we decided to marry in front of the courthouse because that's the same courthouse that had turned us down all those years," she said.
"And this time when we walked in with Gloria to get our marriage license the woman behind the counter that gave us the license started to cry," said Tyler. "She said I've wanted to give this to you ever since you started to come in.
"And we walked out and we had no idea that the press would be there from all over the world," Tyler continued. "And a policeman came up to me and said I was the cop that almost arrested you in 2001 for serving cake, and I'm proud to be at your wedding. So it had come full circle for us when we got married."
Nine years later, as Tyler, Olson and Allred watched with great interest as the Supreme Court justices asked sharp questions in Washington to the lawyers arguing for and against Prop 8, Tyler said the comments by some of the justices cause her great discomfort.
"I was so full of emotion and so angry having to sit in the Supreme Court and hearing them refer to us as an experiment and to compare us to cell phones and the Internet," she said, referring to comments by Justice Samuel Alito.
In remarks she said he hadn't planned to make before the C-SPAN TV cameras on the plaza outside the Supreme Court, Tyler said she expressed her outrage over the remarks by some of the justices.
"I said we're a civil rights movement. We're not an experiment. And we're going to win," she told the Blade. "How dare they…," she added, before cutting short her own comment.
Vigil held after Wilton Manors Pride parade accident
Fort Lauderdale mayor expressed 'regret' over initial terrorism claim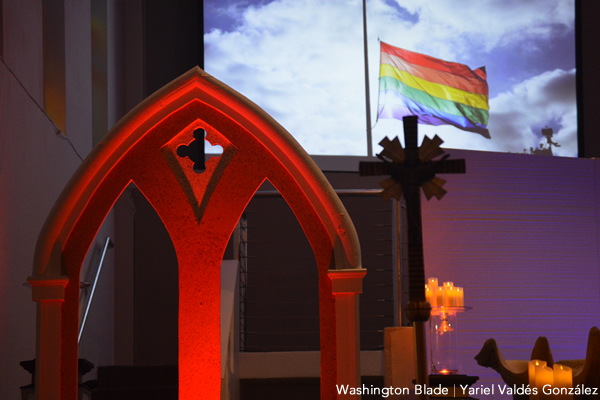 FORT LAUDERDALE, Fla. — More than 100 people on Sunday attended a prayer vigil in the wake of an accident at a Wilton Manors Pride parade that left one person dead and another injured.
The vigil took place at the Sunshine Cathedral in Fort Lauderdale.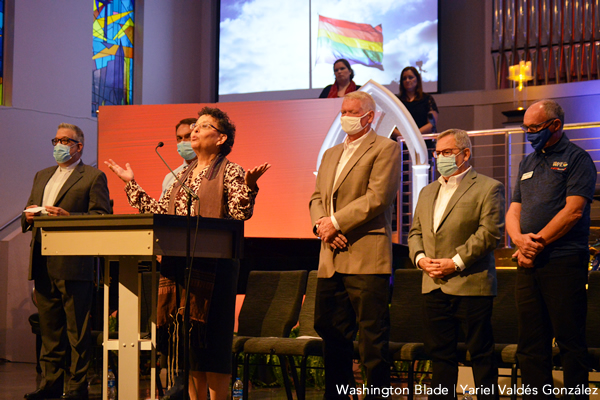 A 77-year-old man who was driving a pickup truck struck two men near the Stonewall Pride Parade's staging area shortly before 7 p.m. on Saturday. One of the victims died a short time later at a Fort Lauderdale hospital.
The pickup truck narrowly missed U.S. Rep. Debbie Wasserman Schultz (D-Fla.), who was in a convertible participating in the parade, and Florida Congressman Ted Deutch.
The driver of the pickup truck and the two men he hit are members of the Fort Lauderdale Gay Men's Chorus. The Fort Lauderdale Police Department on Sunday described the incident as a "fatal traffic crash" and not a terrorism incident as Fort Lauderdale Mayor Dean Trantalis initially claimed.
"As we were about to begin the parade, this pickup truck, this jacked up white pickup truck, dashed across, breaking through the line, hitting people, all of us that were there could not believe our eyes," said Trantalis as he spoke at the vigil.
Trantalis noted the pickup truck nearly hit Wasserman Schultz. He also referenced the arrest of a 20-year-old supporter of former President Trump earlier in the week after he allegedly vandalized a Pride flag mural that had been painted in an intersection in Delray Beach, which is roughly 30 miles north of Fort Lauderdale.
"I immediately knew that something terrible was happening," said Trantalis, referring to the Stonewall Pride Parade accident. "My visceral reaction was that we were being attacked. Why not? Why not feel that way?"
"I guess I should watch to make sure there are no reporters standing by when I have those feelings, but that was my first reaction and I regret the fact that I said it was a terrorist attack because we found out that it was not, but I don't regret my feelings," he added. "But I don't regret that I felt terrorized by someone who plowed through the crowd inches away from the congresswoman and the congressman, myself and others."
Trantalis also told vigil attendees that "I guess we forgive" the pickup truck driver.
"But I regret that his consequences resulted in the death of an individual who was innocent and who was there to have a good time, like the rest of us, and I regret there is a man who is in serious condition … fighting for his life and there," added Trantalis.
Police describe Wilton Manors Pride incident as 'fatal traffic crash'
Pickup truck driver identified as 77-year-old man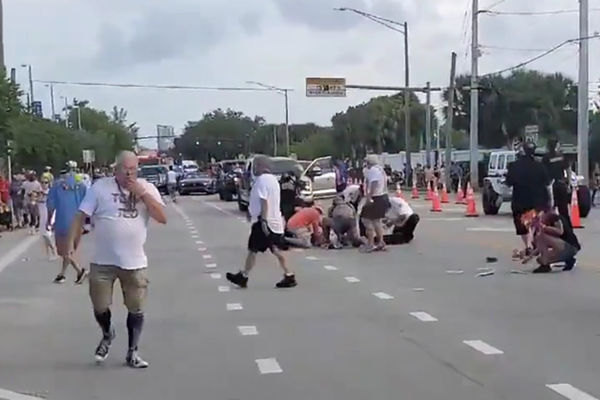 The Fort Lauderdale Police Department on Sunday released additional information about an incident at a Wilton Manors Pride parade that left one person dead and another injured.
A press release notes a 77-year-old man who was "a participant who had ailments preventing him from walking the duration of the parade and was selected to drive as the lead vehicle" was behind the wheel of a 2011 white Dodge Ram pickup truck that struck the two people near the Stonewall Pride Parade's staging area shortly before 7 p.m. on Saturday.
"As the vehicle began to move forward in anticipation for the start of the parade, the vehicle accelerated unexpectedly, striking two pedestrians," reads the press release. "After striking the pedestrians, the driver continued across all lanes of traffic, ultimately crashing into the fence of a business on the west side of the street."
"The driver remained on scene and has been cooperative with investigators for the duration of the investigation," further notes the press release. "A DUI investigation of the driver was conducted on scene and showed no signs of impairment."
The press release confirms the driver and the two people he hit are members of the Fort Lauderdale Gay Men's Chorus.
Fort Lauderdale Fire Rescue transported both victims to Broward Health Medical Center "with serious injuries." The press release notes one of the victims died shortly after he arrived at the hospital.
The Fort Lauderdale Police Department, which is leading the investigation, has not publicly identified the victims and the driver, but the press release describes the incident as a "fatal traffic crash." The press release notes the second victim remains hospitalized at Broward Health Medical Center, but "is expected to survive."
"While no arrests have been made, the Fort Lauderdale Police Department continues to investigate this incident and will not be releasing the names of the involved parties due to the status of the investigation," says the press release. "The Fort Lauderdale Police Department asks anyone who may have witnessed this incident, who has not already spoken to investigators, to contact Traffic Homicide Investigator Paul Williams at (954) 828-5755."
The pickup truck narrowly avoided U.S. Rep. Debbie Wasserman Schultz (D-Fla.), who was in a convertible participating in the parade. Florida Congressman Ted Deutch was also nearby.
"Our thoughts and prayers are with those affected by the tragic accident that occurred when the Stonewall Pride Parade was just getting started," said Fort Lauderdale Gay Men's Chorus President Justin Knight in a statement he issued after the incident. "Our fellow chorus members were those injured and the driver was also part of the chorus family."
"To my knowledge, this was not an attack on the LGBTQ community," added Knight. "We anticipate more details to follow and ask for the community's love and support."
Fort Lauderdale mayor initially described incident as anti-LGBTQ 'terrorist attack'
Fort Lauderdale Mayor Dean Trantalis initially described the incident as "a terrorist attack against the LGBT community," without any official confirmation. Detective Ali Adamson of the Fort Lauderdale Police Department on Saturday confirmed to reporters that investigators are "working with" the Federal Bureau of Investigation, but stressed the "investigation is active and we are considering and evaluating all possibilities."
"Last evening, at the start of what was to be a celebration of pride for the LGBT community and commemoration of our hard-won victories for equality, our community faced the worst of tragedies. The grief of our LGBT community — and greater Fort Lauderdale as a whole — is palpable," said Trantalis on Sunday in a statement he posted to his Facebook page.
"I was an eyewitness to the horrifying events. It terrorized me and all around me. I reported what I saw to law enforcement and had strong concerns about what transpired — concerns for the safety of my community. I feared it could be intentional based on what I saw from mere feet away," he added.
Trantalis added "law enforcement took what appeared obvious to me and others nearby and investigated further — as is their job."
"As the facts continue to be pieced together, a picture is emerging of an accident in which a truck careened out of control," he said. "As a result, one man died, two others were injured and the lives of two members of Congress were at risk. My heart breaks for all impacted by this tragedy."
ACLU and Justice Department to jointly challenge anti-Trans laws
Recently passed anti-transgender laws in West Virginia and Arkansas violate the Equal Protection Clause of the U.S. Constitution.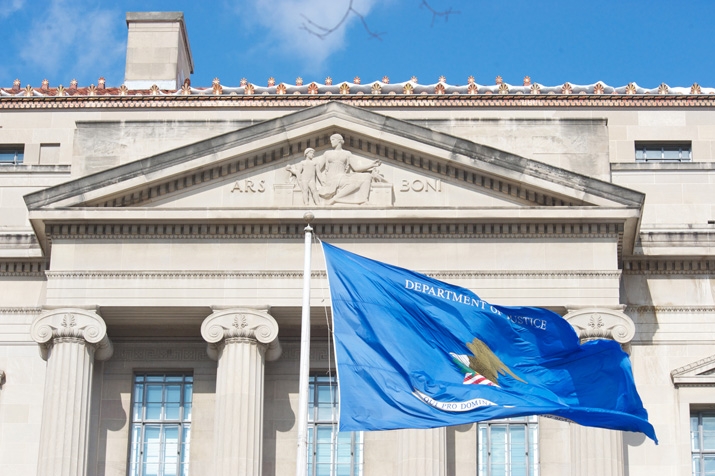 WASHINGTON – In court documents filed Thursday in the U.S. District Court for the Southern District of West Virginia and in U.S. District Court for the Eastern District of Arkansas, the U.S. Department of Justice, in Statement of Interest filings, joined the American Civil Liberties Union, (ACLU), arguing that recently passed anti-transgender laws in West Virginia and Arkansas violate the Equal Protection Clause of the U.S. Constitution.
The suits filed by the ACLU challenges an Arkansas law that bans gender-affirming care for transgender youth and a West Virginia law banning transgender youth from participating in school sports.
Chase Strangio, deputy director for Trans Justice with the American Civil Liberties Union LGBTQ & HIV Project, issued the following statement responding to the Department of Justice submitting a statement of interest in two federal courts supporting transgender youth;
"Today's filings from the Department of Justice send a powerful message that discrimination against transgender youth is not just wrong, it is also plainly unconstitutional. These filings from the Department of Justice confirm what we have been telling legislatures all year: Banning trans youth from sports and denying trans youth health care violates the Constitution and federal law. We hope that state legislatures finally get the message."
Law and Crime reported that in the West Virginia case filing, the Justice Dept. argued that House Bill 3293, which bans transgender athletes at public schools from competing in female sports at the middle school, high school, and collegiate level, violates both the Equal Protection Clause and Title IX of the Education Amendment of 1972.
The case stemmed from a complaint filed by the parents of transgender girl who said their daughter was unlawfully prohibited from trying out for the school's cross-country track team because of the measure.
In Arkansas, the Justice Dept. backed an ACLU-filed lawsuit challenging a state law (Act 626) which bans gender-affirming health care for transgender youths. The DOJ also claims that state ban violates the Equal Protection Clause of the Fourteenth Amendment, Law & Crime reported.