30 Colombian LGBT activists attend training
Four day gathering is first of its kind in South American country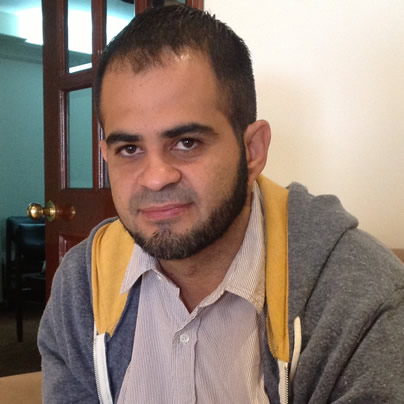 BOGOTÁ, Colombia — Roughly 30 activists from across Colombia attended a four-day training in the Colombian capital from May 30-June 2 designed to encourage LGBT people to become more involved in the country's political process.
The program, which was coordinated by the Gay and Lesbian Victory Institute and the Astraea Lesbian Foundation for Justice, was the first to take place as part of the USAID-backed LGBT Global Development Partnership that will contribute $11 million over the next four years to advocacy groups in neighboring Ecuador and other developing countries.
Out Bogotá City Councilwoman Angélica Lozano Correa and Blanca Durán Hernández, mayor of the Colombian capital's Chapinero district that has a large gay population, are among those who took part. They and others advocates from Colombia and the United States spoke about a variety of topics that ranged from campaigning as an openly LGBT candidate to fundraising and responding to opponents.
Lozano, Durán, Victory Institute President Chuck Wolfe, Francisco Herrero of the National Democratic Institute and Tatiana Piñeros, a transgender woman whom Bogotá Mayor Gustavo Petro in 2012 appointed to run the city's social welfare agency, also took part in a May 30 panel on how out political leaders and officials can advance the Colombian and American LGBT rights movements. Marcela Sánchez, executive director of Colombia Diversa, a nationwide LGBT advocacy group, moderated this event that took place at a Chapinero hotel.
"We recognize the importance of strengthening capacities for those who want to become involved," Sánchez told the Blade after the panel. "This is why we entered this alliance with the Victory Institute."
The training, which is the first of its kind in the South American country, took place less than a month before gay Colombians can begin to legally register their partnerships.
Colombia's Constitutional Court in 2011 ruled the country's lawmakers have to extend the same benefits that heterosexuals receive through marriage to same-sex couples within two years. The tribunal's deadline is June 20, but the Colombian Senate in April overwhelmingly rejected a bill that would have extended marriage rights to gays and lesbians in the South American country.
The court in 2009 ruled same-sex couples who live together must receive the same rights Colombian law affords to unmarried heterosexual couples. It also overturned the ban on openly gay soldiers in a separate ruling it issued the same year.
Colombia's non-discrimination law that includes sexual orientation took effect in 2011.
Federíco Ruíz Mora of the Santamaría Fundación, a Cali-based group that advocates on behalf of trans Colombians, told the Washington Blade in April while he was in D.C. on a State Department-sponsored trip that he and other activists plan to seek legal protections based on gender identity and expression.
A report from the Latin American and Caribbean Network of Transgender Women (REDLACTRANS) notes 61 trans women in Colombia have been reported murdered between 2005-2011. A separate report that Colombia Diversa released last month indicates 58 of the reported 280 LGBT Colombians who were murdered between 2011-2012 were killed because of their sexual orientation or gender identity and expression.
Wilson Castañeda Castro, director of Caribe Afirmativo, an advocacy group that works in Barranquilla and other cities along the country's Caribbean coast, told the Blade on Friday that police violence against LGBT Colombians remains a serious problem. Lozano said in a separate interview she hopes those who targeted, tortured and killed LGBT Colombians during the country's armed conflict that began in the 1960s are held accountable in any peace settlement that could emerge from talks between the government and members of the Revolutionary Armed Forces of Colombia (or FARC in Spanish) that continue to take place in Cuba.
Participants: Political involvement helps advance LGBT rights
Those who took part in the Bogotá training said it will help LGBT Colombians become more involved in their country's political process as the movement grows stronger and more visible.
"One of the ways to make further advance our rights as an LGBT community is to win political office," Durán told the Blade on Saturday. "To have groups of people learn about tools, to have the skills to conduct these campaigns to me is very important."
Lozano admitted she was a bit surprised that such a program took place in Colombia, but she described it as "positive."
"It is incredible to me that programs like this exist," she said.
Castañeda noted his organization, like Colombia Diversa, is non-partisan. He agreed with Durán that it remains crucial for LGBT Colombians to become involved in the country's political process.
"We become involved in every election to present the LGBT agenda to candidates," Castañeda said.
Chile marriage equality bill receives final approval
South American country legalized civil unions in 2015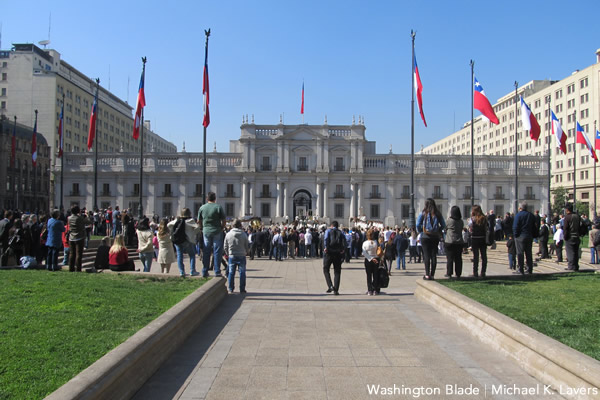 A bill that will extend marriage rights to same-sex couples in Chile received final approval on Tuesday.
The Chilean Senate and the Chilean House of Representatives approved the marriage equality bill that passed in the lower house of the country's Congress on Nov. 23. That vote took place two days after the first round of the country's presidential election took place.
A final vote on the bill was expected to have taken place last week, but senators unexpectedly opposed it.
A commission with members of both houses of the Chilean congress approved the bill on Monday.
Boris Johnson's LGBTQ rights advisor visits D.C.
Nick Herbert praises efforts to evacuate LGBTQ Afghans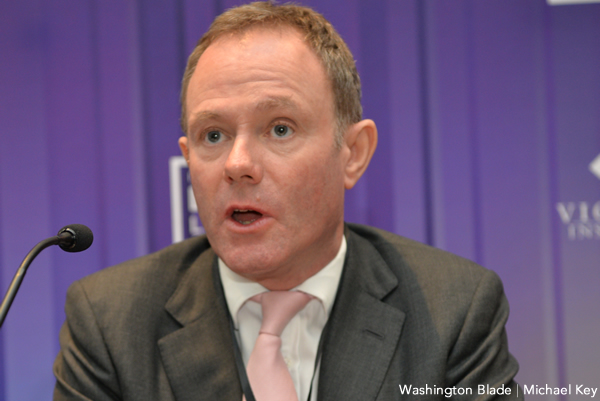 British Prime Minister Boris Johnson's advisor on LGBTQ issues last week applauded his government's efforts to help facilitate the successful evacuation of LGBTQ Afghans from the country.
"I'm very proud of the tremendous work that's been done by the U.K. government," Nick Herbert, a member of the British House of Lords, told the Washington Blade on Dec. 1 during an interview in D.C. "The U.K. has shown global leadership here."
A group of 29 LGBTQ Afghans who Stonewall, Rainbow Railroad and Micro Rainbow evacuated from Afghanistan with the help of the British government arrived in the U.K. on Oct. 29. Herbert on Nov. 6 announced a second group of LGBTQ Afghans had reached the country.
"It took … a strong effort with different parts of government working together and the determination that this was really important and that people's safety was at risk and also that we have a moral obligation to the communities affected," said Herbert.
The Taliban entered Kabul, the Afghan capital, on Aug. 15 and regained control of the country.
A Taliban judge has said the group would once again execute people if it were to return to power in Afghanistan. Rainbow Railroad and Taylor Hirschberg, a researcher at the Columbia Mailman School of Public Health who is also a Hearst Foundation scholar, and others have been working to help evacuate LGBTQ Afghans from the country.
Advocacy groups continue to urge the Biden administration to do more to help LGBTQ Afghans who remain in Afghanistan.
Herbert noted the British government has committed to grant asylum to 10,000 Afghans under the country's "Operation Warm Welcome" that seeks "to ensure the Afghans who stood side by side with us in conflict, their families and those at highest risk who have been evacuated, are supported as they now rebuild their lives in the U.K." Herbert stressed this program will "prioritize" LGBTQ people and other at-risk groups in Afghanistan.
"This shows the power of working together and governments working in partnership with NGOs to achieve something," he told the Blade. "I fully recognize there were lots of citizens who remained in Afghanistan, and so nevertheless, I think it was very heartening to see that those Afghan citizens who are most at risk were brought to the center."
Herbert said he expects more LGBTQ Afghans will be "brought to safety," but he declined to provide a specific number.
Johnson raised LGBTQ rights crackdown with Hungarian prime minister
Herbert spoke with the Blade before he participated in the Victory Institute's International LGBTQ Leaders Conference that took place in-person at the JW Marriott in D.C. from Dec. 2-4.
Johnson in May appointed Herbert as his LGBTQ rights advisor.
Herbert is the first person who officially advises a British prime minister on LGBTQ issues. The former House of Commons member also co-founded the Global Equality Caucus, a group of LGBTQ elected officials around the world who work to fight discrimination based on sexual orientation and gender identity.
Herbert throughout the interview noted his government continues to champion LGBTQ rights.
The British government on World AIDS Day pledged more than £23 million ($30.5 million) in additional funding to efforts that seek to "achieve zero new HIV infections, AIDS and HIV related deaths in England" by 2030. The British government also announced it would move to allow people with HIV/AIDS to serve in the country's armed forces.
"It's a legacy discriminatory policy that has no basis in sound science any longer," said Herbert, referring to the policy against people with HIV/AIDS in the British military. "It's entirely safe for people to serve, and we think they should be free to do so."
A public comment period on a bill that would ban so-called conversion therapy in England and Wales is underway. Herbert also expressed concern over the increasing backlash over efforts to expand rights to transgender people in the U.K.
"I'm troubled by the debate," he said. "I recognize that … this is a that a complicated issue where you have an assertion of conflicting rights. But I don't think it's acceptable to see some of the sort of angry exchanges of language that has been seen over the course of the last few months."
"It's very damaging," added Herbert.
Herbert noted to the Blade that Johnson rose Hungary's anti-LGBTQ crackdown with Hungarian Prime Minister Viktor Orbán when the two men met in May in London. Herbert also highlighted the British government in June will host a global LGBTQ rights conference that will coincide with London Pride's 50th anniversary.
"The prime minister, by the way, has always been very ready to raise these issues, both when foreign secretary and now as prime minister, which is why I think he wants to hold this conference on the agenda," said Herbert.
"We have to stand together with other countries to express our concern about what is happening," he added. "We also must take a strong stance against culture wars, and I think governments joining in culture wars results in harm to citizens."
U.K. has 'historic responsibility' for anti-LGBTQ laws in former colonies
Consensual same-sex sexual relations remain criminalized in dozens of countries around the world, and many of them are former British colonies.
Then-Prime Minister Theresa May in 2018 said she "deeply" regrets colonial-era criminalization laws the U.K. introduced. Herbert spoke with the Blade two days after the Botswana Court of Appeals upheld a 2019 ruling that decriminalized consensual same-sex sexual relations in the country.
"We want to work with our partners in encouraging countries to try to change those laws," Herbert told the Blade.
He stressed the British government has "to guard against any idea that we're being so neocolonial," while adding the U.K. has a "historic responsibility for these laws and their legacy."
"The position we approach (with) this is one of respect where we, along with other countries, are encouraging decriminalization," said Herbert. "We want to work with countries that will work with us to support them in that journey. We have to recognize that all countries have been on a journey."
Herbert noted to the Blade that homosexuality was criminalized in the U.K. when he was born.
"We need to remember that other countries are different points of the journey, but it doesn't all happen at once. And they have to make their own decisions on this and we have to encourage them to support them to do so," he said. "I don't think that this is a case of Britain lecturing, certainly not a case of dictating. It's a question of encouraging."
Herbert also questioned the use of sanctions against countries that enact anti-LGBTQ laws.
The British government late last year sanctioned three Chechen officials who are responsible for the anti-LGBTQ crackdown in the semi-autonomous Russian republic that continues. Herbert described these sanctions as "justified," but said the British government has "to be careful of blunt instruments that may backfire."
"There can be different ways to make our feelings known and to encourage countries to do the right thing," he said.
The gay man who shook Brazilian sports and society
Gilberto Nogueira shares his dream of inclusion
An unexpected trailblazer shook Brazilian society in 2021 and caused significant advancements of LGBTQ rights in historically conservative groups.
Gilberto Nogueira, a reality show superstar, brought to prime-time television what most would think of as contradictions: A sexually liberal person with strong religious convictions; a high-level academic who speaks the language of the people; and, most strikingly, an effeminate and proudly gay man who is also a soccer fan.
Nogueira, or "Gil do Vigor," which roughly means "Striving Gil" in Portuguese, became a TV phenomenon by almost winning "Big Brother Brazil", one of the most popular shows in Brazilian television. His unapologetic character struck an enormous fan base that includes some of the most famous Brazilian soccer players and sports journalists. In a matter of weeks, Nogueira managed to build an unexpected alliance of LGBTQ people and sports fans to support him. This would produce lasting change, although it would not come without controversy.
"Dialogue is a great and necessary bridge to long-term changes, which leads us to reflection, reassessment of attitudes, conscious self-assessment, practical actions and much more," Nogueira told the Washington Blade from California, where he is now pursuing his PhD in economics at the University of California-Davis.
The roots of the fight for diversity in Brazilian soccer can be traced to the 1970s, when a group called "Torcida Coligay" decided to defy homophobes and the then-ruling military dictatorship by bringing together queer fans of the soccer club Grêmio. More recently, tangible outcomes have been achieved.
Since Brazil's Supreme Court criminalized LGBTQ-phobic violence in 2019, fines and legal sanctions have been applied by sports authorities onto clubs whose supporters chanted homophobic slurs. Drawing from the heritage of Torcida Coligay, the collective "Canarinhos LGBT" has been pressuring restlessly for the enforcement of these measures.
However, as an important part of the Brazilian cultural identity, sports have also entered the cultural war that has dominated Brazil's public life. Nogueira himself has been in the middle of a battle between two visions of what soccer should be. A fan of the club Sport Recife, Gil was invited by the club for a visit to the team's stadium. The day after, an audio leak revealed homophobic slurs by one of the club's advisors, sparking outrage among Nogueira's supporters and media figures and reaching national headlines. Before the episode, it would be unimaginable to have soccer players showing support for LGBTQ Rights.
Since then, the club's executive direction, younger and more diverse, and its governing council, older and male-dominated, started a civil war around the expulsion of the advisors. Possibly avoiding further backlash, Nogueira has not been outspoken about this topic in Brazilian media. Asked to comment on this article, he broke his silence.
"Conservatism, patriarchy and homophobia are issues that, in the sports universe, are potentialized because it is an environment where these key themes were rarely brought into the agenda, which is completely inconsistent, as sports are synonymous with inclusion. But the question is: Inclusion for whom?" Nogueira said.
"I see that we are lagging behind and there is little willingness to advance in these debates, and even less will to introduce practices that can foster the debate on gender identities, gender expression, sexual orientation, among others. I also realize that we lack dialogue, and we know that talking about the plurality of life is respecting it, inserting it, sustaining it in such an oppressive environment." he concluded.
The battle for inclusion in Brazilian sports occurs in the midst of a highly hostile political debate.
About a month ago, Mauricio Souza, a famous volleyball player, was fired from his club after anti-LGBTQ comments on social media. Immediately, he became a symbol of Brazil's far right, multiplying his followers and gaining support from President Jair Bolsonaro. Souza is now expected to run for the Congress in Bolsonaro's party.
In this context, Nogueira 's contribution for diversity in sports becomes even more remarkable. His persona — evangelical, gay, academic, raised in poverty — defies the typical divide of the deeply polarized Brazilian society. Asked what he would say to other LGBTQ persons living in highly conservative environments such as the church and the soccer stadium, Nogueira states the answer is within.
"There are always answers within ourselves," he said. "While everyone has the right to speak when, how and if they want to about their orientation or gender identity, genuinely belonging to ourselves is something we will question ourselves throughout our lives".
Another remarkable characteristic of Nogueira is his firm belief in his dreams. Even having won national recognition, 15 million followers on Instagram and millions of dollars in advertisement, he chose to continue his life-long plan to pursue a PhD at UC Davis. This does not drive him away from his fight for inclusion.
"I intend to conduct relevant research that has a social impact directly related to minorities — in this case, the LGBTQIA+ community and racial issues — so that we can discuss and show that it is important to have diversity in all sectors of the country, and that this will not only bring more equality, but it will also bring development," he said.
From California, Nogueira has his own segment in a popular TV show, explaining complex economic concepts to common people. This highlights his vision for the future of Brazil.
"I intend to use my theoretical knowledge as an economist … to show that we need to consolidate ourselves as a country that is diverse, respectful, not homophobic, not racist, because otherwise, we pay the price as human beings, but also as a country, as a whole," he said. Nogueira's activism and brilliance has shown that Brazilian sports culture is on an inclusive path, but there is still a long way to go. There are very few high-profile athletes who are openly LGBTQ, and in men's soccer, Brazil's most popular sport, there are none.
However, Nogueira's impact, as Michael Sam and Megan Rapinoe in the U.S., is proof that society is changing and this includes formerly homophobic milieus, as the sports arenas.
Egerton Neto is the international coordinator at Aliança Nacional LGBTI+, a Brazilian LGBTQ rights group, and a master candidate at the London School of Economics. Caio Leite is a political scientist.