Same-sex marriage opponents disrupt French Open final
Protester carried torch onto court during match between Rafael Nadal and David Ferrer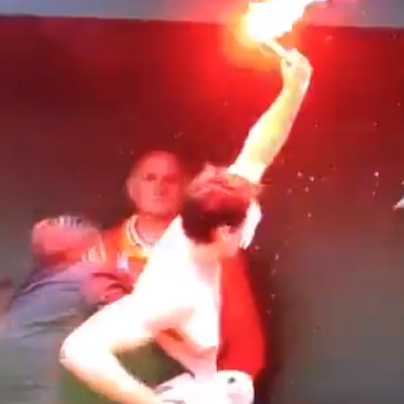 Same-sex marriage opponents on Sunday interrupted the men's final of the French Open in Paris.
http://www.youtube.com/watch?NR=1&feature=endscreen&v=P_a0W42TCqU
The French newspaper Le Monde reported a shirtless man wearing a white mask who had "the rights of children" written on his body ran onto the court holding a flare during the final match between Spanish tennis stars Rafael Nadal and David Ferrer. Four protesters also unfurled banners inside Roland Garros Stadium that criticized French President François Hollande and said in English that "with help, France ridicules the rights of children."
"This kind of thing is regrettable but it has been taken care of remarkably by our security staff," said tournament director Gilbert Ysern in a statement.
"It was a very quick moment," said Nadal — who went on to win the match, and his eighth French Open title since 2005. "I felt a little bit scared at first because I didn't see what was going on. I just saw a guy with some fire and I got a little scared at the first second. But then I saw it was one of these things that nobody can prevent.
"I want to thank very much all the security guys. They did amazing work. They were very courageous what they did so I just want to say thank you very much to them."
Hommen, a group opposed to France's same-sex marriage law that Hollande signed last month, also posted a picture onto its Twitter page that shows five shirtless men holding flairs and unfurling a banner from the top of the stadium that urged the French president to resign.
Police say they also detained six more demonstrators who were found at the neighboring court where the Legends tournament was taking place, according to Reuters.
The first gay couple to legally marry in France tied the knot in the city of Montpellier on May 29, but same-sex marriage supporters maintain rhetoric against the law has sparked anti-gay violence across the country.
France 24 on Sunday reported a skinhead who allegedly beat Clément Meric, an 18-year-old left-wing activist who campaigned for the country's same-sex marriage law, to death outside a Paris subway station last week will face manslaughter charges. Opponents of nuptials for gays and lesbians routinely clashed with French authorities during protests in the weeks and months leading up to the National Assembly's final approval of the same-sex marriage bill on April 23.
Police on May 26 arrested more than 200 people who clashed with police at the end of an anti-gay marriage march in Paris.
Charles Roncier, a gay blogger who is an assistant editor for the website VIH.org, told the Blade last week that La Manif Pour Tous and other same-sex marriage opponents are "out for blood" because "they lost the fight."
"The political climate has definitely been altered by the months of homophobic protests," he said. "We can say that far-right extremists feel more confident than ever to demonstrate, appear on [television] to spread their hate speech, especially after the tolerance the traditional… right-wing showed towards these extremists."
Gay man wins Democratic congressional primary in Ill.
Eric Sorensen running for retiring U.S. Rep. Cheri Bustos' seat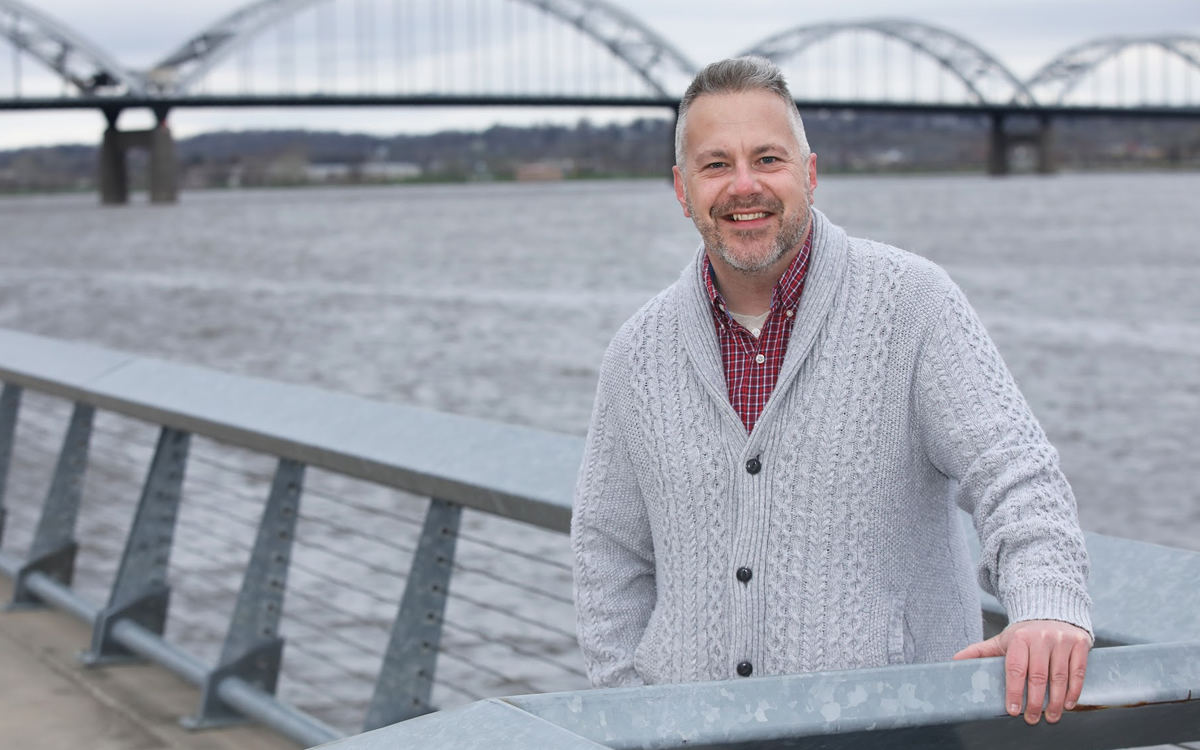 Illinois Democrats are hoping to send a gay person to Congress for the first time in the state's history.
Voters in the 17th Congressional District in northwest Illinois on Tuesday voted to have Eric Sorensen, a former meteorologist, become the Democratic nominee for the district's U.S. House of Representatives seat currently held by retiring Democratic Congresswoman Cheri Bustos.
"THANK YOU to everyone who was a part of this movement," Sorensen wrote on Twitter following his primary victory. "From day one this campaign has been built on three pillars: Trust, science, and communication. I'm honored to be your #IL17 Democratic nominee for Congress."
Sorensen, who bested his closest primary opponent by more than 13,000 votes, has centered much of his campaign messaging around the issue of mitigating the effects of climate change.
Sorensen's candidacy and potential to become the state's first openly gay member of Congress has been met with celebration from those advocating for more of such representation on Capitol Hill. After Sorensen claimed victory on Tuesday, advocacy groups and political organizations like Equality PAC and the LGBTQ Victory Fund were quick to offer their support.
"It has never been more important to defend our pro-choice, pro-equality majority in Congress," Victory Fund President Annise Parker said in a statement. "As a meteorologist, Eric spent the last two decades keeping his local community safe by telling the truth and promoting a pro-science agenda. His success tonight is a testament to his continued leadership and grassroots support, as well as a highly effective ground game focused on candid conversations about how to make government work for all Americans."
Hoping to keep the district from flipping to Republican control in a midterm year that is expected to be an uphill battle for Democratic congressional majorities, Sorensen has also gained the backing of the district's current congresswoman. Bustos took to Twitter following Sorensen's victory to announce her support.
"Illinoisans deserve a representative who will fight for working families, help build our local economy and continue to lift up Midwestern voices," Bustos wrote. "Eric will do that."
Sorensen's ultimate ascension to Illinois' 17th Congressional District seat, however, is not assured. Though the district leans Democratic, it is widely labeled as a competitive race following nationwide redistricting of congressional maps ahead of this year's midterms.
Such a competitive landscape is coupled with a competitive rival battling Sorensen for the seat.
His Republican opponent, lawyer and Army Reserve Capt. Esther Joy King, previously ran for the seat in 2020, losing to Bustos by just four percent of the overall vote.
Having already secured a number of high-profile Republican endorsements including House Minority Leader Kevin McCarthy (R-Calif.), House Conference Chair Elise Stefanik (R-N.Y.) and former Secretary of State Mike Pompeo, King has already begun her November messaging campaign after besting her primary opponent by more than 30 percentage points.
"It doesn't have to be a choice if we elect leaders who will put their constituents first rather than far-left, out-of-touch policies and that's exactly what I'm running to do," King said in a statement Tuesday night. "Let's come together to win this in November."
Groups like the Victory Fund, however, are remain optimistic that Sorensen's potential to make history will be within reach when voters enter the polls on Nov. 8.
"Voters are clearly enthusiastic about Eric's vision for a more equitable future," Parker said. "We trust Eric will be a vital voice in Congress come November. The stakes have never been higher."
Fauci: Risk of monkeypox infection not high, but 'numbers may increase'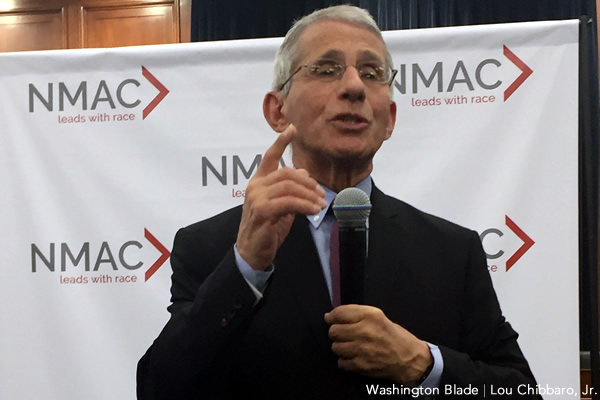 Dr. Anthony Fauci, the director of the National Institutes of Health who has been at the forefront of the battles against the HIV/AIDS and COVID-19 epidemics, downplayed Wednesday the idea gay and bisexual men are at high risk of contracting monkeypox as the outbreak begins to spread, but cautioned "the numbers may increase."
"Given the numbers I would not say right now at this particular point, that it is a quote, high risk, but the numbers may increase, which means we just have got to be careful and pay attention," Fauci said.
Fauci made the remarks in a conference call with reporters from LGBTQ news outlets on the heels of the Biden administration's announcement that it would ramp up efforts to confront the emerging spread of monkeypox.
On Monday, the Department of Health & Human Services, announced a nationwide vaccination strategy against monkeypox, which consists of providing nearly 300,000 vaccines with priorities for individuals at risk and areas with high rates of infection. An estimated 750,000 vaccines are expected for delivery by the end of summer, according to HHS.
In response to a Blade question about the risk of gay and bisexual men contracting monkeypox, Fauci said that was difficult to quantify and he "wouldn't say low, because then…that can be taken out of context," but went on to express there's a minimal risk of infection if precautions are taken.
"What we're seeing given the number of cases and the rate in which they've accelerated, it's clearly out there," Fauci said. "But when you talk about the large number of gay and bisexual men who have sex with men, that on any given individual contact I think if one is careful, and make sure that both parties in a sexual interaction are aware of lesions that might go unnoticed, then you can go a long way in pure prevention to prevent that from happening, but I think it would be risky to classify it as low, medium or high."
The U.S. has confirmed 306 monkeypox cases across 27 states and Washington, D.C., the Centers for Disease Control announced Tuesday. That represents a surge of 63 cases from the previous week.
Fauci said the current outbreak is predominantly among men who have sex with men among individuals who have had sexual contact. Monkeypox is technically not a sexually transmitted disease, Fauci said, because it's spread through skin-to-skin contact, but "because of the close skin to skin interaction that occurs in sexual contact, that appears to be the modality spread." Monkeypox, Fauci said, is "not fundamentally a lethal infection."
Raj Panjabi, senior director for global health security and biodefense on the White House National Security Council, was also on the call and said the Biden administration's monkeypox plan consists of "three pillars" of testing, vaccines, and outreach.
"In terms of outreach, there is no effective response to an outbreak without a community based response," Panjabi said. "And so we've worked to ensure an open dialogue with leaders and stakeholders in the LGBTQIA+ community. What we've been doing is to try to understand from those most affected by this outbreak, learn from them, help them stay vigilant within the community to protect themselves from the disease and try to adjust our response according to the gaps that they've raised."
The rise in monkeypox infections comes during Pride month, a time when LGBTQ community is engaged in celebrations and oftentimes in close contract and intimate settings, including sexual activity.
Asked by a reporter with NBC News whether this weekend's Pride celebrations may have fueled the spread, Fauci said in theory "the risk is probably increased" in Pride activities "because people tend to get involved in sexual networking there," but precautions at the end of the day would mitigate new infections.
"You don't want to panic people but you want to get people to appreciate, particularly with the Pride activities that are going on now, to be aware and to just be careful," Fauci said. "And being careful can be very practical, but making sure that you're aware of things like skin lesions or lesions around areas of the body, particularly when you're having a sexual encounter. Those are the things we're trying to do."
Eastern Panhandle Pride brings celebration to rural W.Va.
'Martinsburg is an inclusive city'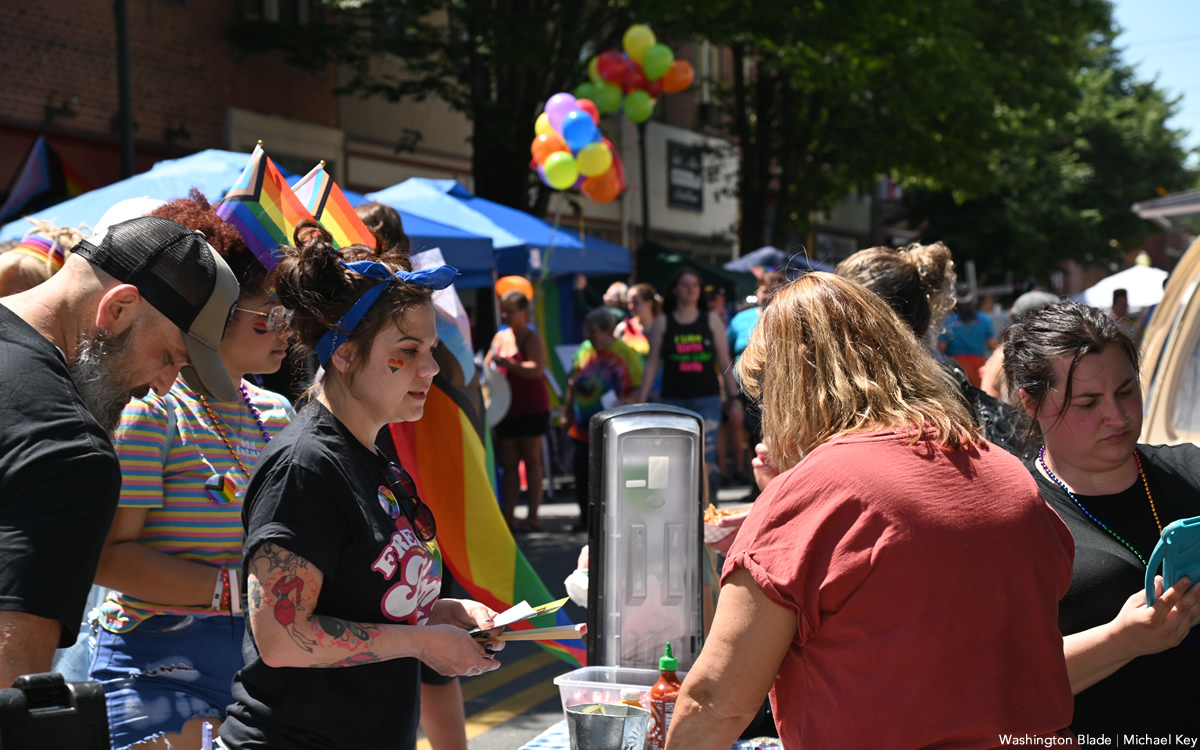 Smiling faces spilled into downtown Martinsburg, W.Va., on June 4, welcomed by booths swathed in rainbow colors lining the road.
The historic sight marked the first time that Martinsburg welcomed an official Pride celebration to its streets — but not all residents viewed the new event favorably. As the celebration came into full swing, two protesters marched straight to its center, carrying a sign with homophobic slurs and a seven-foot cross.
The protest quickly turned the heads of passersby. As more and more people approached the demonstration, a group of more than 30 attendees formed a circle around the protesters, separating them from the event. Some joined hands and, attempting to drown out the protesters' hatred, chanted: "Love wins!"
When Joe Merceruio began working at Eastern Panhandle Pride nine years ago, he set out to help unite the community of West Virginia's easternmost region, working with fellow organizers to create Pride celebrations in a Shepherdstown park.
But when assuming the role of president in 2019, he never anticipated that just three years later, the organization would be invited by the mayor of the panhandle's largest city to throw a celebration in the Berkeley County, W.Va. seat. "We've never had a city reach out to us and ask us to do Pride, it was always the other way around," he explained.
Born and raised in Martinsburg, Merceruio was moved by the way his community came together at this year's Pride celebration. After two years of restricted celebrations due to public health concerns, seeing so many people celebrate in person, including many allies, was deeply meaningful, he noted.
Beth Roemer, who helped organize this year's festivities, said she was especially proud of the way her community peacefully organized against the protesters — especially those young people she credited with leading the charge. The group was "surrounding them in a very passive way so that they couldn't do any more damage," she recalled.
Participating in Pride each year has shown Merceruio and Roemer alike the ways their community is changing, fueled by advocacy from LGBTQ individuals and allies within it.
Berkeley County is known for being more conservative, which meant that Roemer "wasn't sure" exactly "how far we had come" in accepting the LGBTQ community. But her hopes for inclusivity were quickly realized when she saw how many people supported this year's celebration.
"We had a local business downtown reach out to Joe and I, and he said he just never believed in a million years that we could have Pride downtown," she added. "He was super happy."
According to Merceruio, Pride offers an opportunity for community building especially important to rural West Virginians.
"I think you can let the stereotype of West Virginia interfere with the reality of the West Virginia that's really out there," he explained. "There is ignorance, there is hatred, but there's also a tremendous amount of love and support."
"It really gives people who want a community a chance to see that there is a community in Martinsburg," Roemer said. At this year's celebration, Roemer added that she met an 18-year-old woman who was able to attend Pride for the first time after her parents did not support her desire to go growing up. "She goes, 'Now I have a community,'" Roemer recalled.
As an organization that serves a primarily rural region, Eastern Panhandle Pride operates differently from many Pride organizations in major cities. Merceruio noted that there are some challenges associated with organizing Pride in a rural area, like receiving less attention from sponsors and having to work harder to find and provide resources.
Still, Merceruio said rural Pride celebrations have a certain charm that major Pride celebrations cannot always replicate.
"I have people that have texted me and said, 'We're so excited to do this, our 11-year-old daughter has been waiting for this,'" he explained. "I think you get more of a family atmosphere in rural areas."
Some of Merceruio's favorite moments from this year's Pride included this type of "personal interaction" with community members, he added. "I guess that's a bit more of what you get from a smaller town for Pride."
At this year's Pride, Martinsburg Mayor Kevin Knowles spoke directly to attendees, welcoming the celebration to the city's streets and reading a proclamation officially recognizing June 2022 as Pride month for the city.
"Martinsburg is an inclusive city. We include everybody, no matter where they come from or what they do," Knowles said at the event. "The city of Martinsburg is moving forward."
In the near future, Eastern Panhandle Pride hopes to continue to offer programming for the local LGBTQ community and its allies, and to further support community needs through advocacy. For Merceruio, this work is an important part of giving back to the place he calls home.
"I love being from West Virginia. Our culture and our society and our neighbors," Merceruio said. "It's got its problems, but it is awesome."
See photos from the event here!