Gay firefighter, first responder to Pentagon on 9/11, dies
Phillip McKee suffered injuries, illness after terrorist attack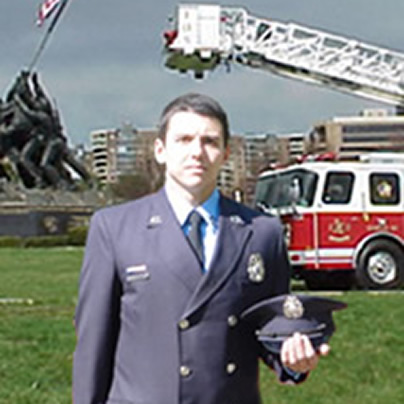 Phillip Curtis McKee III, a businessman, stained glass artist and firefighter who was among the first to respond to the fire at the Pentagon caused by the Sept. 11, 2001 terrorist attack, died May 31 at a hospital in Fairfax City, Va. He was 41.
Family members attribute McKee's death to complications from injuries and illness linked to three days of fighting the Pentagon fire following the 9/11 attack, including inhalation of toxic dust, a severe leg injury that resulted in him being wheel chair bound, and a prolonged bout of post-traumatic stress disorder.
McKee's husband and partner of 15 years, Nopadon McKee, said the injuries forced Phillip McKee to retire from his job as a firefighter due to disability. Although he displayed "tremendous courage" in persevering as an artist, businessman, and author over the next 12 years, the injuries and his struggle with PTSD took its toll, Nopadon McKee said.
"He succumbed to his injuries," a statement released by the family says.
Phillip McKee was born in Portsmouth, Va., and lived in his early years in Corpus Christi, Kingsville and San Antonio, Texas. He did undergraduate studies at Yale University and graduate studies at Harvard University in Medieval history as well as economic and diplomatic history, and held a fellowship at Princeton University, a biographical statement prepared by family members says.
At the time of his university studies he became interested in the medium of stained glass and eventually became a stained glass artist and owner of a small business selling stained glass artwork, including his own.
Sandra Martinez, McKee's aunt, said McKee entered a Catholic seminary for a short period of time after completing his university studies before moving to Washington, D.C. to work in the field of computer and internet security with the National Fraud Information Center.
While working in this position he founded Capitol Web Services in 1998 as a part-time web-based business.
According to Martinez, McKee, who had been serving as a volunteer fireman in the Maryland suburbs, informed his family in early 2001 that he decided to change his career and become a firefighter with the Arlington County, Va., Fire Department about six months prior to the 9/11 terrorist attacks.
"[A]after all of that education, I chose to become a firefighter," McKee wrote in a message appearing on his business website McKeestaindedglass.com.
"Needless to say, this was not greeted with much enthusiasm by my family," he wrote. "However, a firefighter's work schedule gave me the free time I needed and I was able to pursue my other passion – glass art!" he wrote.
"Since 9-11, stained glass has become an even greater part of my life as I went through rehabilitation for injuries suffered at the Pentagon," he said in his website message. "Glass has provided me with a creative outlet that I have sorely needed during this most difficult time in my life and in the life of our country."
He went on to publish two books on stained glass art, including the acclaimed "Make It or Break It: Stained Glass For Beginners."
A biographical statement prepared by Nopadon McKee and Martinez says Phillip and Nopadon have been a couple since 1998 and were joined in a religious wedding ceremony in 2006 at Little River United Church of Christ in Annandale, Va.
Nopadon McKee said the two proudly proclaimed their marriage to friends, family members and co-workers even though it is not legally recognized by the government.
In 2009, in spite of his disability and ailments, Phillip and Nopadon began mentoring a teenager they met that year and later adopted. Nate McKee is currently a college student, the biographical statement says.
"Phillip touched many lives throughout his forty years and will be remembered for many great accomplishments, but the most outstanding was his unselfish and brave act on 9-11," the statement says.
Nopadon McKee, a Metro transit police officer who legally changed his name to McKee after he and Phillip McKee married, said he and Phillip have long been out as gay men at their jobs. He said Phillip McKee was out while working for the Arlington County Fire Department.
The Fire Department and some of its members are expected to participate in a funeral tribute for Phillip McKee scheduled for June 11 that will begin at the fire station in the Cherrydale section of Arlington to which McKee had been assigned at the time of the 9-11 attack at the Pentagon, Martinez said. The service itself is scheduled to take place at Little River United Church of Christ in Annandale at 11 a.m.
A wake and viewing is scheduled to be held Sunday, June 9, at the same church from 4 p.m. to 8 p.m.
Film 'Wonderfully Made LGBTQ+R(eligion)' set for D.C. premiere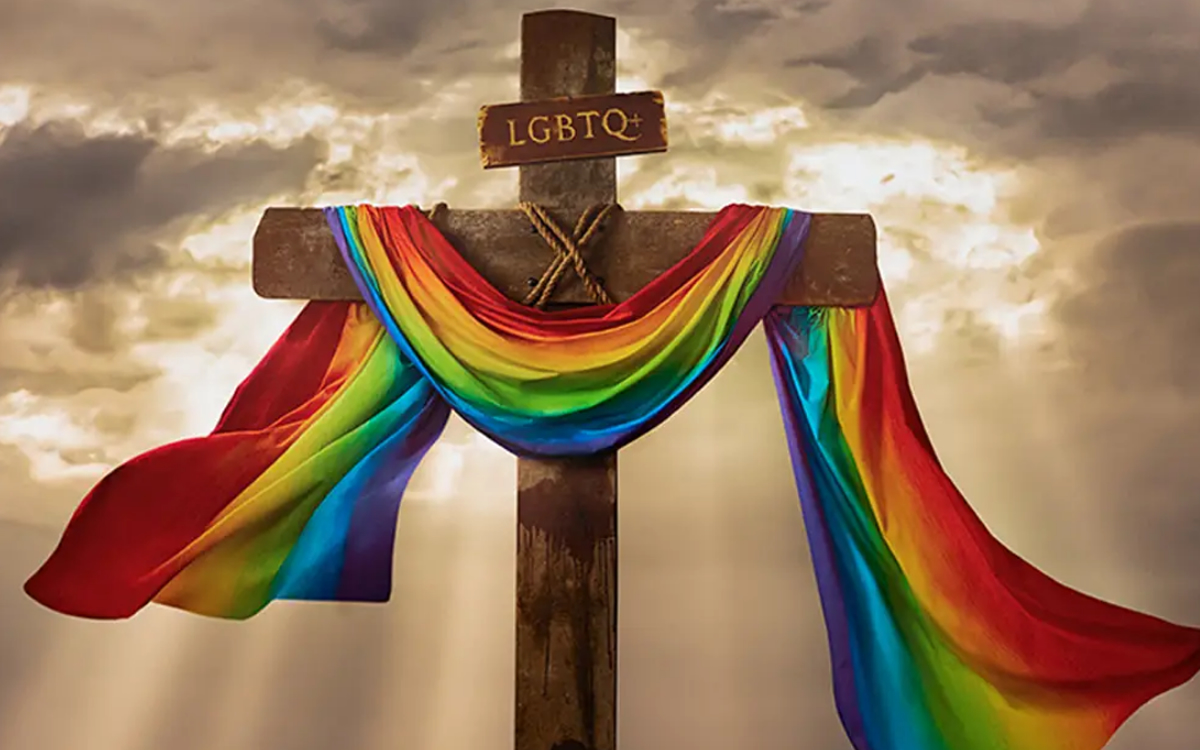 A feature-length documentary film called "Wonderfully Made LGBTQ+R(eligion)," which explores how religion has played a leading role in perpetuating anti-LGBTQ attitudes and highlights the challenges and aspirations of LGBTQ Catholics, is scheduled for a special D.C. screening on Dec. 12 at the E Street Cinema.
The film's director is gay filmmaker, actor, and LGBTQ rights advocate Yuval David. It was jointly produced by David and his husband, attorney and LGBTQ Catholic advocate Mark McDermott. The premiere D.C. showing of the film is being hosted by Real Affirmations, D.C.'s LGBTQ film festival.
"The film focuses on the Catholic Church because it is one of the largest religious organizations in the world, and because its anti-LGBTQ+ stance is known and growing more hardline, at least in some circles," a statement announcing the D.C. showing of the film says.
"The narrative of the film is shaped by the process of a fine art project creating unprecedented, photographic iconography depicting Jesus as a member/ally of the LGBTQ+ community, represented by multiple LGBTQ+ models," the statement says.
David and McDermott told the Washington Blade in a Nov. 21 interview that production of the film was completed at the end of August of this year, and it has since been shown at film festivals across the U.S. and overseas. It was honored as the Best Feature Film at the LGBTQ Toronto Film Festival.
"One of the things we discuss in our film and the way this makes it contemporary, and even pertaining to this horrible shooting [at the LGBTQ nightclub in Colorado] and the various other attacks on the LGBTQ community, is the fact that the vast majority of anti-LGBTQ and homophobic beliefs, including laws and legislation, are on the basis of religion," David said.
"Ninety something percent of homophobia and anti-LGBTQ beliefs are on the basis of religion," David said he and McDermott saw in research findings.
David and McDermott said one of their objectives for the film, which includes interviews with leading LGBTQ Catholic activists and supportive Catholic priests, was to show how images of the church and Jesus through art and iconography going back several centuries has impacted the religious views of Catholics, including LGBTQ Catholics.
Among the LGBTQ supportive people interviewed in the film include Sister Jeannine Gramick, a Catholic nun who co-founded New Ways Ministry, the LGBTQ Catholic advocacy organization; Marianne Duddy-Burke, president of Dignity USA, the national LGBTQ Catholic group; and Father James Martin, a Jesuit priest, author, and outspoken advocate for LGBTQ supportive policies in the Catholic Church.
David and McDermott point to their film's groundbreaking use of a form of iconography that they and their creative team, including photographers, created as part of an art project to make the church's imagery more welcoming to LGBTQ people.
"The idea behind this is in Christianity and Catholicism, Jesus has always been portrayed one way for the last 1,700 years," McDermott told the Blade. "That he has been portrayed as a white man of Northern European descent with blond hair and blue eyes. And as we set up the film, we wanted to challenge that history of art, change it," he said, to show that "the divine is in all of us," including LGBTQ people.
McDermott and David told how they conducted a casting call for actors and models to portray Jesus as LGBTQ people who were highly diverse by way of ethnicity, gender, and gender expression. To their amazement, about 500 people responded to the casting call.
"And out of that enormous group we selected nine models," David said. "And the people we cast are truly a diverse array of LGBTQIA+ people representing different ethnicities, different races, different genders, different body types," he said. "We wanted to cast people who not only were models but actors and people who truly identify with this topic," David said.
Several of the actor-models are interviewed in the film, with some describing their own experiences as a person of faith in a church that is sometimes not accepting of them.
David said several thousand still photos were taken of the nine model-actors selected to portray Jesus. He said about 160 of the photo images were selected to be shown in the film in which the actor-models portray Jesus in various stages of his life as described in the scriptures, including scenes of the crucifixion.
The still photos are shown in a dramatic presentation at the conclusion of the film, with each of the model-actors exhibiting highly emotional facial expressions, especially as they are shown tied to a cross with a crown of thorns.
McDermott said he and David came up with the film's "Wonderfully Made" title from a biblical passage known as the Book of Psalms in which the biblical figure David says while praying to God, "I praise you because I am fearfully and wonderfully made."
Biblical scholars have said the word "fearfully" as used in that biblical passage by David was intended to mean with great reverence, heart-felt interest and with respect.
Mark McDermott and Yuval David told the Blade that while their film shows the hardship faced by LGBTQ Catholics and people of faith, many people of faith, including the religious experts they interview in the film, believe Catholicism and religion in general can be interpreted to be supportive of all people, including LGBTQ people.
But the two say a positive perspective on how religion has and continues to impact LGBTQ people, such as the story told in their film, is needed.
"Forty percent of our homeless kids are LGBTQ – 40 percent," McDermott said. "And we know why they ended up homeless. They got thrown out of their houses by their own family," he said. "And it's almost always because of their family's religious views."
Added McDermott, "One in three LGBTQ kids in the last year contemplate or seriously think about suicide."
According to he and David, stress or conflict with their family's religious beliefs is very often the root cause of stress and depression among LGBTQ people. They are hopeful, they said, that their film will be seen by many facing these problems and who may be helped by the film's strong message that it's ok to be a person of faith and LGBTQ.
"We created this for those who must see this, so they don't feel that way," said David.
Tickets for the Dec. 12, 7 p.m. screening of "Wonderfully Made LGBTQ+R(eligion)," which is open to the public, can be purchased online or at the E Street Cinema at the time of the showing if tickets are still available.
A trailer preview of the film can be viewed here: wonderfullymadefilm.com; you can follow news of the film on social media, instagram.com/WonderfullyMadeMovie.
Lower house of Russian Parliament passes anti-LGBTQ propaganda law
Human Rights Watch has sharply criticized proposal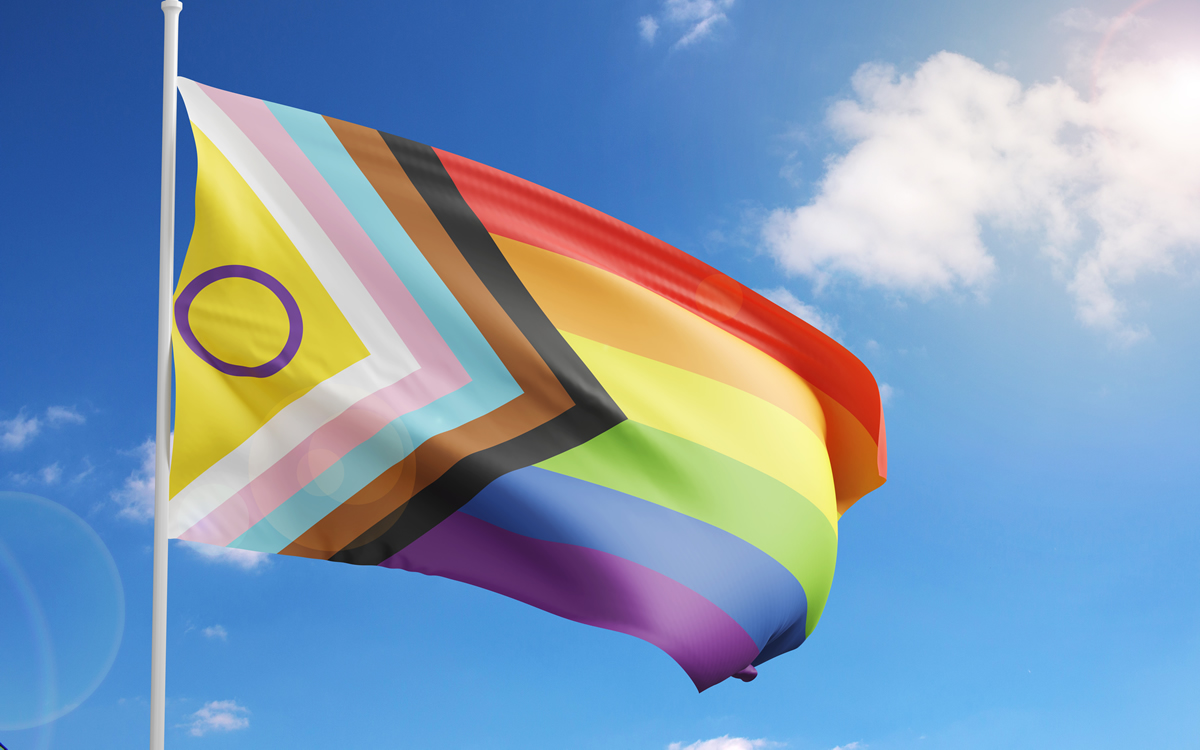 A new law which expands Russia's "gay propaganda" law signed by Russian President Vladimir Putin in June 2013 passed the lower House of the State Duma on Nov. 24.
The legislation, which still needs the approval of the upper house of the Duma and Putin, introduces an expanded "all ages" ban on "propaganda of non-traditional relations," pedophilia, as well as a ban on the dissemination of information about LGBTQ people in the media, the Internet, advertising, literature and cinema. 
The language of the bill, according to the official Russian state news agency TASS, also introduces a ban on issuing a rental certificate to a film if it contains materials that promote non-traditional sexual relations and preferences is established. The document also provides for the introduction of a mechanism that restricts children's access to listening to or viewing LGBTQ information on paid services. 
The newly expanded law provides for the Russian Federal Service for Supervision of Communications, Information Technology and Mass Media, abbreviated as Roskomnadzor, to be vested with the right to determine the procedure for conducting monitoring on the Internet to identify information, access to which should be restricted in accordance with the federal law on information.
A requirement is also set on paid services to enter codes or perform other actions to confirm the age of the user. At the same time, access to LGBTQ information is prohibited for citizens under 18 years of age.
In addition, it provides for a ban on the sale of goods, including imported goods, containing information, the dissemination of which provides for administrative or criminal liability.
Also, the law "on the protection of children from information harmful to their health and development" is supplemented by an article on the promotion of non-traditional sexual relations, pedophilia and information that can make children want to change their sex.
The latter language pointedly inserted as transgender people have been a frequent target of attacks by the Russian president in speeches recently blaming the West for a global decay in moral values that run counter to what Putin describes as "Russia's strong morals."
In an October speech announcing the illegal annexation of four Ukrainian territories, Putin attacked Western nations on the issue of gay and transgender rights.
"Do we want children from elementary school to be imposed with things that lead to degradation and extinction?" he asked. "Do we want them to be taught that instead of men and women, there are supposedly some other genders and to be offered sex-change surgeries?"
It's not just the Russian leader.
Patriarch Kirill, head of the powerful and influential Russian Orthodox Church, portrayed the war with Ukraine as a struggle seeking to reject Western values and LGBTQ Pride parades.
Vyacheslav Viktorovich Volodin, the chairman of the State Duma and a former aide to Putin, is one of the bill's sponsors. Volodin told TASS that the bill is "adopted exclusively in the interests of all Russians."
"We have a different path, our grandfathers, great-grandfathers, grandmothers, great-grandmothers chose it. We have traditions, we have a conscience, we have an understanding that we need to think about children, families, the country, to preserve what we handed over by the parents," Volodin said.
A spokesperson for Human Rights Watch told the Washington Blade this expansion of the 2013 "gay propaganda" law "is a classic example of political homophobia. It targets vulnerable sexual and gender minorities for political gain."
A young Russian LGBTQ activist, who asked to not be identified for fear of Russian government reprisals, spoke to the Blade from Helsinki regarding this latest effort by the so-called conservative "family values" politicians in the Duma.
"This is a distraction to avoid the real news of dead young Russian males killed in his illegal war in Ukraine," they said. "These [Russian obscenity] politicians want to so-called 'non-traditional' LGBTQ+ lifestyles practiced by lesbians, gay men, bisexuals and transgender people out of public life, make us erased. They and their so called colluders in church are ignorant of truth that LGBTQ+ people will exist no matter what. It is scientific fact not their religious fairytales and fictions."
The activist also told the Blade they had fled to avoiding the Russian military draft enacted by Russia to replenish the levels of combat troops fighting in Putin's illegal war, in the face of mounting casualties and wounded soldiers.
Human Rights Watch noted that given the already deeply hostile climate for LGBTQ people in Russia, the organization warned there will be uptick in often-gruesome vigilante violence against LGBTQ people in Russia — frequently carried out in the name of protecting Russian values and Russia's children.
Legal scholars say the vagueness of the bill's language gives room for government enforcers to interpret the language as broadly as they desire, leaving members of the Russian LGBTQ community and their allies in a state of even greater fear and stress filled uncertainty.
Biden calls Club Q owners as community grapples with aftermath
Focus on the Family headquarters vandalized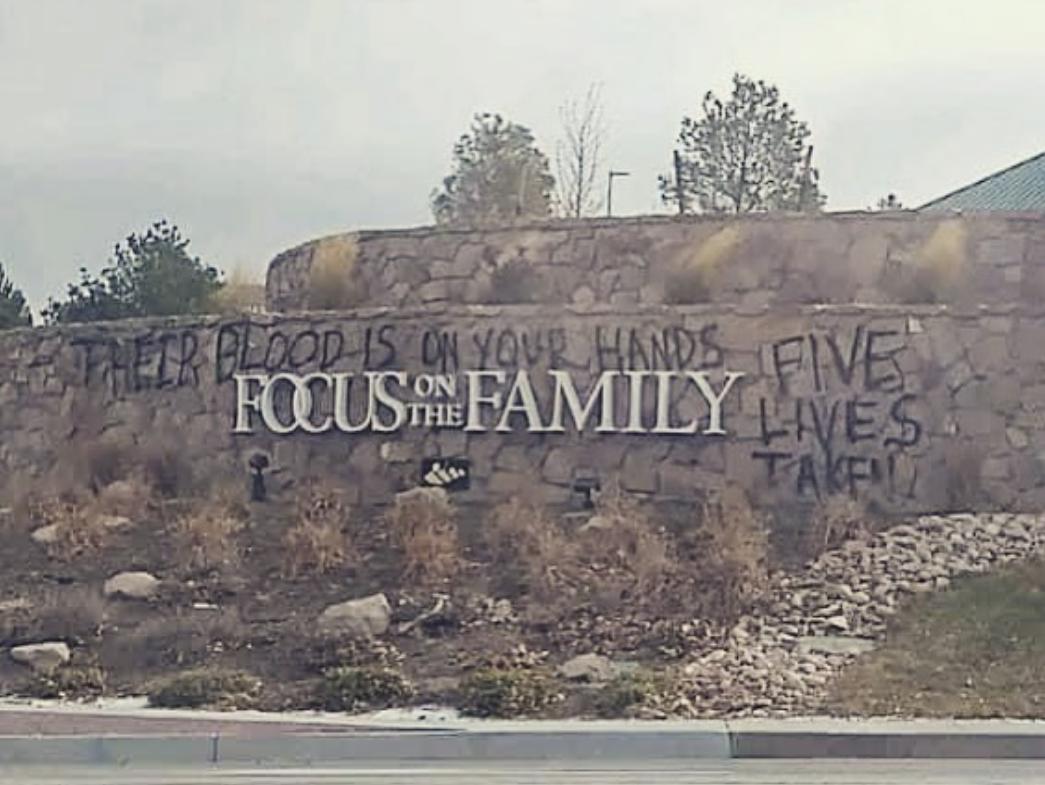 As the LGBTQ community continues to mourn the loss of the five people killed in last weekend's mass shooting, focus is now shifting to a reflection of anti-LGBTQ sentiment that has evolved from prejudice to incitement according to Nic Grzecka, a co-owner of Club Q.
In an interview with the Associated Press, one of his first since the chaos of the aftermath created by the mass-shooting, Grzecka said he believes the targeting of a drag queen event is connected to the art form being cast in a false light in recent months by right-wing activists and politicians who complain about the "sexualization" or "grooming" of children.
Even though general acceptance of the LGBTQ community has grown, this new dynamic has fostered a dangerous climate, he said.
"It's different to walk down the street holding my boyfriend's hand and getting spit at (as opposed to) a politician relating a drag queen to a groomer of their children," Grzecka said. "I would rather be spit on in the street than the hate get as bad as where we are today."
On Thursday, President Joe Biden spending the Thanksgiving holiday with the first lady and family members in Nantucket, Massachusetts, called Grzecka and Club Q co-owner Matthew Haynes.
The president and the first lady offered condolences and reiterated their support for the community as well as their commitment to fighting back against hate and gun violence. They also thanked the two men for the 'incredible contributions they have made and will continue to make to Colorado Springs.'
The president told reporters enroute to Nantucket, reflecting on the mass-shooting at the LGBTQ+ club and then another mass-shooting Tuesday, at a Walmart store when a night manager opened fire in a breakroom in Chesapeake, Va., killing six, and wounding at least half a dozen more, said he has plans to support a bill banning assault rifles during the lame-duck session before the next Congress is seated in January.
"I'm going to do it whenever — I got to make that assessment as I get in and start counting the votes," Biden said
As the memorial outside Club Q grows, more attention is now being focused on the needs of the survivors and others in the LGBTQ community in Colorado Springs affected by the mass-shooting.
An annual 'Friendsgiving' feast for the members of the LGBTQ community unable to spend time with relatives because of their being LGBTQ and which was normally held by the owners and staff of Club Q was shifted to a community dinner at the Colorado Springs MCC Church.
In an Instagram post, earlier in the week, Grzecka thanked Colorado Governor Jared Polis, state Attorney General Phil Weiser, Colorado Springs Police Chief Adrian Vasquez and city councilmember Nancy Henjum in whose district the LGBTQ club is located, "for your hard work to ensure there was a Crisis Center to service the Club Q and Colorado Springs community during the holiday."
Fallout over the shooting continues as anger mounts at what many in the LGBTQ community see as targeted hate amplified by a resurgence of anti-LGBTQ hate speech online and by right-wing media outlets and far-right figures such as Fox host Tucker Carlson.
Colorado Springs is also home to Focus on the Family, one of the largest anti-LGBTQ groups in the U.S. The Christian ministry group has opposed same-sex marriage, LGBTQ+ service in any branch of the U.S. armed forces and continues to advocate for the discredited practise of conversion therapy.
Late Thursday person or persons unknown vandalized the sign at the main entrance to the group's headquarters complex. "We went out there to investigate if there was a crime that took place," Colorado Springs Police Department spokesperson Sgt. Jason Ledbetter told the Gazette regarding the overnight incident. "There is no suspect information at this time."
In a Instagram post, Grzecka displayed a picture of the vandalized sign with graffiti spray painted in black reading; "Their blood is on your hands five lives taken."
In his message accompanying the picture, Grzecka noted:
Focus on the Family moved to our city in the 90's, was a large group behind pushing through Amendment 2 along with Colorado for family matters. People such as Dr. James Dobson and Will Perkins have spread a nasty, false and hurtful narrative about our LGBT community.
Amendment 2 was passed in 1992, and Colorado Springs (El Paso county) were the votes to pass the amendment, the same amendment that gave our city the nickname "hate city USA"
Words have consequences and your continuous false narrative about the LGBT community has consequences,
@focusonthefamily this message added to your sign has more truth to it than you may actually be able to understand.
This is not vandalism this is not an attack on Christian's. This message is just that a message that was delivered in a way to ensure you receive it.
@cityofcos, Mayor Suthers when can we meet to discuss how this type of anti-gay speech, is coming from our own backyard.
The Gazette also reported that people from around the nation are holding in-person and online fundraisers for victims and families of the Club Q mass shooting.
While the state has an official online donation site, the Colorado Healing Fund, a private online drive, also has become one of the largest appeals.
Good Judy Garage in Denver, an LGBTQ business, raised $25,000 in two hours after starting a GoFundMe drive on Sunday. The initial goal was upped to $50,000 and now is at $750,000, as donations continue to pour in. As of Friday, the amount collected was $761,707 raised.
Link to the GoFundMe: https://www.gofundme.com/f/support-for-the-club-q-families-and-survivors.