Queery: Juan Carlos Loubriel
The Whitman-Walker community health manager answers 20 gay questions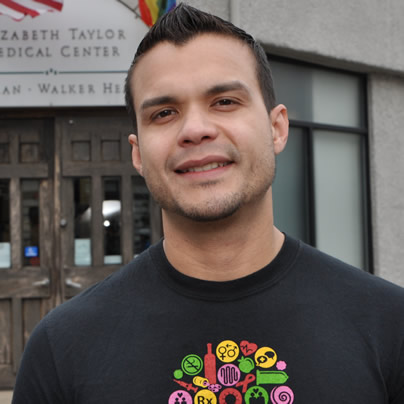 When it comes to the task of having to tell a client he or she is HIV positive, Juan Carlos Loubriel has seen all the reactions you could imagine.
"Some people have tears, some are just in shock, others are very quiet and just sort of need a little space," he says. "Sometimes you just need to be quiet and give them time to process it. It's quite amazing how different human reactions can be."
Thursday is National HIV Testing Day and Loubriel echoes the oft-heard advice that it's good to be tested every six months.
Even for gay men who always use condoms?
Loubriel says yes in accordance with CDC guidelines.
"Knowing your status can help save your life and save other lives," he says.
The 34-year-old San Juan, Puerto Rico native started in HIV prevention work in San Juan at a health department. His father, who was bisexual, eventually died of AIDS about 12 years ago inspiring Loubriel to stay in the field.
"He found out very late and at the time the medications weren't very good," he says. "I decided I was very passionate about the topic and really wanted to encourage awareness."
He came to Washington about five years ago and has been at Whitman-Walker for four years. He's engaged to Derek Neal and lives in Arlington. He enjoys working out and singing karaoke in his spare time.
How long have you been out and who was the hardest person to tell?
I have been out for six years. The hardest person to tell was my mom. She has been so supportive ever since I talked to her about being gay.
Who's your LGBT hero?
I have so many different LGBT heroes who have fought hard for the rights we have today and who continue fighting for the rights we don't have yet. Too many people's lives have been taken just for being gay. They are my heroes.
What's Washington's best nightspot, past or present?
Sometimes you can find me at JR.'s or Number Nine.
Describe your dream wedding.
A destination wedding on the beach.
What non-LGBT issue are you most passionate about?
There are so many issues that I am most passionate about. I feel very strongly about the need for immigration reform. I am also very passionate about access to health care. I have become more and more passionate about politics because it can impact so many issues related to equality, human rights and our future.
What historical outcome would you change?
There are too many things that could and should be changed, but we learn from our mistakes and even from tragedies. Our history, the good and the bad, has made us who we are today: a more open and democratic society.
What's been the most memorable pop culture moment of your lifetime?
When I was 17 years old I auditioned for a role in the play, "The Passion of the Christ" through a Puerto Rican theater company. I was chosen to play the role of one of the Roman Soldiers. Ricky Martin, who was just getting famous with his first solo album in Spanish, played the role of Jesus Christ. It was a great experience! I will also never forget attending a Whitney Houston concert in Puerto Rico in 1994.
On what do you insist?
Honesty
What was your last Facebook post or Tweet?
To my Dad on Father's Day, who passed away of renal failure brought on by his HIV: Missing you Dad … But in my thoughts … you are here … and you will always be in my heart. Happy Father's Day.
If your life were a book, what would the title be?
"Believe in Yourself"
If science discovered a way to change sexual orientation, what would you do?
Get married right away before my fiancé hears about it.
What do you believe in beyond the physical world? 
God
What's your advice for LGBT movement leaders?
We need to embrace all issues affecting diverse LGBT groups, including men of color, Latinos, etc. We need to speak with one voice. We cannot be divided by race, class, gender, religion or nationality.
What would you walk across hot coals for?
Love, family and faith.
What LGBT stereotype annoys you most?
Pretending to be something you are not.
What's your favorite LGBT movie?
"Philadelphia"
What's the most overrated social custom?
Being asked, "What do you do," before a proper introduction.
What trophy or prize do you most covet?
My fiancé gave me a "best boyfriend" trophy early on in our relationship. I keep that on my desk at work. I also won a "best actor" trophy in high school.
What do you wish you'd known at 18?
I wish I would've known that being gay is not a sin, so I could accept myself at an earlier age.
Why Washington?
My mom moved to Virginia 15 years ago with her husband and I moved to join them.
Pride rides
Two models offer strong, confident, inspiring styling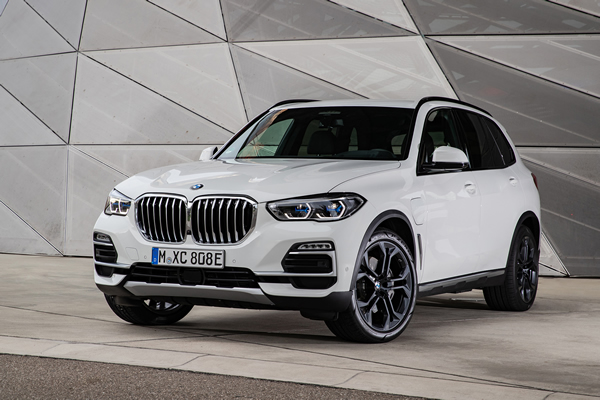 As usual, June is bustin' out all over, with Vice President Kamala Harris making history by joining in the festivities. But the fun doesn't have to end there. Two fine crossover SUVs show how easy it is to keep the party going indefinitely. I call them Pride rides—strong, confident and inspiring.
BMW X5 XDRIVE 45E
$66,000
Mpg: 20 mpg (gas only), 50 mpg (electric and gas)
0 to 60 mph: 4.7 seconds
In 2015, back when Gus Kenworthy and Caitlin Jenner came charging out of the closet, BMW was making its own hoopla with the X5 xDrive 40e. This was the automaker's first plug-in hybrid, an engineering marvel that could shift seamlessly between EV and gas-engine mode. Ride and handling were as good as any traditional SUV. And despite a hefty curb weight, acceleration to 60 mph was a decent 6.2 seconds.
Fast forward to the X5 xDrive 45e, the next-gen model rolling into showrooms this year. Thanks to the pandemic, this debut has been more subtle. But the enhancements are quite substantial. The new engine—stronger and quieter than the previous model—helps this midsize SUV blast to 60 mph in just 4.7 seconds. Despite being over 400 pounds heavier, the updated X5 is actually nimbler. And the electric-only range is 31 miles, or twice as far as the old model. That's a good thing, because overall fuel economy is now 20 mpg versus 24 mpg. Luckily, most motorists drive only about 30 miles each day anyway. (Or at least they did prior to the pandemic.)
Inside, the cockpit design is minimalist chic, but with lots of standard features: faux-leather seats, panoramic roof, two 12.3-inch digital screens, and smartphone integration for both Android Auto and Apple CarPlay. All-wheel drive also is standard, even in electric-only mode. Along with all the latest safety gear, there's active cruise control with a stop-and-go function that can be used at speeds up to 130 mph (yo, for autobahn drivers, not those of us stateside). And during a much-needed weekend getaway with some freeway backups, the traffic-jam-assist feature worked its magic: I was able take my hands off the wheel and relieve a lot of driver fatigue and frustration as the vehicle drove itself. This also was a blessing for my partner, who didn't have to listen to me swear like a New York City taxi driver.
MERCEDES GLS 450
$76,000
Mpg: 20 city/24 highway
0 to 60 mph: 5.8 seconds
For a few more bells and whistles, there's the Mercedes GLS 450. This full-size SUV has acres of cargo room and can easily seat seven passengers. For a sportier vibe, you can swap out the second-row bench seat for two captain's chairs.
A robust six-cylinder engine comes standard and provides plenty of punch. The entry-level GLS handles just as effortlessly as the higher-end V8 model, which adds another $23,000 to the price tag. Both vehicles are smooth operators, with all-wheel drive and a sophisticated suspension that raises and lowers the chassis. There's even a clever pothole-sensing system to neutralize nasty bumps and enhance the feeling that this hulking SUV is floating on air. As with many BMWs and Mercedes, the GLS now comes with two huge 12.3-inch screens: one for the digital gauges and the other for the infotainment system.
Various pricey options abound, including five-zone climate control, a tablet to operate the infotainment system, and front and rear massaging seats that can be programmed to apply soothing relief to your back, tush or both. As if such amenities weren't enough, you can toss in heated and cooled cupholders, as well as a cabin fragrance system with choice of four aromas. Both Mercedes and BMW offer vibrant ambient lighting, with thin strips of interior lights illuminating the foot wells, door panels, dashboard trim, climate control vents, cupholders, speaker rims, center console and more. To tap into your inner rainbow, the GLS has a digital color wheel where you can choose from 64 lustrous hues. You can customize the lighting even further, selecting different colors to illuminate various parts of the interior at the same time. For me, calling up some funky mood lighting and a few rockin' Pride songs on the stereo is the perfect way to get the party started.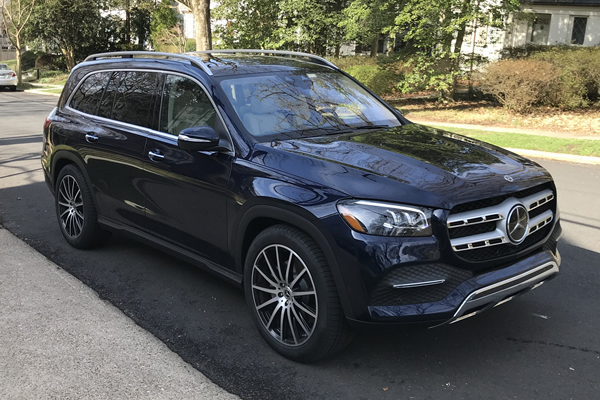 Can you buy a home with Bitcoin?
Buyer, seller must agree to terms before using cryptocurrency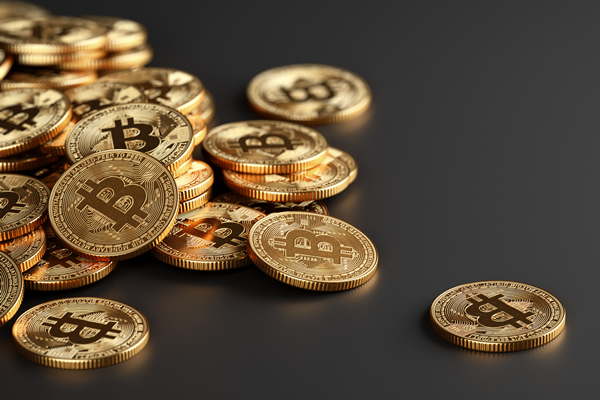 Bitcoin. Most of us have heard of it. Increasingly, many are looking to invest in it. For many, cryptocurrency has now gone beyond being somewhat of an exclusive province for the more adventurous and risk inclined investors and is becoming far more mainstream, as more than 100,000 vendors worldwide accept it as a valid currency. All of this leads to an important question – can you purchase a home with Bitcoin?
For those hoping to do so, the good news is that it is a possibility. In fact, it is a possibility that may not be as distinct or far-fetched as many might have expected. First and foremost, both buyer and seller must agree on the exchange of Bitcoin for the property. As opposed to situations where more traditional forms of payment are utilized, a Bitcoin transaction requires the agreement of all parties up front.
Although you can buy a home with Bitcoin, this doesn't mean that most buyers are in a place yet where they actually do. Certainly, using virtual currency to purchase real estate is still a very new and novel idea, so of course, there is still some hesitation in certain sectors of the market. Often, these concerns center around a lack of regulation and understanding of cryptocurrency. Others have concerns about how Bitcoin transactions will be taxed. All of these questions and concerns are understandable, and it is expected that as cryptocurrency continues to become more mainstream these concerns will lessen, and purchasing a home in this manner may be an option for an increasing number of buyers.
There are also definite pros and cons to a bitcoin home sale. One of the advantages, for many, is that the transaction can be completed very quickly. Often, after everything is signed, the transaction can be completed in as little as 10 minutes, depending on network congestion. On the other side of the coin, however, it's important to be sure that you trust the other party if you're making a real estate purchase. Bitcoin transactions are often not reversible, so it's important to be certain about your choices ahead of time.
Ultimately, while there are many ways to finance the purchase of a home, there's only one way to ensure that you have a smooth and successful real estate experience – and that's by getting connected with the Realtor who knows and loves the community that you're interested in.
As an LGBTQ home buyer or seller, you want someone who values you for who you are, who understands your needs and real estate goals, and who will be committed to helping you achieve them. At GayRealEstate.com, that's where we come in. It is our passion and our purpose to connect LGBTQ homebuyers and sellers, with agents across the country who have the talent, experience, and dedication necessary to make your real estate experience the best it can be. You deserve nothing less. We would be honored to help you get started on your next real estate journey today. Contact us anytime.
Jeff Hammerberg is founding CEO of Hammerberg & Associates, Inc. Reach him at 303-378-5526 or [email protected].
The trendiest paint colors of 2021
Ultimate Gray, Illuminating, Urbane Bronze among year's hues.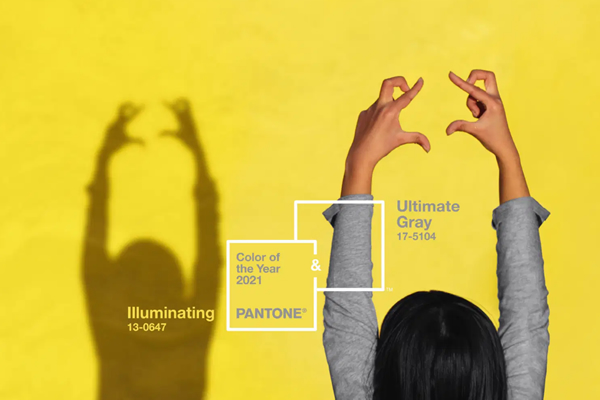 Last year, I decided to forego writing about the paint colors of the year, since many people in our vibrant community were out of work. Buying Farrow and Ball paint for $125 a gallon, it would seem, was not the first thing on their to-do lists.
So here we are in 2021 where the Pantone color of the year is…wait for it…Ultimate Gray.
Aren't we tired of gray yet? Sure, Pantone pairs it with an outrageously bright yellow called Illuminating, which I would have guessed was a blue-toned white had I not seen it online. The combination of gray and yellow has been used in linens and fabrics for several years, albeit in softer hues, so while the stronger hues have been updated for 2021, I don't find them fresh or exciting anymore.
There is an array of colors in the lineup this year that are reminiscent of dirt. Dulux has Brave Ground, a neutral earth tone that "creates a feeling of stability, growth and potential, and provides a firm foundation for change and creativity." That sounds like a color I need to have in my paint collection just to write articles, negotiate real estate contracts, and watch the news.
Sherwin Williams brings us Urbane Bronze, which they describe as "sophisticated" and "rooted in nature." Harvard naturalist Dr. Edward Wilson would have likened it to biophilia, a term he coined for humankind's desire to search for "a connection to nature and other forms of life." I think it would accent cicadas nicely.
Contemplative, the 2021 choice from Pratt and Lambert paints, is a color to think about. It's a deep moss like that found in the rainforest or on the front of my house. I guess it's time for a power-wash.
Teal has been around for decades, but it became so over-used that 20 years ago, Crayola removed Teal Blue from its crayon collection. Now it's back in Benjamin Moore's Aegean Teal, a deep, muted blue-green-gray combination, the ocean's equivalent of mossy Contemplative.
Southwestern dirt is represented by Behr's Canyon Dusk, which looks a little like a New Mexico landscape on a hot, dry day, without the cacti interspersed or the mountains on the horizon. Or try it on the exterior of your organic adobe home.
Glidden suggests using its 2021 choice, Aqua Fiesta, a softer, muted turquoise-aqua blend that won't overpower your bedroom, bathroom and kitchen walls, and will promote a feeling of calm where used.
Dutch Boy has selected Earth's Harmony for 2021. While the name implies a brown tone, this color is actually a cheerful blue that takes you to the moon and back. (Well, to the sky anyway.) Check out how it looks on kitchen cabinets on Dutch Boy's website. Forget the gray-on-the-bottom and white-on-the-top cabinet theme and liven up your kitchen with this vibrant color.
Now, if you're not already on overload, Valspar gives us 12 new colors to select from. Many are neutral and all are muted.
The brown and tan tones include Maple Leaf (think Vermont maple syrup candy), Unforgettable (a perfectly forgettable beige), Arizona Dust (refer to Behr's Canyon Dusk above), and Gallery Gray (gray is possibly a misnomer – it looks tan to me).
The blues and greens are Lucy Blue (teal by another name), Blissful Blue (a mid-toned blue gray), Granite Dust (a very light blend of green and gray), Garden Flower (a happy green with only a touch of gray), and Academy Gray (more akin to teal than gray and the darkest of their 2021 choices).
In addition, Valspar gives us Soft Candlelight (a not-too-bright yellow), Cherry Taupe (a neutral with slightly pink tones), and my favorite, Dusty Lavender (true to its name, although anything called Dusty makes me want to go and take a shower).
Clark and Kensington paint combines its colors into three collections of six colors each: Understated Impact, Mindful Living, and Creative Escape, which sound like things to ruminate about while doing goat yoga.
Each collection features hues that are like the blues, greens, tans, and grays created by every other paint company. The one exception is Red Tulip, found in the Understated Impact collection. It's more of a ruby or garnet than a true red, but it's nice to see someone paint outside the box.
This month, I hope to see more decorating in gem colors: Garnet, Amber, Citrine, Emerald, Sapphire, and Amethyst, with accents of Smoky Quartz and Tiger Eye, and a smattering of Sky-Blue Topaz, Rose Quartz, and Pearls.
Now, wouldn't that make a nice flag?  Stay colorful, my friends.
Valerie M. Blake is a licensed Associate Broker in D.C., Maryland, and Virginia with RLAH Real Estate. Call or text her at 202-246-8602, email her via DCHomeQuest.com, or follow her on Facebook at TheRealst8ofAffairs.