HISTORIC: Supreme Court strikes down DOMA, Prop 8
DOMA violates equal protection; Prop 8 supporters lack standing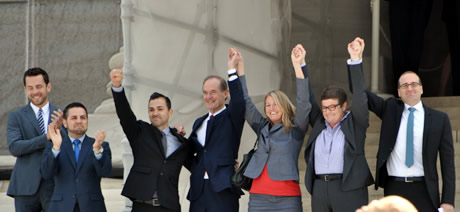 In a historic development, the U.S. Supreme Court handed down two decisions on Wednesday that advanced marriage rights for gay couples and will almost certainly reshape the national debate on the issue.
In one 5-4 ruling, the court determined that the 1996 Defense of Marriage Act is unconstitutional because it violates due process and equal protection for same-sex couples under the Fifth Amendment to the U.S. Constitution. That decision means the U.S. government must begin recognizing same-sex marriages for a broad range of benefits, including those related to federal taxes and immigration law.
Associate Justice Anthony Kennedy wrote the opinion and was joined by Associate Justices Ruth Bader Ginsburg, Stephen Breyer, Sonia Sotomayor and Elena Kagan.
"The federal statute is invalid, for no legitimate purpose overcomes the purpose and effect to disparage and to injure those whom the State, by its marriage laws, sought to protect in personhood and dignity," Kennedy said. "By seeking to displace this protection and treating those persons as living in marriages less respected than others, the federal statute is in violation of the Fifth Amendment."
The dissenting justices were Chief Justice John Roberts and Associate Justices Antonin Scalia, Clarence Thomas and Samuel Alito. In his opinion, Roberts says Congress acted constitutionally in passing DOMA and took issue with the authority the court granted itself in overturning the anti-gay statute.
Writing his dissent, Scalia said the decision of the court robs the American public of its ability to decide the issue of same-sex marriage through the democratic process.
"Some will rejoice in today's decision, and some will despair at it; that is the nature of a controversy that matters so much to so many," Scalia writes. "But the Court has cheated both sides, robbing the winners of an honest victory, and the losers of the peace that comes from a fair defeat. We owed both of them better."
In another 5-4 decision, the court determined anti-gay forces don't have standing to defend California's Proposition 8. That decision leaves in place a district court injunction that prohibits the state of California from enforcing its ban on same-sex marriage. Gay couples will be able to marry in the state once the U.S. Ninth Circuit Court of Appeals lift its stay.
Roberts wrote the majority opinion for the court and was joined by Scalia, Ginsburg, Breyer and Kagan. Kennedy wrote the dissenting opinion and was joined by Thomas, Alito and Sotomayor.
"The Article III requirement that a party invoking the jurisdiction of a federal court seek relief for a personal, particularized injury serves vital interests going to the role of the Judiciary in our system of separated powers," Roberts writes. "States cannot alter that role simply by issuing to private parties who otherwise lack standing a ticket to the federal courthouse."
The court's ruling in the case against Prop 8, known as Hollingsworth v. Perry, is specific only to California — meaning the justices didn't grant the expansive ruling that supporters of marriage equality had sought to bring marriage equality to all 50 states.
Shortly after HRC President Chad Griffin walked out of the court with plaintiffs in the marriage cases, he received a call from President Obama who was aboard Air Force One. Obama congratulated Griffin for the victories as reporters and onlookers watched.
The decisions were handed down 10 years to the day that the Supreme Court announced its landmark decision in the 2003 case of Lawrence v. Texas, which struck down state sodomy laws throughout the country.
The challenge to DOMA, known as United States v. Windsor, was filed by the American Civil Liberties Union and others in 2011 on behalf of lesbian New York widow Edith Windsor. Upon the death of her spouse Thea Spyer in 2009, Windsor had to pay the U.S. government $363,000 in estate taxes because of DOMA — a penalty that she wouldn't have faced if she were married to a man.
The decision striking down DOMA affirms the initial rulings against the federal anti-gay law last year by U.S. District Judge Barbara Jones and the U.S. Second Circuit Court of Appeals.
The Obama administration helped in securing the ruling against DOMA. After it stopped defending DOMA in 2011, the U.S. Justice Department began filing briefs against the law and sent attorneys to litigate against it during oral arguments. U.S. Solicitor General Donald Verrilli argued against DOMA before the Supreme Court, saying the law doesn't hold up under the standard heightened scrutiny, or a greater assumption it's unconstitutional.
But the Supreme Court didn't get to the issue of heightened scrutiny in the DOMA case because it found the law was unconstitutional under the less stringent standard of rational basis review.
The case against Prop 8 was filed by the California-based American Foundation for Equal Rights in 2009 on behalf of two plaintiff couples — a lesbian couple, Kristin Perry and Sandra Stier, and a gay male couple, Paul Katami and Jeffrey Zarrillo — who were unable to marry because of the state's constitutional ban on same-sex marriage.
The attorneys representing them were Theodore Olson, a former U.S. solicitor general during the Bush administration, and David Boies, a so-called "dream team" of attorneys who represented opposite sides in the 2000 case Bush v. Gore.
Because the state officials — California Gov. Jerry Brown and Attorney General Kamala Harris — refused to defend Prop 8 in court, anti-gay groups that put Prop 8 on the ballot in 2008 such as ProtectMarriage.com took up the responsibility of defending the measure. The California Supreme Court certified the groups had standing under state law and the U.S. Ninth Circuit Court of Appeals affirmed they had standing.
But the high court determined that these groups — even though attorney Charles Cooper spoke on behalf on them in oral arguments — don't have standing because they lack any legal injury in the wake of the lower court's determination that Prop 8 is unconstitutional.
The Obama administration had also assisted in efforts to secure a ruling against California's Proposition 8. The Justice Department filed a friend-of-the-court brief in February saying the ban was unconstitutional and Verrilli argued in court against Prop 8, suggesting all eight states with domestic partnerships should be required to grant marriage rights to gay couples.
The issue of standing also came up in the DOMA case for two reasons. One, the court had questioned whether the U.S. Justice Department could have appealed the district court ruling to the Second Circuit because the initial ruling against DOMA was what the Obama administration wanted. Two, the court questioned whether the Bipartisan Legal Advisory Group, a five-member Republican-majority panel within the U.S. House, had standing to take up defense of DOMA in the administration's stead.
But the court determined an active controversy remains in the case because the U.S. government still hasn't refunded Windsor the $363,000 she paid in estate taxes. Once the court determined it has jurisdiction based on the Obama administration's appeal of the lawsuit, it didn't get to the issue of whether BLAG has standing.
In his ruling, Kennedy writes the continuation of litigation in the absence of a federal ruling on DOMA would cause uncertainty.
"[T]he costs, uncertainties, and alleged harm and injuries likely would continue for a time measured in years before the issue is resolved," Kennedy writes in the ruling. "In these unusual and urgent circumstances, the very term 'prudential' counsels that it is a proper exercise of the Court's responsibility to take jurisdiction."
California mom claims school manipulated child into changing gender identity
Jessica Konen gave the school permission to use the boy's name for attendance and tried to be supportive but noted it was difficult for her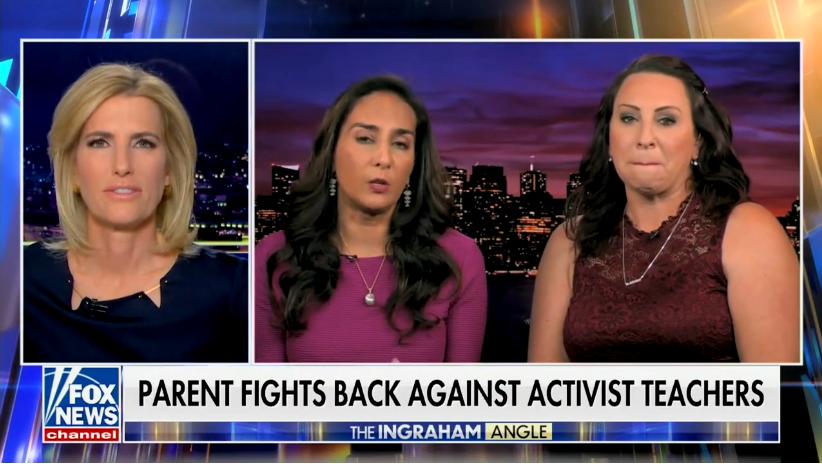 A Northern California mother is claiming teachers in a small school district in the state manipulated her daughter into changing her gender identity and name in a legal claim. 
The claim, filed by the ultra-conservative Center for American Liberty on behalf of the mother, alleged "extreme and outrageous conduct" by the Spreckels Union School District, leading Jessica Konen's 11-year-old daughter to change her gender identity and drive a wedge between them.
Specifically, the claim, a precursor to a lawsuit, names two teachers – Lori Caldera and Kelly Baraki – at Buena Vista Middle who, in addition to teaching, ran the school's Equality Club, later known as UBU (You Be You). Buena Vista is a part of the district.
It comes after Abigail Shrier, the author of a book widely criticized as anti-trans, quoted what the two educators said last year at the California Teachers Association's annual LGBTQ+ Issues Conference in a piece headlined "How Activist Teachers Recruit Kids." Caldera and Baraki spoke about the difficulty of running a Gay-Straight Alliance (GSA) in a socially conservative community.
After the article was published, the teachers were put on administrative leave, and the district hired a law firm to investigate, which is ongoing. The UBU club was suspended.
Spreckels is a town of about 400 people in the agricultural Salinas Valley, approximately 90 miles south of San Francisco.
According to the complaint, Konen's daughter began attending Equality Club meetings after being invited by a friend when she started sixth grade at Buena Vista. After attending one session, she decided it wasn't for her until Caldiera convinced her to come back. At the gatherings, Caldera and Baraki held LGBTQ-centered discussions and introduced students to different gender identities and sexualities.
During her time in the club, Konen's daughter began exploring her own gender identity and sexuality, choosing to wear more masuline clothes. At some point, she decided to change her name and pronouns, which she has since changed back to her original name and pronouns.
Konen said she was aware her daughter was bisexual but did not know she began using a male name and gender pronouns until she was called into the school when her daughter was in seventh grade. The meeting caught both Konen and her daughter by surprise – Konen's daughter had said she wanted to notify her mother, but she did not know the meeting was that day.
Konen gave the school permission to use the boy's name for attendance and tried to be supportive but noted it was difficult for her.
However, when Shrier's article was published and circulated around the small town, everything changed. At this time, Konen's daughter was again using a female name and pronouns.
In the leaked recording from the LGBTQ conference, Caldera and Baraki were discussing how they kept meetings private, among other things.
"When we were doing our virtual learning — we totally stalked what they were doing on Google, when they weren't doing school work," Baraki said. "One of them was googling 'Trans Day of Visibility.' And we're like, 'Check.' We're going to invite that kid when we get back on campus."
However, Caldera told the San Francisco Chronicle that the quotes were either taken out of context or misrepresented. According to Caldera, the stalking comment was a joke. She also defended their work, saying students lead the conversation and they provide honest and fair answers to their questions.
In addition, a spokesperson for the California Teachers Association criticized the group bringing the lawsuit forward, according to the Associated Press: "We are concerned about a political climate right now in which outside political forces fuel chaos and misinformation and seek to divide parents, educators and school communities for their own political gain, which is evident in this complaint. The Center for American Liberty is concerned with pushing its own political agenda through litigation and has filed multiple lawsuits against various school districts and communities."
Man who killed one in 2000 Roanoke gay bar shooting dies in prison
One of the worst bias attacks targeting LGBTQ community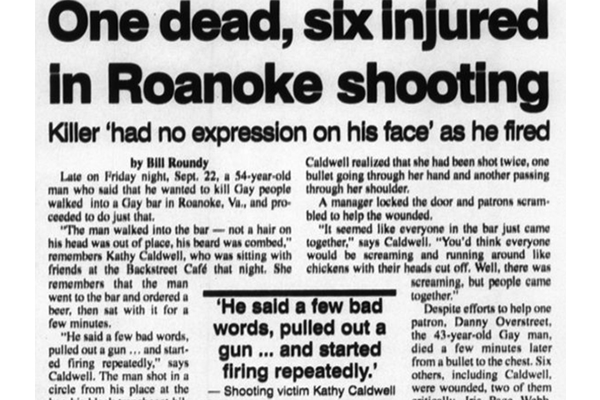 A man sentenced to four consecutive life terms in prison for the September 2000 shooting at a gay bar in Roanoke, Va., in which one man lost his life and six others were wounded, died of natural causes on Jan. 15, according to the Virginia Department of Corrections.
A spokesperson for the Department of Corrections told WSLA 10 TV News that Ronald Edward Gay died while being treated at a hospital near the Deerfield Correctional Center, a state prison where he had been living as an inmate. He was 75.
Witnesses and law enforcement officials reported at the time of the shooting that a middle-aged man later identified as Gay arrived alone at Roanoke's Backstreet Café, a popular gay bar, on the night of Sept. 22, 2000.
According to an account by an eyewitness to the incident who spoke last week with the Roanoke Times newspaper, after ordering a beer and standing next to the bar for a short time, Gay reached into the long trench coat he was wearing, pulled out a 9mm pistol, and fired a round "straight into the chest of 43-year-old Danny Overstreet, before opening fire on the rest of the bar."
Overstreet, a beloved regular patron at the Backstreet Café, died at the scene of the shooting. Six others, who were wounded by bullets fired by Gay, later recovered, but they and many others who were present and witnessed the shooting were left emotionally scarred, the Roanoke Times reported.
In the weeks following the shooting, news media outlets, including the Washington Blade and the Washington Post, reported findings of an investigation by local police that Gay told police he went to Backstreet specifically to target gay people because he became bitter after years of being taunted and teased for his last name of "Gay."
The Roanoke Times reported that, among other things, Gay told police "God told him to do it" and that he once wrote that there was an evil inside of him telling him "to shoot or have no rest."
Gay later pleaded guilty to multiple charges against him, including murder. On July 23, 2001, he was sentenced to four consecutive life sentences in prison for the shooting incident and the murder of Overstreet.
The Backstreet incident in Roanoke was considered by LGBTQ rights advocates and others to be one of the worst incidents in which LGBTQ people were targeted for a shooting until the June 2016 shooting at the Pulse gay nightclub in Orlando, Fla., in which 49 people died and 53 more were wounded in a mass shooting by 29-year-old Omar Mateen.
Mateen, who was shot and killed by Orlando police after a three-hour standoff, told police in a phone call from inside the nightclub after the shooting began that he swore allegiance to the leader of the Islamic State in Iraq and Syria and his attack against the gay nightclub was motivated by the U.S. military intervention in Iraq and Syria. The FBI later classified the incident as a terrorist attack.
The Roanoke Times reported that the shooting incident at Backstreet Café prompted LGBTQ residents and allies to gather in the days and weeks after the incident for vigils and marches. About 1,000 people walked through the streets of downtown Roanoke to honor the life of Overstreet and to urge Congress to pass federal hate crimes legislation, the newspaper reported.
South Korean electronics giant pulls pro-LGBTQ ad after backlash
Singapore campaign showed mother supporting drag queen son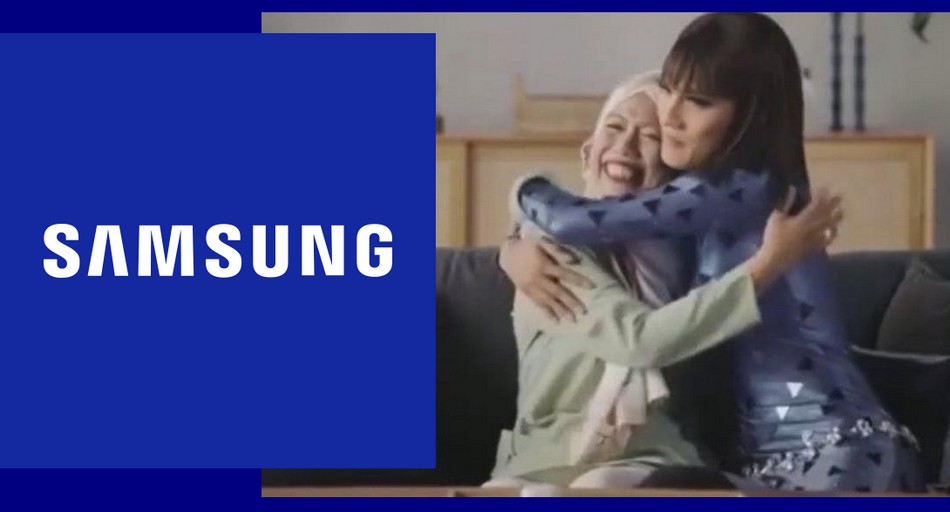 An advert campaign by South Korean electronics giant Samsung was yanked after significant backlash in Singapore from some members of its Muslim-majority community.
The ad, part of the company's "Listen to Your Heart" campaign to promote its Galaxy Buds2 and Watch4, featured a Muslim mother expressing support for her drag queen son.
The ad was meant to promote Samsung's new wearable products, like noise-cancelling earbuds and a smart watch with a heart rate monitor, the BBC reported.
The video featured several participants' reactions as they listened to heartfelt recorded messages from their loved ones. One of the pairs of participants featured a Muslim woman wearing a headscarf as she heard a message from her son, who was a drag performer.
"You are just unbothered having people looking or judging you differently, having a son that does drag," he tells her in his message.
The scene of the Muslim mother embracing her drag queen son sparked a torrent of negative commentary on virtually all social media platforms with some ad hominem remarks directed at Samsung which caused the electronics company to pull the ad.
In a Facebook post Samsung wrote;
"We acknowledge that we have fallen short in this instance, and have since removed the content from all public platforms," Samsung said. "Samsung believes that innovation and growth are driven by diversity and inclusivity. We will certainly be more mindful and thorough in considering all perspectives and viewpoints for our future marketing campaigns."
Members of the local LGBTQ community similarly expressed their disappointment at the ad being taken down.
"It was the first of its kind video coming from a minority group on a relationship between mother and son [and] was so affirming," Hilmi, a center manager at local LGBTQ organization Oogachaga, told BBC News.
"As a queer Malay man, I am saddened to see a video that expresses unconditional love [being] taken down abruptly due to societal pressure from a group of people with conservative values."
Marketing Interactive, an online Singapore-based daily news and email news service which is emailed every work day to advertising and marketing professionals in Singapore, Hong Kong, and Malaysia, interviewed Anand Vathiyar, managing director at Cheil Singapore, the ad agency Samsung partnered with.
The campaign was meant for people from all walks of life to be able to express their true feelings to their loved ones, Vathiyar said.
"What is heartening is that for everyone who is getting politically correct about this episode, there are many others, especially younger Singaporeans, who seem to get that we can do better to listen to each other with due care, empathy, respect, and consideration," Vathiyar added.
Meanwhile, in a video posted on Instagram on Jan. 20, the BBC noted that the son featured in the video also reassured followers that he and his mother were "doing well."
"I'm not going to talk about the comments that [were] said in [that video]," the drag performer known as Vyla Virus said.
"It was all about a mother's love in that video, nothing else was mentioned."