Why so many are 'Ready for Hillary'
Intellect, passion and a potential to upend the electoral map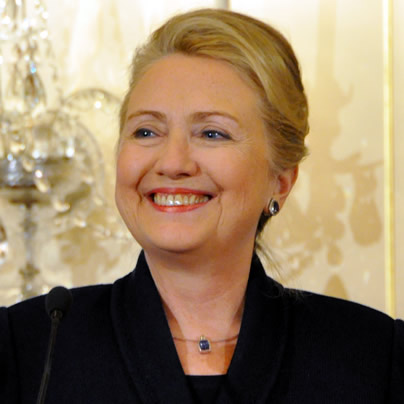 There isn't much Hillary Clinton does these days that doesn't come under scrutiny for how it potentially impacts her possible 2016 presidential campaign. Last week she stoked the fires by having lunch with President Obama and breakfast the next morning with Vice President Biden. Many would have liked to be a fly on the wall at those meals.
Having made no bones about my desire to see Hillary run I was pleased to read the Huffington Post story by Steve Peoples that reported the super PAC "Ready for Hillary" raised more than $1.25 million just this spring. But even more exciting was hiring whiz kids, including Jeremy Bird who developed the Obama field operation and then founded 270 Strategies to get ready a volunteer and field operation should Hillary decide to run.
Why all the continued excitement about a woman who has been in the public eye since Bill Clinton was elected Arkansas attorney general in 1977? A woman who received her baptism by fire on the national level when she appeared on "60 Minutes" doing her so-called "stand by your man" appearance? Clearly there is something about Hillary that intrigues people and makes them want more.
No other woman in America has had more press, both good and bad. There are two projects — a TV mini-series about her and a documentary film on her life — currently in the works. The appetite to see and hear more about her seems insatiable. Organizations that have hired her to make a speech have reported huge increases in attendance at their meetings. The American Society of Travel Agents said its keynote in 2012 drew 800 people and more than 5,000 are expected to come hear Hillary speak at their 2013 meeting in Miami. Another group in Chicago reported long lines at the convention center with more than 17,000 coming to hear her. She can command more than most former presidents for a speech and is only matched by her husband in what people will pay to have her speak.
A recent invitation for a Clinton Foundation reception and dinner at the Italian embassy on Sept. 9 listed $1,000 for the reception and $25,000 a couple for dinner. And that's cheap when you consider that for that amount you get Bill, Hillary and Chelsea. Beginning in 2015 if Hillary announces, it will be at least $37,500 a couple to attend a dinner and that will be with just Hillary.
What makes her potential presidency so exciting is the depth of passion she brings to the causes she cares about and the scope of her knowledge and understanding of what can be done to make a real difference in our world. Her intellect goes without question but she also has a work ethic that surpasses anyone else's. She is now a recognized expert on foreign affairs but maintains her razor focus on issues that impact children, women and girls, and families. She has it all and if elected would be the most prepared person ever to enter the White House for a first term. She won't need that first term to find the levers of power as she knows where they are and how to use them. She has seen the operation of the White House in person and also spent time in Congress. She knows what makes people tick and even what ticks them off.
By her actions and positions Hillary Clinton is a moderate. A moderate who supports national healthcare; marriage equality; a woman's right to choose; promotes a pathway to citizenship for those immigrants who came here illegally to work and find a better life for their families. But she takes second place to none in her belief that we need to maintain a strong national defense. Her positions over the years have gotten those on the left and the right mad at her. Somehow that makes her the candidate I can support. She understands and believes in the separation of church and state and fights for children because she knows that the future success of our nation depends on them.
Speaking as a Democrat it is important to keep together the coalition that elected President Obama. That includes the middle class, young people, minority voters, and LGBT Americans. Hillary speaks to those voters but she also speaks to women across the political spectrum who can rightfully say, "It is our time." Hillary has the ability that no other potential candidate has to change the political landscape and win not only the Northeast and West but to add states like Texas, West Virginia and Arkansas, among others, to the Democratic column. Those are some of the reasons so many are "Ready for Hillary."
Biden's empty political theater on LGBTQ equality
President is a nice man who lacks the passion to fight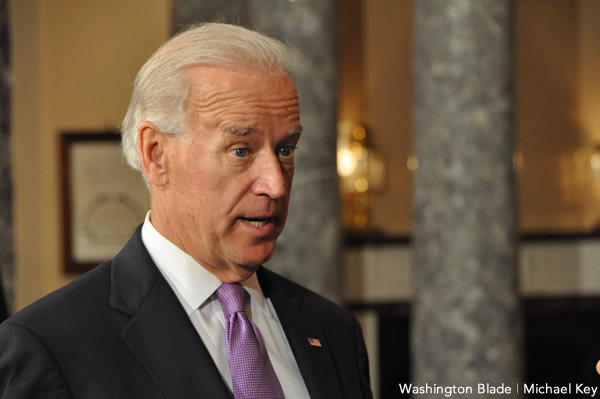 Shortly before Joe Biden was inaugurated, LGBTQ Nation leaked a conference call between mainstream LGBTQ advocates and the president-elect in which he backed off repeated, forcible campaign promises to make passage of the Equality Act a top priority during his administration's first 100 days.
I wrote an article criticizing him for reneging on his pledge. The Los Angeles Blade picked up my piece as an op-ed, and it went viral. I got a tremendous amount of feedback, much of it negative, more of it counseling patience, but now that a year has passed, let's take a look at how things worked out.
In the first days of his presidency, Biden did vital work with pro-LGBTQ executive orders — redirecting the federal bureaucracy, which had become overtly homo/transphobic under Trump, and working to fix transgender military policy — but he never pushed for the Equality Act, which would have finally offered LGBTQ people status as free people in our own nation, protected by law from discrimination in housing, employment, public accommodations, credit, education, etc.
Without the Act, his executive orders won't be worth the paper they're written on when the next Republican president takes office.
Not only did President Biden fail to spend political capital to make the Act a top priority in his first 100 days, he never made it a priority of any kind.
Beltway insiders tell me the president did nothing behind the scenes to honor the pledge he made repeatedly to LGBTQ people in exchange for our votes. He did nothing publicly either. No national speeches. No fireside chats. No appeals to the better angels of the American people. He just stopped talking about the Equality Act, like if he never mentioned it again, we'd forget he promised to prioritize it.
The House passed the Act again this year, but it stalled in the face of Senate filibuster rules, which require 60 out of 100 votes for most legislation to pass. Progressive Democrats have been calling for ending or changing the filibuster since the day Biden took office, but not until last week did he announce support for changes, which brings us to the second half of today's grievance.
In recent days, pressure has been intensifying on President Biden to lead on passing meaningful protections to counter strict new state laws that Republicans have been enacting to make voting more difficult, especially for Black voters.
Two federal laws proposed by Democrats, — the Freedom to Vote Act and the John Lewis Voting Rights Advancement Act — would protect voter rights by (among other things) creating national standards for mail-in voting and restoring stripped-out elements of the Voting Rights Act. Republicans know the only way they can stay in power in many states is to suppress votes, especially the votes of Black people and other people of color. Republican senators fiercely oppose voter protection and will filibuster.
President Biden traveled to Atlanta last week to make a speech about supporting voter protection. Finally, after nearly a year in office, he indicated he might support changing the filibuster custom. The nation yawned. Black voters blinked. LGBTQ voters sighed in dismay.
A number of influential Black political activists in Georgia snubbed Biden's speech, saying in advance they would not bother attending an event they called a "waste of time." Democratic gubernatorial hopeful Stacey Abrams was notably absent, which she and Biden both claimed was due to a scheduling conflict, but Georgia political insiders say she was sending the president a powerful message: Get serious. Take action. Stop with meaningless political theater, especially on my turf, where I've been doing the kind of real work you won't do.
Obviously, the 50/50 Dem/Rep split in the Senate is not the president's fault. Nor is he responsible for the recalcitrance of Democratic Sens. Joe Manchin of West Virginia and Kyrsten Sinema of Arizona. They have each refused to consider filibuster reform, and without their votes it can't happen.
But does Biden even want filibuster change?
He has consistently served up weak tea on the issue, calling himself an "institutionalist" and an "incrementalist," which Democratic leaders have taken to mean he either doesn't support overhauling Senate rules, or that he won't get tough on Democratic senators who vote against overhauls.
If Biden has tried even half-heartedly to strong-arm Manchin and Sinema, he has not done so in public. Beltway insiders say he hasn't done anything, just like he hasn't prioritized the Equality Act.
Meanwhile, while the Democratic Party led by Joe Biden waffles and drifts, the Republicans maintain tight party discipline and look set to take the House back this year. They will continue to push agendas cementing themselves in power, putting democracy itself in grave danger, and making life for minorities increasingly unequal, painful, and difficult.
We don't care about your institutions, Joe. We don't value Senate customs and traditions, which mean nothing to us beyond what they can or can't accomplish. We care about action. We demand results. You promised to deliver, and you're failing us. Now you choose to go to Atlanta and say some pretty words? Nobody wants pretty words, Joe. You can keep them.
Look, we know your heart is in the right place, but we want your muscle to be in the right place. We want you to take charge, to LEAD, to exercise some of the awesome power of your office.
We expect you to play to win, to twist arms, to name and shame, to do whatever it takes to keep the promises you made to us when you needed our votes.
You need to get serious, Mr. President. If you don't start kicking ass and taking names, don't count on us to vote for you again. I mean that. There's a REASON you're dropping precipitously in the polls. It's us, man. It's Democratic members of minorities fed up with your milquetoast, do-nothing, business-as-usual approach to crises we see as EXISTENTIAL. While Republican rank-and-file are telling pollsters they believe armed violence against the government may be desirable, and while they're demonizing Black people, immigrants, and queer people, you're acting like everything is relatively fine.
It's not.
We voted for a champion, but we got you instead, a very nice man who evidently lacks the gonads to fight for us. Please turn that around. Please get real. Please get tough. Please start fighting to win.
Today would be an excellent day to start keeping your promises.
James Finn is a former Air Force intelligence analyst, long-time LGBTQ activist, an alumnus of Queer Nation and Act Up NY, and a frequent columnist for the Blade. Reach him at [email protected].
Support the arts: See 'Our Town' at Shakespeare Theatre
In-the-round production features diverse, stellar cast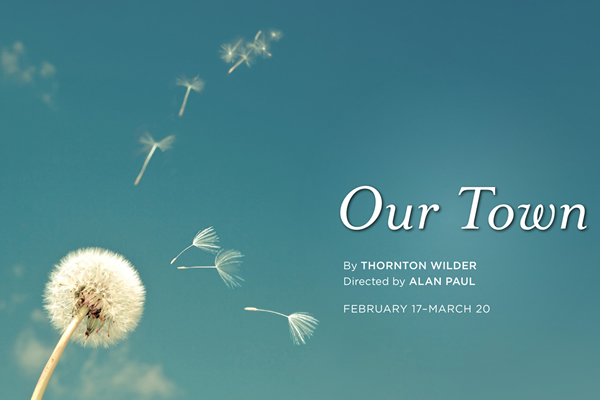 When we finally had the chance to go to live theater again, the Shakespeare Theatre Company (STC) opened its doors with the pre-Broadway production of "Once Upon a One More Time" with Britney Spears' music. It was a risk Simon Godwin, STC's artistic director, took and it succeeded. Seats filled beyond expectations with many who had never been to an STC production before.
Now it's hoped many of those new theatergoers will come back to see the classic play "Our Town" by Thornton Wilder. It will be at Shakespeare Theatre Company's (STC) Harman Hall, Feb. 17-March 20. Many of those new audience members could find it a memorable and deeply thought-provoking night in the theater.
The play is being directed by the talented D.C. resident Alan Paul, associate artistic director of the STC. Paul is a Helen Hayes award-winning director of "A Funny Thing Happened on the Way to the Forum" and has numerous Hayes nominations for productions, including "Comedy of Errors"; Studio Theatre 2ndStage "Silence! The Musical"; and "Man of La Mancha."
"Our Town" is Thornton Wilder's Pulitzer Prize-winning play and its various productions over the years imbued audiences with a wonderful shared sense of humanity, something we are in desperate need of in today's world.
The play tells the story of the fictional American small town of Grover's Corners between 1901 and 1913. It's told through the everyday lives of the people of the town. Through them and what some might see as their generally typical lives, we are led to understand some universal truths about life and death, love, and community.
In looking at the cast Paul chose, I realized all the ones I knew were from our own community. When I asked him about this he told me, "When I decided to direct 'Our Town,' the only way to do it would be to use the riches of talent who live in Washington, D.C. I saw many people out of work during the pandemic — actors and freelance artists were hit the most — so when we decided to do this play, I wanted to get the best actors I could find and found them here and knew I wanted to showcase them." Turns out the great talent in our city is very diverse. The cast is white, Black, Latino, Asian and includes four who, along with Paul, are part of the LGBTQ community — Holly Twyford, Tom Story, Sarah C. Marshall, and Christopher Michael Richardson, all brilliantly talented and known to the community from their previous roles in various theaters around the DMV. The rest of the talented cast includes: Felicia Curry, Elliot Dash, Natascia Diaz, Josh Decker, Eric Hissom, Hudson Koonce, Jake Loewenthal, Tommy Nelson, Chinna Palmer, Maisie Ann Posner, Suzanne Richard, Kimberly Schraf, Craig Wallace, Summer Wei and Travis Xavier.
"Our Town" is introduced and narrated by the stage manager (Holly Twyford), who welcomes the audience to the fictional town of Grover's Corners, N.H., early on a May morning in 1901. The play then follows the characters for 12 years through their everyday lives. After the stage manager's introduction, the activities of a typical day begin. Howie Newsome (Christopher Michael Richardson), the milkman, and Joe Crowell, Jr. (Hudson Koonce), the paperboy, make their delivery rounds. Dr. Gibbs (Eric Hissom) returns from delivering a set of twins at one of the homes in town. Mrs. Gibbs (Natascia Diaz) and Mrs. Webb (Felicia Curry) make breakfast, send their children off to school, and meet in their gardens to gossip.
What should make this show particularly exciting is for the first time at the Harman a play will be done in-the-round. The stage will be extended out into the theater and the audience will be seated around it with some seats actually on the stage. Some cast members may actually be in the audience and speak from their seats helping to bring the audience into the action.
Paul also assembled a superb artistic team for this production including among others; Scenic Designer Wilson Chin, Lighting Designer Yi Zhao, Composer Michael John LaChiusa and Costume Designer Sarafina Bush.
The Shakespeare theatre will abide by all CDC and DC guidelines in place at the time to ensure the safety and health of its staff, actors, and patrons.
Supporting the arts is something we all should do; going to the theater is something all of us can enjoy. I have high hopes for a great night at the theater with "Our Town." Tickets can be purchased online.
Peter Rosenstein is a longtime LGBTQ rights and Democratic Party activist. He writes regularly for the Blade.
The future of lesbian bars
Resolve to support our queer spaces in 2022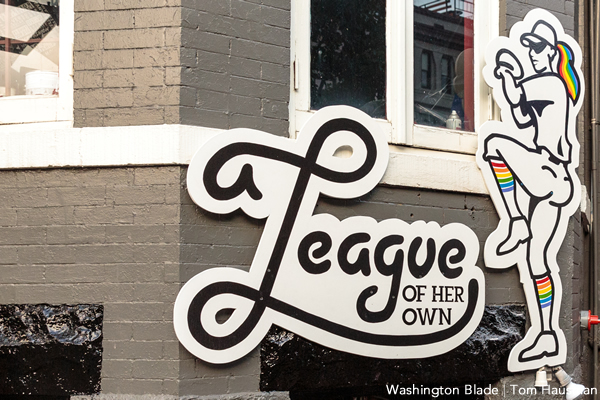 This New Year, I hope you wish for more lesbian bars across the country. The story of lesbian bars in the U.S. has been slightly tragic of late: as of January 2021, there were only 15 clubs or bars dedicated to queer women across the country.
That's right—only 15. Across all 50 states.
In Washington, D.C., my hometown, A League of Her Own stands out as the only lesbian bar in the city, dedicated to queer women. Located in Adams Morgan, A League of Her Own, also known as ALOHO, is a small mecca for queer ladies to pass through, socialize, and flirt. ALOHO is a chic gathering point for all queer folk, with posters of softball players dotting the walls and gender neutral signs lying about.
Several years ago, another lesbian bar called Phase 1 existed in Southeast, where queer women could slam eight balls in pool games and engage in raunchy yet ever-so-hot jello wrestling competitions.
Unfortunately, Phase 1 shut its doors in 2016.
So what explains the closure of so many lesbian bars, while bars for gay men continue to flourish? Perhaps many queer women view gay bars as a space for their own as well, whereas gay men view lesbian bars as less of a place for them to socialize.
Either way, we need to give support to lesbian bars now more than ever. Tokens of support can take many forms.
For one, make sure to socialize in spaces dedicated to queer ladies. There are three lesbian bars in New York City: Cubbyhole (281 W. 12th St.), Gingers in Brooklyn (363 5th Ave.), and Henrietta Hudson (438 Hudson St.). Next time you visit the Big Apple, make sure to give these three spots some love. Maybe drag your experimenting bi friend to these locations. Or your pansexual roommate.
Back in D.C., you can buy unisex shirts in A League of Her Own's merchandise store, available online.
Proceeds will go toward funding the bar, and making sure it stays afloat, especially during this COVID economy.
Most of all, I hope you encourage your queer lady friends to keep on frequenting queer lady destinations. After all, there is only one thing that will keep lesbian bars afloat—and that is attendance.
I, for one, will be frequenting many lesbian destinations this new year.  
Isaac Amend is a Yale graduate and participated in National Geographic's 'Gender Revolution' documentary. He also is a member of the LGBT Democrats of Virginia, and contributes regularly to the Blade. Follow him on Twitter and Instagram at @isaacamend.