Bi advocates seek visibility through White House roundtable
Closed-door meeting to take place Monday
Bisexual advocates are hailing an upcoming roundtable at the White House as an opportunity for greater discussion about their issues — despite the closed-door nature of the panel.
For the first-time ever, the White House Office of Public Engagement is set on Monday to hold a meeting on bisexual issues at the Eisenhower Executive Office Building. The roundtable, which is closed to the press, will take place on Celebrate Bisexuality Day on which bisexual visibility is observed.
Two groups responsible for putting together the roundtable are the Boston-based Bisexual Resource Center and BiNet USA, an umbrella organization for bisexual groups.
Faith Cheltenham, president of BiNet USA, said she's "excited" the administration is taking time to talk to members of the bisexual community about their issues.
"Our community is definitely in desperate need," Cheltenham said. "We're hoping that this dialogue is just the start of a very long, fruitful relationship to help serve our community."
An observer might reject the idea of the need for a separate discussion on bisexual issues when they're closely to tied to gay and lesbian issues. After all, bills like the Employment Non-Discrimination Act provide protections based on sexual orientation, which is inclusive of bisexuality.
Cheltenham, who's married to a straight man, rejected the notion that bisexuals automatically face the same challenges as gay or lesbian people, saying many bisexual people suffer additional discrimination.
"When we do come out, the things that happen to us are different than what happens to gays or lesbians," Cheltenham said. "We won't get promoted sometimes because we're out and people think we're flaky. That has nothing to do it. Bisexuality is sexual orientation; it's an innate part of who we are."
These advocates also say bisexual visibility is necessary because bisexuals face disparity not only in the general population, but within the LGBT community.
For example, as Cheltenham noted, a 2013 report from the Centers for Disease Control Control found 61 percent of bisexual women have faced intimate partner violence, sexual violence and stalking based on their sexual orientation. Comparatively, the numbers are 44 percent for lesbians, 35 percent for straight woman, 26 percent for gay men and 37 percent for bisexual men.
Cheltenham also said bisexual men face unique problems compared to gay men in terms of increased vulnerability to mental health issues and HIV/AIDS.
"Te HIV prevention models that have been working or do work for gay men and heterosexual men — there's no specific bisexual one, and that's a problem," Cheltenham said. "So bisexual men aren't being educated on HIV at the levels that we want them to be. We're not seeing them reflected in HIV materials."
Ellyn Ruthstrom, president of the Bisexual Resource Center, said the White House roundtable provides an important opportunity for bisexual advocates to come together to "share their perspectives" with LGBT advocates and administration officials.
"Our bisexual community is suffering to a larger degree on many of these different health disparities, mental health issues," Ruthstrom said. "You just assume if we're addressing just the LGBT community as a whole, then we must be taking care of bisexuals. And that is not the case."
Although bisexuals may not be considered as publicly prominent as lesbian or gay people, a 2011 report from the Williams Institute estimated that they actually make up a majority of those who identify as lesbian, gay or bisexual.
Among the 3.5 percent of the population identifying as LGB, bisexuals comprise a slight majority, or 1.8 percent, compared to the 1.7 percent who identify as lesbian or gay, the report says.
Cheltenham and Ruthstrom were reluctant to talk about how many people will attend the roundtable, or disclose any names of participating advocates or administration officials because the event is off the record.
Still, they confirmed they planned to attend along other bisexual advocates and researchers from across the country, including a large percentage of people of color. The Human Rights Campaign has previously said it would take part in some capacity.
Asked whether President Obama would attend, Cheltenham said she couldn't speak to it, but hasn't heard he'll be in attendance.
Shin Inouye, a White House spokesperson, confirmed the roundtable would take place on Monday, but declined to provide additional information other than to affirm it's closed to the press.
"As it routinely does with interested parties on any number of issues, the White House Office of Public Engagement will hold a briefing on Monday on issues of concern to the bisexual community," Inouye said. "This event is closed press."
It's not unusual for the Office of Public Engagement to hold meetings that aren't public. That's generally the ground rules for the events that office holds — LGBT or otherwise.
Asked whether she wants the White House to open up the event, Cheltenham would only say generally she sees value in discussions on bisexual issues be open to the public.
"I'm totally in support of any public event that gives us a chance to dialogue about the disparities of our community — whatever they may be, whether that's at the White House, or at HRC or at other places," Cheltenham said.
While the meeting may be a first for the White House, bisexuals have been organizing independently of the LGBT community for some time. The Bisexual Resource Center, for example, was founded in 1985 following a regional conference.
Cheltenham said bisexual advocates have engaged with the White House for years and first brought up the idea for a panel with then-White House LGBT liaison Brian Bond in June 2010.
"From there, we started having discussions about what that would look like," Cheltenham said. "We engaged the White House, and this is sort of where we came together."
Robyn Ochs, a Boston-based bisexual activist and educator, told the Washington Blade via email she's "delighted" the roundtable is taking place because the needs of bisexual people "are not exactly the same" as others in the LGBT community.
"Yet in research, in public policy and in health policy we are usually either lumped in with lesbians and gay men, or else completely ignored," Ochs said. "For this reason, I am delighted that this meeting is taking place, as it is an opportunity to shine some light on issue facing this sizable population."
Federal judge blocks White House from ending Title 42
Advocacy groups say policy further endangered LGBTQ asylum seekers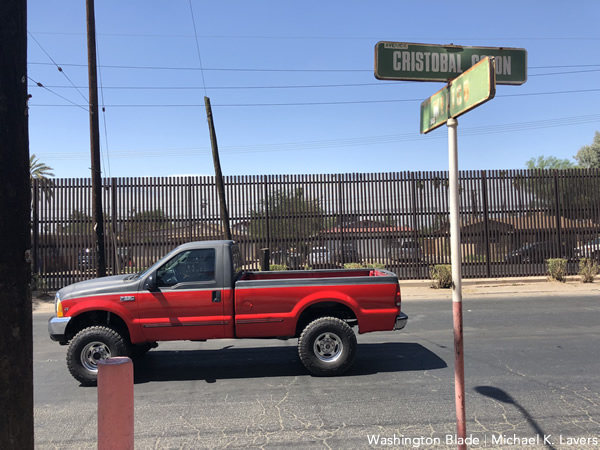 A Centers for Disease Control and Prevention rule that closed the Southern border to most asylum seekers and migrants because of the pandemic was to have ended Monday, but it remains in place after a federal judge blocked the Biden administration's plans to end it.
The White House last month announced it would terminate Title 42, a policy the previous administration implemented in March 2020.
U.S. District Judge Robert Summerhays in Louisiana on May 20 issued a ruling that prevented the Biden administration from terminating the Trump-era policy. White House Press Secretary Karine Jean-Pierre in a statement announced the Justice Department will appeal the decision, while adding the administration "will continue to enforce the CDC's 2020 Title 42 public health authority pending the appeal."
"This means that migrants who attempt to enter the United States unlawfully will be subject to expulsion under Title 42, as well as immigration consequences such as removal under Title 8 (of the U.S. Code)," said Jean-Pierre.
Advocacy groups and members of Congress with whom the Washington Blade has spoken since Title 42 took effect say it continues to place LGBTQ asylum seekers and other vulnerable groups who seek refuge in the U.S. at even more risk.
Oluchi Omeoga, co-director of the Black LGBTQIA+ Migrant Project, last month described Title 42 as a "racist and harmful policy." ORAM (Organization of Refuge, Asylum and Migration) Executive Director Steve Roth said Title 42 "put asylum seekers in harm's way in border towns and prevented them from seeking safety in the United States."
Title 42 was to have ended less than a month after five members of Congress from California visited two LGBTQ shelters for asylum seekers in the Mexican border city of Tijuana.
The Council for Global Equality, which organized the trip, in a tweet after Summerhays issued his ruling described Title 42 as a "catastrophe."
"The Biden administration cannot breathe a sign of relief until it's a matter of the past," said the Council for Global Equality on Saturday. "We remain committed to end Title 42."
#Title42 is a catastrophe — and the Biden administration cannot breathe a sigh of relief until it's a matter of the past. We remain committed to #EndTitle42. https://t.co/9EKJTiJzoV

— The Council for Global Equality (@Global_Equality) May 20, 2022
U.S. official meets with Brittney Griner
Consular visit took place on May 19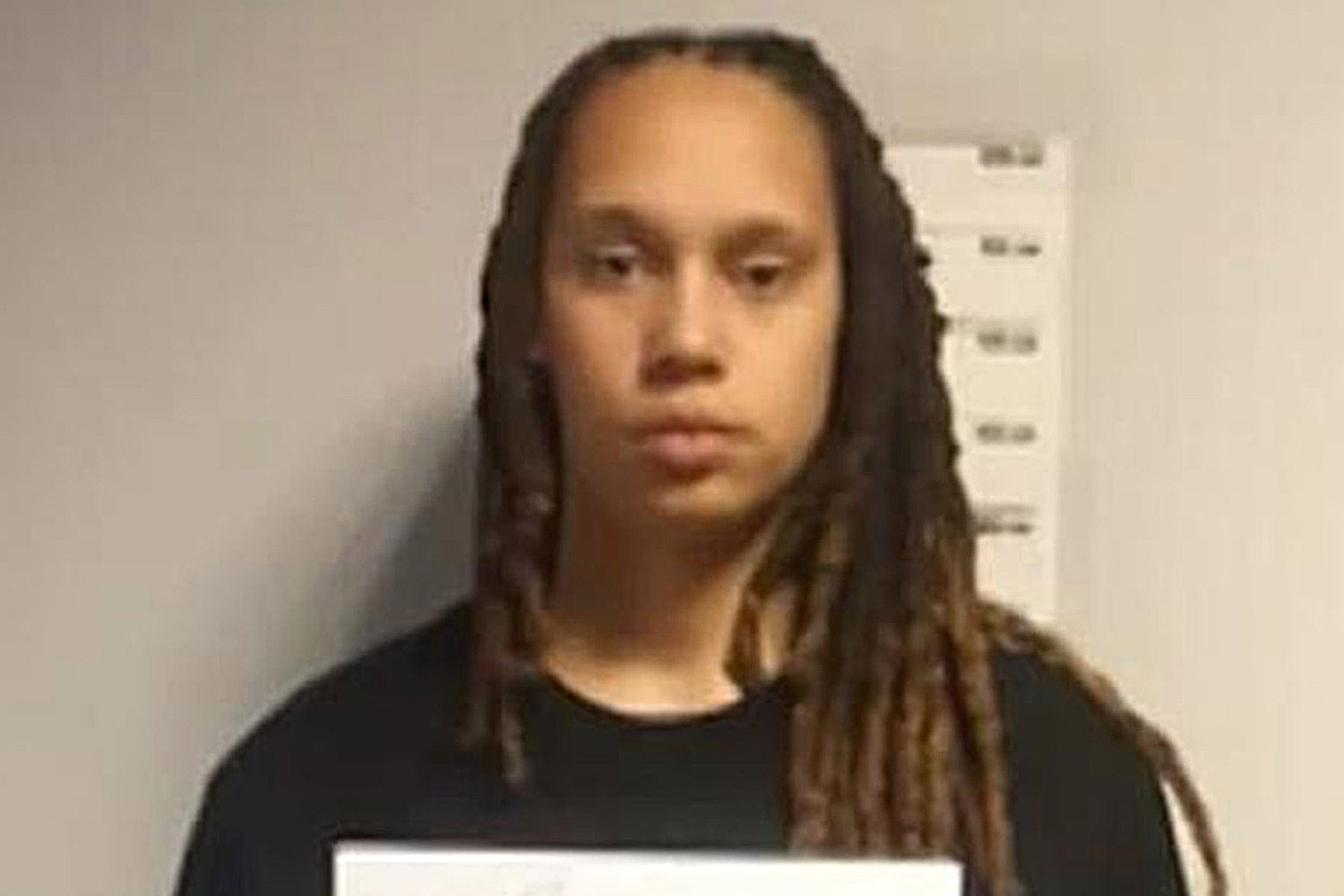 A U.S. consular official on May 19 visited detained WNBA star Brittney Griner in Russia.
State Department spokesperson Ned Price on Friday told reporters during a virtual briefing the officer "found her continuing to do as well as could be expected under these exceedingly challenging circumstances." The officer met with Griner two days after U.S. Ambassador to Russia John Sullivan said Russian officials had denied consular visits with her three times this month.
"Our message is a clear and simple one," said Price. "We continue to insist that Russia allow consistent and timely consular access to all U.S. citizen detainees. One-off visits are not sufficient, and we will continue to call on Moscow to uphold its commitments under the Vienna Convention for consistent and timely access as well."
Griner — a center for the Phoenix Mercury and a two-time Olympic gold medalist who is a lesbian and married to her wife — was taken into custody at Moscow's Sheremetyevo Airport in February. Russian officials said customs inspectors found hashish oil in her luggage.
The State Department has determined Russia "wrongfully detained" Griner.
A Russian court on May 13 extended her detention for another month. The Women's National Basketball Players Association, a union that represents WNBA players, has endorsed a petition that urges the Biden administration to "prioritize" Griner's release.
Secretary of State Antony Blinken spoke with Griner's wife, Cherelle Griner, on May 14.
U.S. announces more funding to fight HIV/AIDS in Latin America
Jill Biden made announcement on Saturday in Panama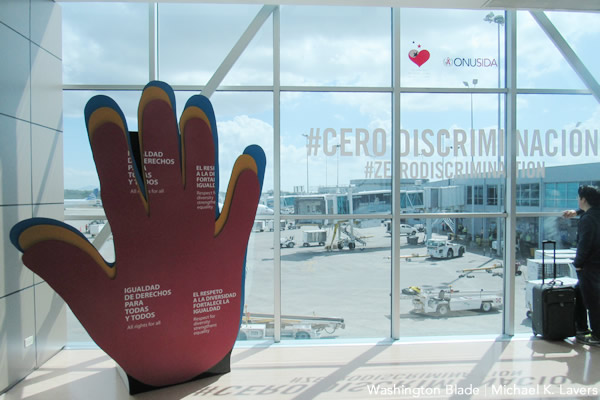 First lady Jill Biden on Saturday announced the U.S. will provide an additional $80.9 million to the fight against HIV/AIDS in Latin America.
Biden during a visit to Casa Hogar el Buen Samaritano, a shelter for people with HIV/AIDS in Panama City, said the State Department will earmark an additional $80.9 million for President's Emergency Plan for AIDS Relief-funded work in Latin America. A Panamanian activist with whom the Washington Blade spoke said LGBTQ people were among those who met with the first lady during her visit.
Pope Francis visited the shelter in 2019.
"I'm glad we have the opportunity to talk about how the United States and Panama can work together to combat HIV," said the first lady.
Michael LaRosa, the first lady's spokesperson, noted Panama will receive $12.2 million of the $80.9 million in PEPFAR funding.
"This funding, pending Congressional notification, will support expanded HIV/AIDS services and treatment," said LaRosa.
UNAIDS statistics indicate an estimated 31,000 Panamanians were living with HIV/AIDS in 2020. The first lady's office notes the country in 2020 had the highest number of "newly notificated cases of HIV/AIDS" in Central America.
The first lady visited Panama as part of a trip that included stops in Ecuador and Costa Rica.
The Summit of the Americas will take place next month in Los Angeles. The U.S. Agency for International Development and PEPFAR in April announced they delivered more than 18 million doses of antiretroviral drugs for Ukrainians with HIV/AIDS.