Another 'marriage moment' before year's end?
Action underway in New Mexico, Illinois and Hawaii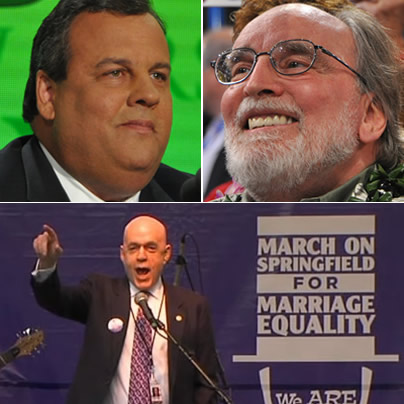 The month of October 2013 could go down in history as a milestone in the marriage equality movement.
In addition to New Jersey becoming the 14th state in the country to make same-sex marriage legal, states across the country in recent days saw developments in the legislatures and the courts on marriage equality that could expand that roster of equality states by the end of the month.
James Esseks, director of the LGBT project for the American Civil Liberties Union, predicted during a conference call with reporters last week the activity on same-sex marriage this month could create another "marriage moment."
"I think we are approaching another marriage moment this fall with potential developments in three to four states coming soon," Esseks said.
The action on marriage comes on the heels of the filing of new litigation both in federal and state courts as well as new legislative efforts seeking marriage equality initiated after the Supreme Court ruled on the Defense of Marriage Act and California's Proposition 8 in June.
Dan Pinello, a political scientist at the City University of New York, said the activity on marriage equality at this time is in part the result of the Supreme Court's actions.
"The high court's decision unleashed a floodgate of pent-up demand in the LGBT community that is finding true expression in a tidal wave of federal litigation," Pinello said. "The ruling also prompted an increased awareness of newly recognized constitutional rights among federal judges in the lower courts. The outcomes of all this legal activity will emerge over the next several years."
The Washington Blade has already provided coverage of developments on marriage equality in New Jersey and Michigan. Here are details on other states in recent weeks.
New Mexico
The New Mexico Supreme Court heard oral arguments on Wednesday in a case brought by all 33 New Mexico clerks, state district courts and a group of same-sex couples seeking a determination on whether state law permits same-sex marriage.
The arguments in the case, Griego v. Oliver, were divided into two portions. The first examined whether the current statutory scheme for marriage under New Mexico law already allows same-sex marriage because portions of it are gender-neutral. In the second, attorneys made their case on whether same-sex couples have a guaranteed right under the state constitution to marry regardless of what the statute says.
Representing Republican lawmakers seeking to prohibit same-sex marriage in New Mexico was attorney James Campbell, who argued that only the legislature has authority to legalize marriage rights for gay couples. Campbell maintained marriage under New Mexico law is reserved for opposite-sex couples because "those unions, unlike same-sex unions, have a natural ability to procreate."
Campbell also argued that the court shouldn't determine gay people should be considered a suspect class because they enjoy political power. The legalization of same-sex marriage through state legislatures as well as the Democratic Party and President Obama's endorsement of same-sex marriage, Campbell said, is evidence of this political power.
Representing the views in court of District Judge Alan Mallot, who had previously ruled that same-sex couples can marry because of the gender-neutral language in the marriage law, was attorney Daniel Ivey-Soto.
Attorney General Gary King sent two attorneys to argue a more middle-ground argument. Assistant Attorney General Scott Fuqua argued that the current gender-neutral statute doesn't permit same-sex marriage, but Assistant Attorney General Sean Cunniff maintained gay couples should be allowed to marry under the equal protection provisions under the state constitution.
Same-sex couples were represented by attorney Maureen Sanders, who articulated a similar view. She argued the gender-neutral law doesn't allow gay couples to marry in New Mexico, but said "denying same-sex couples the right to marry is a violation of the New Mexico Constitution."
Sanders also argued gay people should be considered a suspect class. The court shouldn't look to the recent advancement in LGBT equality, she said, but the long history of discrimination the LGBT community has experienced.
Justices appeared skeptical of the idea of continuing to ban same-sex couples from marrying in New Mexico. In response to Campbell's argument that marriage is for procreation, Chief Justice Charles Daniels noted many benefits related to marriage aren't given to couples based on whether they've had children.
Despite hopes that the court would issue a ruling on marriage equality at the conclusion of the arguments, justices signaled as they began they would need more time. It's unclear when a decision could come down, although it could be a matter of weeks.
Nevada
The federal marriage equality case that is closest to the Supreme Court is also seeing movement as proponents of marriage equality — following the lead of Lambda Legal, which is responsible for the lawsuit — were set to weigh in on bringing marriage equality to Nevada.
On Oct. 18, Lambda Legal filed a 100-page brief before the U.S. Ninth Circuit Court of Appeals in the case of Sevcik v. Sandoval, a lawsuit the organization filed last year. Because the case is now before an appellate court, it's the most advanced lawsuit that's pending before federal courts.
The opening brief makes use of the U.S. Supreme Court decision against the Defense of Marriage Act by arguing that Nevada's ban on same-sex marriage deprives gay couples of the crucial benefits just as the anti-gay federal law had done.
"By foreclosing same-sex couples from marriage, Nevada inflicts virtually the same collection of federal harms and deprivations on unmarried same-sex couples as DOMA previously did, since nearly all federal benefits are unavailable to unmarried couples, regardless of whether they are registered domestic partners," the brief states.
A major component of the argument that Lambda makes against the ban on same-sex marriage is the state's domestic partnership system is inadequate for gay couples even though it provides them the legal equivalent of marriage.
"Relegating same-sex couples to registered domestic partnership is no remedy," the brief states. "That novel, inferior status qualifies unmarried same-sex couples for virtually no federal benefits, and instead designates same-sex couples as second-class citizens and subjects them to a host of practical difficulties and vulnerabilities."
Accompanying the opening brief is a motion to the court for permission to file another brief no longer than 26,500 words for "an adequate exposition of the plaintiff couple's claims."
Friend-of-the-court briefs in favor of marriage equality were also due in the case on Wednesday. That marks the opportunity for the Obama administration to weigh in on the lawsuit by filing its own friend-of-the-court brief in the case. Lambda has previously said it would "welcome" a brief from the U.S. Justice Department in the case, but as of Tuesday had no information on whether one would be forthcoming.
Illinois
All eyes will be on the Illinois Legislature in the coming days as lawmakers return for a "veto session" that will likely include a vote in the State House on marriage equality.
On Tuesday, the first day of the veto session, supporters held a "March on Springfield" to urge passage of the marriage equality legislation. Speakers at a rally held near the State Capitol Building included Gov. Pat Quinn and U.S. Sen. Richard Durbin (D-Ill.).
According to Buzzfeed, Durbin invoked the Supreme Court decision against DOMA while speaking before the estimated 2,300 attendees about passing marriage equality legislation.
"Now that the Supreme Court has ruled, I say to members of the Illinois House of Representatives, you have an awesome and historic decision," Durbin said. "Will you offer to everyone married in our state — regardless if straight, gay, lesbian, whatever — will you offer them the same federal benefits, or will you discriminate against some."
The regular session of the legislature concluded in May, to the dismay of supporters of same-sex marriage, without a vote on same-sex marriage legislation in the House that was earlier passed in the Senate. Gay State Rep. Greg Harris declined to bring the legislation to a vote because he believed it lacked sufficient support for passage.
Bernard Cherkasov, CEO of Equality Illinois, expressed confidence that lawmakers would act during the veto session to pass the legislation based on recent polling data from Fako & Associates in Lisle, IL, showing a 12-point margin in support of marriage equality.
"Amongst key constituencies like African Americans, there's a 20-point spread, amongst Latino voters, there's a 30-point spread, amongst American Catholics, there's a 30-point spread," Cherkasov said. "There's strong business support. Illinoians expect lawmakers will do their job and the pass the bill."
Because the legislature in is in a veto session, different rules apply to passing legislation. A bill that would go into effect immediately, as the Senate-passed marriage equality legislation does, would require a supermajority of 71 votes in the House for passage. But bills that go into effect at a later date need only a simple majority of 60 votes for passage. The veto session consisted of two days this week, followed by a break, and another three days when lawmakers return on Nov. 5.
Cherkasov said the bill is "definitely within striking distance" in the House for votes to passage under the lower 60-vote threshold, which he said could be arranged by amending the House bill to go into effect on June 1 and passing that bill in the Senate.
Asked whether he wants the bill to come up for a vote during the veto session regardless of whether supporters think it has the necessary votes, Cherkasov said, "I do believe that if it came to the floor that it would pass."
Advocates are pursuing same-sex marriage legislation in Illinois as a state lawsuit seeking marriage equality in the state, Darby v. Orr, is pending in Cook County Circuit Court.
Hawaii
Efforts to pass same-sex marriage legislation are also underway in Hawaii, where Gov. Neil Abercrombie has called for a special session of the legislature starting Oct. 28 for the purpose of debate and passage of marriage equality.
Donald Bentz, executive director of Equality Hawaii, said he's "optimistic" the session will lead to marriage equality in the Aloha State because of stories of "love and commitment" heard by legislators.
"Polls indicate that the majority of Hawaii's residents support marriage equality and are buoyed by the growing list of business, faith, political and nonprofit leaders who are standing up in support of the freedom to marry," Bentz said.
Depending upon the length of time the legislature chooses to debate the marriage bill, the special session could go as quickly as five working days or take two full weeks.
Bentz said the marriage equality legislation enjoys "a wide margin" of support in the Senate, but not so much in House. A vote tally conducted by the Honolulu Civil Beat last month found that 26 House members support the legislation. Passage of the bill in that chamber requires 27 votes.
Since the time that article was published, Bentz said State Rep. Karen Awana has gone on record as a "no" vote, but State Rep. Mark Takai has come out as a "yes" vote. That would give the bill the 27 votes necessary for passage.
Advocates are pursuing same-sex marriage legislation in Hawaii as litigation seeking marriage equality in the state, Jackson v. Abercrombie, is pending alongside the Nevada lawsuit in the Ninth Circuit.
Tennessee
The most recent lawsuit seeking marriage equality in the federal court system was filed on Tuesday by the National Center for Lesbian Rights on behalf of four legally married same-sex couples seeking recognition of their unions.
The lawsuit, known as Tanco v. Haslam, was filed by the National Center for Lesbian Rights and private attorneys Abby Rubenfeld, Maureen Holland, Regina Lambert along with the firm of Sherrard & Roe and is pending before the U.S. District Court in the Middle District of Tennessee.
Shannon Minter, NCLR's legal director, said the lawsuit is a useful addition to other cases pending in 19 other states because it helps draw attention to the lack of LGBT rights in the South.
"We think it is important to bring cases that highlight the damage that is being caused by discriminatory state marriage bans across the country, including especially in southern states," Minter said. "I am very hopeful we will obtain a positive result in this case, which would be hugely beneficial to LGBT people in Tennessee, and also be a huge boost to creating even more positive national momentum."
One couple in the lawsuit, Dr. Valeria Tanco and Dr. Sophy Jesty, is expecting their first child this spring and is worried state law won't recognize them both as legal parents. Another couple, Sgt. Ijpe DeKoe and Thom Kostura, married just before DeKoe was deployed for a tour of duty in Afghanistan.
The litigation is one of two cases seeking marriage equality in federal courts lying within the U.S. Sixth Circuit Court of Appeals. The other case is the federal litigation pending before the district court in Michigan.
GOP senator willing to delay school meal funding over LGBTQ+ rights
Funding for school meal & nutrition programs is set to expire July 30, a delay could lead to a hunger crisis for millions of schoolchildren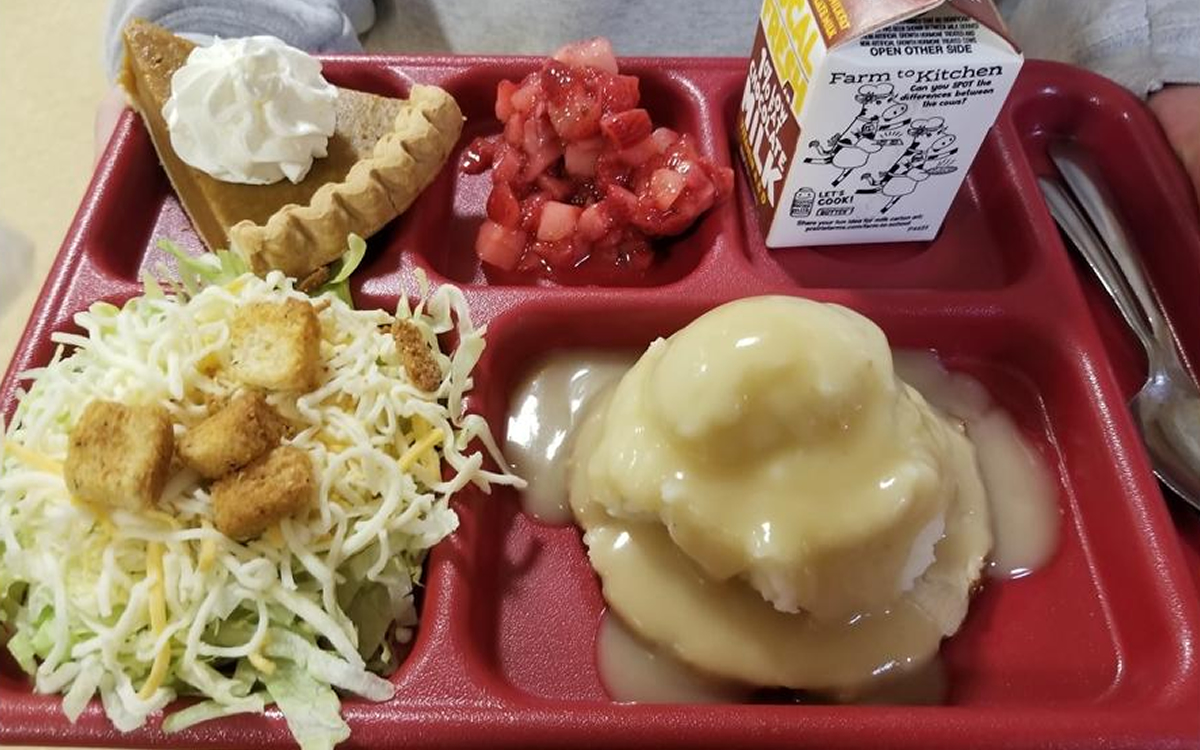 A bipartisan piece of legislation for school meal programs is at risk after one U.S. senator has signaled he may delay its passage over LGBTQ-related guidance from the U.S. Department of Agriculture.
The Keep Kids Fed Act, released Tuesday by Sens. Debbie Stabenow (D-Mich.) and John Boozman (R-Ark.) and Reps. Bobby Scott (D-Va.) and Virginia Foxx (R-N.C.), has already garnered support from both sides of the aisle as it seeks to provide roughly $3 billion in continued funding for pandemic-era universal school nutrition programs.
"My agreement with Senator Boozman, Representative Scott and Representative Foxx will help keep kids fed and is fully paid for," Senator Debbie Stabenow, chair of the Agriculture, Nutrition and Forestry Committee, said in a statement. "With 90% of our schools still facing challenges as they return to normal operations, this will give our schools and summer meal programs much-needed support to deal with ongoing food service issues."
The legislation would provide additional federal funding to programs established during the COVID-19 outbreak designed to waive financial requirements for all students and allow them to access free school meals throughout the year.
However, guidance issued in May by the U.S. Department of Agriculture that prohibits school nutrition programs receiving federal dollars from discriminating against the LGBTQ community has sparked reservations in Congress that could endanger the funding's ability to pass before its deadline.
On Wednesday, one day after the bipartisan deal was announced, Senator Roger Marshall (R-Kan.) signaled that he would consider objecting to the bill for fear that the USDA guidance would ultimately exclude schools in his state from being eligible to receive the funding.
"This administration is holding women's sports as ransom for the radical woke agenda," Marshal said at a press conference on Thursday. "Now, they're going to do the same thing with school lunches. They want kids to go hungry at school that don't fall in line with letting boys play girls sports."
Further indicating his opposition to the USDA guidance that could persuade him to object to the meal funding, Marshall attempted to turn the tables on the Biden administration for not allowing meal programs in schools to act on their discriminatory beliefs.
"In these trying times where families are faced with rising inflation, the Biden administration is considering taking food out of the mouths of hungry children over their woke agenda," Marshall said.
But while the press conference was centered around the 50th anniversary of the landmark anti-sex-discrimination Title IX legislation and the issue of transgender athletes in school sports, the USDA guidance only pertains to discrimination within school nutrition programs funded with federal dollars. Under the language of the guidance, equal access and non-discrimination would be required toward only those involved with the meal programs, like LGBTQ students.
Other programs under a school district's jurisdiction like sports programs, that may attempt to limit participation by transgender athletes, would not have any relevance to nor would affect the school's ability to receive federal meal funding like that in the Keep Kids Fed Act.
Current pandemic-era funding for school meal and nutrition programs is set to expire on July 30. Although the funding has bipartisan support, the looming deadline to pass more funding increases the chances that a delay could lead to a hunger crisis for millions of schoolchildren around the nation.
Caitlyn Jenner celebrates FINA ban on Trans swimmers on Twitter
"[…] what's fair is fair! If you go through male puberty you should not be able to take medals away from females. Period," Jenner tweeted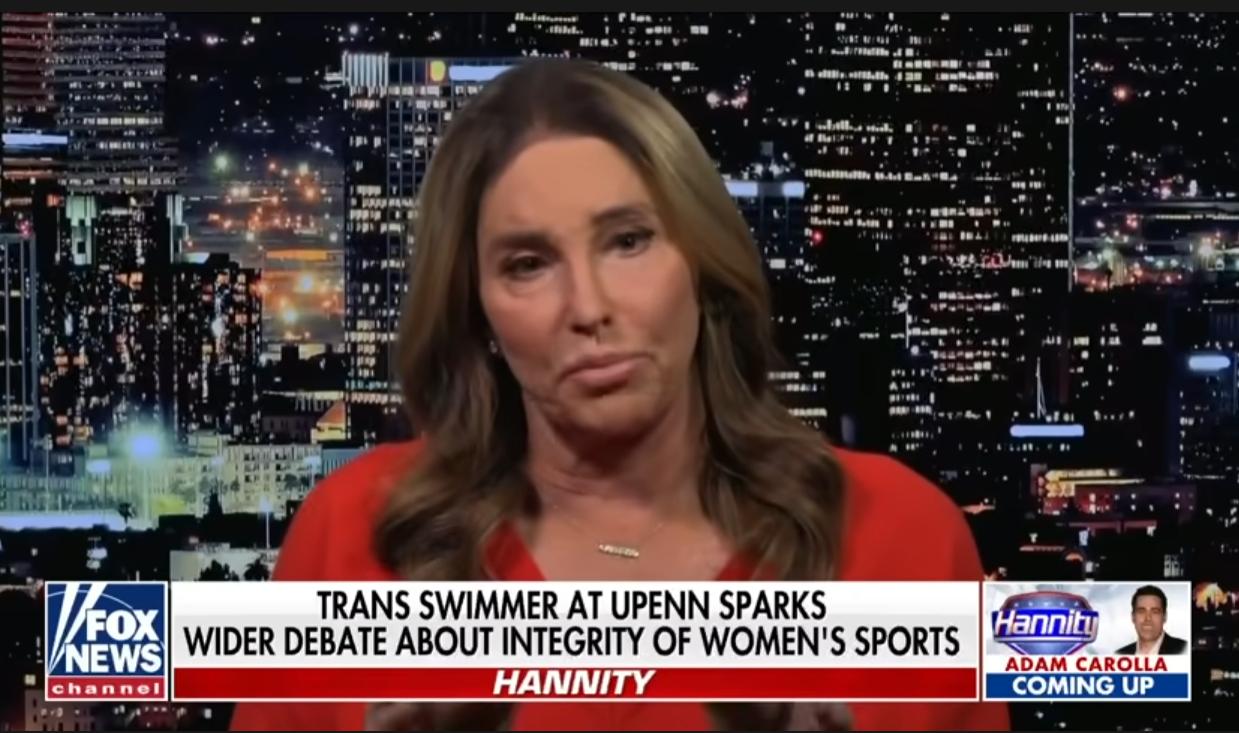 Former Olympian and one-time California Republican gubernatorial candidate Caitlyn Jenner enraged Trans activists Monday after she tweeted her approval of the FINA vote Sunday that essentially bans Trans women from participating and competing as collegiate swimmers.
"It worked! I took a lot of heat – but what's fair is fair! If you go through male puberty you should not be able to take medals away from females. Period," Jenner tweeted Sunday after the international athletic organization announced its vote to ban trans athletes.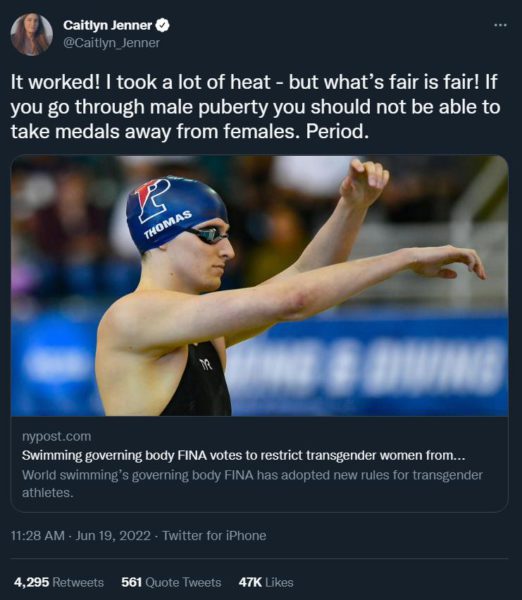 The Swimming's world governing body voted to restrict transgender athletes from elite women's competitions. The final vote tally of the representatives was 71.5% approval for the new policy which requires transgender athletes show that "they have not experienced any part of male puberty beyond Tanner Stage 2 or before age 12, whichever is later."
"We have to protect the rights of our athletes to compete, but we also have to protect competitive fairness at our events, especially the women's category at FINA competitions," FINA's president, Husain Al-Musallam, said in a statement.
The organisation is maintaining that it was necessary to use sex and sex-linked traits to determine eligibility criteria because of the "performance gap" that appears between males and females during puberty.
Jenner's appearances on the Fox News Network over the past six months have been unrelenting attacks on Trans athletes, especially University of Pennsylvania Women's Team swimmer Lia Thomas. Jenner also appeared on the network to defend her attacks on Trans athletes.
"We must protect women's sports. We cannot bow down to the radical left wing woke world and the radical politically charged agenda of identity politics," Jenner tweeted. In another tweet she said;
"Thank you @seanhannity and @HeyTammyBruce for having a conversation grounded in common sense. All we want to do is protect women's and girls sports! It's that simple. And calling out the libelous, defamatory lies of @PinkNews and @emilychudy@benjamincohen"
Jenner has been asked about her position on the multiple pieces of anti-Trans youth sports legislation across the United States. She responded that she saw it as a question of fairness saying that she opposed biological boys who are Trans- competing in girls' sports in school.
"It just isn't fair," Jenner said adding, "and we have to protect girls' sports in our school."
In April the Fox network hired Jenner as on-air contributor role with her first appearance on Hannity.
Biden to sign wide-ranging executive order on conversion therapy, LGBTQ youth
Directive stands against state anti-LGBTQ measures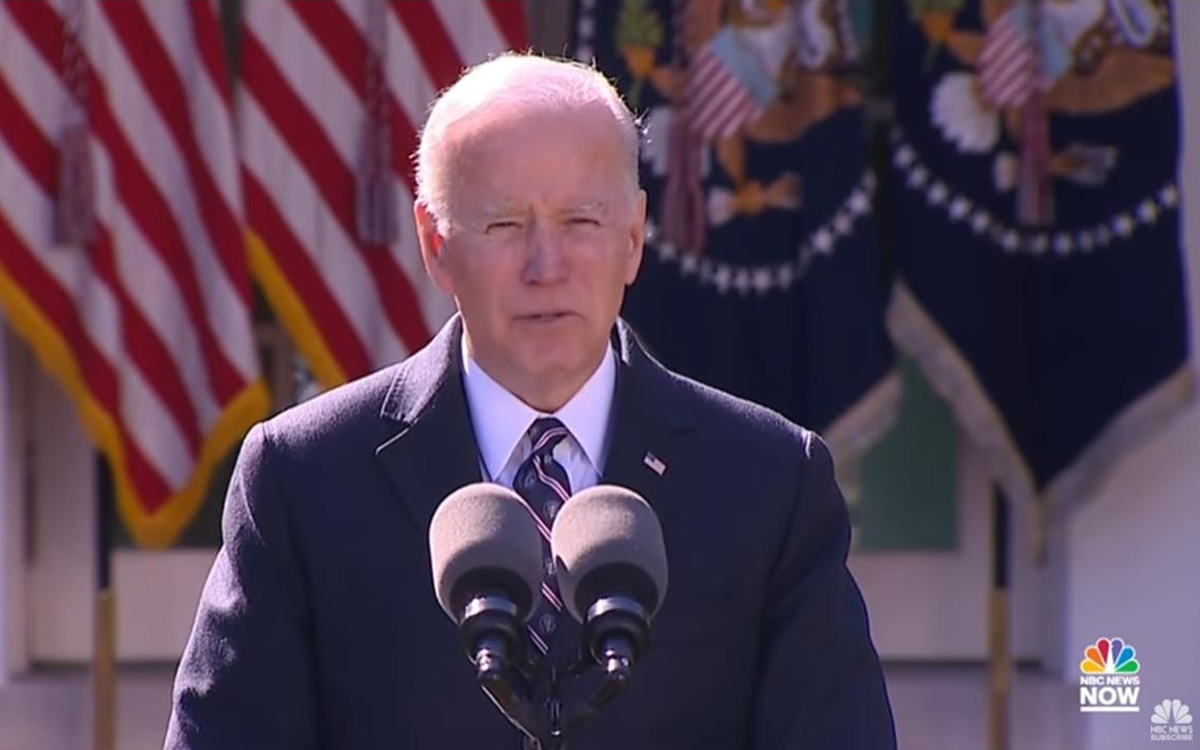 President Biden, in recognition of Pride month during a reception with LGBTQ leaders and advocates at the White House, is set to sign Wednesday a wide-ranging executive order advancing his administration's goals for LGBTQ policy, which includes new prohibitions on widely discredited conversion therapy and resources for parents and children in states enacting laws against transgender youth.
The executive order is the latest measure from the Biden administration building on its reputation for steadfast support for transgender and non-binary youth, who are the targets of more than 300 pieces of anti-LGBTQ legislation in state legislatures and new state laws. Many of these measures ban transgender girls from sports consistent with their gender identity or penalize medical providers and parents for providing transition-related care for youth.
Key components of Biden's order direct U.S. departments and agencies, including the Department of Health & Human Services and the Department of Education, to develop regulations and policies that would counteract the state measures, according to a White House fact sheet.
Among the components of the directive:
HHS and the Department of Education are tasked with developing sample policies for states on expanding access to health care for LGBTQ youth and developing policies for "achieving full inclusion for LGBTQ students";
HHS is tasked with leading an initiative against conversion therapy, which is set to clarify federal funds cannot be used for the practice, increase public awareness about its harms and provide support to survivors;
the secretaries of State, Treasury, and HHS are directed to develop an action plan to promote an end to conversion therapy overseas and ensure that U.S. foreign assistance dollars don't fund the practices;
HHS is set to publish a "Bill of Rights for LGBTQI+ Older Adults" as well as guidance on the non-discrimination protections for older adults in nursing homes and other long-term care settings.
In a conference call with reporters on Wednesday ahead of the signing of the executive order, senior administration officials who spoke on condition of anonymity laid out the key components of the measure and put the executive order into context of the Biden administration's broader mission for equity and inclusion.
Asked by the Washington Blade if the White House is anticipating a response from states that have enacted laws against transgender and non-binary youth, many of which have taken the Biden administration to court over federal policies, a senior administration official declined to say.
"We don't know," the official said. "The focus is not really on what their response will be. What we're focused on is responding to the frankly un-American policies they're pushing through state legislatures. They're going after kids, they're going after families just because of who they are, and the president has said repeatedly that he will stand with LGBTQI youth and families and people across the country. That's what this executive order is going to do."
The executive order, however, falls short of the Biden campaign's pledge to sign the Equality Act into law, which in the 2020 election he promised he would do within the first 100 days of his administration. Although the comprehensive LGBTQ legislation has cleared the House, it is all but dead in the Senate and has yet to come up for a vote.
Asked by a reporter about why Biden hasn't placed as much emphasis on the Equality Act as other legislative measures, such as the Build Back Better package or voting rights legislation, a senior administration official shot back that was at odds with the facts.
"The president is a strong supporter of the Equality Act and he has not wavered in that," the official said. "He continues to call on Congress to pass the Equality Act. You heard him renew that call during the State of the Union address … Any assertion that he hasn't been full-throated on that is just completely at odds with the facts. The president today will reiterate the need to sign this legislation into law."
Read the White House fact sheet on the executive order here.