Virginia GOP candidates' LGBT records attacked on final campaign day
Polls show former DNC chair ahead of Ken Cuccinelli going into Election Day.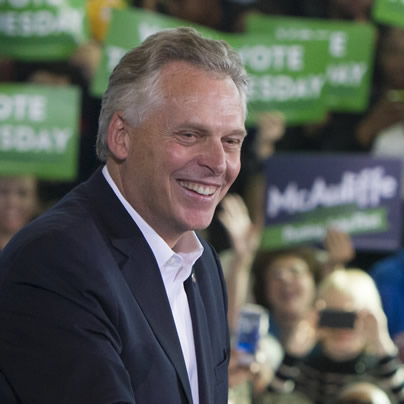 ANNANDALE, Va.—Former Democratic National Committee Chair Terry McAuliffe on Monday again attacked Virginia Attorney General Ken Cuccinelli and his Republican ticket mates' opposition to LGBT rights during the final full day of campaigning in the commonwealth's statewide campaigns.
"Their Tea Party ticket has demonized gay Virginians," McAuliffe said during a rally in campaign volunteer Alex Rodriguez's backyard in Annandale. "Our mainstream ticket believes that Virginia should be open and welcoming for all."
Vice President Biden joined McAuliffe in Annandale alongside state Sen. Ralph Northam (D-Norfolk), who is running against E.W. Jackson in the lieutenant gubernatorial race, and state Sen. Mark Herring (D-Loudoun), who will face state Sen. Mark Obenshain (R-Harrisonburg) on Election Day to succeed Cuccinelli as attorney general. Virginia Congressman Gerry Connolly, U.S. Sen. Mark Warner (D-Va.) and Democratic Party of Virginia Chair Charniele Herring also attended the rally.
President Obama and "Scandal" actress Kerry Washington on Sunday joined McAuliffe at a campaign rally that took place at Washington-Lee High School in Arlington.
"These guys are the absolute antithesis of change and progress," Biden said as he criticized Cuccinelli, Jackson and Obenshain. "Everything they talk about without exaggeration is about turning back what the rest of the country and the world thinks is progress. It's hard to fathom this state being led by a man who rejects all that this new thinking stands for."
A poll that Quinnipiac University released on Monday shows McAuliffe ahead of Cuccinelli by a 46-40 percent margin. Libertarian gubernatorial candidate Robert Sarvis, who backs marriage rights for same-sex couples like the former DNC chair and his two Democratic ticket mates, received eight percent.
A Washington Post/Abt SRBI survey unveiled last week showed Northam ahead of Jackson by a 52-39 percent margin. Herring was ahead of Obenshain by a 49-46 percent margin.
More than half of likely Virginia voters who responded to the Washington Post/Abt SRBI poll said they feel Cuccinelli's views on most issues are too conservative. Forty-six percent of respondents who took part in a Quinnipiac University survey conducted early last month had the same opinion of the current attorney general.
Jackson: GOP candidates have "been slandered"
Virginia Democrats and LGBT rights advocates have repeatedly criticized Cuccinelli and the commonwealth's statewide Republican ticket over their opposition to marriage rights for same-sex couples and other gay-specific measures.
The U.S. Supreme Court last month denied Cuccinelli's request to appeal a lower court ruling that found Virginia's sodomy law unconstitutional.
The Republican attorney general in 2010 recommended Virginia colleges and universities remove LGBT-specific provisions from their non-discrimination policies. Cuccinelli also defended the commonwealth's constitutional amendment that bans nuptials for gays and lesbians during a Sept. 25 debate against McAuliffe in McLean.
Jackson, who is a minister in Chesapeake, has faced scathing criticism from LGBT activists and their supporters over his comparison of gay men to pedophiles. He has also previously described them as "very sick people."
Obenshain sponsored a bill that Gov. Bob McDonnell signed into law earlier this year that bans public universities from denying recognition and funding to student organizations that discriminate in their membership based on sexual orientation and other unprotected categories under federal law. Obenshain also opposed a measure a Virginia House of Delegates subcommittee in February tabled that would have banned discrimination against LGBT state employees.
A group of gay rights advocates on Saturday heckled Cuccinelli during an event at his Fairfax campaign office at which former Maryland Gov. Bob Ehrlich and Republican Party of Virginia Chair Pat Mullins spoke. Wisconsin Gov. Scott Walker and Republican National Committee Chair Reince Priebus joined the attorney general on the campaign trail earlier in the day.
Cuccinelli and his ticket mates on Monday reiterated their opposition to the Affordable Care Act during campaign rallies in Warrenton and Culpeper at which U.S. Sen. Marco Rubio (R-Fla.) and Mullins also spoke. Former Texas Congressman Ron Paul was to have joined Cuccinelli at a Richmond event later on Monday.
The GOP candidates did not discuss their positions against marriage rights for same-sex and other LGBT-specific issues during their stump speeches in Warrenton and Culpeper.
"Tomorrow in Virginia is a referendum on Obamacare," Cuccinelli said during the Warrenton rally, noting he is the first state attorney general in the country to challenge the law after Obama signed it in 2010. "Terry McAuliffe wants to expand Obamacare even farther, and I do not."
Jackson on Monday once again criticized those whom he claims have misrepresented his and his ticket mates' comments.
"The three candidates that stand before you today have been lied on, have been slandered," he said during the Culpeper rally. "Things we've said have been misinterpreted and twisted and contorted and made absolutely unrecognizable."
Cuccinelli is the "perfect candidate for the 1950s"
Theresa Speake, co-chair of the Nuestro Cuccinelli Committee, which advises the attorney general's campaign on Latino-specific issues, praised the GOP gubernatorial hopeful as she opened the Warrenton rally.
"Ken represents everything that we like: That's integrity, family, faith," she said.
Connolly told the Washington Blade before McAuliffe appeared with Biden in Annandale that voters with whom he has spoken said they remain concerned over Cuccinelli's position on same-sex marriage and other LGBT-specific issues.
"Ken is the perfect candidate for the 1950s," Connolly said.
Board members of Hampton Roads Business Outreach, which is Virginia's only LGBT chamber of commerce, with whom the Blade spoke during their retreat in Norfolk on Saturday echoed Connolly.
"[Cuccinelli's] too overly concerned about women," Stacie Walls-Beegle, executive director of Access AIDS care, a local HIV/AIDS service organization, said. "He clearly has issues."
Hampton Roads Business Outreach President Don King told the Blade he feels Cuccinelli's social agenda is also "short-changing his focus on jobs."
"We are losing large corporations to Maryland and Delaware and Washington, D.C., because of his social agenda," he said. "He's missing the boat as far as equal rights are concerned for workers in this state."
Walls-Beegle stressed she wishes McAuliffe was a "stronger" candidate, but added "he's not Ken Cuccinelli" and that's "good enough" for her.
"At this time that's the only choice we've got," Jack Peirson, who sits on Hampton Roads Business Outreach's Membership Committee, told the Blade. "[McAuliffe's] not persecuting me, so I'm willing to stand behind him."
Nellie's fires security firm after woman dragged down stairs
Pride weekend incident triggers protests, investigation by liquor agency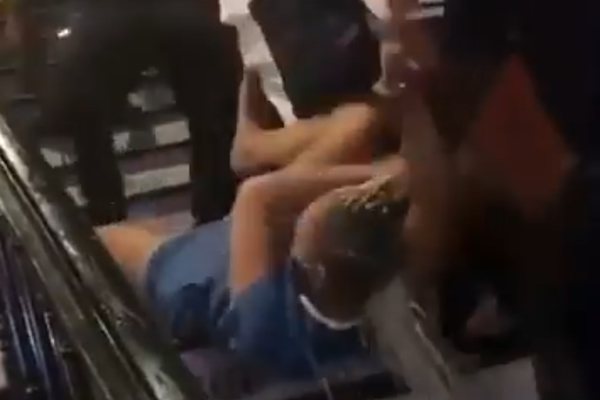 Nellie's Sports Bar, a gay bar in the city's U Street commercial district, announced on Monday that it has dismissed a security company whose employee was captured on video dragging a Black woman down a flight of stairs inside the bar during the city's Capital Pride celebration last Saturday.
The video of the male security employee dragging Nellie's customer Keisha Young down the staircase and the brawl that erupted when other customers intervened has triggered expressions of concern by city officials and LGBTQ activists, including the local Black Lives Matter group that organized a protest outside Nellie's on Sunday.
Young, who said she was injured during the incident, has said the security staffer mistakenly thought she was part of a group of customers who brought into the bar their own alcoholic beverages, which Nellie's does not allow.
"Nellie's Sports Bar has terminated, with immediate effect, the independent security vendor hired to protect our guests during Pride Week," Nellie's said in a statement released to the media.
"Our investigation into the matter is ongoing, and we will cooperate with any law enforcement investigation, however we do not need to wait for the investigation's conclusion before we take decisive action," the statement says. "We offer a heartfelt apology to all who witnessed the horrific events of this past weekend," it says. "No matter what behavior occurred prior, nothing warrants mistreating and disrespecting one of our guests."
The statement adds that Nellie's will be closed this week "as we evaluate this regrettable situation." It says all non-security staff will continue to be paid their regular wages during the temporary shutdown.
"In the interim, we will use this time to listen and understand what more we can do to create the safe and friendly atmosphere our guests have come to expect from Nellie's Sports Bar over the past 14 years," the statement says.
Brandon Burrell, an attorney representing Young, told D.C.'s Fox 5 News that Nellie's had yet to offer an apology directly to Young. Fox 5 News reported on Monday that Young was considering filing a police report over the incident and a possible lawsuit against Nellie's depending on how Nellie's responds to Young's concerns.
A D.C. police spokesperson told the Washington Blade that Young had not contacted police to file a report about the incident as of early Monday.
The D.C. Alcoholic Beverage Regulation Administration, which issues liquor licenses to bars and restaurants, has opened an investigation into the Nellie's incident, the agency confirmed to Fox 5 News.
The Capital Pride Alliance, the local group that organizes D.C.'s LGBTQ Pride events, including Saturday's Pride Walk and Pridemobile Parade, issued a statement on Monday expressing concern over the Nellie's incident.
"The Capital Pride Alliance condemns the reprehensible actions taken by Nellie's staff over the weekend," the statement says. "The incident resulted in Keisha Young being dragged by the hair down the stairs, which was a violent response to the trivial action of allegedly bringing into the bar a bottle of liquor," the statement says.
"Capital Pride Alliance is committed to creating safe spaces for all," says the statement. "We expect Nellie's to take immediate, remedial action in response to this incident. Their response will impact the future of CPA's relationship with Nellie's."
Nellie's owner Doug Schantz couldn't immediately be reached for comment.
D.C. Mayor Muriel Bowser also expressed concern about the Nellie's incident when asked about it by reporters at an event on Monday.
"Obviously, entrepreneurs enforce rules in their restaurants, but they're not allowed to assault anybody," the mayor said. "If that's a matter for the Metropolitan Police Department, we'll take it up."
New gay bar 'Central' to open in Baltimore this summer
Just a few blocks from where Grand Central closed last year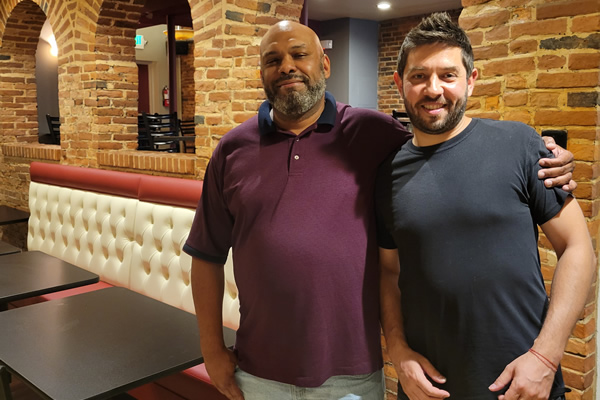 Fans of the old Grand Central club in Baltimore will get a new place to patronize this summer, and it has a familiar name and operator.
Central is the name of a gay bar and restaurant that's expected to open in August, just a few blocks from where Grand Central closed last September. One of its owners is the former general manager of Grand Central, Marc Hayes.
Baltimore's liquor board last week approved a request to transfer an existing Beer, Wine and Liquor license to Hayes, from Baltimore, and business partner Ivan Yordanov, from Alexandria, Va.
The location is a three-building complex at 885-889 N. Howard Street, part of a block called Antique Row on the western edge of Mount Vernon, the city's traditional "gayborhood." Over the years, the Howard Street buildings have housed a series of clubs and lounges, most recently Bentley's jazz club.
Grand Central closed after original owner Don Davis sold the property at 1001-1003 N. Charles Street to a developer, Landmark Partners, that's now constructing an eight-story office building in its place. Its last day was Sept. 3.
Started in 1991 as Central Station at 1001 N. Charles St. and renamed when Davis bought the old Stagecoach Bar at 1003 N. Charles St., Grand Central was one of Baltimore's largest gay-friendly clubs and remained busy on weekends even after Landmark acquired the property. Patrons called it 'Central' for short. It was required to close temporarily during the first months of the COVID-19 pandemic but did offer outdoor and carryout service when permitted.
Hayes, the last general manager of Grand Central for both Davis and Landmark, had indicated before it closed that he wanted to find another place for patrons to go once construction of the office building began.
He said the Howard Street business is not a relocation of Grand Central because Landmark isn't involved and Landmark owns the rights to the name and other intellectual property associated with Grand Central.
"We're not Grand Central," he said. "This is going to be Central. This is going to be an LGBTQIA-friendly place, but not using the Grand Central intellectual property."
Hayes said he and Yordanov chose the name Central because the Howard Street buildings are centrally located between Leon's and The Drinkery, two other gay bars in Mount Vernon.
"We are central," he said. "We're in a triangle."
Even if it doesn't have a legal connection with Grand Central, Hayes said, he will welcome its former patrons, as well as people who have never been to Grand Central. And while he's billing it as a gay bar, he said, "I don't see gender or race in anybody." He describes himself as gender fluid and Yordanov as an ally of the gay community.
The three buildings date from around 1900 and are connected internally. Together, they contain more than 6,200 square feet of space on two levels – large but less than half the 15,000 square feet of space inside the two buildings that made up Grand Central.
Hayes and Yordanov are leasing the property and received a letter of support for the liquor license transfer from the Mount Vernon Belvedere Association. They still need to pass inspections required by the liquor board and intend to hire a staff of about 20. They plan to have a dance floor and DJs, Sunday brunch, drag shows and other live entertainment as well as a full-service kitchen.
The interior has a long wooden bar that's reminiscent of Grand Central's, a series of lounges and dining areas, and some exposed-brick walls with arches that impart an air of history and allow views from one area to another. The main dance floor will be on the second floor, including one space where the walls are covered with mirrors.
Hayes said the building doesn't need much in the way of renovations and since it's actually three addresses, there's already a separate entrance for carryout orders. He said he considered other locations but liked the ambiance, layout and location of this property. "I've always liked this building," he said. "Grand stairwell. Wrought iron…It's gorgeous. Look at the arches."
The bar will be open from 4 p.m. to 1:45 a.m. Monday through Saturday and from 10 a.m. to 1:45 p.m. on Sundays, when Central will serve brunch. The carryout will open daily starting at 11 a.m. Central will have a cover charge when there are shows.
While many gay bars have closed around the country during the pandemic, Hayes said he believes there's a market for a new one in Baltimore. He notes that Central will be different from the Baltimore Eagle, which caters to the leather community; the tavern-style bars without live entertainment, and The Manor, an "ultralounge" in a meticulously restored townhouse on Charles Street.
"We're not The Manor, obviously. They've got a fantastic chef and fantastic food and we're going to be doing bar food" with a relaxed atmosphere and DJs. But Central will offer more in the way of food service and entertainment than the tavern-style bars around the city.
That's another reason the name they chose makes sense. Given the other options in town, Hayes said, "We're kind of right in the middle."
Delaware prepares to celebrate Pride month
Parade moved to October, but smattering of local events planned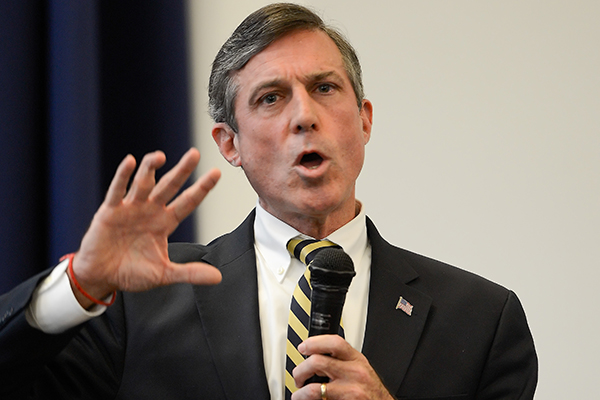 As state coronavirus restrictions continue to lift, organizations throughout Delaware are gearing up for Pride month with events planned during June.
Dogfish Head Craft Brewery dedicated its June Beer and Benevolence philanthropic effort to benefit CAMP Rehoboth, an LGBTQ+ non-profit community center in Rehoboth. The fundraising began last weekend at Chesapeake and Maine and the organization will receive 10 percent of proceeds from 4 to 6 p.m.
The Delaware Pride Parade is scheduled for Oct. 2 from 10 a.m. to 4 p.m.
June 19: Delaware Pride Bowling at Bowlerama
The Delaware Pride Bowling event is June 19 from 7-10 p.m. The New Castle Avenue Bowlerama will charge $15 per bowler and free shoes for the two hour time slot.
June 18: Stand-up Comedy by Julia Scotti
Trans comedian and America's Got Talent quarterfinalist Julia Scotti will perform standup comedy at the Milton Theater. Admission is $17.
June 20: From Stonewall To Now – Presented By Mona Lotts
Milton Theater will host "From Stonewall To Now," a celebration of the art of drag hosted by Mona Lotts. Admission is $20 and will feature performances from several drag queens from the state.