Virginia GOP candidates' LGBT records attacked on final campaign day
Polls show former DNC chair ahead of Ken Cuccinelli going into Election Day.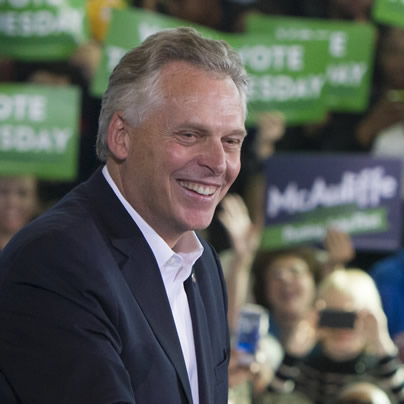 ANNANDALE, Va.—Former Democratic National Committee Chair Terry McAuliffe on Monday again attacked Virginia Attorney General Ken Cuccinelli and his Republican ticket mates' opposition to LGBT rights during the final full day of campaigning in the commonwealth's statewide campaigns.
"Their Tea Party ticket has demonized gay Virginians," McAuliffe said during a rally in campaign volunteer Alex Rodriguez's backyard in Annandale. "Our mainstream ticket believes that Virginia should be open and welcoming for all."
Vice President Biden joined McAuliffe in Annandale alongside state Sen. Ralph Northam (D-Norfolk), who is running against E.W. Jackson in the lieutenant gubernatorial race, and state Sen. Mark Herring (D-Loudoun), who will face state Sen. Mark Obenshain (R-Harrisonburg) on Election Day to succeed Cuccinelli as attorney general. Virginia Congressman Gerry Connolly, U.S. Sen. Mark Warner (D-Va.) and Democratic Party of Virginia Chair Charniele Herring also attended the rally.
President Obama and "Scandal" actress Kerry Washington on Sunday joined McAuliffe at a campaign rally that took place at Washington-Lee High School in Arlington.
"These guys are the absolute antithesis of change and progress," Biden said as he criticized Cuccinelli, Jackson and Obenshain. "Everything they talk about without exaggeration is about turning back what the rest of the country and the world thinks is progress. It's hard to fathom this state being led by a man who rejects all that this new thinking stands for."
A poll that Quinnipiac University released on Monday shows McAuliffe ahead of Cuccinelli by a 46-40 percent margin. Libertarian gubernatorial candidate Robert Sarvis, who backs marriage rights for same-sex couples like the former DNC chair and his two Democratic ticket mates, received eight percent.
A Washington Post/Abt SRBI survey unveiled last week showed Northam ahead of Jackson by a 52-39 percent margin. Herring was ahead of Obenshain by a 49-46 percent margin.
More than half of likely Virginia voters who responded to the Washington Post/Abt SRBI poll said they feel Cuccinelli's views on most issues are too conservative. Forty-six percent of respondents who took part in a Quinnipiac University survey conducted early last month had the same opinion of the current attorney general.
Jackson: GOP candidates have "been slandered"
Virginia Democrats and LGBT rights advocates have repeatedly criticized Cuccinelli and the commonwealth's statewide Republican ticket over their opposition to marriage rights for same-sex couples and other gay-specific measures.
The U.S. Supreme Court last month denied Cuccinelli's request to appeal a lower court ruling that found Virginia's sodomy law unconstitutional.
The Republican attorney general in 2010 recommended Virginia colleges and universities remove LGBT-specific provisions from their non-discrimination policies. Cuccinelli also defended the commonwealth's constitutional amendment that bans nuptials for gays and lesbians during a Sept. 25 debate against McAuliffe in McLean.
Jackson, who is a minister in Chesapeake, has faced scathing criticism from LGBT activists and their supporters over his comparison of gay men to pedophiles. He has also previously described them as "very sick people."
Obenshain sponsored a bill that Gov. Bob McDonnell signed into law earlier this year that bans public universities from denying recognition and funding to student organizations that discriminate in their membership based on sexual orientation and other unprotected categories under federal law. Obenshain also opposed a measure a Virginia House of Delegates subcommittee in February tabled that would have banned discrimination against LGBT state employees.
A group of gay rights advocates on Saturday heckled Cuccinelli during an event at his Fairfax campaign office at which former Maryland Gov. Bob Ehrlich and Republican Party of Virginia Chair Pat Mullins spoke. Wisconsin Gov. Scott Walker and Republican National Committee Chair Reince Priebus joined the attorney general on the campaign trail earlier in the day.
Cuccinelli and his ticket mates on Monday reiterated their opposition to the Affordable Care Act during campaign rallies in Warrenton and Culpeper at which U.S. Sen. Marco Rubio (R-Fla.) and Mullins also spoke. Former Texas Congressman Ron Paul was to have joined Cuccinelli at a Richmond event later on Monday.
The GOP candidates did not discuss their positions against marriage rights for same-sex and other LGBT-specific issues during their stump speeches in Warrenton and Culpeper.
"Tomorrow in Virginia is a referendum on Obamacare," Cuccinelli said during the Warrenton rally, noting he is the first state attorney general in the country to challenge the law after Obama signed it in 2010. "Terry McAuliffe wants to expand Obamacare even farther, and I do not."
Jackson on Monday once again criticized those whom he claims have misrepresented his and his ticket mates' comments.
"The three candidates that stand before you today have been lied on, have been slandered," he said during the Culpeper rally. "Things we've said have been misinterpreted and twisted and contorted and made absolutely unrecognizable."
Cuccinelli is the "perfect candidate for the 1950s"
Theresa Speake, co-chair of the Nuestro Cuccinelli Committee, which advises the attorney general's campaign on Latino-specific issues, praised the GOP gubernatorial hopeful as she opened the Warrenton rally.
"Ken represents everything that we like: That's integrity, family, faith," she said.
Connolly told the Washington Blade before McAuliffe appeared with Biden in Annandale that voters with whom he has spoken said they remain concerned over Cuccinelli's position on same-sex marriage and other LGBT-specific issues.
"Ken is the perfect candidate for the 1950s," Connolly said.
Board members of Hampton Roads Business Outreach, which is Virginia's only LGBT chamber of commerce, with whom the Blade spoke during their retreat in Norfolk on Saturday echoed Connolly.
"[Cuccinelli's] too overly concerned about women," Stacie Walls-Beegle, executive director of Access AIDS care, a local HIV/AIDS service organization, said. "He clearly has issues."
Hampton Roads Business Outreach President Don King told the Blade he feels Cuccinelli's social agenda is also "short-changing his focus on jobs."
"We are losing large corporations to Maryland and Delaware and Washington, D.C., because of his social agenda," he said. "He's missing the boat as far as equal rights are concerned for workers in this state."
Walls-Beegle stressed she wishes McAuliffe was a "stronger" candidate, but added "he's not Ken Cuccinelli" and that's "good enough" for her.
"At this time that's the only choice we've got," Jack Peirson, who sits on Hampton Roads Business Outreach's Membership Committee, told the Blade. "[McAuliffe's] not persecuting me, so I'm willing to stand behind him."
Glenn Youngkin sworn in as Va. governor
Republican backed teacher who opposed trans student guidelines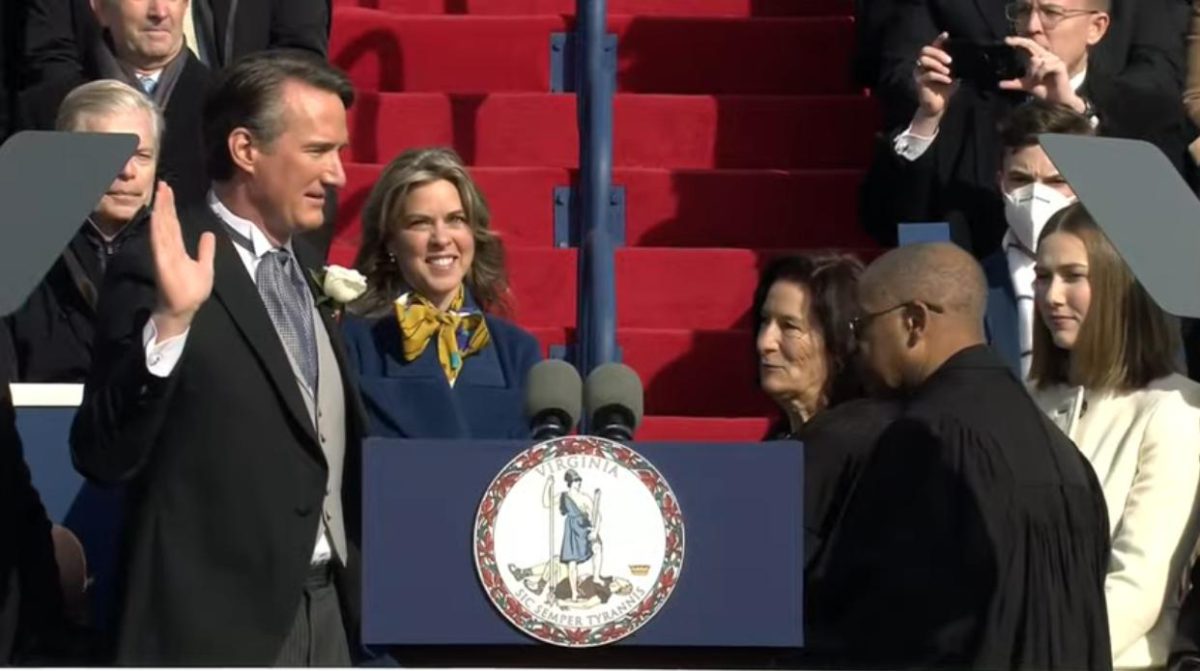 Republican Virginia Gov. Glenn Youngkin took office on Saturday amid concerns that he will seek to curtail LGBTQ rights in the state.
"Today we gather not as individuals, not as Republicans and Democrats," said Youngkin after his swearing in. "Today we gather as Virginians."
Former Gov. Ralph Northam and U.S. Sen. Tim Kaine (D-Va.) are among those who attended the ceremony that took place at the State Capitol. Terry McAuliffe, who Youngkin defeated in the general election, did not attend because of a COVID-19 scare.
Youngkin during his campaign against McAuliffe expressed support for Tanner Cross, a gym teacher at a Leesburg elementary school who was suspended from his job after he spoke out against Virginia Department of Education guidelines that are designed to protect transgender and non-binary students. Youngkin has also said he does not support allowing trans children to play on sports teams that are consistent with their gender identity.
Youngkin on Thursday named Elizabeth Schultz, an anti-LGBTQ former member of the Fairfax County School Board, to his administration.
"We will remove politics from the classroom and focus on the essentials," said Youngkin in his inaugural speech, without specifically mentioning LGBTQ students.
He added "parents should have a say in what is taught in schools."
Youngkin has also expressed his opposition to marriage equality, but stressed it is "legally acceptable" in Virginia and would "support that" as governor.
Lieutenant Gov. Winsome Sears and Attorney General Jason Miyares also took office on Saturday.
Winsome, a former member of the Virginia House of Delegates, is the first woman and first female of color elected lieutenant governor. Miyares, a former House member whose mother was born in Cuba, is Virginia's first Latino attorney general.
Youngkin in his inaugural speech noted "the people of Virginia just elected the most diverse leadership" in the state's history. Youngkin's first executive order ends "the use of" so-called "critical race theory" (which is not taught in Virginia schools) and other "divisive concepts" in Virginia's public schools.
The General Assembly's 2022 legislative session began on Wednesday.
Republicans control the House by a 52-48 margin. Democrats have a 21-19 edge in the Virginia Senate.
Va. school board names new chair who called for burning books
Kirk Twigg backed torching of materials with "sexually explicit" content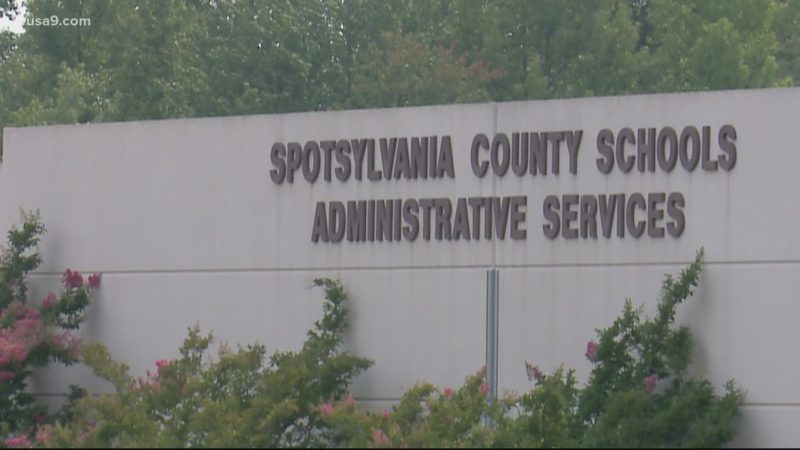 The Spotsylvania County School Board voted Monday to name Kirk Twigg, who advocated for burning books he deemed "sexually explicit" in November, as its new chair. 
His win gives conservatives the majority on the board as Republicans across the country continue an effort to ban books dealing with LGBTQ issues and racism from schools.
Spotsylvania County has been involved in the controversy from the beginning, voting last year to remove books containing "sexually explicit" materials — only to rescind the order a week later.  
Monday's board meeting, Twigg's first as chair, would prove to be disorganized and, at times, unruly.
Twigg's first order of business was to call an unscheduled, closed-door session, which may have violated Virginia's open meeting requirements. According to Virginia Code, a closed meeting cannot be called without a public body approving a motion that states the subject matter and the purpose of the meeting, as well as an applicable exemption from open meeting requirements.
After the board returned from the closed-door session, Twigg said well-regarded Superintendent Dr. Scott Baker would be fired without cause. Baker had already announced he would be resigning at the end of the school year in December.
After Baker decided to resign, a longtime Spotsylvania resident penned a letter in the Free Lance-Star, calling him "the finest superintendent, by far."
"Dr. Baker is trusted and respected by parents, students and employees of Spotsylvania Schools; and he never lost sight of his mission for good reason," it read. "He did so despite the noise and disruption from those few board members dedicated to bringing political disruption and dissidence into our public educational system. Shame on the few."
As Twigg made the announcement, another member of the board interrupted him, saying: "Um, Mr. Twigg, no he is not. You need to make a motion — there needs to be a motion and a vote."
Board members continued to speak over each other as conservative members attempted a vote. But Board Member Nicole Cole told the chairman she had comments.
"I believe that the board members who have lodged this termination owe our citizens and our students of Spotsylvania County a justification for firing Dr. Baker," said Cole. "You have not stated any justification or ability to fill the position. How is this good for the students, the children of Spotsylvania? How does this make sense?"
In a rebuke of the chaotic meeting, she added that Twigg "couldn't even properly chair a meeting."
After approximately 7 minutes of heated discussion where members from both sides got noticeably frustrated, the board voted 4-3 to fire Baker.
Twigg, Lisa Phelps, April Gillespie and Rabih Abuismail, who also advocated for burning books, voted in favor.
The Free Lance-Star reported that Baker was escorted from the building before the board returned from the second closed-door meeting.
An emergency meeting has been scheduled for Friday to name an interim superintendent.
"It's just very sad to hear that a superintendent who has been fully engaged in this community for 10 years is just let go with no rhyme or reason," said Board Member Dawn Shelley, while noting Baker's accomplishments.
Melissa Etheridge to host Heather Mizeur fundraiser
Virtual event to take place on Tuesday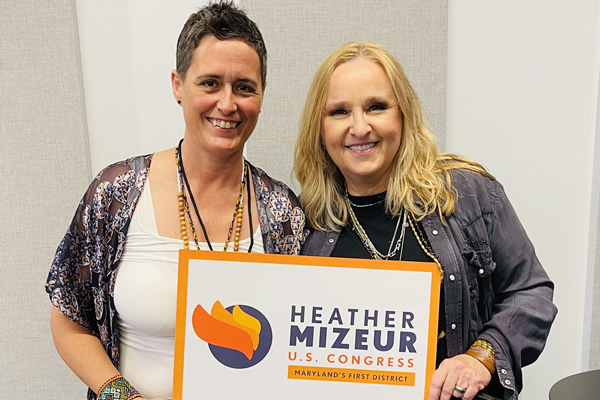 Singer Melissa Etheridge next week will hold a virtual fundraiser for Heather Mizeur's congressional campaign.
The fundraiser will take place on Tuesday at 8 p.m. with tickets starting at $50. Supporters who donate at least $250 will be able to speak with Etheridge and Mizeur in a private Zoom room.
Mizeur, a former member of the Maryland House of Delegates who lives on the Eastern Shore with her wife, is running against anti-LGBTQ Republican Congressman Andy Harris in Maryland's 1st Congressional District. Mizeur ran for Maryland governor in 2014.
Mizeur on Thursday noted to the Washington Blade that her congressional campaign has raised more than $1 million.
"It's going really, really great," said Mizeur.