HISTORIC: Senate votes to advance trans-inclusive ENDA
By vote of 61-30, senators start debate on pro-LGBT job bias bill
In another milestone moment in the pursuit of equal rights for LGBT Americans, the U.S. Senate voted by a narrow margin on Monday to bring to the floor the Employment Non-Discrimination Act.
By a vote of 61-30, senators invoked cloture on the legislation as Sen. Mazie Hirono (D-Hawaii) presided. The vote enables up to 30 hours of debate and amendments before a vote for final passage, which is expected Wednesday.
The 54 Democrats who voted for ENDA, whose chief sponsor is Sen. Jeff Merkley (D-Ore.), consisted of the Democrats who co-sponsored ENDA as well as Sens. Cory Booker (D-N.J.), Joe Manchin (D-W.Va.) and Mark Pryor (D-Ark.). Sen. Claire McCaskill (D-Mo.), an ENDA co-sponsor, didn't vote.
On the Republican side, additional votes came from Sens. Kelly Ayotte (R-N.H.), Rob Portman (R-Ohio) and Pat Toomey (R-Pa.). Other votes came from Sens. Orrin Hatch (R-Utah), who voted for the bill in committee, and Sen. Dean Heller (R-Nev.), who articulated his support earlier in the day. Sen. Lisa Murkowski (R-Alaska), who also voted for ENDA in committee, didn't vote.
Including the Republican original co-sponsors of ENDA — Sens. Susan Collins (R-Maine) and Mark Kirk (R-Ill.) — the bill had seven Republican votes. As he indicated he would, Sen. Jeff Flake (R-Ariz.) voted "no" after entering the Senate chamber following Sen. Tammy Baldwin (D-Wis.), apparently after a conversation with her.
As the vote took place, there were concerns there would be insufficient votes to invoke cloture on ENDA because of Murkowski's absence, but Portman and Toomey, after intense conversations with colleagues, entered the Senate chamber just before the vote was called to vote "yes."
The roll call of the vote for cloture on ENDA can be found here.
Prior to the vote, lawmakers who support the legislation spoke out in favor of the bill, touting it as a means of advancing equal opportunity and the "American Dream."
Senate Majority Leader Harry Reid (D-Nev.) said ENDA is necessary because discriminating against gay workers is legal in 29 states and for being transgender in 33 states.
"The patchwork of state laws excludes tens of millions of Americans from basic protection against discrimination," Reid said. "It is simply not good enough. It is [time to] pass a federal law that ensures all Americans regardless of where they live can go to work unafraid to be who they are. As long as hardworking, qualified Americans can be denied job opportunities, fired, or harassed because of their sexual orientation or gender identity, all workers are at risk."
Sen. Tom Harkin (D-Iowa), chair of the Senate Health, Education, Labor & Pensions Committee from which the legislation originated, said passage of ENDA would say LGBT Americans "deserve the same civil rights protections as all other Americans."
"We are here because, even though most Americans believe firing or refusing to hire someone based their sexual orientation is illegal, they are incorrect," Harkin said. "The majority of Americans, more than 56 percent, live in states where it is perfectly legal to fire someone or to refuse to hire them because of who they are, a lesbian, gay, bisexual or transgender citizen."
Amid concerns that the religious exemption is too broad and calls from some LGBT advocates for lawmakers to speak out against it, Harkin said the language is necessary to ensure bipartisan support.
"This is a compromise that has been hard for strong advocates of civil rights and civil liberties, including me, to accept," Harkin said. "But it is an exemption that has helped to persuade some members of strong faith that ENDA should become law. I would point to my friend Sen. Hatch, who supported this bill in committee, as just one important example of senators who are satisfied that this exemption serves to reconcile the strictures of their faith with fundamental fairness in the workplace."
Sen. Tammy Baldwin (D-Wis.), the only openly gay member of the Senate, said she understands some lawmakers may have political difficulties in supporting the legislation, but encouraged her colleagues to stand on the right side of history.
"I realize that for some, this is not an easy vote," Baldwin said. "I understand that for some they may believe that it's not good politics. But I want to say that I have a deep respect for those who choose to stand on the side of progress for our country this week. So for those that stand up this week and answer the call for courage, I can say with confidence your courage will be respected and remembered when this struggle is written."
Sen. Mark Kirk (R-Ill.), a Republican and original co-sponsor of ENDA, spoke on the Senate floor for the first time in two years after suffering a stroke.
"I have been silent for the last two years due to a stroke a little under two years ago," Kirk said. "I have risen to speak because I'm so passionate in enacting the ENDA statute."
It's the first time a version of ENDA with transgender protections has come to the floor of either chamber of Congress. In 2007, controversy ensued after gay former Rep. Barney Frank dropped the transgender provision from the bill over the concern an inclusive bill couldn't be passed.
Mara Keisling, executive director of the National Center for Transgender Equality, said the cloture vote on ENDA is "an important step" toward ensuring workplace fairness for everyone, including transgender workers.
"Tonight's procedural vote is an important step toward making sure our country gives every worker, including transgender workers, the same chance at having security at work and caring for the ones they love," Keisling said. "The Employment Non-Discrimination Act does just that."
It's also the first time the Senate has considered ENDA since 1996, when the bill came to the floor as part of a deal to consider the Defense of Marriage Act and failed by one vote.
The cloture vote is also significant because the 60-vote threshold necessary to overcome a filibuster is higher than the simple majority needed for final passage. It means the legislation is almost certain win final approval in the Senate.
Amendments are expected in the coming days. After his "yes" vote on cloture, Portman announced he'll introduce an amendment that would prevent retaliation against religious organizations and make changes to the introductory section that highlight and explain the importance of religious liberty.
White House Press Secretary Jay Carney praised lawmakers for voting for cloture on the legislation, saying President Obama welcomes the bipartisan support for the bill.
"He thanks the lawmakers from both sides of the aisle who have stood up for America's core values of fairness and equality, and looks forward to the Senate's consideration of ENDA," Carney said. "He also encourages lawmakers to ensure that the legislation remains true to its goals as it is considered."
LGBT advocates praised the vote on ENDA as a milestone moment in anticipation of additional debate that will take place in the days to come.
Chad Griffin, president of the Human Rights Campaign, said the cloture vote indicates the time has come for ENDA's passage.
"Today we saw American democracy in action with the U.S. Senate finally following the will of a diverse and bipartisan collection of Americans calling for workplace fairness," Griffin said. "With a super majority of Senators, more than 100 major American companies, and more than two-thirds of Americans all standing proudly in support of ENDA, there is tremendous momentum behind this common-sense bill. ENDA's time has come, and we're not going to stop fighting until it is passed once and for all."
Tico Almeida, president of Freedom to Work, drew attention to the bipartisan support the legislation won on the Senate floor.
"The U.S. Senate has taken a historic step toward ensuring that gay and transgender Americans have the same workplace protections that give all Americans a fair shot to succeed on the job," Almeida said. "Today's strong bi-partisan vote total for the Employment Non-Discrimination Act reflects that majorities of Americans from both parties believe nobody should get fired or harassed just because of who they are or whom they love."
Two arrested for lesbian couple's murder, dismemberment in Mexico border city
Julissa Ramírez and Nohemí Medina Martínez killed earlier this month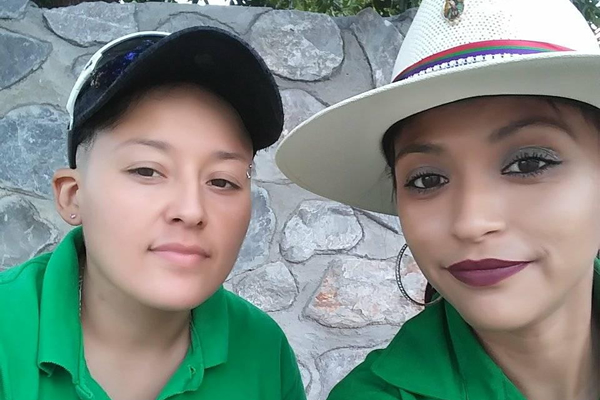 Two people have been arrested in connection with the murder and dismemberment of a lesbian couple in the Mexican border city of Ciudad Juárez.
The Chihuahua Attorney General's Office on Tuesday announced authorities arrested a 25-year-old woman and a 24-year-old man and charged them with aggravated femicide.
Authorities on Jan. 16 found the dismembered body parts of Julissa Ramírez and Nohemí Medina Martínez in plastic bags that had been placed along the Juárez-El Porvenir Highway. The Chihuahua Attorney General's Office in a press release notes the suspects murdered Ramírez and Medina in a house in Ciudad Juárez's San Isidro neighborhood on Jan. 15.
Ciudad Juárez, which is located in Mexico's Chihuahua state, is across the Rio Grande from El Paso, Texas.
Members of Comité de la Diversidad Sexual de Chihuahua, a local LGBTQ rights group, and Chihuahua Gov. María Eugenia Campos Galván are among those who have expressed outrage over the women's murders. Activists have also urged local and state authorities to investigate whether the murder was a hate crime based on Ramírez and Medina's sexual orientation.
Local media reports said nine women — including Ramírez and Medina — were killed in Ciudad Juárez from Jan. 1-15.
Va. Senate subcommittee tables anti-transgender student athlete bill
Virginia Beach Republican introduced SB 766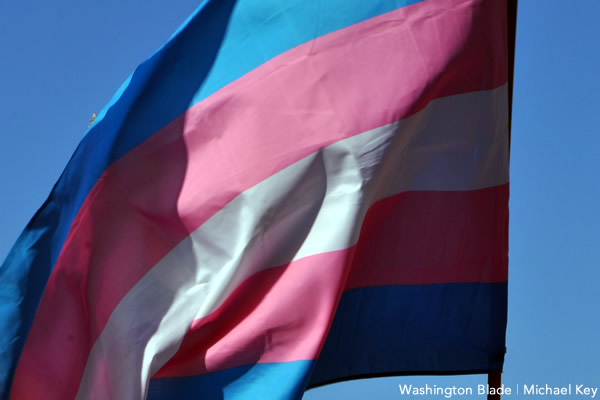 A Virginia Senate subcommittee on Thursday tabled a bill that would have banned transgender students from joining school sports teams that are consistent with their gender identity.
Senate Bill 766, which state Sen. Jennifer Kiggans (R-Virginia Beach) introduced on earlier this month, would have required "each elementary or secondary school or a private school that competes in sponsored athletic events against such public schools to designate athletic teams, whether a school athletic team or an intramural team sponsored by such school, based on biological sex as follows: (i) 'males,' 'men,' or 'boys'; (ii) 'females,' 'women,' or 'girls'; or (iii) 'coed' or 'mixed.'"
"SB 766 (trans sports ban) was passed by indefinitely (it died!) after a long line of speakers testified against it, affirming trans students' rights to participate in sports just like their cisgender peers," tweeted the American Civil Liberties Union of Virginia after the vote. "Trans students belong in sports. Period."
Republican Gov. Glenn Youngkin during his campaign said he does not support allowing trans children to play on sports teams that are consistent with their gender identity.
The General Assembly's 2022 legislative session began on Jan. 12 with Republicans in control of the House of Delegates. Democrats still control the Senate by a 21-19 margin.
A bill that would have eliminated the requirement that school districts implement the Virginia Department of Education's trans and non-binary student guidelines died in a Senate subcommittee on Thursday. The Senate General Laws and Technology on Thursday also tabled a religious freedom measure that would have undermined Virginia's LGBTQ-inclusive nondiscrimination law.
Two anti-LGBTQ bills die in Va. Senate
Democrats maintain 21-19 majority in chamber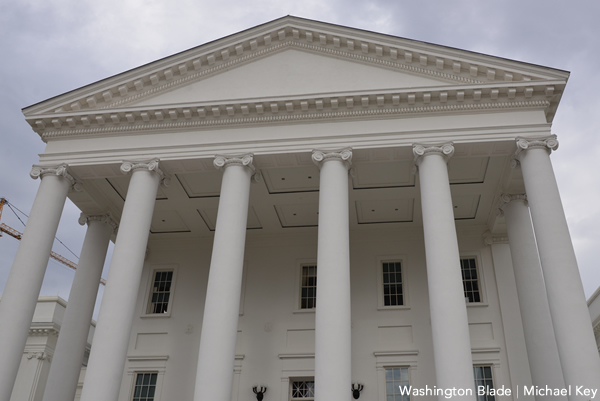 Two anti-LGBTQ bills died in the Virginia Senate on Thursday.
A Senate Education subcommittee voted against state Sen. Travis Hackworth (R-Tazewell County)'s Senate Bill 20, which would have eliminated the requirement that school districts must implement the Virginia Department of Education's transgender and non-binary student guidelines.
The Senate General Laws and Technology Committee in an 8-7 vote tabled state Sen. Mark Peake (R-Lynchburg)'s Senate Bill 177, a religious freedom measure that critics contend would have allowed anti-LGBTQ discrimination in housing.
Virginia's statewide nondiscrimination law includes sexual orientation and gender identity. Peake's bill would have removed "the provision of the exemption for religious organizations under the Virginia Fair Housing Law that denies such exemption where the membership in such religion is restricted on account of race, color, national origin, sex, elderliness, familial status, sexual orientation, gender identity, military status, or disability."
The General Assembly's 2022 legislative session began on Jan. 12 with Republicans in control of the House of Delegates. Republican Gov. Glenn Youngkin took office three days later.
Democrats, who maintain a 21-19 majority in the state Senate, have vowed to block any anti-LGBTQ bill.