ENDA's religious exemption still concerning as vote nears
Brown says religious exemption should be same for LGBT workers as other categories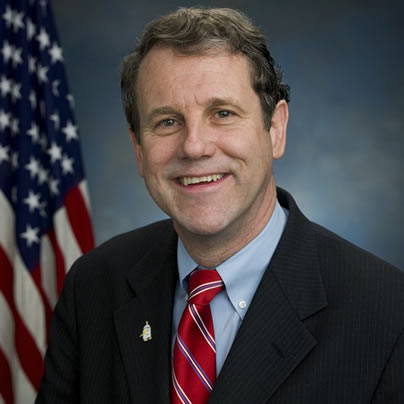 Shortly after filing cloture on the Employment Non-Discrimination Act, Senate Majority Leader Harry Reid (D-Nev.) held a 30-minute conference call with Nevada LGBT leaders late Thursday in anticipation of the bill coming to the Senate floor this week.
Among those on the call was Derek Washington, lead organizer for the LGBT group GetEQUAL Nevada, who said he raised with Reid concerns about ENDA's religious exemption.
That language would provide leeway for religious institutions, like churches or religious schools, to discriminate against LGBT workers in non-ministerial positions even if ENDA were to become law. It's broader than similar exemptions under Title VII of the Civil Rights Act of 1964 for categories of race, gender, religion and national origin.
"I mentioned to him that it was something that just was not palatable," Washington said. "I asked him what he felt about it, and he felt that the main thing to do was get the vote taken care of, and then deal with it later. As often times happens, you don't get something perfect the first time around, you go back and fix it later, so that was basically his take on it."
That account was corroborated by Faiz Shakir, a Reid spokesperson, who said the Democratic leader understands the concerns, but wants to get the bill passed first, then go back and address the exemptions.
"Sen. Reid's first priority is to pass the strongest possible legislation which can garner 60 votes," Shakir said. "He believes the current legislation meets that test."
Washington was unfazed by Reid's response that the religious exemption won't see change before passage, insisting the Nevada Democrat is one of the greatest champions for the LGBT community, noting, among other things, he was the first elected official to endorse the National Equality March in 2009.
"I think it would a shame to write a story about any of this without mentioning that that man is a hero to us, and I don't think people get that," Washington said.
That symbolizes the situation with narrowing the broad religious exemption in ENDA before the Senate approves the bill. Despite concerns that it's too expansive, the idea of limiting it at this time — such as the amendment process — isn't getting a lot of traction either from LGBT advocates or lawmakers.
Instead, those with concerns over ENDA's religious exemption have more modest aspirations: Get LGBT friendly lawmakers in the Senate to speak out against the language on the Senate floor.
Ian Thompson, legislative representative for the American Civil Liberties Union, is among those saying he's not seeking an amendment to religious exemption on the Senate floor, but wants the provision addressed in some way.
"By doing that, it's certainly our hope more and more pro-equality members of Congress and their staff will come to understand the potential harm of the current exemption, and I think we'll see growing support for narrowing it moving forward," Thompson said.
Thompson added he's "definitely hopeful" that senators will speak out against the exemption of the floor, but declined to name any prospects for who would articulate concerns.
Heather Cronk, co-director of GetEQUAL, said her organization "didn't anticipate" being able to change the religious exemption, but is looking for senators to speak out against the language.
"What we were hoping for for — which hasn't happened yet because the senators haven't gone to the floor yet — is for some of the more progressive senators to speak out from the floor against the religious exemption," Cronk said. "So, we'll wait and see what happens on the floor to see if we get those statements."
GetEQUAL has petitioned four senators with a reputation for being champions of progressive values — Sens. Kirsten Gillibrand (D-N.Y.), Elizabeth Warren (D-Mass.), Sherrod Brown (D-Ohio) and Al Franken (D-Minn.) — to speak out against the religious exemption. As of Sunday, the petition has just under 6,000 signatures.
It remains to be seen whether any senator will speak out in favor of limiting the religious exemption when ENDA comes to the Senate floor this week. Of these four senators, the only office who responded to the Washington Blade's request to comment on the extent of the religious exemption was that of Brown.
Meghan Dubyak, a Brown spokesperson, said the senator's focus is passing is ENDA, although he shares the belief the religious exemption for LGBT discrimination should be the same it is for other categories.
"Sen. Brown's top priority is overcoming a likely filibuster and ensuring passage of ENDA," Dubyak said. "He believes the religious exemption in ENDA should be consistent with the federal law that currently protects people against discrimination."
In July, Gillibrand said during a Third Way event that said she'd go even further and amend ENDA to remove the religious exemption. However, her staffers have apparently backtracked from that statement as they're now mum on the issue.
For its part, the White House is staying out the argument over the religious exemption. Shin Inouye, a White House spokesperson, reiterated in an email weeks ago President Obama supports ENDA, but is leaving the details to Congress.
"We look forward to lawmakers moving forward on this bill that upholds America's core values of fairness and equality," Inouye said. "While we defer to Congress on the specifics of the legislation, we believe lawmakers will be able to find a balance that protects LGBT workers and religious liberty."
Since the introduction of ENDA this year, the ACLU has called for narrowing the religious exemption along with groups like GetEQUAL, the National Center for Lesbian Rights, Lambda Legal and the Transgender Law Center, the National Gay & Lesbian Task Force.
On the other hand, groups working on like Freedom to Work, the Human Rights Campaign and the Center for American Progress have endorsed the current exemption in ENDA.
Tico Almeida, president of Freedom to Work, co-wrote the religious exemption currently found in ENDA while working as a House staffer in 2007. Neither he nor HRC responded to multiple requests to comment for this article.
Winnie Stachelberg, vice president of external affairs for the Center for American Progress, said the religious exemption is necessary to enable bipartisan support to move the bill forward.
"The current religious language reflects a bipartisan compromise that represents a pragmatic balance between ensuring that LGBT workers have the protections they need and organizations," Stachelberg said. "While the religious exemption is broader than other civil rights statutes it will ensure that LGBT workers have the protections they need."
If anything, the movement in the Senate on ENDA's religious exemption this week may be more toward expanding it even further.
Sen. Rob Portman (R-Ohio), seen as a potential supporter of ENDA, has said he's behind the basic premise of the legislation, but has concerns about restrictions on religious liberties and wants to strengthen the bill to ensure they're protected.
Prior to the committee vote on ENDA in July, Sen. Rand Paul (R-Ky.) had prepared an amendment that would replace the bill's religious exemption with more comprehensive language for religious employers. It was never brought up before the committee. Paul's office didn't respond to a request to comment on whether the senator would introduce the amendment on the Senate floor.
Concerns over the existing religious exemption were ramped up last month when Tippi McCullough, formerly a teacher for 15 years at Mount St. Mary Academy in Little Rock, Ark., was forced to resign after the school learned she had married her same-sex partner in New Mexico. Because the school is a religious institution, it would not be subject to liability under ENDA.
Thompson said the consequences of passing ENDA with its current exemption in place are hard to predict, but said it would be "a dramatic, and from our view, and very troubling expansion of an exemption like this in our federal civil rights law."
"I think that it wouldn't be too into the future before we saw instances of employment discrimination occurring against workers who should be protected from employment discrimination and may find out that because the scope of the existing religious exemption that they may not be," Thompson said.
LGBT advocates who oppose the religious exemption chose their words carefully about whether they want to see ENDA passed this year with the current language — as opposed to letting it die in Congress so that it could be passed with a narrow exemption at a later time.
Thompson said the ACLU has been a "longtime champion of ENDA" because of the protections in the bill "are critically important and long overdue."
"We've endorsed it, so that's a position that we've taken," Thompson said. "We have consistently, also though, raised concerns about the scope of the religious exemption and said that that is should be appropriately narrowed ultimately before it ends up on the president's desk, and that's our view, but at the same time because of the protections that it would afford to LGBT people are so important and so needed, we also support the bill."
Cronk said GetEQUAL neither supports nor opposes the bill and believes "any time that that pro-LGBT legislation comes up in Congress, we want that legislation to move forward."
"Our organizers didn't feel good about organizing in support of the bill because there wasn't that change to the religious exemption and because the grassroots network we work with feel the impact of that everyday," Cronk said. "They work in hospitals in the closet, or they teach at schools where they're in the closet, and they have a really clear sense about who would be left behind by this legislation, and didn't feel that was in line with our vision."
Kamala Harris addresses LGBTQ community activists at White House roundtable
VP calls herself 'long-standing ally of the community'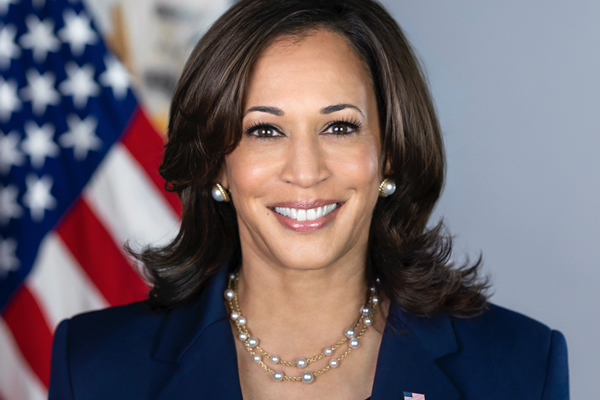 Vice President Kamala Harris addressed LGBTQ leaders Wednesday at White House roundtable in recognition of Pride Month, declaring "there's a lot of work to be done" in terms of LGBTQ issues.
"You as community activists, you all have your eyes and ears to the ground," Harris said in her prepared remarks for the event, which took took place in the Ceremonial Office of the Vice President next to the White House.
Harris, speaking in her prepared remarks that lasted about five minutes, touted the efforts of the Biden administration in advancing LGBTQ rights, including the most recent announcement from the Department of Veterans Affairs it would begin to cover gender reassignment surgery for transgender veterans.
Looking forward, Harris said passage of the Equality Act, legislation that would expand the prohibition of anti-LGBTQ discrimination under federal law, was among the work items to be completed.
"We still don't have full rights when it comes to employment, housing — things of that nature," Harris said. "So there's a lot of work to be done."
Harris, calling herself a "long-standing ally of the community" also identified her past efforts in support of LGBTQ community, going back her time as San Francisco District Attorney when she created for an LGBTQ hate crimes unit, then as California attorney general pushed the state to become the first to outlaw LGBTQ panic defense in court.
"You are the voices of so many who probably will never walk into this room, and probably over the course of time were not thought to be invited into this room," Harris concluded.
Harris also talked about ongoing violence against the transgender community as well as the wave of new state legislatures against transgender youth, restricting their access to school sports and transition-related care.
The LGTBTQ leaders in attendance at the event were, per the White House:
Imani Woody, Founder, Mary's House
Amiri Nash, DC Youth Poet Laureate
Marcelle Afram, Chef and Co-Owner, Shababi Palestinian Rotisserie Chicken
D Ojeda, Policy Advocate, National Center for Trans Equality
Mia Ives-Roblee, Director of Disability Justice Initiative, Center for American Progress
Anthony Musa, Chair, Pride in Federal Service & Sanctions Licensing Officer, U.S. Department of the Treasury
Kevin Jordan Contreas, Community Health Supervisor, Whitman-Walker (Frontline Healthcare Worker)
The Washington Blade attempted to shout out a question after Harris' remarks on efforts to reach out on the Equality Act, but it was drowned out by other reporters' inquiries as White House staffers escorted the pool out of the Ceremonial Room.
Chaos erupts at Loudoun County school board meeting over trans students rights proposal
Two people arrested, two others injured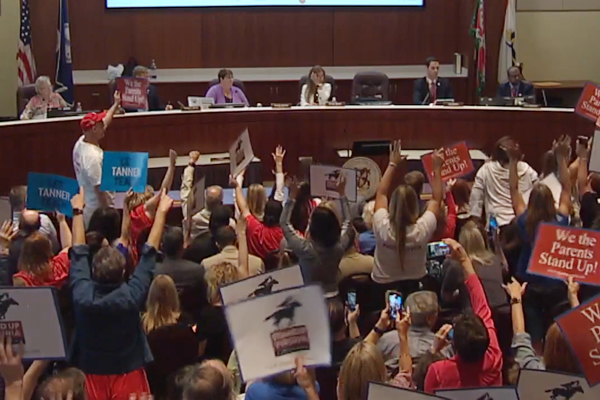 The Loudoun County School Board abruptly ended its meeting Tuesday as chaos erupted after parents who were against the school district's implementation of Policy 8040 failed to observe rules regarding disruptions and decorum.
Loudoun Now reports Vice Chair Atoosa Reaser made the motion to curtail public comment about an hour after that portion of the meeting began. A brawl then broke out between members of the public, and Loudoun County Sheriff's Department deputies were called to clear the room.
Two people were arrested, and two people also suffered minor injuries. The names of those who were taken into custody and injured have not been made public.
The school board resumed its meeting at 6:30 p.m. after it ended the public comment session and deputies cleared the room. The school board entered into closed session to meet with legal counsel and discuss negotiations involving a bid award.
In light of the events that transpired at the school board meeting, a group of LGBTQ groups in neighboring Fairfax County in a statement called upon prominent community members to condemn the anti-transgender hate in Loudoun County.
"A coalition of organizations based in Northern Virginia is calling on local officials … to condemn the rise of anti-LGBTQIA+ hate, in particular animosity towards transgender and gender-expansive students, on display in Loudoun County," reads the statement
"In addition, the coalition is asking for the denouncement of support for this hate from other local groups, including the Fairfax County Republican Committee, the Family Foundation of Virginia and the Family Research Council," it adds. "Finally, the members of these organizations are requesting visible displays of support for LGBTQIA+ students, particularly trans and gender-expansive students, in both words and deeds."
More than 300 people attended the school board meeting, with many of them opposing Policy 8040 which would allow transgender students to use their preferred name and pronouns regardless of the name and gender in their permanent education record. The proposed policy would also not require them to provide any substantiating evidence.
Parents also expressed their support for Policy 8040 during the public comment session.
They spoke in favor of inclusivity and equality in the Loudoun County School District.
Parents who were against the policy cited the need to respect biology and privacy as their arguments. In addition, some speakers, including former state Sen. Dick Black expressed anger at the previous school year's events such as the suspension of physical education teacher Tanner Cross after he refused to refer to trans students using their preferred pronouns.
"The crowd repeatedly cheered public speakers who lashed out at school board members and denounced the plan that would provide bathroom and locker room access based on a student's gender identity," WTOP News reports.
Only 51 of the 249 speakers who had signed up for public comment ended up speaking before Reaser's motion was passed.
VA to start process of covering gender reassignment surgery for trans veterans
Coverage was rejected even during Obama years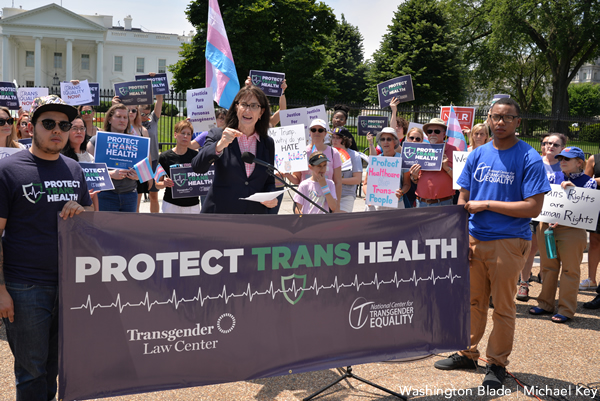 The Department of Veterans Affairs has become the latest federal government health program to affirm it would begin covering gender reassignment surgery — an option for transgender veterans that was even rejected during the Obama administration.
Randal Noller, a VA spokesperson, said in response to an email inquiry from the Blade the department this summer "will initiate steps to modify rules published in the Code of Federal Regulations (also known as the CFR), to expand VA's care to transgender Veterans and include gender-affirming surgery."
"Gender-affirming procedures have been proven effective at mitigating serious health conditions, including suicidality, substance abuse, and dysphoria," Noller said. "Updating this policy would allow VA to provide transgender and gender diverse Veterans with coordinated, medically necessary, transition-related surgical procedures."
Noller added the change "would enable a safe, coordinated continuum of care that is Veteran-centric and consistent with VA values of equity and respect for all veterans." The entire process for implementation, Noller said, can take about two years and includes a period of public comment.
VA Secretary Denis McDonough first announced the policy change in a speech in Orlando marking the five-year anniversary of the mass shooting at the Pulse nightclub.
Once implemented, the VA would join other federal health care systems in offering coverage for gender reassignment surgery, which previously has included Medicare, Medicaid (other some states, like Iowa, are dubiously claiming exemptions), the Federal Employee Health Benefits programs and the U.S. military health care system as a result of the Biden administration reversing the transgender military ban.
The idea of the VA offering coverage for gender reassignment surgery was first raised during the Obama administration. However, in the lame duck session after former President Trump was elected, the then-Secretary of Veterans Affairs scrapped the idea, citing concerns about appropriate funding.
According to the National Center for Transgender Equality, the estimated number of U.S. veterans who are transgender is more than 134,000, and more than 15,000 transgender people are serving in the military today.
Mara Keisling, executive director of the National Center for Transgender Equality, hailed the change in a statement on Saturday as "another step in the Biden administration's effort to fight discrimination against transgender people, including our transgender veterans."
"Every veteran deserves to have access to the health care that they need, and the VA is working to make sure that includes transgender veterans as well," Keisling said.