Reid confident of ENDA's prospects after Senate vote
GOP House 'is going to have to capitulate'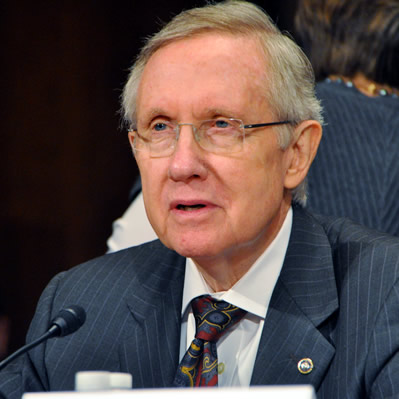 Senate Majority Leader Harry Reid (D-Nev.) maintained on Wednesday that the Employment Non-Discrimination Act would pass Congress, predicting the House "is going to have to capitulate" on the bill to extend workplace discrimination protections to LGBT people.
The Democratic leader addressed ENDA strategy — including prospects for inserting it into the defense authorization bill or a House discharge petition — speaking with a handful of reporters in his office two days after the Senate invoked cloture on the measure, 61-30, saying he expects the chamber to wrap up the legislation by 5 p.m. on Thursday.
Amid concerns that moving the bill in the House would be a non-starter given the Republican leadership's opposition, Reid said he "wouldn't be too sure about that."
"I think the House is going to have to capitulate," Reid said. "If they have any hope of a president that can be a viable candidate, or they think they can elect some Republicans, and want to hang on to the House, they've got issues."
After saying on the Senate floor Tuesday he thinks the bill would pass the House if it were allowed to come up for a vote, Reid reaffirmed that belief to reporters, saying passage would be "easy."
"They have five co-sponsors out of like 232; they should be proud of that," Reid said. "I think virtually all Democrats would vote for that, and you know as well as I do, it's just a handful of people that they need from Republicans."
When the Washington Blade noted that one idea for passing ENDA is inserting the language into larger legislation like the defense authorization bill, Reid was dismissive.
Even though the defense bill has passed 52 years in a row, Reid said he's not sure it can happen this time around given the gridlock in Congress.
Instead, Reid said the better path is to make "one loud chant" to pass the bill along with legislation related to immigration, marketplace fairness, postal reform as well as the farm bill to make the House look like it's "living in some other world."
"I think that would be the better way to go, and one that's realistic," Reid said. "The other way won't work."
Reid said he agreed with comments from House Minority Leader Nancy Pelosi (D-Calif.) that a strategy similar to passing the Violence Against Women Act reauthorization in the Republican-controlled House, which she said made the bill "too hot to handle," could be pursued with ENDA.
Also, Reid dismissed the idea that a discharge petition could be a way to move the bill in the House.
"Nope, I don't think so," Reid said. "When they get close to 218, the speaker backs them off, the Republicans."
But asked by the Blade whether House intransigence might give President Obama room to issue an executive order prohibiting LGBT discrimination among federal contractors, Reid agreed, saying, "I think that that certainly would be the case."
Reid recalled that President Obama took executive action to help young, undocumented immigrants who would be eligible for relief under the DREAM Act because Republicans have opposed the bill, saying the situation with ENDA could be similar.
Still, Reid said an executive order from Obama to address LGBT workplace discrimination isn't his preference.
"I would rather try to get it done legislatively first," Reid said. "I think that would be my first choice."
Numerous questions came up during the roundtable about the amendments proposed by Republicans to ENDA.
When a reporter brought up the amendment filed by Senate Minority Leader Mitch McConnell (R-Ky.) and Sen. Rand Paul (R-Ky.) that would add a national right-to-work provision to ENDA, Reid said he knew what it was even before the measure was explained to him.
Reid said the measure amounted to a "press release" for supporters of right-to-work "right across the river here," saying "it was just for them."
But Reid was more understanding of the amendment proposed by Sens. Rob Portman (R-Ohio) and Kelly Ayotte (R-N.H.) to ensure that the government won't retaliate against religious organizations that invoke the religious exemption in ENDA.
"I believe it was an effort by them to have a reason for joining the bill," Reid said.
That measure passed by voice vote shortly after Reid spoke to reporters. LGBT advocates have said that language merely reinforces the status quo and makes no substantive change.
Reid also addressed concerns that the religious exemption in ENDA is too broad because it would give religious organizations greater leeway to discriminate against LGBT people than what is allowed under existing law for the protected categories of race, gender and national origin.
"There's nothing we do that's perfect," Reid said. "The goal is to get something passed, move forward. And this allows us to move forward."
Asked about the lack of Republican opposition on the floor to ENDA on the day of the cloture vote, Reid said it was "just funny."
"We were told that it was Cruz who would be the one to give the speech," Reid said. "I find it terribly interesting that Cruz didn't know what he would say because we found he was willing to talk about anything. He wasn't willing to do that."
Sean Rushton, a Cruz spokesperson, said Reid's assertion that Cruz was supposed to speak against ENDA is "factually inaccurate." A source said the senator was in the car racing to make the vote and never had any plan to speak.
Faiz Shakir, a Reid spokesperson, insisted in a follow-up response that Democrats saw Rubio point to Cruz on the Senate floor.
"Maybe it was a joke, we don't know," Shakir said.
But Reid had more criticism for Cruz. The majority leader said if he didn't care so much about the country, he'd want Cruz to become the 2016 Republican presidential nominee "because that would end the Republican Party."
"They have offended everybody," Reid said. "Over the years, what they have done to African Americans is really hard to comprehend. Now the new people they're beating up on is Hispanics, women…and lesbian, gays and the other people we have included in this bill."
Reid also talked about the significance of including transgender protections in ENDA this time around after they were stripped from the bill when the House voted on it in 2007.
"As I've grown on this issue, so have the American people," Reid said. "One time it was a big deal to people who have tried to understand transgender. That held up this legislation for a while. I'm confident of that. To the credit of the HRC, and other groups, when we wanted to move forward without that, they said 'no.'"
Reid said HRC has told Congress not to pass a gay-only bill, though the organization continued to support the legislation without the transgender protections in 2007. Since then, HRC has supported ENDA only with transgender protections.
Speaking personally about ENDA, Reid mentioned his three adult grandchildren.
"For me to feel any differently about this, they wouldn't feel proud of their grandfather," Reid said. "It's just with my five children, it's a non-issue, but for my three adult grandchildren, it's a non-non-non-issue. They can't imagine why anyone gives a damn."
Reid disclosed in an earlier conversation with reporters that he had a lesbian niece. Asked whether he had spoken to her since Senate movement on ENDA, Reid said he hadn't.
"She called me, left a message when we were able to open the government," Reid said. "She's, of course, proud of her uncle. But she and I don't need to dwell on the issue, she's just like everybody else."
Reid, a Mormon, was asked by the Blade how he reconciles his faith, which says homosexuality violates God's law, with his support for gay rights. Reid replied that he's given a lot to his church and there are Mormons like him who share his views.
"When I attend church here in Washington, D.C., I bet more people agree with me than disagree with me, and so the church is changing, and that's good," Reid said.
In the aftermath of ENDA passage in the Senate, Reid said he'd have to hear from the LGBT community on what the next steps should be, but mentioned bullying as a problem over which he shares concern.
"As I was growing up, somebody who was 'queer' was really easy to pick on," Reid said. "I was not in that category, but I saw it happen, and I didn't do enough to speak out."
Rachel Levine on becoming four-star admiral: 'It comes from my desire to serve'
Trans official sworn-in to U.S. Public Health Service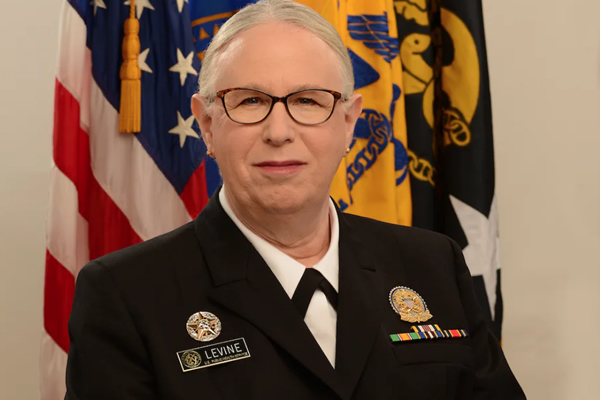 For Rachel Levine, the appointment to her new role as a four-star admiral complementing her existing duties as assistant secretary for health is another way for the first openly transgender Senate-confirmed presidential appointee to serve.
"I think that this just really comes from my desire to serve in all capacities," Levine said in an interview Tuesday with the Washington Blade. "To serve the first day in my field of academic medicine and pediatrics, but then in Pennsylvania and now in the federal government, and it furthers my ability to do that."
Levine, 63, also recognized the importance of the appointment as a transgender person within the U.S. Public Health Service, for which she was ceremonially sworn in on Tuesday
"I think for the LGBTQ+ community, it is a further sign of progress and our president's commitment to equity, to inclusion and diversity," Levine said. "So I think that it is a very important milestone, and I'm pleased to serve."
As part of her duties, Levine will lead an estimated 6,000 public health service officers serving vulnerable populations, including deployments inside and outside the country for communities beleaguered with the coronavirus, according to the Department of Health & Human Services. The role involves working closely with U.S. Surgeon General Vivek Murphy, whom Levine called her "friend and colleague."
The U.S. Public Health Service, Levine said, has deployed "many, many times," including its greatest number ever of deployments to vulnerable populations during the coronavirus pandemic. Among the places the service has deployed, Levine said, was in her home state of Pennsylvania, where she recently served as secretary of health.
Not only is Levine the first openly transgender person to serve in the uniformed health service as a four-star general, but she's also the first woman to serve in that capacity.
"We have 6,000 dedicated committed public servants really all focused on our nation's health, and they serve in details to the CDC and the FDA and the NIH, but also clinically with the Indian Health Service, and the federal prison system," Levine said. "They're also detailed and deployed throughout the country, and they deployed like never before for COVID-19 as well as the border, as well as dealing with floods and hurricanes and tornadoes."
Although the Public Health Service is primarily focused on addressing public health disasters within the United States, Levine said it has a record of deployments overseas, including years ago when it was deployed to Africa under the threat of Ebola.
Secretary of Health & Human Services Xavier Becerra had high praise for Levine in a statement upon news of taking on a leadership position in the service.
"This is a proud moment for us at HHS," Becerra said. "Adm. Levine — a highly accomplished pediatrician who helps drive our agency's agenda to boost health access and equity and to strengthen behavioral health — is a cherished and critical partner in our work to build a healthier America."
Levine, however, was careful to draw a distinction between her appointment within the Public Health Service and being a service member within the U.S. armed forces.
"It is not a military branch, it's not the armed forces: It's a uniformed force, so it's different," Levine said. "For example, the Army, the Navy, our military, there are two other uniformed branches, and that is ours, the United States Public Health Service Commissioned Corps and NOAA."
The new role, Levine said, would complement her duties as assistant secretary for health. Although not only secretaries of health have been commissioned to take the uniform, Levine said she wanted to undertake that as part of her role in the Biden administration.
The two appointments were not simultaneous, Levine said, because of a general process she undertook, which was completed just this week.
It hasn't been an easy road for Levine. During her Senate confirmation process, when she was hounded by anti-transgender attacks in conservative media and rude, invasive questioning by Sen. Rand Paul (R-Ky.) on her gender identity.
Levine, however, said she hasn't encountered any hostility regarding her new role (as of now) and shrugged off any potential attacks in the future and said the move is about her career "to serve and to help people."
"I've continued that for our nation as the assistant secretary for health and this is just a further demonstration of my commitment to service," Levine said. "I don't know what others will say, but that's the genesis of my wanting to serve in the United States Public Health Service Commissioned Corps, and to place on the uniform."
Levine's new appointment comes shortly after a group of Democratic senators led by Sen. Chris Murphy (D-Conn.) sent her a letter dated Sept. 30 calling on her and Miriam Delphin-Rittmon, assistant secretary for mental health and substance use, to issue new guidance for hospital or residential care on mental health needs of transgender people.
Asked about the letter, Levine said mental health issues are under the authority of Delphin-Rittmon and the two "will work together and we will respond."
Specifically, the senators in the letter call on the Behavioral Health Coordinating Council, or BHCC, and experts in the field of adolescent trans care to offer guidance on best practices for inpatient mental health care among these youth.
Asked what the response will look like, Levine said, "We're going to work on that."
"We will be looking at what they're asking for and the requirements, and we'll talk with them and the stakeholders and we'll look to issue appropriate guidance," Levine said.
Biden endorses Roem for re-election
Former journalist is first out trans person in any state legislature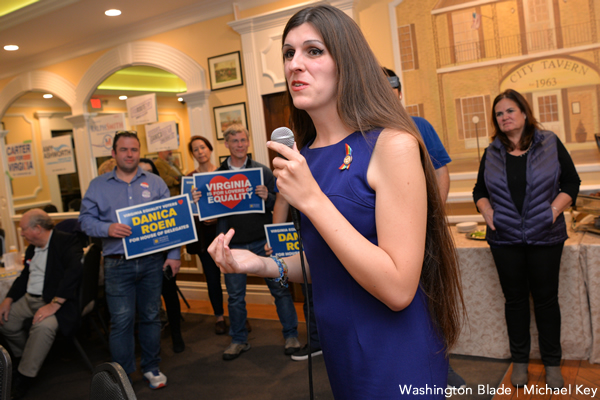 President Biden on Tuesday endorsed Virginia state Del. Danica Roem (D-Manassas) for re-election.
Speaker Eileen Filler-Corn (D-Fairfax County) is among the other Democratic members of the Virginia House of Delegates who Biden backed. Biden in his tweet also stressed his support of Terry McAuliffe, who is running against Republican Glenn Youngkin to succeed Democratic Gov. Ralph Northam.
"Building back better starts in the states," tweeted Biden. "Since flipping the legislature in 2019, Virginia Democrats have been a model of progress—including helping us vaccinate folks to beat the pandemic. To keep our progress, we must elect Terry McAuliffe and Democrats up and down the ballot."
Building back better starts in the states. Since flipping the legislature in 2019, Virginia Democrats have been a model of progress—including helping us vaccinate folks to beat the pandemic. To keep our progress, we must elect @TerryMcAuliffe and Democrats up and down the ballot. pic.twitter.com/NsJiiPNzlv

— Joe Biden (@JoeBiden) October 19, 2021
Roem, a former journalist, in 2018 became the first openly transgender person seated in any state legislature in the U.S.
Biden called Roem on the night she defeated then-state Del. Bob Marshall and congratulated her. A Washington Post picture that showed Roem crying moments later went viral.
The Manassas Democrat who represents the 13th District in 2019 easily won re-election. Christopher Stone, the Republican who is running against Roem in this cycle, opposes marriage and adoption rights for same-sex couples.
Cómo las empresas impulsan la inclusión e inserción laboral LGBTQ
Uno de cada 20 jóvenes de la comunidad tiene su negocio propio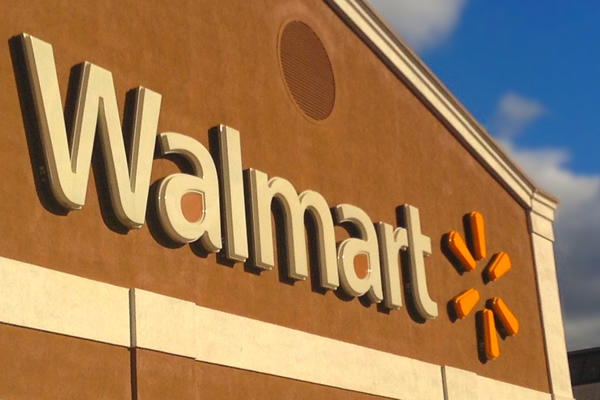 Reportar sin Miedo es el socio mediático del Washington Blade en Honduras. Esta nota salió en su sitio web el 15 de octubre.
CIUDAD DE GUATEMALA — Apenas el 5 por ciento de los jóvenes LGBTIQ+, es decir uno de cada 20, tiene negocio propio. Esa es una de las cifras reveladas en el webinar "Empresas y derechos humanos: perspectiva LGBT", que se desarrolló durante la IV Semana de Empresas y Derechos Humanos.
El taller se llevó a cabo con apoyo de la organización diversa Visibles, la embajada del Reino Unido en Guatemala, Walmart México y Caricam. En la actividad se abordaron los retos que las empresas afrontan de cara a la inclusión.
Al preguntarle a las personas LGBTIQ+ sobre sus oportunidades laborales, ¿Qué tendencias vemos?@hg_duarte explica los hallazgos de nuestra investigación y cuenta algunas de las experiencias en el evento de Empresas y Derechos humanos de @UKinGuatemala pic.twitter.com/NiIvtWCmRj

— Visibles (@visibles_gt) October 14, 2021
El tema se remonta a 10 o 20 años, en los que han surgido empresas con un enfoque de recursos humanos y políticas de no discriminación que incluyen orientación sexual e identidad de género.
Estas organizaciones ofrecen prestaciones y licencia de paternidad, además igualan el tiempo que se da a padres del mismo sexo, ofrecen seguros médicos que incluyen necesidades de personas transgénero y redes LGBTIQ+.
Por otra parte, empiezan a llevar a cabo eventos por el mes del orgullo LGBTIQ+.
Una campaña multinacional
La Human Rights Campaign se ha lanzado en Brasil, Argentina, México, Chile y Estados Unidos, país donde nació. En el caso de las iniciativas multiactor, algunas de estas empresas están empezando a abrirse a otras empresas y tratan de ofrecer algún tipo de apoyo.
Muchas compañías ven el acrónimo LGBT como si se tratase de un grupo homogéneo.
Es decir, ven a las poblaciones diversas sin distinguir entre personas gays, lesbianas, transexuales, transgénero e intersexuales, no separan la orientación sexual de la identidad de género.
"Las personas LGBTIQ nos enfrentamos a una discriminación estructural social y cultural que no nos permite acceder a empleo, salud, educación, justicia y derechos civiles, entre otros derechos…" @danberezowsky en foro de empresas y DDHH de @UKinGuatemala pic.twitter.com/HaLVkxeIsW

— ReportarSinMiedo (@ReportarSin) October 14, 2021
Estas empresas tampoco distinguen las experiencias de las personas dentro del acrónimo y hacen una sola campaña, como si se tratara de todas las personas por igual.
Esto es muy importante porque estamos en una semana de empresa y derechos humanos. Se trata del punto de entrada en la discusión, no el punto de entrada de riesgo.
"Esta investigación aborda la violencia para la población joven, de 18 a 23 años", explicó el Investigador de la Asociación Visibles de Guatemala, Gabriel Duarte. "Fue un proyecto regional que se llevó a cabo en Guatemala, El Salvador y Honduras. En Guatemala, el proyecto se realizó de 2019 a 2020 con enfoque, investigación y acción participativa. Entrevistamos a 30 jóvenes de la diversidad sexual y de género".
Solo uno de cada 20 jóvenes es empresario
En 2020, más del 40 por ciento de los jóvenes LGBTIQ+ de 15 a 29 años tuvieron su primera experiencia en el mundo laboral como asalariados y menos del 5 por ciento (uno de cada 20) tuvieron negocio propio, según el Instituto Nacional de Estadística (INE).
El Estado hondureño tiene debilidades que afectan a la población joven LGBTIQ+. Una de ellas es que el artículo 14 del Código de Trabajo prohíbe la discriminación por diversos motivos, pero nunca aborda la orientación sexual o género.
En cuanto a las discriminaciones contra la comunidad LGBTIQ que pueden llevar procesos legales, no hay ninguna tipificación de delito.
"Uno de los obstáculos del diseño de políticas públicas es no contar con estadísticas oficiales que muestren qué porcentaje de la población se autoidentifica como LGBTIQ+", enfatizó Duarte.
Menos acceso a educación igual a menos oportunidades
Según Gabriel Duarte, la falta de acceso a educación de calidad impacta directamente en el tipo de empleo y la remuneración económica.
"Muchas personas LGBTIQ+ que entrevistamos en esta investigación describían de que al salir del clóset tuvieron que abandonar su hogar porque su familia no los había aceptado", dijo Duarte.
Esta primera ponencia resalta la necesidad de cerrar brechas de acceso a oportunidades de educación.
"Cada vez más empresas crean políticas inclusivas para incluir a personas LGBTI+ en sus organizaciones. UK esta combatiendo la discriminación desde todos los frentes, pasando por los clientes, empleados y la cadena de valor" dijo @WhittinghamFCDO en evento sobre empresas y DH. pic.twitter.com/Ob79eqXovf

— ReportarSinMiedo (@ReportarSin) October 14, 2021
También propone tener políticas de inclusión y de prevención de la discriminación dentro de los lugares de trabajo, ya que muchas personas mencionaron que no sufrían necesariamente violencia física, sino psicológica dentro de estos espacios laborales.
Duarte resaltó que la oficina del Alto Comisionado de las Naciones Unidas recomendó asegurarse de que no haya discriminación en el acceso a los servicios básicos, incluso en el contexto del empleo y de la atención de la salud, y ofrecer educación y capacitación para prevenir la discriminación y estigmatización de las personas LGBTIQ+.
El caso de Walmart
"Cambiar la mentalidad no solo de nuestros asociados, sino también del contexto guatemalteco», dijo la representante de Walmart, Ana Valeria.
Agregó que es necesario dejar de creer que es posible llamar "pobrecita" a una persona con discapacidad.
Según Valeria, Walmart les ha dado valor a estas personas de aportar su talento y habilidades al desarrollo de las unidades de trabajo.
"Walmart en Guatemala cuenta con 367 asociados y asociadas con discapacidad que día a día muestran la pasión y el compromiso de seguir trabajando y aportando en cada una de nuestras metas", dijo la representante de la multinacional.
Ana Valeria Escobar de @WalmartMXyCAM habla sobre la política de inclusión que ofrecen la compañía a mujeres, personas con discapacidad y personas LGBTI+. "Ofrecemos un lugar seguro y libre de discriminación". pic.twitter.com/48IgXej9Rl

— ReportarSinMiedo (@ReportarSin) October 14, 2021
Un carnet para identificar el género
Walmart enfrenta los retos sociales y culturales de las regiones de Guatemala, agregó Valeria, "garantizamos entornos laborales seguros y diversos. Comunicamos de forma abierta y clara nuestra postura como compañía hacia la inclusión y el apoyo a la Comunidad LGTB. Tuvimos resultados que se transformaron en un gran reto y opiniones diversas de los sectores de Guatemala".
Walmart ha avanzado en la integración del talento diverso, según Valeria. "Quienes forman parte de la comunidad LGTB pueden ahora identificarse con un gafete de Walmart. Creemos que estos asociados tienen la libertad de ser ellos mismos y elegir al momento de utilizar esta identificación. Pueden portar el nombre que les permita ser ellos mismos y expresarse con sus características únicas dentro de cada una de nuestras tiendas".
La compañía con sede en Arkansas, Estados Unidos, da también paquetes de beneficios en igualdad de condiciones para sus asociados, dijo Valeria.
Walmart "no limita las oportunidades de carrera, ascensos, información e igualdad de condiciones para sus asociados".
La compañía, considerada "el empleador más privado más grande del mundo" tiene, según su representante, "la responsabilidad de impactar positivamente en las sociedades y comunidades donde operamos".
En muchos países de América Latina, faltan leyes que protejan y reconozcan identidades LGBTI.

Pero ese NO debe ser pretexto para que las empresas se laven las manos.

¡Al contrario! Es una oportunidad para dar el ejemplo y usar su influencia para generar cambios en la ley. 🏳️🌈

— Daniel Berezowsky (@danberezowsky) October 14, 2021