December 4, 2013 at 10:30 am EST | by Lou Chibbaro Jr.
Higher AIDS drug costs under Obamacare?
AIDS advocacy organizations say people with HIV could be forced to pay hundreds of dollars more each month for life-saving prescription drugs through health insurance plans required under the soon-to-be implemented Affordable Care Act known as Obamacare.
Leaders of more than 160 national and local organizations advocating for people with AIDS and other diseases sent a joint letter on Monday to Kathleen Sebelius, the U.S. Secretary of Health and Human Services, urging her to allow drug company discount programs to operate under Obamacare.
"We, the undersigned organizations and individuals, are writing to urge that the HHS issue clear guidance on the allowance of drug industry-provided co-payments, co-insurance, or other out-of-pocket discount cards and coupons in the Affordable Care Act's Health Insurance Marketplaces," the letter to Sebelius says.
"As people living with, and organizations serving people with HIV, HCV [Hepatitis C Virus], and other life-threatening and chronic health conditions, we are alarmed by the possibility of the prohibition of these critical financial lifelines," the letter says.
The signers of the letter were referring to a controversy that erupted last month when Sebelius released a letter she sent to U.S. Rep. Jim McDermott (D-Wash.) saying HHS determined that the Obamacare health insurance exchanges were not "federal health care programs" as defined by a separate federal law aimed at curtailing health care fraud.
By declaring that the exchanges are not federal health care programs HHS, among other things, made the exchanges and the insurance plans sold under them exempt from a provision of the Social Security Act that bans pharmaceutical companies from providing insurance co-payment discounts or subsidies to patients for the purchase of prescription drugs.
Although this initial action by HHS drew strong support from AIDS organizations it surprised and angered many private health insurance companies and federal and state consumer protection regulators, who argued that the exemption would take away an important tool for preventing and prosecuting health care fraud.
Critics, including U.S. Charles Grassley (R-Iowa), noted that the Social Security Act prohibits pharmaceutical companies from providing co-payment assistance to patients under Medicare and Medicaid and that the Affordable Care Act should be considered as a similar federal health program.
Possibly due to the criticism of Sebelius's initial determination on the issue, a short time later the HHS Center for Consumer Information and Insurance Oversight, which oversees insurance-related matters, issued a memo that appeared to contradict Sebelius's interpretation of the Social Security Act.
The latter development prompted the AIDS organizations and allied groups to send their Dec. 2 letter to Sebelius urging her to hold firm on her initial determination that the insurance exchanges are exempt from the Social Security Act's ban on drug company subsidies for prescription drug coverage.
The D.C.-based national group Health HIV participated in efforts to recruit groups to sign the letter.
According to the Wall Street Journal, drug companies spent about $4 billion on co-payment assistance programs for patients with HIV and other illnesses in 2011. The paper cited experts in the pharmaceutical industry that said the assistance programs often lowered a patient's co-payment from $250 or more per month to just $5 per month for a prescription drug.
Critics of the program say the subsidies often are given for brand-name drugs and encourage patients not to request cheaper generic drugs. This forces insurance companies to pay more for the name-brand drugs, resulting in higher premiums for everyone in the long run, critics have said.
But in their letter to Sebelius, the AIDS organization officials said most AIDS-related drugs needed by people with HIV are not available in generic forms.
"[W]e urge you to consider the unintended consequences of suddenly removing industry-provided out-of-pocket assistance for brand-name drugs without generic equivalents from the patchwork of programs that so many people with serious and chronic conditions rely on," the joint letter says.
"It could potentially threaten access to lifesaving medications for thousands of people living with HIV; bar millions of people with hepatitis C from benefiting from the new short-course curative treatment combinations; and keep countless people with cancer and other debilitating and life-threatening illnesses from the treatment they need to stay alive," the letter says.
"We fear this will be a major setback to the goals of the Affordable Care Act," it says.
HHS spokesperson Mike Robinson said he would make inquiries in response to a request by the Blade for Sebelius's response to the joint letter by the AIDS organizations, but he did not immediately respond.
"We're still waiting for a clear determination from HHS," said Carl Schmid, deputy director of the AIDS Institute, one of the groups that signed on to the letter to Sebelius. "There have been some mixed signals from the department."
Schmid said the drug company assistance programs seek to help people with HIV who are not eligible for the federal-state AIDS Drug Assistance Program known as ADAP, which provides AIDS drugs to low-income people who don't have insurance.
Although people being helped by the pharmaceutical company assistance programs often are employed and have moderate incomes, the high cost of prescription drug co-payments could be devastating to them, Schmid and others familiar with the programs said. Some people with HIV need more than one drug for their treatment regimen, and co-payments under their insurance plans often result in co-payments of more than $200 per drug per month.
Dan Mendelson, president of the heath care consulting firm Avalere Health LLC told the Wall Street Journal that the average "silver" health insurance plan under the Obamacare exchanges has a required annual deductible of $2,500. He told the WSJ that the average deductible for the "bronze" plans under the exchanges, which are said to be the cheapest plans, is $5,000.
Schmid said these costs are often prohibitive for patients with modest incomes. The elimination of the drug company assistance programs under the Affordable Care Act's exchanges would create a serious burden on HIV patients and others who now rely on the assistance programs.
Lou Chibbaro Jr. has reported on the LGBT civil rights movement and the LGBT community for more than 30 years, beginning as a freelance writer and later as a staff reporter and currently as Senior News Reporter for the Washington Blade. He has chronicled LGBT-related developments as they have touched on a wide range of social, religious, and governmental institutions, including the White House, Congress, the U.S. Supreme Court, the military, local and national law enforcement agencies and the Catholic Church. Chibbaro has reported on LGBT issues and LGBT participation in local and national elections since 1976. He has covered the AIDS epidemic since it first surfaced in the early 1980s. Follow Lou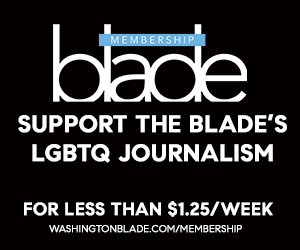 Sign Up for Blade eBlasts