Rep. Forbes under fire for opposing gay GOP candidates
Backlash over congressman's anti-gay 'crusade'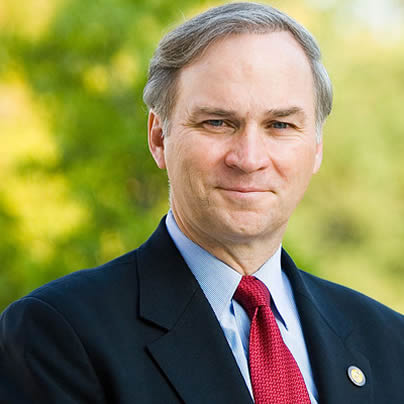 Gay Republican groups are criticizing Rep. Randy Forbes (R-Va.) over his reported comments that gay congressional candidates should not receive money from the Republican Party to run for office.
The groups were responding to an article published late Thursday in Politico, which cited a half-dozen anonymous sources as saying Forbes has undertaken "a lengthy crusade" to convince the National Republican Congressional Committee to drop support for gay Republican candidates.
Gregory Angelo, executive director of the Log Cabin Republicans, said Forbes' position indicates he wants to relegate Republicans to minority status in the U.S. House.
"You either want Republicans to win, or you don't — it's as simple as that," Angelo said. "Apparently, Congressman Forbes does not. Thankfully, the real GOP leaders in the House know how to pick winners, and their money is on Richard Tisei and Carl DeMaio."
Among the gay Republican congressional candidates cited by Politico are Massachusetts Republican Richard Tisei, who narrowly lost in his challenge to unseat Rep. John Tierney (D-Mass.) last year and is considering a rematch, as well as Carl DeMaio, who's seeking to represent the San Diego area in the House.
Another gay candidate seeking to carry the Republican banner in a bid for a congressional seat not mentioned in the Politico piece is Dan Innis, a University of New Hampshire administrator in a same-sex marriage who's seeking to unseat Rep. Carol Shea-Porter (D-N.H.).
In a statement provided to the Blade, DeMaio said he focused on winning his congressional race and not the comments from the Virginia politician.
"Under Mr. Forbes, San Diegans are not focused on sexual orientation," DeMaio said. "To the contrary, I'm winning this district because San Diegans are looking for fresh leadership in Washington to reform wasteful government spending, revitalize the economy and hold government programs accountable."
Tisei didn't immediately respond to the Washington Blade's request for comment, and Innis couldn't be reached.
Ross Hemminger, co-director of GOProud, said Forbes' behavior is "disappointing."
"This type of rhetoric is symptomatic of someone who does not understand the importance of being a team player," Hemminger said. "Our party cannot win elections by appealing to the lowest common denominator amongst the minority of American voters. This type of rhetoric embarrasses Republicans everywhere, and it is not helpful."
U.S. House Speaker John Boehner (R-Ohio) was succinct when asked about the issue during his news conference on Thursday.
In response to a question about whether Republican money should go to gay congressional candidates, Boehner replied, "I do."
Drew Hammill, a spokesperson for House Minority Leader Nancy Pelosi (D-Calif.), accused Boehner of being disingenuous in his answer and took the opportunity to bash gay Republican candidates as well as the speaker's failure to bring up the Employment Non-Discrimination Act for a vote.
"LGBT Americans are more interested in passing ENDA and expanding freedom and equality in our country than Speaker Boehner's insincere efforts to marry himself to extreme gay Republican candidates," Hammill said.
Forbes, who scored "0" in the Human Rights Campaign's most recent congressional scorecard, is known for his anti-LGBT record in Congress.
According to the Southern Poverty Law Center, the Virginia Republican has supported the anti-gay American Family Association and was set to headline one of its fundraisers before canceling at the last minute.
Forbes is among the 59 sponsors of a proposed U.S. constitutional amendment in the House that would ban same-sex marriage throughout the country. As ThinkProgress notes, Forbes spoke out against ENDA on the House floor in 2007, saying the LGBT anti-bias bill will lead "activist judges to redefine the institution of marriage."
In the Politico piece, Forbes is quoted as saying he believes Republican leaders can "do whatever they want to do" in terms of giving money to congressional candidates, but is concerned about House members being asked to contribute to the campaigns.
"There would be a different situation if they tried to force other members to give money," Forbes said.
As Politico notes, the NRCC is partially funded by collecting tens of millions of dollars from House Republicans, who pay dues to the organization.
NRCC Chair Rep. Greg Walden (R-Ore.) was quoted as saying in Politico that the policy of his organization is to contribute money to Republican candidates — even if they identify as gay.
"Our decisions on the Republican nominees we support will not be based on race, gender or sexual orientation but will be based on the strength of their candidacy and their ability to defeat Democrats," Walden said.
News is breaking now over Forbes' objections to gay congressional candidates, according to Politico, amid speculation over who'll replace Rep. Buck McKeon (R-Calif.) as chair of the House Armed Services Committee after his expected retirement next year.
Forbes has been mentioned as a possible successor, but McKeon's chief of staff has reportedly said his boss expects Rep. Mac Thornberry (R-Texas) to be the next chair.
"Throwing solid conservative contenders under the bus in a cynical and hopeless attempt to gain a chairmanship is beyond the pale," Angelo said. "Congressman Forbes would do more to help his image by supporting efforts to grow the Republican House majority rather than undermine it."
Kamala Harris addresses LGBTQ community activists at White House roundtable
VP calls herself 'long-standing ally of the community'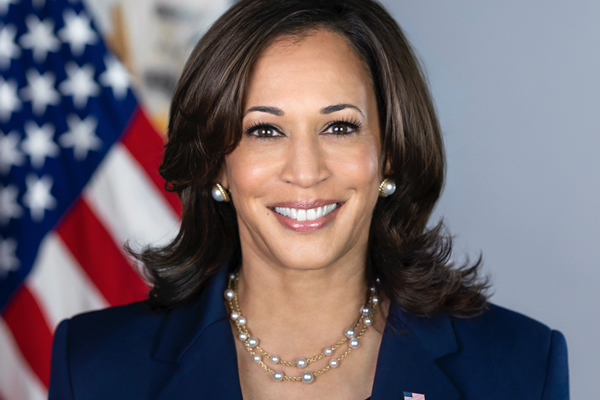 Vice President Kamala Harris addressed LGBTQ leaders Wednesday at White House roundtable in recognition of Pride Month, declaring "there's a lot of work to be done" in terms of LGBTQ issues.
"You as community activists, you all have your eyes and ears to the ground," Harris said in her prepared remarks for the event, which took took place in the Ceremonial Office of the Vice President next to the White House.
Harris, speaking in her prepared remarks that lasted about five minutes, touted the efforts of the Biden administration in advancing LGBTQ rights, including the most recent announcement from the Department of Veterans Affairs it would begin to cover gender reassignment surgery for transgender veterans.
Looking forward, Harris said passage of the Equality Act, legislation that would expand the prohibition of anti-LGBTQ discrimination under federal law, was among the work items to be completed.
"We still don't have full rights when it comes to employment, housing — things of that nature," Harris said. "So there's a lot of work to be done."
Harris, calling herself a "long-standing ally of the community" also identified her past efforts in support of LGBTQ community, going back her time as San Francisco District Attorney when she created for an LGBTQ hate crimes unit, then as California attorney general pushed the state to become the first to outlaw LGBTQ panic defense in court.
"You are the voices of so many who probably will never walk into this room, and probably over the course of time were not thought to be invited into this room," Harris concluded.
Harris also talked about ongoing violence against the transgender community as well as the wave of new state legislatures against transgender youth, restricting their access to school sports and transition-related care.
The LGTBTQ leaders in attendance at the event were, per the White House:
Imani Woody, Founder, Mary's House
Amiri Nash, DC Youth Poet Laureate
Marcelle Afram, Chef and Co-Owner, Shababi Palestinian Rotisserie Chicken
D Ojeda, Policy Advocate, National Center for Trans Equality
Mia Ives-Roblee, Director of Disability Justice Initiative, Center for American Progress
Anthony Musa, Chair, Pride in Federal Service & Sanctions Licensing Officer, U.S. Department of the Treasury
Kevin Jordan Contreas, Community Health Supervisor, Whitman-Walker (Frontline Healthcare Worker)
The Washington Blade attempted to shout out a question after Harris' remarks on efforts to reach out on the Equality Act, but it was drowned out by other reporters' inquiries as White House staffers escorted the pool out of the Ceremonial Room.
Chaos erupts at Loudoun County school board meeting over trans students rights proposal
Two people arrested, two others injured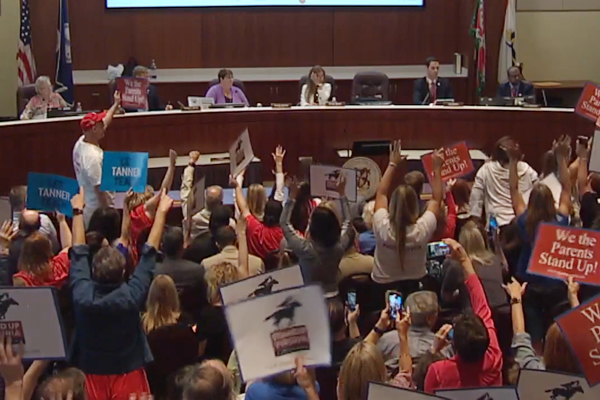 The Loudoun County School Board abruptly ended its meeting Tuesday as chaos erupted after parents who were against the school district's implementation of Policy 8040 failed to observe rules regarding disruptions and decorum.
Loudoun Now reports Vice Chair Atoosa Reaser made the motion to curtail public comment about an hour after that portion of the meeting began. A brawl then broke out between members of the public, and Loudoun County Sheriff's Department deputies were called to clear the room.
Two people were arrested, and two people also suffered minor injuries. The names of those who were taken into custody and injured have not been made public.
The school board resumed its meeting at 6:30 p.m. after it ended the public comment session and deputies cleared the room. The school board entered into closed session to meet with legal counsel and discuss negotiations involving a bid award.
In light of the events that transpired at the school board meeting, a group of LGBTQ groups in neighboring Fairfax County in a statement called upon prominent community members to condemn the anti-transgender hate in Loudoun County.
"A coalition of organizations based in Northern Virginia is calling on local officials … to condemn the rise of anti-LGBTQIA+ hate, in particular animosity towards transgender and gender-expansive students, on display in Loudoun County," reads the statement
"In addition, the coalition is asking for the denouncement of support for this hate from other local groups, including the Fairfax County Republican Committee, the Family Foundation of Virginia and the Family Research Council," it adds. "Finally, the members of these organizations are requesting visible displays of support for LGBTQIA+ students, particularly trans and gender-expansive students, in both words and deeds."
More than 300 people attended the school board meeting, with many of them opposing Policy 8040 which would allow transgender students to use their preferred name and pronouns regardless of the name and gender in their permanent education record. The proposed policy would also not require them to provide any substantiating evidence.
Parents also expressed their support for Policy 8040 during the public comment session.
They spoke in favor of inclusivity and equality in the Loudoun County School District.
Parents who were against the policy cited the need to respect biology and privacy as their arguments. In addition, some speakers, including former state Sen. Dick Black expressed anger at the previous school year's events such as the suspension of physical education teacher Tanner Cross after he refused to refer to trans students using their preferred pronouns.
"The crowd repeatedly cheered public speakers who lashed out at school board members and denounced the plan that would provide bathroom and locker room access based on a student's gender identity," WTOP News reports.
Only 51 of the 249 speakers who had signed up for public comment ended up speaking before Reaser's motion was passed.
VA to start process of covering gender reassignment surgery for trans veterans
Coverage was rejected even during Obama years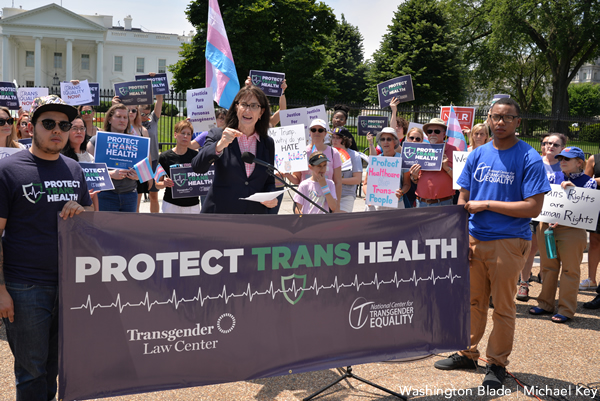 The Department of Veterans Affairs has become the latest federal government health program to affirm it would begin covering gender reassignment surgery — an option for transgender veterans that was even rejected during the Obama administration.
Randal Noller, a VA spokesperson, said in response to an email inquiry from the Blade the department this summer "will initiate steps to modify rules published in the Code of Federal Regulations (also known as the CFR), to expand VA's care to transgender Veterans and include gender-affirming surgery."
"Gender-affirming procedures have been proven effective at mitigating serious health conditions, including suicidality, substance abuse, and dysphoria," Noller said. "Updating this policy would allow VA to provide transgender and gender diverse Veterans with coordinated, medically necessary, transition-related surgical procedures."
Noller added the change "would enable a safe, coordinated continuum of care that is Veteran-centric and consistent with VA values of equity and respect for all veterans." The entire process for implementation, Noller said, can take about two years and includes a period of public comment.
VA Secretary Denis McDonough first announced the policy change in a speech in Orlando marking the five-year anniversary of the mass shooting at the Pulse nightclub.
Once implemented, the VA would join other federal health care systems in offering coverage for gender reassignment surgery, which previously has included Medicare, Medicaid (other some states, like Iowa, are dubiously claiming exemptions), the Federal Employee Health Benefits programs and the U.S. military health care system as a result of the Biden administration reversing the transgender military ban.
The idea of the VA offering coverage for gender reassignment surgery was first raised during the Obama administration. However, in the lame duck session after former President Trump was elected, the then-Secretary of Veterans Affairs scrapped the idea, citing concerns about appropriate funding.
According to the National Center for Transgender Equality, the estimated number of U.S. veterans who are transgender is more than 134,000, and more than 15,000 transgender people are serving in the military today.
Mara Keisling, executive director of the National Center for Transgender Equality, hailed the change in a statement on Saturday as "another step in the Biden administration's effort to fight discrimination against transgender people, including our transgender veterans."
"Every veteran deserves to have access to the health care that they need, and the VA is working to make sure that includes transgender veterans as well," Keisling said.