LGBT activists call for more global funding at Berlin conference
U.S. to host gay donor meeting next year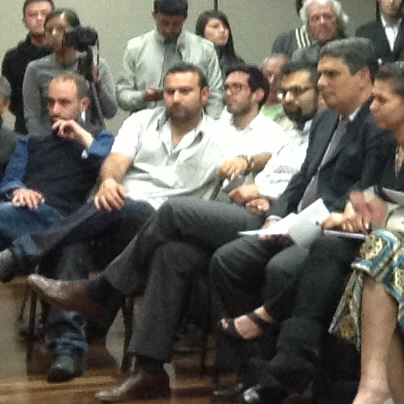 Astraea Foundation Executive Director J. Bob Alotta, Transgender Europe Executive Director Julia Ehrt, ILGA-Europe Executive Director Evelyne Paradise, Axel Hochrein of the Lesbian and Gay Federation in Germany, Gift Trapence of the Centre for the Development of People in Malawi and Simón Cazal of the Paraguayan LGBT advocacy group Somosgay are among those who traveled to the German capital. Patricia Davis of the U.S. State Department, senior USAID advisor Claire Lucas, Katharina Spiess of Germany's Federal Ministry for Economic Cooperation and Development, Keyvan Sayar of the French Ministry of Foreign Affairs and other government officials also took part.
The Berlin conference followed a similar gathering the Swedish International Development Corporation Agency (SIDA) and the Netherlands-based Humanist Institute for Cooperation (Hivos) co-hosted in Stockholm, Sweden, in 2010. U.S. Ambassador to Germany John Emerson announced during the conference that the next meeting of this kind will take place in the U.S. next year.
"USAID along with the State Department is happy to represent the U.S. government and participate in the Dec. 5 and 6 Berlin conference on increasing support and resources for global LGBTI rights and development," Jay Gilliam of USAID told the Washington Blade.
"The cross-sector dialogue slated to take place among government officials, NGOs, local activists and LGBT organizations has the potential to be catalytic — both in terms of increasing the resources available and in achieving a level of coordination that will accelerate advancement of the human rights of LGBT people everywhere," added Arcus Foundation Executive Director Kevin Jennings before the conference began.
Helen Kennedy, executive director of Egale Canada, a Canadian LGBT rights group, told the Blade on Friday she feels it was important for her organization "to be present" at the conference "in order to contribute to the conversation of how funding and resources can be increased and broadened." Staffers from the Canadian Embassy in Berlin attended the gathering, but Kennedy said Prime Minister Stephen Harper's administration can do more to support the global LGBT rights movement.
"It's important for a strong message to be delivered to our government that we are sadly missed as a leader in these discussions at the international level," Kennedy told the Blade.
The Berlin conference began a day after National Security Advisor Susan Rice stressed during a speech she gave at Human Rights First's annual summit in D.C. that LGBT rights remain an essential part of U.S. foreign policy.
USAID, SIDA, the Astraea Lesbian Foundation for Justice and the Ford Foundation on Sept. 24 hosted a meeting of funders of global LGBT advocacy efforts in New York that coincided with the beginning of the U.N. General Assembly. Secretary of State John Kerry and representatives from 10 countries two days earlier issued a declaration that calls for an end to anti-LGBT violence and discrimination.
USAID earlier this year announced a public-private initiative with SIDA, the Gay and Lesbian Victory Institute and other groups that will contribute $12 million over the next four years to LGBT advocacy groups in Honduras and other developing countries. The LGBT Global Development Partnership's first two trainings took place in the Colombian cities of Bogotá and Cartagena in May and August respectively.
Uzra Zeya, acting assistant secretary of the State Department's Bureau of Democracy, Human Rights and Labor, told the Blade during a June interview that her agency's Global Equality Fund since 2011 has spent more than $4 million in 25 countries to directly support LGBT advocates and underrepresented groups.
"Participating in the Berlin conference allows the agency (USAID) to continue discussions with stakeholders like agencies from donor countries and non-governmental organizations in this space on progress made and how to move the advancement of international LGBTI rights forward," Gilliam said.
LGBT activists from around the world gathered in Berlin this week to discuss ways to increase funding and support for the global gay rights movement.
Boston Children's Hospital targeted by violent anti-LGBTQ threats
'We condemn these attacks in the strongest possible terms'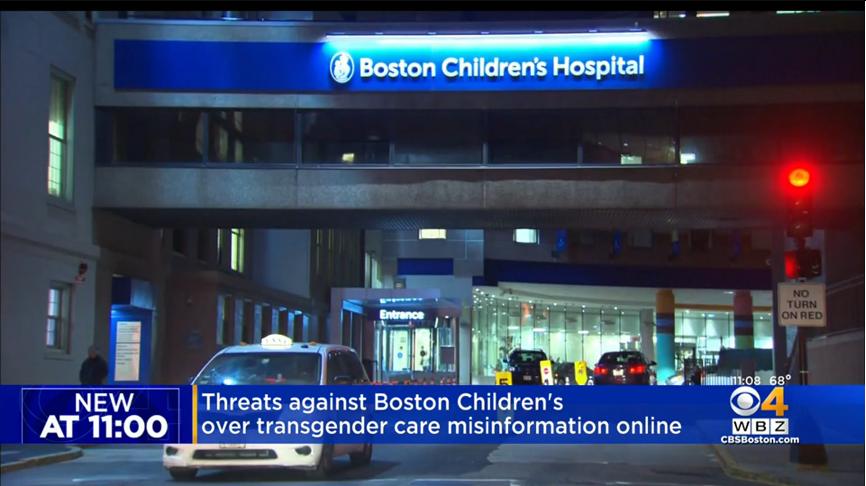 Anti-LGBTQ far right extremists are targeting Boston Children's Hospital, threatening its employees and medical staff after falsehoods and disinformation spread online recently about the healthcare facility's treatment of transgender youth.
In a statement posted online, a spokesperson for Boston Children's Hospital wrote: "In response to commentary last week critical of our Gender Multispeciality Service (GeMS) Program, Boston Children's Hospital has been the target of a large volume of hostile internet activity, phone calls and harassing emails including threats of violence on our clinicians and staff fueled by misinformation and a lack of understanding and respect for our transgender community."
The statement notes that the false information, with special attention being cast on the lies that Boston Children's Hospital was performing hysterectomies (transgender care related) on minors. The age of consent for that gender-affirming procedure is 18.
"We condemn these attacks in the strongest possible terms, and we reject the false narratives upon which they are based," the hospital continued. "We are working with law enforcement to protect our clinicians, staff, patients, families and the broader Boston Children's Hospital community and hold the offenders accountable. We will continue to take all appropriate measures to protect our people."
August 16, 2022
Journalist Martha Bebinger with WBUR,  Boston's NPR news station, noted the campaign started last week with criticism of a video posted on the hospital's website about hysterectomies. Several conservative social media accounts shared posts about the video on Twitter. The hospital performs hysterectomies on patients 18 and older, but not on children as some of the posts claimed.
The social media account Libs of TikTok, which has often promoted "groomer" discourse that falsely linked LGBTQ teachers and parents to pedophilia, began to make a variety of false claims. One allegation included the lie about Boston Children's Hospital offering gender-affirming hysterectomies to children under 18 years old.
Surgeons at Boston Children's Hospital have said they would consider performing other procedures, including phalloplasty, or penis construction, on 17-year-old male trans patients. But hospital staff say that hasn't happened because no 17-year-old has met the required legal and other criteria.
Conservative journalist and anti-LGBTQ+ activist Christopher Rufo, who has helped incite white Christian nationalist right-wing uproar over the critical race theory being taught in the nations' secondary schools and also fabricated a story that queer theory was also being to taught kindergarteners up through high school, took aim at Boston Children's Hospital in a tweet Wednesday.
Yes, American doctors are performing "vaginoplasties" on minors—castrating young males and creating artificial vaginas out of their penile tissue.https://t.co/LzLsZpeeRU pic.twitter.com/6NgBGitZZh

— Christopher F. Rufo ⚔️ (@realchrisrufo) August 17, 2022
Then adding to the far-right extremist pile-on, Media Matters for America reported Wednesday that anti-trans pundit Matt Walsh also attacked the hospital.
The Daily Wire's Matt Walsh falsely accused Boston Children's hospital of putting "every toddler who has ever been born…on a path to sterilization and butchery before they can even talk." Two days later, the hospital's staff was deluged by violent threats. pic.twitter.com/uoyb35VPM6

— Media Matters (@mmfa) August 17, 2022
Christina Buttons, a Nashville-based radical anti-LGBTQ far-right journalist for the Canadian anti-LGBTQ conservative publication, the Post Millennial, which features other transphobic writers, attacked NBC News reporter Brandy Zadrozny on Twitter over her reporting on Boston Children's Hospital.
God help me, I know I shouldn't bother, but just quick before I log off: the "evidence" for this lie, that a children's hospital is performing genital surgery on minors, actually shows that the center provided ZERO of these surgeries on minors.https://t.co/elQ7nF1dCU https://t.co/478VyUsx4U pic.twitter.com/L6BP11HHDc

— Brandy Zadrozny (@BrandyZadrozny) August 17, 2022
A spokesperson for Twitter told the Washington Blade Wednesday afternoon that the company support team was looking into the reports of harassment.
Zadrozny reported: Anti-trans activists also targeted the individual doctors who appeared in the YouTube videos from Boston Children's Hospital, leaving vulgar and harassing comments on their social media accounts and flooding their online pages with negative reviews. Some hospital staff have since made their social media profiles private.
This isn't the first time that far-right activists have targeted doctors and medical institutions — or even Boston Children's Hospital.
Lee Leveille, co-director of Health Liberation Now, a trans rights advocacy group that investigates the effects of policy on trans health, said the hospital was also a target in May 2021 for providing gender-affirming care amid a similar wave of targeted harassment on medical facilities.
"The original organized network that jump started the clinic protests has been slowing down a bit and is more decentralized," Leveille said over email. "Local pockets will still operate here and there, but they're less connected to a central organized push than the original ones. Now we're seeing new faces rallying the cause — including the likes of Matt Walsh and Libs of TikTok."
A spokesperson for the Boston Police Department said the department is aware of the threats and is working with hospital staff.
Will D.C. host World Pride 2025 after Taiwan cancellation?
InterPride organizers mum on selection of new host city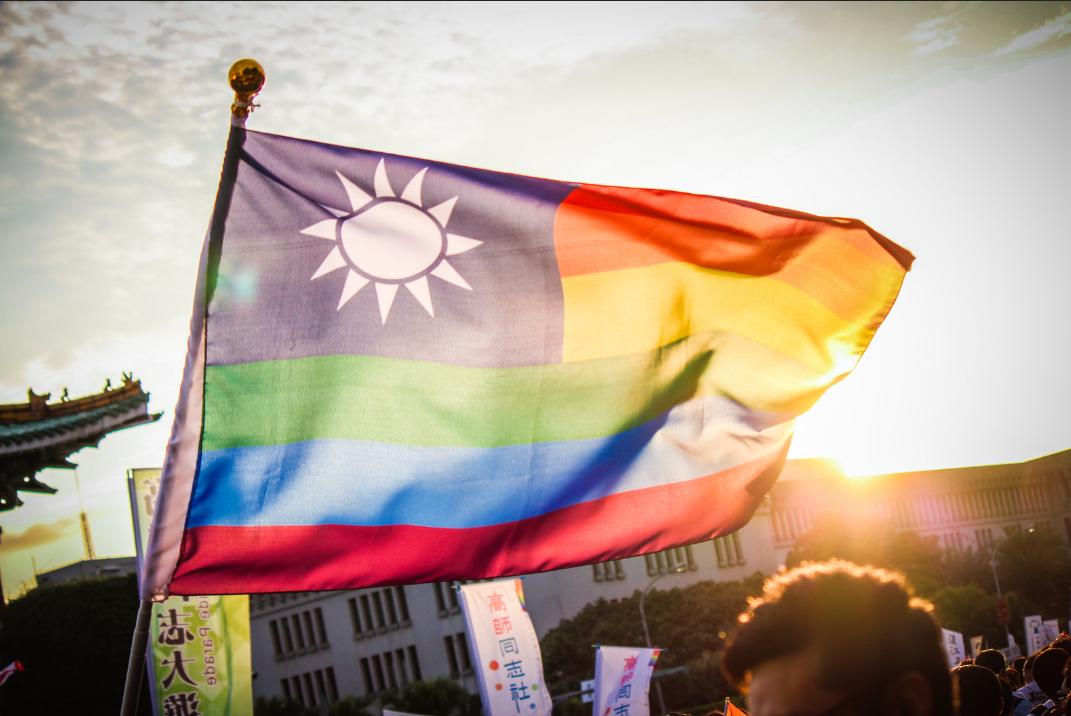 A surprise announcement last week by Taiwanese organizers of World Pride Taiwan 2025 that they have withdrawn their agreement to host the international Pride event has raised the immediate question of whether the event will be moved to Washington, D.C., which lost its bid to host the event to Taiwan.
Capital Pride Alliance, the group that organizes D.C.'s annual Pride events, submitted a bid for D.C. to become the host city last September with the support of D.C. Mayor Muriel Bowser and city agencies that help organize large events.
World Pride Taiwan 2025 is the group that won its 2021 bid to host World Pride 2025 in the Taiwanese port city of Kaohsiung. The group said in a statement that it decided to cancel its role as the host for World Pride following a dispute with InterPride, the U.S.-based international organization that founded and administers World Pride, and that selects the host city.
World Pride, an international event that takes place every two years, draws thousands of participants from throughout the world to the host city.
Although disagreements had surfaced over whether World Pride Taiwan had the economic capacity to host an international event like World Pride, the group said in its statement that the issue that prompted the cancellation was InterPride's insistence that the name "Taiwan" could not be used in the title of the event and only the name World Pride Kaohsiung 2025 could be used.
According to the statement, the name "Taiwan Pride" has symbolic significance for the Taiwanese LGBTQ community, among other reasons, because all the island nation's Pride events since 2003 have used the name Taiwan Pride.
In its own statement, InterPride said all past World Pride events have used the name of the host city rather than the country in which the city is located. In its statement, it said it offered a compromise allowing Taiwanese organizers to call the event "World Pride Kaohsiung, Taiwan," a claim Taiwanese organizers dispute.
The Washington Blade couldn't immediately reach an official or spokesperson for InterPride to determine whether it plans to reopen the bidding process to select another city to host World Pride 2025 or whether it would invite D.C.'s Capital Pride Alliance to host the event on behalf of D.C.
Capital Pride Alliance submitted what it said was a comprehensive bid last September calling on InterPride to select D.C. as the World Pride 2025 host. Capital Pride and the Taiwanese group were the only two organizations to submit a bid for World Pride 2025.
When InterPride announced last November that it had selected the Taiwanese city of Kaohsiung to host the international event, Capital Pride issued a statement congratulating Kaohsiung Pride and World Pride Taiwan 2025 for winning the bid.
Ryan Bos, the Capital Pride Alliance executive director, told the Blade on Wednesday that as of early this week InterPride had not contacted Capital Pride Alliance about the Taiwanese group's decision to cancel the event. He said Capital Pride learned about the cancellation from news media reports.
Asked if Capital Pride plans to reactivate its bid to host World Pride 2025, Bos did not offer a direct answer.
"We definitely need to have conversations about it," he said. "We definitely would be open to the conversation. Our team put in a lot of time and effort to put together a very comprehensive and strong bid," Bos said. "D.C. is a worthy destination, and we can truly make a major impact on the world stage by hosting an event such as this," Bos said. "So, we would be open to entertaining the conversation."
Bos pointed to Capital Pride's announcement at the time it submitted its bid to host World Pride 2025 last September that hosting the event in 2025 would come at a time when Capital Pride plans to commemorate the 50th anniversary of D.C.'s first LGBTQ Pride event in 1975, which began as a block party near Dupont Circle.
"So, though we were not selected last fall, we have been moving forward in organizing an international Pride event for 2025 on the world stage for our 50th anniversary," Bos said. "So, regardless of what happens, we will be continuing down that path."
Bos said Capital Pride Alliance officials will also be attending InterPride's annual international conference this October in Guadalajara, Mexico, which is held each year in connection with InterPride's role as an association of LGBTQ Pride organizations throughout the world. Bos said the issue of selecting a new host city for World Pride 2025 could emerge as a topic of discussion at that conference.
World Pride Taiwan 2025 organizers said in their statement that InterPride did not insist on leaving out the name Taiwan in the title of the event during the bidding process last year and at the time InterPride decided to select the Taiwanese group to host the event in Kaohsiung. The group also disputes InterPride's claim that it offered a compromise to include the name Taiwan along with Kaohsiung in the event's title.
Delaware to open monkeypox vax clinics in Rehoboth, Wilmington
State expands access per CDC recommendations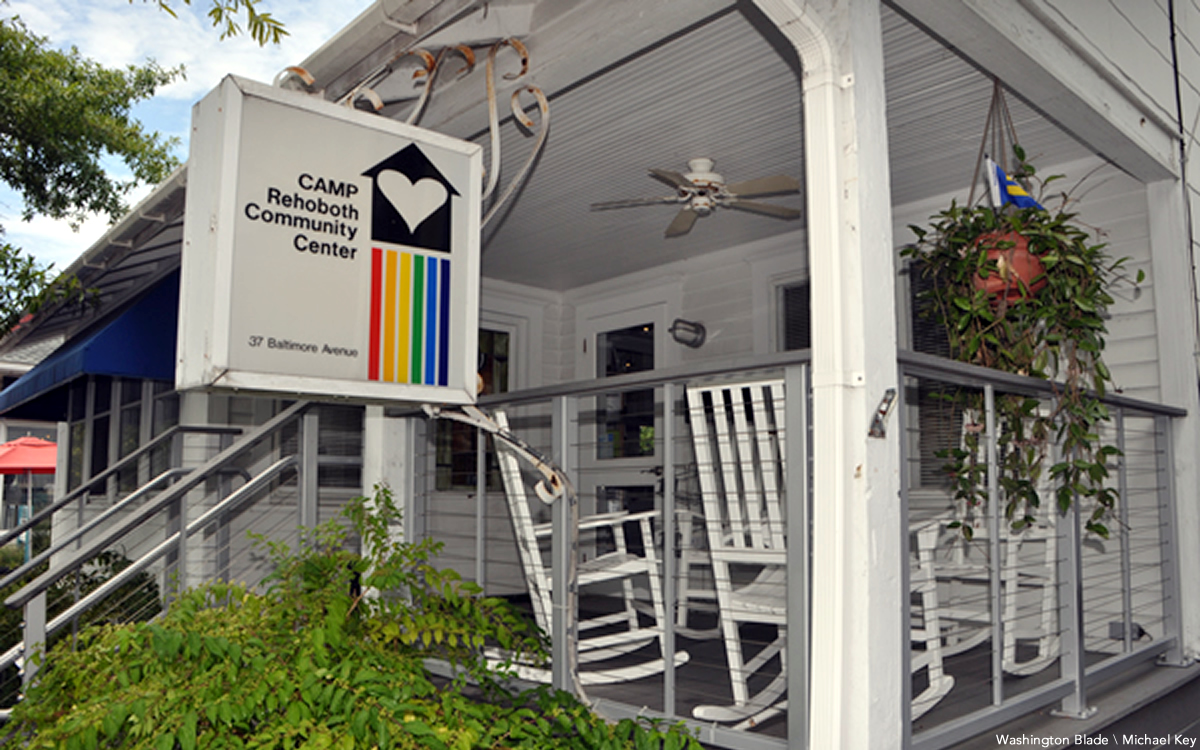 Rehoboth and Wilmington, Del. will host monkeypox vaccination clinics next week after the Delaware Division of Public Health authorized the administration of one-fifth of the original vaccine dosage — per federal recommendations — on Monday.
On Aug. 23 CAMP Rehoboth, a local LGBTQ organization, will host a vaccine clinic from 9 a.m. to 3 p.m. in its community center at 37 Baltimore Ave. An additional vaccine clinic will be held on Aug. 25 from 9 a.m. to 3 p.m. in Wilmington on the ground floor of the city's Community Service Building at 100 West 10th St.
According to a Tuesday CAMP Rehoboth news release, individuals "engaging in high-risk activities" should consider vaccination against monkeypox, namely men who have sex with men or anonymous sexual partners, trans and non-binary individuals assigned male at birth who have sex with men, sex workers, and staff at establishments where sexual activity occurs.
To receive a vaccine at the Rehoboth clinic, individuals must register in advance by calling 302-227-5620 between 9 a.m. and 5 p.m. Monday through Friday. To receive a vaccine at the Wilmington clinic, individuals must register in advance by calling 302-652-6776 between 9 a.m. and 3 p.m. Monday through Thursday. Two hundred slots are available at each clinic, and second doses will be administered on Sept. 20 in Rehoboth and Sept. 22 in Wilmington at the same time as the initial vaccination appointment.
The two-dose vaccination series is not considered effective until two weeks after the second dose, CAMP Rehoboth noted in a Tuesday news release. The vaccine, JYENNOS, is approved by the Food and Drug Administration, but may not provide protection to those who have received a smallpox vaccine more than three years ago, the news release added.
In addition, as of Monday, individuals living with HIV or taking pre-exposure prophylaxis to prevent HIV are eligible for vaccine access, and can contact their healthcare providers or DPH at 866-408-1899 to receive a vaccination appointment.
The state's decision to expand vaccine access follows national trends, and comes after local and national organizations advocated for increased action from the Centers for Disease Control to combat the spread of the virus. On Aug. 12, more than 150 LGBTQ centers and organizations across the country, including Delaware's Sussex Pride, signed a letter to the CDC in favor of "increasing the number of available vaccines" and expanding current data and testing on the virus nationally. As of Aug. 5, Delaware has administered 33 doses of the monkeypox vaccine, according to a DPH news release.
For more information, individuals can contact the DPH hotline for monkeypox-related questions and concerns on weekdays from 8:30 p.m. to 4:30 p.m. at 866-408-1899, or email [email protected]. Information concerning monkeypox prevention programs and resources can be found at de.gov/monkeypox.