'Ready for Hillary' event draws packed house
LGBT supporters to host second event in January at gay club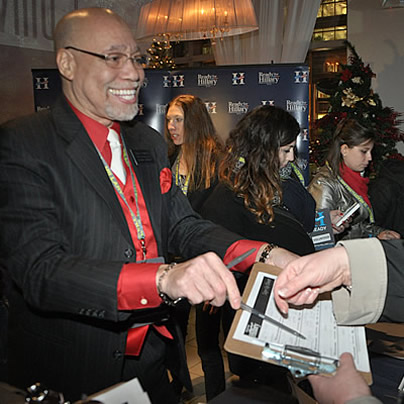 More than 450 people, including LGBT activists, turned out for D.C.'s first official rally and fundraiser Thursday night for Ready for Hillary, the independent super PAC formed earlier this year to urge former Secretary of State Hillary Clinton to run for president in 2016.
As many of the attendees entered Look restaurant and lounge on the 1900 block of K St., N.W., where the event took place, they were greeted by veteran D.C. gay rights and civic activist Phil Pannell, who was among the volunteers staffing a check-in table.
"I'm really excited to be here and excited about Hillary," said Pannell, who is among a growing number of D.C.-area LGBT activists who supported Barack Obama over Clinton in the 2008 presidential race but who are enthusiastic Clinton supporters now.
"Like so many people I know, I want to be a part of this," Pannell said.
In keeping with their policy of encouraging support from small donors, organizers of the Ready for Hillary rally Thursday night set the admission price at $20.16.
Gay Democratic activist Peter Rosenstein, one of Ready for Hillary's early supporters, said that same admission price will be in place for the organization's next event in D.C. that will target a specific LGBT audience. Called "Out and Ready for Hillary," the event will take place Jan. 15 at the gay nightclub Town Danceboutique.
Among those working on plans for the January event is Lisa Changadveja, Ready for Hillary's LGBT Americans director. Changadvja announced the January event at Town from the stage at the rally Thursday night.
In an interview with the Blade in November, Changadveja said she and a corps of volunteers will be setting up Ready for Hillary booths at LGBT Pride events across the country in 2014.
"We're here to encourage her to run in 2016 because she has the grassroots support behind her and she has the LGBT community behind her if and when she decides to run," Changadveja said.
U.S. Rep. Tim Ryan (D-Ohio), the first member of Congress to officially endorse Clinton for president in 2016, told the gathering Thursday night that he sees support for a Clinton candidacy growing in his home state of Ohio and all parts of the country.
"What we want this campaign to be is something that ushers in the new era of politics in the United States, that Hillary can break the logjam in Washington, D.C. and move our country forward," he said. "And with your help she's going to be able to do that."
Among the LGBT activist leaders listed as members of the host committee for the January Ready for Hillary event at Town nightclub are veteran transgender advocate Dana Beyer; gay Democratic National Committee member and Center for Black Equity CEO Earl Fowlkes; gay Democratic activist Lane Hudson; Gertrude Stein Democratic Club Secretary Jimmie Luthuli; and gay restaurant manager and civic activist Dito Sevilla. Rosenstein is also a member of the host committee.
DC Front Runners Pride 5K to take place as scheduled
Air quality improved overnight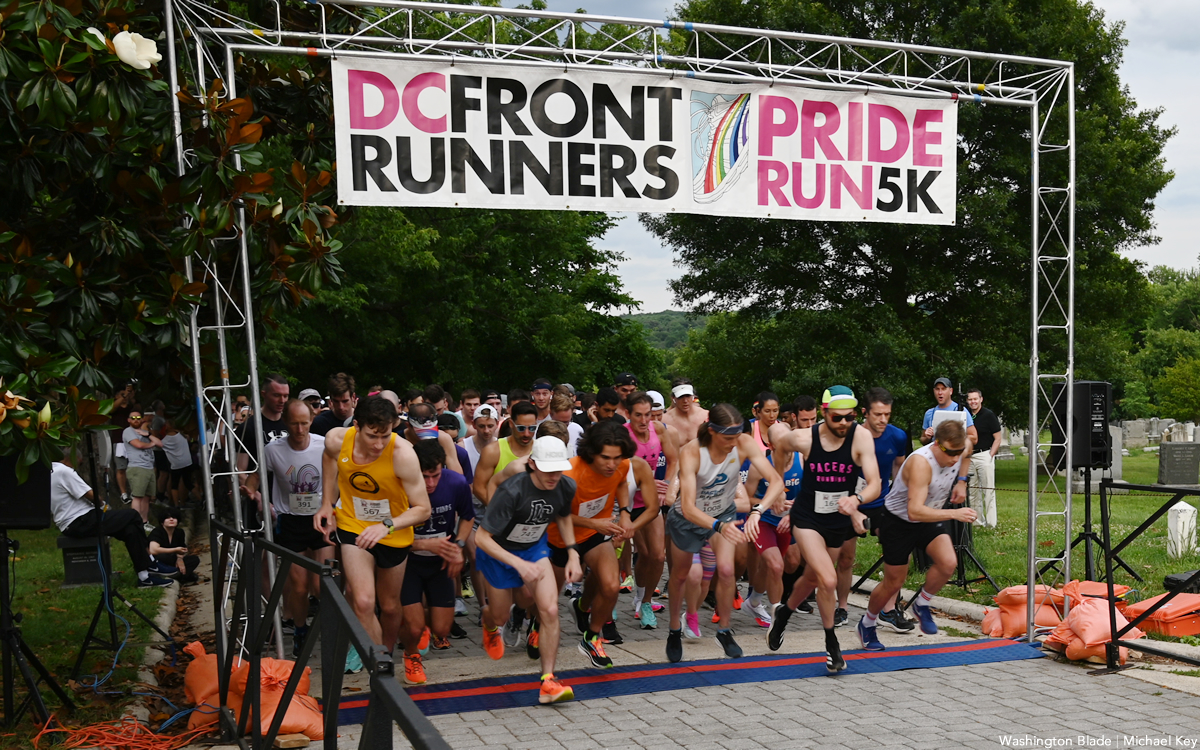 The D.C. Front Runners' annual Pride Run 5K will take place as scheduled at Congressional Cemetery on Friday.
The Blade Foundation, SMYAL, the Wanda Alston Foundation, Team DC, Teens Run DC, Pride 365 and Ainsley's Angels of America are among the race's beneficiaries. Wegmans, Shake Shack, Knead Hospitality and Design, Choice Hotels and Capital One Café are among the sponsors.
Rooftop Pool Party postponed
Capital Pride Alliance moves official event to June 22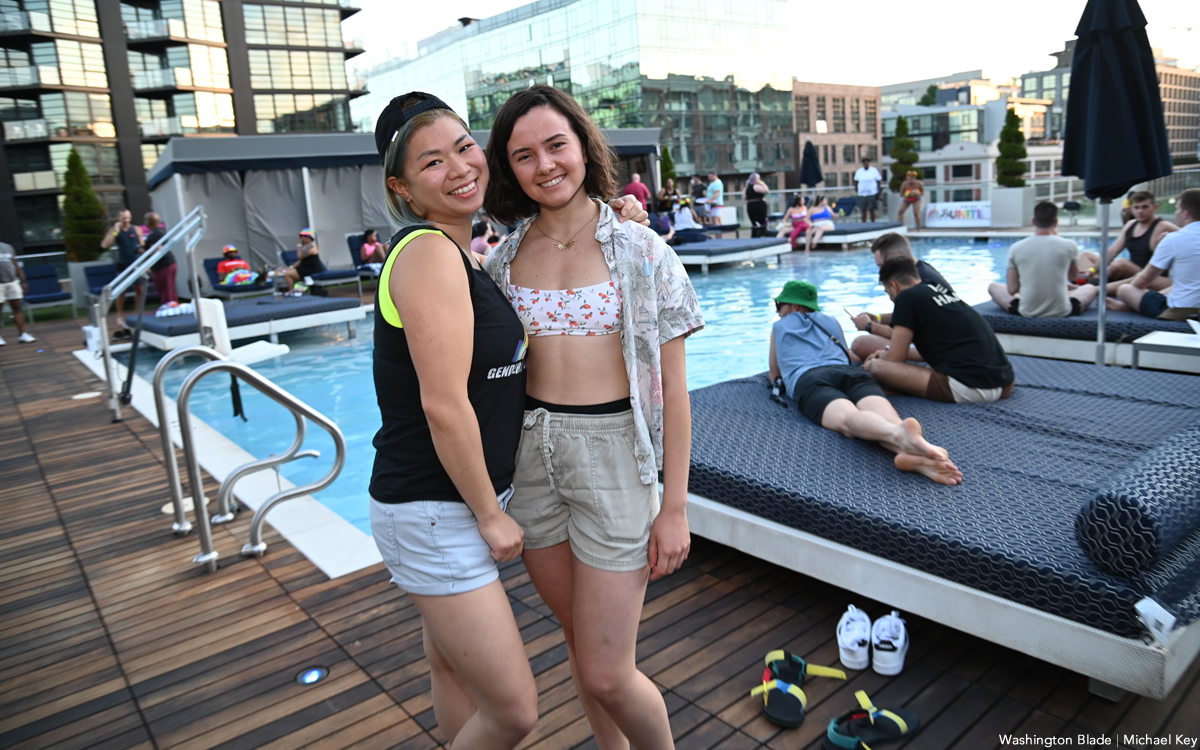 The Capital Pride Rooftop Pool Party, originally scheduled to begin at 8 p.m. tonight, has been postponed until Thursday, June 22, according to a statement released by the Capital Pride Alliance on Instagram. This action comes amid an international climate event created by the Canadian wildfire that has resulted locally in poor air quality and a haze around the region.
The Capital Pride Alliance Instagram account posted, "As with all concerns regarding health and safety issues, the Capital Pride Alliance will closely monitor the air quality situation resulting from Canadian wildfire smoke and take necessary precautions in consultation with our partners in the DC government."
"What does this mean for the pool party?" a question one private Instagram account user posed in the comment section.
"Important Update:" A representative of the Capital Pride Alliance responded through the group's official Instagram account. "Tonight's Capital Pride RoofTop Pool Party at VIDA The Yards is being postponed until Thursday, June 22 at 8:00 pm, due to the current air-quality situation resulting from the Canadian wildfires smoke. Please note that this postponement only applies to today's event."
The Capital Pride Alliance has yet to cancel or postpone any further events.
The White House earlier today rescheduled a large outdoor Pride reception planned for this evening to Saturday.
White House postpones Pride event due to wildfire smoke
Thousands expected for celebration bumped to Saturday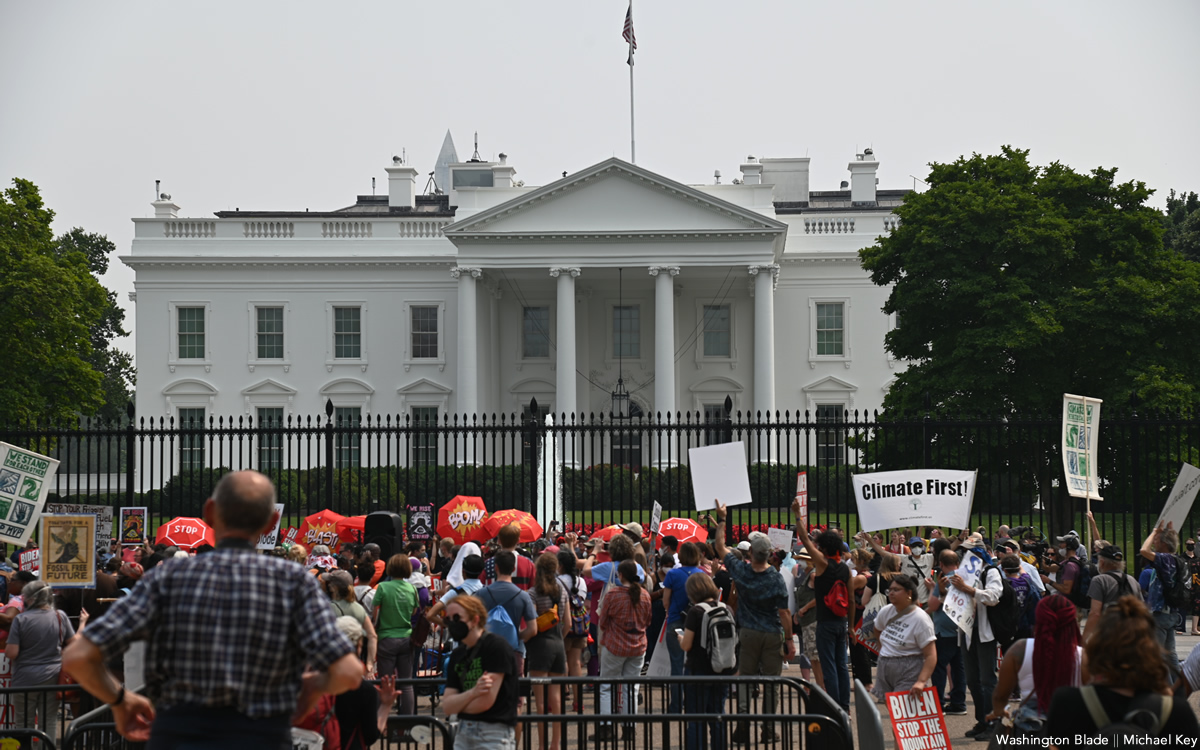 The White House announced Thursday that a Pride event scheduled for this evening has been postponed to Saturday due to the lingering Canadian wildfire smoke.
The smoke has enveloped D.C. in a dangerous haze that triggered a "purple alert" on Thursday, considered worse than a "red alert."
The event, expected to draw thousands of invited LGBTQ advocates and supporters to D.C., has been rescheduled for 1 p.m. on Saturday on the South Lawn of the White House, the same day as D.C.'s Capital Pride Parade, which kicks off at 3 p.m., and Pride on the Pier celebration, which starts at 2 p.m.