Understanding Israel in all its complexity
New hope for sustained peace in U.S.-backed negotiations
By STUART KURLANDER & ALAN RONKIN
History matters. Facts matter. Both were tossed to the wind by Pauline Park in a recent op-ed in the Washington Blade, who assailed the American Jewish Committee and its signature Project Interchange program. Without any explanation, she asserted that AJC "is aggressive in its defense of the Israeli occupation of Palestine."
Nonsense! AJC, of course, is a strong advocate for an Israel that thrives in peace and security, and continues to support a negotiated two-state solution to achieve sustainable Israeli-Palestinian peace. As a global advocacy organization, AJC has brought that message to the top leaders of many countries, including Arab nations.
But Park's baseless accusation is the foundation for her criticizing American LGBT community leaders who participated in an educational visit to Israel and the West Bank with AJC's Project Interchange. For over 30 years, more than 6,000 leaders from across the United States and 84 other countries have participated in Project Interchange's unique, weeklong educational seminars in Israel.
Project Interchange's success is rooted in its non-ideological approach. By introducing first-time visitors to a broad range of Israelis, who offer diverse narratives across the political, social and religious spectrum, seminar participants gain an appreciation for Israel as a dynamic diverse society. What's more, AJC's Project Interchange participants travel to the West Bank, where they meet with a range of Palestinian leaders, including at the highest levels of the Palestinian Authority.
Yes, Israel has challenges like other democratic nations, though Israel's challenges have special significance given the history of the conflict and its neighborhood. Project Interchange is not afraid to show Israel in all its complexity, "warts and all." What visitors find is a robust democratic nation, where, among other things, there are freedoms of speech, religion and sexual orientation. Indeed, Tel Aviv was named the No. 1 gay city in the world in a broad survey by GayCities.com and American Airlines.
The LGBT delegation that visited Israel in October fulfilled AJC's desire to introduce this important segment of American society to Israel. When it comes to understanding Israel, there is simply no substitute for first-hand, on-the-ground experience. The group seized the opportunities to engage directly with Israelis and Palestinians in open conversations. As part of their program, the LGBT delegation visited Ramallah, as do other Project Interchange groups, to engage with Palestinian leaders. Regrettably, Palestinian LGBT groups rejected the opportunity to meet with their U.S. counterparts.
Park, however, as a member of the New York City Queers Against Israeli Apartheid, offers a preconceived, politically myopic view of Israel. One has to wonder whether she or any members of her delegation met with, or even expressed a desire to meet with, any mainstream Israelis on her 2012 visit to the region. Moreover, one cannot help but wonder whether her use of the term "occupation" refers to the period since June 1967, following Israel's war of survival, or to 1948, when Israel was established as an independent country following a UN recommendation.
Let's remember that a Palestinian state could have been established at the same time. The UN Partition Plan of 1947 divided the British Mandate into two states, one Jewish and one Arab. That was the original two-state solution. But the Arabs rejected that concept. Sixty-six years later the two-state solution is still on the table.
And, let's recall Israel did not set out to govern the Palestinians. Israel came to rule over Gaza and the West Bank not by choice, but in a defensive war in June 1967, when neighboring Arab states — particularly Egypt and Syria — threatened time and again to overrun and destroy the young country.
Israel has tried relentlessly to find negotiating partners to exchange land for peace. Egypt and Jordan signed peace treaties in 1979 and 1994. But the Palestinian leadership rebuffed Israel's substantial peace offers in 2000, in 2001 and again in 2008. These historical facts are ignored by Park, her organization and other supporters of the BDS (boycott, divestment, sanction) anti-Israel movement, which at its core dismisses Israel's right to exist.
Our utmost hope is that the ongoing Israeli-Palestinian peace negotiations, with the key assistance of the U.S., will yield an enduring agreement. Both peoples deserve to live in peace and security. Tellingly, Park and her organization don't seem to share the same goals for one of those peoples.
Stuart Kurlander is a board member of AJC Washington; Alan Ronkin is executive director of AJC's Washington regional office.
Biden administration must overhaul monkeypox response now
We need a plan emphasizing equity in vaccination, testing, treatment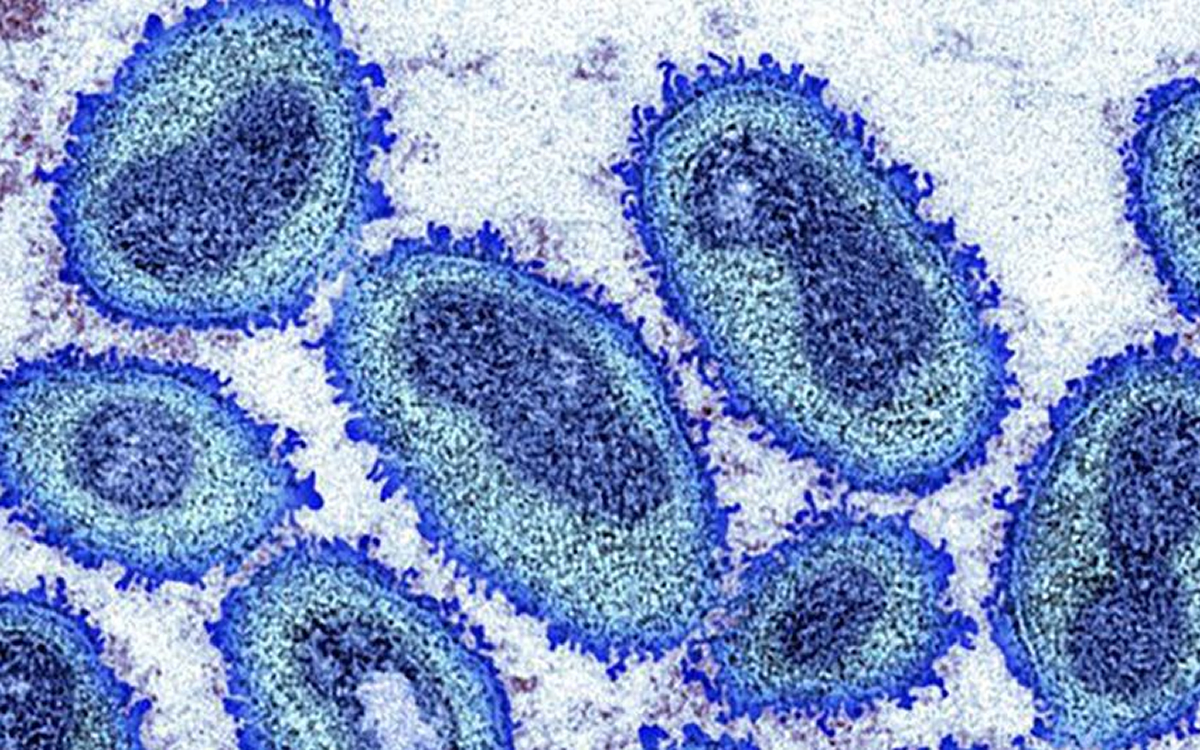 The Biden administration needs to overhaul its response to monkeypox. Now.
For many who were around during the height of the AIDS epidemic, the Biden administration's missteps around monkeypox are pale but haunting reminders of past battles. That's particularly galling for LGBTQ+ Americans as more than 95% of monkeypox cases in 2022 are striking men who have sex with men (MSM).
The Centers for Disease Control and Prevention (CDC) estimates 1.6 million Americans are at risk, requiring 3.2 million doses. But outreach has been ineffective. Not even 10% are fully vaccinated.
It's imperative that the White House implement a comprehensive plan emphasizing equity in prevention, vaccination, testing, and treatment. In August, the administration irresponsibly decided to withhold monkeypox vaccines from Americans whose health agencies aren't using a newly mandated injection method. Washington theorizes the more efficient intradermal (ID) method will quintuple doses from vials.
Health officials from D.C. to Seattle report averaging 3.5 doses per vial amid significant disruptions. The Association of State and Territorial Health Officials echoed their claims.
Using flawed assumptions that healthcare providers will extract five doses from each vial, the Biden administration is sending one-fifth of the vials previously allotted. That eliminates 100% of their imagined increase, but Washington is sending around 30% fewer usable doses compared to pre-mandate allotments. "The federal government has patted themselves on the back for how they're accelerating the delivery of vaccines," reflected DC Department of Health Senior Deputy Director Patrick Ashley. D.C. has nearly the highest case rate in the nation. "What they did is they moved numbers around."
We urge President Biden to reinstate original vial allocations. The point of doing ID, noted Johns Hopkins scholar Caitlin Rivers, was to "benefit from the increase in supply."
While we hope JYNNEOS's two-shot course proves safe and effective, data is scant for subcutaneous use, and more so for ID – particularly for people who are immunocompromised, including those living with HIV. One study, reported STAT, showed one dose providing nearly undetectable protection. And some agencies still aren't scheduling second injections. Even its manufacturer documented reservations about the administration's approach.
Contends one writer in The Atlantic, "The FDA is now playing a high-stakes game with the health and trust of people most vulnerable to monkeypox…" It typically causes rash and flu-like symptoms, but lesions around the anus, genitals, or mouth are excruciating. An oft-cited study shows JYNNEOS's efficacy, but it's based on a 2010 trial of approximately only 175 mostly young, white, healthy straight men receiving ID.
The reduction in doses has forced some jurisdictions, like Philadelphia, to scale back vaccine outreach, complicating plans for required second doses. While cases are disproportionately high among Black and Hispanic individuals, vaccination among Black people remains exceedingly low. Reasons include distrust, stigma, and less accessible vaccine centers.
The White House has allocated 10,000 vials for local networks to vaccinate under-vaccinated demographics, especially people of color. It should be 100,000. Still needed: a detailed commitment to vaccinate incarcerated and un-housed individuals.
Up to 15% of Black and Hispanic individuals – populations most at risk of contracting monkeypox – and 5% in Asian communities are prone to keloid scarring, which causes skin discoloration. For those affected, ID would be ineffective and likely harmful, and damaging to trust of the public health community.
ID's smaller doses are also deepening skepticism in vulnerable communities. The shrunken supply and over-emphasis on intradermal injections will exacerbate existing racial and socioeconomic disparities in vaccination. We must not allow this. Promoting the subcutaneous option is critical to encourage vaccination, especially for those ineligible for ID.
Demetre Daskalakis, White House Deputy Coordinator for monkeypox, anticipates "real-world" data from health agencies on "actual doses from vials." After issuing the mandate?
Daskalakis and CDC Director Dr. Rochelle Walensky indicate jurisdictions can request more vials, including for subcutaneous injections, but their vagueness has prevented some agencies from scheduling second shots.
Monkeypox was confined to Africa, where health resources are poor. Out of our sight, it was out of mind — until 27 countries where it hadn't existed reported 780 cases in May. The World Health Organization declared a public health emergency on July 23. President Biden didn't until Aug. 4. Five weeks later, domestic cases had more than tripled to 21,274.
Biden has often said, "Help is on the way." It's taking the long route. In his first joint address to Congress, Biden told transgender Americans – who are at high risk of contracting monkeypox – "Your president's got your back." As we advocate for speedier, more equitable vaccination, that assurance could use its own booster.
Dennis Jaffe of D.C. is an active member of PrEP4All's monkeypox advocacy project. He has 40 years of professional experience in grassroots advocacy for social justice causes. 
Initiative 82 will hurt D.C.'s bartenders
Measure would lead to increased costs for diners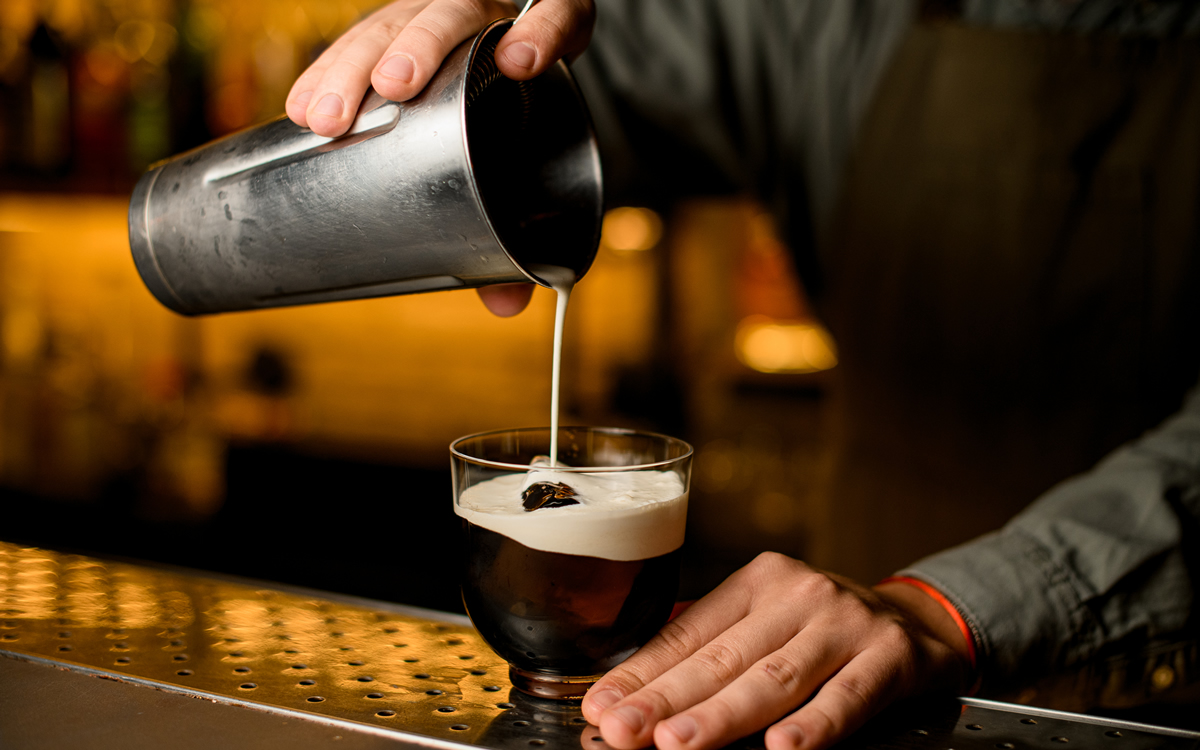 The hospitality industry in D.C. has given me so many opportunities throughout my five-year career as a bartender. I've had a flexible schedule, been able to support my family and live in D.C. (not the cheapest!), advance in my positions, and make lifelong friends whom I consider family. Being a bartender is my career, and that's why I'm speaking out against Initiative 82 to share my perspective as someone who will be directly impacted by its passage.
Today, my base pay and the tips I receive for my service pay me well above D.C.'s minimum wage. That's how I've been able to live in this city and support my family. If 82 passes, it would almost certainly decrease the tips I receive, the earning I make, and immediately jeopardize our entire industry.
Initiative 82 is a misguided effort to make sure all servers and bartenders earn the minimum wage. The reality is my hourly pay already exceeds the minimum wage because of the long-held practice of tipping in restaurants and bars. If restaurants and bars are forced to pay employees at the hourly minimum wage, it will immediately create an increase in labor costs, a disincentive for customers to tip at all, and pass on costs to diners. Positions will be eliminated, I will earn less, and menu prices will rise. Many customers will see increased prices, added "service charges," and will have heard that bartenders and servers nowmake minimum wage and will decide "I don't need to add a tip."
Large chain bars and restaurants will not be affected by this; it will be the small neighborhood bars and restaurants and the people who work in them that will suffer. They will be forced to shut down because they can no longer pay employees and will shut their doors. These are the businesses that make the D.C. bar and restaurant industry unique and they are the staples of every neighborhood in this city.
As a member of the LGBTQ+ community, I am particularly worried for D.C.'s LGBTQ+ bars and the people that call them home. These bars are independent and will likely be forced to close their doors because of the increase in costs if 82 passes.
Tipped employees are voting against Initiative 82. We didn't ask for the system to be completely upended. And we absolutely don't want this to pass when many voters haven't heard from those of us who will be directly impacted. Listen to your servers and bartenders and vote NO on Initiative 82.  
Carl Parker is a bartender in D.C.
Dupont Circle's Fireplace, a beloved dive bar
Our own Cheers, where everybody knows your name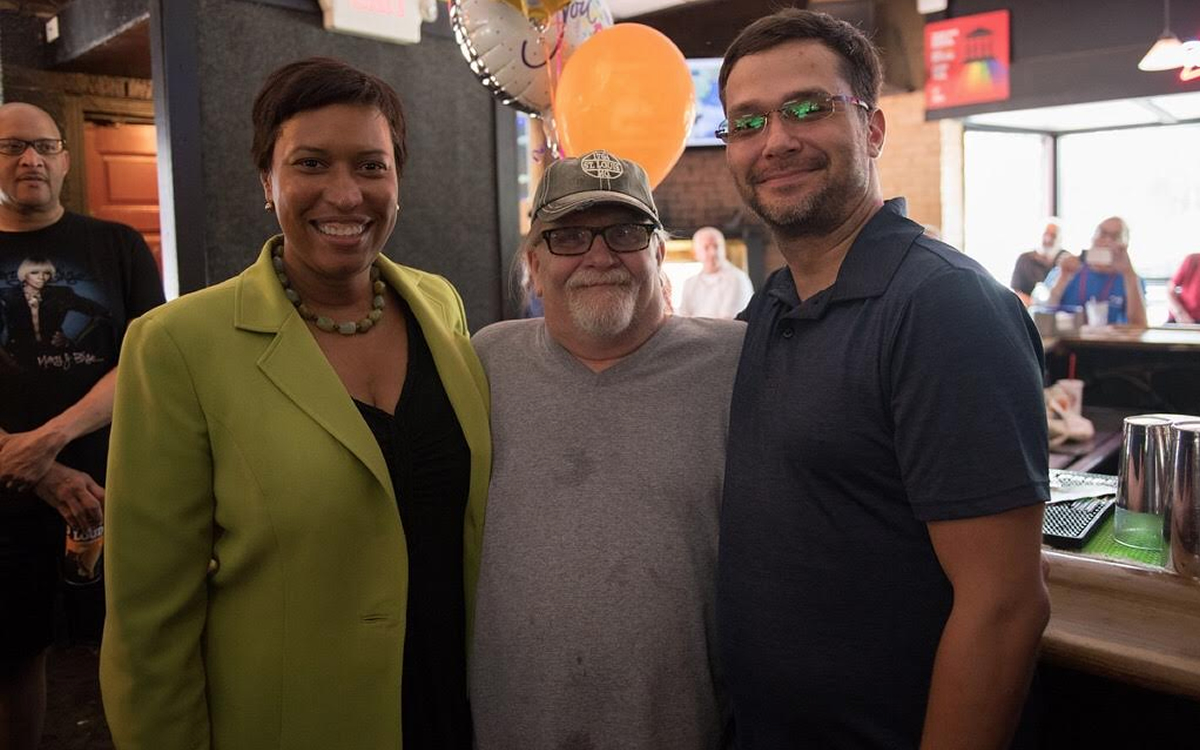 "Dupont Circle's The Fireplace is the Cheers of P Street, where everybody knows your name and are always glad you came. It's the last vestige of what was once the heart of gay D.C. — good drinks at reasonable prices and someone for everyone." — Patron Jim C.
"I equate the Fireplace to a comfortable pair of slippers," says another patron, Kerry. "The slippers, while aging and pretty worn around the edges, are still the ones you wear to relax and socialize. At the Fireplace I can relax and socialize with friends."
The oldest D.C. gay bar is now The Fireplace. Yes, it does have an operating fireplace on the corner of 22nd and P Street, N.W. Scores of tourists take pictures of the fireplace daily. What a background!
Today, The Fireplace has become even more relevant since it is located directly across from the Ukraine Taras Shevchenko Memorial. The LBJ administration honored this Ukrainian freedom fighter and poet by dedicating the bronze statue in 1964. Also, The Fireplace is located directly across from the popular Soho Coffee and Tea once owned and operated by Helene and Fran for 25 years catering to a diverse community, along with Manager Sami, whom you might see now at The Fireplace.
The historic Fireplace building was built in 1888 without the corner fireplace and served as a community corner grocery, Walkers, from 1920 to 1964, according to the D.C. Historical Society. It then became a different rendition of The Fireplace, as during the 1970s, it was a straight strip bar.
In the 1980s, in this building, P Street Station became a staple of the bustling gayborhood. The gayborhood included Friends Piano bar (remember Carl Barnswell singing "Hello, Dolly" on his nine-foot grand?), which became Escandalo and closed. Mr. P's opened in 1976 by George Dotson and partner John Maco and then closed 2004; Fraternity House opened in 1976, became Omega and then closed. Badlands became Apex and then closed, plus there was the theater piano bar on the lower level of what was then The Georgetown Hotel. At that time, the gayborhood was so busy that Soho Tea and Coffee was open 24 hours. The neighborhood has changed dramatically, leaving only The Fireplace.
In 1989, D.C. natives Steve and Joel Weinstein, Dr. Dave Griswell and others decided to buy or open three gay bars: The Green Lantern (a version is still open), The Circle Bar (Connecticut Avenue taking the old liquor license of gay bar Rascals, now closed with a nail salon operating in the space) and The Fireplace (formerly P Street Station.) Today, the owners celebrate 33 years of owning and operating The Fireplace.
Some might remember The Fireplace because of beloved longtime bartender "Mama Judy," aka Judy Stevens, who passed away at age 79 several years ago. She offered advice and solace to many customers.
Others might remember Tommy Stewart, the bartender of 25 years who relocated to Florida with his husband.
Gay bars began to open around the country in the 1930s. By the 1980s there were more than 1,000, according to Oberlin University professor Greggor Mattson who created a database. In the heyday of the early 1990s, D.C. may have had 22 gay/lesbian bars; today, maybe eight? Most of them want to be recognized not as gay bars, but as safe, relaxed places for all genders and sexualities to come together.
Today, The Fireplace advertises on Facebook as "an international Gay Black bar." Its motto: A gay bar that welcomes everyone who is looking for an opportunity to meet new friends. The Facebook page has 2,000 followers. Well known in the gay bar arena is Fireplace manager Scott Allen Paige, who has worked in gay bars for 30 years. Today, Scott along with bartender Bill Clark hosts on alternative days a lively diverse happy hour, especially during The Commander games when the place becomes quite lively. And yes, there is a collection of high heels on the fireplace mantel.
During this happy hour time period, there is a group of professionals sitting in the front bay window. They call themselves "The Office," so that when people call them, they can simply say, they are at "The Office." Another patron, Bob, who hails from Germany declared The Office reminded him of "Stammtisch," a German term defined as a group of folks gathering at the same time, the same place, reviewing the day.
During the lockdown, The Fireplace closed for more than 13 months. Owner Steve declared that the city's COVID rules were just too complicated and convoluted for a small business, especially considering how the bar is configured.
"The Fireplace has very limited capacity for tables…it does not make sense for us to reopen with these limitations," he said at the time. Many speculated that it would never re-open but to the delight of many, it did.
This historic gay dive bar is happily frequented by a diverse crowd, from scientists and doctors to lawyers and engineers to IT experts, government workers, hotel concierges, tourists and even recently a famous author (Jamie Bowman's book "Bike Riding in Kabul" is #1 on Amazon's International New Release category and a book signing is planned at The Fireplace soon).
So enjoy one last happy gay bar in West Dupont Circle, The Fireplace.