January 27, 2014 at 9:54 pm EDT | by Michael K. Lavers
McAuliffe declines to appoint special counsel to defend Va. marriage ban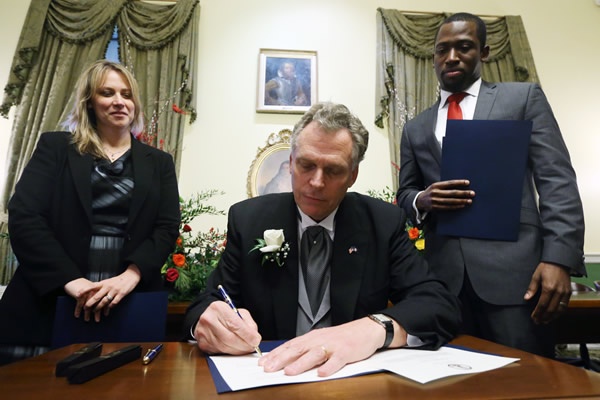 Virginia Gov. Terry McAuliffethe Alliance Defending Freedom and the Family Foundation of Virginia are "vigorously and appropriately" defending the state' same-sex marriage ban after Attorney General Mark Herring announced he would not defend it.
Marshall is among the more than 30 legislators who urged McAuliffe in a Jan. 24 letter to defend the marriage amendment that Virginia voters approved in 2006.
"Accordingly, I respectfully decline to appoint special counsel in this matter," wrote McAuliffe.
Judge Arenda L. Wright Allen of the U.S. District Court for the Eastern District of Virginia on Thursday will hold a hearing in a lawsuit that two couples — Timothy Bostic and Tony London of Norfolk and Carol Schall and Mary Townley of Richmond — filed last year against the marriage amendment. The ACLU, Lambda Legal and the ACLU of Virginia last August filed a class action federal lawsuit on behalf of two lesbian couples from the Shenandoah Valley who are seeking marriage rights in the commonwealth.
A Virginia House of Delegates committee on Jan. 24 approved a bill that Marshall and state Del. Todd Gilbert (R-Shenandoah County) introduced earlier this month that would allow any state lawmaker to defend a law if the governor and attorney general decline to do so.
The full House is expected to vote on the measure on Wednesday, but the state Senate will likely kill it.