Boehner tells LGBT caucus 'no way' ENDA will pass
Speaker holds first-ever meeting with group seeking to advance LGBT rights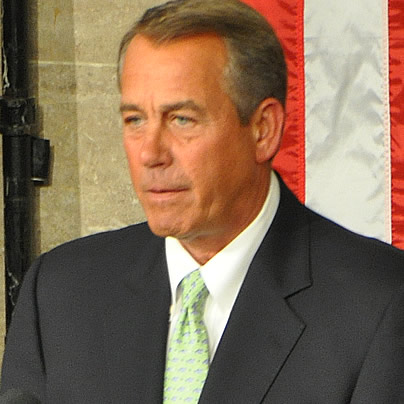 House Speaker John Boehner (R-Ohio) told attendees last week at his first-ever meeting with the LGBT Equality Caucus there was "no way" the Employment Non-Discrimination Act would pass this year, according to a gay lawmaker who attended the meeting.
Rep. Mark Takano (D-Calif.), who's gay and one of the caucus co-chairs, volunteered information Tuesday night about the meeting in Statuary Hall of the U.S. Capitol when the Washington Blade asked him about his views on the absence of the ENDA from the State of the Union address.
"A number of us did meet with, actually the caucus met with Speaker Boehner," Takano said. "He said no way was it going to get done in this session."
Calling the discussion between Boehner and the lawmakers "a historic sort of meeting," Takano later clarified he was referring to the LGBT Equality Caucus, a 113-member group of lawmakers committed to advancing LGBT rights, and said the meeting took place "a few days ago" or last week.
A "session" of Congress is equivalent to one of the two years in which a particular Congress meets before a new Congress is seated, so Takano's account of the meeting indicates ENDA won't see a House vote in 2014.
Asked to clarify whether he meant that ENDA won't come up this year, Takano said, "Yeah. He said it wasn't going to happen in this session."
Despite his account of the meeting, Takano remained optimistic about the passage of ENDA at a later time, perhaps after Election Day this year, saying "it's still a huge priority for me to get that done."
"There's obviously differences between the two parties on ENDA, but, you know, who knows what can happen in a lame duck Congress?" Takano said.
Others with knowledge of the meeting declined to divulge on the record significant information, saying the meeting wasn't open to staffers and not meant to be public. No one would disclose the exact date of the meeting or identify who participated.
But House aides did confirm the historic nature of the meeting, saying Boehner has never before met with the LGBT Equality Caucus and the discussion took place within the speaker's office. Aides said Boehner has also met with the Congressional Black Caucus and the Congressional Hispanic Caucus, but discussions in meetings like these are private.
Michael Steel, a Boehner spokesperson, responded to the Blade's inquiries about the meeting by saying the speaker meets all the time with various groups on Capitol Hill.
"John Boehner is the speaker of the whole House, and often meets with groups of members from both sides of the aisle," Steel said.
One aide said the entire 113-member caucus didn't attend the meeting, although it was attended by more lawmakers than just the six co-chairs of the group, who consist of openly LGB members of the U.S. House. The co-chairs are Takano as well as Reps. Jared Polis (D-Colo.), Mark Pocan (D-Wis.), David Cicilline (D-R.I.), Kyrsten Sinema (D-Ariz.) and Sean Patrick Maloney (D-N.Y.).
Brad Jacklin, executive director of the LGBT Equality Caucus, confirmed a meeting took place, but offered only a few details.
"A number of members asked to meet with the speaker, who tries to accommodate such requests," Jacklin said. "It was a members-only meeting and was off the record. The Equality Caucus and its leadership continues to work together to educate members of the House on LGBT issues and build bipartisan support for legislation like ENDA."
Jacklin took note that just this week, Rep. Michael Grimm (R-N.Y.) signed on as the sixth House Republican to co-sponsor the Employment Non-Discrimination Act.
Immediately after the announcement, he received significant attention in the media for physically threatening a reporter from New York-affiliate NY1 who asked him about the current investigation into his potential violation of campaign finance law.
Pulse survivor 'at a loss' over Texas elementary school massacre
Brandon Wolf is Equality Florida's press secretary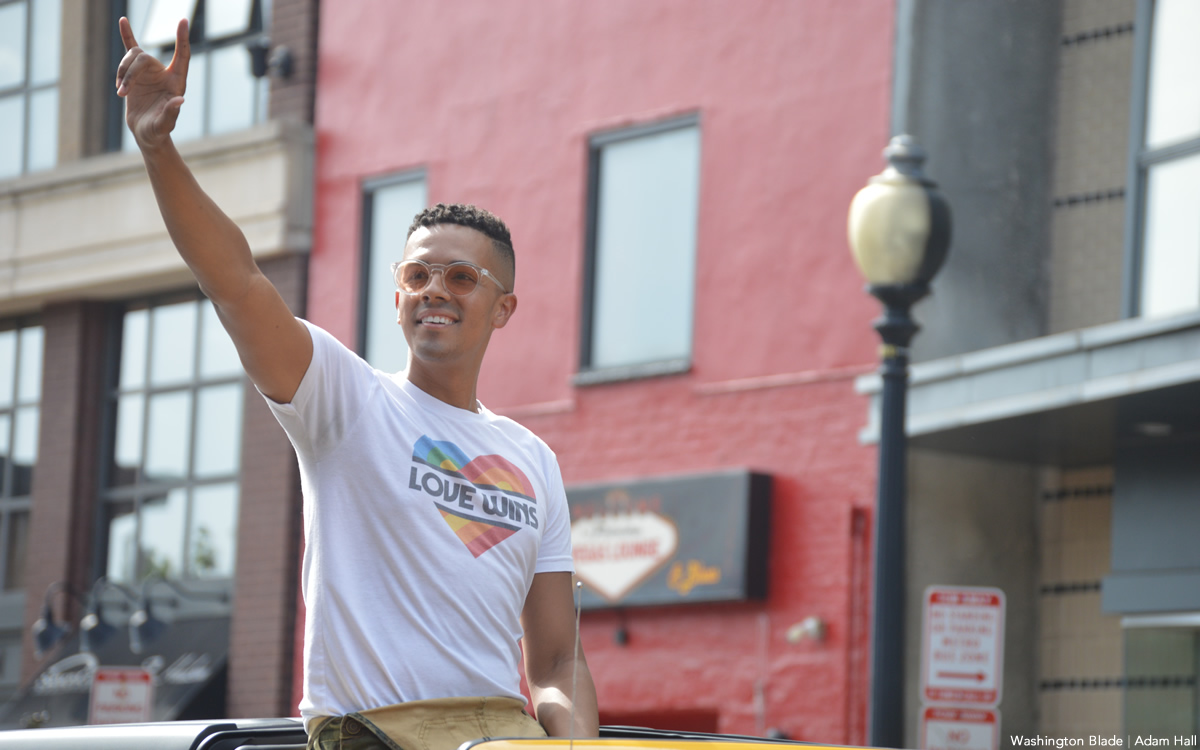 A survivor of the Pulse nightclub massacre on Wednesday said he is "at a loss" over the massacre at a Texas elementary school that left 21 people dead.
"Twenty-one people were murdered," said Equality Florida Press Secretary Brandon Wolf in a statement he sent to the Washington Blade a day after a gunman killed 21 people inside Robb Elementary School in Uvalde, Texas. "Nineteen of them were children — babies. That means 19 families sent their elementary age kids off to school only to get the worst news: That their babies would be leaving class in body bags."
Wolf was inside the Pulse nightclub in Orlando, Fla., on June 12, 2016, when a gunman opened fire and killed 49 people. His two close friends — Christopher "Drew" Leinonen and his fiancé, Juan Guerrero — were among those killed.
Wolf in his statement noted "right wing politicians have spent the past year insisting that the greatest threats our children face are the potential they'll learn that this nation was built on the backs of enslaved Black people or that their teacher uses they/them pronouns."
"They've banned books, censored curriculum and bastardized history lessons," said Wolf. "All the while, they haven't lifted a finger to protect kids from what is killing them."
Equality Florida echoed Wolf's sentiments.
We have an entire faction of extremists laser focused on banning books, propagandizing history, and bastardizing curriculum while the nightmare of gun violence ravages our kids without end.

Heartbroken for those shattered by gun violence today. https://t.co/ED7ItnNR2T

— Equality Florida (@equalityfl) May 24, 2022
"I am heartbroken for the shattered families," added Wolf. "Grief-stricken for these stolen lives. And enraged at the power-hungry leaders who have chosen time and again to serve up this country's most vulnerable as sacrifices in exchange for a boost up the ladder of their own ambitions."
Axel Rodríguez's friend, Xavier Serrano Rosado, died inside the Pulse nightclub.
Rodríguez told the Blade that Tuesday was "such a dad day for us here" in Orlando.
"It is like going through the same emotions we had when the attack at Pulse happened, but it's even worse because we are talking about children," he said. "When will our government stop thinking about money and stop this madness? Everyone now can obtain a gun anywhere. I just cannot comprehend that at all."
The Pulse nightclub massacre was the deadliest mass shooting in modern U.S. history until a gunman on Oct. 1, 2017, killed 60 people at a concert in Las Vegas.
A gunman on Feb. 14, 2018, killed 17 people at Marjory Stoneman Douglas High School in Parkland, Fla. Twenty children and six adults died in the massacre at the Sandy Hook Elementary School massacre in Newtown, Conn., on Dec. 14, 2012.
The Robb Elementary School massacre took place less than three years after a gunman killed 22 people at a Walmart in El Paso, Texas.
"There are no words," tweeted Pride Center San Antonio, which is roughly 90 minutes east of Robb Elementary School, on Wednesday.
There are no words… #uvaldetx #texasstrong #prayforuvalde pic.twitter.com/O9QhjDre3M

— The Center – Pride Center San Antonio (@PrideCenterSA) May 25, 2022
"Our hearts are with the Uvalde community," said Equality Texas on Tuesday. "Every child deserves to free safe at school."
Every child deserves to feel safe at school

— Equality Texas (@EqualityTexas) May 24, 2022
Republican lawmaker claims Texas school gunman was transgender
Massacre victims were inside single classroom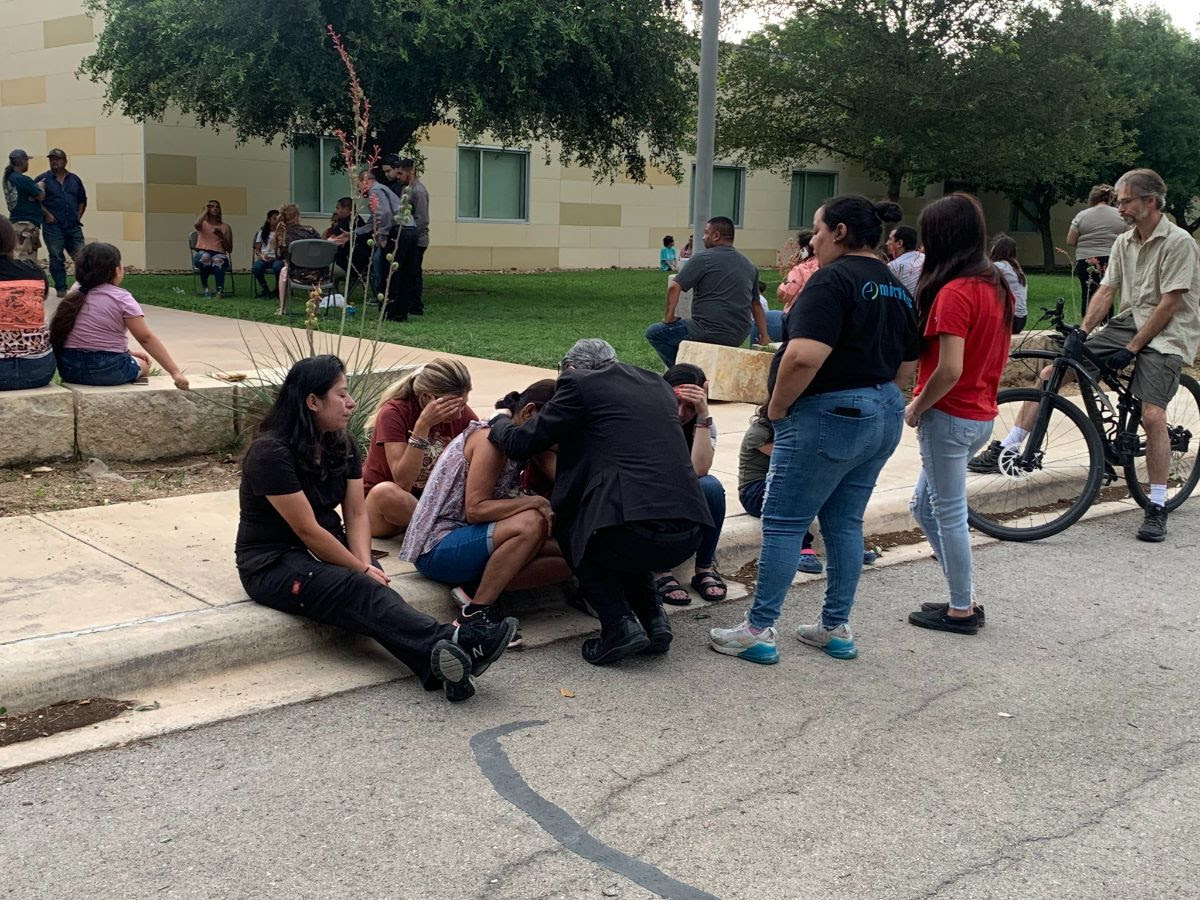 A spokesperson for the Texas Department of Public Safety confirmed that all of the 19 children and two adults were killed in single classroom at the Robb Elementary School in Uvalde, Texas, Tuesday.
According to officials, 18-year-old Salvador Rolando Ramos, wearing body armor had barricaded himself inside a fourth-grade classroom, where all the fatalities and injuries occurred. Ramos, who attended the nearby high school, was killed on scene by a member of a federal U.S. Border Patrol tactical unit who had responded alongside local law enforcement.
Several other children were injured in the attack, including a 10-year-old who remained in critical condition in a Texas hospital. Law enforcement officials told reporters Ramos shot his grandmother before heading to the school with two military-style rifles he bought on his 18th birthday which was within the last two weeks.
Law enforcement has only released some of the victim's identities and according to the Austin Statesman newspaper's political reporter Niki Griswold, parents were gathered late into the night to give DNA samples to find out whether or not their children were among the dead. Griswold also tweeted, "The agonized screams of family members are audible from the parking lot," as she also noted "A family has erupted into sobs outside the civic center."
The agonized screams of family members are audible from the parking lot

— Niki Griswold (@nikigriswold) May 25, 2022
As Texas and the nation reeled in shock over yet another deadly mass shooting, Arizona Republican Congressman Paul Gosar, who espouses radical right view points and former President Trump's MAGA philosophy, took to Twitter and spread a false and transphobic claim that the suspected shooter was a "transsexual leftist illegal alien."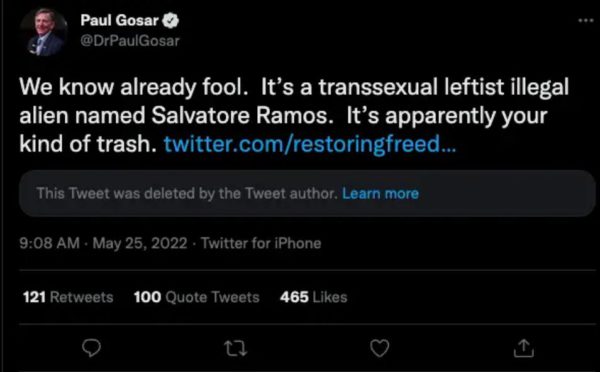 As of Tuesday evening, Gosar had not commented on his tweet, which was deleted about two hours after being published.
Gosar is an anti-immigration, anti-vaxxer, radical right hardliner who routinely cozies up to white nationalists. He was apparently promoting a false claim circulating on right-wing networks. Users shared images of a transgender person unrelated to the attack claiming they were the shooter.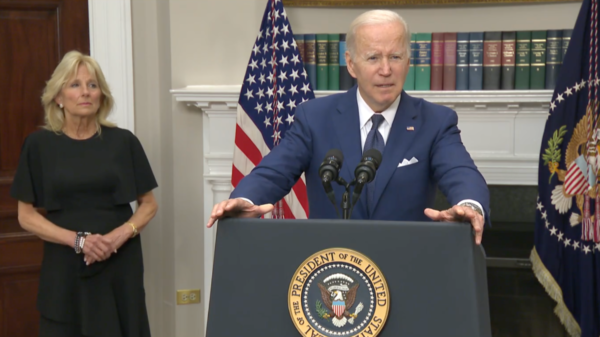 In Washington last night, President Biden, speaking to the nation said;
"Why are we willing to live with this carnage?" he asked. "Why do we keep letting this happen? Where in God's name is our backbone to have the courage to deal with it and stand up to the [gun] lobbies?
Speaking from personal experience, as a father who has lost two children, Biden added: "To lose a child is like having a piece of your soul ripped away. There's a hollowness in your chest, and you feel like you're being sucked into it and never going to be able to get out. It's suffocating. And it's never quite the same."
Global reaction included sympathy from Ukraine's leadership.
Ukrainian President Volodymyr Zelenskyy expressed condolences to the community of Uvalde where the 21 people — including the 19 students — were murdered in one of the deadliest school shootings in U.S. history.
"Deeply saddened by the news of the murder of innocent children in Texas," Zelenskyy wrote. "Sincere condolences to the families of the victims, the people of the U.S. and @POTUS over this tragedy. The people of Ukraine share the pain of the relatives and friends of the victims and all Americans."
Deeply saddened by the news of the murder of innocent children in Texas. Sincere condolences to the families of the victims, the people of the US and @POTUS over this tragedy. The people of Ukraine share the pain of the relatives and friends of the victims and all Americans.

— Володимир Зеленський (@ZelenskyyUa) May 25, 2022
NPR reported Wednesday that Zelenskyy also referenced the shooting while speaking by video link at a conference on the sidelines of the World Economic Forum in Davos, Switzerland, in which he drew a direct parallel between the shooting and the war in Ukraine.
"I feel it is my personal tragedy when children are killed in Texas, and now in my country Russian military is killing our children," he said.
Senegal advocacy group demands better treatment of LGBTQ prisoners
Homosexuality remains criminalized in West African country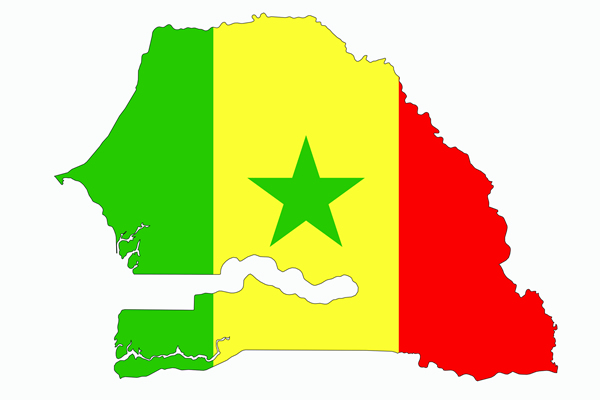 The founder of a Senegalese advocacy group has criticized the treatment of LGBTQ people in the country's prisons.
Souleymane Diouf, founder of Collectif Free du Sénégal, says prisoners suffer physical and sexual abuse, especially from other inmates. Diouf notes prison wardens are often reluctant to respond due to current laws that criminalize same sex relations.
"There is a considerable difference in treatment between homosexual and heterosexual prisoners. This difference is due to the behavior of prison officers, but also to the attitude of other inmates. The overcrowding of the prisons has furthermore worsened the situation and the attitudes of rejection towards 2SLGBTQIA+ persons," said Diouf. "The difference in treatment occurs at all stages of the deprivation of physical liberty."
Diouf said LGBTQ detainees are often beaten at police stations, such as in Dakar's Mermoz district in October 2020 during a wave of arrests.
"One of the young people arrested during this police raid had complained of having been tortured in prison and had received very bad treatment," said Diouf. "He complained of having a stomach ache following a kick he received, but had not been taken care of, neither at the hospital nor at the infirmary of the prison where he was held."
Diouf said the man died shortly after his release.
"The exact nature of the death is not known," said Diouf. "Nevertheless, one cannot help but wonder or draw parallels with his conditions of incarceration.
Diouf also said LGBTQ people are not placed in solitary confinement cells.
"This situation, as well as the recurrent overcrowding of prisoners within the prisons, increases the risk of sexual violence," said Diouf.
Diouf noted lesbian women are held at Dakar's Cap Manuel Prison, but less information is known about their treatment.
"They are subjected to verbal abuse but seem to be spared physical abuse," said Diouf. "However, their conditions of detention are far from obvious, due to the dilapidated state of the prisons."
Diouf noted Senegalese civil society organizations that advocate for these prisoners are often ineffective because of the hostility they may face if the community and law enforcement agencies discover they are LGBTQ lobbyists.
"The Senegalese State is totally uninvolved in the security of 2SLGBTQIA+ persons," said Diouf. "Complaints are rarely filed, when an 2SLGBTQIA+ person reports to the authorities a danger or an imminent threat to their life little is done for the victim. Also calls for hatred and murder targeting the 2SLGBTQIA+ community go largely unpunished in the country."
"The government is more concerned about the upcoming elections than the 2SLGBTQIA+ community," added Diouf. "As for the civil society, it remains inert and the last two years have been characterized by a clear increase in hostility towards 2SLGBTQIA+ people."
Diouf also painted a grim picture for the country's LGBTQ community, citing there are more stringent measures in the making that are meant to further suppress those who identify as LGBTQ.
Same-sex relations in Senegal are prohibited under the country's 1965 penal code that criminalizes so-called unnatural acts with between 1-5 years in prison and a fine that can range from $170-$2,580.
Both men and women are criminalized under this law.
A group of Senegalese lawmakers last December announced plans to introduce a bill that would double the length of jail terms for those convicted of same-sex activities to between five and 10 years. One lawmaker, Amadou Ba, stated that voting against the "bill criminalizing homosexuality will be equivalent to its legalization."
Anti-LGBTQ groups last May burned the Pride flag during a rally and demanded a new, more repressive anti-LGBTQ law to be passed. They also called for the criminalization of homosexuality to be an issue at the next presidential election in 2024.
"Today, we should be able to fight for the visibility of all the points of view that are expressed regarding the 2SLGBTQIA+ communities," said Diouf. "However, we are far from it."
Daniel Itai is the Washington Blade's Africa Correspondent.