Nevada AG will no longer defend marriage ban in court
Masto was criticized for invoking incest, bigamy in earlier filing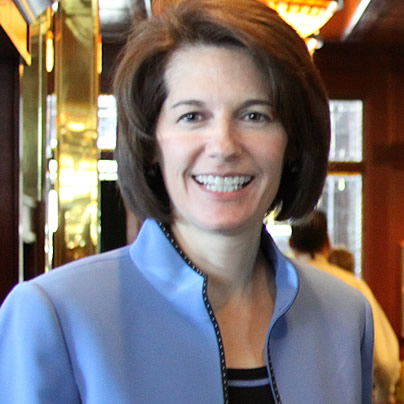 Nevada Attorney General Catherine Cortez Masto announced on Monday she has sought to withdraw her earlier legal brief that argued against marriage equality — an action one advocate says indicates she'll no longer defend in court her state's ban on same-sex marriage.
Masto, a Democrat, said she wants to withdraw her brief — which stirred controversy because it invoked bigamy and incest while defending Nevada's ban on same-sex marriage — based on a related case decided by the U.S. Ninth Circuit Court of Appeals that determined jurors should not face discrimination based on sexual orientation.
"After thoughtful review and analysis, the State has determined that its arguments grounded upon equal protection and due process are no longer sustainable," Masto said. "Additionally, the legal evolution referenced by SmithKline is undeniably a 'doctrinal development' that vitiates the State's position. Thus not only is the State's equal protection argument undermined, so is its Baker v. Nelson argument."
Masto had previously indicated that he was reconsidering her position on the Nevada marriage lawsuit, which is currently before the Ninth Circuit, in the days after her initial filing based on the SmithKline ruling.
She had filed her brief before the court on the same day it rendered its decision in SmithKline v. Abbott, which determined laws in the Ninth Circuit related to sexual orientation should be subject to heightened scrutiny, or a greater assumption they're unconstitutional. That ruling established precedent in the Ninth Circuit that will likely lead to marriage bans being struck down within that jurisdiction.
The case in which Masto withdrew her filing is known as Sevcik v. Sandoval, which was filed in 2012 by Lambda Legal and other legal firms on behalf of eight same-sex couples.
Jon Davidson, legal director for Lambda Legal, said the decision means that Masto will no longer defend the marriage ban in court in the same way that Virginia Attorney General Mark Herring is not defending a similar ban in his state.
An LGBT advocate, who spoke on condition of anonymity, said Masto's position isn't quite the same as Herring's, but, in practice, it ends up being about the same position.
In the nine-page motion to withdraw, Masto walks through her logic in why the brief she previously submitted no longer holds up.
"SmithKline's holding sets a new standard of review for cases in the Ninth Circuit," Masto writes. "Because the State's argument was grounded upon equal protection and relied on High Tech, and thus was constructed upon the premise that only rational basis review applied to laws categorizing on the basis of sexual orientation, the State's argument cannot withstand legal scrutiny."
The earlier brief cited as precedent Baker v. Nelson, a marriage case in the 1970's that the U.S. Supreme Court refuse to hear for lack of federal question, and an earlier ruling by a federal judge in Nevada upholding the state's ban on same-sex marriage. But with the more recent ruling in the gay juror case, Masto writes "both of these holdings have been vitiated."
Masto's request to withdraw her brief follows the earlier decision by Carson City Clerk-Recorder Alan Glover to withdraw his brief, which was also motivated by the Ninth Circuit ruling in SmithKline.
Tara Borelli, a staff attorney at Lambda Lambda, praised Masto and Gov. Brian Sandoval for withdrawing their earlier brief in favor of the ban on same-sex marriage.
"In the wake of the Ninth Circuit ruling in SmithKline Beecham v. Abbott Laboratories, the Governor has recognized that the writing is on the wall, and that arguments seeking to perpetuate discrimination are becoming extremely difficult to justify," Borelli said. "Denying marriage to same-sex couples serves no legitimate state interest and is intended solely to perpetuate discrimination."
Derek Washington, lead organizer for GetEQUAL Nevada, said more action is needed from Masto after her initial brief invoking bigamy and incest.
"While we applaud the Attorney General for hearing the voices of Nevadans who let her know — loud and clear — that hatred and disrespect would not be tolerated in our state, we stand firm in demanding an apology for her past comments and have requested a face-to-face meeting between the Attorney General and LGBTQ community leaders immediately," Washington said.
CORRECTION: An earlier version of this posting indicated Masto has withdrawn from the case. She cannot do so without the court's permission.
Anti-LGBTQ provisions removed from NDAA
New version omits restriction on gender affirming care, book and drag bans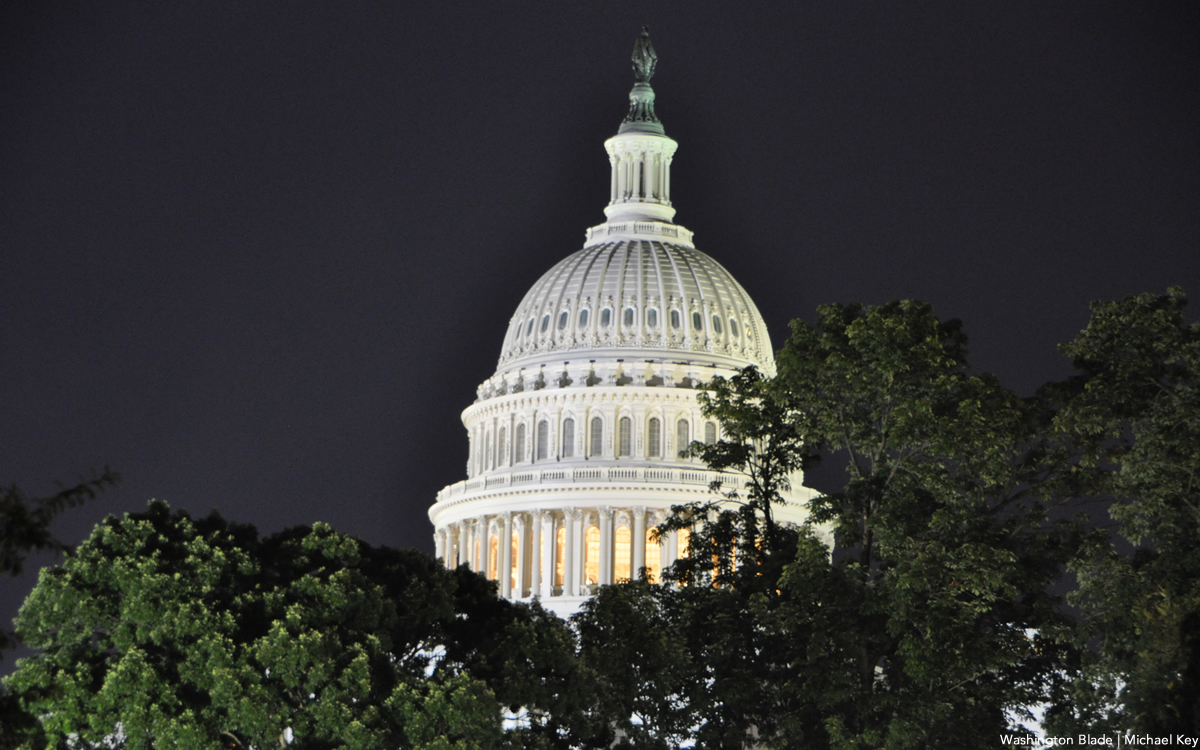 Anti-LGBTQ provisions submitted by House Republicans to the National Defense Authorization Act (NDAA) have been removed from the defense spending bill, triggering outrage from conservative lawmakers and praise from LGBTQ groups.
The conference version of the bill was released on Thursday.
This week saw the revocation of two measures targeting gender affirming care along with the book ban and drag ban. Language stipulating the list of approved flags that can be flown at military bases was amended such that more flags can be added on a discretionary basis.
"MAGA members of Congress tried to hijack the National Defense Authorization Act to advance their anti-LGBTQ+ agenda, attempting to riddle it with discriminatory riders," Human Rights Campaign National Press Secretary Brandon Wolf said in a statement to the Washington Blade.
His statement continued, "They failed and equality won. Anti-LGBTQ+ provisions, including efforts to restrict access to gender affirming care, were rejected. The anti-LGBTQ+ agenda continues to be deeply unpopular across the country and a failing political strategy."
Wolf thanked U.S. Sen. Jack Reed (D-R.I.) and U.S. Rep. Adam Smith (D-Wash.) for "defending equality and defeating attacks on the community."
Pledging to vote "no" on the bill, Republican U.S. Rep. Marjorie Taylor Greene (Ga.) said in a post on X, "I was appointed to the NDAA conference committee but NEVER got to work on the final version of the NDAA bc they made the deal behind closed doors and here are the horrible results."
I was appointed to the NDAA conference committee but NEVER got to work on the final version of the NDAA bc they made the deal behind closed doors and here are the horrible results 👇

I'm voting NO!!! pic.twitter.com/jnmTHCgzNG

— Rep. Marjorie Taylor Greene🇺🇸 (@RepMTG) December 8, 2023
Transgender people seek government job consideration in India's Maharashtra state
Court petition filed on Nov. 29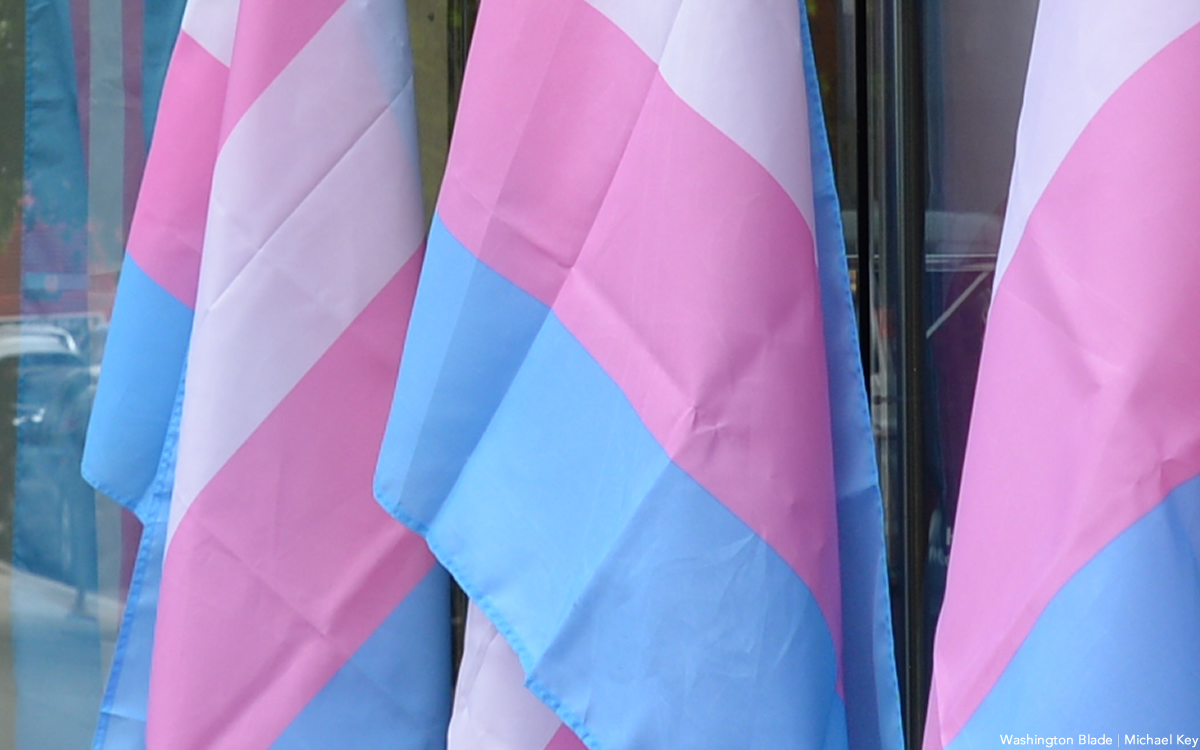 Ancient texts in India have recorded the history and cultural importance of transgender people, but the community is still marginalized and vulnerable in the country. Although the government offers many vulnerable castes a specific number of slots for education and government jobs, trans people still have no such benefit and continue to face discrimination across the nation.
Three trans people from Maharashtra state on Nov. 29 filed an application to the Maharashtra Administrative Tribunal seeking slots for trans people in government jobs and a "third gender" option in online job applications. Two applicants had applied for police officer posts, while the other had applied for a revenue officer post — both of which are government jobs in India.
While hearing the application, the Maharashtra Administrative Tribunal, a court that has all the powers of the High Court, said it cannot direct the state government to give slots for trans people in public employment and education. The Maharashtra Administrative Tribunal did say, however, that the state government should take more steps towards inclusivity for the community in mainstream society.
Maharashtra's government told the tribunal it would not be possible to provide slots to trans people in government jobs or education.
The Maharashtra Administrative Tribunal in a 26-page order directed the state government to give applicants the necessary points to qualify for the job if the applicant has secured 50 percent of the total marks for the concerned post. The tribunal also directed the government to provide age relaxation to trans applicants if they earned 45 points.
In India, every government job seeker goes through an examination to qualify for the job. Government job examinations are one of the toughest in India because there are millions of applications for a few positions, resulting in the need to secure higher marks to get a position.
More than one million applicants applied for 18,331 police officer positions in 2022. The government, however, provides slots to backward class applicants and gives points relaxation in examinations. Trans people in India are most marginalized and vulnerable with no slots in education or employment.
Retired Justice Mridula Bhatkar, who chairs the Maharashtra Administrative Tribunal and member Medha Gadgil in the ruling said the fact that not a single trans person who has come out received a job in the government sector speaks volumes.
"The transgender people are humans and are citizens of our great country who are waiting for their inclusion in the mainstream," said the tribunal. "We have historical, mythological and cultural instances of eunuchs and their participation in political, social or cultural fields."
The tribunal also said trans people are in the minority.
Although the majority forms the government, the majority cannot suppress the rights of marginalized sections of society. The tribunal further added the situation in which the trans community finds itself is worse than what women faced in the past while demanding equality.
The tribunal highlighted the mere acknowledgment of the separate identity of trans people was not enough, but they also need to be given opportunities in government jobs.
"The State of Maharashtra has been very progressive in its thought and culture," said the tribunal. "Therefore, it is desirable on the part of the government to take necessary measures to enable these transgender applicants to get jobs in the government sector."
The tribunal mentioned Indian Constitution prohibits any kind of discrimination based on sex under articles 15 and 16.
"To get into public employment is a handicapped race for transgenders," said the tribunal. "Though they are not physically disabled and are able-bodied persons, their activities, actions, growth are paralyzed due to the negative approach of society, family in all schools, colleges in all places at all levels."
While representing the petitioners, Kranti LC, a lawyer, said that the Indian states of Tamil Nadu, Chattisgarh, Karnataka, Jharkhand and Bihar have provided reservations to trans people. The tribunal, however, noted it understands the state has reached the limit of vertical slot of 62 percent, but ordered the law can reach equality and harmony through social engineering.
"The courts are for justice and cannot ignore any societal problem when placed before it," said the tribunal. "Under such circumstances, though courts are not the lawmakers while interpreting the law, a legally permissible solution is to be applied to meet the ends of justice."
According to the Indian Supreme Court's 1992 Indra Sawhney vs. Union of India ruling, nine judges upheld the 50 percent ceiling on slots and denied slots in promotion in government jobs. This means no government agencies or institutions can give slots more than 50 percent of total job openings. Maharashtra state already crossed the limit.
"It is very unfortunate, because transgender people are one of the most vulnerable people in India, and of the most marginalized population in our country," said Kalki Subramaniam, a trans rights activist and founder of Sahodari Foundation, an organization that works for trans Indians. "For the horizontal reservation, we need to get the support of our government. We need to sensitize our members of Parliament. I think, all political parties do support (the) transgender community, and do understand the plight of the community and difficulties we face."
Kalki told the Washington Blade the community needs to work hard. She said the community needs to start campaigning for horizontal slots. She said the community needs to MPs to get the necessary support for it.
While talking to the Blade, Rani Patel, an activist and founder of Aarohan, a nonprofit organization that works with trans Indians, said that it is right that the trans community needs to have reservations in jobs and education so that they can be mainstreamed in the society.
"I have been working with the transgender community for last 11 years in Delhi. We had worked very hard for the scraping of section 377," said Patel. "All the equality and rights given by the Supreme Court of India is of no use until and unless they are not provided with reservation, because there is a stigma in the society against the transgender people, the community feel rejected and detached from the society."
Patel told the Blade that only a few trans children are getting an education in the country. She said most of the trans people in India need to be skilled in whichever field for which they have an interest. Patel further said that while getting skills, the government should provide slots to trans people, otherwise giving skills will be of no use.
Patel and Aarohan were instrumental in drafting the Delhi government's trans bill.
Ankush Kumar is a reporter who has covered many stories for Washington and Los Angeles Blades from Iran, India and Singapore. He recently reported for the Daily Beast. He can be reached at [email protected]. He is on Twitter at @mohitkopinion.
New bill would protect LGBTQ-owned businesses from lending discrimination
Legislation introduced by Sens. Padilla, Gillibrand and Rep. Torres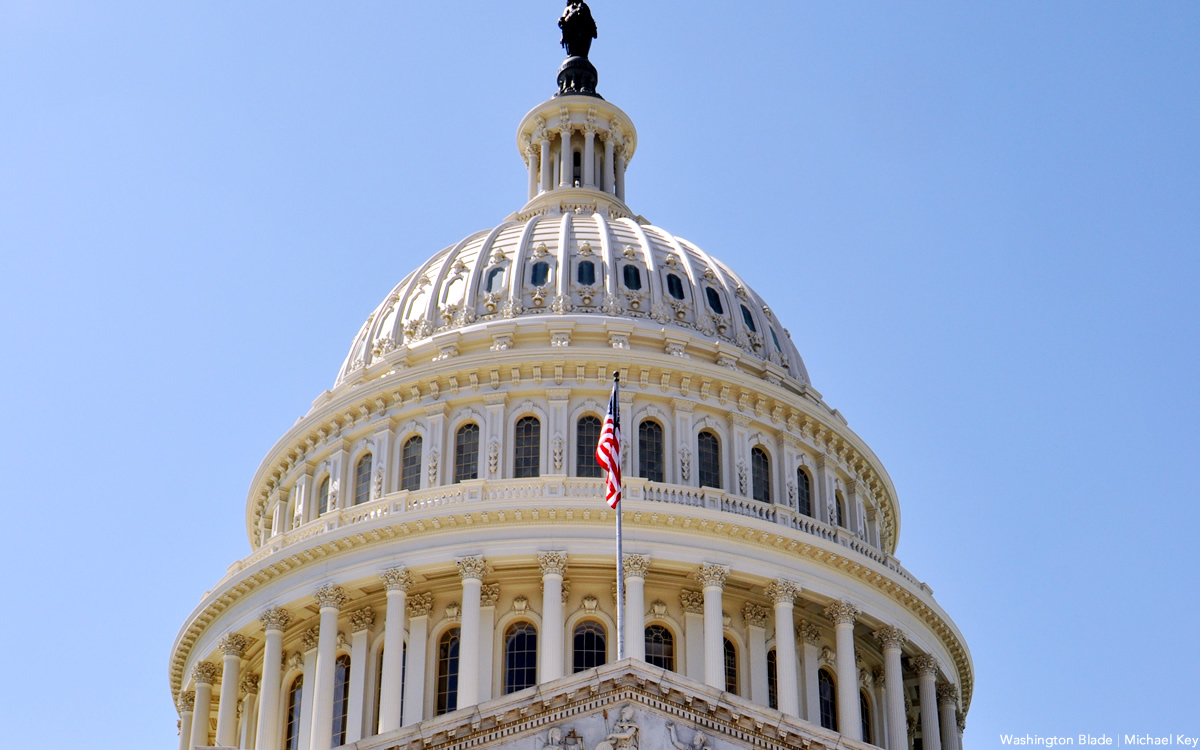 A bicameral bill introduced on Wednesday by U.S. Sens. Alex Padilla (D-Calif.) and Kirsten Gillibrand (D-N.Y.), along with U.S. Rep. Ritchie Torres (D-N.Y.) would require financial institutions to collect data on access to credit and capital by LGBTQ-owned businesses.
The legislation would thereby allow regulators to better identify and potentially remedy instances of anti-LGBTQ discrimination in these areas.
CNBC reported in June that a study by the Movement Advancement Project found LGBTQ-owned businesses encountered more rejections than non-LGBTQ-owned businesses that applied for funding, amid a tightening of lending standards across the board.
Specifically, the bill would "clarify that Section 1071 of the Dodd-Frank Wall Street Reform and Consumer Protection Act (Dodd-Frank) requires financial institutions to collect the self-identified sexual orientation and gender identity of the principal owners of small businesses, in addition to their sex, race, and ethnicity," according to a press release by Padilla's office.
The California senator said, "With anti-LGBTQ+ legislation and hate crimes on the rise, LGBTQ+ business owners continue to face persistent and unjust barriers to financial success," adding that "LGBTQ+-owned small businesses are a cornerstone of local economies, and they deserve equitable resources to help them grow and thrive."
Padilla's press release notes the legislation "would also add a definition for businesses owned by lesbian, gay, bisexual, transgender, queer, and intersex individuals to the ECOA statute."
Additionally, "The legislation also includes a Sense of Congress confirming that sexual orientation and gender identity are already covered under the ECOA (including the current data collection requirements)" while clarifying "that the sex, sexual orientation, and gender identity of the principal owners of a business should be collected as three separate forms of information."
The Congressional Equality Caucus, Ali Forney Center, Center for American Progress, Destination Tomorrow, Drag Out The Vote, Human Rights Campaign, Immigration Equality Action Fund, InterAct, and New Pride Agenda have backed the bill.