Uganda president to sign anti-gay bill into law
Int'l LGBT advocates urge Obama administration to take action
Despite earlier indications that he wouldn't approve the measure, Uganda President Yoweri Museveni on Friday signaled his intent to sign a controversial "anti-homosexuality bill" into law.
News that Museveni would sign the bill came via Twitter from Ofwono Opondo, a spokesperson for the Uganda government, who said the Uganda president told members of the NRM party in parliament  he'd "assent" to the legislation.
Multiple news outlets, including Buzzfeed, confirmed that Museveni intended to sign the bill into law.
In a subsequent tweet, Opondo later advised supporters of gay rights to "take it easy," saying Uganda is a sovereign country and the measure can challenged in the courts.
Homosexual acts are already illegal in Uganda, but the proposed legislation would impose a life sentence in prison for "aggravated homosexuality" — repeated offenses, homosexual sex with a minor or having gay sex while HIV positive. Failure to report gay people to the government would also be made a crime. It includes a provision that makes officiating a same-sex marriage ceremony punishable by seven years in prison.
Controversial provisions that would have instituted the death penalty for homosexual acts were removed from the bill in parliament.
Chad Griffin, president of the Human Rights Campaign, blamed the situation on the efforts by U.S. evangelicals, who reportedly went to the Uganda and spoke out against homosexuality.
"Unless this bill is stopped from becoming law, lives will be destroyed, and countless people will be punished for an immutable characteristic," Griffin said. "Anti-LGBT Americans advocated for laws further criminalizing LGBT people in Uganda, and it looks like they are now getting their wish. Whether it's Brian Brown advocating for anti-LGBT laws in Russia or Scott Lively calling for the further criminalization of LGBT people in Uganda, anti-LGBT Americans must stop exporting their hate abroad."
Among these evangelicals is Scott Lively, who in 2009 travelled to Uganda to help lawmakers craft the legislation. Known for his comparison of the LGBT movement to the Nazi movement in twentieth century Germany, Lively is facing a lawsuit from the New York-based Center for Constitutional Rights for illegally fomenting anti-gay sentiment in Uganda.
In response to the latest news, the Center for Constitutional Rights issued an organizational statement blaming Lively for his contribution to passage of the anti-gay bill.
"LGBTI Ugandans will become second-class citizens and even more vulnerable to violence and abuse," the statement says. "Right wing U.S. evangelical Scott Lively played a major role in the creation of the bill, and we will continue to hold him accountable in U.S. courts on behalf of our clients, Sexual Minorities Uganda (SMUG)."
After the Uganda parliament approved the legislation unexpectedly in December, Uganda President Yoweri Museveni reportedly said he wouldn't sign the legislation unless he received scientific proof showing people are gay by choice, and not by birth.
According to Uganda press, scientists in the country prepared a report for Museveni along those lines. Among the findings was that widely discredited notion that "50 percent of the homosexuals revert to heterosexuality if rehabilitated in time."
But the news that Museveni would sign the bill into law isn't the only anti-gay development coming out of Uganda. As Box Turtle Bulletin's Jim Burroway points out, Uganda press reported parliament leaders back Museveni's plan to hold in jail without possibility of bail sodomy suspects — in addition to those suspected of being "defilers and rapists." Further, he reportedly tasked the Ministry of Justice to expedite the process of amending the Constitution to that effect.
Other LGBT advocates — many of whom have been speaking out against the Uganda anti-gay bill since its introduction in 2009 — responded to the news by urging the Obama administration to take action.
Mark Bromley, chair of Council for Global Equality, said his organization is "still trying to confirm these latest reports" and urged the Obama administration to compel Museveni to change his mind about signing the bill.
"We are still trying to confirm these latest reports," Bromley said. "That said, now is the time for the Administration to leverage all of its diplomatic assets to ensure that President Museveni understands the full consequences of this decision and the impact it would have on our bilateral relationship. Museveni has pledged to reject the current Bill. We certainly hope the United States will hold him to that pledge."
Robyn Lieberman, senior policy strategist for the international group Human Rights First, also urged the Obama administration to prevent Museveni from signing the legislation.
"President Obama should immediately publicly condemn this legislation and emphasize the negative consequences enactment of this law will have on Uganda's relationship with the United States," Liberman said. "He should also make it clear to President Museveni that he will take other measures in the relationship if this bill is signed, including diplomatic, economic, and multilateral actions. This is a matter of life and death for LGBT people in Uganda and beyond, and it demands  the attention of this U.S. President who has been a stellar leader on LGBT issues in this country."
Lieberman also said "there should be no doubt" the announcement that Museveni would sign the anti-gay bill is in response to recent passage of similar anti-gay legislation in countries like Nigeria and Russia.
Neither the White House nor the State Department immediately responded to the Washington Blade's request to comment on what action the administration will take in the wake of the news that Museveni intends to sign the anti-gay bill. The administration, as well as Obama himself during the National Prayer Breakfast in 2010, have previously spoken out against the legislation.
Victory Fund honors Maine House speaker at D.C. conference
Ryan Fecteau is gay Catholic University alum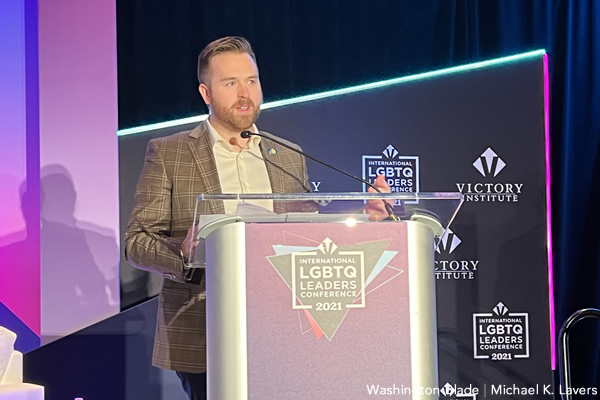 The Victory Fund on Saturday honored Maine House Speaker Ryan Fecteau on the last day of its International LGBTQ Leaders Conference in D.C.
Fecteau — an openly gay Catholic University of America alum — won a seat in the Maine House of Representatives in 2014. He became the chamber's speaker in 2018.
"Hate and intolerance will not derail us," said Fecteau after Florida state Rep. Carlos Guillermo Smith presented him with the Tammy Baldwin Breakthrough Award, which is named after U.S. Sen. Tammy Baldwin (D-Wis.). "Our community will not be intimidated."
The Victory Fund on Friday honored Guatemalan Congressman Aldo Dávila, a gay man who is living with HIV.
Victory Fund honors gay Guatemalan congressman at D.C. conference
Aldo Dávila a vocal critic of country's government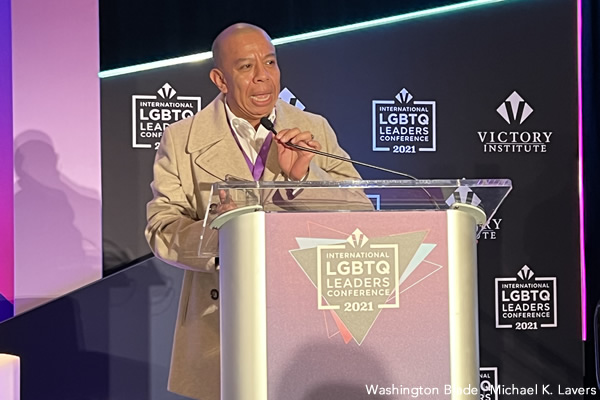 The Victory Fund on Friday honored an openly gay Guatemalan congressman who has faced death threats because of his efforts to fight corruption in his country.
Dávila — a member of the Winaq movement, a leftist party founded by Rigoberta Menchú, an indigenous human rights activist and Nobel Peace Prize winner — in 2019 became the first openly gay man elected to Guatemala's congress. Dávila, who also lives with HIV, had previously been the executive director of Asociación Gente Positiva, a Guatemala City-based HIV/AIDS service organization.
Supporters of President Alejandro Giammattei have lodged several formal complaints against Dávila after he publicly criticized the government over corruption, its response to the pandemic and other issues.
Three men on April 19 approached Dávila's vehicle near Guatemala's National Library and tried to rob him. One of Dávila's bodyguards shot one of the men, but the two other assailants fled the scene before police officers and passersby arrived.
Dávila told the Washington Blade in September during an interview at a Guatemala City hotel that he and his partner installed cameras in their apartment after someone killed their dog.
Two female police officers who arrived at the hotel with Dávila sat in the lobby while he spoke with the Blade. The government a few weeks later reduced his security detail.
"Guatemala is living through the worst democratic crisis in the last 40 years," said Dávila after he accepted the Victory Fund's Global Trailblazer Award at its 2021 International LGBTQ Leaders Conference that is taking place in-person at the JW Marriott in downtown D.C. "Guatemala right now is being paralyzed by corruption and impunity and my voice is uncomfortable because of this."
Dávila became emotional at the end of his remarks.
"I will keep fighting for our rights," he said.
Comings & Goings
Nathanson takes role at Outright Action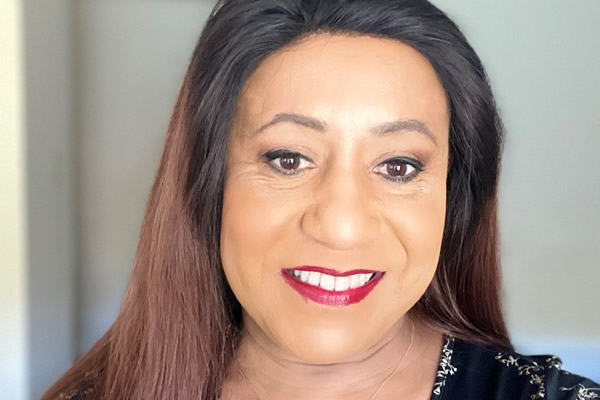 The Comings & Goings column is about sharing the professional successes of our community. We want to recognize those landing new jobs, new clients for their business, joining boards of organizations and other achievements. Please share your successes with us at: [email protected]
The Comings & Goings column also invites LGBTQ+ college students to share their successes with us. If you have been elected to a student government position, gotten an exciting internship, or are graduating and beginning your career with a great job, let us know so we can share your success.
Congratulations to Rikki Nathanson on her new position as Senior Advisor – Global Trans Program with OutRight Action International in New York. Nathanson will be based in D.C.
"I am absolutely thrilled to be taking on this new role as Senior Advisor in OutRight's Global Trans Program," said Nathanson. "I have finally found the perfect fit for me: as a trans woman who has been fighting for equality not only for myself, but for others globally, this position is not only a job, it's intrinsically part of who I am. So, what better way to live, nurture and grow myself."
Nathanson will be working closely with all program staff to ensure a cohesive and intentional approach to gender issues throughout OutRight's programs, including its approach to gender ideology movements. She will lead new initiatives on gender advocacy and policy change, focused but not limited to legal gender recognition and anti-discrimination legislation and policies.
Prior to this Nathanson was director of housing programs at Casa Ruby in D.C. She has also held a number of other positions including: founder/executive director of Trans Research, Education, Advocacy & Training (TREAT), Zimbabwe; chairperson Southern Africa Trans Forum, SATF, Cape Town, South Africa; executive director, Ricochet Modeling Agency, Zimbabwe; and company secretary for Dunlop Zimbabwe Limited, Zimbabwe.