Once again, marriage equality inches closer to Supreme Court
At least four appeals courts set to consider issue this spring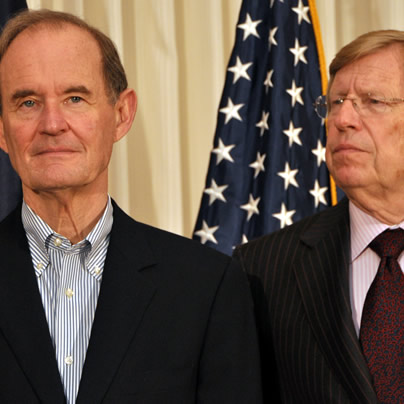 Not even a year has passed since the U.S. Supreme Court issued its landmark decisions against the Defense of Marriage Act and California's Proposition 8, but a number of cases are already lining up that would enable the high court to make a nationwide ruling in favor of marriage equality.
At least four appellate courts are set to consider the issue this spring amid five district court decisions in favor of marriage equality in Utah, Oklahoma, Ohio, Kentucky and Virginia. Once the appellate courts make their decisions, they will likely be appealed this year to the Supreme Court, which would give justices the opportunity to make a final decision in 2015.
Although the Ohio ruling was limited to death certificates for married gay couples and the Kentucky ruling only provided recognition of out-of-state same-sex marriages, each of the rulings handed down since the DOMA decision were in favor of marriage equality. And in each ruling, justices invoked the decision against DOMA as part of their reasoning for determining state constitutional amendments against same-sex marriage violated the Constitution.
U.S. District Judge John Heyburn, an appointee of former President George H.W. Bush, noted last week in his decision that the words of the DOMA decision by U.S. Associate Justice Anthony Kennedy compels him to rule against Kentucky's marriage laws.
"Ultimately, the focus of the Court's attention must be upon Justice Kennedy's majority opinion in Windsor," Heyburn said. "While Justice Kennedy did not address our specific issue, he did address many others closely related. His reasoning about the legitimacy of laws excluding recognition of same-sex marriages is instructive. For the reasons that follow, the Court concludes that Kentucky's laws are unconstitutional."
Ted Olson, the Republican half of the legal duo arguing against Virginia's ban on same-sex marriage, during a conference call Friday noted the consistency with which district courts have struck down anti-gay marriage amendments in the aftermath of the DOMA decision.
"Federal courts are consistently, regularly now, affirming the right of gay and lesbian citizens to be a part of the population of the rest of our citizens with equal rights to the fundamental right of marriage," Olson said.
The cases against same-sex marriage bans in Utah and Oklahoma are the furthest advanced of all the lawsuits seeking marriage equality. They're before the U.S. Tenth Circuit Court of Appeals in Denver, where oral arguments are scheduled in Utah case for April 10 and the Oklahoma case for April 17. The National Center for Lesbian Rights has joined the law firm of Magleby & Greenwood, P.C., as counsel in the Utah case.
Just behind that lawsuit is the case seeking marriage equality in Nevada filed by Lambda Legal known as Sevcik v. Sandoval. After Nevada Attorney General Catherine Cortez Masto declared her intent to withdraw her brief in favor of the marriage ban, the U.S. Ninth Circuit Court of Appeals last week acceded to her request and pledged to proceed with the lawsuit on an expedited basis, although no date has been set for oral arguments.
The Ohio case has already been appealed to the U.S. Sixth Circuit Court of Appeals, which is also the destination of the Kentucky lawsuit. These cases are also in their early stages at the appellate level, and schedule hasn't been determined.
And the court ruling against Virginia's ban on same-sex marriage, the latest to come down from a federal court, will be headed to the U.S. Fourth Circuit of Appeals. Although Virginia Attorney General Mark Herring isn't defending the ban against same-sex marriage in court, Olson said he sees no standing issue in the case and because county clerks are participating in the lawsuit, the state continues to enforce the law.
But according to Lambda Legal, a total of 52 marriage equality lawsuits are pending in 27 states, and any of the cases at district court level could soon join those at the appellate level.
A judge will likely render a decision soon in the other lawsuit seeking marriage equality in Virginia, which was filed by the American Civil Liberties Union and Lambda Legal. A judge in Michigan has set a trial for that state's constitutional ban on same-sex marriage on Feb. 25, just as a trial has been set in the Pennsylvania case for June 9.
Given the sheer number of cases making their way through the courts, David Boies, the Democratic half of the legal duo in the Virginia lawsuit, said the Supreme Court would have no shortage of cases from which to choose by the time it begins its term in the fall.
"I think they will all get to the Supreme Court at about the same time," Boies said. "The Supreme Court can decide to take them all and consolidate them, the Supreme Court can take one or more of the cases, but not all of then. I think that is something that will be determined by the Supreme Court, and, to some extent, by the timing of the court of appeals decision."
It's technically possible for the Supreme Court to take up this issue this term once those cases are appealed, which would mean a nationwide ruling by June.
Jon Davidson, legal director for Lambda Legal, nonetheless said it "seems extraordinarily unlikely" the litigation would play out in that way.
"Even if an appellate decision in one of these cases were issued by May, a certiorari petition likely would not get filed until the summer, and the Supreme Court wouldn't act on that until October," Davidson said. "It does not have to grant cert on the first, or, even any of these cases. Even if it does, there likely wouldn't be a decision until the spring of 2015."
One issue to watch as these cases make their way up is whether courts apply heightened scrutiny, or a greater assumption a law is unconstitutional, to their decisions on the marriage bans. Such a determination would designate gay people with a "quasi-suspect classification" and establish precedent making other laws related to sexual orientation less likely to stand up in court.
When it ruled on the DOMA case last year, the U.S. Second Circuit Court of Appeals already set a precedent for heightened scrutiny for laws related to sexual orientation, but every state in that jurisdiction — New York, Vermont and Connecticut — already has marriage equality.
More recently, the U.S. Ninth Circuit Court of Appeals applied heightened scrutiny in its decision for Smith Kline v. Abbott Laboratories, which determined that jurors cannot be excluded from a trial because of sexual orientation.
Because of the application of heightened scrutiny in that case, the Nevada attorney general stopped defending her state's marriage ban. Further, expectations are high that courts in Oregon and Arizona, which lie within that jurisdiction, will strike down bans in those states.
It was speculated the Supreme Court took up the Edith Windsor's challenge to DOMA as opposed to others because the Second Circuit applied heightened scrutiny on that decision, although the high court never explicitly addressed the issue of heightened scrutiny in its ultimate decision. Eyes will be on the Supreme Court to see if it will take up the Ninth Circuit marriage case among others to resolve the issue of heightened scrutiny in the next go-around with marriage equality.
Doug NeJaime, who's gay and a law professor at University of California, Irvine, nonetheless said he doesn't think the Supreme Court has interest in resolving this issue for laws related to sexual orientation.
"The Supreme Court in Windsor didn't explicitly reach this question, even though the lower court had based its decision on heightened scrutiny," NeJaime said. "Given that, it doesn't seem the Court is particularly interested in resolving that question, and I don't think it will do much to persuade the court to take or not take a case."
Another question is the extent to which the Obama administration will participate in the pending lawsuits. The Justice Department helped litigate against DOMA as party in the lawsuit and assisted in the lawsuit against Prop 8 as a friend of the court, although in the latter case the administration filed a brief and took part in oral arguments only when the litigation reached the Supreme Court.
A number of LGBT advocates have said they'd welcome participation from the Obama administration in the marriage equality cases without making a full-throated call for assistance. On Friday, White House Press Secretary Jay Carney wouldn't make a prediction on whether the administration will take part and deferred comment to the Justice Department, which hasn't responded to the Blade's request to comment.
The opportunity for the Justice Department to file a brief in the Nevada case before the Ninth Circuit has already passed, but another opportunity will come soon. The deadline for filing a friend-of-the-court brief before the Tenth Circuit in the Utah case is March 4.
Erik Olvera, spokesperson for the National Center for Lesbian Rights, echoed the sense of other advocates on the issue, saying a friend-of-the-court brief from the Obama administration would be "welcome" in the Utah case.
"We always welcome the Obama administration to express its views in cases concerning civil rights protected by the U.S. Constitution," Olvera said.
Boebert denigrates, misgenders trans Pentagon official
Comments targeted Assistant Secretary of Defense Shawn Skelly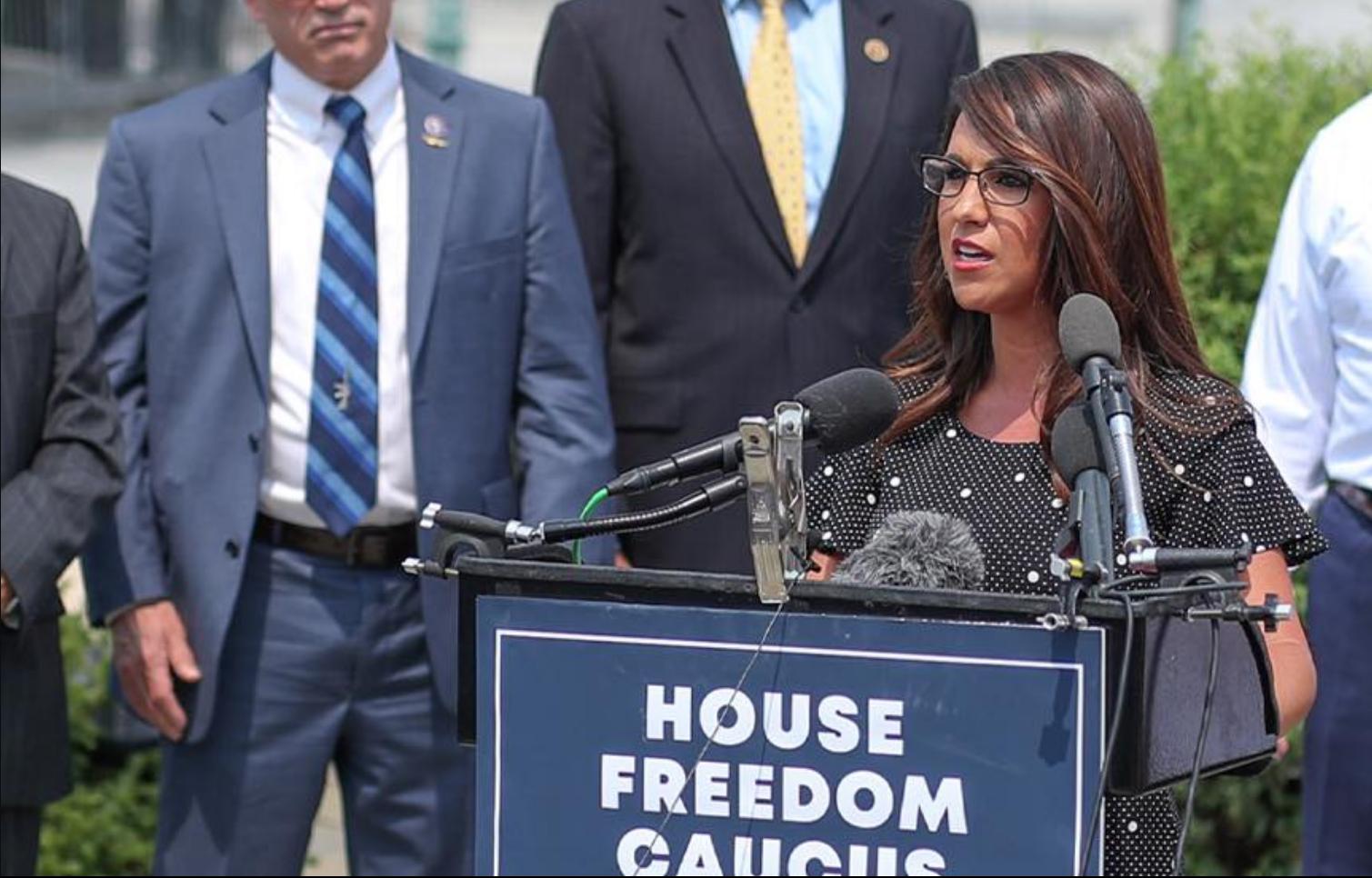 U.S. Rep. Lauren Boebert (R-Colo.) denigrated and deliberately misgendered Assistant Secretary of Defense for Readiness Shawn Skelly, the Pentagon's highest ranked transgender official, during a debate Wednesday over amendments to a defense appropriations bill.
In remarks that stirred outrage from her Democratic colleagues, the congresswoman called Skelly a "delusional man thinking he is a woman" and the embodiment of "woke-ism" before proposing an amendment that would reduce her salary to a dollar.
Skelly served on active duty in the U.S. Navy for 20 years as a naval flight officer before retiring with the rank of commander. Her record of service includes senior positions with the Defense and Transportation Departments during the Obama administration.
"Assistant Secretary Skelly has served in her role admirably, as she has done as her time as a naval officer," responded U.S. Rep. Betty McCollum (D-Minn.), stressing each of the feminine pronouns as she spoke.
The second-term Colorado representative countered with more transphobic comments: "if you want to call Mr. Skelly a her, his chromosomes are still XY, and we trust the science over here rather than delusion and playing dress up and imaginary games with our military readiness."
Boebert is among the more vocal members of an ultraconservative cohort of House Republicans who, in recent weeks, have sabotaged efforts to clear must-pass appropriations spending packages before Oct. 1 to forestall a government shutdown.
Members of the far-right faction have attached to these bills controversial, partisan, and often anti-LGBTQ amendments — effectively dooming their chances of passage by the U.S. Senate amid Democratic control of the chamber.
With respect to the Defense Department spending bill, for example, GOP members have advanced proposals that would defund healthcare services for transgender service members and ban Pride flags from military bases.
On X, U.S. Rep. Mark Pocan (D-Wis.), chair of the Congressional Equality Caucus, wrote that "Republicans claim to support the military but Rep. Boebert, just spent five minutes misgendering and attacking our Assistant Secretary of Defense for Readiness — just because she's trans. Ms. Skelly serves our country with honor. I can't say the same for Boebert."
The caucus added, "It's disgusting that a Member of Congress would use their platform on the House Floor to misgender and attack a top-ranking @DeptofDefense official and veteran just because she's a trans woman."
It's disgusting that a Member of Congress would use their platform on the House Floor to misgender & attack a top-ranking @DeptofDefense official and veteran just because she's a trans woman.

We stand with Ms. Skelly & thank her for her service and commitment to this country. https://t.co/J6wId22rGC

— Congressional Equality Caucus (@EqualityCaucus) September 27, 2023
Acclaimed gay doctor to be honored at LGBT History Month event
Pediatric cardiologist moved from Louisiana to N.Y. in protest over anti-LGBTQ bills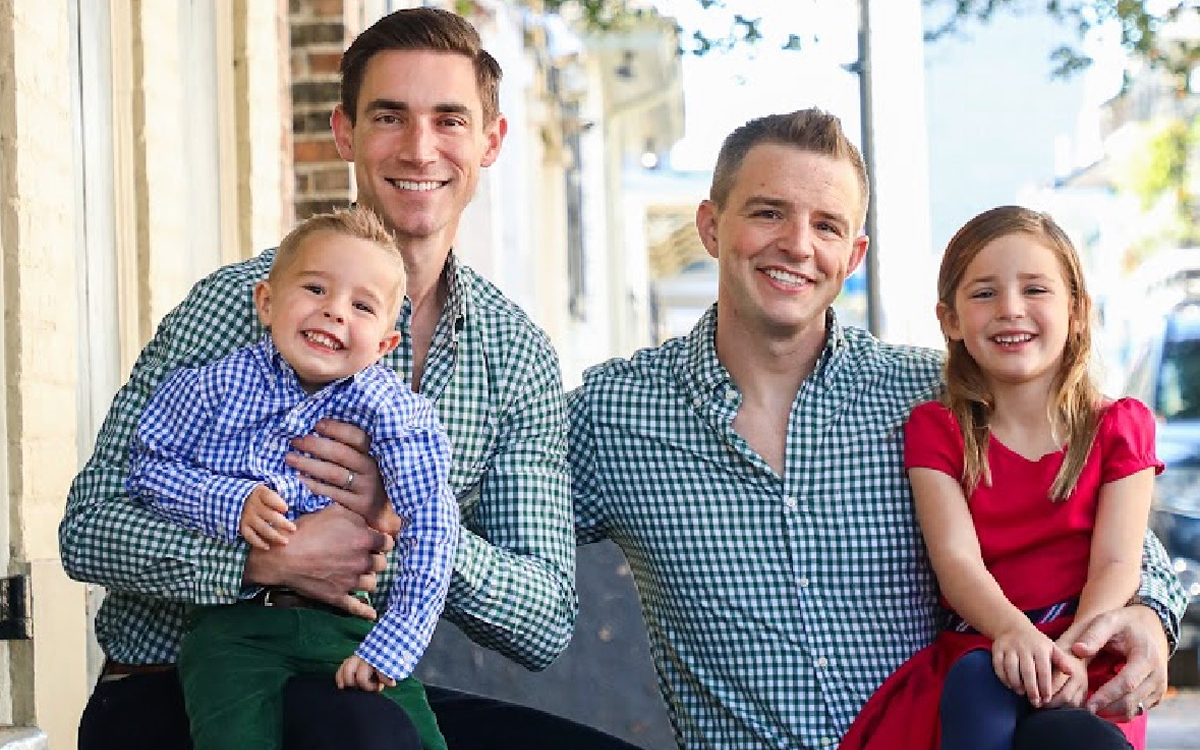 Dr. Jake Kleinmahon, a gay pediatric cardiologist and pediatric heart transplant specialist, is scheduled to be honored Oct. 1 by the Equality Forum at its annual LGBT History Month Kickoff and Awards Celebration in Philadelphia.
He has been named a recipient of the Equality Forum's 28th annual International Role Model Award.
Kleinmahon became the subject of national news media coverage in early August when he announced he was leaving the state of Louisiana with his husband and two children and ending his highly acclaimed medical practice in New Orleans after the state legislature passed bills targeting the LGBTQ community.
He had been working since 2018 as the medical director of pediatric heart transplant, heart failure, and ventricular assist device programs at Ochsner Hospital for Children in New Orleans.
Kleinmahon told the Washington Blade his and his family's decision to leave New Orleans was a difficult one to make. He said it came after the Republican-controlled Louisiana Legislature passed three anti-LGBTQ bills, including a so-called "Don't Say Gay" bill targeting public schools and a bill banning transition-related medical care for transgender youth.
The state's Democratic governor, John Bel Edwards, vetoed all three bills. But the legislature overturned his veto of the bill banning transition-related medical care for trans minors beginning Jan. 1, 2024.
Kleinmahon said he and his family moved at the end of August to Long Island, N.Y., after he accepted a new job as director of pediatric heart transplant, heart failure and ventricular assist devices at Cohen Children's Medical Center in the town of New Hyde Park, which is located along the border of the Borough of Queens in New York City and Nassau County, Long Island.
"The decision to leave is not one that we took lightly at all," Kleinmahon told the Blade. "And it was not one because I got a better job or other factors," he said. "The main driver for it was that as we realized where things were going, we were raising our children in a state that was actively trying to make laws against your family," he said in a phone interview. "And that's not the type of environment that we want to raise our kids in."
Kleinmahon said he and his husband Thomas timed their move to Long Island at the end of August so their daughter, who's seven, could begin school at the start of the school year and their son, who's four, could begin pre-kindergarten sessions.
"We have been open with our children about why we're moving because we think it's important that they carry on this message as well," said Kleinmahon, who noted that his daughter expressed support for the move.
"We were at the dinner table one night and we were explaining what happened," Kleinmahon said. "And she goes, you know daddy, we do have a choice, but there is only one good one. And she agreed with our moving to New York."
Kleinmahon acknowledges that some in New Orleans, which is considered an LGBTQ supportive city in general, questioned his decision to leave on grounds that the two bills that would directly impact him and his family did not become law because the governor's veto of the two bills were upheld.
"One of the things I've heard is that none of these really directly affect a family because the 'Don't Say Gay' bill didn't go into effect, and my children are not transgender, and I don't work in a transgender clinic," he told the Blade.
"But that's really not the point," he continued. "The way we think about it as a family, the people who are elected officials that are supposed to take care of the people in their state are casting votes against our families," he points out. "So, sure, while the laws may not be in effect this year, certainly there's a push to get them passed. And why would we want to remain in a state that is trying to push forward hateful laws?"
He said he will begin his new job at Cohen Children's Medical Center on Long Island on Nov. 1.
"They have been incredibly supportive," Kleinmahon said. "They have actually encouraged me to be open with why we left Louisiana," he said. "And they have a Pride resource group that's reached out to me to lend their support," he said, adding that the hospital and its parent company have been "exceptional in helping us make this transition."
During his medical practice at Ochsner Hospital for Children in New Orleans, Kleinmahon has been credited with helping to save the lives of many children suffering from heart-related ailments. He said his decision to leave behind his colleagues and patients was difficult.
"Unfortunately, it had ramifications for the kids in Louisiana, which was the hardest part for me," he said. "And the reason for that is I was one of three pediatric heart transplant cardiologists, and I was the director of the only pediatric heart transplant program in Louisiana."
He added, "While there are two other fantastic heart transplant cardiologists in Louisiana, the ability to keep a program running that serves an entire state needs a full army of people. And me leaving took 33 percent of that army away."
He said he was also one of just two pediatric pulmonary hypertension providers in the state, and he just learned that the other provider had also left Louisiana recently. Pulmonary hypertension doctors provide treatment for people with the condition of high blood pressure in their lungs.
Regarding his extensive experience in treating and caring for children with heart disease, Kleinmahon, in response to a question from the Blade, said about 400 children receive heart transplants in the U.S. each year.
While heart transplants for kids are not as frequent as those for adults, he said kids needing a heart transplant and their families "deal with a tremendous amount of stress and medical appointments that really change their life," including the need to take medication to prevent the body from rejecting a new heart for the rest of the children's lives.
"My hope as a transplant doctor is that I can get these kids to live as normal a life as possible," he said.
In addition to presenting its International Role Model Award to Kleinmahon, the Equality Forum was scheduled on Oct. 1 at its LGBT History Month event to present its Frank Kameny Award to Rue Landau, the first LGBTQ Philadelphia City Councilperson. It was also scheduled to present a Special Memorial Tribute to the late Lilli Vincenz, the longtime D.C.-area lesbian activist and filmmaker credited with being a pioneering LGBTQ rights activist beginning in the early 1960s.
"I am beyond humble to receive this award that is really not an award for me but is an award for my family and for families like ours and for people that are going to continue to fight discriminatory policies," Kleinmahon said.
Blade editor Kevin Naff will present Kleinmahon with the award on Oct. 1 in Philadelphia.
"Dr. Kleinmahon and his family took a brave stand in solidarity with the LGBTQ community and they deserve our gratitude," Naff said. "I'm excited and honored to present him with the International Role Model Award."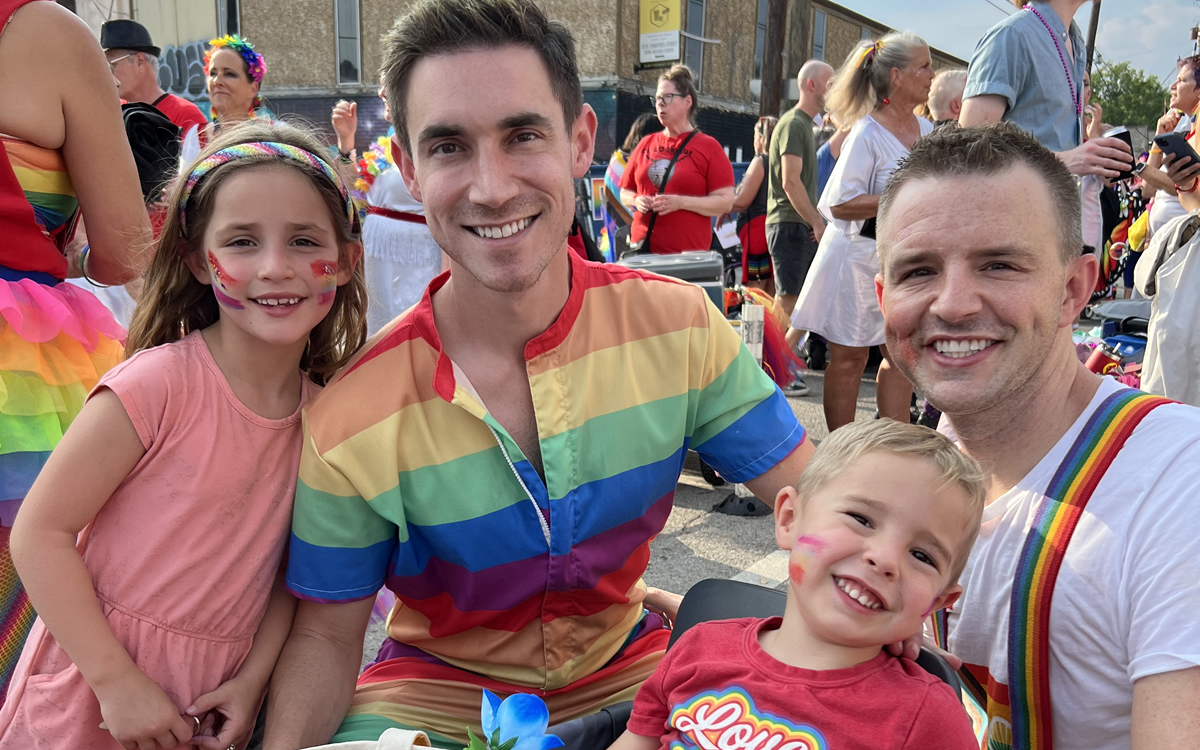 Rehoboth Beach theater announces new managing director
Clear Space hires Joe Gfaller after national search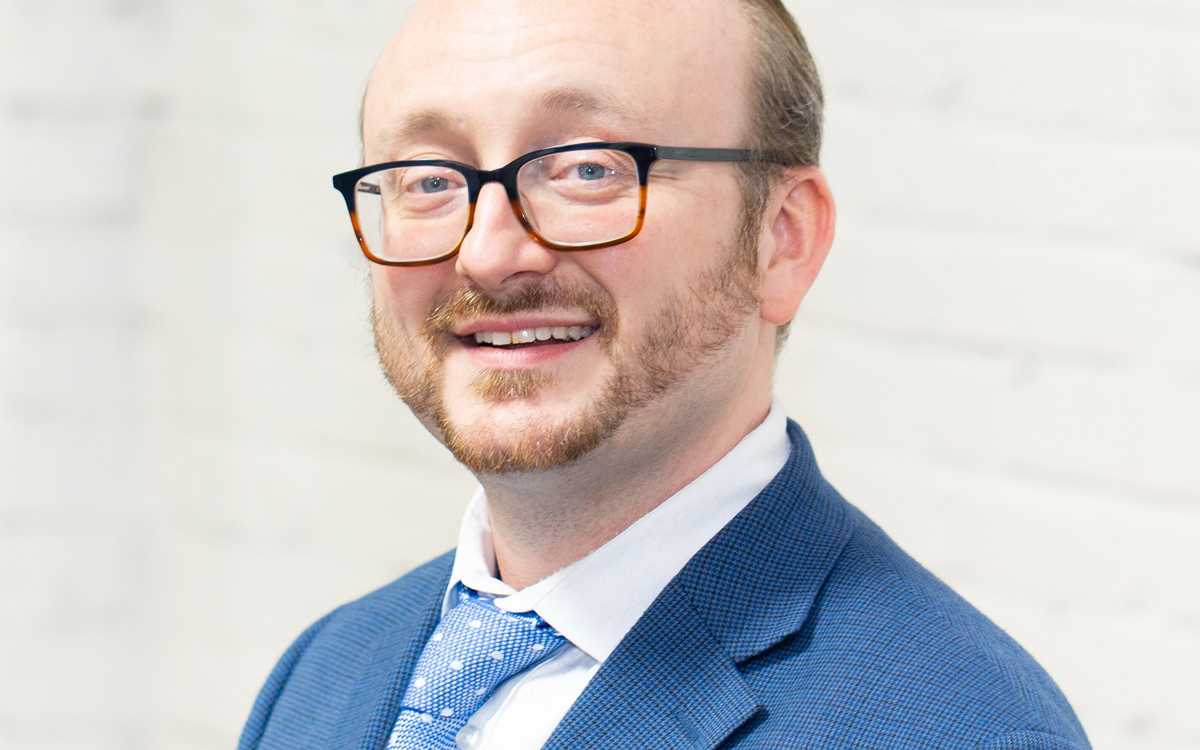 Rehoboth Beach's Clear Space Theatre Company announced Tuesday that its board of directors has unanimously selected Joe Gfaller to join the company as managing director after a national search.
Gfaller, who currently serves as managing director for Metro Theater Company in St. Louis, will join Artistic Director David Button as co-leader at CSTC, which marks its 20th anniversary in 2024.
"I am thrilled at the opportunity to help Clear Space Theatre Company grow its civic and philanthropic footprint as it begins a third decade of serving the community in coastal Delaware," Gfaller said.
"Rehoboth is a special place to all who call it home, both year-round and seasonally. It is an extraordinary honor to work with such a creative and dynamic team as the CSTC staff and board to help the company grow to represent and reflect the fullness of this community."
At Metro Theater Company, which is St. Louis's primary professional theater for youth and families, Gfaller guided campaigns that helped grow the company's revenues by 40% over four years, according to a release from Clear Space.
"Joe brings a wide range of theater experiences to the position and is sure to make an immediate impact on the company," said Clear Space Board chair Laura Lee Mason. "His impressive track record and visionary leadership will undoubtedly elevate Clear Space to new heights. Joe shares our dedication to providing the community with outstanding education and theatrical experiences, and we look forward to collaborating with him to achieve those artistic aspirations."
CSTC Artistic Director David Button added, "I look forward to Clear Space Theatre Company's growth alongside Joe Gfaller. Not only will Clear Space benefit from his talent, but so will the community and state arts industry as a whole."
Gfaller will begin full time in Rehoboth Beach in mid-November. During an October visit for the opening of "Young Frankenstein" at CSTC on Oct. 13, there will be opportunities for the public to meet him during the CAMP Rehoboth Street Festival on Oct. 15. He will be joined by his husband Kraig and their two dogs, Sprout and Emmit.