Preview of coming attractions
D.C.'s major LGBT events and festivals for March, April and May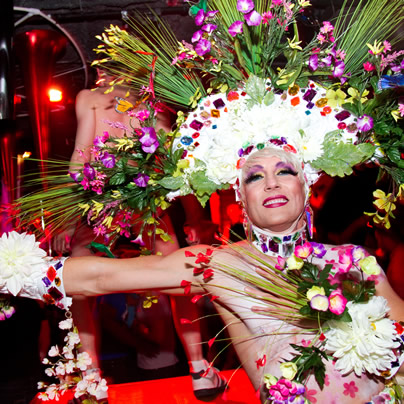 The "Turnabout Show" — where the guys become girls and the girls become guys — is at 11 p.m. Monday night at Cobalt (1639 R St., N.W.). The event has a Facebook page.
The Miss Gaye Universe D.C. Pageant is at Town on March 15. Admission is $15 for Academy members and $20 for guests. Doors open at 3 p.m.; pageant starts at 4. Details at thewashingtonacademy.com.
The Mayor's Office of GLBT Affairs have an awards event in honor of Women's History Month on March 21 at 6:30 p.m. at Fannie Mae (3900 Wisconsin, Ave., N.W.). RSVPs and photo IDs are required to attend. RSVP by e-mailing your full name to [email protected].
The "Split This Rock Poetry Festival: Poems of Provocation & Witness" is March 27-30 and will feature workshops, panels and readings held at various spots in the Farragut Square neighborhood. Several LGBT participants are on the slate. Visit splitthisrock.org for details.
The fifth annual Charm City Fetish Fair, billed as Baltimore's "premiere fetish event," is April 4-6. Visit charmcityfetishfair.com for details.
Cherry is the same weekend in Washington at various gay clubs in the city. Visit cherryfund.org for details.
The Rehoboth Women's Fest 2014 is April 10-13 in Rehoboth Beach, Del. Visit camprehoboth.com for details.
Miss Gay Maryland America is April 25-27 at the Hippo (One W. Eager St., Baltimore). Visit missgaymaryland.com for details.
Capital Queer Prom is doing things a bit different this year. A "TAGGfest & Masquerade Gala" is scheduled for April 26 at Almas Shriners (1315 K St. N.W.) as a benefit for the Wanda Alston House. Find the group on Facebook or visit taggfest.com for details.
The Capital Area Gay & Lesbian Chamber of Commerce has its LGBT Business Excellence Awards dinner and gala  April 25 at the Mayflower Renaissance Washington (1127 Connecticut Ave., N.W.). Visit caglcc.org for information, tickets and details on other Chamber events.
Youth Pride is April 27 from noon-5 p.m. in Dupont Circle. Visit youthpridedc.org for details.
Gay Day at the Zoo is May 3. Visit the group's Facebook page for more information.
The American Military Partner Association has its inaugural national gala on May 17 (Armed Forces Day) at the Liaison Hotel on Capitol Hill. Visit militarypartners.org/gala for tickets and details.
The Academy of Washington has its 52nd annual Golden Boy Awards at Town on May 17 at 4 p.m. (doors open at 3). Admission is $15 for Academy members and $20 for guests. Visit thewashingtonacademy.com for details.
Lesbian Angie Harvey is in D.C. the same day for a "retreat tour" called Work2Work that will cover issues such as self esteem, letting go, relationships and purposeful living. It's free. E-mail [email protected] for details.
D.C. Black Pride Weekend is May 23-25 at various locations. Visit dcblackpride.org for details.
Omega Entertainment and Daryl Wilson Promotions have their "Wet Dream Weekend 2014" May 22-26 and promise five days, 10 events and "one hell of a party." Details at omegapartydc.com.
June, of course, brings Pride season. Get a sneak peek at this year's events at capitalpride.org.
10 LGBTQ events this week
A Gaga afterparty and a cardboard boat regatta among attractions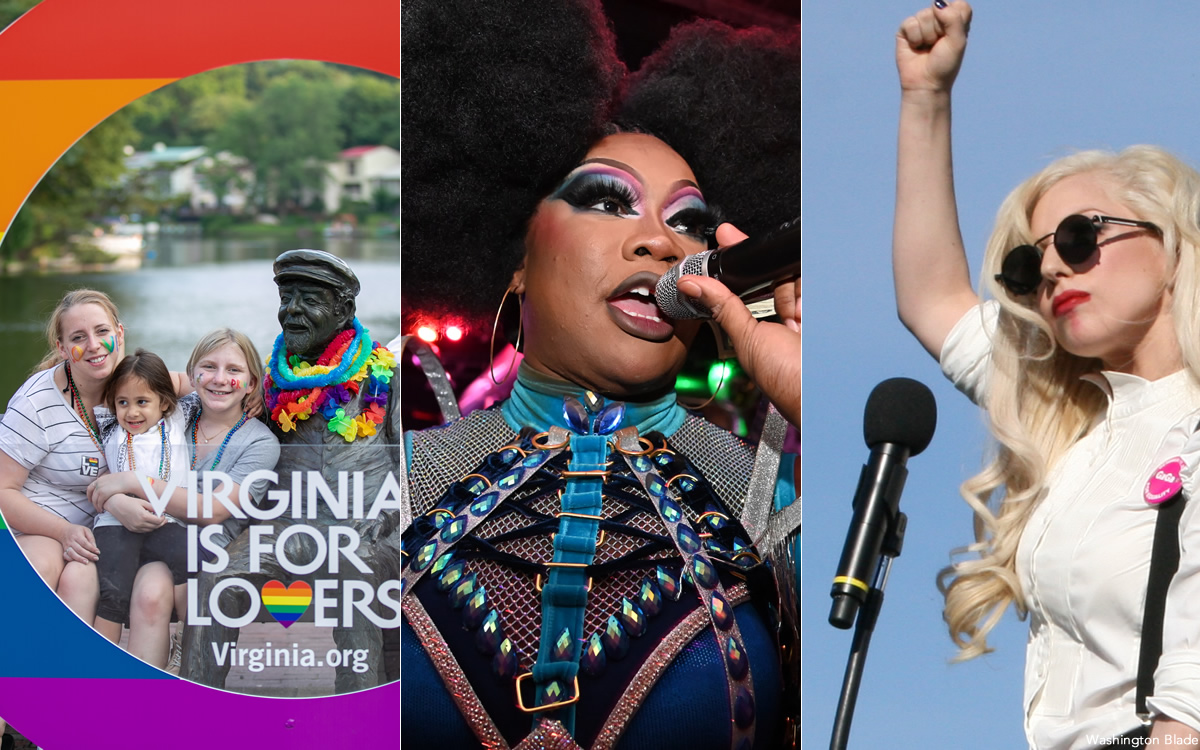 Below are our picks for some of the most fun and creative things to do this week in the DMV that are of special interest to the LGBTQ community.
---
Reign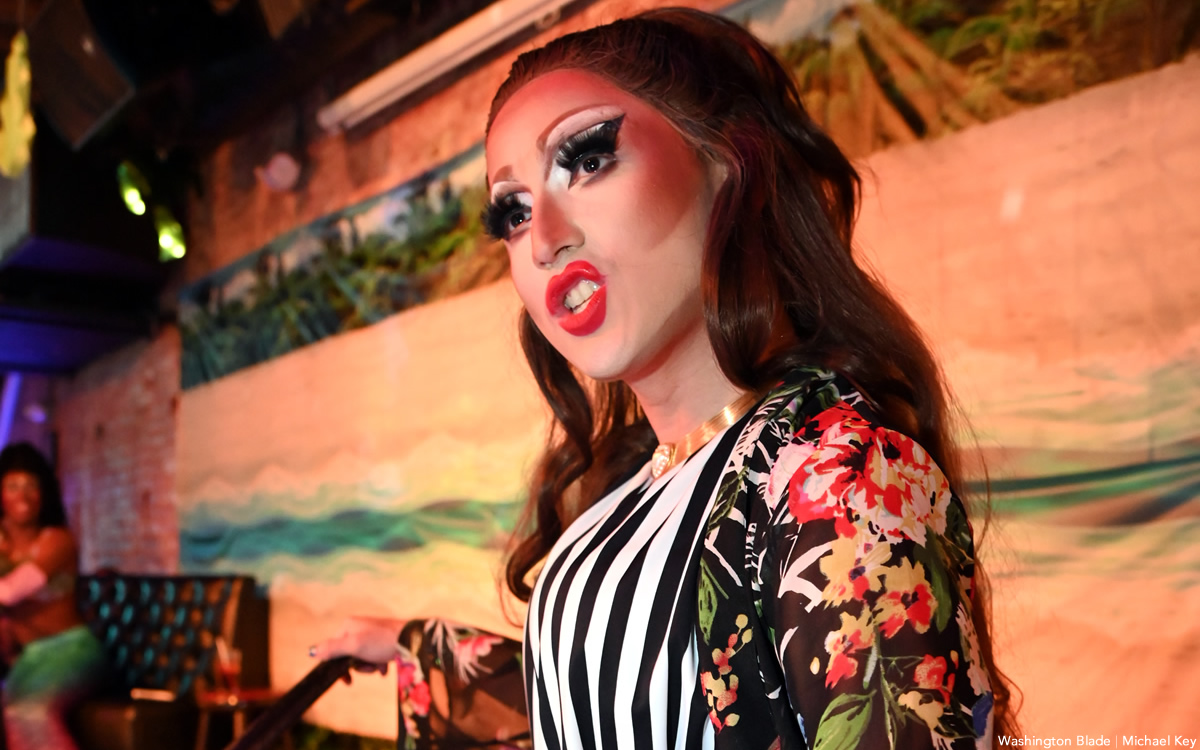 Monday, August 8
8-11 p.m.
DIK Bar
1637 17th Street, N.W. (second floor)
Facebook
Join Logan Stone, Dabatha Christie and Hennessey for a fun-filled drag show at Dupont Italian Kitchen Bar tonight at 8.
---
OMGaga Afterparty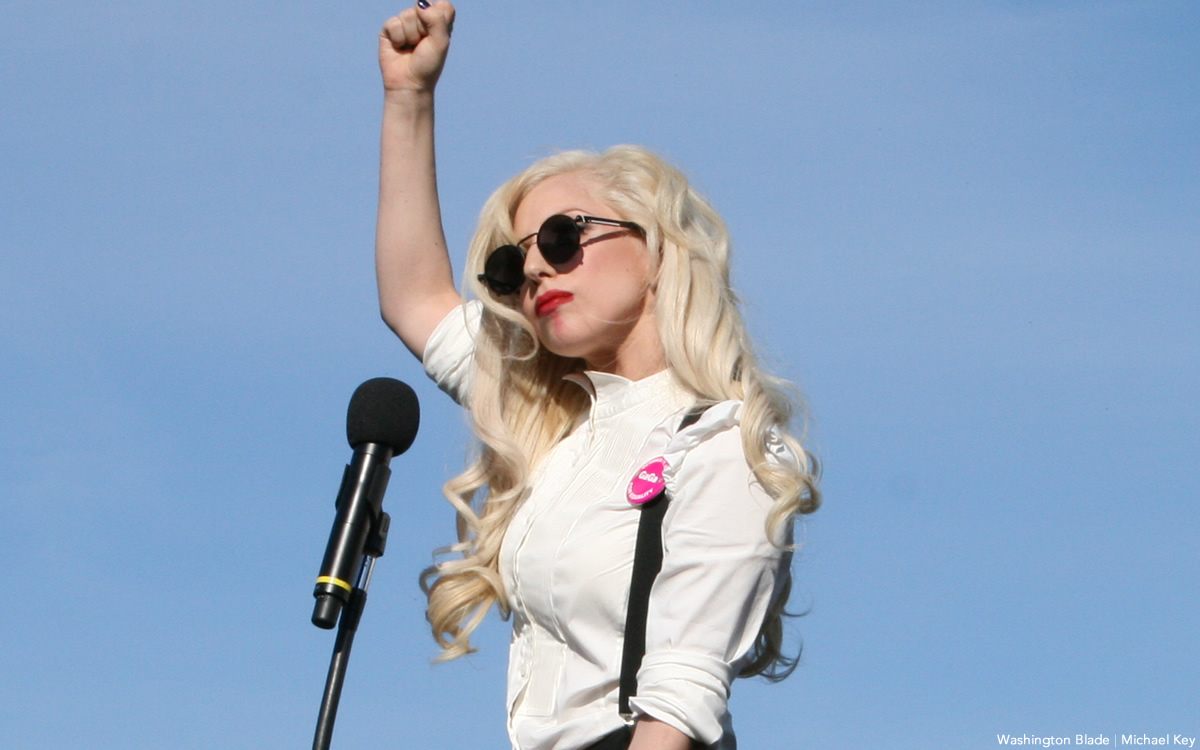 Monday, August 8
10 p.m.
Green Lantern
1335 Green Court, N.W.
Facebook
Did you catch the Gaga concert tonight? Whether you did or not, join the afterparty at Green Lantern. Show your ticket stub from the concert for a free drink on the dance floor.
---
Drag Bingo with Desiree Dik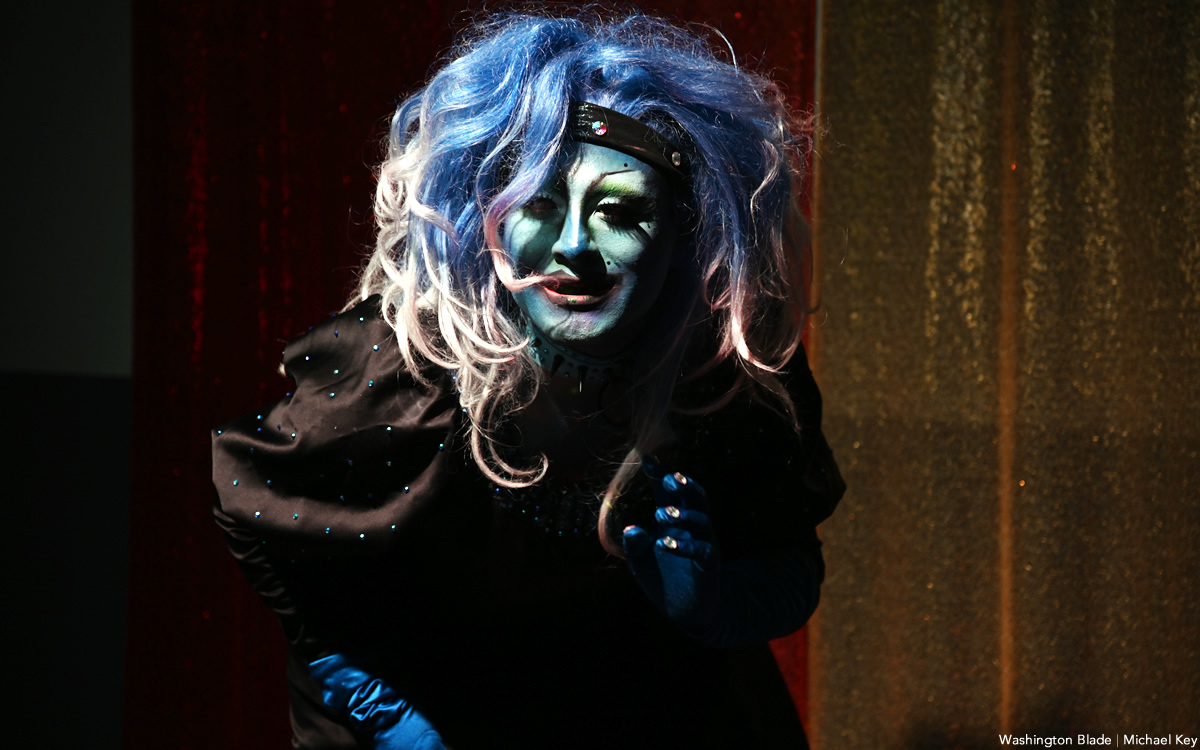 Tuesday, August 9
7-9 p.m.
Red Bear Brewing Co.
209 M Street, N.E.
Facebook
Join Desiree Dik for a game of bingo at Red Bear Brewing Co. on Tuesday. Free to play.
---
Queer Trivia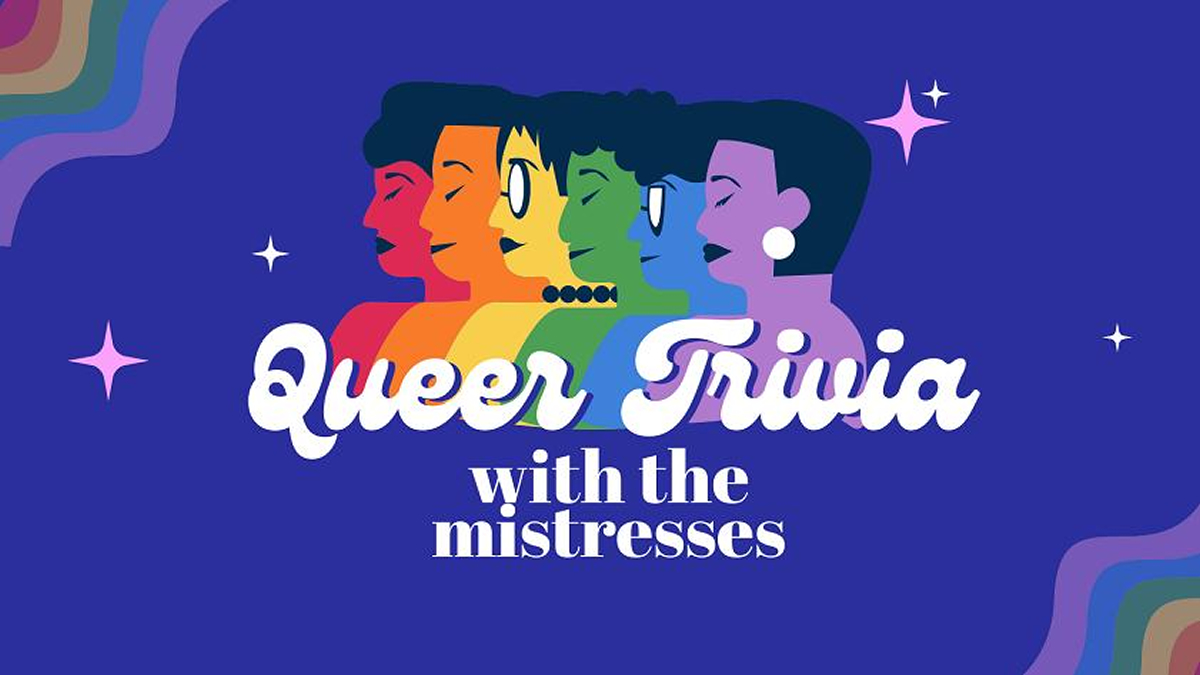 Wednesday, August 10
7-9 p.m.
Dew Drop Inn
2801 8th Street, N.E.
Facebook
The Mistresses lead a night of Queer Trivia on all things gay at the Dew Drop Inn on Wednesday.
---
Thirst Trap Thursdays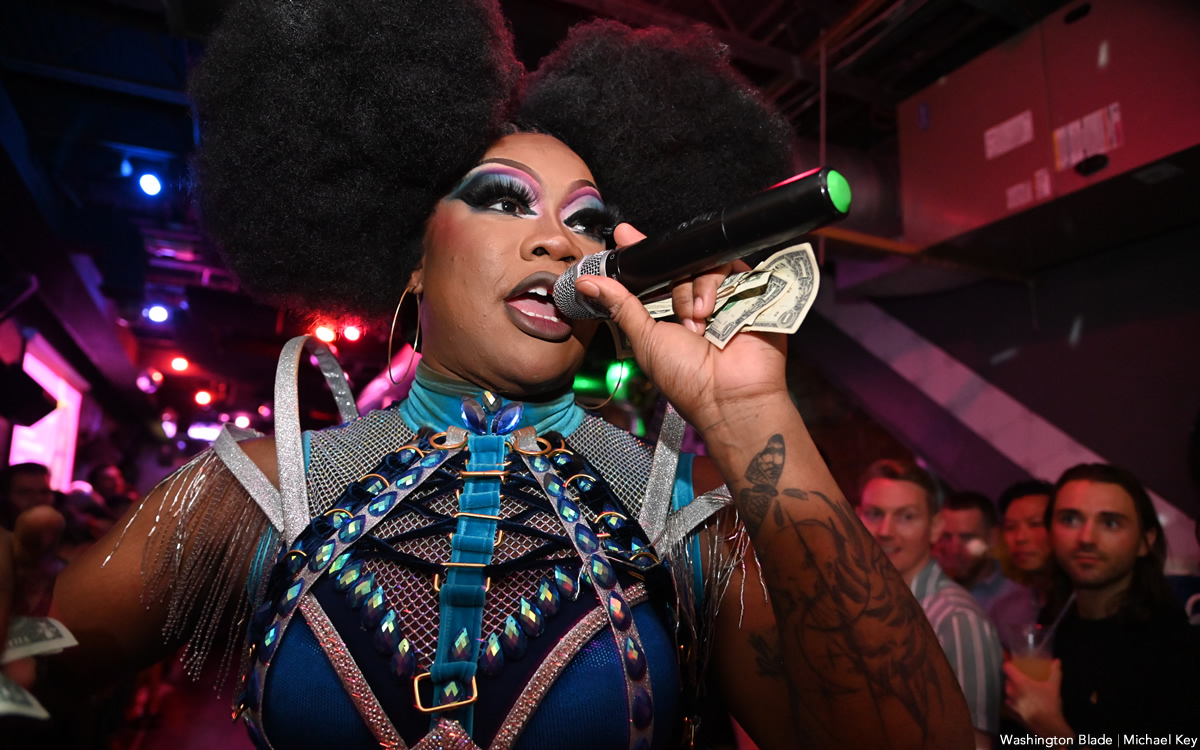 Thursday, August 11
10 p.m.
Pitchers DC/A League of Her Own
2317 18th Street, N.W.
Facebook
Venus Valhalla and Cake host the Thirsty Thursdays drag show at Pitchers/ALOHO on Aug. 11.
---
LGBTQ Social at Wild Days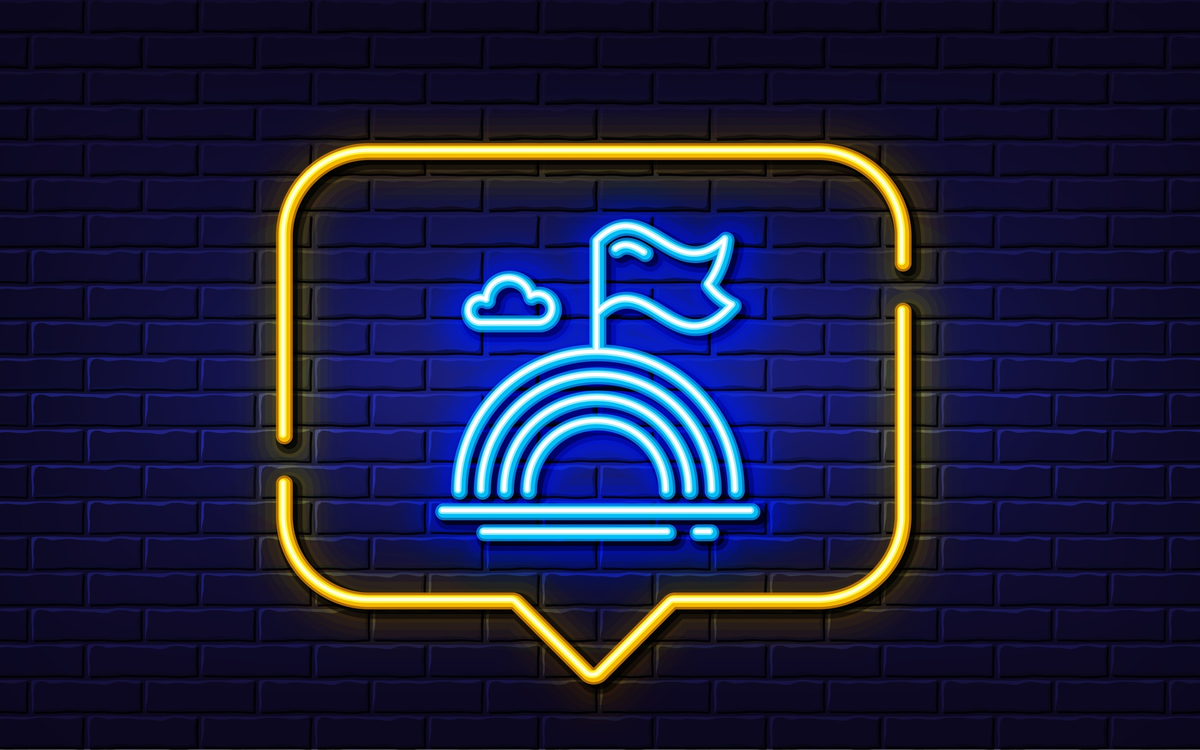 Friday, August 12
7-9 p.m.
Wild Days Rooftop Bar at the Eaton Hotel
1201 K Street, N.W.
21+
Eventbrite
Have some casual conversations with new friends in the LGBTQ community over drinks in a relaxed atmosphere. Hosted by Go Gay DC.
---
A Love Letter to RENT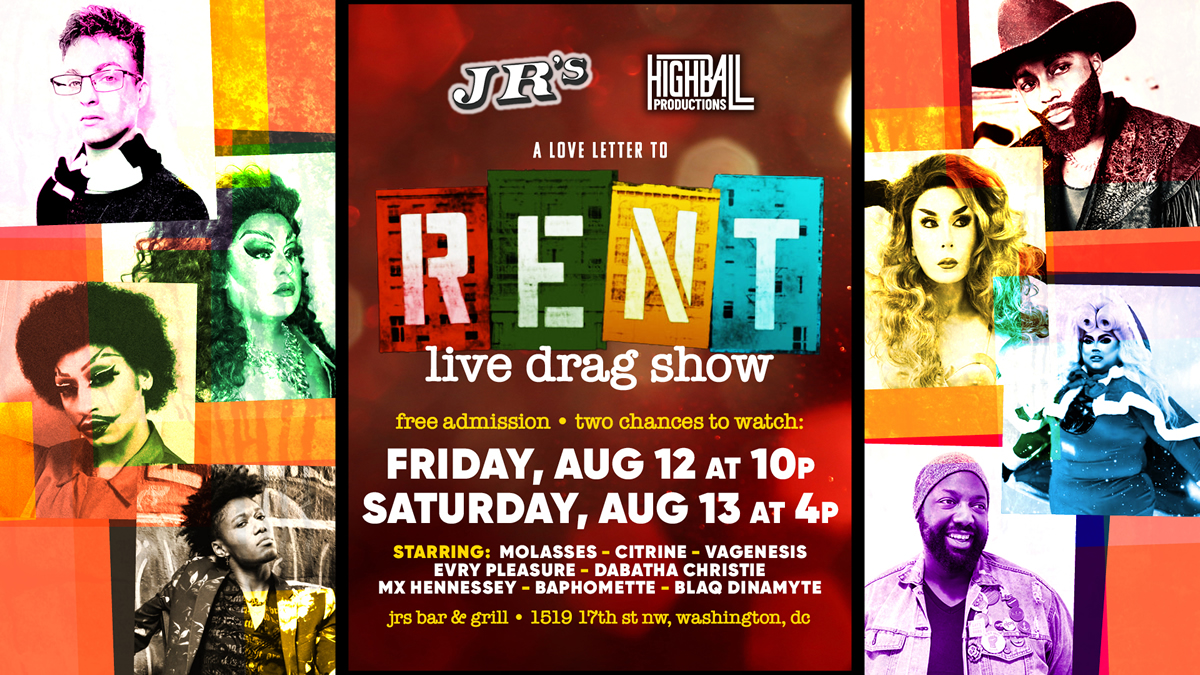 Friday, August 12
10 p.m.
JR.'s Bar
1519 17th Street, N.W.
Free admission
Facebook
Watch a drag show dedicated to the hit musical RENT. If you miss the first show on Friday, come by on Saturday at 4 p.m. for an encore performance.
---
Lights On, Barks Out! Disco Heat Drag Brunch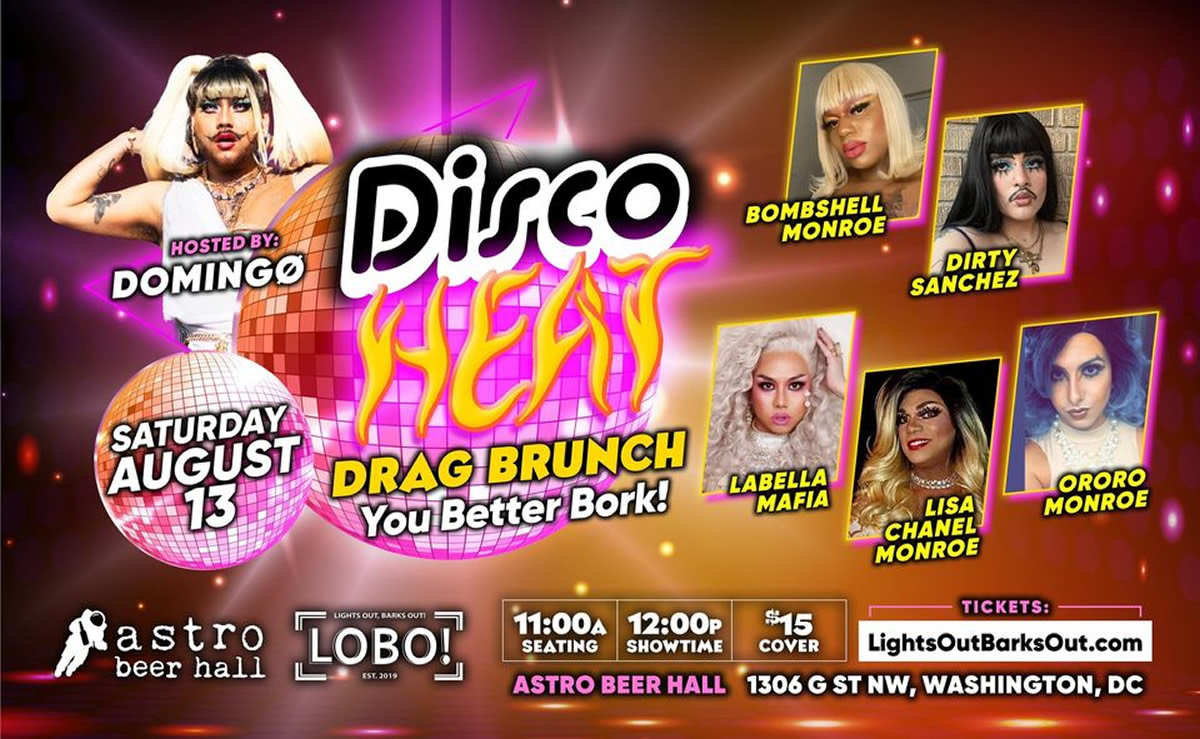 Saturday, August 13
Seating 11 a.m./show 12 p.m.
Astro Beer Hall
1306 G Street, N.W.
$15 cover
Facebook
Join host Doming0 for the Disco Heat Drag Brunch on Saturday at Astro Beer Hall.
---
Lake Anne Cardboard Boat Regatta
Saturday, August 13
2 p.m.
Lake Anne Plaza
1609 Washington Plaza
Reston, Va.
Facebook | Website
Watch a cardboard regatta race along Lake Anne in Reston, Va. Or, you could even participate (rules here)!
---
Mister & Miss AGLA Scholarship Fundraiser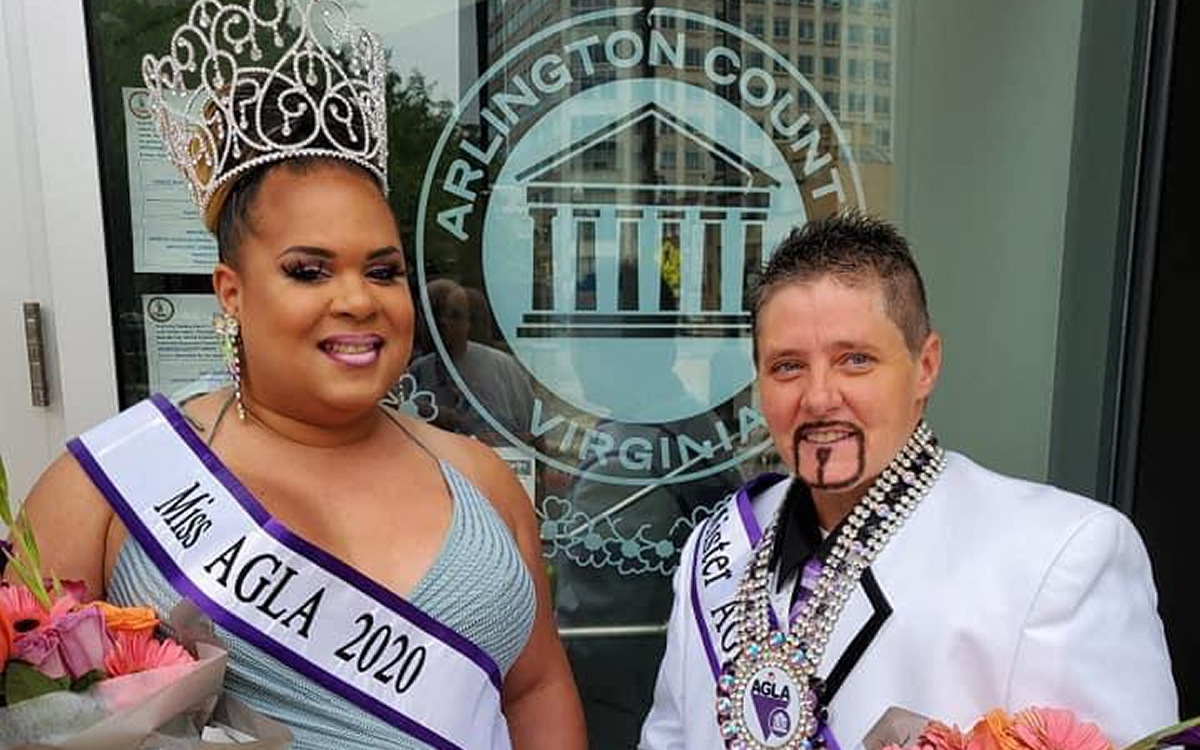 Sunday, August 14
7-9 p.m.
Freddie's Beach Bar & Grill
555 23rd Street S
Arlington, Va.
$10 donation requested
Facebook
Join a fundraiser for a good cause: a college scholarship for an outstanding Arlington County Public High School senior. Also, the 2022 Mr. and Miss AGLA will be crowned.
---
PHOTOS: United Night OUT
Team DC and Federal Triangles honored at halftime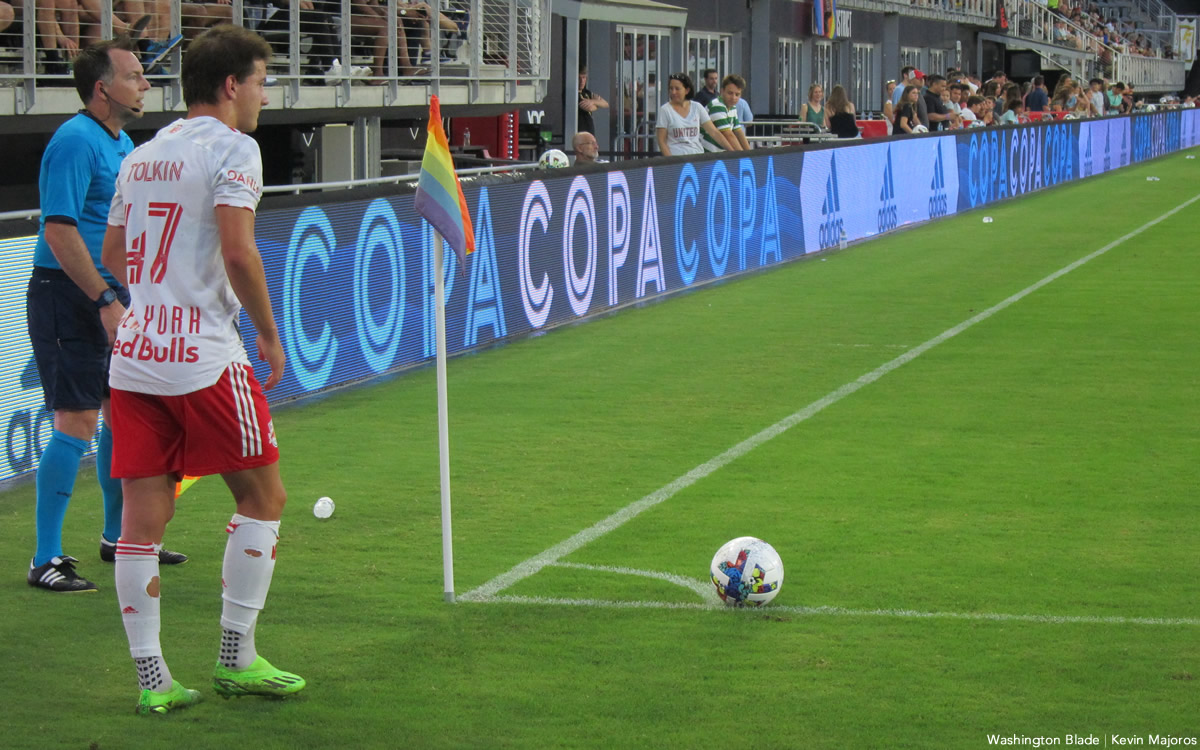 United Night OUT 2022 was held on August 6 at Audi Field with DC United taking on their Atlantic Cup rivals, the New York Red Bulls. The two teams battled to a 0-0 scoreless draw in their 99th meeting. The LGBTQ community event was co-hosted by Team DC and the Federal Triangles Soccer club who were both honored at halftime.
(Washington Blade photos by Kevin Majoros)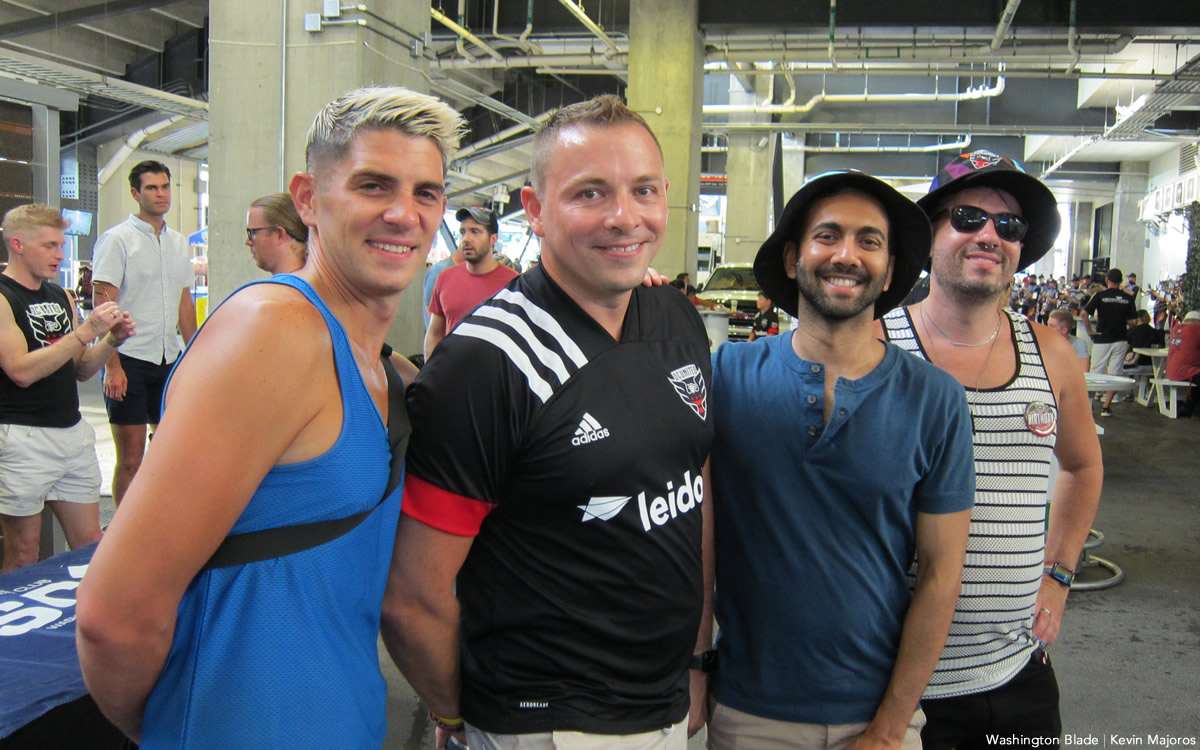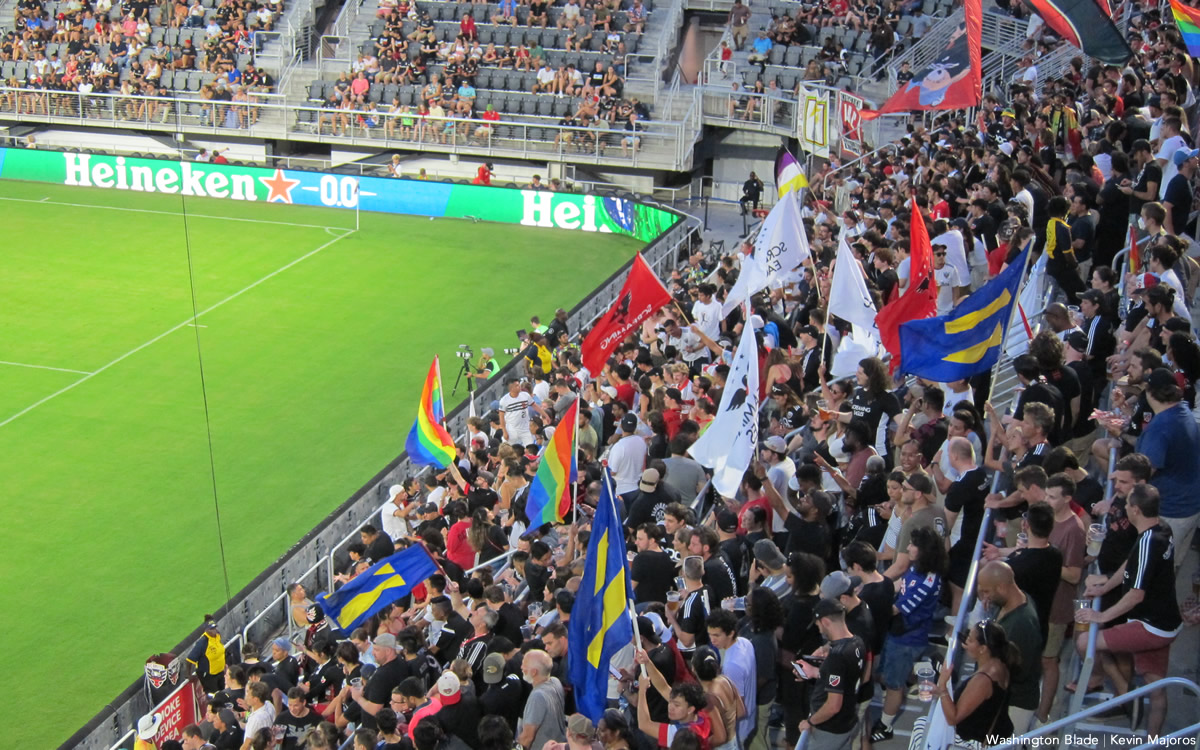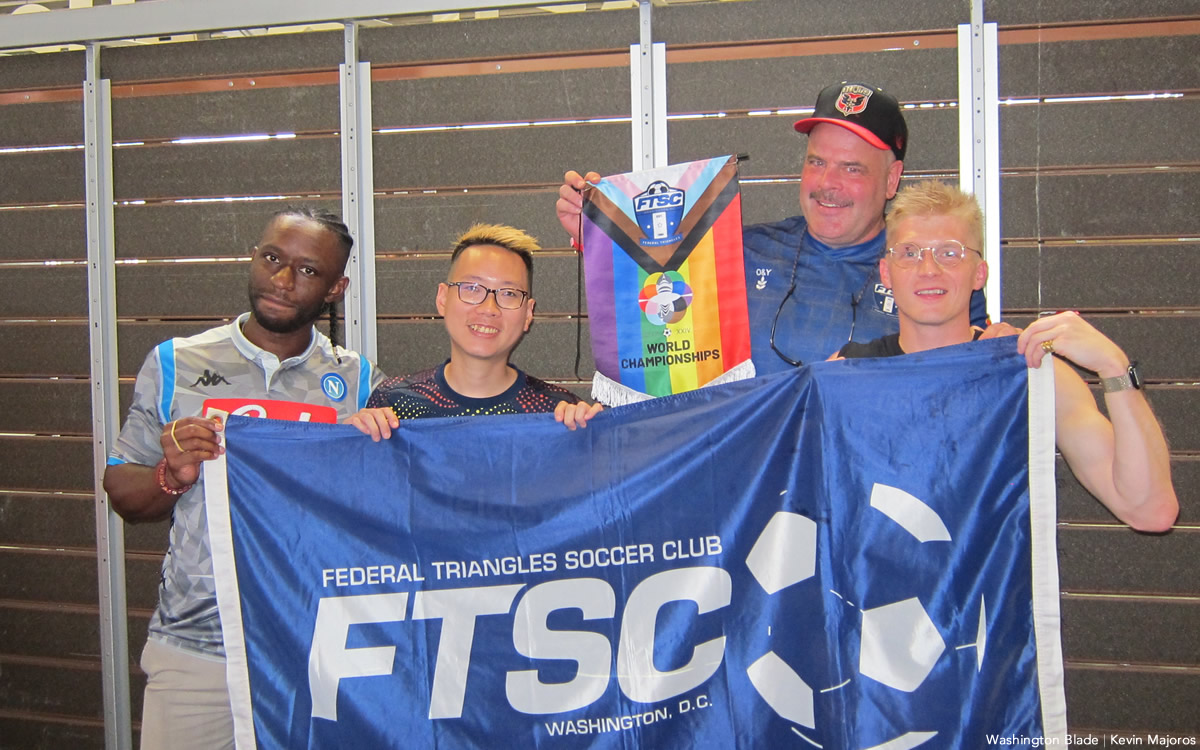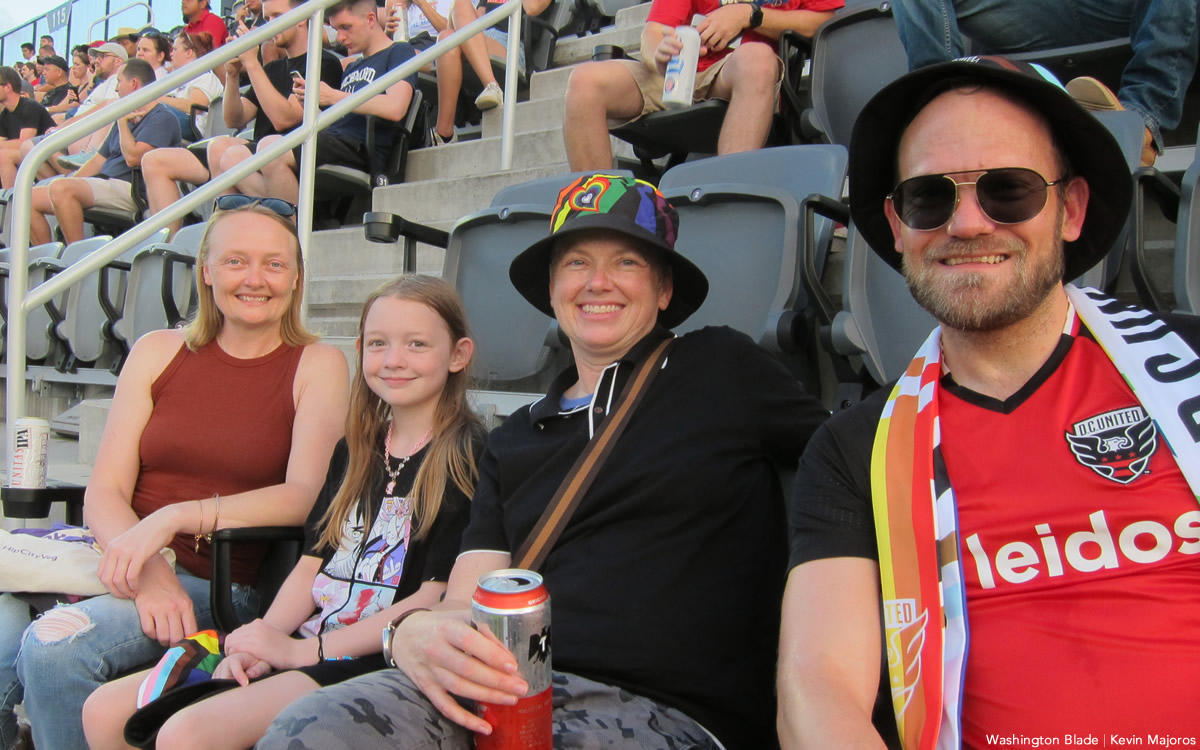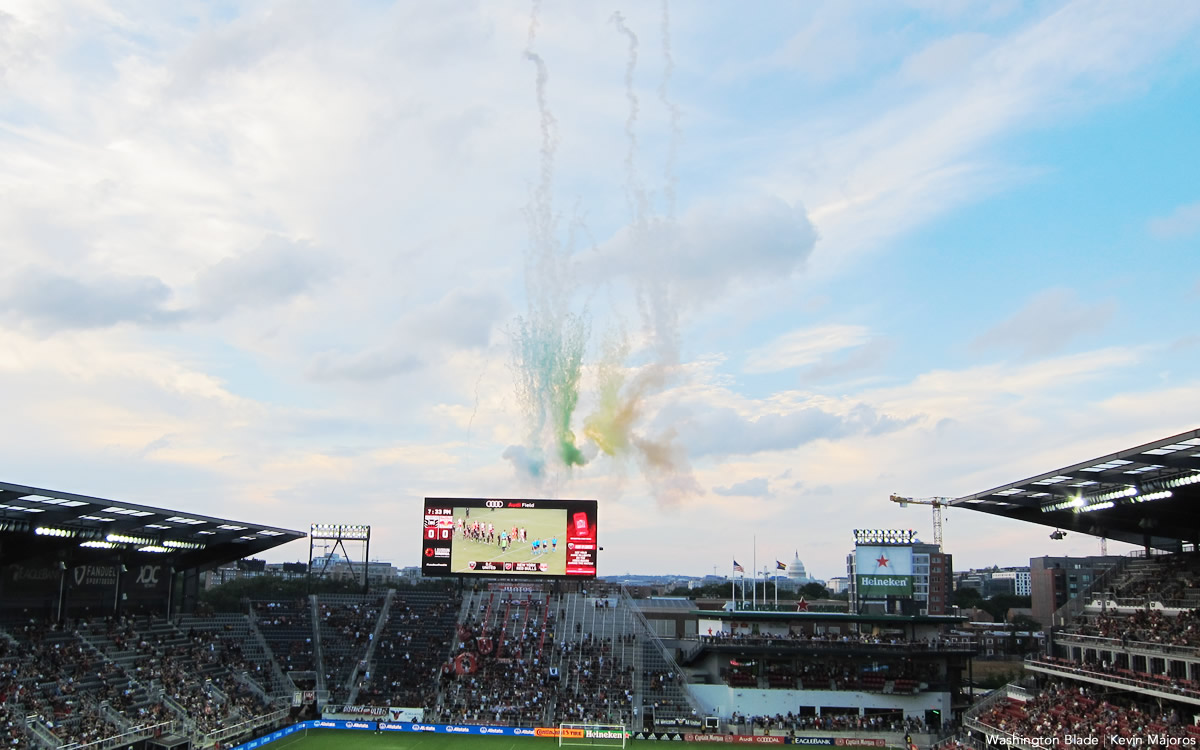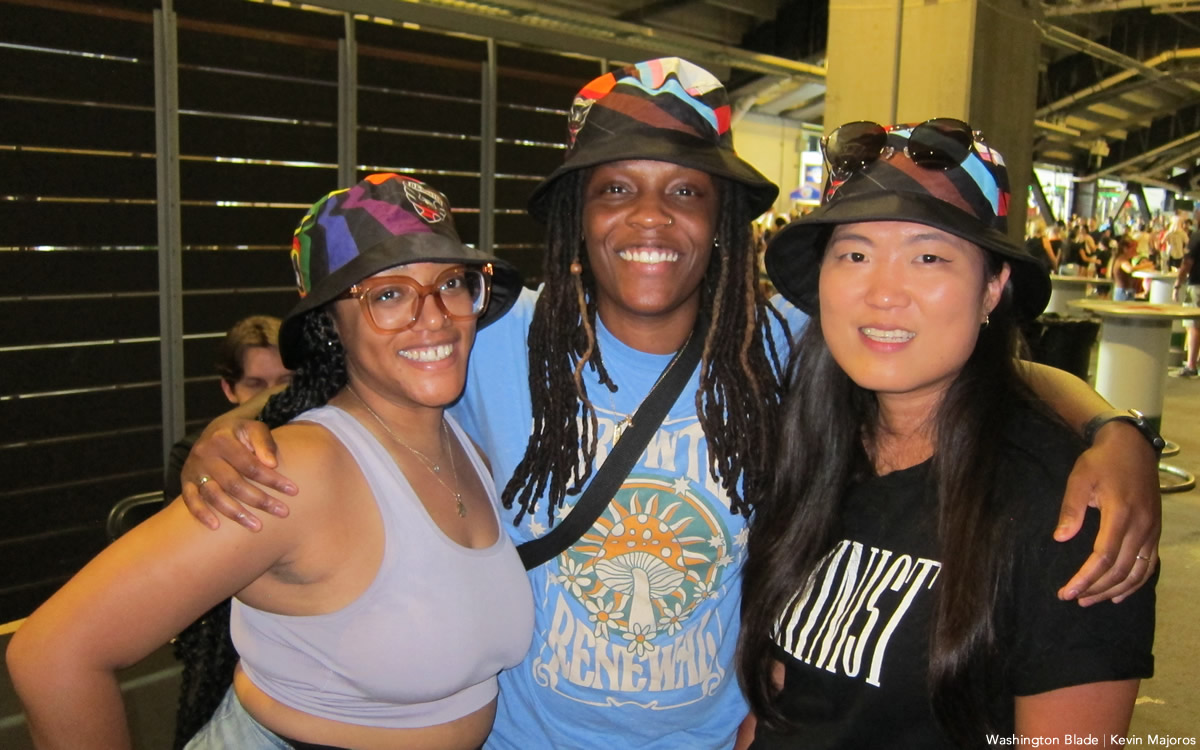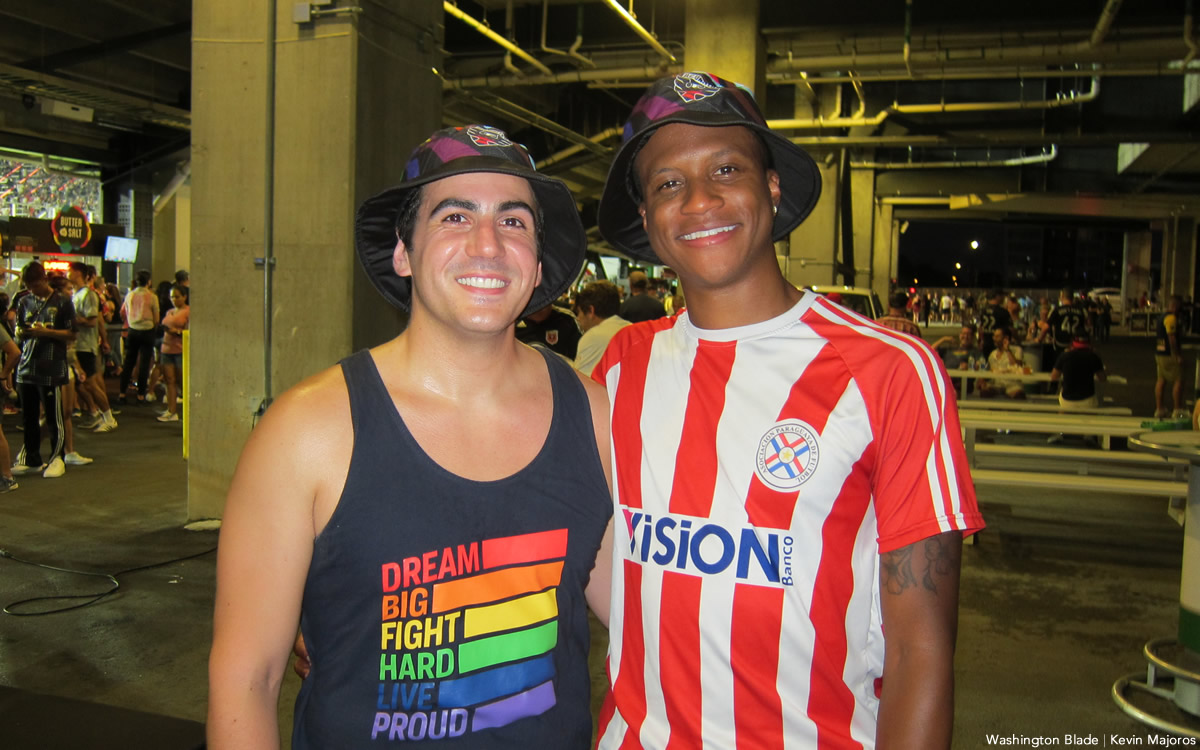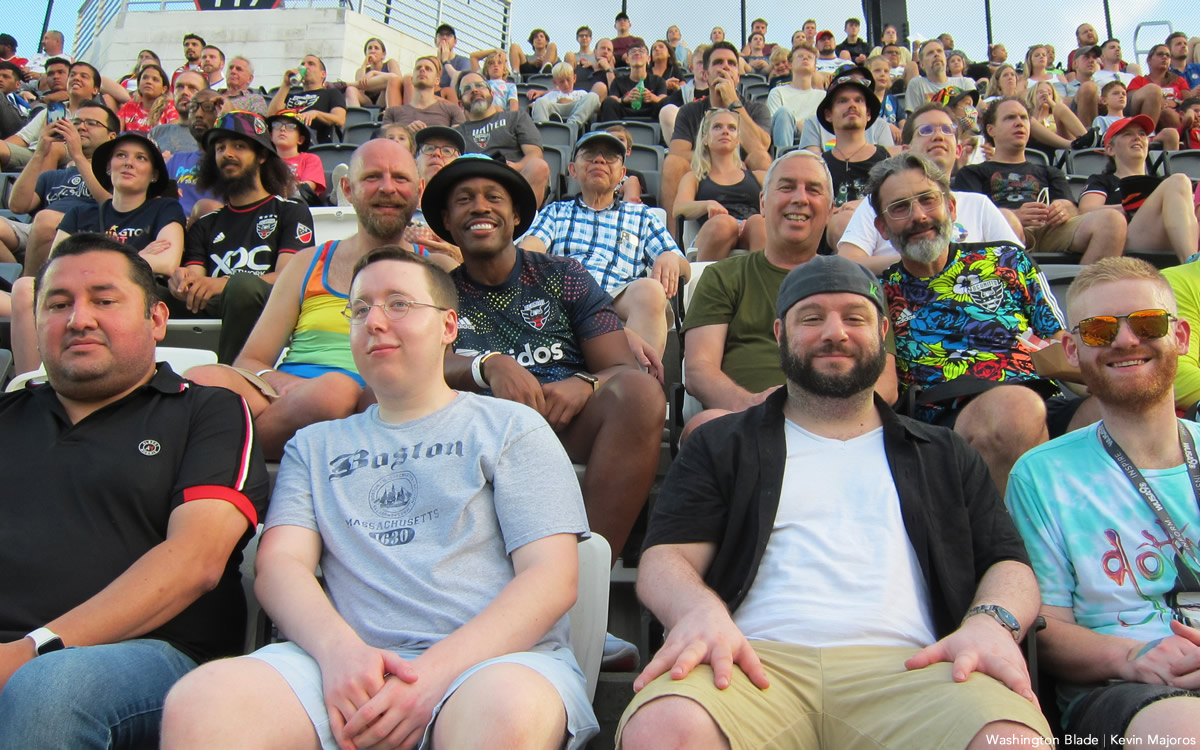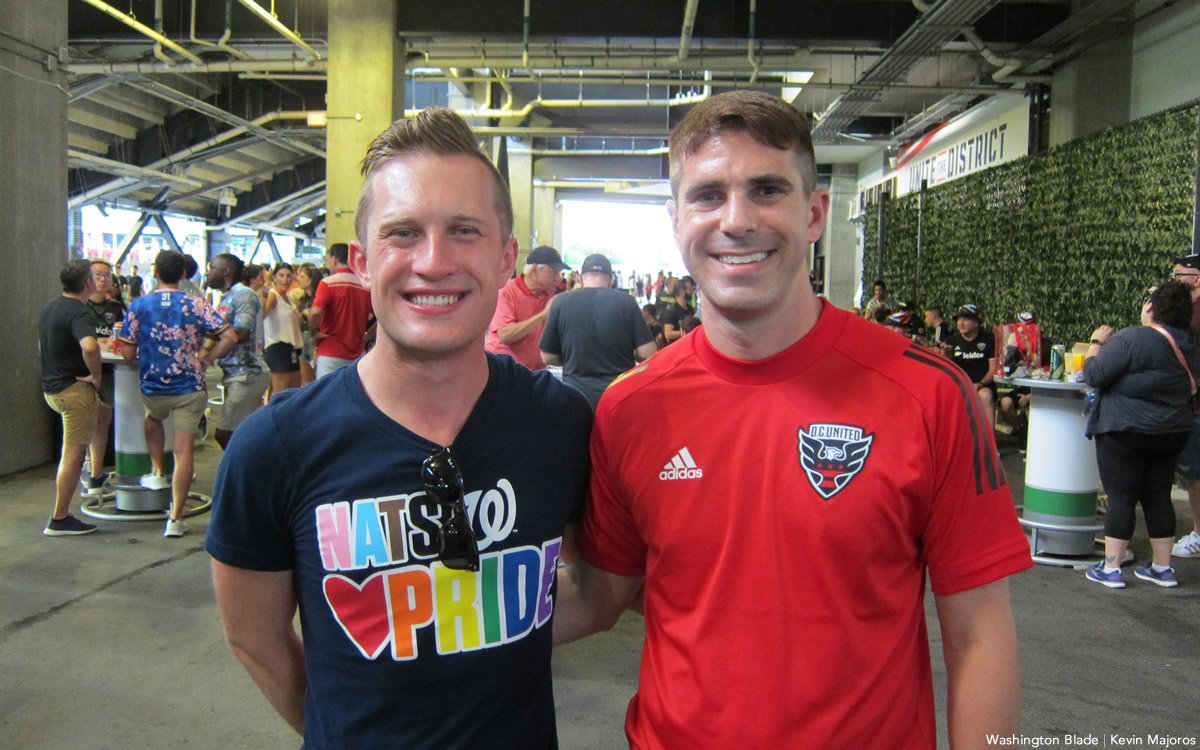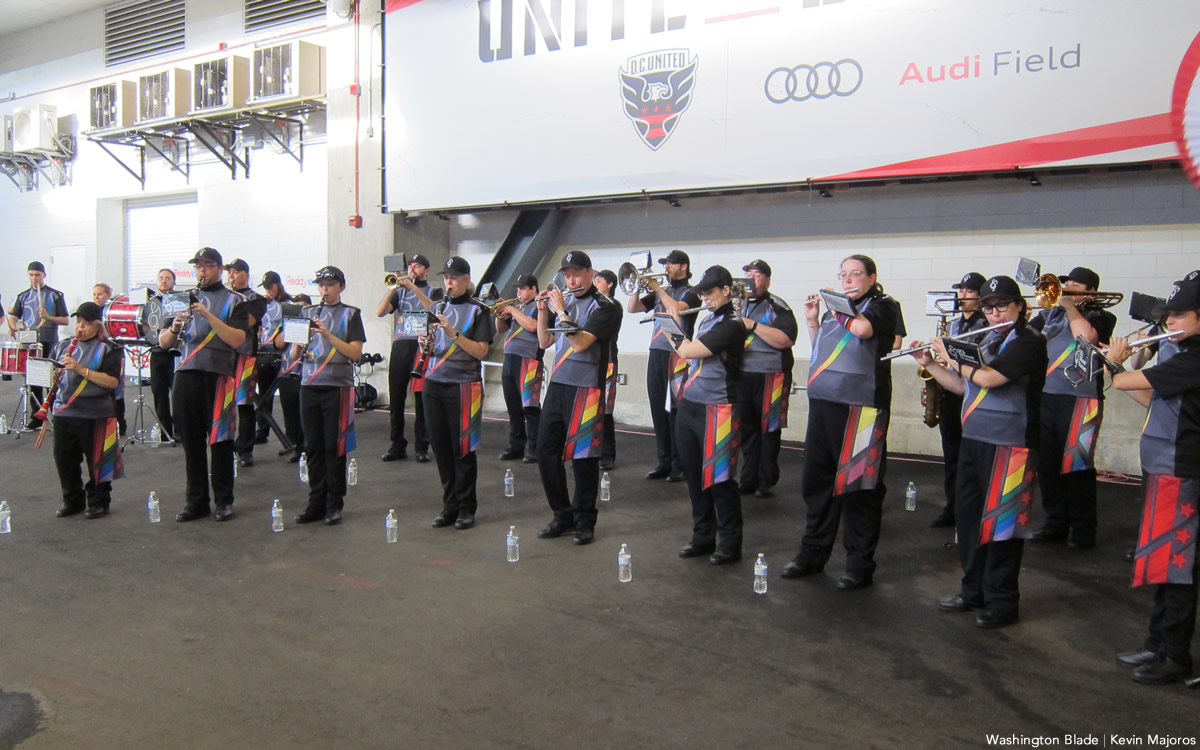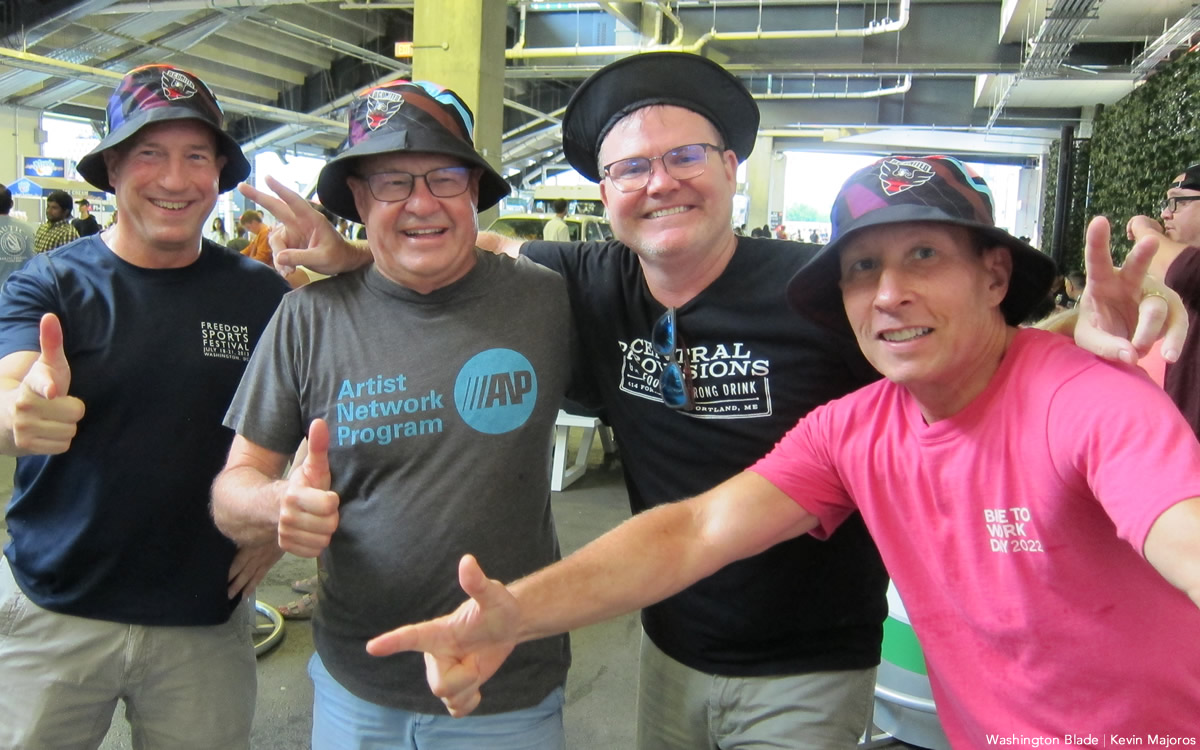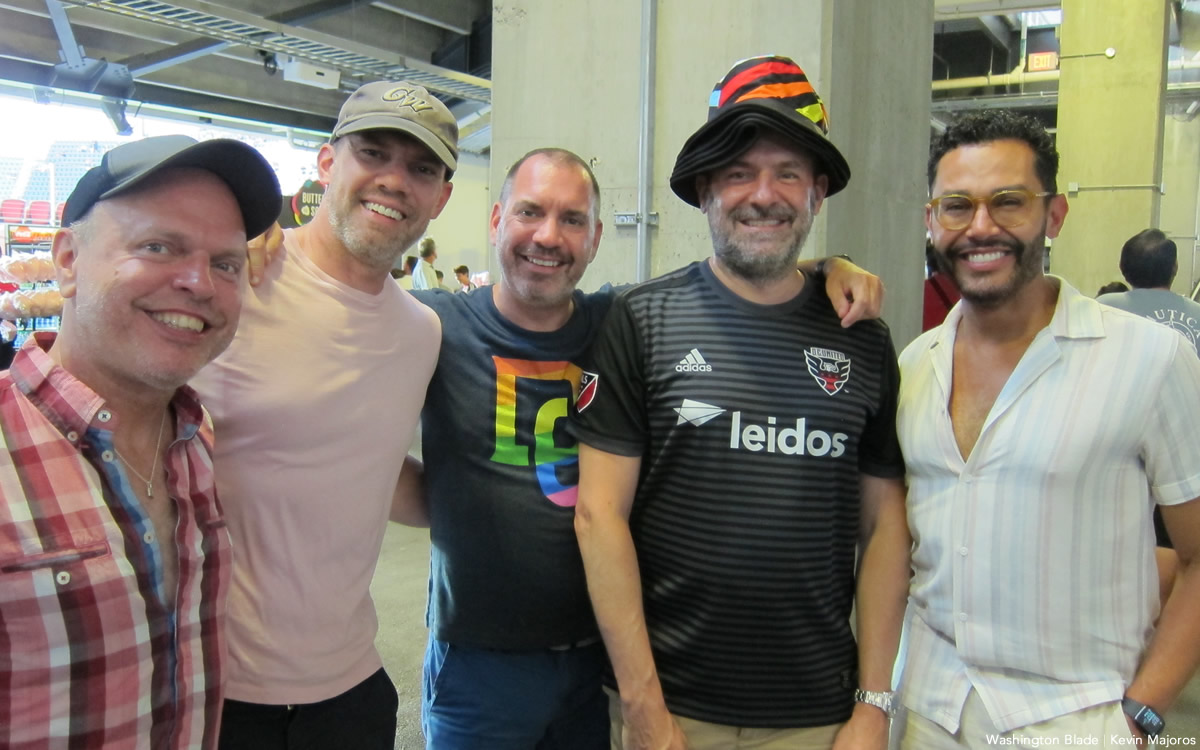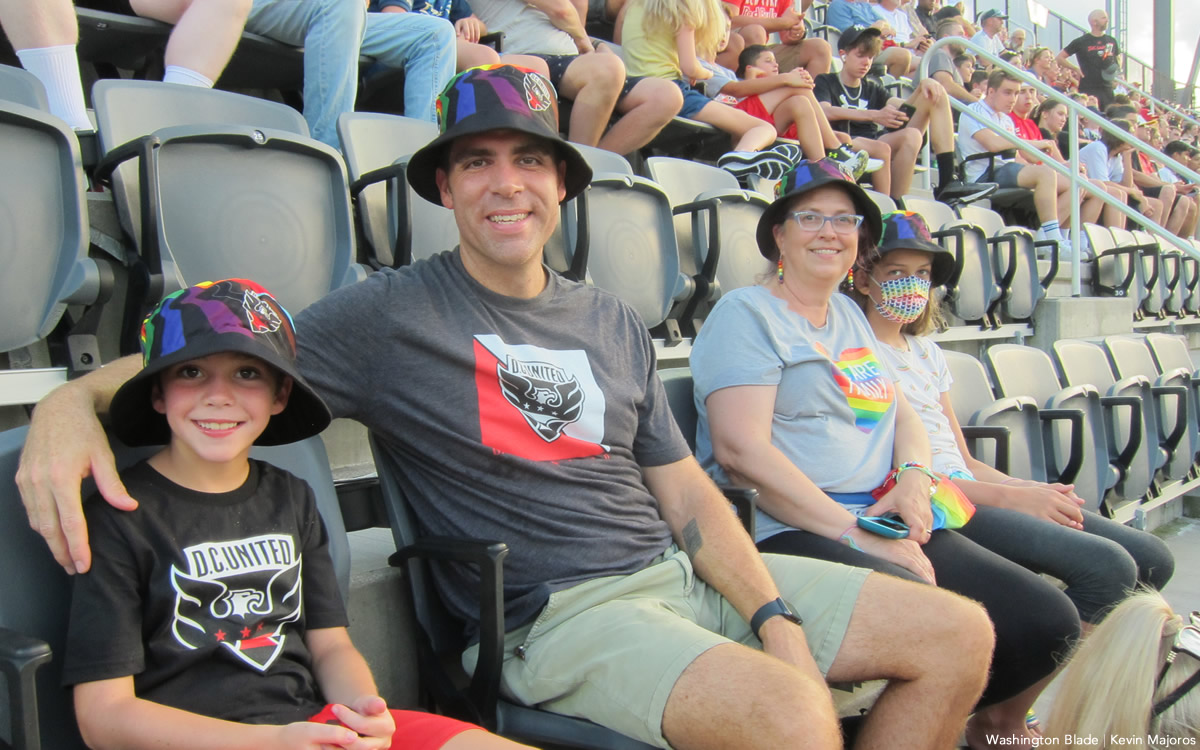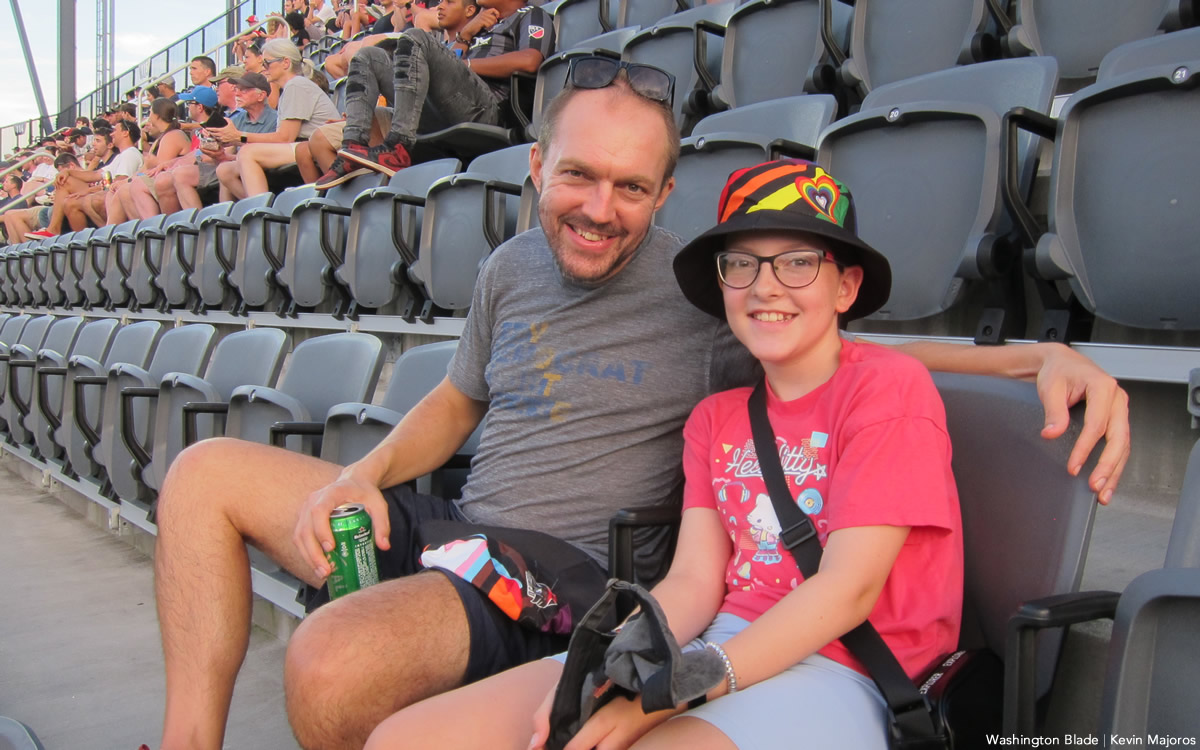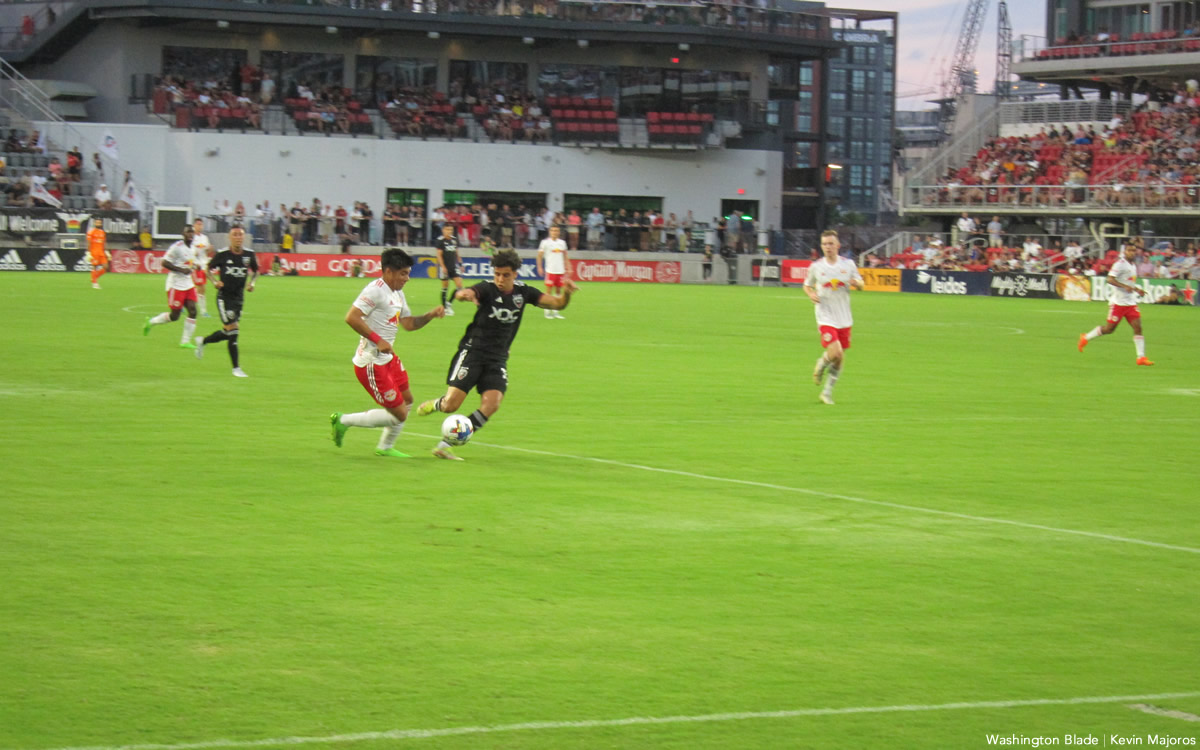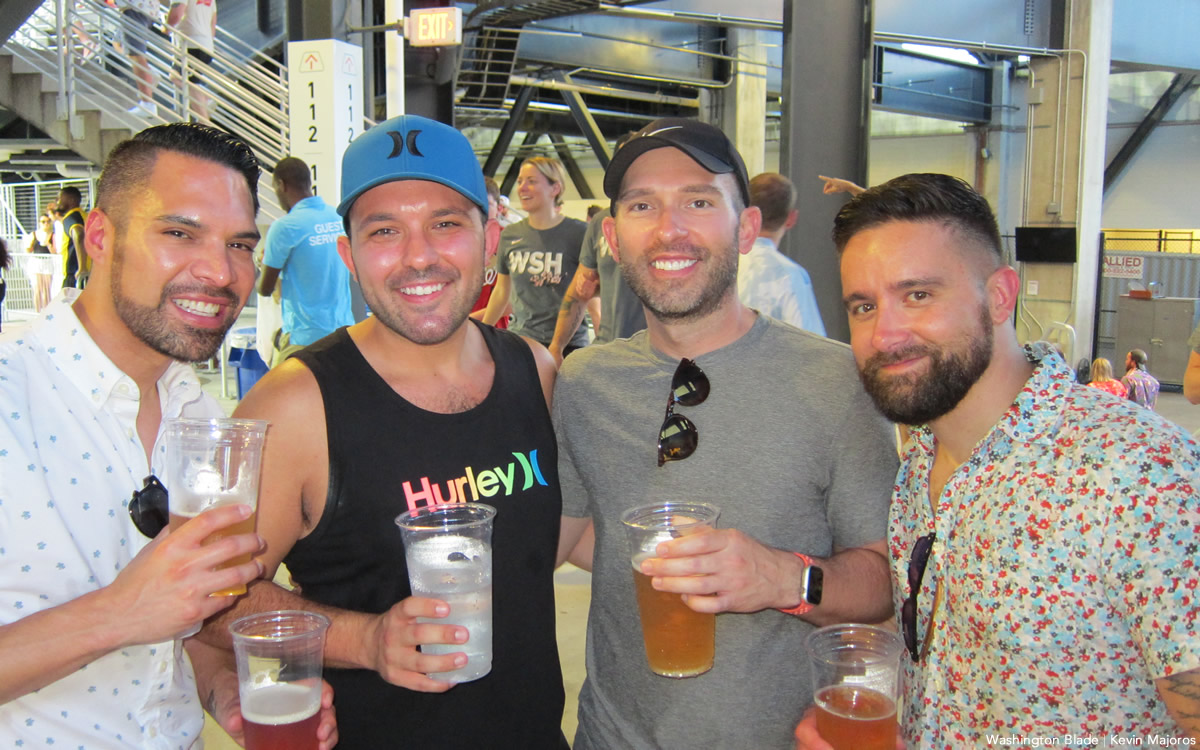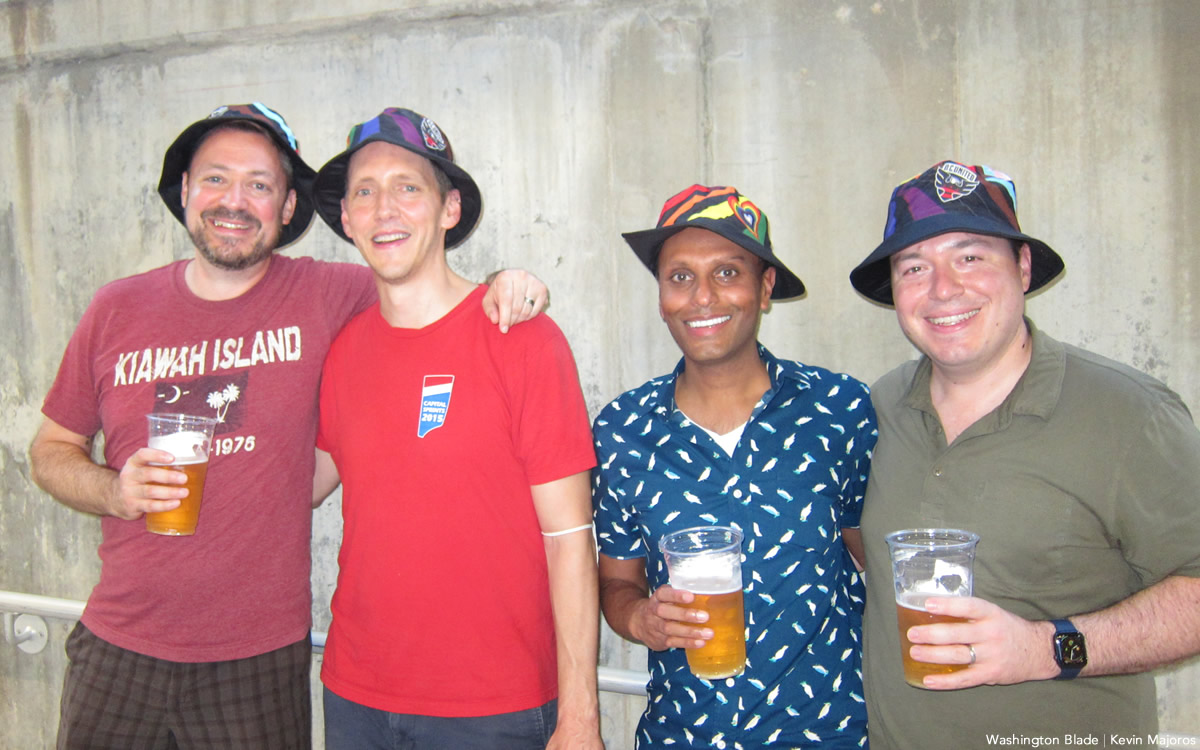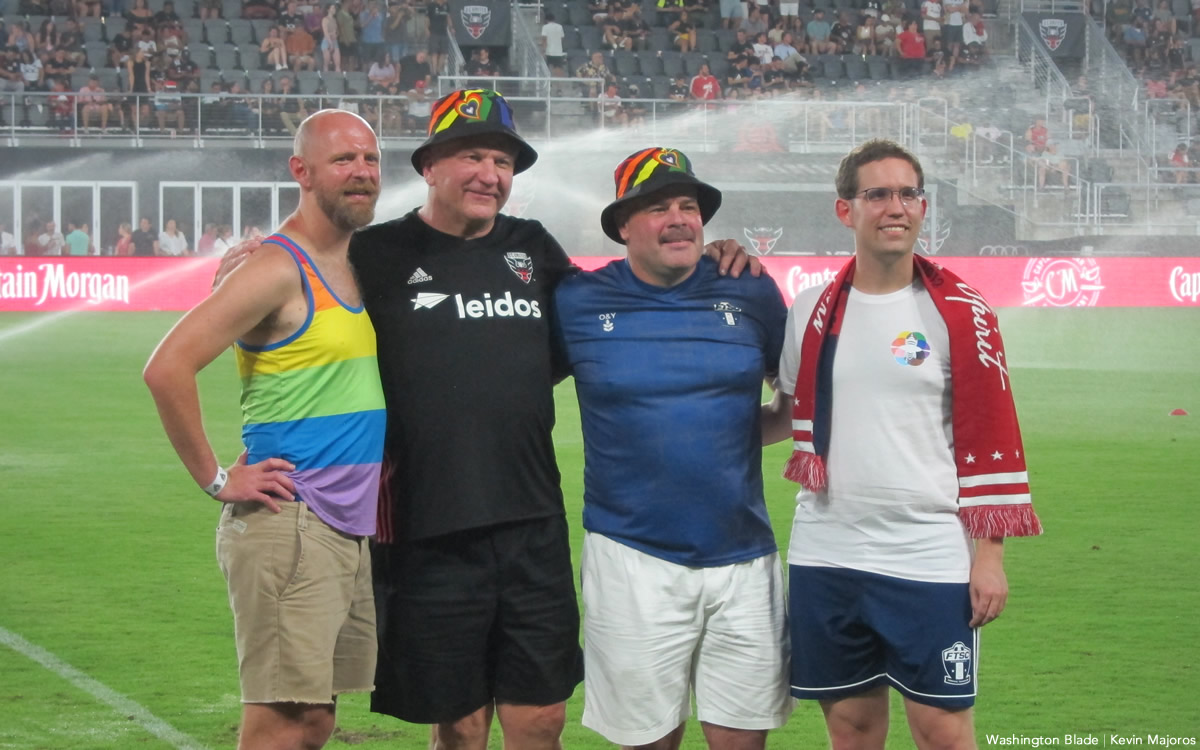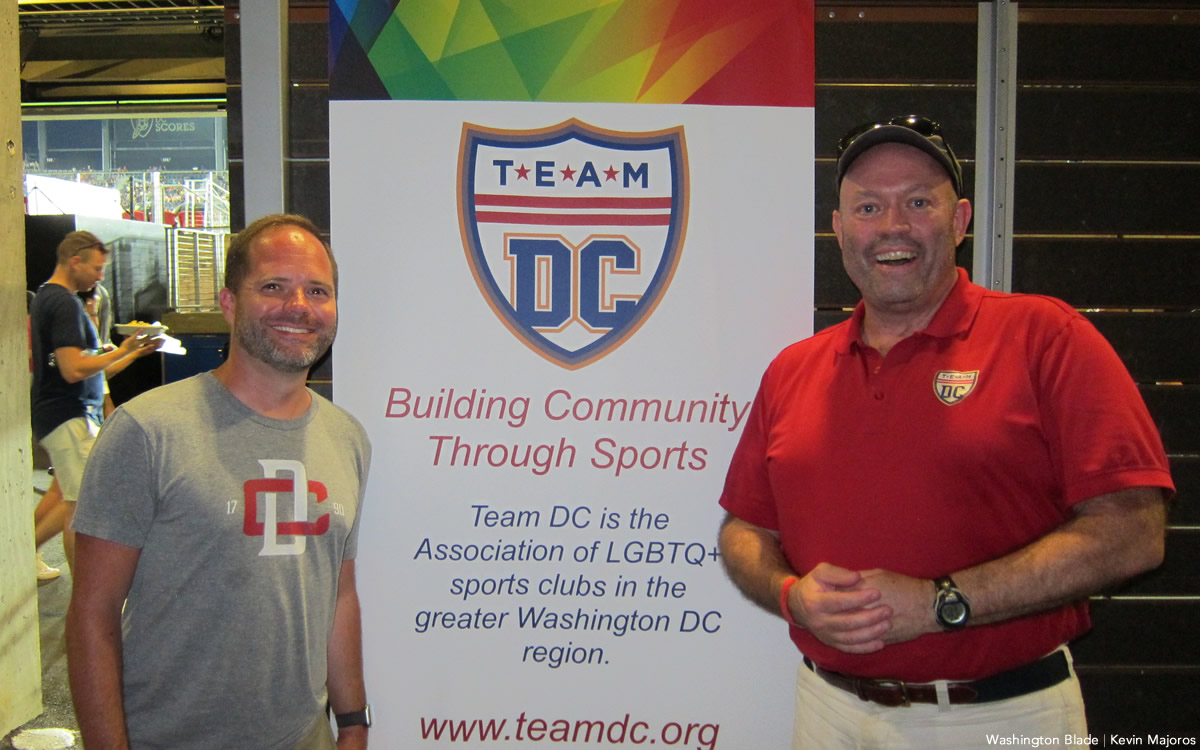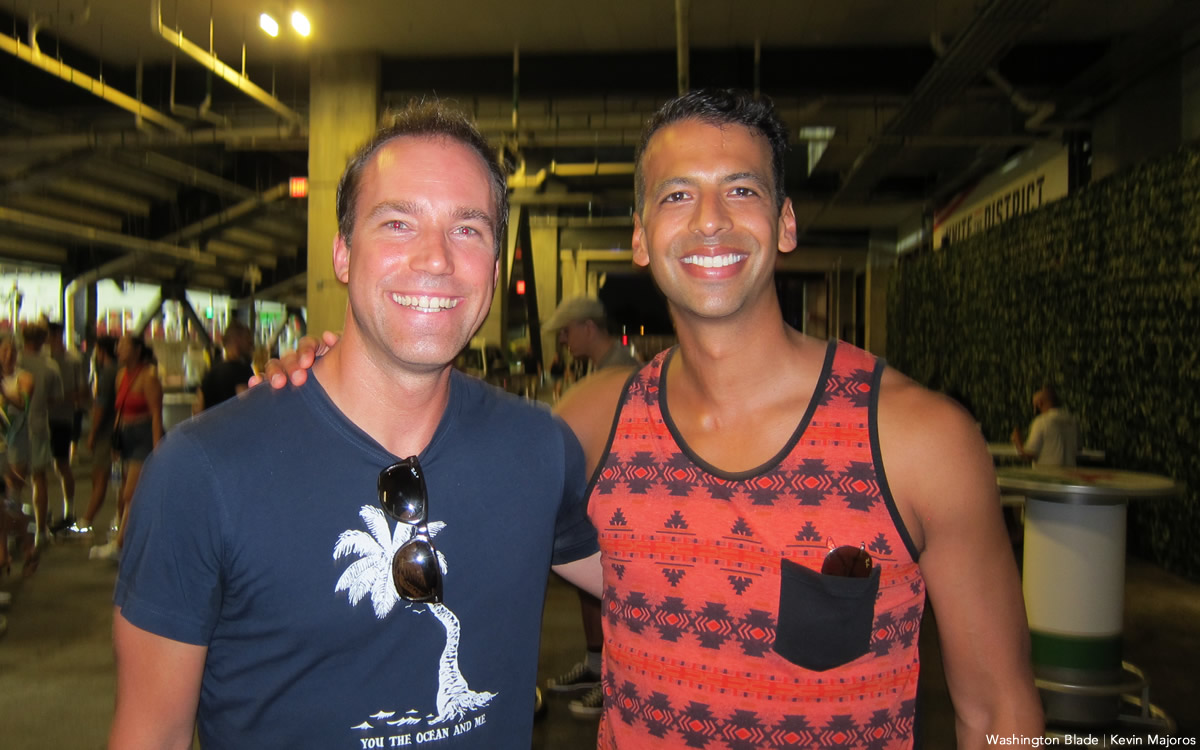 Abbi Jacobson engaged to her girlfriend Jodi Balfour
Last week, Jacobson and Balfour made their first red carpet debut at the Los Angeles premiere of A League of Their Own.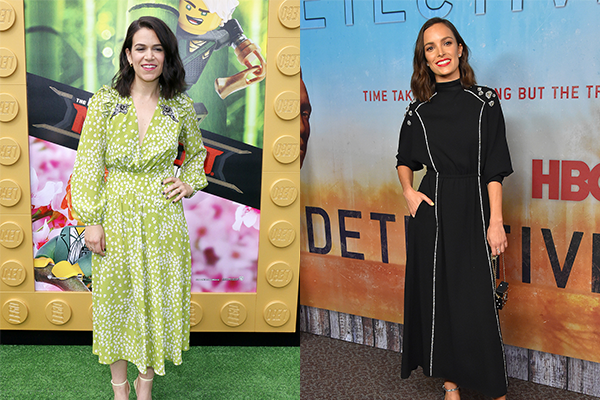 Abbi Jacobson, the Emmy Award nominee, is engaged to her girlfriend Jodi Balfour. She confirmed the news to People as she celebrated with her costars in the upcoming Amazon Video series A League of Their Own.
D'Arcy Carden, the costar and Jacobson's friend of 15 years, said, "It's out. It's great. We're so happy. We love [Jodi]."
"Abbi's engaged! Abbi's engaged! Abbi's engaged!" Chanté Adams, also a costar in the upcoming series, followed, "We've had to hide it for … No, I'm kidding."
"No, you have not. You have not had to hide it." Jacobson responded, blushing, "That was not a thing. It was not a secret."
Last week, Jacobson and Balfour made their first red carpet debut at the Los Angeles premiere of A League of Their Own.
The couple started dating in 2020 and celebrated their first anniversary last October. Jacobson shared some selfies of them on instagram: "One year with this incredible human. Don't know how I got so lucky ❤️."
Likewise, Balfour wrote in the caption: "365 days of the best surprise of my life 💚."
Jacobson officially came out as a bisexual in the interview with Vanity Fair. "I date men and women," she said, adding as long as the person is "funny" and is "doing something they love."
Balfour, a South African actress, is known for her performances on For All Mankind, Supernatural, The Crown and True Detective.
Jacobson is both cast and co-creator of A League of Their Own, in which she would tell the stories of these LGBTQ women in the 1940s. She also talked about Maybelle Blair, a consultant of the show as well as a former All-American Girls Professional Baseball League player who came out at 95.
"But Maybelle's point of view, specifically on the All-American Girls Professional Baseball League experience, what that was like to play baseball at the time, what it was like to be a queer woman in the league, was pretty important for some of the stories we were telling. But at Tribeca, she had not come out publicly and that was so incredible. And don't you feel like it's like, '95!' I'm like, 'This show needs to come out.' She came out because we made this show."
The first episode of A League of Their Own will be released on August 12.