Arrest made in murder of lesbian couple
'Bloodbath' found in home of victim's father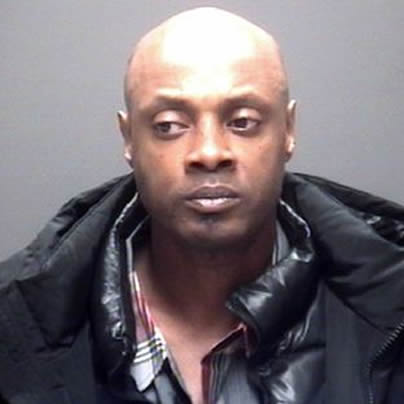 PORT BOLIVAR, Texas – Texas officials have arrested a Houston man in connection with the murder of his daughter and her girlfriend.
The Houston Chronicle reported James Larry Cosby, Jr., was arrested on March 13 and charged with two counts of tampering with evidence.
A deliveryman on March 7 found the bodies of Britney Cosby and Crystal Jackson in a dumpster outside a Port Bolivar store. Lone Star Q reported the two women had left the Houston house in which they lived with Britney Cosby's father and great-grandmother two days earlier to drive to nearby Galveston for the city's annual Mardi Gras celebration.
The Houston Chronicle said officers with the Galveston County Sheriff's Office "found evidence of a bloodbath" in James Cosby's bedroom. They also found his fingerprint outside the convenience store where the women's bodies were found.
Cosby's mother, Loranda Remer, told the newspaper that Cosby did not accept his daughter's relationship with Jackson. Other relatives offered conflicting accounts.
Federal judge halts enforcement of Fla. trans healthcare ban
Advocacy groups challenged Senate Bill 254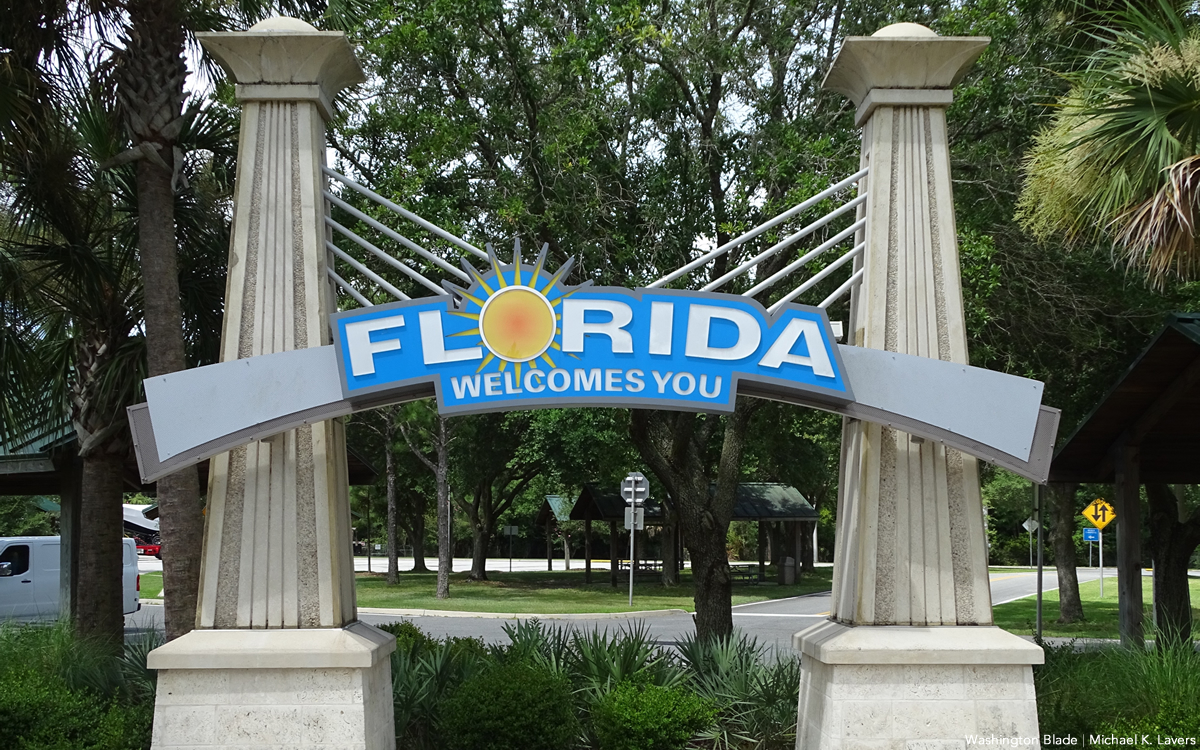 In his 44 page ruling, Judge Robert Hinkle of the U. S. District Court for the Northern District of Florida has barred the state from any further enforcement action against transgender youth or their parents from seeking appropriate gender-affirming care.
Hinkle's ruling allows Florida parents challenging the ban to access necessary medical care for their trans children while the legal challenge to the bans continues. The ruling blocks enforcement of Florida state Boards of Medicine and Osteopathic Medicine rules banning established medical care for trans adolescents as well as provisions in Senate Bill 254 that codify those rules into state law with added criminal and civil penalties.
In his summary Hinkle wrote: "Gender identity is real. Those whose gender identity does not match their natal sex often suffer gender dysphoria. The widely accepted standard of care calls for evaluation and treatment by a multidisciplinary team. Proper treatment begins with mental health therapy and is followed in appropriate cases by GnRH agonists and cross-sex hormones. Florida has adopted a statute and rules that prohibit these treatments even when medically appropriate."
In today's ruling the court indicated that the plaintiff parents are likely to succeed in their claims that SB 254 and the Boards of Medicine rules unconstitutionally strip them of the right to make informed decisions about their children's medical treatment and violate the equal protection rights of trans youth by denying them medically necessary, doctor-recommended healthcare.
The challenge to the Boards of Medicine and SB 254 healthcare bans is likely to proceed quickly to trial.
The families are represented by Southern Legal Counsel, GLBTQ Legal Advocates and Defenders, the National Center for Lesbian Rights and the Human Rights Campaign, which issued the following statement:
"Today's ruling is a powerful affirmation of the humanity of transgender people, the efficacy of well-established, science-based medical care, and of the rights of parents to make informed healthcare decisions for their children. The court recognized the profound harm the state of Florida is causing by forcing parents to watch their kids suffer rather than provide them with safe and effective care that will allow them to thrive. We are incredibly relieved that these Florida parents can continue to get healthcare for their children while we proceed to challenge these bans and eventually see them fully overturned."
Read the ruling:
Events roundup: Federal gov't celebrates Pride month
Bidens to host White House Pride reception on Thursday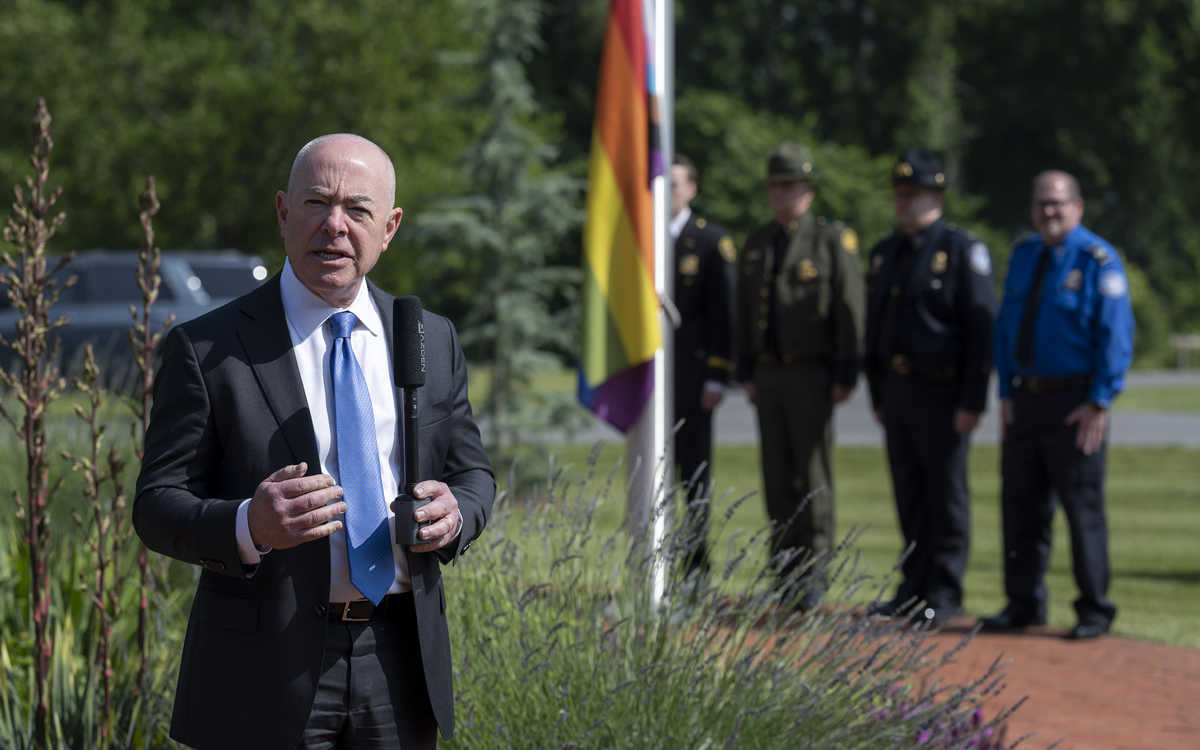 The White House, U.S. federal agencies, and Congress are honoring Pride month with a slate of official and unofficial events this year, many taking place this week.
Details for some events have not yet been announced, so this article will be updated when new information becomes available – such as details about the U.S. State Department's Pride reception, which is expected to happen later this month.
The U.S. Department of the Interior kicked off Pride month with a celebration on June 1, where DoI Secretary Deb Haaland raised the Progress Pride Flag alongside members of Interior's LGBTQ community.
Washington, D.C. Mayor Muriel Bowser's Office of LGBTQ Affairs hosted a flag raising ceremony on June 1 at the John A. Wilson Building. The Mayor's Office is also sponsoring a District of Pride Showcase at the Lincoln Theatre on June 29.
On June 2, the U.S. Department of Homeland Security held a flag raising ceremony at the agency's headquarters with DHS Secretary Alejandro Mayorkas.
Speaker Emerita U.S. Rep. Nancy Pelosi (D-Calif.) will throw out the ceremonial first pitch during the Washington Nationals Night OUT game on Tuesday, Major League Baseball's longest-running annual Pride event. The Speaker will be honored this year for her advancement of LGBTQ civil rights throughout her career in Congress.
The U.S. Department of Defense's DoD Pride, an LGBTQ employee resource group for service members and DoD civilian employees, will hold its annual Pride month event on June 7 at the Pentagon.
President Joe Biden and First Lady Dr. Jill Biden are hosting a Pride month celebration on the South Lawn of the White House on June 8, which will feature a performance by singer-songwriter Betty Who.
The LGBTQ Victory Fund's June 22 Federal PAC Reception will feature LGBTQ members of Congress: U.S. Reps. Chris Pappas (D-N.H.), Eric Sorensen (D-Ill.), Mark Pocan (D-Wis.), Mark Takano (D-Calif.), Robert Garcia (D-Calf.), and Sharice Davids (D-Kan.).
On June 28, Vice President Kamala Harris and Second Gentleman Doug Emhoff are hosting a reception in celebration of Pride at the Vice President's residence, in collaboration with GLAAD.
Same-sex marriage support remains strong at 71 percent high
Supreme Court issued Obergefell ruling in 2015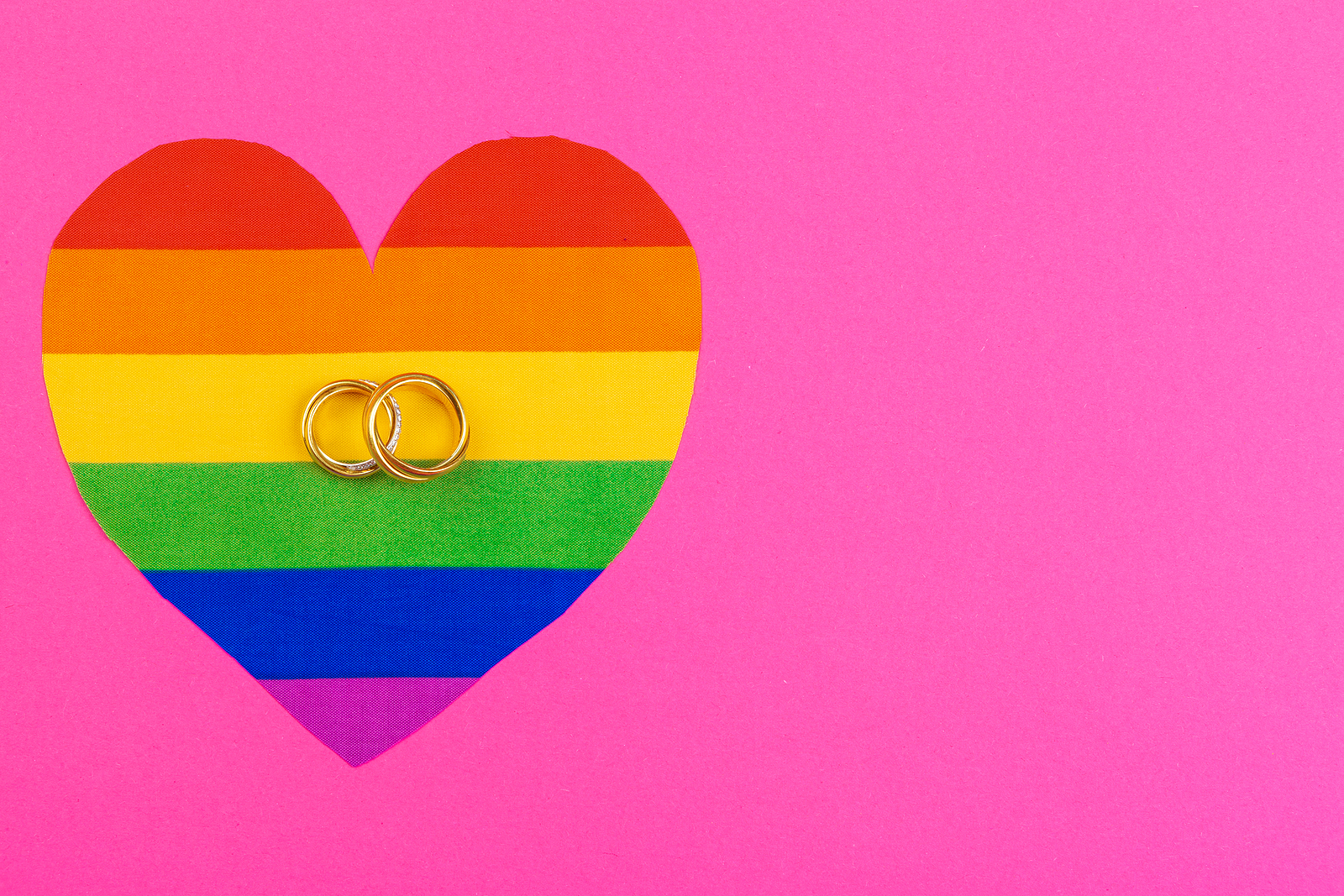 A Gallup Poll released Monday showed that support for same-sex marriage is maintaining a position of 71 percent of Americans who think it should be legal, matching the previous year's percentage.
Gallup noted that public support for legally recognizing gay marriages has been consistently above 50 percent since the early 2010s.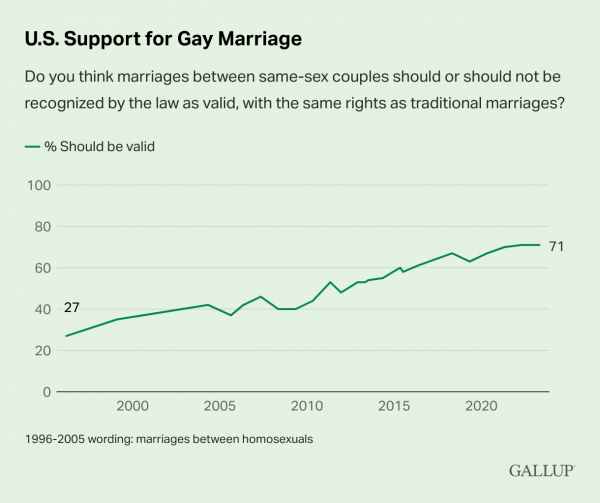 The latest figures are from Gallup's annual Values and Beliefs poll, conducted May 1-24.
When Gallup first polled about same-sex marriage in 1996, barely a quarter of the public (27 percent) supported legalizing such unions. It would take another 15 years, until 2011, for support to reach the majority level. Then in 2015, just one month before the U.S. Supreme Court's Obergefell v. Hodges decision, public support for legalizing gay marriage cracked the 60 percent level. In 2021, it reached the 70 percent mark for the first time and has been there each of the past three years.
Support Relatively Low Among Republicans, Weekly Churchgoers
Gallup has recorded increases in support for same-sex marriage across all major subgroups over time. Today, majorities of all but two key subgroups — Republicans (49 percent) and weekly churchgoers (41 percent) — say gay marriages should be legally recognized.
Republican support for gay marriage has hovered around the 50 percent mark since 2020, with slight majorities backing it in 2021 and 2022. The latest 49 percent recorded for this group is statistically similar to the level of support Gallup has recorded in recent years.
Like all other subgroups, weekly churchgoers (41 percent) are more supportive of gay marriage now than they were in the previous two decades. However, their level of support has been steady since 2018 — ranging between 40 percent and 44 percent.
Bottom line
Same-sex marriage has received majority support in the U.S. for over a decade, and support has been on an upward trajectory for most of Gallup's polling since 1996.
Gay marriage became the law of the land after the Supreme Court's 2015 Obergefell decision, and President Joe Biden signed bipartisan legislation to ward off future judicial attempts at undoing its legality late last year.
Among many groups — including older adults, Protestants and residents of the South — perspectives on gay marriage have gone from majority opposition to majority support over the course of Gallup's trend spanning more than a quarter of a century. But two groups remain holdouts on the issue, with Republicans evenly divided on the legality of same-sex unions and weekly churchgoers maintaining their position against it.