Meet the 8 House Dems who don't co-sponsor ENDA
Advocates push to find 218 votes for bill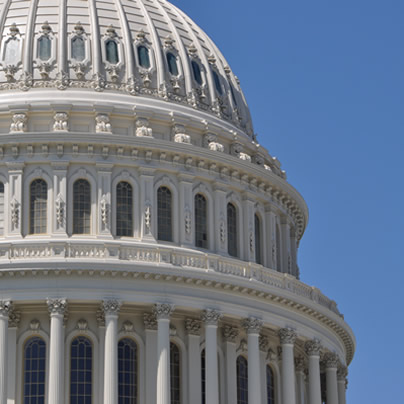 Amid the push to pass the Employment Non-Discrimination Act, much has been said about the daunting task of advancing the bill against Republican opposition — including from U.S. House Speaker John Boehner (R-Ohio) himself — in the GOP-controlled chamber of Congress.
But the Democratic caucus isn't unanimous in its sponsorship of the legislation despite a push from the White House and Democratic leaders to advance ENDA. A total of eight Democrats have so far declined to co-sponsor the bill, although at least two said they would vote for it and one has said he's inclined to vote for it if it comes to the House floor.
The eight Democrats who don't co-sponsor ENDA are Reps. Dan Lipinksi (Ill.), Jim Costa (Calif.), John Barrow (Ga.), Mike McIntyre (N.C.), Pete Gallego (Texas), Henry Cuellar (Texas), Gene Green (Texas) and Nick Rahall (W.Va.).
Of these eight Democrats, most are from Texas, the largest state without any laws providing non-discrimination protections on the basis of sexual orientation or gender identity.
Chuck Smith, executive director of Equality Texas, said the three Texans who don't co-sponsor ENDA — Gallego, Cuellar and Green — likely have "a misplaced fear" about opposition to non-discrimination in their districts.
"When Texans go to work each day, they want to be judged on their professionalism, their experience, their performance, and their ability to get the job done," Smith said. "With hard work, fulfilling their responsibilities, and playing by the rules, they are striving for a fair chance at achieving a piece of the American Dream. And in Texas, fully three-fourths of voters support prohibiting employment discrimination."
But two of these lawmakers, Gallego and Green, have signaled they would support ENDA if it comes up for a vote on the House floor, even though they have yet to co-sponsor the legislation.
Jose Borjon, a Gallego spokesperson, said his boss "from the beginning" has said "he will vote for ENDA" on the House floor.
"Congressman Gallego's family has a long history of protecting civil rights and opposing discrimination," Borjon said. "Like his parents before him, Congressman Gallego is also opposed to any form of discrimination, including discrimination against individuals based on race, color, ethnicity, sexual orientation, gender identity, sex, religion, age, disability or personal beliefs."
Borjon didn't respond to a follow-up email asking why Gallego won't co-sponsor ENDA if the lawmaker would vote for the bill.
Green's office didn't respond to a request for comment. But according to Hair Balls, a Houston-based political blog, he'll vote for the legislation if it comes to the House floor.
"I am opposed to discrimination in the workplace, whether based on gender, race, religion, or sexual orientation, and will vote in support of the Employment Non-Discrimination Act when it comes to the House floor for a vote," Green is quoted as saying.
Cuellar has made no such commitment to voting for ENDA. His office didn't respond to the Blade's request seeking comment on the bill.
According to LoneStar Q's John Wright, Dallas activist Jeff Strater expressed disappointment about a meeting during a Capitol Hill lobby day when he and others sought to discuss ENDA with Cuellar staff and a proposed letter seeking an executive order barring LGBT workplace discrimination.
"We had an appointment with Henry Cuellar's office last Thursday in D.C. to talk about the letter, ENDA and other LGBT legislation," Strater was quoted as saying. "They refused to meet with us in the office for our appointment (unlike other members of Congress) and we met in a busy hallway. The meeting was also with a legislative fellow and not a legislative aide. This was worse than our meeting with Ted Cruz's staff. The sad part is that in our small group we had people with long ties to Cuellar's congressional district and Laredo."
Another Democrat in another state has also signaled he'll likely support ENDA, even though he hasn't yet signed on a co-sponsor to the bill.
Jessica Kahanek, a Costa spokesperson, said the lawmaker is still reviewing the legislation, but is "inclined" to vote for the bill should it come to the House floor.
"Rep. Costa is still reviewing the bill and its implications for small business owners before he makes a final decision on co-sponsoring," Kahanek said. "He is inclined to support ENDA should there be a vote held on the bill."
Costa supports marriage equality and co-sponsors the Student Non-Discrimination Act, which would bar schools from allowing discrimination or harassment of LGBT students.
One notable House Democrat who doesn't co-sponsor ENDA is Lipinski, who withholds support for ENDA even though he voted for "Don't Ask, Don't Tell" repeal and LGBT-inclusive hate crimes legislation. However, Lipinski opposes same-sex marriage.
Bernard Cherkasov, CEO of Equality Illinois, called on Lipinski to support ENDA as he touted his organization's work in "building stronger and stronger support" for the legislation among his state's delegation to Congress.
"Congressman Lipinski represents a district where many employers, community leaders, and clergy members are very vocal about their support for ENDA; and LGBT workplace protections have been the law in Illinois for almost a decade," Cherkasov said. "In a state with broad bipartisan support for ENDA, we hope that Congressman Lipinski will carry those values to Washington and sponsor ENDA."
Not helping in the case of Lipinski — as well as Costa and Cuellar — is the fact that they're Catholic and the U.S. Conference of Catholic Bishops has come out in opposition to ENDA when it came up for a vote in the Senate, saying it threatens religious liberty, would enable legalization of same-sex marriage and rejects the biological basis of gender.
Other House Democrats who don't co-sponsor ENDA have a history of assuming anti-LGBT positions as members of Congress. Most notable among them are Rep. Nick Rahall (D-W.Va.) and retiring Rep. Mike McIntyre (D-N.C.), the only Democrats who currently co-sponsor a U.S. constitutional amendment that would ban same-sex marriage in the country. Their offices didn't respond to a request for comment on their position on ENDA.
Another longtime House Democrat who doesn't co-sponsor ENDA and who was a one-time supporter of a Federal Marriage Amendment is Barrow. Despite voting "yes" on this amendment, Barrow has taken pro-LGBT positions, such as voting in favor of "Don't Ask, Don't Tell" repeal. His office didn't respond to a request for comment on ENDA.
Jeff Graham, executive director of Georgia Equality, said Barrow has assumed more anti-LGBT positions after redistricting, when Barrow's district was drawn to become more conservative.
"The politics behind this, not that it excuses it, but for the last several times that he has run for office, he has been redistricted into a district that is majority Republican," Graham said. "And so, he actually has a voting record on LGBT issues, as well as a lot of other issues that are important to many of us, where he did not support them or voted against them. His lack of sponsorship of ENDA is not actually a surprise; it's a disappointment, but it is not a surprise."
Graham said getting Barrow to support ENDA would require "an immense grassroots" effort among his constituents, but his organization is prepared to support the Human Rights Campaign in planned field operations to encourage him to back the bill.
Other groups behind ENDA have launched initiatives at the national level aimed at building support for the legislation as the push to pass it continues. The Senate last year passed ENDA on bipartisan vote of 64-32, so House passage is the only remaining step necessary for approval before it would go to President Obama's desk.
Tico Almeida, president of Freedom to Work, said boosting the number of ENDA co-sponsors on both sides of the aisle is important "to clearly demonstrate" majority support exists for LGBT workplace protections in the House.
"We think that if a House vote were held today, ENDA would pass with more than 218 votes, but winning over the next batch of co-sponsors would help us prove that definitively to House leadership," Almeida said. "Reaching 218 supporters would increase pressure on those who have been blocking an up-or-down vote."
Almeida drew a distinction between co-sponsoring ENDA and merely articulating support, saying pledging a "yes" vote without co-sponsoring the bill is the "second-best option" for lawmakers.
A House Democratic leadership aide, who spoke on condition of anonymity, said the only way to push these lawmakers to support ENDA is for constituents within their districts to ask their members to get behind the bill. The aide said House Minority Leader Nancy Pelosi (D-Calif.) personally whipped members to support ENDA, which is why all but eight Democratic members co-sponsor the bill this Congress.
The White House has continually called for passage of ENDA. The White House didn't respond to a request for comment on whether it has reached out to these eight House Democrats to encourage them to support the legislation.
At a time when DNC is raising money on behalf of Democrats in the 2014 election, the DNC didn't respond to the Blade's request for comment on whether House Democrats who don't co-sponsor ENDA are out of line with principles of the Democratic Party, even though the 2012 Democratic Party platform endorses the bill on the basis that "people should not be fired based on their sexual orientation or gender identity."
Although eight House Democrats aren't co-sponsors of ENDA, a sea of Republicans continue to withhold support of the bill in a chamber of Congress where their party holds the majority. Of the 233 Republicans in the U.S. House, only six co-sponsor ENDA: Reps. Ileana Ros-Lehtinen (R-Fla.), Richard Hanna (R-N.Y.), Charles Dent (R-Pa.), Jon Runyan (R-N.J.), Chris Gibson (R-N.Y.) and Michael Grimm (R-N.Y.).
Americans for Workplace Opportunity, a coalition of groups seeking to pass ENDA, have launched a $2 million push aimed at passing ENDA in the House. Much of the money is coming from Republican superdonors Paul Singer and Seth Klarman, who each donated $375,000. Nonetheless, not a single Republican co-sponsor has signed on to ENDA since the start of the campaign last month.
Jeff Cook-McCormac, senior adviser to the pro-LGBT American Unity Fund, nonetheless predicted more Republican co-sponsors of ENDA in the coming days.
"In an authentically bipartisan way, we remain laser-focused on getting to the critical number of 218, demonstrating majority support in the chamber," Cook-McCormac said. "This much-needed engagement, member-by-member, in thoughtful and respectful conversations about the need for ENDA is what will enable support for the bill to grow, as we've seen it is a critical element of every successful effort that has advanced freedom for LGBT Americans in our country.  I expect you will see other Republicans indicate their support for ENDA in the weeks and months to come."
Rachel Levine in 'rewarding' visit speaks with trans youth at D.C. health clinic
Hospital an oasis of support amid attacks from states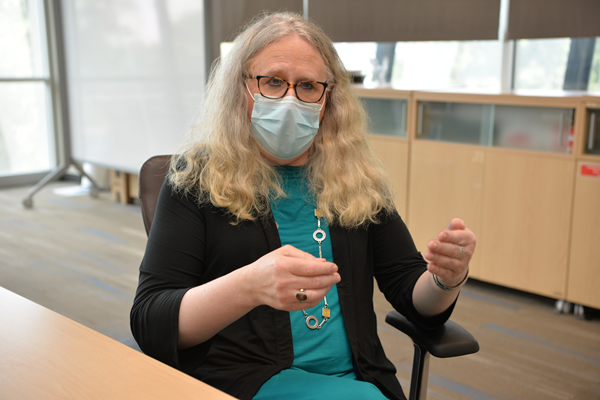 It's not unusual for Rachel Levine as assistant secretary of health to visit medical facilities on behalf of the Department of Health & Human Services. But her visit last week to the LGBTQ youth clinic at the Children's National Medical Center was special because she was able to meet with transgender youth as an openly transgender presidential appointee.
The visit on Thursday by Levine at the D.C.-based hospital comes not long after the U.S. Senate approved her appointment, making her the first openly transgender presidential appointee to win a Senate-confirmed position. As such, her visit to the LGBTQ youth clinic, where transgender kids come for transition-related care and health services, held particular significance for the patients.
Levine, speaking with the Washington Blade at the end of her visit, said having the opportunity to speak with both transgender youth and medical professionals testing them was "tremendously, tremendously rewarding"
"It's tremendously gratifying to be able to speak to the medical professionals and the clinic personnel at beds, particularly to the youth and their families from my experience," Levine added. "So I have two aspects of that. One is that I'm a pediatrician and adolescent medicine specialist. So I've been teaching to children and their families my entire career, but the other is coming from my lived experience as an openly transgender woman, and so I find it tremendously rewarding."
The warm environment of the hospital for children is readily apparent upon entering the main atrium of the building. Lights dressed up as hot air balloons fill the tall ceiling while a nearby TV shows music videos consisting of squares of kids' faces singing, followed by easy-listening country music and Asian K-pop. Children and their parents await their appointments seated in comfy plush red chairs before white blocks meant for use as tables.
Key to Levine's visit was taking part in a discussion at the hospital auditorium with three transgender youth and their families who obtain services at the clinic. During the question-and-answer period, Levine shared her experience as a transgender person who underwent transition later in life and went on to tremendous success as a high-ranking presidential appointee.
For the transgender youth, Levine's presence at the hospital — at a time when state legislatures are busy enacting bills to restrict their access to medical care and school activities — serves as a reminder that barriers based on gender identity are breaking down and the sky's the limit for their future.
After the question-and-answer session, Levine told the Blade she "learned a lot" about the Children's National Medical Center, which she called "a world-renowned children's hospital and academic medical center."
"I've known about it before," Levine added. "I'm a pediatrician, adolescent medicine specialist, but I learned more about what they're doing. And I learned specifically about their gender clinic, where they take care of transgender and gender non-conforming youth and got to meet some of the staff as well as the kids and their families."
The Youth Pride Clinic, which opened in 2015, is one of the few clinics in the nation to provide primary care and mental health services to LGBTQ youth from ages 12 to 22. Among the services offered are hormone replacement therapy, STP/STI treatment and PrEP services as well as individual and family therapy for transgender youth.
Among the transgender youth patients at the clinic who spoke to the Washington Blade was Amir, a Georgia native whose last name as a minor is being withheld for confidentiality purposes.
"I started out in fifth grade coming out as lesbian," Amir said. "I didn't even really know, but when I came out to my grandma in Georgia, where I'm from, I still didn't feel like myself. So then, later on, me and my friend researched, and next thing you know we came across the term transgender, and I was like, 'This is who I am. This is me.'"
Amir said he began taking shots as part of care regimen in January. Being able to receive care from the Youth Pride Clinic, Amir said, means a lot because he has an opportunity not available to other transgender youths, who face challenges and even hostility as they make the journey to transition. The staffers at the Youth Pride Clinic, Amir said, are "like a second family" who work hard to provide the services they offer.
Sonia Murphy, Amir's aunt who became his legal guardian, said when she began reaching out for medical help for Amir she found a two- or three-year wait list to get access to treatment, which she said makes her "saddened" such care isn't widely available.
"There's a population of kids and parents out there who need the services and just can't access it because there's not enough bandwidth, not enough manpower," Murphy said.
Amir said he's getting other avenues of support from his two cousins, one who is older at age 18 and one who is younger at age 12. "They're like sisters to me, so I call them my sisters," Amir said. Amir also identified two other male cousins as well as his uncles and his aunt.
"They're all very supportive of me," Amir said. "My auntie Tonya, for example, Pride month came up, first day, she sent me a paragraph, saying, 'I'm glad you're yourself and you're open to who you are and things like that," and that I'm not afraid to be who I am around anybody. It's just things like that. And for my birthday, I had tons of Pride shirts, and I got a rainbow shirt with the fist in the middle for Black Lives Matter, and it was a ton of different things."
Lawrence D'Angelo, director of the Youth Pride Clinic and an occupational health adolescent medicine specialist, told the Blade being able to start the facility in 2015 in and of itself was one of the key victories for the initiative, although he said the Children's National Medical Center has been providing transition-related care since 1998.
"When we started it…we thought that we were going to be running a PrEP clinic, that we were going to be providing preventive services to LGBTQ kids," D'Angelo said. "The first day, the first patient actually came in and asked for PrEP, and the other six patients that were scheduled that day all wanted transgender services. So, suddenly, it became obvious what we were going to be spending 90 percent of our time doing, which is exactly what we think we should be doing, because that's where the need is the greatest."
Despite the advantages of having access to the Youth Pride Clinic, transgender youth have clear challenges and face hostility based simply on their gender identity, especially in a year when state legislatures have in an unprecedented manner enacted legislation against them. The Youth Pride Clinic, in many ways, is an oasis of support.
Arkansas, for example, enacted a measure that would make criminal the kind of services provided at the clinic. Other states have enacted measures prohibiting "biological boys" from participating in sports, which essentially bars transgender girls from participating in sporting events.
While anti-trans measures aren't being enacted in D.C. or any nearby states, the advancement of anti-trans legislation in states has had a negative effect on transgender patients at the Youth Pride Clinic.
D'Angelo, based on conversations he's had with the patients, said they're aware of the wave of legislation, which he said has led to fear, anger and being "unable to understand what is happening and why it's happening."
Amir said watching states enact legislation against transgender youth "makes me feel some type of weight," pointing specifically to the anti-trans sports measures because he said he'd welcome the opportunity to participate in athletics.
"I'm athletic," Amir said. "I do all types of sports. I play basketball, soccer, I'm going to do boxing…With sports and stuff, I just feel like I want to be able to do everything, just as a regular cisgender person will be able to do,"
Amir, despite the enactment of anti-trans laws, has an optimistic outlook and said the enactment of state measures against transgender youth demonstrates they're now "on the radar" of the social conservative movement.
"I feel like if everybody who's a part of LGBTQ and trans together, we can stand up and we can overcome this because the thing is, there are so many people out there who don't understand what we do, and the thing is that they're noticing us, so that's a start to something big."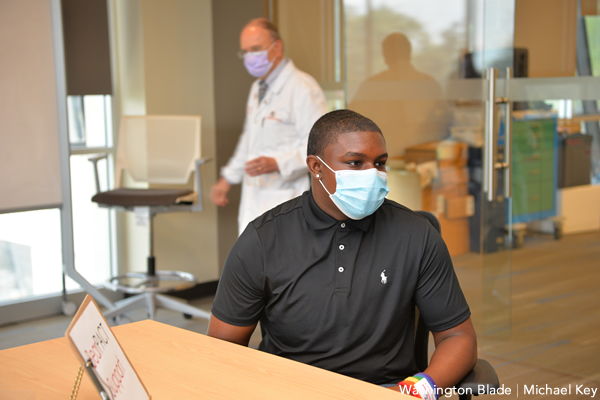 With many states hostile to transgender youth, others are looking to the federal government for support under the Biden administration. On his first day in office, Biden signed an executive order directing federal agencies to implement the U.S. Supreme Court's decision against anti-LGBTQ discrimination to the fullest extent possible.
Levine cited an announcement from HHS that resulted from this order on implementing regulations prohibiting anti-LGBTQ discrimination in medical care, reversing a policy under the Trump administration that green lighted discrimination, as one of the ways it has answered that call and helped families like the Youth Pride Clinic.
"So the Affordable Care Act says that you cannot discriminate based upon sex," Levine said. "The Department Health & Human Services and the Office of Civil Rights has interpreted sex to include sexual and gender minorities, to include sexual orientation and gender identity, which means LGBTQ individuals under that. So we need to look at all aspects of the Affordable Care Act, and to work to implement that interpretation of the statute. That was only done a month or so ago, so we're going to be working on that now."
Is there anything more the federal government can do to support the clinic? D'Angelo cited a number of key things already secured, including the hospital being able to offer insurance to patients and the affirmation from HHS against anti-LGBTQ discrimination. More research dollars and greater focus from the National Institutes of Health on gender diverse and sexual minority individuals, D'Angelo said, would also be welcome.
"There are things out there that the federal government can do, but I think…there are limitations of what they can do," D'Angelo said. "They can't, unfortunately, effect what's going on in individual states, which is, in some cases draconian. That's an awful thought if we were practicing medicine in Arkansas, we could be in jail."
Meanwhile, Levine said the Biden administration, including Secretary of Health & Human Services Xavier Becerra, is working on both internal and external policies to facilities like the Youth Pride Clinic to help them secure their place in the health system and reach transgender youth.
"The secretary and I will be doing everything we can to advocate for the LGBTQ community," Levine said. "So I think we're going to be working externally, in terms of advocacy, and then we're going to be working internally in terms of policy."
Woman dragged down stairs at Nellie's, fatal crash during Pride weekend
Most events unaffected by three unrelated incidents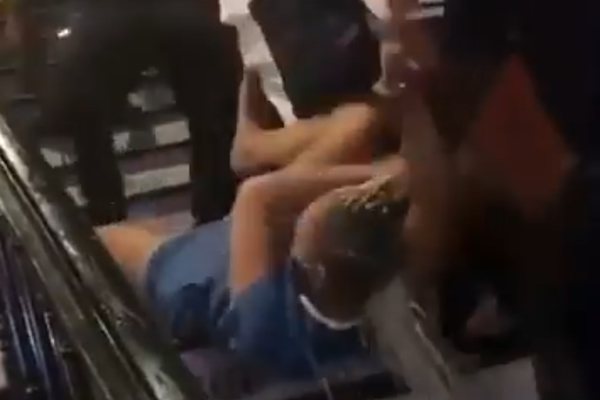 Three unrelated violent incidents that surfaced in different locations on Saturday evening, June 12, in the path of D.C.'s Pridemobile Parade have created a stir on social media following an otherwise peaceful series of events celebrating Capital Pride.
According to D.C. police, the first incident took place about 3 p.m. Saturday, minutes after the Pridemobile Parade drove past the Shaw Tavern at 520 Florida Ave., N.W., which has a large LGBTQ clientele. A police report says a male customer of the tavern reported being harassed by a young man who called him a "faggot" as he walked toward the Shaw Tavern.
Shortly after the victim entered the tavern and was seated in an outdoor area, the same young man, later identified by police as a 13-year-old juvenile, approached him and threatened him with a machete by pointing it at the victim and stating, "I'll silence you," the police report says. The report says that while making the threats the suspect appeared to be using the two-foot-long machete to stab cicadas on the ground and tossed them onto the victim as the victim was sitting at one of the tavern's outdoor tables.
One day later, on Sunday, June 13, after having released photos of the suspect obtained from a surveillance camera at the Shaw Tavern, police announced they arrested the suspect on a charge of assault with a dangerous weapon and listed the incident as a suspected anti-gay hate crime. The victim was uninjured, police said. The suspect's name was being withheld because he is a juvenile.
The second incident occurred about three blocks away at Nellie's Sports Bar, a gay bar at 900 U St., N.W., several hours later when a violent brawl captured on video broke out after a Nellie's security staff person was seen pulling a female customer by her hair down a flight of stairs inside the bar.
The video, which was taken by another customer and posted on Instagram, shows other male and female customers attacking the employee who was dragging the female customer down the stairs. The woman, who later identified herself as Keisha Young, told Channel 7 News the Nellie's security staffer mistakenly thought she was among a group of other customers that created a disturbance at the bar.
Her mother, Tammy Young, told Channel 7 News her daughter created a GoFundMe page to raise money to pay for medical bills related to injuries she suffered while being dragged down the stairs, and to hire a lawyer.
Young states on the GoFundMe page that she lost her glasses, iPhone, and shoes during the altercation and her clothes were torn.
"My body aches and I am bruised up," she stated.
The posting of the video on social media prompted D.C. members of Black Lives Matter to stage a protest outside Nellie's on Sunday night, demanding that action be taken against the bar. Nellie's, meanwhile, released a statement on Sunday saying it was investigating the incident.
"We were incredibly upset and disturbed to see the unfortunate event that took place at Nellie's last night," the statement says. "We are undergoing a full investigation of the situation," it says. "At Nellie's we foster an inclusive and safe environment, so events like this are completely unacceptable to us."
Channel 7 News reported the protesters also walked to the nearby home of Nellie's owner Douglas Schantz to continue protesting there. The Washington Blade couldn't immediately reach Schantz for comment.
The third incident took place about 3:15 a.m. Sunday morning at the intersection of 14th and P Streets, N.W., where two gay bars are located. According to D.C. police, an intoxicated driver crashed his car into a bus stop at that location and struck and killed a pedestrian. Police said the pedestrian, who was identified only as a male, was taken to a hospital with critical injuries and pronounced dead a short time later.
Police said the driver, identified as Gerald Lewis, 29, of Northeast D.C., was arrested and charged with second-degree murder, driving while intoxicated, and reckless driving.
The identity of the victim was being withheld pending notification of next of kin, police said. The incident occurred minutes after the 3 a.m. closing of the nearby gay bars.
Mark Lee, coordinator of the D.C. Nightlife Council, a trade association that represents bars, restaurants, and nightclubs, said the three incidents and a reported fourth incident of a shooting Sunday night on U Street near Nellie's, were an exception to an otherwise peaceful weekend in which business was booming at the city's nightlife establishments.
"Despite long lines at many (gay and non-gay) venues last night, and huge turnouts at nightclubs across the city, it was overall a very calm night everywhere," Lee told the Blade in a text message. "These couple of incidents would have been non-extraordinary in normal times, except for some people being more attentive to things during re-opening."
Lee was referring to the full, post-COVID lifting of all restrictions for nightlife businesses that took place on June 11.
Vice President Harris joins D.C. Pride Walk, makes history
First post-COVID Pride events include rally, Pridemobile Parade
Vice President Kamala Harris drew loud cheers and prolonged applause when she and her husband, Second Gentleman Douglas Emhoff, joined more than 1,000 LGBTQ participants in D.C.'s Capital Pride Walk on Saturday, June 12, becoming the first U.S. vice president to participate in an LGBTQ Pride event.
Harris' appearance at the Pride Walk, which some described as a march, was unannounced and came as a complete surprise to the dozens of onlookers who saw her as well as to leaders of the Capital Pride Alliance, the group that organizes D.C.'s annual Pride events.
"Oh my God, I can tell you that I screamed my head off," said Tiffany Royster, a Capital Pride official who said she saw Harris at the Pride Walk.
"The fact that she showed up for us means that we mean something to her because she wouldn't have stopped by randomly," Royster told an NBC 4 News cameraman at Thomas Circle at the conclusion of a separate event on Saturday called the Pridemobile Parade. "We didn't know she was coming."
An NBC 4 report showed Harris making brief remarks while walking along 13th Street as the Pride Walk passed the Warner Theater and as it approached Pennsylvania Avenue at Freedom Plaza.
The Channel 4 News report said Harris called for Congress to pass the LGBTQ rights bill known as the Equality Act and said the Biden administration understands the importance of LGBTQ rights.
"We need to make sure that our transgender community and our youth are all protected," she states in the Channel 4 News broadcast. "We need, still, protections around employment and housing," she told people walking beside her and her husband. "There is so much more work to do, and I know we are committed."
Harris wore a shirt with the words, "Love is Love" printed on it. Emhoff could be seen waring a T-shirt with a rainbow-colored design on it.
After walking for a block or two and speaking at the Pride Walk, Harris and Emhoff got back into the vehicle they arrived in and drove past the rally at Freedom Plaza, waving to surprised and cheering onlookers, according to gay Advisory Neighborhood Commissioner Mike Silverstein, who saw what he called Harris' motorcade drive by. Silverstein said Harris and Emhoff did not get out of the car to join the rally, and the vehicle they were in appeared to be driving toward the White House, located a few blocks from Freedom Plaza.
Among those speaking at the rally was D.C. Mayor Muriel Bowser, who received loud applause when she told the crowd that during her travels across the country and abroad, she tells people that D.C. is "the gayest city in America."
"So, Capital Pride, we have a lot to celebrate," the mayor told rally attendees, many of whom waived hand-held rainbow Pride flags. "We have a lot to work for still," she said. "We know that discrimination and violence is real. We know there's too many guns on the street. And we know when all of us are not safe, none of us are safe," she said.
"So, I know you're going to stand shoulder to shoulder with me and I'm going to be with you every step of the way," she said. "Happy Pride!'
Bowser also announced at the rally that Sheila Alexander-Reid, who has served as director of the Mayor's Office of LGBTQ Affairs since Bowser took office in January 2015, would be leaving that position soon to go on to "bigger and better things." Alexander-Reid has said she will be joining a company that provides advice and training in the area of workplace nondiscrimination based on race, gender, and LGBTQ related workplace competency training.
At the conclusion of the rally, about 50 vehicles that had been parked next to and near Freedom Plaza led by a Capital Pride bus decorated with signs and banners began the city-wide Pridemobile Parade.
The route of the parade released by Capital Pride shows it was scheduled to travel through all four quadrants of the city, including neighborhoods east of the Anacostia River. Capital Pride organizers said the parade or caravan of vehicles, all of which were decorated with Pride displays, would be passing by homes and businesses in the city's residential and commercial areas that also were decorated with Pride displays as part of its "Paint the Town Colorful" Pride event.
The Pride Walk began shortly after noon at Dupont Circle and traveled along P Street to Logan Circle, where it proceeded south on 13th Street to Freedom Plaza.
Capital Pride Alliance President Ashley Smith said a little over 1,000 people participated in the walk, which he noted Capital Pride decided to do and first announced less than two weeks before it was to take place.
Smith and Capital Pride Alliance Executive Director Ryan Bos have pointed out that the city announced it would be lifting its more than year-long restrictions on large public gatherings in May, which didn't give them enough time to pull together a large parade and street festival that have been part of D.C.'s Pride celebrations in the years prior to the COVID pandemic.
"Today has been truly phenomenal," Smith told the Blade. "The turnout has been amazing. The total number of people that have come to support this and the efforts that we're trying to do, it's just been amazing," he said.
"The community has truly been supportive of all the great work that the team, the staff, the volunteers and board members have been part of," said Smith.
Bos said people had gathered in the various neighborhoods in the city where the Pridemobile Parade passed in advance of the parade's arrival and cheered and waived as the vehicles drove by.
"There were kids with their parents and their families just sitting on the sidewalks waiting for the Pridemobile to come by," Bos said. "It was pretty cool."
About 100 people were standing or sitting in Thomas Circle, the final destination of the Pridemobile Parade, as it arrived there to loud cheers. The vehicles drove around the circle several times while honking their horns before the parade disbanded.
A smaller crowd waving Pride flags had also gathered on the steps of National City Christian Church, which faces Thomas Circle. Large rainbow-colored banners were hanging from the front of the church, showing its support for the Pride events.
Speakers at the Freedom Plaza rally, in addition to Mayor Bowser, included Smith of Capital Pride; Alexander-Reid; Ben De Guzman, director of the Mayor's Office of Asian and Pacific Islander Affairs; gay Latino activist Jose Gutierrez, who reflected on the fifth anniversary of the Pulse nightclub shooting in Orlando, Fla., on June 12, 2016 in which 49 mostly LGBTQ people were killed and 53 wounded; transgender activist Monica Nemeth, who reflected on transgender lives lost to violence in the U.S.; Nancy Canas, president of Latinx Pride; Rehana Mohammed, chair of the board of the D.C. Center for the LGBTQ Community; and June Crenshaw, executive director of the Wanda Alston Foundation, which provides housing for homeless LGBTQ youth.
Pride celebrations were scheduled to continue on Sunday, June 13, with about a dozen D.C. area restaurants participating in Capital Pride's Taste of Pride Brunches, which would be raising money for local LGBQ organizations, according to an announcement on the Capital Pride website. The names and locations of the restaurants can be accessed at capitalpride.org.