Calendar: April 11-17
Center groups, parties, exhibits and more for the week ahead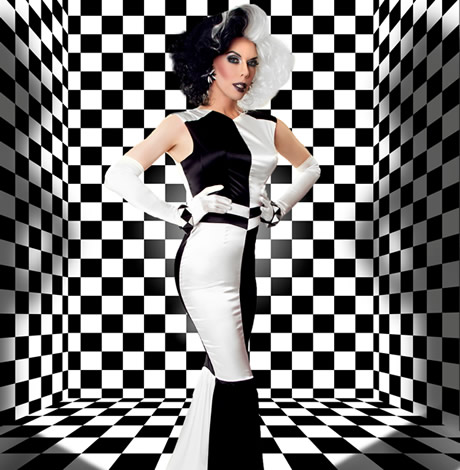 Calendar for the week ahead in LGBT D.C. events:
Friday, April 11
Rock and Roll Hotel (1353 H St., N.E.) hosts "Bear Happy Hour" tonight from 6-10 p.m. There will be $4 rail drinks, $3 draft pints, $7 draft PBR pitchers and more. For more details, visit rockandrollhoteldc.com.
Siren hosts its fourth annual "Robyn Riot" at Green Lantern (1335 Green Ct., N.W.) tonight from 10 p.m.-3 a.m. There will be an open vodka bar from 10-11 p.m. Music will be mostly Robyn with a few other artists mixed in. DJ Majr, DJ Delia Volla and DJ Sam Blodgett will spin tracks with a performance by Pussy Noir. For more details, visit greenlanterndc.com.
Women in Their 20s, a social discussion group for lesbian, bisexual, transgender and all women interested in women, meets today at the D.C. Center (2000 14th St., N.W.) from 8-9:30 p.m. All welcome to join. For details, visit thedccenter.org.
Number Nine (1435 P St., N.W.) hosts a happy hour today from 5-9 p.m. All drinks are half price. Admission is free. For more information, visit numberninedc.com.
Saturday, April 12
Washington Humane Society hosts "Fashion for Paws Eighth Annual Runway Show" at the Omni Shoreham Hotel (2500 Calvert St., N.W.) tonight from 8 p.m.-midnight. Cocktail attire is required. Dinner begins at 8 p.m. and the runway show starts at 9:15 p.m. Tickets start at $100.
Kelly Mantel from "RuPaul's Drag Race" season six comes to Town (2009 8th St., N.W.) tonight. Doors open at 10 p.m. Cover is $8 from 10-11 p.m. and $12 after 11 p.m. Drinks are $3 before 11 p.m. The drag show starts at 10 p.m.
"Pink and Drink," a Dupont Circle bar crawl, returns today from 1-9 p.m. There will be music, raffles and prizes. Drink specials include $4 pink 52 shots, $3 Finlandia Vodka drinks, $3 Southern Comfort and more. Wear pink to help raise breast cancer awareness. Participating bars include The Front Page (1333 New Hampshire Ave., N.W.), Rumors (1900 M St., N.W.) and many more. Admission is limited to guests 21 and over. Tickets are $15. For more information and to purchase tickets, visit pinkanddrink.com.
Countdown to Yuri's Night, a commemoration of Russian Cosmonaut Yuri Gagarin's historic first manned space flight, is tonight at 8 p.m. at Anacostia Arts Center (1231 Good Hope Road, S.E.). Tickets are $25 in advance and $30 at the door. Shuttle service will be provided to the Eastern Market and Anacostia Metro stations free. Visit c2yn.com for details.
Sunday, April 13
Special Agent Galactica performs with guitarist Peter Fields at Shaw's Tavern (520 Florida Ave., N.W.) tonight at 7:30 p.m. Galactica mixes music with anecdotes about her life and people she has met as a cadet. There is no cover charge. For more details, visit shawstavern.com.
Chick Chat, a lesbian 50-and-over singles group, tours the Cylbum Arboretum (4915 Greenspring Ave., Baltimore) today from 2-3 p.m. To RSVP, email [email protected]. For more information, visit thedccenter.org.
Perry's (1811 Columbia Rd., N.W.) hosts its weekly "Sunday Drag Brunch" today from 10 a.m.-3 p.m. The cost is $24.95 for an all-you-can-eat buffet. For more details, visit perrysadamsmorgan.com.
Nellie's Sports Bar (900 U St., N.W.) hosts a drag brunch today with two shows at 10:30 a.m. and 12:30 p.m. For more information, visit nelliessportsbar.com.
Monday, April 14
The D.C. Center (2000 14th St., N.W.) hosts coffee drop-in hours this morning from 10 a.m.-noon for the senior LGBT community. Older LGBT adults can come and enjoy complimentary coffee and conversation with other community members. For more information, visit thedccenter.org.
Us Helping Us  (3636 Georgia Ave., N.W.) holds a support group for gay black men to discuss topics that affect them today, share perspectives and have meaningful conversations. For details, visit uhupil.org.
Nellie's Sports Bar (900 U St., N.W.) hosts poker night tonight at 8 p.m. Win prizes. Free to play. For more information, visit nelliessportsbar.com.
Tuesday, April 15
Green Lantern (1335 Green Ct., N.W.) hosts its weekly "FUK!T Packing Party" from 7-9 p.m. tonight. For more details, visit thedccenter.org or greenlanterndc.com.
The D.C. Center (2000 14th St., N.W.) hosts a MENA discussion forum today at 6:30 p.m. The panel discussion topic is LGBT issues in the Middle East and North Africa region (MENA). For more information, visit thedccenter.org.
Wednesday, April 16

The Tom Davoren Social Bridge Club meets tonight at 7:30 p.m. at the Dignity Center (721 8th St., S.E.) for social bridge. No partner needed. For more information, call 301-345-1571.
The D.C. Center hosts "Woman to Woman," a support group for HIV-positive women who love women, today at the Women's Collective (1331 Rhode Island Ave., N.E.) from 5:30-7 p.m. Light refreshments will be served. For more details, visit thedccenter.org.
SMYAL (410 7th St., S.E.) hosts free and confidential HIV testing today from 3-5 p.m. For more information, visit smyal.org.
Bookmen D.C., an informal men's gay literature group, discusses two novellas by Allan Gurganus, "Preservation News" and "He's One, Too" at 7:30 p.m. tonight at AFSA headquarters (2101 E St., N.W.). All welcome. Visit bookmendc.blogspot.com for details.
Thursday, April 17
Whitman-Walker Health presents "Be the Care," its annual spring affair, at National Museum of Women in the Arts (1250 New York Ave., N.W.) tonight at 6:30 p.m. Jeffrey Crowley, program director of the National HIV/AIDS Initiative at the O'Neill Institute for National and Global Health Law, will be presented with the "Partner for Life" award. There will be a cocktail reception. NBC 4 news anchor Pat Lawson Muse will emcee the event. Tickets start at $75. For more details, visit whitman-walker.org.
The D.C. Center (2000 14th St., N.W.) hosts its monthly Poly Discussion Group at 7 p.m. People of all different stages are invited to discuss polyamory and other consensual non-monogamous relationships. This event is for newcomers, people in established polyamorous relationships and open to folks of all sexual orientations. For details, visit thedccenter.org.
The D.C. Center and Professionals in the City host speed dating for women in their 20s and 30s at Finn and Porter located inside the Embassy Suites Hotel (900 10th St., N.W.) tonight from 7-9 p.m. Dating is approximately one hour. After enjoy a mixer with fellow speed daters. Cash bar. Check in is at 7 p.m. and dating begins at 7:20 p.m.  Complimentary valet parking offered to anyone who purchases two drinks or other items from the bar or restaurant. Cost is $30. For details, visit thedccenter.org.
Blade's summer closing party set for Sept. 17 in Rehoboth
Benefits journalism scholarship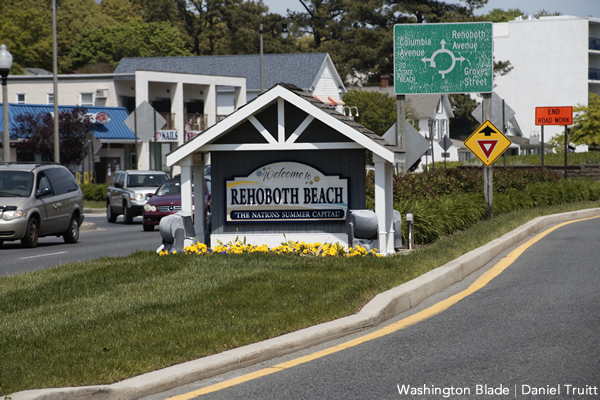 The Washington Blade's 15-year tradition of hosting a summer kickoff party in Rehoboth Beach was disrupted due to COVID restrictions. In lieu of that May event, the Blade is hosting a summer closing party on Friday, Sept. 17 at 6 p.m. at The Pines (56 Baltimore Ave., Rehoboth Beach, Del.).
Tickets are $20, which includes two drinks and appetizers. The event benefits the Blade Foundation's Steve Elkins Memorial Journalism Fellowship, a 12-week program in which an LGBTQ student journalist covers stories of interest to Delaware's queer community each summer.
All COVID safety protocols will be followed, including a requirement that attendees furnish proof of vaccination to gain entry.
If you are unable to attend you can make a donation to the Blade Foundation at BladeFoundation.org. Sponsors of the event include Delmarva Power and The Pines.
Rehoboth to close out summer with SunFest
Series of events to replace long-running Sundance due to pandemic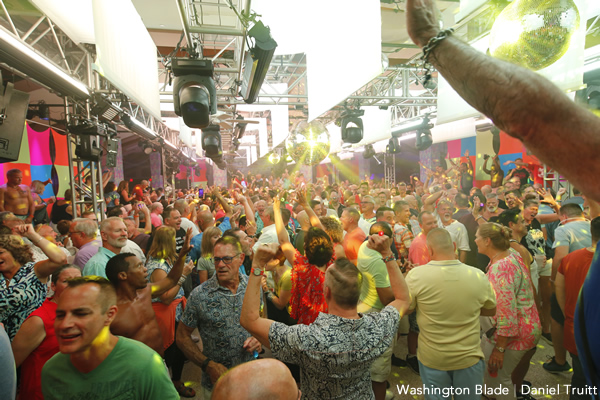 SunFest will feature a week of live performances, dances, and a live auction, sponsored by non-profit LGBTQ+ center CAMP Rehoboth.
The weeklong festival runs from Aug. 29 to Sept. 5 and is a change from the annual SunDance that CAMP Rehoboth has sponsored since 1988. This transformation began last year when the event was forced to go digital due to the coronavirus and the in-person events scheduled this year are important, according to development director and co-coordinator of SunFest Anita Broccolino.
"We love that community feel and the in-person makes all the difference in the world for us. Not being able to do it last year just reminded everyone how important we all are to one another," Broccolino said. "I think that bringing back these events this year is just huge for us and it will be extra celebratory as a result."
The festival begins with a 5k race and online auction opening on Sunday. Monday night features a give-back event at Iron Hill Brewery while Tuesday's agenda is still to be determined, said Broccolino. Diego's will host a Studio 54 give-back dance party on Wednesday and Thursday is the Port 251 women's give-back.
Live performances featuring the Skivvies, Randy Harrison and Diane Huey are scheduled for Friday night and Jennifer Holiday will follow with a performance on Saturday night, both at the Rehoboth Beach Convention Center. The festival closes out Sunday with auction pick-ups and Fun in the Sand and Sun, according to the CAMP Rehoboth website.
This event is also important to the organization's contributions to the community, said Broccolino.
"The essential services we provide for free to the community, which is a huge amount of health and wellness activities, as well as arts programming, a lot of youth programming and the community counts on us for those things. We never stopped during COVID, we made as much as we could virtual, but we took quite a hit not being able to raise those funds and awareness of the programs," Broccolino said. "We invite the entire community to come celebrate with us and make it to Rehoboth Beach, and let's make it joyful, and wonderful and make sure we're living up to the standards of all the people who helped found CAMP Rehoboth and live up to their legacy and beyond."
Rehoboth Beach welcomes Christopher Peterson back
Drag legend to perform weekly beginning July 4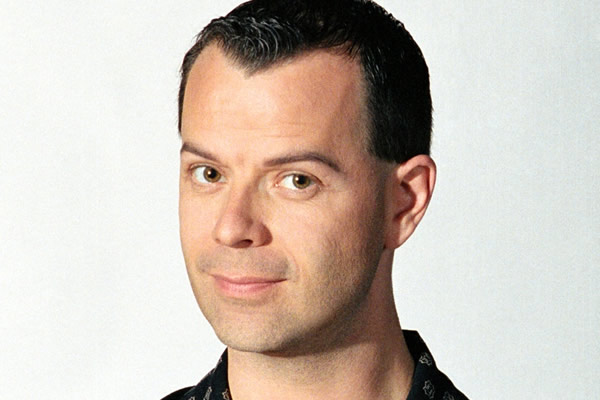 Christopher Peterson will celebrate 25 years of performing his brilliant show EYECONS when he brings it back to Rehoboth Beach this summer. He will be at Clear Space Theatre every Saturday at 10 p.m. and Sunday at 9 p.m. from July 4 to Sept. 5.
I have seen the show a number of times over the years from when he performed at the Renegade showroom (youngsters may not remember the Renegade out on the highway) to now at the Clear Space Theatre, so I am biased in saying it is always worth the price of a ticket. In fact it is worth a lot more because Christopher is an amazing talent. In addition to his own show he can be seen in "Priscilla, Queen of the Desert" at Clear Space.
I recently had the opportunity to chat with Christopher. He has lived in Key West, Fla., for years and performs there during the winter and when he isn't booked around the country. Christopher told me he was born Moncton, New Brunswick but grew up in Halifax (actually Dartmouth across the harbor) Nova Scotia, Canada 58 years ago.
We talked about gay life today and I asked him when he came out and he responded: "in the womb." He told me he always knew who he was even before he knew you could call it gay. He told me he was lucky and grew up in a family that always accepted him for who he was. I asked him if he was excited about coming back to Rehoboth and he told me he sometimes thought of this as his final 'widow tour' as it is his first time back at the beach since he lost the love of his life, James Mill, in September of 2019. They were together for 35 years and James was not only his partner in life but in business. Many in Rehoboth knew James and will miss seeing him at Christopher's side. He was a beautiful man.
Christopher has been called North America's greatest female impersonator and though I haven't seen all of them, I have seen enough to thoroughly concur with that. He not only impersonate the characters, he seems to become them. He never lip-syncs but sings their songs and talks in their voice. Christopher once said his only vocal training was in high school and in church choirs but you would never know that when listening to him sing. Christopher also designs all of his own costumes and they are incredible. It's amazing how quickly he can change from Marilyn Monroe and become Cher with just a new gown and new wig that he has stashed in the closet at the side of the stage. The transformation is mesmerizing.
Over the years he has impersonated so many iconic women, including Marilyn Monroe, Carol Channing, Madonna, Joan Rivers, Reba McEntire, Bette Midler, Tina Turner, Julie Andrews, Barbra Streisand, Liza Minnelli, Judy Garland, Eartha Kitt, Cher, Bette Davis, and Lucille Ball. He will add a new character once in a while if he feels comfortable having tried them out — one being Lady Gaga.
I asked him if he has a favorite character and he said, "That's like asking me if I have a favorite child. These are all my children and they each represent something special to me." He said, "as an example Streisand is the voice and Garland is the heart." I remember he was once quoted as saying Judy Garland is his favorite to do and since he told me she represents the heart it didn't surprise me as Christopher has a big heart. He often saves her for the end of the show and when you see her you leave wanting more.
I asked Christopher about the weirdest thing that ever happened during his show. He told me the story about an evening during the show, when he talks with an audience member, he leaned over the stage and began to chat with a table on the right of the stage and asked an older gentleman, Christopher called him Mary, how he liked the show. After saying he loved it the next thing Christopher saw was Mary keeling over. Turns out he had a heart attack. Christopher said he told the audience there would be a pause in the show and asked if there was a doctor in the house. One came forward and attended to the man and called 911. The gentleman seemed to recover and after they took him out on a stretcher the show went on. Christopher said this has happened more than once at his shows. Maybe it's the excitement.
I asked him if any of the women he impersonates have been to see the show and was surprised when he said no. I would think any of those still alive would be honored to see how Christopher does them and shows them off so well.
This will be an exciting summer in Rehoboth and Christopher is prepared for visitors to come to the show and still follow any restrictions in effect for the pandemic. The theater has said it will continue to abide by all COVID restrictions in order to ensure the safety of both the actors and the audience. Clear Space Theatre has been doing this all winter and doing it safely.
I urge anyone who has never seen Christopher Peterson to get your tickets early as anyone who has seen him will be buying tickets to his shows and you don't want to miss this chance to have a great fun evening in the theater.