Calendar: April 11-17
Center groups, parties, exhibits and more for the week ahead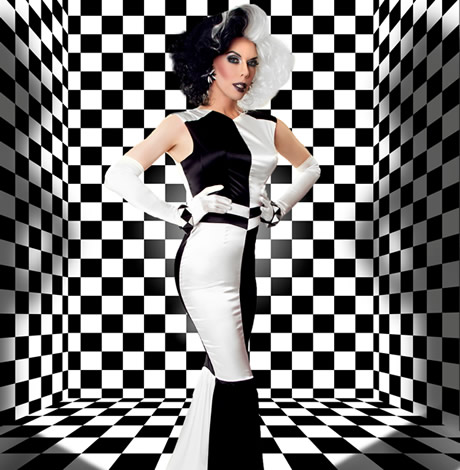 Calendar for the week ahead in LGBT D.C. events:
Friday, April 11
Rock and Roll Hotel (1353 H St., N.E.) hosts "Bear Happy Hour" tonight from 6-10 p.m. There will be $4 rail drinks, $3 draft pints, $7 draft PBR pitchers and more. For more details, visit rockandrollhoteldc.com.
Siren hosts its fourth annual "Robyn Riot" at Green Lantern (1335 Green Ct., N.W.) tonight from 10 p.m.-3 a.m. There will be an open vodka bar from 10-11 p.m. Music will be mostly Robyn with a few other artists mixed in. DJ Majr, DJ Delia Volla and DJ Sam Blodgett will spin tracks with a performance by Pussy Noir. For more details, visit greenlanterndc.com.
Women in Their 20s, a social discussion group for lesbian, bisexual, transgender and all women interested in women, meets today at the D.C. Center (2000 14th St., N.W.) from 8-9:30 p.m. All welcome to join. For details, visit thedccenter.org.
Number Nine (1435 P St., N.W.) hosts a happy hour today from 5-9 p.m. All drinks are half price. Admission is free. For more information, visit numberninedc.com.
Saturday, April 12
Washington Humane Society hosts "Fashion for Paws Eighth Annual Runway Show" at the Omni Shoreham Hotel (2500 Calvert St., N.W.) tonight from 8 p.m.-midnight. Cocktail attire is required. Dinner begins at 8 p.m. and the runway show starts at 9:15 p.m. Tickets start at $100.
Kelly Mantel from "RuPaul's Drag Race" season six comes to Town (2009 8th St., N.W.) tonight. Doors open at 10 p.m. Cover is $8 from 10-11 p.m. and $12 after 11 p.m. Drinks are $3 before 11 p.m. The drag show starts at 10 p.m.
"Pink and Drink," a Dupont Circle bar crawl, returns today from 1-9 p.m. There will be music, raffles and prizes. Drink specials include $4 pink 52 shots, $3 Finlandia Vodka drinks, $3 Southern Comfort and more. Wear pink to help raise breast cancer awareness. Participating bars include The Front Page (1333 New Hampshire Ave., N.W.), Rumors (1900 M St., N.W.) and many more. Admission is limited to guests 21 and over. Tickets are $15. For more information and to purchase tickets, visit pinkanddrink.com.
Countdown to Yuri's Night, a commemoration of Russian Cosmonaut Yuri Gagarin's historic first manned space flight, is tonight at 8 p.m. at Anacostia Arts Center (1231 Good Hope Road, S.E.). Tickets are $25 in advance and $30 at the door. Shuttle service will be provided to the Eastern Market and Anacostia Metro stations free. Visit c2yn.com for details.
Sunday, April 13
Special Agent Galactica performs with guitarist Peter Fields at Shaw's Tavern (520 Florida Ave., N.W.) tonight at 7:30 p.m. Galactica mixes music with anecdotes about her life and people she has met as a cadet. There is no cover charge. For more details, visit shawstavern.com.
Chick Chat, a lesbian 50-and-over singles group, tours the Cylbum Arboretum (4915 Greenspring Ave., Baltimore) today from 2-3 p.m. To RSVP, email [email protected]. For more information, visit thedccenter.org.
Perry's (1811 Columbia Rd., N.W.) hosts its weekly "Sunday Drag Brunch" today from 10 a.m.-3 p.m. The cost is $24.95 for an all-you-can-eat buffet. For more details, visit perrysadamsmorgan.com.
Nellie's Sports Bar (900 U St., N.W.) hosts a drag brunch today with two shows at 10:30 a.m. and 12:30 p.m. For more information, visit nelliessportsbar.com.
Monday, April 14
The D.C. Center (2000 14th St., N.W.) hosts coffee drop-in hours this morning from 10 a.m.-noon for the senior LGBT community. Older LGBT adults can come and enjoy complimentary coffee and conversation with other community members. For more information, visit thedccenter.org.
Us Helping Us  (3636 Georgia Ave., N.W.) holds a support group for gay black men to discuss topics that affect them today, share perspectives and have meaningful conversations. For details, visit uhupil.org.
Nellie's Sports Bar (900 U St., N.W.) hosts poker night tonight at 8 p.m. Win prizes. Free to play. For more information, visit nelliessportsbar.com.
Tuesday, April 15
Green Lantern (1335 Green Ct., N.W.) hosts its weekly "FUK!T Packing Party" from 7-9 p.m. tonight. For more details, visit thedccenter.org or greenlanterndc.com.
The D.C. Center (2000 14th St., N.W.) hosts a MENA discussion forum today at 6:30 p.m. The panel discussion topic is LGBT issues in the Middle East and North Africa region (MENA). For more information, visit thedccenter.org.
Wednesday, April 16

The Tom Davoren Social Bridge Club meets tonight at 7:30 p.m. at the Dignity Center (721 8th St., S.E.) for social bridge. No partner needed. For more information, call 301-345-1571.
The D.C. Center hosts "Woman to Woman," a support group for HIV-positive women who love women, today at the Women's Collective (1331 Rhode Island Ave., N.E.) from 5:30-7 p.m. Light refreshments will be served. For more details, visit thedccenter.org.
SMYAL (410 7th St., S.E.) hosts free and confidential HIV testing today from 3-5 p.m. For more information, visit smyal.org.
Bookmen D.C., an informal men's gay literature group, discusses two novellas by Allan Gurganus, "Preservation News" and "He's One, Too" at 7:30 p.m. tonight at AFSA headquarters (2101 E St., N.W.). All welcome. Visit bookmendc.blogspot.com for details.
Thursday, April 17
Whitman-Walker Health presents "Be the Care," its annual spring affair, at National Museum of Women in the Arts (1250 New York Ave., N.W.) tonight at 6:30 p.m. Jeffrey Crowley, program director of the National HIV/AIDS Initiative at the O'Neill Institute for National and Global Health Law, will be presented with the "Partner for Life" award. There will be a cocktail reception. NBC 4 news anchor Pat Lawson Muse will emcee the event. Tickets start at $75. For more details, visit whitman-walker.org.
The D.C. Center (2000 14th St., N.W.) hosts its monthly Poly Discussion Group at 7 p.m. People of all different stages are invited to discuss polyamory and other consensual non-monogamous relationships. This event is for newcomers, people in established polyamorous relationships and open to folks of all sexual orientations. For details, visit thedccenter.org.
The D.C. Center and Professionals in the City host speed dating for women in their 20s and 30s at Finn and Porter located inside the Embassy Suites Hotel (900 10th St., N.W.) tonight from 7-9 p.m. Dating is approximately one hour. After enjoy a mixer with fellow speed daters. Cash bar. Check in is at 7 p.m. and dating begins at 7:20 p.m.  Complimentary valet parking offered to anyone who purchases two drinks or other items from the bar or restaurant. Cost is $30. For details, visit thedccenter.org.
KINETIC: Pride DC launches with 3 major events
Weekend kicks off Friday with UNCUT XL at BLISS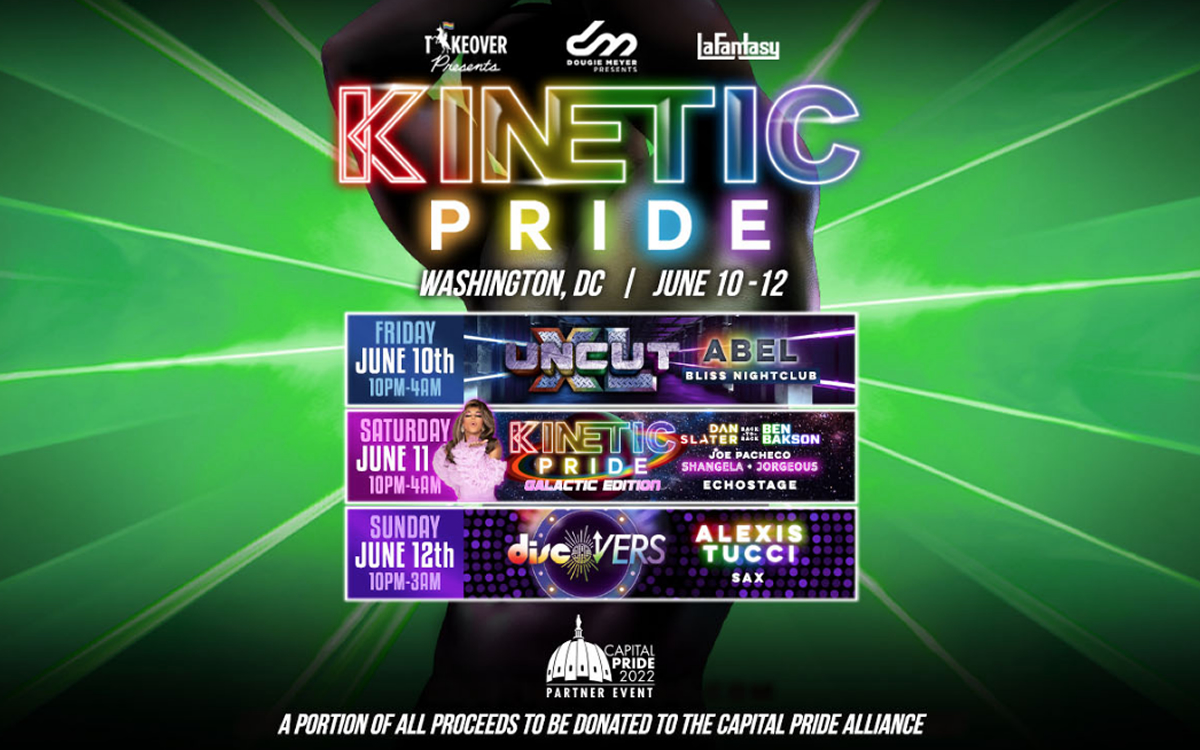 KINETIC: Pride DC will partner with Capital Pride Alliance to celebrate Pride month with three official events that will feature leading gay DJs: Abel, Ben Bakson, Joe Pacheco, Dan Slater and Alexis Tucci.
The weekend kicks off Friday, June 10 at 10 p.m. with UNCUT XL at BLISS Nightclub. Grammy-nominated DJ Abel will headline the city's "most risqué circuit event of the year" at BLISS nightclub.
"Uncut is returning to DC Pride for the first time in four years so there will be lots of sweating, dancing, and men bumping and sliding into one another on the main floor as well as in the play zone," said producer Jesus Quispe in a press release late May.
KINETIC: Pride Galactic Edition will be on Saturday, June 11 at 10 p.m. at Echostage. DJs Dan Slater and Ben Bakson will perform back-to-back sets. DJ Joe Pacheco will open the night.
The series of events will wrap up on Sunday June 12 with DC Pride's official closing party, "discoVERS" at 10 p.m. at SAX in Downtown D.C. Disco-diva Alexis Tucci will spin an open-to-close set with Disco, Nu-Disco, and Disco House music all night long. Special performances throughout the night will be integrated into her high-energy disco set as well.
To purchase tickets, visit KINETIC: Pride DC.
Beyonce vs. Rihanna dance party
Music provided by DJ Just Different at Union Stage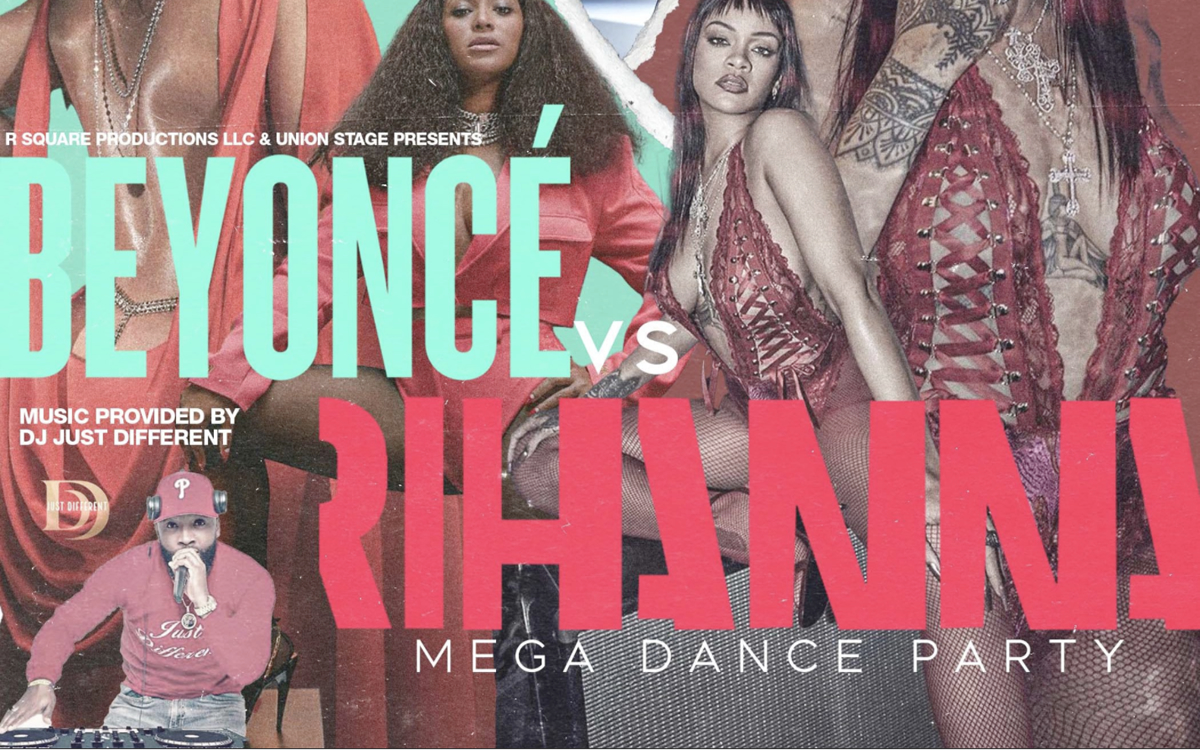 R² Productions LLC and Union Stage are teaming up to host R² Productions' inaugural "MEGA Dance Party" on Thursday, Feb. 24 at 7 p.m. at Union Stage at The Wharf.
The event will be a night full of dancing to music by pop stars Beyonce and Rihanna. DJ Just Different will be performing at the event.
General Admission tickets cost $25 and Premier Plus tickets cost $35. For more information about ticket purchases, visit Union Stage's website.
Kiki quickly becomes popular LGBTQ destination
New bar on U Street plans summer expansion, patio space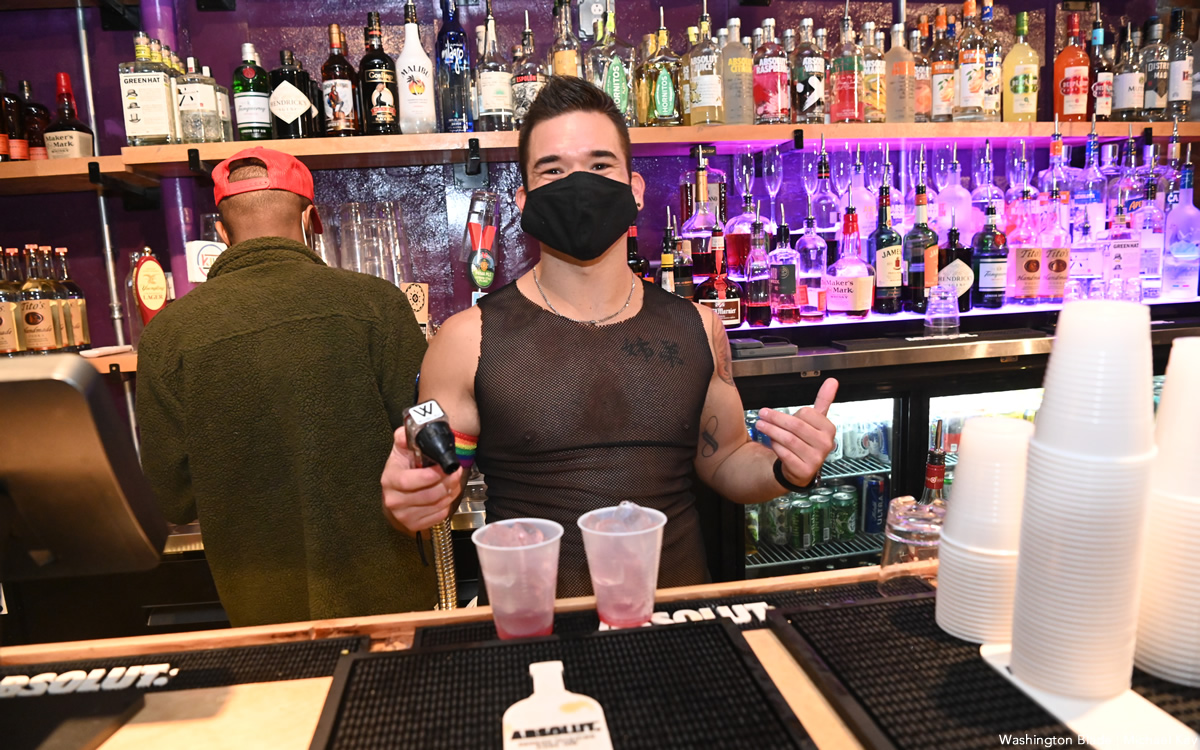 After a New Year's Eve soft opening, Kiki has become one of the most popular LGBTQ destinations in Washington, D.C.
The two-floor bar takes over the space vacated by Velvet Lounge and Dodge City on the 900 block of U Street. Both closed during the pandemic. The locale is directly adjacent to another gay bar, Dirty Goose.
Owner and gay man Keaton Fedak, a general manager at Dirty Goose, noticed that these two next-door bars had gone dark during the pandemic, and met with the owners of the two buildings, who are cousins. Plans quickly developed to use both buildings to craft an expansive, interconnected, inclusive space to transform the city's gay bar landscape.
Fedak called the bar "Kiki" both after himself (it's a nickname) and for its connection with the LGBTQ community. "The word wasn't invented by the Scissor Sisters song," he explains. "It's been an important concept in the community for decades."
The first half of Fedak's vision has already opened. The ground floor of the 915 U St. building is open-plan space with bar stools and a color-block wall of rainbow panels. A bar sits in the back up a short flight of stairs. This level will feature music, but quieter than the second-floor space. There, a DJ booth presides over a large dance floor. Disco lights flood this space; there is a bar on this level as well. The elevated dance floor is set to hold drag shows.
In the spring, a small patio will open, strung with fairy lights. It will have a "backyard aesthetic," he says, to be green, bright, and relaxing. "It's a good place to chill on a nice day outside." It may even be reminiscent of Town Danceboutique's popular patio.
The second half, at 917 U St., is still waiting for permits, and Fedak hopes to open this section in the summer.
It will connect to the current space via the outdoor patio. This section will have more of a sports bar feel, given Fedak's connection to D.C.'s Gay Flag Football League (he is a former board member). The bar will welcome Stonewall Sports and other LGBTQ sports teams, and will be replete with plenty of mounted TVs to show various games.
After the closing of Cobalt and Town, Fedak wanted to ensure that Kiki was "an inclusive space, so that there's vibes for everyone," he says. "It should be a place where regulars would just show up and hang out." He made sure that he recruited staff from different professional and personal backgrounds.
Fedak began working in food and hospitality at age 17 in his hometown in Pennsylvania. After moving to the D.C. area for work, he continued to moonlight as a bartender. Fedak joined Dirty Goose as general manager in 2019 before starting his Kiki journey.
To stock the bar, Fedak has plenty of spirits to go around. There is a focus on the vodka offerings, but he ensures that local distilleries take center stage: He carries District Made Vodka and Rye Whiskey, as well as Green Hat Gin. The beer game is also a winning strategy: there are more than 25 bottles and cans available, with three beers on tap. Local options are first-string, including selections from DC Brau, Right Proper, and Anxo Cider. Finally, the bar comes complete with a house margarita on tap (" it's a homemade recipe," notes Fedak, using agave nectar syrup instead of sugar). The 16-ounce marg is always on special for $10.
While Kiki doesn't serve food, Fedak is exploring options for a small truck or stand in the backyard.
Moving forward, Kiki will host weekly events. The bar already hosts drag shows during "RuPaul's Drag Race" viewing parties. Fedak plans to begin a "Cobalt-style underwear contest" as well. Once COVID cases decline, he also wants to resurrect the Sunday funday parties that Cobalt would host with sports teams.
Fedak's mantra for Kiki is evident in the mural that will take up the backyard patio – a quote from "Schitt's Creek": "I like the wine and not the label."