July 23, 2014 at 11:50 am EDT | by Chris Johnson
Takano introduces Social Security fix for gay couples
A gay California Democrat introduced in the U.S. House on Wednesday legislation that would ensure married gay couples would be able to receive Social Security benefits wherever they live in the United States.
Rep. Mark Takano (D-Calif) introduced the Social Security & Medicare Parity Act in the aftermath of a determination from the Obama administration that the current statutory scheme precludes the full flow of these benefits to same-sex couples across the country.
Last month, the U.S. Justice Department announced it can't offer Social Security survivor and retirement benefits in most situations to married same-sex couples in non-marriage equality states, despite the U.S. Supreme Court ruling last year against the Defense of Marriage Act.
"One year has passed since the Supreme Court struck down Section 3 of the Defense of Marriage Act," Takano said. "However, the Department of Justice's interpretation of existing law means that some same-sex couples who live in discriminatory states could be denied Social Security or Medicare benefits. The Social Security and Medicare Parity Act of 2014 closes that loophole and guarantees that all married couples, regardless of their sexual orientation, receive the Social Security and Medicare spouse and survivor benefits they have earned."
According to a news statement from Takano's office, the Social Security & Medicare Parity Act also requires couples to be married for nine months before they can qualify for Social Security benefits, or twelve months for a retired spouse to receive benefits. But in the three states with domestic partnerships — Colorado, Wisconsin and Nevada — the bill would allow same-sex couples to use a combination of marriage time and time in a domestic partnership to qualify for benefits.
Additionally, the bill require the Social Security Administration to notify Americans of the new policies and conduct a comprehensive outreach campaign to encourage same-sex couples to apply for the benefits they are owed.
Original co-sponsors of the legislation include Rep. Xavier Becerra (D-Calif.), Rep. David Cicilline (D-R.I.), Rep. Brian Higgins (D-N.Y.), Rep. Barbara Lee (D-Calif.), Rep. Adam Schiff (D-Calif.), and Rep. Jim McDermott (D-Wash.).
A similar bill along these lines is known as the Social Security & Marriage Equality Act. It has already been introduced by Sen. Patty Murray (D-Wash) and Mark Udall (D-Colo.) in the Senate and Rep. Ron Kind (D-Wis.) in the House.
Chris Johnson is Chief Political & White House Reporter for the Washington Blade. Johnson is a member of the White House Correspondents' Association. Follow Chris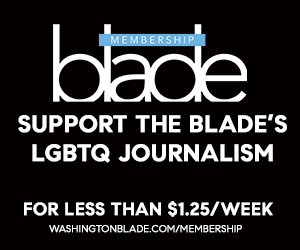 Sign Up for Blade eBlasts