October 20, 2014 at 2:17 pm EDT | by Michael Key
Images from the Deep South
Blade reporter Michael K. Lavers and I earlier this year pitched the idea of going to Alabama, Louisiana and Mississippi to see what LGBT life is like in the South. Living in D.C., we wanted to see for ourselves just how different the experience was for our brothers and sisters who make their homes in places not known for LGBT inclusiveness. Our editor sent us out to gather stories and pictures. We had absolutely no idea what was in store for us.
The Dandelion Project
Our first stop after landing at Medgar Evers International Airport in Jackson, the Mississippi state capital, was in Laurel, Miss. where we met with Dandelion Project founder Rev. Brandiilyne Dear. She told us about her life: how she had been addicted to meth, but then found a calling to the pulpit and got sober. She founded a ministry to help the many addicts who live in the Mississippi Pine Belt. Despite all that she had done through the years for her church, when it was found out that she was a lesbian, everyone — even her own family — turned against her and she "lost everything."
Dear found her calling elsewhere with the Dandelion Project, a social support group and activist organization for LGBT people in Mississippi. She explained that dandelions are seen as weeds; something to be destroyed, yet are beautiful, ubiquitous and "a good thing."
We spoke with members of the Dandelion Project, including several gender non-conforming youth who were eager to share their stories of social isolation and the violence and hatred they face.
Despite the daily discrimination they all said they experience, most members of the Dandelion project were proud to continue the fight for equality in their home state. One young person, however, who had just been through a harrowing run for her life from a group intent on doing her harm wished for Mississippi to "fall into the Gulf" of Mexico.
Mississippi Delta
Our next stop was in the verdant but poverty-stricken Mississippi Delta. After passing small farming towns and long stretches of countryside, we arrived at the "Gateway to the Delta," Yazoo City, where we had an appointment with the newly elected Mayor Diane Delaware. A cosmopolitan woman who had worked "all around the world," Delaware told us that she had "no problem" with same-sex marriage.
Yazoo City, and indeed the entire Mississippi Delta, seemed to have much bigger things to worry about than marriage equality. Abject poverty was compounded with joblessness to make for a grim future for many residents. A tornado had passed through Yazoo City four years before, leaving vast swaths of the city in ruins. The city didn't have money or private investment to repair its downtown.
We drove deep into the Mississippi Delta to Greenville on the the Mississippi River. There, we met with an out school teacher, Ryvell Fitzpatrick.
The reluctant pioneer described his life to us as someone who has managed to thrive, despite the difficulties.
We Don't Discriminate Campaign
Back in Laurel, Dear pointed out the "We Don't Discriminate" signs on select local businesses. The signs had been placed in store windows following the passage of SB-2681 — the Mississippi Religious Freedom Restoration Act, or so-called "Turn Away the Gays Bill."
We went to Jackson to track down the organizers of the We Don't Discriminate Campaign.
We spoke with the founder: a self-described "straight, married, Republican, Christian" entrepreneur named Mitchell Moore who was disgusted that his bakery, the only wedding cake bakery within the Jackson city limits, would be used as a rallying cry for homophobes in the state Senate to justify the anti-gay bill. Following the interview, Moore gave us a large box of confections.
My reporter traveling companion got a beard trim as he interviewed salon and barbershop owner Eddie Outlaw. Outlaw and his husband Justin McPherson, the subjects of the documentary, "A Mississippi Love Story," told us about their involvement in the campaign.
We met with a group of LGBT rights advocates who spent their evening drinking beer, eating hors d'oeuvres and stuffing envelopes with "We Don't Discriminate" stickers.
They were all excited by the success of the campaign in generating buzz around the nation, and hopeful about change to come.
Late at night, we met with performance artist Constance Gordon in the dressing room of a club frequented by LGBT people of color. She explained to us the intersection of race, class and gender and other dynamics in play in Mississippi. Like most we spoke with, she was proud to be from Mississippi, though she acknowledged the rampant discrimination that LGBT people face in her home state.
The next day, before moving on to Louisiana, we met with HIV/AIDS service providers and advocates at Open Arms Healthcare Center in Jackson. We met the "AIDS Lady," as she referred to herself, Charlotte "Dot" Norwood. She told us of the struggles that many clients face, including accessing healthcare, finding jobs and even getting enough to eat.
We also had the pleasure of meeting client-turned-advocate Antwan Matthews. He related to us his story of being a great student but being kicked out of his home when his family found out that he is gay and HIV positive. Despite all of that, he managed to become a peer HIV educator and put himself through college. He is looking forward to graduating with a degree in biology soon.
Baton Rouge
We left Mississippi behind and drove south to Baton Rouge. We stopped at Bistro Byronz to meet with members of PFLAG Baton Rouge, Equality Louisiana, Louisiana Trans Advocates and Baton Rouge Pride. Michael tried to start the interviews, but the ebullient Carol Frazier of PFLAG insisted that in the South, people eat together before they get down to business. We polished off our crawfish étouffée and listened to stories from the gathered activists about their lives and work.
Many of those gathered at our table struggled with poverty and employment, like transgender woman Ksaa Zair who had difficulty in finding a job because of her gender presentation and had to resort to illegally attaining hormones over the Internet because she could not afford proper medical care in the U.S., or her roommate Sergio Oramas who worked as many overtime hours as he could at a warehouse, yet struggled to pay rent.
Other advocates we spoke with dealt with loss, like Frazier: her gay son had committed suicide. She then dedicated her life to helping LGBT people as the president of PFLAG Baton Rouge until health issues forced her to take a less active role.
All of the assembled activists had come together as a close-knit community. After Hurricane Katrina, tens of thousands of people moved to Baton Rouge and the nascent LGBT community began to solidify. The city's first Pride celebration was held in 2007, organized by Tom Merrill and other members of Baton Rouge Pride.
After many hugs and farewells to our friendly dining companions, Michael and I left the sweltering heat of Baton Rouge and drove through the swamps of Louisiana to New Orleans.
New Orleans
After spending an evening touring the French Quarter and sampling crawfish pie and signature "hand grenade" drinks on Bourbon Street, Michael and I got some much-needed rest.
The next day, we met with activists in Metairie, La. who told us of the ups and downs of LGBT life in the New Orleans area. PFLAG New Orleans Co-President Julie Thompson, who had lost her gay son due to a medical emergency in the middle of a hurricane, beamed proudly about the time she went to Southern Decadence with him and how nice everyone was to her at gay bars. She, and the others gathered, spoke of how different everything was after Katrina and how the once-vibrant LGBT community of New Orleans was only now getting to where it was before the levees burst.
Louisiana Trans Advocates President Elizabeth Anne Jenkins told us how the destruction of the city meant the wholesale dismantling of an infrastructure for support for the local trans population, from doctors to support networks.
Michael and I wanted to see the devastated Lower Ninth Ward for ourselves. There were rows and rows of foundations with no houses, empty streets with only weeds on the block. But there were bright spots. The Make It Right Foundation had rebuilt a portion of the neighborhood with gleaming, eco-friendly, hurricane resistant homes.
But, it only took a trip across the bridge to the Upper Ninth Ward to see that the region is far from recovered. Many homes remain boarded shut, overgrown with creeping vines.
HIV in New Orleans
That evening, we met with peer educator Timothy Thompson of the New Orleans AIDS Task Force for dinner in the French Quarter. He told us of the problem of the stigma of an HIV-positive diagnosis driving many to avoid being tested. Many misconceptions about HIV/AIDS persist among people that Thompson had met with, including fears that HIV could be spread by sharing a meal.
In the morning, we made our last stop in New Orleans: Belle Reve. Belle Reve is a residence for people with HIV that provides medical care and helps residents to get back on their feet. Vicki Weeks, its executive director, told us of all of the programs offered at the center and proudly guided us around. She, and other staff and residents, had been through a traumatic several months living as refugees in the aftermath of Katrina. But the center is now restored and provides life-saving treatment to people who are often at the end of their rope.
One such resident was Carl Green who had lost his job after it was discovered that he was HIV positive. He became homeless and without access to medical treatment, deteriorated rapidly. Belle Reve took him in and nursed him back to health.
We also met with Miss Eddie who had ridden out Katrina in New Orleans before becoming a resident at Belle Reve.
Gulf Coast
We left New Orleans and drove to the Mississippi Gulf Coast. Where houses once stood along the shore, now only foundations remained. Many had rebuilt, but the scars of the hurricane were ever present.
Our first stop on the coast was to meet Jeff White and John Perkins, co-founders of the Mississippi Gulf Coast Lesbian and Gay Community Center. We shared queso and a margarita with them at a Mexican restaurant in Gulfport. They told us of how it was difficult for LGBT people to be out in any capacity in the area. They were even worried that the people in the restaurant might be looking at us. White then related a horrifying story about how he had been repeatedly raped by a teacher at his private Baptist school as an openly gay teenager to make him "hate men and change."
We drove along the coast to a mall in nearby Biloxi, where we met with Jennifer and Jena Pierce and a trans man who preferred to remain anonymous. The Pierces married in Connecticut last December, yet lived in Mississippi. They had considered moving to a place more accepting of their relationship, but decided to stay for the sake of their young daughter who is in school. The married couple had faced discrimination on a number of occasions. Jena Pierce told us that an employee at the DMV office loudly gathered her coworkers and told her she could not change the last name on her driver's license because the state would not recognize her marriage. The DMV worker proceeded to publicly embarrass her, leaving her sobbing in her car.
Jennifer Pierce had also experienced discrimination when trying to take a family leave day to take their daughter to the doctor's office. Her workplace wouldn't let her go because their daughter isn't her biological daughter — even though the people making the decision had been guests at the Pierces' wedding reception.
Alabama
It was in the early evening when we pulled into the parking lot of Laps on the Causeway, a sprawling restaurant along a thin stretch of land in the middle of Mobile Bay. Michael and I battled a swarm of gnats to meet with Lane Galbraith on the outdoor deck of his favorite restaurant. The trans man who had founded LGBT Wave of Hope, a Mobile LGBT advocacy organization, told us of the pervasive closet of Alabama and the struggles of the LGBT people who live there.
Our final leg of the trip was something that I had been looking forward to for weeks. We drove to Montgomery, Ala. to visit the Southern Poverty Law Center (SPLC). There was as much security at the SPLC as one would expect at the White House. After passing through many checkpoints, I wasn't even allowed to take pictures inside the massive building. The SPLC's precautions were well-founded however, as the watchdog organization had been targeted many times by hate groups resulting in fire bombings. We visited the Civil Rights Memorial and got background on the SPLC's LGBT-specific cases. We met with SPLC lawyers David Dinielli and Sam Wolfe who specialize in LGBT issues.
After meeting with the lawyers, we were granted a visit to the SPLC's Civil Rights Museum. Upon seeing a display that related the horrifying death of a man in an anti-gay attack, my traveling companion started sobbing. I felt a strange confluence of emotions from the mental and emotional toll our trip had taken as well. After we left the museum, we walked in silence around Montgomery. Signs of the Confederacy were all around us, including the Confederate "White House" of Jefferson Davis.
On the last day of our trip, Michael and I were both mentally exhausted, but we had one more important person to talk with. Kathie Heirs of AIDS Alabama met us in her offices in Birmingham to talk about the strides made in combatting the HIV/AIDS epidemic in the state.
Michael and I dropped off the rental car at the airport in Birmingham and had a silent drink together while waiting on our flight back to D.C. The many stories I had heard were swirling around in my head and I was too close to it then to make sense of it. I did know two things: I would never take living in a place like Washington for granted again and I would never again succumb to the comforting lie that our full equality had already been won nationwide. The people we had met in the South were amazing and courageous and had built a community in difficult circumstances. Most all of the people we had spoken with had a sense of pride of place and felt a duty to make their town or city a more welcoming home for the next generation of LGBT people.
Michael Key has worked as a photojournalist for the Washington Blade since 2009 and is currently serving as the photo editor. He has worked on Capitol Hill, in the White House, on the campaign trail and in cities along the East Coast taking iconic photos documenting the extension of marriage benefits to same-sex couples, the repeal of "Don't Ask, Don't Tell," and other events of interest to the LGBT community. Follow Michael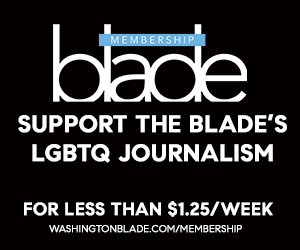 Sign Up for Blade eBlasts