Don't blame election results on gay marriage
Other factors responsible for Democratic drubbing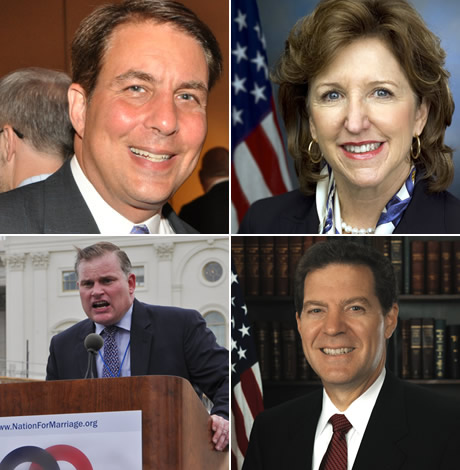 Democrats are still reeling from the drubbing they took on Election Day, leading to questions about whether the rapid advancement of marriage equality was a factor in the Republican rout.
It depends on whom you ask and where you look, but viewing the election results on a national scale, it's hard to make the case the issue had a significant impact when so many other factors were at play.
According to exit poll analysis, 49 percent of voters supported same-sex marriage, but 48 percent opposed it. Those numbers demonstrate smaller support for same-sex marriage than other recent polls showing nearly 60 percent support for gay nuptials among Americans, but it's about the same as 2012 data, when marriage equality won big at the polls, and demonstrates more support than exit poll data in 2010.
Brian Brown, president of the anti-gay National Organization for Marriage, nonetheless crowed in a statement this week that support for restricting marriage to one man and one woman "overwhelmingly" won on election night.
"In red states and blue, candidates who supported marriage as the union of one man and one woman won election and those who didn't were rejected by voters," Brown said. "The Republican Party should take note that their nominees who favored gay 'marriage' were opposed by NOM and they were resoundingly defeated."
The nominees to which Brown referred were U.S. Senate candidate in Oregon Monica Wehby, who campaigned in support of marriage equality in the general election, and gay Republicans Richard Tisei and Carl DeMaio, who both lost their bids for Congress. Prior to the results, anti-gay groups, including NOM, announced they were refusing to support these candidates and urged support for their Democratic opponents.
But each of the Democratic candidates in those elections were equally in support of same-sex marriage and LGBT rights — if not stronger — than their Republican opponents. Sen. Jeff Merkley (D-Ore.), who won against Wehby, is an early supporter of marriage equality and champion of the Employment Non-Discrimination Act in the U.S. Senate. Seth Moulton, the Democratic opponent who bested Tisei, supports LGBT rights, and DeMaio's opponent incumbent Rep. Scott Peters (D-Calif.) was endorsed by the Human Rights Campaign.
One might argue conservatives were so disaffected in those races that they stayed home and didn't provide the necessary support to overcome the Republican rivals of Democratic candidates, especially in close races like California's 52nd congressional district, where DeMaio was ahead in the final tally and declared the loser only after the provisional ballots were counted.
But that wouldn't explain other races in which Republican challengers who support marriage equality were able to unseat Democratic opponents in close contests. Robert Dold, a former Republican House member who came out for marriage equality after leaving office, won in his bid to unseat Rep. Brad Schneider (D-Ill.), as did Carlos Curbelo, a Republican supporter of same-sex marriage who unseated Rep. Joe Garcia (D-Fla.).
The support of marriage equality from these Republicans means the number of House Republicans will increase to at least six when the 114th Congress convenes. Dold and Curbelo will join incumbent Reps. Ileana Ros-Lehtinen (R-Fla.), Richard Hanna (R-N.Y.), Charlie Dent (R-Pa.) and David Jolly (R-Fla.) in support of gay nuptials.
Kevin Franck, a gay Democratic activist in Massachusetts, said despite the "deeply conservative undercurrent" in Massachusetts politics, he saw no indications that Republicans in his state stayed home as opposed to voting for Tisei.
"Tisei received more votes that the anti-marriage equality Tea Party Republican who ran in the Sixth District in 2010, and redistricting has made the district more conservative since then," Franck said. "The bottom line is this is a Democratic-leaning district and Richard Tisei's path to victory was always paved with John Tierney's perceived political weakness. After Seth Moulton won the primary, Tisei's chances went downhill fast."
In the U.S. Senate, Sen. Susan Collins (R-Maine) came out for marriage equality after her primary and won her bid for re-election against her Democratic opponent Shenna Bellows.
It should be noted that Bellows was actually ahead of Collins in terms of LGBT issues. A former head of the American Civil Liberties Union of Maine, Bellows supported a federal marriage equality bill and a comprehensive civil rights bill without a religious exemption. Although a majority of U.S. senators now support same-sex marriage, in the upcoming Congress that number will drop to at least 49.
But Collins' re-election means at least four Republican U.S. senators will support marriage in the next Congress: Collins, Sen. Rob Portman (R-Ohio), Lisa Murkowski (R-Alaska) and Mark Kirk (R-Ill.).
Jeff Cook-McCormac, senior adviser to the pro-LGBT American Unity Fund, took an approach to the election results that was the opposite of NOM, saying the issue of LGBT rights has "reached a turning point within the GOP."
"Not only can Republicans follow their conscience and survive reelection, they can appeal to a much broader constituency and thrive with the support of the emerging LGBT-friendly majority within the GOP," Cook-McCormac said.
Elections in which same-sex marriage may have played a role in defeating LGBT-supportive candidates were in conservative states Kansas and North Carolina, where Republican nominees who opposed gay nuptials won by a slim margin against candidates who support them.
Both Kansas Gov. Sam Brownback, a Republican who faced criticism from within his party for a tax policy that left his state in dire financial straits, and Sen. Pat Roberts (R-Kansas), who faced a challenge from a strong independent candidate Greg Orman, were facing questionable re-election prospects.
But after the Supreme Court refused to review a decision in favor of marriage equality in the Tenth Circuit, opening the door for same-sex marriage in Kansas, both politicians reportedly drew on the ruling in their campaigns. According to the Associated Press, Brownback raised the issue in an interview without being asked about it, and Roberts sent a mailing criticizing Orman over his belief the state shouldn't prohibit same-sex marriage.
In the end, both Republicans pulled off a win. Roberts ended up drubbing Orman by taking 53 percent of the vote compared to his 42 percent, and Brownback won with 50 percent of the vote against Democratic gubernatorial candidate Paul Davis, who took 46 percent.
Thomas Witt, executive director of Equality Kansas, discounted the media report that marriage was a factor in the Kansas races, saying he didn't see any of the Roberts fliers and the issue "didn't have any impact on the election whatsoever" in Brownback's race.
"The reality is here from this election Paul Davis got stuck at 46 percent sometime back in July and never moved the needle," Witt said. "That was long before any rulings on marriage."
For the governor's race, Witt said Brownback's win was the result of Davis running a "one-note campaign" where the Democratic candidate would talk only about education and "that wasn't enough to get him past 46 percent."
In North Carolina, incumbent Sen. Kay Hagan (D-N.C.), who came out in support of marriage equality last year, was in a tight race against Republican candidate Thom Tillis. Throughout the race, Hagan was shown to have a narrow, but consistent lead in the polls.
But after the Supreme Court refused to review a decision bringing marriage equality, thereby enabling same-sex marriage in North Carolina, Tillis in his role as House speaker attempted to defend the state's ban on same-sex marriage in court.
When the dust of the race cleared weeks later on Election Day, Tillis narrowly won by 49 percent, compared to 47 percent of the vote won by Hagan.
Thomas Mills, a political analyst and editor of PoliticsNC, nonetheless said he doesn't think marriage played a major factor in the Senate race, and in fact Hagan's support for gay nuptials was necessary to give her a boost in the progressive, research area of the state.
"I always assumed that the conservative base was coming," Mills said. "They were angry at a lot more than just the marriage issue. They were mad at Obama, and then they got scared about Ebola. I don't think it was much of a driver as some people may have thought it was."
The idea that the advancement of same-sex marriage contributed to Republican wins in these races also doesn't square with the results in Virginia. Although Sen. Mark Warner (D-Va.) was expected to win by a larger margin, he pulled off a narrow victory against Republican challenger Ed Gillespie by embracing the court decision that brought gay nuptials to the state.
And not supporting same-sex marriage was an unsuccessful strategy for Democrats. Sen. Mark Pryor (D-Ark.), who opposes gay nuptials, lost his re-election bid to Republican candidate Tom Cotton. Sen. Mary Landrieu (D-La.) — who said she personally supports same-sex marriage, but also her state's marriage ban — seems poised for defeat in her state's run-off election on Dec. 6 and the Democratic Senatorial Campaign Committee is canceling at least some advertising reservations for her.
Being anti-gay also didn't help Democrats in the House. The two House Democrats who co-sponsored a Federal Marriage Amendment banning same-sex marriage across the country won't be returning to Congress next year. Rep. Mike McIntyre (D-N.C.) is retiring and Rep. Nick Rahall (R-W.Va.) lost to Republican candidate Evan Jenkins by double-digits.
According to election data analysis from the Human Rights Campaign, LGBT issues "loomed small" in 2014 and the theme for the year was instead "throw the president's buddies out" — even though some of those buddies happened to support marriage equality.
Taking note of exit polls showing LGBT people, who made up 4 percent of electorate, voted 3-1 for Democrats, HRC made the case that candidates, especially in purple states, can't afford to lose support from these voters in close elections.
Kirk Fordham, executive director of the Denver-based Gill Action Fund, echoed the sense that marriage wasn't a major factor for voters, saying even with the recent court rulings "we're long past the days of 2004" when it could be used as a wedge.
"Even Republicans recognize that the shelf life of this issue has expired when it comes to benefiting their general elections," Fordham said. "Certainly in some parts of the country, and in primaries, it's still potent, but it just is an issue that Republicans avoid when it comes to appealing to the broader general electorate."
CORRECTION: An initial version of this article miscounted the number of senators in the upcoming Congress who are expected to support same-sex marriage. The Blade regrets the error.
Kelley Robinson, a Black, queer woman, named president of Human Rights Campaign
Progressive activist a veteran of Planned Parenthood Action Fund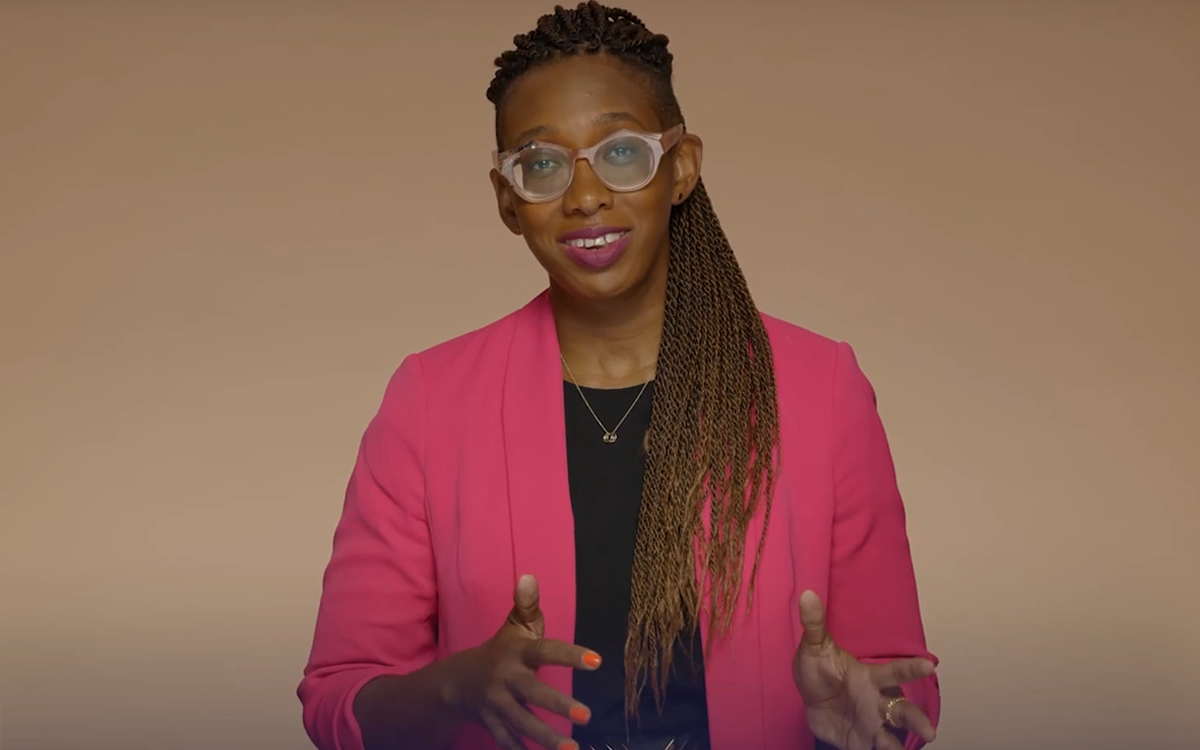 Kelley Robinson, a Black, queer woman and veteran of Planned Parenthood Action Fund, is to become the next president of the Human Rights Campaign, the nation's leading LGBTQ group announced on Tuesday.
Robinson is set to become the ninth president of the Human Rights Campaign after having served as executive director of Planned Parenthood Action Fund and more than 12 years of experience as a leader in the progressive movement. She'll be the first Black, queer woman to serve in that role.
"I'm honored and ready to lead HRC — and our more than three million member-advocates — as we continue working to achieve equality and liberation for all Lesbian, Gay, Bisexual, Transgender, and Queer people," Robinson said. "This is a pivotal moment in our movement for equality for LGBTQ+ people. We, particularly our trans and BIPOC communities, are quite literally in the fight for our lives and facing unprecedented threats that seek to destroy us."
The next Human Rights Campaign president is named as Democrats are performing well in polls in the mid-term elections after the U.S. Supreme Court overturned Roe v. Wade, leaving an opening for the LGBTQ group to play a key role amid fears LGBTQ rights are next on the chopping block.
"The overturning of Roe v. Wade reminds us we are just one Supreme Court decision away from losing fundamental freedoms including the freedom to marry, voting rights, and privacy," Robinson said. "We are facing a generational opportunity to rise to these challenges and create real, sustainable change. I believe that working together this change is possible right now. This next chapter of the Human Rights Campaign is about getting to freedom and liberation without any exceptions — and today I am making a promise and commitment to carry this work forward."
The Human Rights Campaign announces its next president after a nearly year-long search process after the board of directors terminated its former president Alphonso David when he was ensnared in the sexual misconduct scandal that led former New York Gov. Andrew Cuomo to resign. David has denied wrongdoing and filed a lawsuit against the LGBTQ group alleging racial discrimination.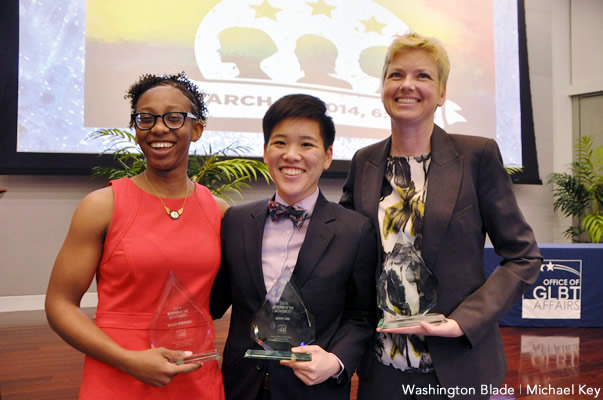 Former Ambassador Daniel Baer explains it all on Ukraine crisis
Expert downplays strategic thinking behind Putin's move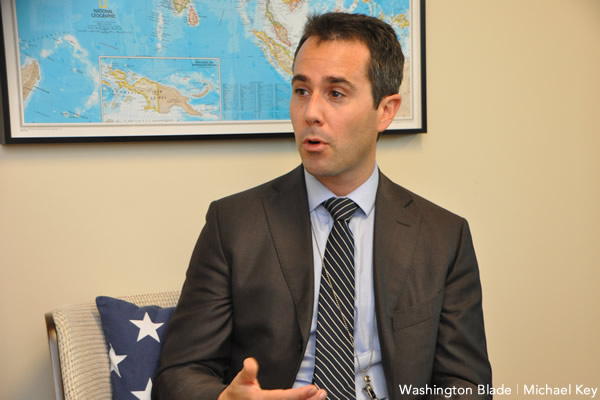 Daniel Baer, who worked on LGBTQ human rights and transatlantic issues as one of several openly gay U.S. ambassadors during the Obama administration, answered questions from the Washington Blade on Ukraine as the international crisis continues to unfold.
Topics during the interview, which took place weeks ago on Jan. 27, included Putin's motivation for Russian incursions, the risk of outright war, predictions for Russia after Putin and how the crisis would affect LGBTQ people in Ukraine.
Baer was deputy assistant Secretary of State for the Bureau of Democracy, Human Rights and Labor and U.S. ambassador to the Organization of Security & Cooperation in Europe.
The full interview follows:
Washington Blade: What's your level of engagement with this affair? Are you doing any consulting work? Is the administration reaching out to you at all?
Daniel Baer: I actually think the White House is doing a pretty good job of recognizing that they need to not only have press conferences, but also talk to other people who are trying to figure out how to be constructive critics, idea generators from the outside.
Blade: OK, so you're being solicited and engaging on this issue. My next question for you is why do you think Putin is doing this at this time?
Baer: So, I guess taking a step back from the whole thing, one of the things about a problem like this is that everybody is searching for the right answer assuming that there is a like comfortable or compelling or intellectually accurate answer, and I actually think we're just in a really hard moment.
I don't know why he's doing it now. And in fact, I think that one of the puzzles that we haven't solved yet is that all the things that he says are the reasons that he's doing it — that he feels encirclement by NATO, … or that the situation in Ukraine is untenable — none of those things have changed. Setting aside the fact that they're spurious, it's not like there's been some new move in the last 12 months that has precipitated [a reaction] on any of those fronts that you can say, "Oh, well, he's responding to the recent meeting where Ukraine was offered membership in NATO, or he's responding to a change in government in Ukraine that it's clearly anti-Russia, or any other move that we've done." The explanation just doesn't hold water, and so I think we need to look for alternative ones.
The best I can come up with is actually just a broad — it doesn't actually explain this particular moment, but I think you could look at the timing of his life. He has, I don't know, 10 years left. And during those 10 years, it's unlikely that Russia is going to grow more powerful; it's much more likely that it's going to become at least relatively and probably nominally less powerful. And so, if you're unhappy with the status quo, and you feel like you're a declining power, and you don't have endless time, there's no time like the present. And you'll make up whatever reasons you need to in order to justify it.
I also think there's a tendency on our part to attribute far more "strategery" to Putin than there necessarily is. I mean, he's a bully and a thug. I think the whole Putin's playing chess and we're playing checkers is actually completely inverted. We're in our own heads that there's some kind of nuanced position that would mollify him. He's just a gangster and he's taking a punch because he has one. And I don't think it gets much more complicated than that. And so, I guess the answer to why he's doing this now, because the international conditions are such that he feels like the United States is focused domestically, the Ukrainians are not moving forward with succeeding to build — they're kind of in stasis on building a European state— and he has, you know, he has the space to take a punch, so he's contemplating doing it, or he's already decided to do it. And he's just extracting as much as possible before he takes it.
Blade: That leads me to my next question: What is your judgement of the risk of out and out war?
Baer: I don't know because I have two hypotheses that cut both ways. One is that I think Putin is vastly underestimating the degree of resistance. On the other hand, I think that nothing short of domination is satisfactory. And so, I don't know. I guess I think there's a 90 percent chance that he does something, and I think there's a 75 percent chance that what he does is not an all out invasion or ground invasion, at least not at first, but rather something that is aimed at confusing us. So some sort of hybrid or staged or false flag kind of attack in tandem with a political coup in Kiev, where he works to install a more Russia-loyal leader.
The thing with the ground invasion is that Russian soldiers' moms are one of the only, like, powerful political forces in civil society in Russia. I just don't see any way that a ground invasion doesn't involve massive Russian casualties, even if they will be dominant. The people who are going to impose the consequences on him will be the Ukrainians, not the rest of us, and he should not invade, and if he does, we should, frankly, work hard to make it as painful and difficult for him as possible.
Blade: What will that look like?
Baer: I think we should at that point continue — we shouldn't pause, we should continue to send the defensive equipment and backfill as much as possible their ability from an equipment basis to resist.
Blade: So if we were to look at a model for past U.S. engagements. I'm thinking Greece under President Truman, which was so successful that nobody really knows about it, I don't think. Is there any model we should be looking toward, or not looking toward?
Baer: No, I guess. I'm not sure there's any good historical model because obviously, any of them you can pick apart. I do think that one thing that has gotten lost in a lot of the analysis — and this goes back to Putin being a gangster thug, and not being such a genius — is there's a moral difference between us. The reason why Putin gets to control the dialogue is because he's willing to do things that we aren't willing to do — as gangsters are, as hostage-takers are — and so yes, they get to set the terms of what we discussed, because we're not holding hostages. We're trying to get hostages released. And the hostage-taker has an upper hand and asymmetry because they are willing to do something that is wrong.
We shouldn't lose the kind of moral difference there. Nor should we lose sight of the fact that Ukraine is being menaced. And I'm not saying it's our obligation [to intervene militarily], certainly not our obligation. They aren't a treaty ally. We have neither a political obligation nor a moral one to necessarily risk our own lives, our own soldiers in defense of Ukraine. But if Ukraine wants to defend themselves, there's a strong moral case to be made that anything, short of risking our own lives, is something that is morally good. We generally believe that self-defense from lethal threat is a reasonable moral cause and assisting others in defending themselves is too — I think there's a lot of back and forth that get glossed over whether that's a provocation or whatever, and I want to say to people stand back, look at this: we've got one party that is attacking another. And the question is, does the other have a right to defend itself? Yes. And if they have a right to defend themselves, and they also have a right to have whatever assistance people will offer them in defending themselves.
That doesn't mean that they get to demand that we show up and fight in the trenches with them, of course, and I don't think there's any serious people who are recommending that but it's a good thing to help them. It's not like a technical thing. It's a good thing to help
Blade: Getting into that moral background, one thing I want to ask you was about the significance of what would happen in this concept of democracy versus autocracy. First of all, how much is Ukraine a functional democracy, in the sense that if we're defending Ukraine, we are defending a democracy, and what signal do you think it would send if that Ukrainian government fell to Russian autocracy?
Baer: I think the institutions of government that the Ukrainian people have are not worthy of the Ukrainian people's own demonstrated commitment …
They are not worthy of the Ukrainian people's own demonstrated commitment to the idea of democratic institutions. So the answer is today's Ukrainian government is a mixed bag and it's very hard to build, on the rot of a Russian fiefdom, a functioning democracy, so I think it's a mixed bag. I don't want to sound like I'm minimizing [the changes], or that they've completely bungled an easy project. It was always going to be a hard project, and it was never going to be linear.
But I think that what we've seen from the Ukrainian people — by which I mean not Ukrainian people, but people of Ukraine — is that there is a broad part of society that a) does not want to live under a Russian thumb and b) sees its future in kind of European style democracy. And so I think that if there was, there's no question that the Russian attack would be in part about subjugating the people of Ukraine and forcing them to live under some sort of new Russian satellite. And I think that there's little space for serious argument that that's something that the people of the country wish to have.
Blade: But I'm just kind of getting at — you're kind of minimizing that this is a strategic move by Putin, but if he were to successfully dominant Ukraine it becomes a Russian satellite isn't that saying like, "Well, ha ha West, you thought the Cold War was over and there's going to be just be a unipolar world in the future but no, we're gonna we have this we're back and we're gonna create a multipolar world for the future."
Baer: Yeah, I mean, my answer to the Russians who always raise the multipolar world to me is, "Fine, it's going to be a multipolar world. What makes you think that Russia is one of the poles?" Poles by definition draw people to them, they are compelling and a pole attracts, magnetically or otherwise, and there is nothing attractive about the model that Russia is pursuing. And if the only way that you can be a pole is by subjugating, to force your neighbors, you are proving that you are not one.
I think the benefits for Russia are far smaller than Putin thinks and I think the consequences for the rest of the world of allowing a violation of international order to go forward are much larger than many people recognize.
Blade: But that was their approach when they were the Soviet Union. They were subjugating the Eastern Bloc through Russian force. They did have, in theory, the concept of their worldview of you know, of socialism, or whatever you want to put it charitably, was going to be the right way to go. Is there really that much of a difference?
Baer: Yeah, however disingenuous it was, they did have an ideology . So you're right, that was a key distinction. The other thing is that the Soviet Union in relative size — its economy and population etc. — was much larger than Russia is today. And Russia is shrinking, and its economy is less diverse than the Communist one was. I think it's a delusion to think that they're going to kind of rebuild an empire, even if yes, because of their willingness to do awful things, they could potentially for a time politically control through violence, their neighbors. I just don't — in a multipolar world, I don't see Russia being one of the poles, at least not on its current path.
Blade: How would you evaluate the U.S. diplomatic approach to this issue?
Baer: There's been very clear over-the-top effort to include the Europeans at every step — meetings with them before each meeting and after each meeting, to force conversations into fora that are more inclusive and stuff like that. And I think that Secretary Blinken is rightly recognizing the need to kind of play a role of kind of keeping everybody on the side while we test whether diplomacy whether there's anything to do, whether there's any promise with diplomacy.
I think there's kind of, sometimes kind of, two camps in U.S. foreign policy circles. One is like: We should give the Russians what they want because it just doesn't matter that much. War is much worse than anything that we would give them. And another is that we can't give them an inch and we have to punch them in the face whenever we can. And I think both of those are kind of knee-jerk positions that have become a bit religious for people and neither of them is paying attention to the practical challenge that's in front of the administration, which is like this guy's threatening to invade and we need to identify whether there's any opportunity for a functional off ramp, and that doesn't mean we do that in a vacuum and ignore the long-term consequences, but our problem is not a religious one, it's a practical one. And I think they're doing a pretty good job of threading the needle on that and being not too far forward and not too far back.
Blade: Do you see any significant daylight between the United States and Europe?
Baer: No, I mean, no more than the minimum that is possible. There's a lot of talk about Germany these days. Look, I think some of the things they say are not particularly helpful, but I don't actually think that in the long run, if Putin invaded, I don't think that they would hold up sanctions or anything like that. So I think they're on our side, even if they're talking out of both sides, in some cases.
Blade: I am wise to the fact that this is a nuclear power. It might be a little old school, but could escalation get that far?
Baer: There can't be war. There can't be war between NATO and Russia. It should be avoided. Obviously, there can be, but it should be avoided.
Blade: How committed do you think President Biden is to protecting Ukraine?
Baer: Reasonably so. I think he's enough of an old school trans-Atlantist that he understands that this isn't just about Ukraine.
Blade: I was wondering because he had those comments from his press conference about "minor incursion" and I'm just wondering if you're reading anything into that or not.
Baer: No, I think that was that was a — I think broadly speaking, everything he says is in line with the kind of view that you would expect. And of course, one sentence can catch [attention]. That wasn't what he meant. What he meant was that he didn't want to draw a "red line" that would prejudge policy in response to something short of the most extreme scenario.
I think it is a good caution to not obsess over a single sentence and to look at the broad considered policy statements.
Blade: What do you think if you were looking for developments, like what would you be looking out for is significant in terms of where we are going to be going in the near future? This is one thing to keep an eye out for but is there anything else that you are kind of looking out for in terms of the near future?
Baer: I guess I would look out for whether or not the United States joins meetings of the so-called Normandy Format, which is the France, Germany, Ukraine and Russia grouping, which has so far been unsuccessful, but I think can only be successful as the United States joins it, but the Russians, I think have misgivings with the idea of our joining it.
Blade: I'm not at all familiar with that. What makes this forum particularly so —
Baer: So it was started in the summer in like June of 2015, on the margins of some meeting between Merkel and Hollande. The French and the Germans are very committed to the idea that they might be able to mediate peace between Ukraine and Russia. It was supposed to implement the Minsk Agreement, and it just hasn't been productive so far. I don't think that the Russians will do anything — I don't think the Ukrainians feel comfortable negotiating anything without the Americans at the table. And I don't think the Russians feel like anything is guaranteed without the Americans at the table. So I just, I'm fine with France and Germany taking the lead, but I think the U.S. has to be there.
And there was a meeting of this group in Paris yesterday, and which the U.S. was supportive of, and so I'm watching to see whether or not the United States gets added in some ad hoc way, whether there are future meetings. I guess the reason I would watch it, if the U.S. were to join future meetings that would signal to me that it's actually there's some diplomacy happening there.
That's meant to be focusing mainly on the existing Russian invasion, the occupation of the Donbas, so that's not about the threat of the new invasion, but it would be interesting to me if there was forward movement on other parts of Ukraine. The announcement of the American ambassador is one. I think that last week movement of troops into Belarus was a game changer for the U.S., because there are all kinds of new implications if you're using a third country as your launchpad for war, and so it complicates things and it also looks more serious if you're starting to deploy to third countries and stuff like that. So I think that was that last week, you noticed a difference in the U.S. tone and tenor in response to that.
So things like that. But in general, like what I would do and I don't think people always catch this is because there's a boiling frog aspect to it. There are statements coming out from the White House or State Department. Almost every day on stuff related to this and like last week, there was a noticeable change in the tenor as the U.S. became less, I think more pessimistic about the prospects of diplomacy and those I don't have anything better to look for in those statements as tea leaves, in terms of what the U.S. assessment is of the prospects of the escalation are, so it's bad.
Blade: Right. That's very sobering.
There's a lot of talk, and I've just been seeing some like about in terms of, there's like comparisons to Afghanistan and making sure that all Americans are able to get out of Ukraine. Is that comparing apples to oranges?
Baer: Yes.
Blade: And could you unpack that a little bit? I mean, I can kind of guess the reasons why. How is that apples to oranges?
Blade: Well, the level of development in Ukraine in terms of infrastructure and transport and stuff like that is not comparable to Afghanistan. I think it would be– if there were a Russian invasion–you would definitely want to, obviously, for safety reasons, it's not safe to be in a war zone, so you would want people to be able to evacuate and you'd have to plan for that.
A major concern [in Afghanistan] was also that there were tens of thousands, if not hundreds of thousands of locals who had worked for the Americans. The Americans that are in Ukraine are not a departing occupying power. There's just not the same footprint there — the Americans are in Ukraine or there as business people or young [people working on] democracy assistance or whatever. And it's just it's a different context.
Blade: Why do you think the Russians put up with Putin? I mean, this is a country that was a world power and I would think has some economic potential just given its sheer size, first of all, and they do have oil to offer people. So why aren't the Russians like angry at him for obstructing their participation in the global order as opposed to just putting up with him for years and years and years.
Baer: Successful instrumentalisation of cynicism. The lack of a belief in an alternative will keep you from fighting for it.
Blade: That's pretty succinct.
Baer: I mean, I don't think there's any question that the people of Russia could be better off or different in terms of kitchen table issues, and ease of navigating the world, prospects for their future for their children's future. The amount of money that Putin has invested into military modernization that Russia can ill afford, while he's cut pensions and social services and health care. It's just it's objectively true that the average Russian person would be better served by a different leader. But he's done a very good job of effectively selling off the country for profit and persuading people through repression and propaganda that there is no alternative.
Blade: And Putin won't be around forever. Once he finally goes, is an alternative going to emerge, or will it be the next guy in Putin's mold?
Baer: I think it's far from clear that what comes after Putin isn't worse and bloody. Regimes like this don't reliably have stable transitions.
Blade: Wow, okay.
Baer: Yeah, we shouldn't… we should be careful about wishing… wishing for his demise.
Blade: That's good to know. It's kind of a frightful note for me to end my questions. But actually before I sign off, there's one more thing too because I do kind of want to talk about the intersection about your old job in democracy and human rights and then a Venn diagram of that with your experience in Eastern Europe in particular. Do you have a sense of what's at stake for LGBTQ people in Ukraine or if they're in more danger right now than they would be otherwise?
Baer: That's a good question. I mean, my knee jerk reaction is yes. That — as mixed of a picture as Ukraine has been in the last seven years, or eight years — there have been meaningful steps forward, and certainly, in terms of visibility.
I guess, in the sense that Ukraine is better than Russia today, if you're gay, if Russia is going to occupy or control Ukraine we can expect that it will get worse because it will become more like Russia.
Trump ribbed Pence for thinking 'it's a crime to be gay,' new book says
Former president openly wanted gay Fox News analyst for Supreme Court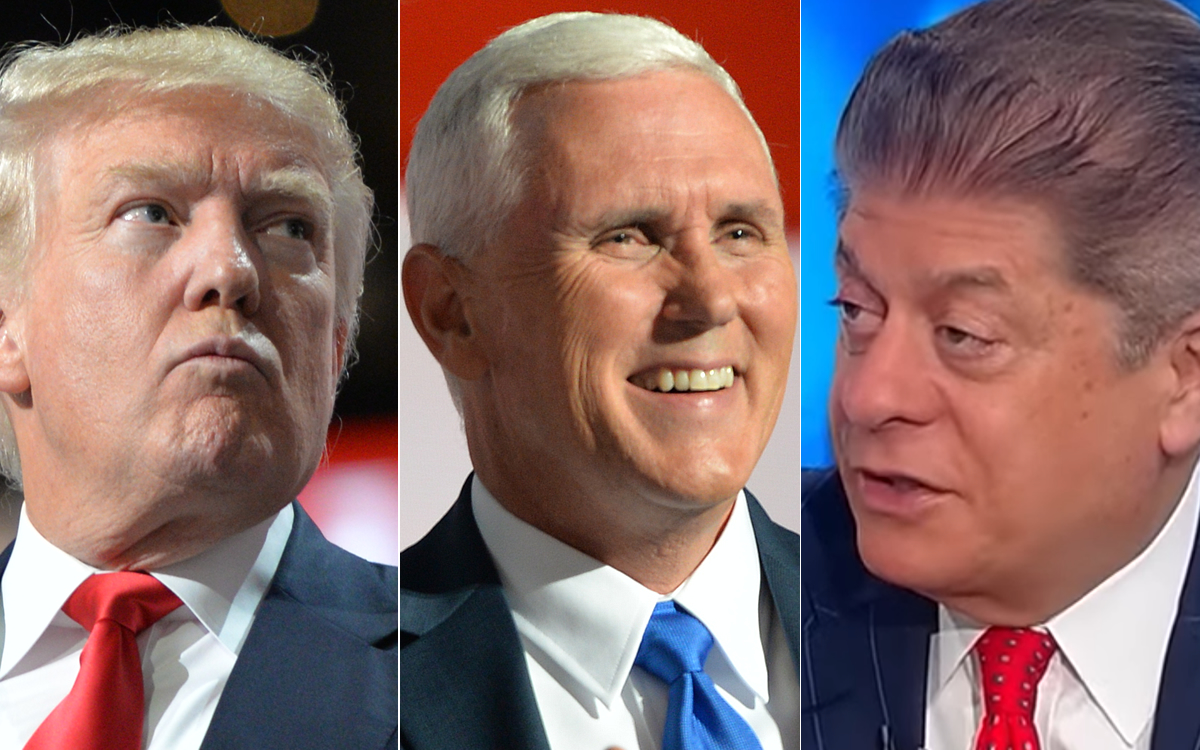 Donald Trump, in the days before he took office after the 2016 election, openly contemplated naming an openly gay Fox News contributor to the U.S. Supreme Court amid concerns from social conservatives about his potential choices and ribbed former Vice President Mike Pence for thinking "it's a crime to be gay," according to the new book "Insurgency" detailing the former president's path to the White House.
The key moment between Trump, Judge Andrew Napolitano and Pence took place during the transition period after the 2016 election when Trump invited the other two for a meeting at Trump Tower. That's when Trump reportedly took the jab at Pence.
"During their meeting, for part of which Mike Pence was present, Trump ribbed Pence for his anti-gay rights views," the book says. "Addressing Napolitano, Trump gestured toward the archconservative vice-president-elect and said, 'You'd better be careful because this guy thinks it's a crime to be gay. Right, Mike?' When Pence didn't answer, Trump repeated himself, 'Right, Mike?' Pence remained silent."
The potential choice of Andrew Napolitano, who was fired last year from Fox News amid recently dropped allegations of sexual harassment from male co-workers, as well as other TV personalities Trump floated for the Supreme Court, as detailed in the book, were among the many reasons conservatives feared he wouldn't be reliable upon taking the presidency. Ironically, Trump would have been responsible for making a historic choice for diversity if he chose a gay man like Napolitano for the Supreme Court, beating President Biden to the punch as the nation awaits his selection of the first-ever Black woman for the bench.
The new book — fully titled "Insurgency: How Republicans Lost Their Party and Got Everything They Ever Wanted" and written by New York Times political reporter Jeremy Peters, who is also gay — identifies Trump's potential picks for the judiciary as a source of significant concern for conservatives as the "Never Trump" movement was beginning to form and expectations were the next president would be able to name as many as four choices for the Supreme Court. Among the wide ranges of possible choices he floated during the campaign were often "not lawyers or judges he admired for their legal philosophies or interpretations of the Constitution," but personalities he saw on TV.
Among this group of TV personalities, the books says, were people like Fox News host Jeanine Pirro, whom Trump "regularly watched and occasionally planned his flight schedule around, directing his personal pilot to adjust the route accordingly so the satellite signal wouldn't fade." Trump told friends Pirro "would make a fine justice," the books says.
Trump potentially making good of his talk about naming Napolitano as one of his choices for the Supreme Court "would have been doubly unacceptable to many on the religious right," the book says. Napolitano, a former New Jersey Superior Court judge, was friendly with Maryanne Trump Barry, Trump's sister and a federal judge with a reputation for liberal views, such as a ruling in favor of partial-birth abortion, and is also gay, both of which are identified in the book as potential concerns by the religious right.
Napolitano and Trump were close, the book claims. Napolitano, as the book describes, had a habit of telling a story to friends about Trump confiding to him the future president's knowledge of the law was based on Napolitano's TV appearances. Trump told Napolitano: "Everything I know about the Constitution I learned from you on Fox & Friends," the book says.
The book says the meeting with Trump, Pence and Napolitano when the former president took a jab at Pence in and of itself suggested Trump "was indeed serious about giving the judge some kind of position in the government." Napolitano, known for making outlandish claims as a Fox News contributor —such as the British government wiretapped Trump Tower — never took a post in the Trump administration.
The new book isn't the only record of Trump ribbing Pence for his anti-LGBTQ reputation. A New Yorker profile in 2017 depicted a similar infamous meeting with Trump and Pence in which the former president joked about his No. 2's conservative views. Per the New Yorker article: "When the conversation turned to gay rights, Trump motioned toward Pence and joked, 'Don't ask that guy— he wants to hang them all!'"The incident described in "Insurgency" was similar to the meeting detailed in the New Yorker profile.
Trump ended up making a list of names he pledged he'd limit himself to in the event he was in the position to make a selection to the Supreme Court and made good on that promise based on his selection. By the end of his presidency, Trump made three picks to the bench who were each confirmed by the U.S. Senate: Neil Gorsuch, Brett Kavanaugh and Amy Coney Barrett.
But Trump limiting his options to the list of potential plans was not a fool proof plan for conservatives. To the surprise of many, Gorsuch ended up in 2020 writing the majority opinion in the case of Bostock v. Clayton County, a major LGBTQ rights decision by the U.S. Supreme Court, which determined anti-LGBTQ discrimination is a form of sex discrimination and illegal under federal civil rights law.
The Washington Blade has placed a request in with Trump's office seeking comment on the meeting with Pence and Napolitano as described in "Insurgency." Napolitano couldn't be reached for comment.