December 12, 2014 at 10:11 am EST | by Ted Smith
Where the buys are
In an issue of Urban Turf earlier this week, the editors listed the 10 hottest neighborhoods in D.C. year-to-date based on recently released data from RBI Market Stats. Here, using data from the same source, I want to identify probable zip codes where buyers may find good values as well as zip codes where sellers may expect good sale prices.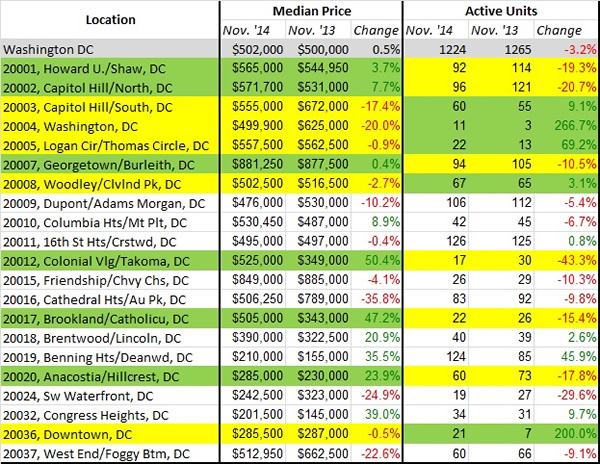 The chart above compares median prices and available properties between November 2013 and November 2014. To identify good buys and good profits, we're looking at zip codes where an inverse relation exists between median prices and available properties. It's a simple application of the law of supply and demand: When supply goes up, demand typically goes down, thereby lowering the price (a good deal for buyers). On the other hand, when supply goes down, demand typically goes up, thereby raising the price (a good deal for sellers).
I witnessed this law of supply and demand first hand this past week, when a nice (but not great) townhouse went up for sale a couple of blocks away from me in the Shaw neighborhood. The owners had aggressively underpriced the house to start a bidding war, and they succeeded. There were 30 people at the open house on a cold, rainy Saturday checking out the house before its Tuesday due date for bids, just a week after being on the market.
If you look at the chart above, you'll note that zip code 20001 (where the house in Shaw from my example above is located) is highlighted in green. All the green-highlighted zip codes in the first column are places where the median price of homes has increased in the past year (also highlighted in green), while the supply of homes for sale has decreased (highlighted in yellow). Besides the Shaw neighborhood, zip codes 20002 (Capitol Hill/North=H Street Corridor), 20007 (Georgetown, Burleith), 20012 (Colonial Village, Takoma D.C.), 20017 (Brookland, Catholic U), and 20020 (Anacostia, Hillcrest) are all hot places for sellers to list their homes right now because the supply of homes for sale has decreased in the last year while demand for homes in those neighborhoods has increased (as evidenced by an increase in median price).
On the other hand, the data also shows us some neighborhoods where we might expect good value for buyers. In these neighborhoods (highlighted in yellow), the median price of homes has decreased in the past year while the supply of homes for sale has increased. Zip codes and neighborhoods in this category include 20003 (Capitol Hill South, Navy Yards), 20004 (Penn Quarter), 20005 (Logan Circle, Thomas Circle), 20008 (Woodley Park, Cleveland Park), and 20036 (Dupont Circle).
Remember that these rankings are seasonal. In evaluating a likely neighborhood to find a home to buy at a good price or setting the price for your own home to sell, you'll want to make sure you work with a licensed Realtor to help you consider all the other factors that go into establishing a fair price for the home.
Happy hunting!
Ted Smith is a licensed Realtor with Real Living | at Home specializing in mid-city D.C. Reach him at TedSmithSellsDC@rlathome.com and follow him on Facebook, Youtube or Twitter. You can also join him on monthly tours of mid-city neighborhood open houses, as well as monthly seminars geared toward first-time homebuyers. Sign up at meetup.com.