Attack at Zimbabwe LGBT party leaves dozens injured
Incident took place on Dec. 19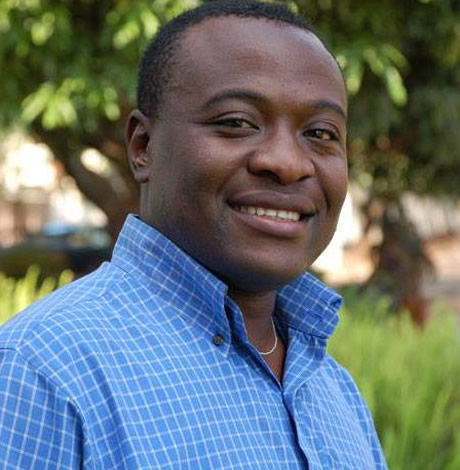 Gays and Lesbians of Zimbabwe in a press release said three vehicles at around 11:20 p.m. "forced their way" into a club near its office where the event was taking place and demanded that security personnel allow them to attend.
The group notes a man in one of the vehicles threatened the guards with a pistol after they refused to allow him inside the venue. Gays and Lesbians of Zimbabwe said between 12 and 15 men proceeded to enter the club and began punching those inside.
The group said the assailants attacked people with logs, iron bars and empty beer bottles. Gays and Lesbians of Zimbabwe in their press release further noted the men also demanded money and electronics from its members as they attacked them.
Gays and Lesbians of Zimbabwe said more than 35 people were injured. The men also attacked five of the organization's staffers and a female cashier who was working the bar during the party.
"Members sought refuge in a nearby bush, with some seeking refuge in private homes by way of jumping over fences and walls," said Gays and Lesbians of Zimbabwe in a second press release on Dec. 21.
Zimbabwe president: Gays have no rights
Activists, the Obama administration and others in recent years have sharply criticized Zimbabwe and Robert Mugabe, the country's long-time president, over its LGBT rights record.
Mugabe in May described homosexuality as "inhuman" and said gays "have no human rights." He told supporters during a July 2013 rally ahead of his re-election that authorities should arrest gays and lesbians who don't conceive children.
Authorities have also frequently targeted members of Gays and Lesbians of Zimbabwe.
Police in August 2012 arrested more than 40 members of the organization inside their office in Harare, the Zimbabwean capital. Gays and Lesbians of Zimbabwe claimed that authorities a few days earlier confiscated computers and pamphlets.
Gays and Lesbians of Zimbabwe said five men with hammers "violently" entered their offices in June 2013 and disrupted a meeting that was taking place. Authorities arrested the alleged perpetrators, but prosecutors have yet to charge them in connection with the incident.
"Whilst the existence of LGBTI people in Zimbabwe cannot be disputed anymore, thanks largely to the powerful help of President Mugabe's rhetoric, this has created a climate and culture of impunity and lawlessness as evidenced by the actions of these thuggish men to hunt down LGBTI people in our communities, vicinities and homes to inflict harm," said Gays and Lesbians of Zimbabwe in their Dec. 21 press release.
The organization said it has "reason to believe" club patrons who are affiliated with Mugabe's Zanu-PF party may have asked the men to attack its members because the venue was closed for their event. Gays and Lesbians of Zimbabwe said it heard reports that some of those who took part in the incident suggested the Movement for Democratic Change, an opposition party, hosted the party.
"We are deeply troubled by reports of brutality against LGBT community members at a private end-of-year party," said Noel Clay, a spokesperson for the State Department. "We urge the government of Zimbabwe and police authorities to investigate the reports thoroughly and to respond appropriately."
Chester Samba, director of Gays and Lesbians of Zimbabwe, told the Washington Blade on Tuesday that those who were attacked are still filing police reports.
"We need to give the police time to investigate," said Samba.
Gavin Reid of the International HIV/AIDS Alliance, which works with Gays and Lesbians of Zimbabwe, urged Zimbabwean officials to investigate the attack and prosecute those who committed it.
"It's the duty of the Zimbabwean government to protect and promote the rights of all its citizens and to ensure that all Zimbabweans are able to enjoy their full constitutional rights including the right to life, to personal security, to freedom of assembly and association and to freedom from torture," said Reid.
Clay agreed.
"We urge the government of Zimbabwe and police authorities to investigate the reports thoroughly and to respond appropriately," he told the Blade. "We encourage respect for rule of law and call on the government of Zimbabwe to uphold its international obligations to protect the human rights of all Zimbabweans."
A Zimbabwean LGBT rights organization claims more than 30 people were injured when a group of men attacked them at their end-of-the-year party on Dec. 19.
Victory Fund honors Maine House speaker at D.C. conference
Ryan Fecteau is gay Catholic University alum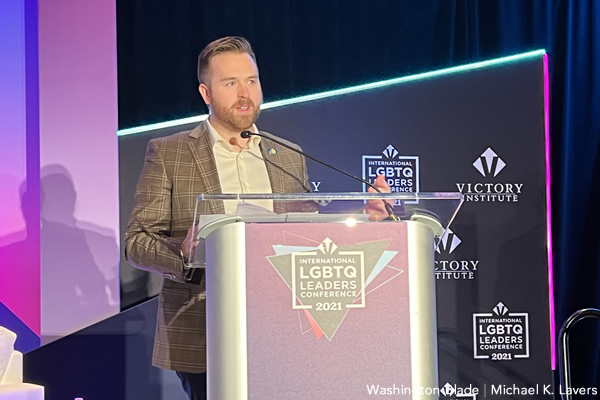 The Victory Fund on Saturday honored Maine House Speaker Ryan Fecteau on the last day of its International LGBTQ Leaders Conference in D.C.
Fecteau — an openly gay Catholic University of America alum — won a seat in the Maine House of Representatives in 2014. He became the chamber's speaker in 2018.
"Hate and intolerance will not derail us," said Fecteau after Florida state Rep. Carlos Guillermo Smith presented him with the Tammy Baldwin Breakthrough Award, which is named after U.S. Sen. Tammy Baldwin (D-Wis.). "Our community will not be intimidated."
The Victory Fund on Friday honored Guatemalan Congressman Aldo Dávila, a gay man who is living with HIV.
Victory Fund honors gay Guatemalan congressman at D.C. conference
Aldo Dávila a vocal critic of country's government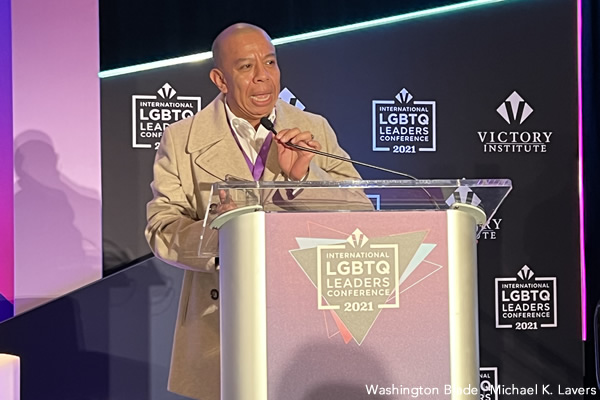 The Victory Fund on Friday honored an openly gay Guatemalan congressman who has faced death threats because of his efforts to fight corruption in his country.
Dávila — a member of the Winaq movement, a leftist party founded by Rigoberta Menchú, an indigenous human rights activist and Nobel Peace Prize winner — in 2019 became the first openly gay man elected to Guatemala's congress. Dávila, who also lives with HIV, had previously been the executive director of Asociación Gente Positiva, a Guatemala City-based HIV/AIDS service organization.
Supporters of President Alejandro Giammattei have lodged several formal complaints against Dávila after he publicly criticized the government over corruption, its response to the pandemic and other issues.
Three men on April 19 approached Dávila's vehicle near Guatemala's National Library and tried to rob him. One of Dávila's bodyguards shot one of the men, but the two other assailants fled the scene before police officers and passersby arrived.
Dávila told the Washington Blade in September during an interview at a Guatemala City hotel that he and his partner installed cameras in their apartment after someone killed their dog.
Two female police officers who arrived at the hotel with Dávila sat in the lobby while he spoke with the Blade. The government a few weeks later reduced his security detail.
"Guatemala is living through the worst democratic crisis in the last 40 years," said Dávila after he accepted the Victory Fund's Global Trailblazer Award at its 2021 International LGBTQ Leaders Conference that is taking place in-person at the JW Marriott in downtown D.C. "Guatemala right now is being paralyzed by corruption and impunity and my voice is uncomfortable because of this."
Dávila became emotional at the end of his remarks.
"I will keep fighting for our rights," he said.
Comings & Goings
Nathanson takes role at Outright Action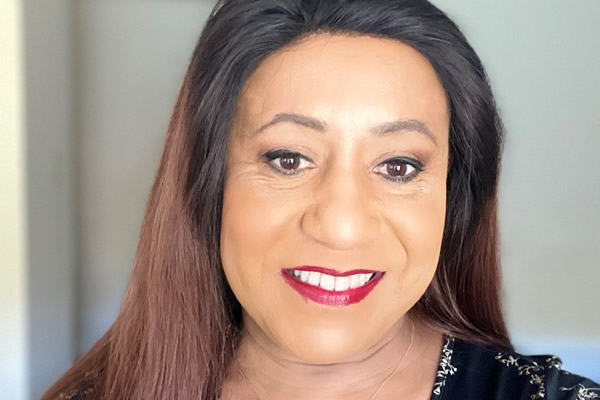 The Comings & Goings column is about sharing the professional successes of our community. We want to recognize those landing new jobs, new clients for their business, joining boards of organizations and other achievements. Please share your successes with us at: [email protected]
The Comings & Goings column also invites LGBTQ+ college students to share their successes with us. If you have been elected to a student government position, gotten an exciting internship, or are graduating and beginning your career with a great job, let us know so we can share your success.
Congratulations to Rikki Nathanson on her new position as Senior Advisor – Global Trans Program with OutRight Action International in New York. Nathanson will be based in D.C.
"I am absolutely thrilled to be taking on this new role as Senior Advisor in OutRight's Global Trans Program," said Nathanson. "I have finally found the perfect fit for me: as a trans woman who has been fighting for equality not only for myself, but for others globally, this position is not only a job, it's intrinsically part of who I am. So, what better way to live, nurture and grow myself."
Nathanson will be working closely with all program staff to ensure a cohesive and intentional approach to gender issues throughout OutRight's programs, including its approach to gender ideology movements. She will lead new initiatives on gender advocacy and policy change, focused but not limited to legal gender recognition and anti-discrimination legislation and policies.
Prior to this Nathanson was director of housing programs at Casa Ruby in D.C. She has also held a number of other positions including: founder/executive director of Trans Research, Education, Advocacy & Training (TREAT), Zimbabwe; chairperson Southern Africa Trans Forum, SATF, Cape Town, South Africa; executive director, Ricochet Modeling Agency, Zimbabwe; and company secretary for Dunlop Zimbabwe Limited, Zimbabwe.