Zimbabwe president: Arrest gays who don't conceive children
Robert Mugabe made comments during July 5 rally in country's capital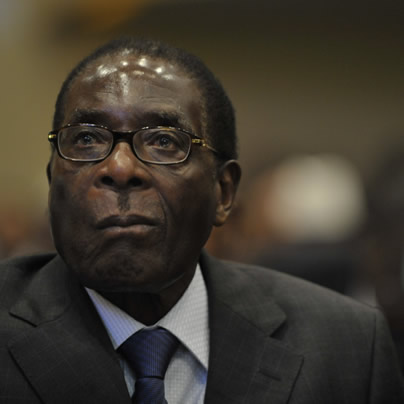 Zimbabwean President Robert Mugabe on July 5 said authorities should arrest gays and lesbians who don't conceive children.
"I should like to shut them-up in some room and see if they get pregnant; if they don't then it's jail because they have claimed they can have children," the tabloid New Zimbabwe quoted Mugabe as saying during a rally in Harare, the country's capital, at which he unveiled the platform of his party, ZANU-PF, ahead of the African nation's July 31 elections. "So, to that kind of rot, we say no, no, no, no!"
The tabloid further reported that Mugabe criticized the Anglican Church for blessing same-sex marriages.
The Zimbabwean Broadcasting Corporation noted Mugabe also blasted President Obama's support of nuptials for gays and lesbians.
"Obama said he wished that we in Africa accepted gay marriages," Mugabe said. "Parents, tell your children that we are against gay marriage."
Mugabe, whom Zimbabweans elected president in 1987 after he had served as the country's first post-independence prime minister from 1980, has previously used homophobic rhetoric against gays and lesbians.
He described gay men and lesbians who participated in the annual International Book Festival in Harare in 1995 as "dogs and pigs." LGBTQ Nation reported Mugabe said during a speech he gave a Roman Catholic-run teacher's college in the city of Masvingo in southeastern Zimbabwe last month that gays and lesbians "should rot in jail" as he suggested the country's anti-homosexuality laws are too lenient.
The State Department last August criticized the Zimbabwean government's crackdown on LGBT rights activists after police arrested more than 40 members of Gays and Lesbians of Zimbabwe (GALZ) inside the advocacy group's Harare office. GALZ members, who routinely face harassment and even death threats, said authorities confiscated computers and pamphlets from the same office a few days earlier.
New Zimbabwe also reported that Mugabe during his Harare speech on July 5 referenced former President Canaan Banana, who in 1998 received a 10 year prison sentence after his conviction on charges sodomy, attempted sodomy and indecent assault against his former male employees.
Mugabe's comments came less than two weeks after Obama applauded the U.S. Supreme Court ruling that found a portion of the Defense of Marriage Act unconstitutional in response to a question he received during a press conference with Senegalese President Macky Sall in Dakar, Senegal.
Obama also reaffirmed his opposition to the criminalization of homosexuality.
"When it comes to how the state treats people, how the law treats people, I believe that everybody has to be treated equally," he said. "I don't believe in discrimination of any sort. That's my personal view."
Amnesty International noted in a report it released on June 24 — two days before Obama left for his week-long trip to Africa that also included visits to South Africa and Tanzania — that 38 African countries continue to criminalize consensual same-sex conduct.
A senior administration official on Monday declined to comment, saying the White House would not "dignify Mugabe's comments with a response."
The Zimbabwean embassy in D.C. did not return the Washington Blade's request for comment.
A GALZ member with whom the Blade spoke earlier this year in the nation's capital said ZANU-PF is going to "use the issue of homosexuality as one of their campaign tools" ahead of the July 31 elections.
GALZ Chair Samba Chesterfield urged Mugabe to "desist from making such hate filled statements that impact on the lives of LGBT people" during an interview with LGBTQ Nation.
"Mugabe needs to deal with issues such as unemployment, impunity, access to clean water and corruption in government, rather than such rhetoric that does not do much to win over a despondent electorate," Chesterfield told the website.
Hong Kong activist dismisses calls to boycott Gay Games
WTA suspended China tournaments after tennis player disappeared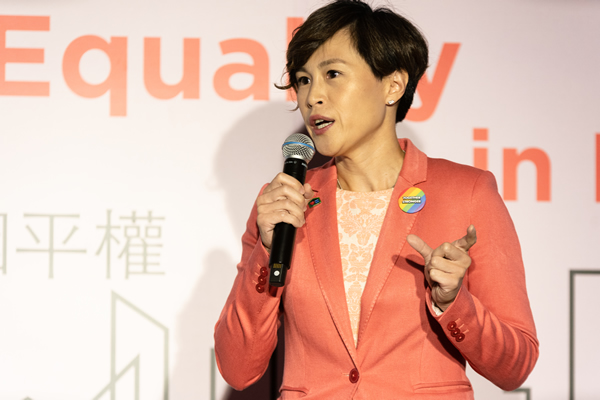 An LGBTQ activist in Hong Kong on Tuesday dismissed calls to boycott the 2023 Gay Games over China's human rights record.
"In Hong Kong, the team behind Gay Games has really worked tirelessly to bring it to Hong Kong and it will be a very good opportunity to showcase diversity and people working together and the human spirit at its best," Gigi Chao told the Washington Blade during a telephone interview from Hong Kong. "So, if it all gets rather political and if you twist the sentiments of what they want China to be, it will just really not work."
Chao is the co-founder of Hong Kong Marriage Equality, a group that seeks to extend marriage rights to same-sex couples in the former British colony. Chao also founded the Faith in Love Foundation, a group that seeks to increase awareness of LGBTQ issues in Hong Kong.
Chao is a member of the OutRight Action International board of directors. Chao is slated to speak in the group's annual summit that will take place virtually this week.
"All eyes are peeled on the events of next year: The Beijing Olympics, the relationship between Beijing and the U.S. as relationships either improve or sour over the course of the next 12 months and also trade and the global economic situation … it's not a rosy picture by all means," Chao told the Blade. "Everybody is bracing for the worst in terms of how the world recovers from COVID, but LGBTIQ rights continue."
Chao said Dennis Philipse, a Hong Kong resident who co-chairs Gay Games Hong Kong, and his colleagues "want the Gay Games to be a celebration of the human spirit in terms of sport."
"In Hong Kong, there's certainly no shortage of people engaged in sport and enjoying sports," said Chao.
Gay Games Hong Kong in September announced the postponement of the quadrennial event until 2023 because of the pandemic. The Federation of Gay Games, which oversees the Gay Games, awarded the games to Hong Kong over D.C. and Guadalajara, Mexico.
Hong Kong was a British colony until China regained control of it in 1997.
Upwards of 2 million people took part in pro-democracy protests that took place in Hong Kong in 2019.
Hong Kong's National Security Law, which, according to human rights activists, makes it easier for authorities to punish anyone who challenges the Chinese government, took effect in 2020. Hong Kong Chief Executive Carrie Lam, who is closely aligned with the Chinese government, supports the statute.
The Women's Tennis Association last week announced the suspension of tournaments in Hong Kong and throughout China in response to the disappearance of Peng Shuai, a Chinese tennis star, after she publicly accused former Vice Premier Zhang Gaoli of sexual assault. The Biden administration on Monday announced a diplomatic boycott of the 2022 Winter Olympics that are slated to take place in Beijing in February.
"The Federation of Gay Games continues to monitor the situation in Hong Kong regarding COVID-19, the National Security Law and all other aspects that affect the safety and security of our event," Sean Fitzgerald, co-president of the Federation of Gay Games, told the Blade in a statement after the Women's Tennis Association announced it had suspended all of its tournaments in China. "We are committed to hosting Gay Games 11 in Hong Kong in November 2023."
Chao acknowledged Gay Games organizers are "facing a lot of opposition from all directions." Chao also noted Hong Kong's government is "not actually positively promoting it."
"If we can get really high-profile athletes to participate, I think that's going to be a huge call for everybody to participate," said Chao.
Canadian Senate approves bill to ban conversion therapy
Measure will become law once it receives royal assent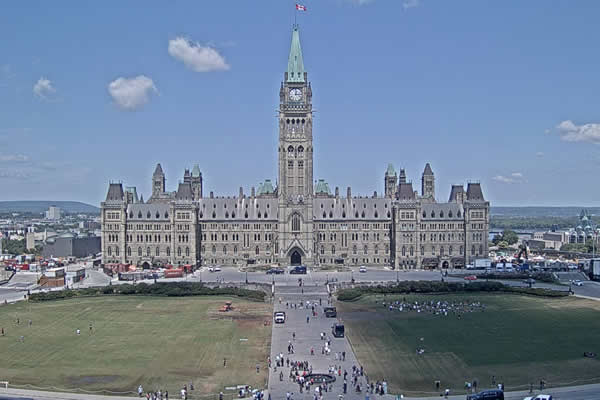 The Canadian Senate on Tuesday approved a bill that would ban so-called conversion therapy in the country.
Attorney General David Lametti and Women and Gender Equality and Youth Minister Marci Ien last week introduced the measure that would amend Canada's Criminal Code to ban the widely discredited practice. The Canadian House of Commons on Dec. 1 unanimously approved the bill.
"Our government's legislation to ban conversion therapy in Canada is one step closer to becoming law," tweeted Prime Minister Justin Trudeau on Tuesday. "To everyone who has made this possible, thank you. Let's keep building a country where everyone is free to be who they are and love who they love."
Lametti in his own tweet noted the bill will become law once it receives royal assent.
Update: Our government's legislation to ban conversion therapy in Canada is one step closer to becoming law. To everyone who has made this possible, thank you. Let's keep building a country where everyone is free to be who they are and love who they love. https://t.co/3s7GY0StmH

— Justin Trudeau (@JustinTrudeau) December 7, 2021
Canada would join Malta and a handful of countries that ban conversion therapy once the law takes effect.
Chile marriage equality bill receives final approval
South American country legalized civil unions in 2015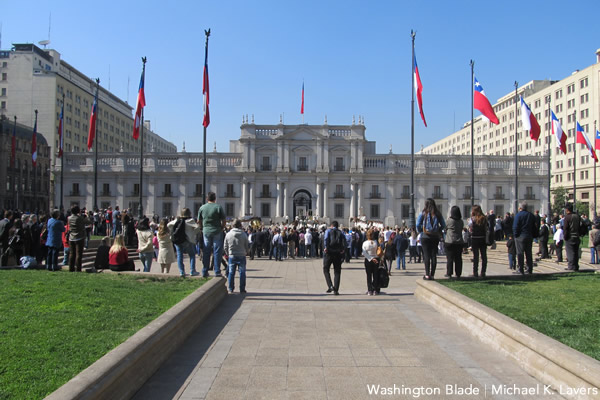 A bill that will extend marriage rights to same-sex couples in Chile received final approval on Tuesday.
The Chilean Senate and the Chilean House of Representatives approved the marriage equality bill that passed in the lower house of the country's Congress on Nov. 23. That vote took place two days after the first round of the country's presidential election took place.
A final vote on the bill was expected to have taken place last week, but senators unexpectedly opposed it.
A commission with members of both houses of the Chilean congress approved the bill on Monday.