Zimbabwe president: Arrest gays who don't conceive children
Robert Mugabe made comments during July 5 rally in country's capital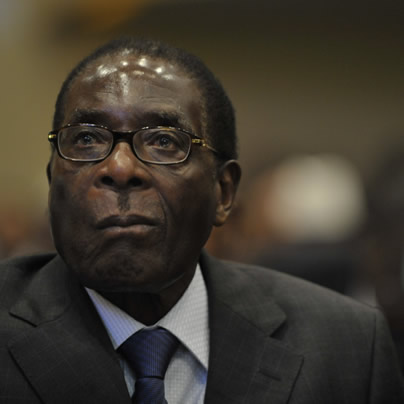 Zimbabwean President Robert Mugabe on July 5 said authorities should arrest gays and lesbians who don't conceive children.
"I should like to shut them-up in some room and see if they get pregnant; if they don't then it's jail because they have claimed they can have children," the tabloid New Zimbabwe quoted Mugabe as saying during a rally in Harare, the country's capital, at which he unveiled the platform of his party, ZANU-PF, ahead of the African nation's July 31 elections. "So, to that kind of rot, we say no, no, no, no!"
The tabloid further reported that Mugabe criticized the Anglican Church for blessing same-sex marriages.
The Zimbabwean Broadcasting Corporation noted Mugabe also blasted President Obama's support of nuptials for gays and lesbians.
"Obama said he wished that we in Africa accepted gay marriages," Mugabe said. "Parents, tell your children that we are against gay marriage."
Mugabe, whom Zimbabweans elected president in 1987 after he had served as the country's first post-independence prime minister from 1980, has previously used homophobic rhetoric against gays and lesbians.
He described gay men and lesbians who participated in the annual International Book Festival in Harare in 1995 as "dogs and pigs." LGBTQ Nation reported Mugabe said during a speech he gave a Roman Catholic-run teacher's college in the city of Masvingo in southeastern Zimbabwe last month that gays and lesbians "should rot in jail" as he suggested the country's anti-homosexuality laws are too lenient.
The State Department last August criticized the Zimbabwean government's crackdown on LGBT rights activists after police arrested more than 40 members of Gays and Lesbians of Zimbabwe (GALZ) inside the advocacy group's Harare office. GALZ members, who routinely face harassment and even death threats, said authorities confiscated computers and pamphlets from the same office a few days earlier.
New Zimbabwe also reported that Mugabe during his Harare speech on July 5 referenced former President Canaan Banana, who in 1998 received a 10 year prison sentence after his conviction on charges sodomy, attempted sodomy and indecent assault against his former male employees.
Mugabe's comments came less than two weeks after Obama applauded the U.S. Supreme Court ruling that found a portion of the Defense of Marriage Act unconstitutional in response to a question he received during a press conference with Senegalese President Macky Sall in Dakar, Senegal.
Obama also reaffirmed his opposition to the criminalization of homosexuality.
"When it comes to how the state treats people, how the law treats people, I believe that everybody has to be treated equally," he said. "I don't believe in discrimination of any sort. That's my personal view."
Amnesty International noted in a report it released on June 24 — two days before Obama left for his week-long trip to Africa that also included visits to South Africa and Tanzania — that 38 African countries continue to criminalize consensual same-sex conduct.
A senior administration official on Monday declined to comment, saying the White House would not "dignify Mugabe's comments with a response."
The Zimbabwean embassy in D.C. did not return the Washington Blade's request for comment.
A GALZ member with whom the Blade spoke earlier this year in the nation's capital said ZANU-PF is going to "use the issue of homosexuality as one of their campaign tools" ahead of the July 31 elections.
GALZ Chair Samba Chesterfield urged Mugabe to "desist from making such hate filled statements that impact on the lives of LGBT people" during an interview with LGBTQ Nation.
"Mugabe needs to deal with issues such as unemployment, impunity, access to clean water and corruption in government, rather than such rhetoric that does not do much to win over a despondent electorate," Chesterfield told the website.
Openly gay man elected to Honduran congress
Víctor Grajeda will serve as Congresswoman-elect Silvia Ayala's substitute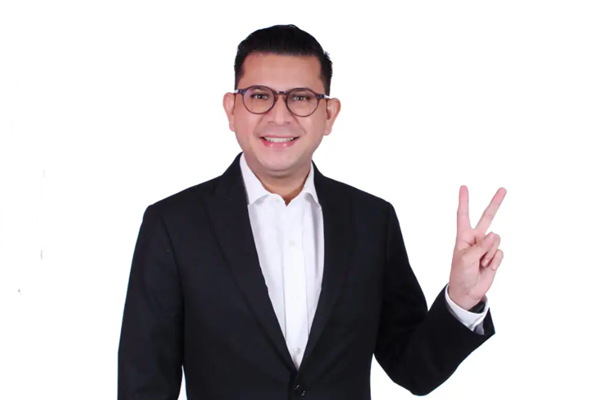 An openly gay man in Honduras made history on Sunday when he won a seat in the country's Congress.
Grajeda will serve alongside Congresswoman-elect Silvia Ayala of the leftist Free Party (Partido Libre), who represents Cortés department in which the city of San Pedro Sula is located, as her substitute.
Reportar sin Miedo, the Washington Blade's media partner in Honduras, and Agencia Presentes, reported Grajeda received more than 100,000 votes. Grajeda is one of five openly LGBTQ candidates who ran for Congress.
"I am looking to open spaces and eliminate discrimination based on sexual orientation or identity," said Grajeda.
Tegucigalpa Mayor Nasry Asfura, a member of outgoing President Juan Orlando Hernández's ruling National Party (Partido Nacional), on Tuesday conceded defeat to President-elect Xiomara Castro of the Free Party.
Castro's husband, former President Manuel Zelaya, was ousted from power in a 2009 coup.
Activists with whom the Blade has spoken say LGBTQ Hondurans continue to flee the country and migrate to the U.S. in order to escape rampant violence and discrimination and a lack of employment and educational opportunities. Castro, among other things, has publicly endorsed marriage rights for same-sex couples in Honduras.
Canadian government introduces bill to ban conversion therapy
Prime minister says discredited practice as 'discriminatory and degrading'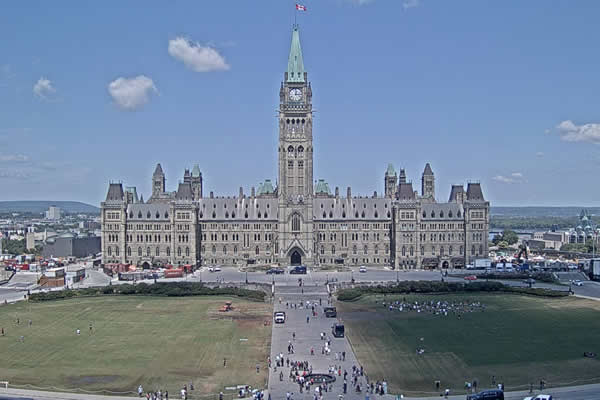 The Canadian government on Monday introduced a bill that would ban so-called conversion therapy in the country.
The bill that Attorney General David Lametti and Women and Gender Equality and Youth Minister Marci Ien introduced would amend Canada's Criminal Code to specifically ban:
Causing another person to undergo conversion therapy
Removing a minor from Canada to subject them to conversion therapy abroad
Profiting from providing conversion therapy
Advertising or promoting conversion therapy
A press release the Canadian government issued said the bill would allow courts "to order the seizure of conversion therapy advertisements or to order their removal from computer systems or the internet."
"The pain and trauma caused by conversion therapy practices continue to have a devastating impact on LGBTQ2 communities across Canada," said Ien. "Our government is focused on promoting equality rights and tackling discrimination against lesbian, gay, bisexual, transgender, queer and two-spirit people. Criminalizing this practice upholds basic human rights, while also ensuring that every Canadian is free to live their authentic lives."
Prime Minister Justin Trudeau in a tweet said conversion therapy "is discriminatory and degrading, and has had devastating impacts on LGBTQ2 Canadians."
"It has no place in our country," he said.
Conversion therapy is discriminatory and degrading, and has had devastating impacts on LGBTQ2 Canadians. It has no place in our country – and that's why, today, @DavidLametti and @MarciIen introduced legislation to ban it once and for all. More details: https://t.co/28jSblDPyR https://t.co/hLhzT1nJbD

— Justin Trudeau (@JustinTrudeau) November 30, 2021
Tourism Minister Randy Boissonnault, who previously advised Trudeau on LGBTQ issues, also applauded the bill's introduction.
"Conversion 'therapy' is akin to torture," said Boissonnault. "I encourage all of my colleagues in the House (of Commons), to support this bill that will move to criminalize conversion therapy in Canada once and for all."
I've said it before, and I will say it again. Conversion "therapy" is akin to torture. I encourage all of my colleagues in the House, to support this bill that will move to criminalize conversion therapy in Canada once and for all. 🏳️🌈 pic.twitter.com/AbCwaMf30w

— Randy Boissonnault 🏳️🌈 (@R_Boissonnault) November 29, 2021
Trudeau, who won re-election in September, has previously called for a prohibition of the widely discredited practice. The Canadian Senate earlier this year tabled a separate conversion therapy ban bill.
The House of Commons on Wednesday unanimously approved the recently introduced bill. It now goes to the Senate.
Canada would join Malta and a handful of countries that ban conversion therapy.
Hungarian lawmakers back LGBTQ rights referendum
Prime minister under fire for ongoing crackdown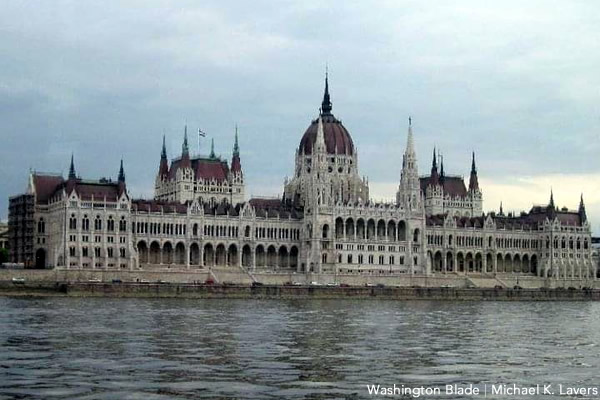 Hungarian lawmakers on Tuesday approved a resolution that paves the way for a referendum on LGBTQ issues.
Reuters noted Prime Minister Viktor Orbán, who is running for re-election in 2022, earlier this year proposed a referendum on a law that that bans the promotion of homosexuality and sex-reassignment surgery to minors in Hungary.
"The Hungarian government proposes that citizens should have a chance to express their stance on the issues of gender propaganda," Deputy Minister Balázs Orbán told Hungarian MPs, according to Reuters. "We are committed. We believe that we … have to say no to LGBTQ propaganda in schools carried out with the help of NGOs and media, without parental consent."
Orbán continues to face criticism over his government's efforts to curtail LGBTQ rights in Hungary.
Lawmakers late last year amended the country's constitution to define family as "based on marriage and the parent-child relation" with "the mother is a woman, the father a man" and effectively banned same-sex couples from adopting children. Hungarian MPs in April 2020 approved a bill that bans transgender and intersex people from legally changing their gender.
Hungary in August issued a decree that restricted the sale of children's books with LGBTQ-specific themes.
The European Commission in July announced legal action against Hungary after the law that will go before voters took effect.
Orbán in September said Brussels has withheld funds for the country's pandemic recovery plan because of his government's anti-LGBTQ policies. An EU spokesperson said LGBTQ issues did not factor into the decision to withhold the money.