SPRING ARTS PREVIEW EVENTS: Notes to self …
D.C.'s LGBT spring social calendar swirling as always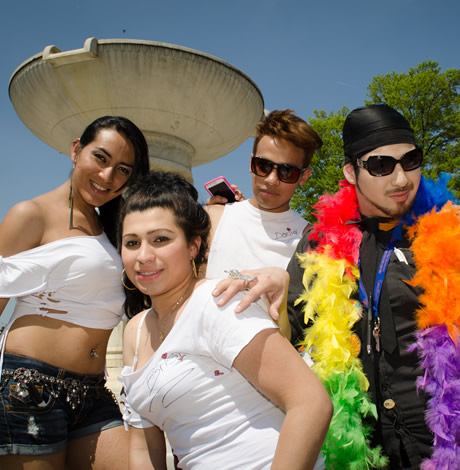 SPRING ARTS PREVIEW 2015: Some upcoming events don't fit in our regular spring arts categories. Here are a few to mark on your calendar.
• The Miss Gaye Universe D.C. Ball is Sunday at 4 p.m. at Town (2009 8th St., N.W.).
• The Capital Area Gay and Lesbian Chamber of Commerce (CAGLCC) has its seventh annual mega networking event on March 25 from 6:30-8:30 p.m. at Town (2009 8th St., N.W.). It's free.
• Allied in Pride, an LGBT group at George Washington University, hosts Trans Day of Visibility with Laverne Cox on March 31 at 7 p.m. at the Lisner Auditorium (730 21st St., N.W.). The event is sold out.
• Brother Help Thyself has a town hall meeting on March 25 at 7:30 p.m. at the Hyatt Place Baltimore Inner Harbor (511 South Central Ave.). Another is planned for Washington. The mission is to discuss community needs and available resources.
• Family Equality Council and the D.C. Center are co-hosting a "family dance" on April 3 from 6:30-8:30 p.m. at the Center (2000 14th St., N.W.). It's part of the Council's "family weekend in D.C." event running April 3-5.
• The Helen Hayes Awards for local theater are April 6.
• The Victory Fund National Champagne Brunch is April 19 at 11 a.m. at the Marriott Marquis (901 Massachusetts Ave., N.W.).
• The Equality Virginia Commonwealth Dinner is April 18 in Richmond.
• The Gay & Lesbian Activists Alliance has its annual Distinguished Service Awards on April 23 from 6:30-8:30 p.m. at Policy Restaurant and Lounge (1904 14th St., N.W.). Tickets are $55. Chuck Hicks, Alexandra Andrea Beninda and Anne Phelps will be honored.
• Comedian Judy Gold will headline the CAMP Rehoboth Women's FEST April 9-12.
• Cherry is April 16-19 at various locations.
• Pride at Work has its third LGBT Labor Leadership Training April 17-18 at the AFL-CIO Building (815 16th St., N.W.).
•  Dining Out for Life is April 30. Details on participating D.C. restaurants at its site.
• Gay Day at the Zoo is May 3 at the Smithsonian's National Zoo (3001 Connecticut Ave. N.W.).
• Youth Pride is May 3 from noon-5 p.m. in Dupont Circle. Details at youthpridedc.org.
• The Blade's annual Rehoboth summer kick-off party is May 15. Details coming soon.
• Hagerstown Hopes Pride 2015 is May 16 from noon-4 p.m. at Doubs Woods park (1307 S. Potomac St., Hagerstown, Md.).
• Miss Gay Maryland America is May 16 at the Hippo (1 W. Eager St., Baltimore).
• Capital Trans Pride is May 16 from 10 a.m.-4 p.m. at the Reeves Center (2000 14th St., N.W.).
• The 53rd annual Gay Golden Boy Awards for the Academy of Washington are June 6 at Town (2009 8th St. N.W.) at 4 p.m.
• The GenOUT Chorus, a new youth chorus spin-off of the Gay Men's Chorus of Washington, makes its debut May 15-16 at the Lincoln Theatre (1215 U St., N.W.).
• D.C. Black Pride weekend is May 21-25. Wet Dreamz 2015 from Daryl Wilson Promotion and Omega Entertainment is the same weekend.
• The Capital Pride Heroes Gala is June 3 at 7 p.m. at the Carnegie Library (801 K St., N.W.). Many other Pride-related events are also planned for June 5-14. Details at capitalpride.org/pride-2015.
• The Capturing Fire Queer Spoken Word Summit & Poetry Slam is June 4-6. Details at capturingfire.org.
PHOTOS: 2022 Baltimore Pride
Annual LGBTQ march held on Saturday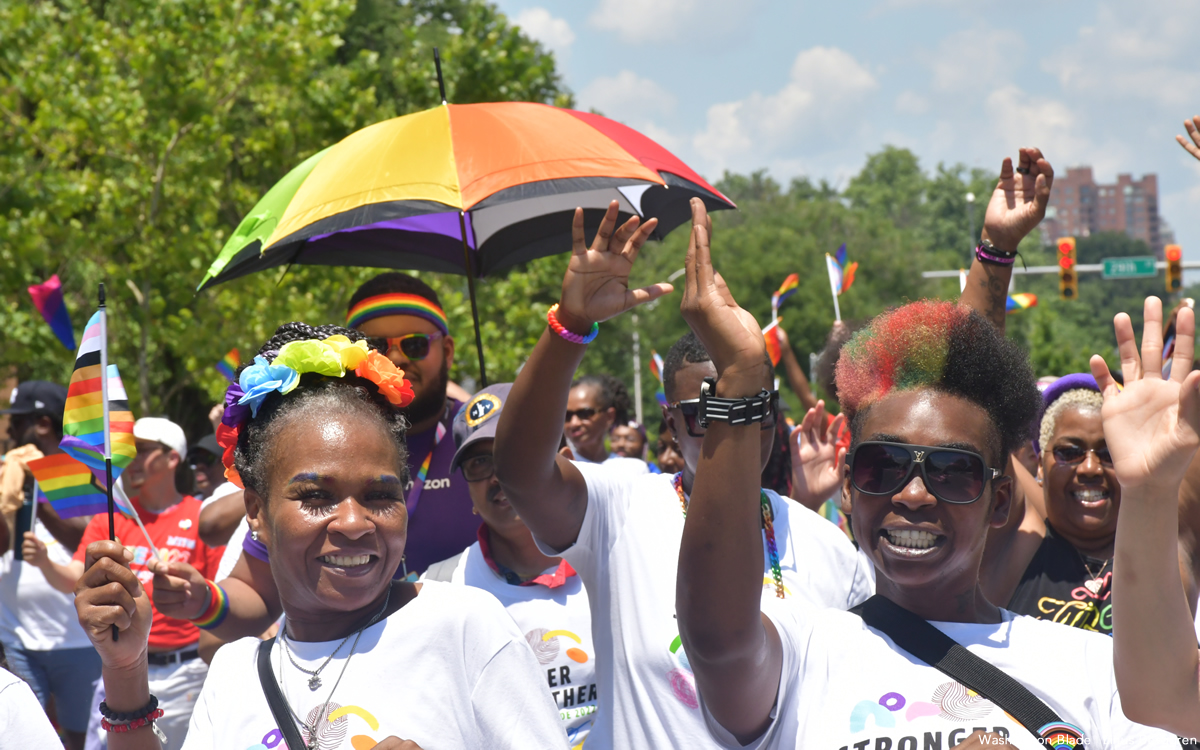 The 2022 Baltimore Pride Parade was held on Saturday, June 25. The march was followed by a block party and entertainment.
(Washington Blade photos by Linus Berggren)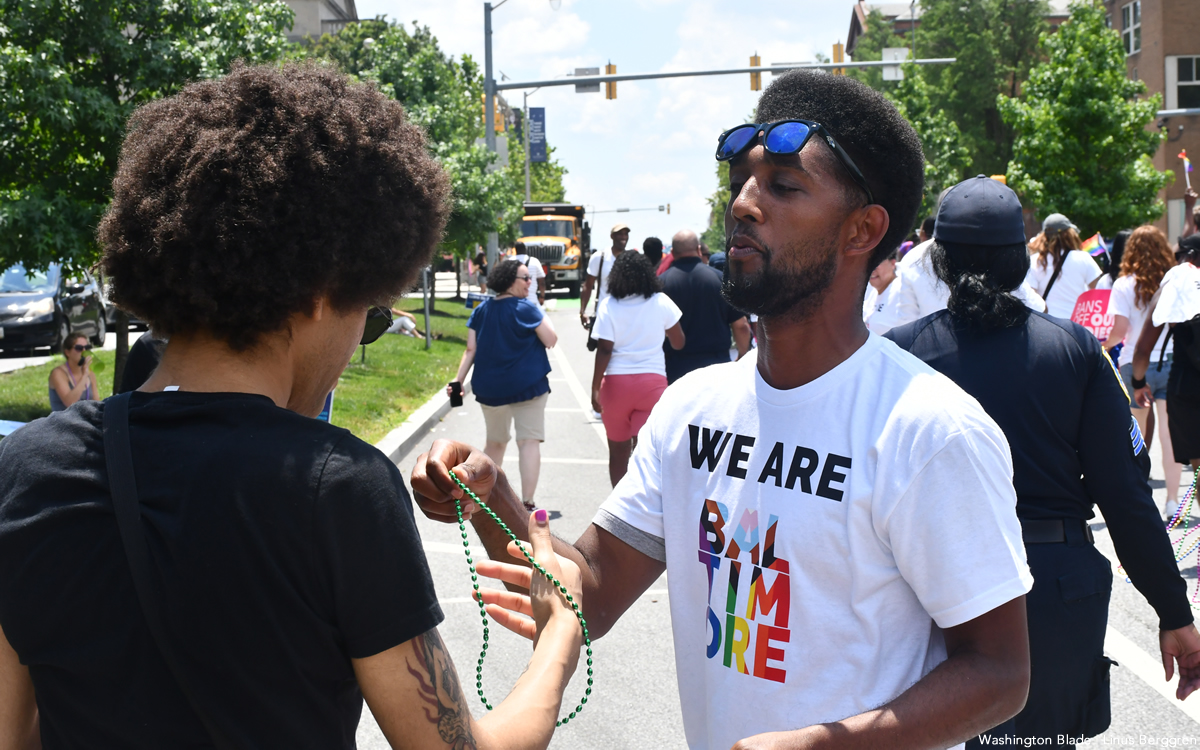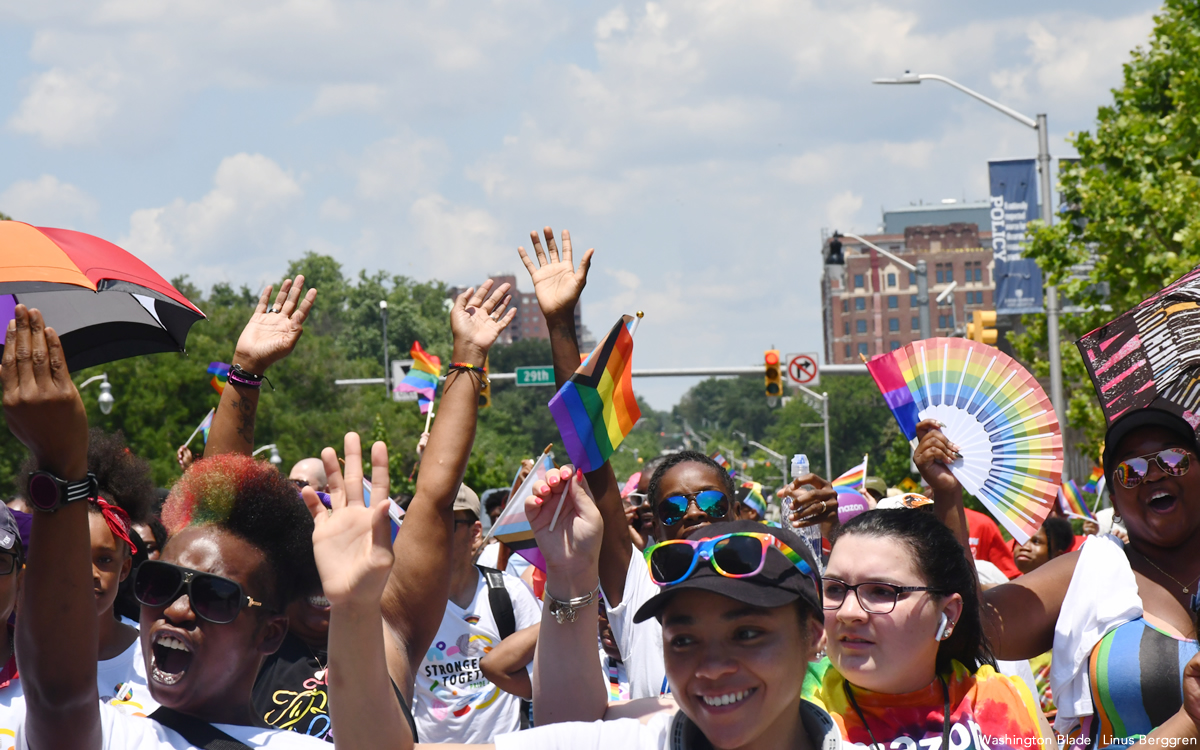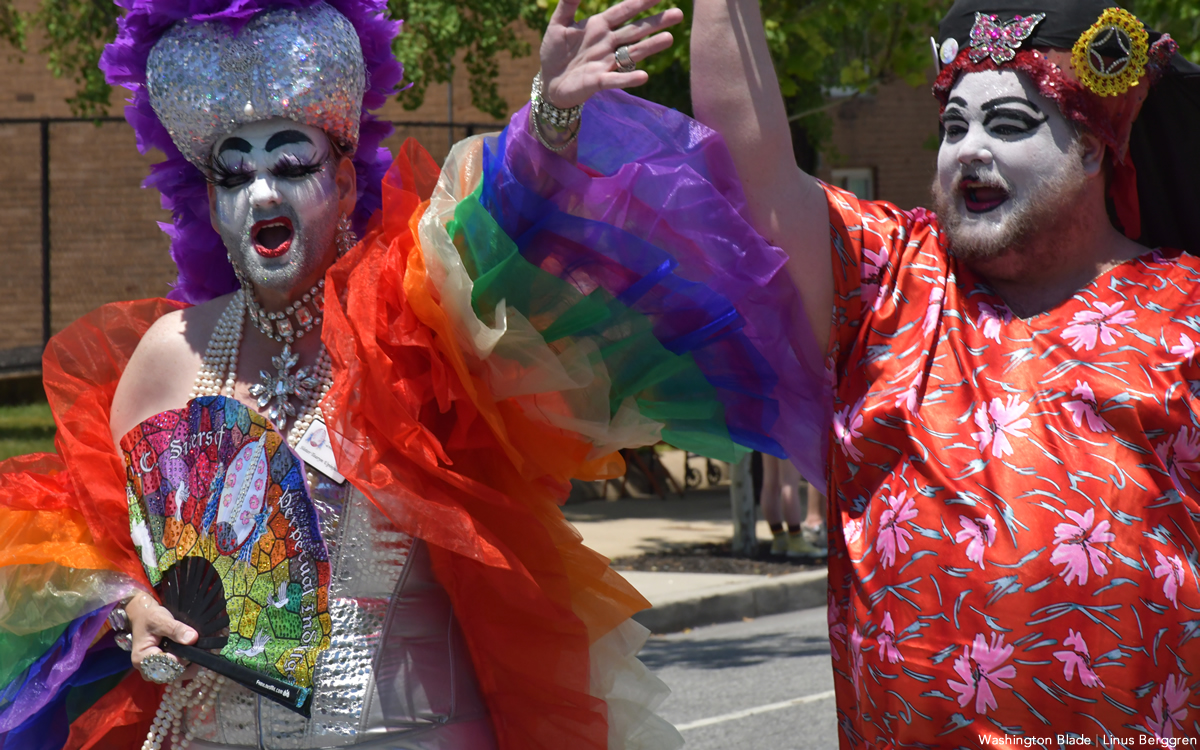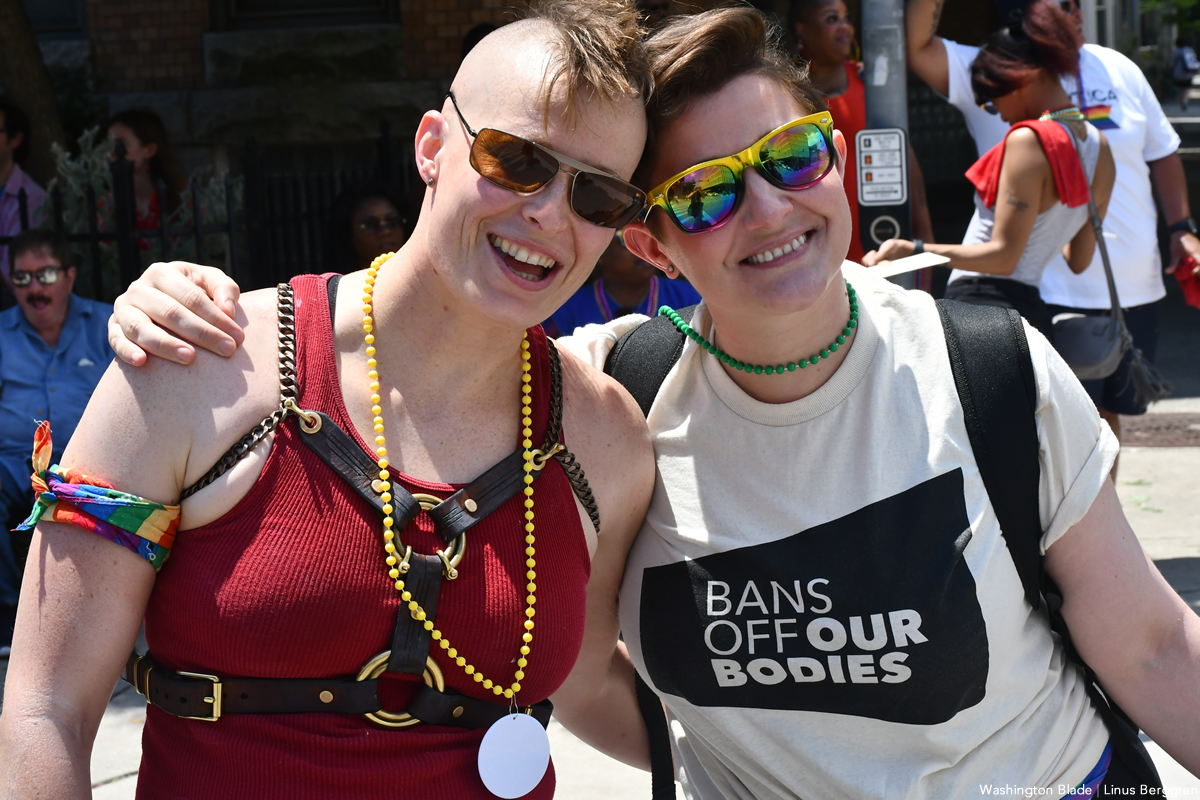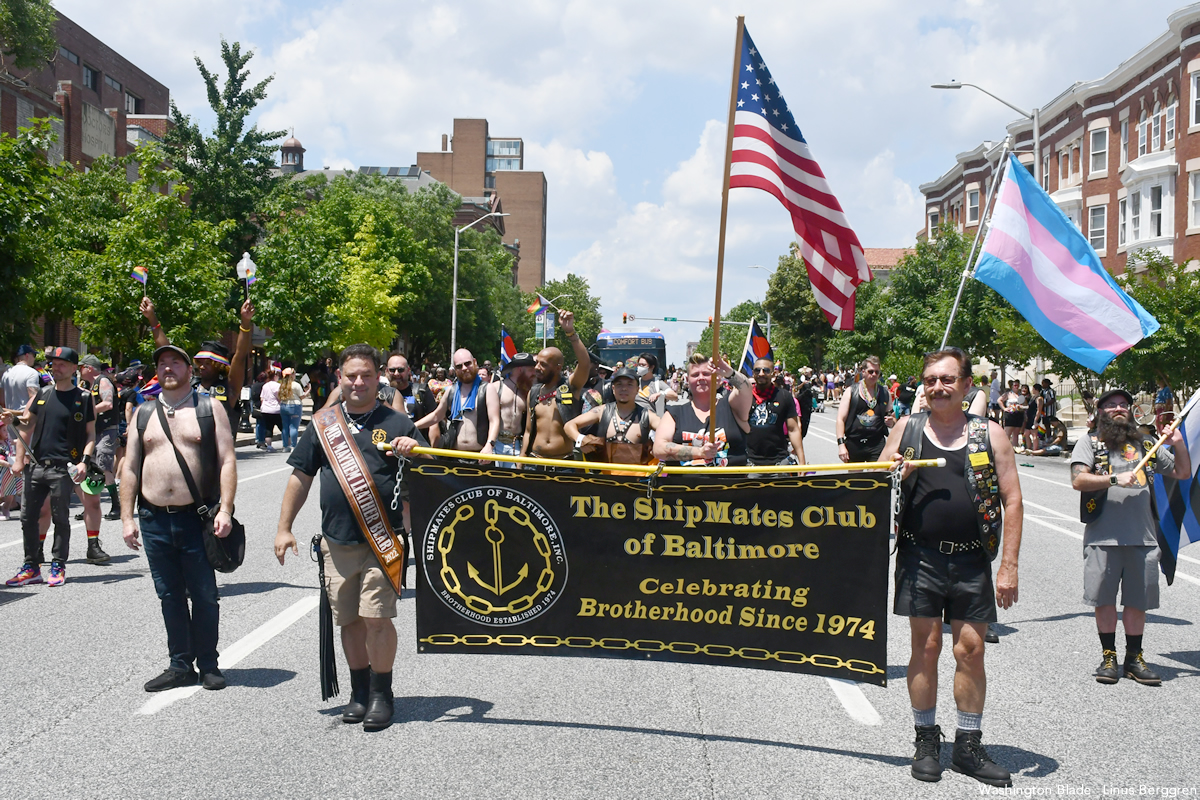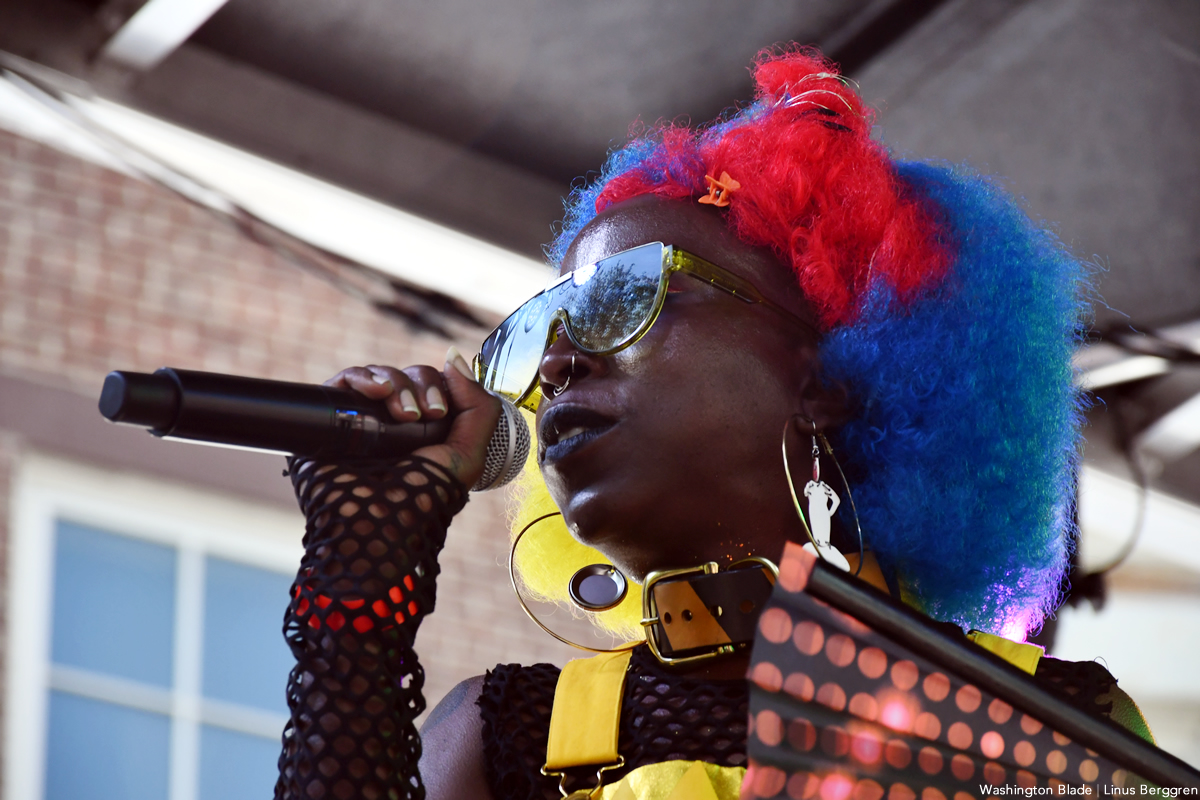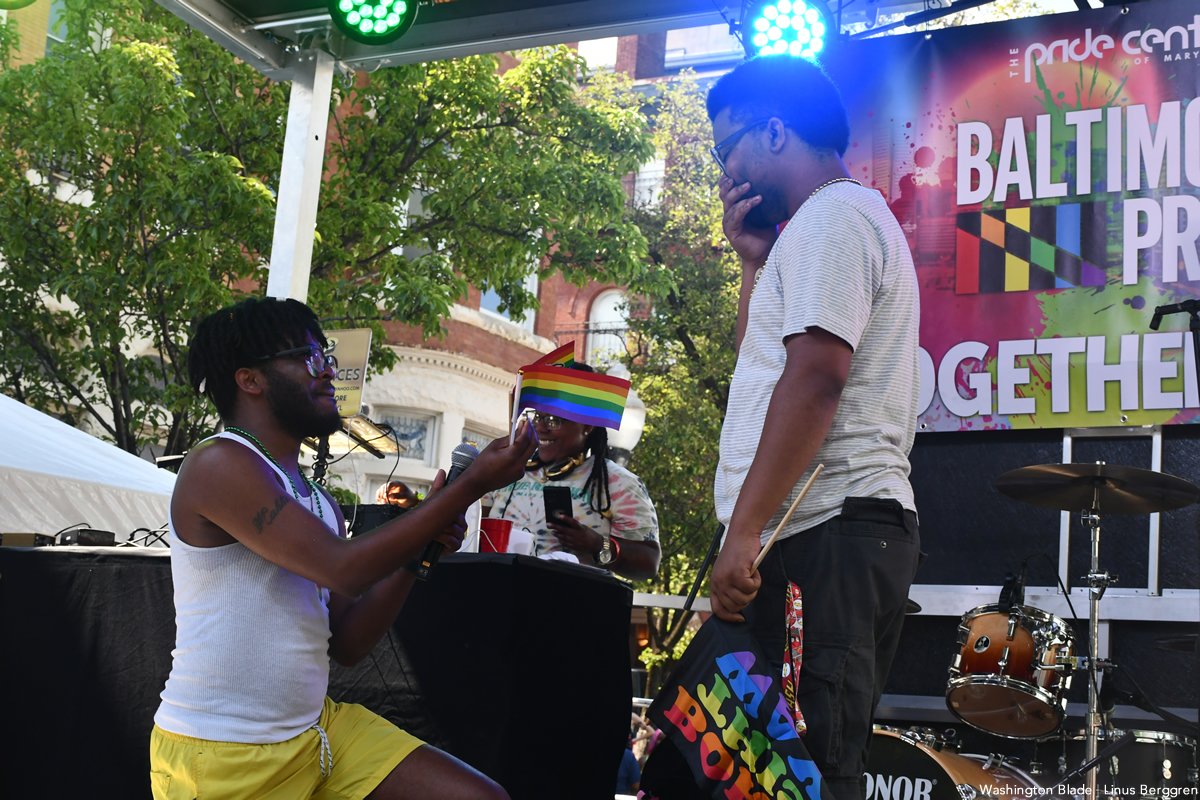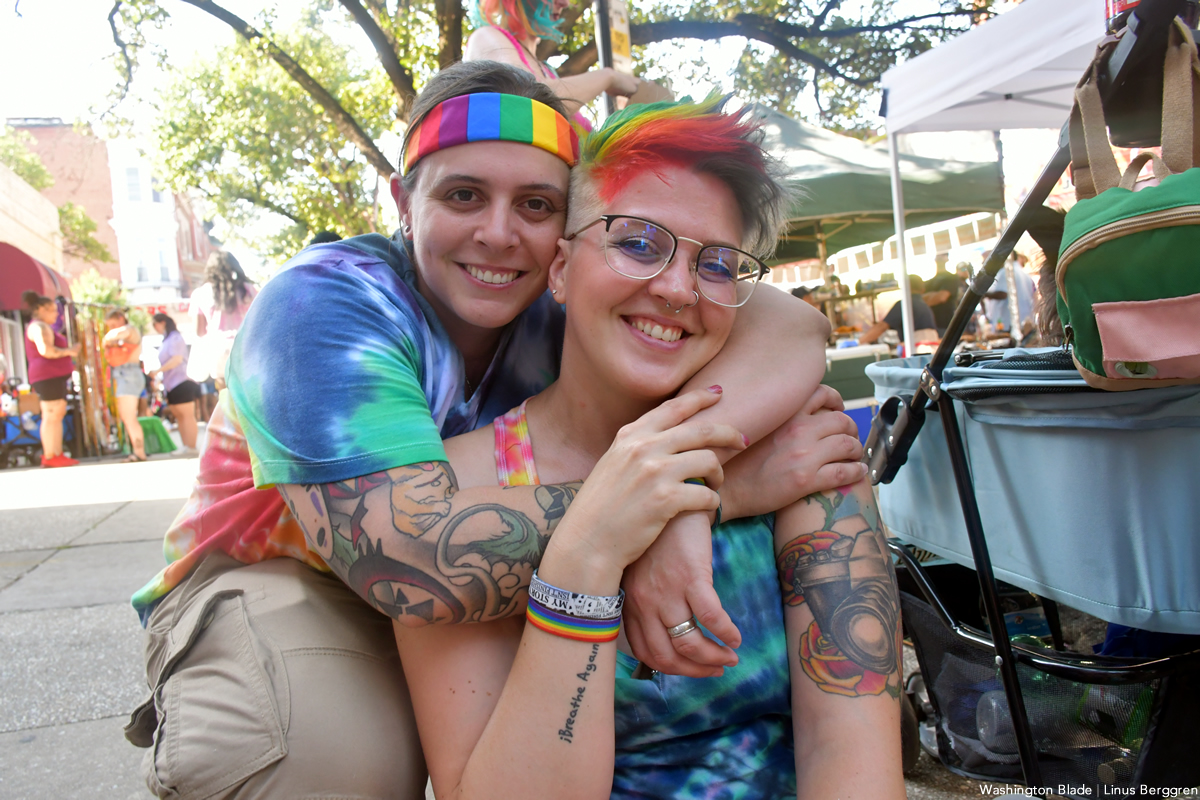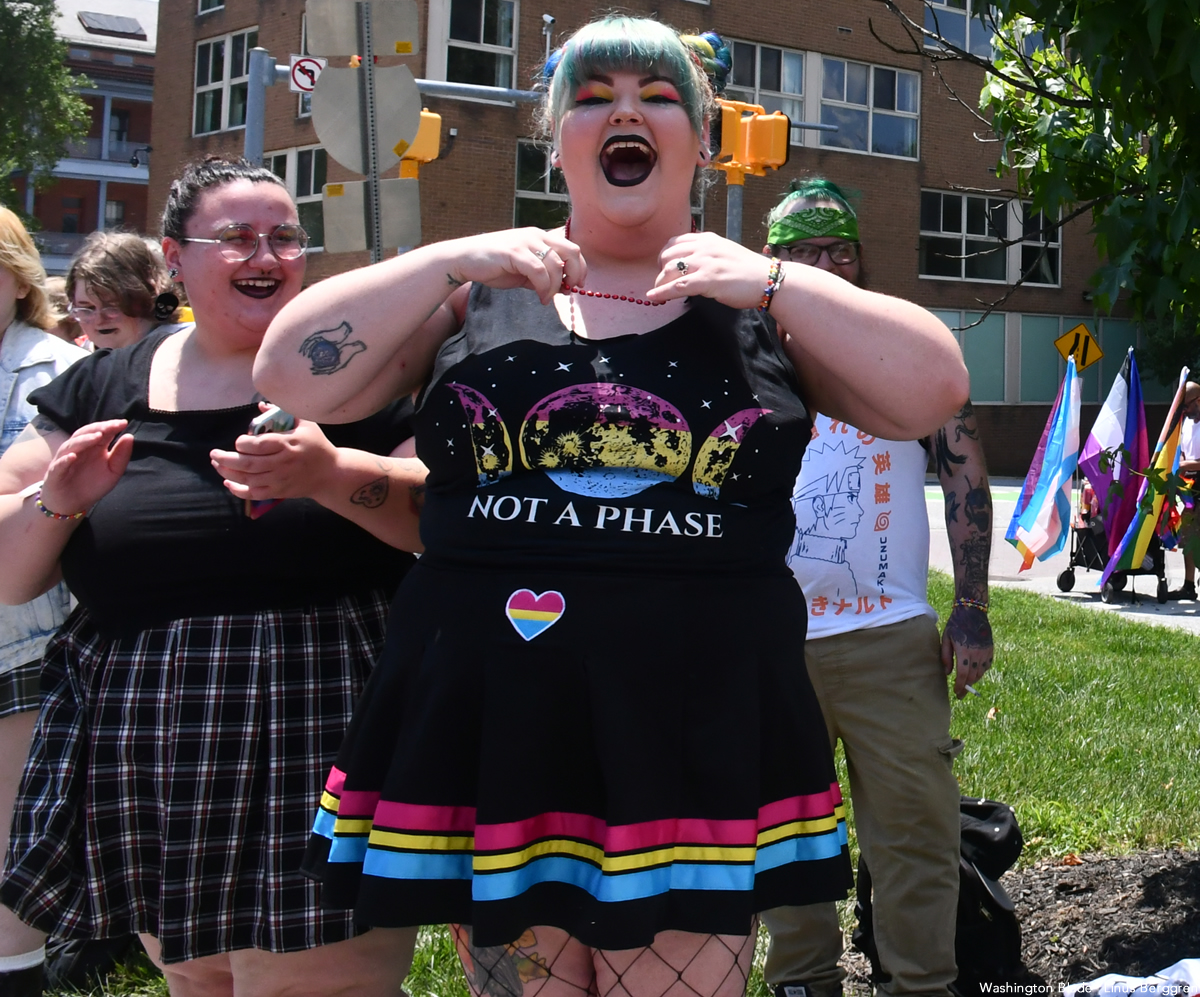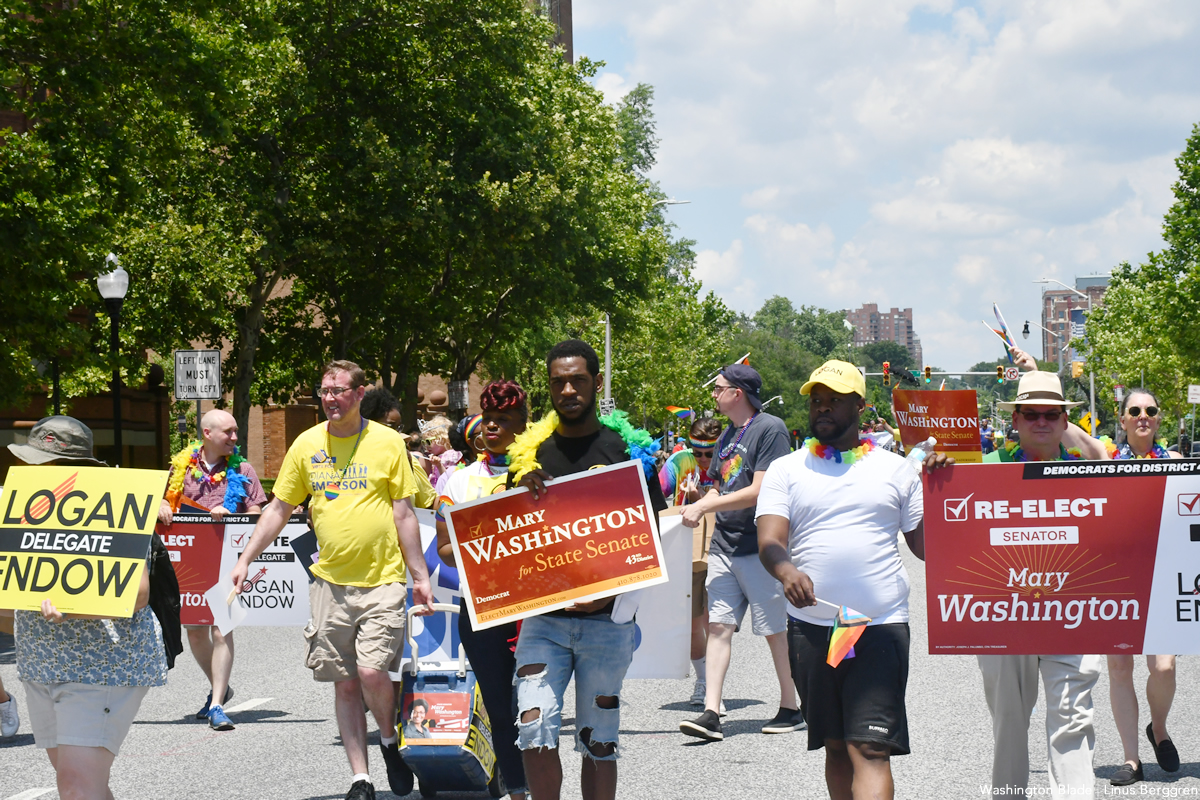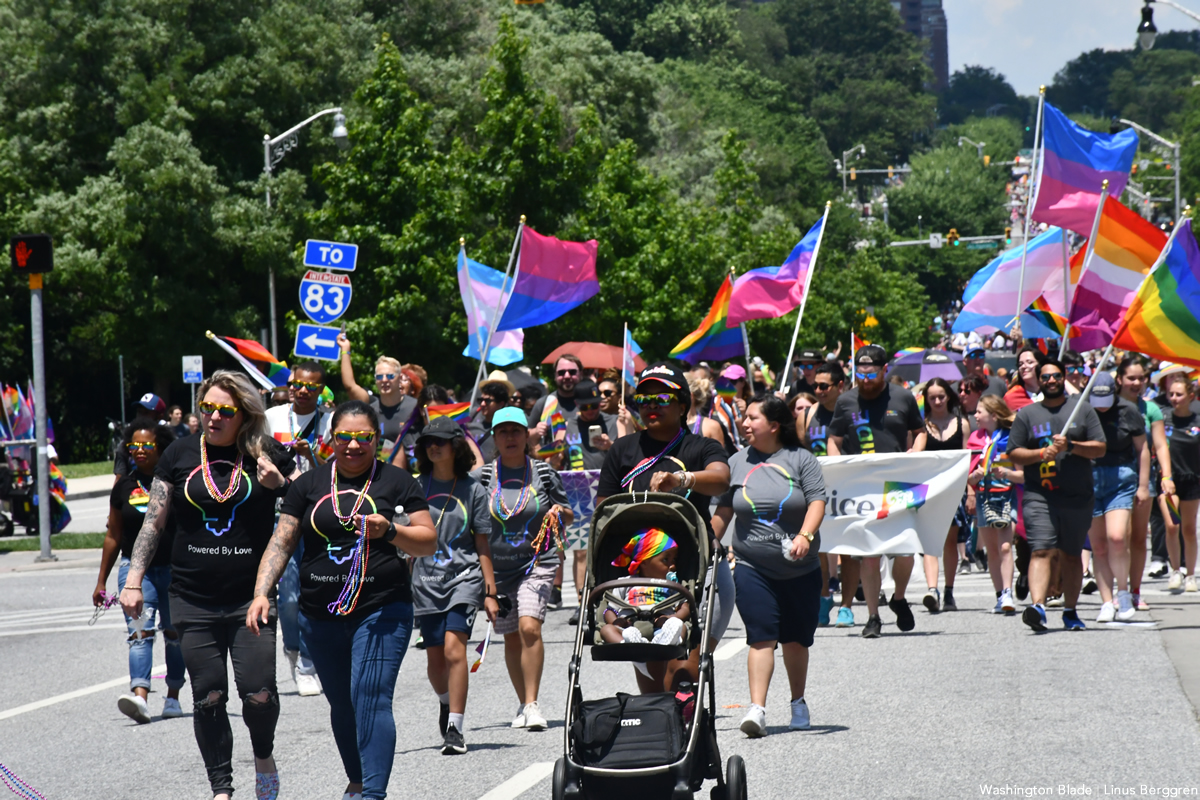 Queer actor on new role: 'Playing villains is a blast'
Jaye Ayres-Brown returns as a contemptible Londoner in 'Red Velvet'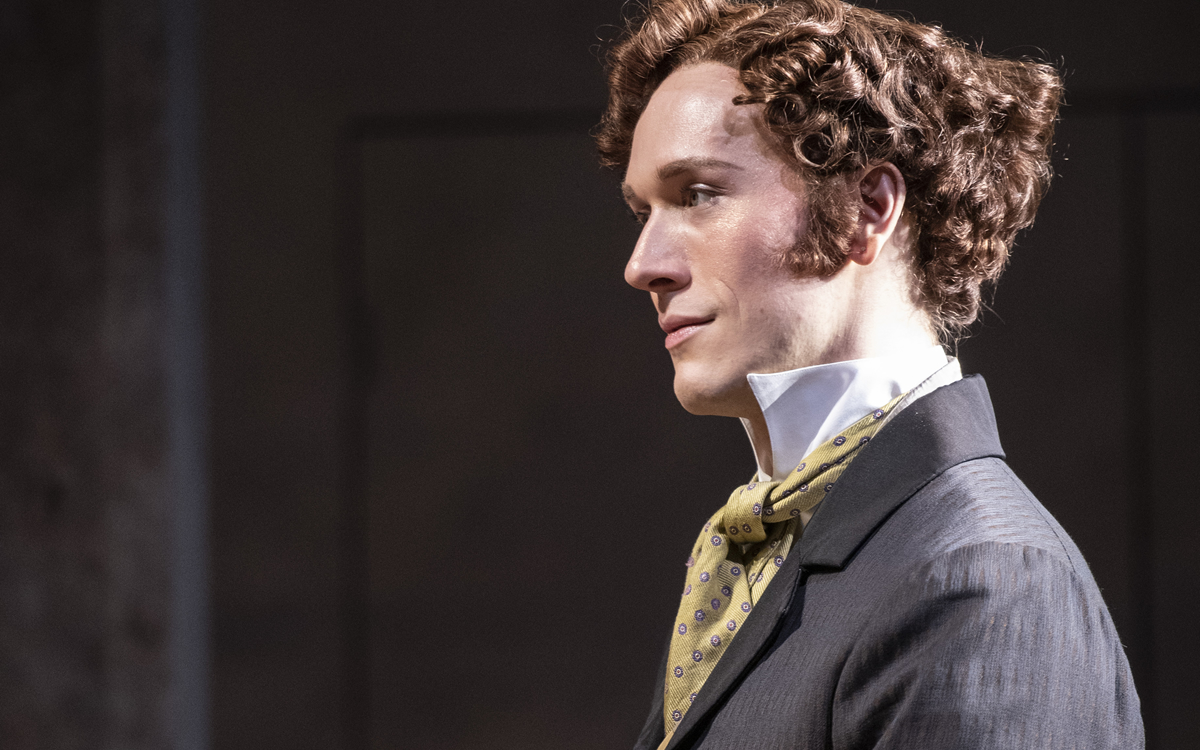 'Red Velvet'
Through July 17
Shakespeare Theatre Company 
Michael R. Klein Theatre at the Lansburgh, 450 7th St., N.W.
$35-$120
Shakespearetheatre.org
After a five-year absence from the stage, actor Jaye Ayres-Brown (queer, gender fluid, non-binary, and trans-femme) returns to the boards as a contemptible cisgender Londoner in playwright Lolita Chakrabarti's "Red Velvet" at Shakespeare Theatre Company's Klein Theatre.
Possessed of presence and genuine warmth, Ayres-Brown, 27, is playing Charles Kean, the smug and dubiously talented son of legendary English actor Edmund Kean. Charles is also the essential antagonist in Chakrabarti's exploration of the life and career of renowned early 19th century African-American Shakespearean actor, Ira Aldridge (Amari Cheatom).
When Aldridge is tapped to play Othello on the London stage, Charles, who's slated to act opposite the star as evil Iago, quits the show. It's 1833 and Charles is deeply opposed to a Black actor playing a Black lead character, and he's even less pleased that his real-life fiancée Ellen Tree (Emily DeForest) is assaying Othello's romantic obsession Desdemona in the production.
Offstage, Ayres-Brown is Aldridge's biggest fan: "He was way ahead of his time. A hundred years before Stanislavsky, Aldridge was introducing a proto naturalist approach to acting. In retrospect, it's hard to disentangle the public's reaction to him. He was something so different. But were white audiences reacting to his innovative acting style or were they showing their racial bias?"
"In the play, I'm that bias," says the New York-based actor.
WASHINGTON BLADE: Joan Crawford famously said, "I love playing bitches. There's a lot of bitch in every woman — a lot in every man."
JAYE AYRES-BROWN: Oh yeah, playing villains is a blast. Ira Aldridge was such a spectacularly heroic person, an amazingly gifted and resourceful artist, he deserves a good villain to push against, a meaningful villain who makes us admire the hero even more. And Amari [Cheatom], the actor who plays Aldridge, is a great artist who deserves a strong antagonist too.
BLADE: Are you enjoying your stay in London 1833?
AYRES-BROWN: No, I hate it! But my character loves it. Charles enjoys tremendous privilege – racial and professionally. He's a cisgender white supremacist committed to the patriarchal power structure of the time. But me, Jaye as a person, is less than charmed by it.
BLADE: But aesthetically, it's quite fine?
AYRES-BROWN: Yes, You-Shin Chen's sets are impeccable, and the period costumes are beautifully rendered by Rodrigo Muñoz. Sometimes, I do feel a little bit like a drag king in Charles' attire. It's a performance of masculinity.
I have an expansive experience of gender in which I include masculinity and I think I have something interesting to say and a unique perspective. Language about gender nonconforming identity didn't exist in 1833, but the people existed, getting by the best way they could. Everyone was either a man or a woman. Who knows today how any of these characters would identify?
My objective is to cram as much humanity in the character as I can. The play is deeply considered with questions about who gets to play what roles. And I try to bring as much of myself to each role regardless of their gender.
BLADE: Charles is very far from who you are?
AYRES-BROWN: For me, the work of playing a character like this is derived largely from the racist lessons all Americans learn. The stereotypes are things that I've been exposed to as someone who grew up white in America. There's the initial desire to distance and highlight contrasts, but ultimately you must mine your own experience even if it's uncomfortable.
BLADE: How is it to be working in live theater again?
AYRES-BROWN: Like Christmas morning! It's my first play in five years, and still my training kicks in. I re-balance on my bike and it's like I've never stopped riding. But mostly, I'm trying to have as much fun as I can.
BLADE: And how was working with young director Jade King Carroll?
AYRES-BROWN: Wonderful! The play deals with some difficult moments, harmful language and ideas. Jade created a space in our rehearsal room where people could be playful while engaging with that. Dealing with concepts of history requires the seriousness it demands, but there's also a need for humor and lightness, and Jade made that possible.
BLADE: Any thoughts on "Red Velvet" being stuck in time?
AYRES-BORWN: No, I think this play is a shockingly contemporary telling of a lost history that feels overwhelmingly resonant as it's related to identity politics and the push for representation. I hope the audience sees a period but appreciates the present-day dynamics, discussions, and language. It's also surprisingly human and very entertaining. To me it's a very funny show. Anyone interested in laughing at posh British folks being stupid might agree.
Olympic champion Tom Daley 'furious' about bans on trans athletes
"Anyone that's told that they can't compete or can't do something they love just because of who they are, it's not ok"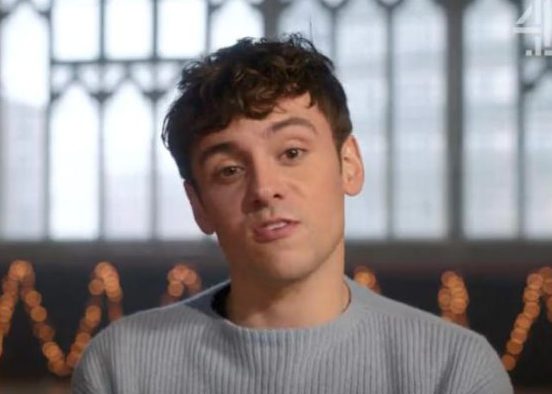 Olympic diving champion Tom Daley said he is "furious" about FINA, the world swimming body, banning some transgender athletes from women's swimming, diving, and other competitions. 
"Anyone that's told that they can't compete or can't do something they love just because of who they are, it's not OK," Daley said to iNews at a press conference. "It's something I feel really strongly about. Giving trans people the chance to share their side."
Earlier this month, FINA released the new policy on eligibility, banning athletes who have experienced male puberty from women's competitions.
FINA President Husain Al-Musallam said the new policy intended to protect athletes' right to compete but also ensure competition fairness.
FINA intends to create an open category for athletes whose birth sex is different from their gender identity.
"This has not been done before, so FINA will need to lead the way. I want all athletes to feel included in being able to develop ideas during this process." Al-Musallam said.
The new policy was condemned by the Human Rights Campaign, which said that requiring athletes to transition before age 12 was unrealistic and unlikely. States such as Alabama regulate young people's access to age-appropriate gender-affirming care.
"This sudden and discriminatory decision is a blatant attack on transgender athletes who have worked to comply with longstanding policies that have allowed them to participate for years without issue," said Joni Madison, HRC's Interim President, "This policy is an example of swimming organizations caving to the avalanche of ill-informed, prejudiced attacks targeted at one particular transgender swimmer."
The new policy will impact the career of trans swimmer Lia Thomas, the first trans woman to win a NCAA Division I Women's Swimming Championship, and may prevent her from participating and competing in the female category.