June 13, 2015 at 10:24 am EDT | by Michael K. Lavers
House rejects controversial trade measure
Lawmakers by a 126-302 vote margin rejected Trade Adjustment Assistance, which helps workers who lose their jobs because of international trade deals. President Obama sought to use TAA to solidify support among fellow Democrats for the Trade Promotion Authority, a so-called "fast-track" proposal that would limit debate on the Trans-Pacific Partnership and other international trade deals and prevent lawmakers from amending them.
House Minority Leader Nancy Pelosi (D-Calif.) is among the 144 Democrats who voted against TAA in what Politico described as a "staggering blow" to Obama's trade agenda.
Lawmakers subsequently approved the TPA by a 219-201 vote margin, but the rejection of TAA will slow down efforts to ratify the Trans-Pacific Partnership.
"Trade deals should be about whether or not we'll fight for American jobs and American workers' wages," said gay U.S. Rep. Mark Pocan (D-Wis.) on the House floor. "Bad trade deals cost us both."
The U.S. Senate last month approved TPA.
Trade agreement to include countries with anti-LGBT rights records
Brunei, Malaysia, Australia, Canada, Chile, Japan, Mexico, New Zealand, Peru, Singapore and Vietnam are the countries that would join the U.S.-backed TPP.
LGBT rights advocates have strongly objected to the inclusion of Brunei because the country last year began to implement a new legal code based on Sharia law that punishes those convicted of homosexuality by stoning them to death. Malaysia's highest court in February upheld former Deputy Prime Minister Anwar Ibrahim's conviction under the country's anti-sodomy law.
"We have said repeatedly that this deal is bad for all Americans, LGBT and otherwise, and we are pleased the House has voted overwhelmingly that they agree — at least in part," said Pride at Work Executive Director Jerame Davis in a statement he released after Friday's vote in the House. "The vote today is a clear message that bad trade deals that will ship jobs overseas, pollute our air and water, and reward regressive human rights abusers are not palatable to the American people. It is further proof that when we stand together united in purpose and action the money and influence of multi-national corporations can be overcome."
Neela Ghoshal of Human Rights Watch's LGBT Rights Program on Thursday noted during a press conference at the National Press Club in Washington that it is "illegal to be transgender in Malaysia." She highlighted the case of local advocate who was arrested at the hotel where she worked because she was dressed as a woman.
"If Caitlyn Jenner was a Muslim who lived in Malaysia today, she could be considered a criminal and magazines like Vanity Fair could be shut down for reporting on her criminal activities, as well as other criticisms of the government's LGBT policy," said John Sifton of Human Rights Watch during the same press conference.
AmFAR last month released a report that concludes TPP would also reduce the availability of antiretroviral drugs and other medications in the countries that ratify it.
Gay ambassadors defend TPP
The six openly gay U.S. ambassadors, along with Special U.S. Envoy to Promote Global LGBT Rights Randy Berry and Deputy U.S. Trade Representative Robert Holleyman wrote in a June 9 op-ed in the Advocate that LGBT people would gain additional rights under the TPP and other international trade initiatives.
U.S. Rep. Gregory Meeks (D-N.Y.) told the Washington Blade last week that TPP contains "enforceable" safeguards to ensure the rights of LGBT people and other marginalized groups in the countries that ratify it are protected. Neither the New York Democrat, nor the State Department provided additional information on these standards.
"We would like to see the TPP become a tool for progress on human rights," said Mark Bromley, chair of the Council for Global Equality, on Thursday while speaking at the National Press Club. "It could be, but the draft that we've seen isn't there yet."
Davis noted to the Blade during a previous interview that TPP has been "negotiated in secret."
Michael K. Lavers is the international news editor of the Washington Blade. Follow Michael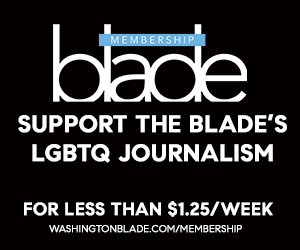 Sign Up for Blade eBlasts