EXCLUSIVE: I interrupted Obama because we need to be heard
President should release trans immigrants in detention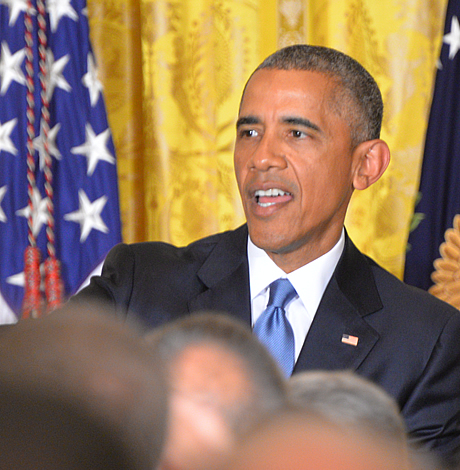 By Jennicet Gutiérrez
Pride celebrations of the LGBTQ community are taking place throughout the nation. The community takes great pride in celebrating our diversity and the progress we have made throughout the years. However, for the immigrant LGBTQ community progress has not been fully realized because of the continuous discrimination and violence we face in our daily lives.
I was fortunate to be invited to the White House to listen to President Obama's speech recognizing the LGBTQ community and the progress being made. But while he spoke of 'trans women of color being targeted,' his administration holds LGBTQ and trans immigrants in detention. I spoke out because our issues and struggles can no longer be ignored.
Immigrant trans women are 12 times more likely to face discrimination because of our gender identity. If we add our immigration status to the equation, the discrimination increases. Transgender immigrants make up one out of every 500 people in detention, but we account for one out of five confirmed sexual abuse cases in ICE custody.
The violence my trans sisters face in detention centers is one of torture and abuse. The torture and abuse come from ICE officials and other detainees in these detention centers. I have spoken with my trans immigrant sisters who were recently released from detention centers. With a lot of emotional pain and heavy tears in their eyes, they opened up about the horrendous treatment they all experienced. Often seeking asylum to escape threats of violence because of their gender identity and sexuality, this is how they're greeted in this country. At times misgendered, exposed to assault, and put in detention centers with men.
Last night I spoke out to demand respect and acknowledgement of our gender expression and the release of the estimated 75 transgender immigrants in detention right now. There is no pride in how LGBTQ immigrants are treated in this country and there can be no celebration with an administration that has the ability to keep us detained and in danger or release us to freedom.
It is heartbreaking to see how raising these issues were received by the president and by those in attendance. In the tradition of how Pride started, I interrupted his speech because it is time for our issues and struggles to be heard. I stood for what is right. Instead of silencing our voices, President Obama can also stand and do the right thing for our immigrant LGBTQ community.
Jennicet Gutiérrez is an undocumented trans Latina leader with FAMILIA TQLM in the campaign for #Not1More lgbtq deportation.
Underfunded, undermined and unabashedly victorious in Brazil
Country's LGBTQ politicians are bringing diversity to democracy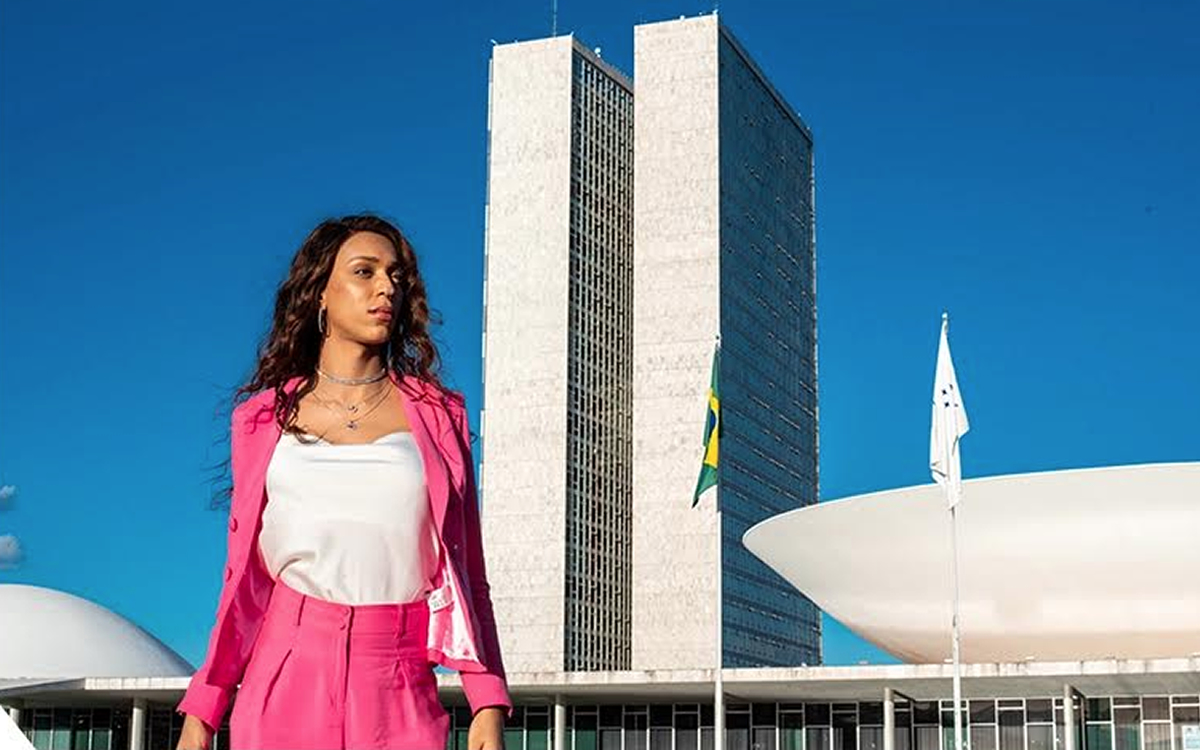 Imagine a group of 18 winners where you'll find only one white man. The recent election in Brazil not only brought back former President Lula, but also doubled the numbers of out LGBT+ representatives in both the national and state legislatures. Out of these 18 elected officials; 16 are women, 14 are black and five are trans. There is only one white man in the group.
Women, LGBT+ and Black people have always showcased political leadership in their communities. But the path to occupy a space in Brazilian institutional politics is often violent and expensive. In recent years, many organized social movements have directed their efforts to set the agenda for public debate into the intersectional realm and support community leaders. In a poll VoteLGBT conducted in 2017 during the São Paulo Pride parade, the biggest in the world, only 45 percent of Pride participants surveyed thought that identity matters when choosing a candidate. In 2022, 85 percent believed so.
Despite the many obstacles and violence they face, Brazilian LGBT+ leaders are gaining political power, often being the most voted individuals in their states or cities. Many trans women who won big in their cities in 2020 advanced to higher positions in 2022. Four LGBT+ people (all women) were elected to congress: Three of them Black and two of them trans, a major breakthrough for LGBT+ political participation.
In Brazil, campaigns are publicly funded. Taxpayers' money goes to parties' leadership who can pretty much do whatever they want with it. There are rules made to fight the underrepresentation of women and Black population, but they are often corrupted by fraud.
Party leaders are often older rich white cis men who focus their efforts and financial support to old allies. LGBT+ politicians receive an average of 6 percent of the legal limit for what parties can provide to a single candidate. When interviewing 30 of those who ran in 2020, we came across three trans women who didn't have enough to eat during their campaigns and still won their seats. Our vote is the cheapest in the election market.
Once elected, LGBT+ officials often face discrimination from their peers in the chambers, many times from their own parties. In a poll we did in 2021 we found that more than half of LGBT party members reported facing discrimination. And those who decided to report it found that there's no accountability for LGBTphobia inside the parties.
Not to mention the constant death threats that (especially) Black and (especially) trans women face when elected or running for office. City Counselor Benny Brioly, who is Black and trans, had to flee the country in 2020 after public security forces refused to offer her protection, which was her legal right. In 2022 she kept getting death threats from a congressman, from his official Cabinet's email. Erika Hilton and Duda Salabert, the first trans women elected for congress in 2022, had to conduct campaign activities with armed security and bulletproof vests.
It seems like the world is looking for the tools we are developing to fight extremism and LGBTphobia. International organizations have long supported many of those initiatives. The partnership and support from organizations like the National Democratic Institute and the LGBT Victory Institute have been fundamental to promote a comprehensive approach to such a complex issue.
VoteLGBT's innovative research strategies have a political and historical importance due to the lack of official data about the LGBT+ population in Brazil. Research has been fundamental for us, not only to give visibility to our issues and set the agenda for public debate, but also to better strategize where to allocate resources. Since 2021 we have been investigating the parties, conducting in-depth interviews with candidates and LGBT caucus. We've produced a list of 327 out LGBT candidates in the 2022 election cycle with their racial and LGBT+ identity self declared. That had never been done before.
We've offered direct support through organizing a series of webinars, creating downloadable toolkits, conducting pressure campaigns on parties, lobbying the Supreme Electoral Court for them to produce official data on our leadership, creating a gallery with over 300 LGBT+ candidates and their priorities, and offering confidential psychological support, especially after such a violent campaign.
It would be dishonest, though, to claim any part of such astounding victories. Each of those candidates struggled to run their underfinanced and understaffed campaign, and still created strategies to reach and amplify their audience brilliantly. Also, we are not the only ones on the task. There are other organizations who are great examples and partners.
Brazil's recent election results show us that an intersectional approach to the issue of political representation is not only possible, but potent. LGBT+ candidates earned over 3.5 million votes. Of those votes, a third went to trans women. Seven in 10 went to a Black candidate. Brazilian voters are showing us what kind of democracy they are willing to fight for. Without diversity there is no democracy.
Even in death we fight to be visible
Mahsa Jina Amini's death sparked protests across Iran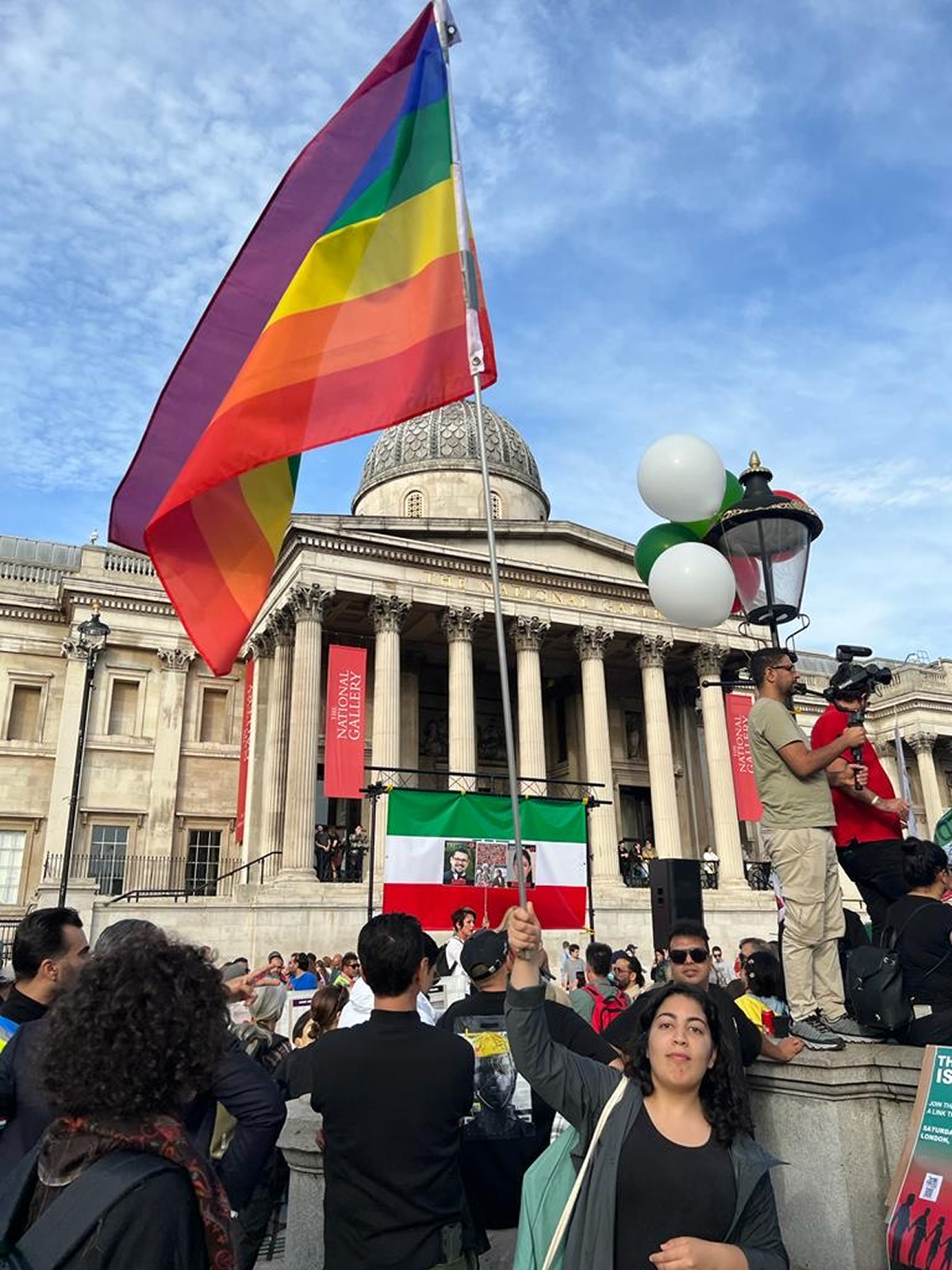 I was a lone soldier of the queer community, waving the rainbow flag in Trafalgar Square in London during one of the many protests organized by the Iranian diaspora. Most of the people shouting "woman, life, freedom," were Iranians who had lived outside Iran for years, even decades. Some were second generation immigrants; some had only just arrived.
My flag soared high among the many iterations of the Iranian flag. It was visible in its singularity. So visible, in fact, that I was stopped several times and asked who my flag represents. To say I was shocked would be an understatement. How could those who had lived in Europe for years be ignorant of such an established symbol? This was London, one of the most queer-friendly cities in the world, the host of one of the biggest Pride parades in Europe. I suddenly found a deeper understanding of the ignorance that drives homophobia and transphobia in my community and home country. If Iranians who live in London, where queer culture is present and visible, are ignorant of its existence, Iranians back home stand no chance.
After Mahsa Jina Amini's death was announced on Sept. 16, 2022, protests began nationwide and are ongoing. The regime has killed many of our young pioneers, seemingly targeting LGBTQ+ people, who are amongst the most repressed minority groups. Iran is one of seven countries that punishes same sex relationships with the death penalty. If not death, LGBTQ+ individuals who are found to have engaged in "unorthodox" relations or gender expressions can expect to be punished by lashes, beating, other forms of torture, and imprisonment. Honor killing, forced marriage and rape are also common experiences of the LGBTQ+ community in Iran.
The queer voice of Iran has been in the forefront of the current protests. From a lesbian couple kissing in public to queer people holding rainbow flags, the LGBTQ+ community has been traying to make itself visible. However, instead of support for a group who is continuously quashed, a large subset of Iranian society has resorted to online attack and hate.
The irony is that one of the symbols and martyrs of the revolution is a young queer person. 16-year-old Nika Shakrami, in her courage to fight oppression, became a household name on the day of her death. Details of her life circulated social media after she died. Her unrealized dream of being a singer brought us to tears. Her love for another 16-year-old girl, Nellie, was also revealed. However, her family has been hell-bent on erasing her identity.
The ugly homophobia of Iranian society reared its head last week on social media after the Lesbian Visibility Award was given to Shadi Amin, a prominent figure in the community and the director of the Iranian Lesbian and Transgender Network (6Rang). Amin had dedicated the award to the young LGBT+ people of Iran who had given their lives for freedom; one of these young martyrs was Nika Shakarami.
The response of the Iranian community was to berate Amin for attaching a 'dirtied' identity to their beloved Nika and offending her family, fuelled by a statement given by Nika's aunt. In the statement, Nika's aunt claimed that Shadi Amin and the LGBTQ+ community were forcing an identity on her niece, that she had not figured out her sexuality before being killed. In the same statement, her aunt insisted that Nika was straight, forcing heterosexuality onto the same niece who had not figured out her identity before dying. Although her intentions may have been to protect her late niece, Nika's aunt released an influx of death threats towards Amin and the LGBTQ+ community.
In unison, Iranian LGBTQ+ people voiced their experiences of harassment and erasure at the hands of their families. It is a tale as old as time for queer people everywhere. They spoke out about how families are not trustworthy sources on their identities, given the violence and abuse they face by being openly queer in such a homophobic society.
The controversy over Nika's identity is now driving many LGBTQ+ protestors to post their last will and testaments on social media, stating that they are not straight, and the claims of their families should not be listened to in case of their deaths. Those who are not openly out are sending their wills to LGBTQ+ organizations like 6Rang. Even in death, the Iranian LGBTQ+ community is in a constant battle for visibility.
The events of last week must have shaken the community. We are seeing more and more brave young queer people walk the streets of Iran, holding the rainbow flag high. Pro-LGBTQ+ graffities are appearing across the walls of university campuses. They risk death and imprisonment, harassment, and torture. Their fight is unjust and endless; their chants are met with batons; their flags bear the holes of bullets.
My LGBTQ+ brothers, sisters and non-conforming siblings in Iran must have had the same realization I had in Trafalgar Square that day. We are less than visible unless we stand proud, clad in our rainbow armor. Without making ourselves known, we stand no chance of having our demands met by any new government. It is fear that keeps us apart and gives the regime the chance to massacre us and our families the opportunity to erase our true selves.
Our message is clear: There is no democracy without freedom for all LGBTQ+ people.
My suicide ideation: A journey to self-love
It is much harder for those of us on the margins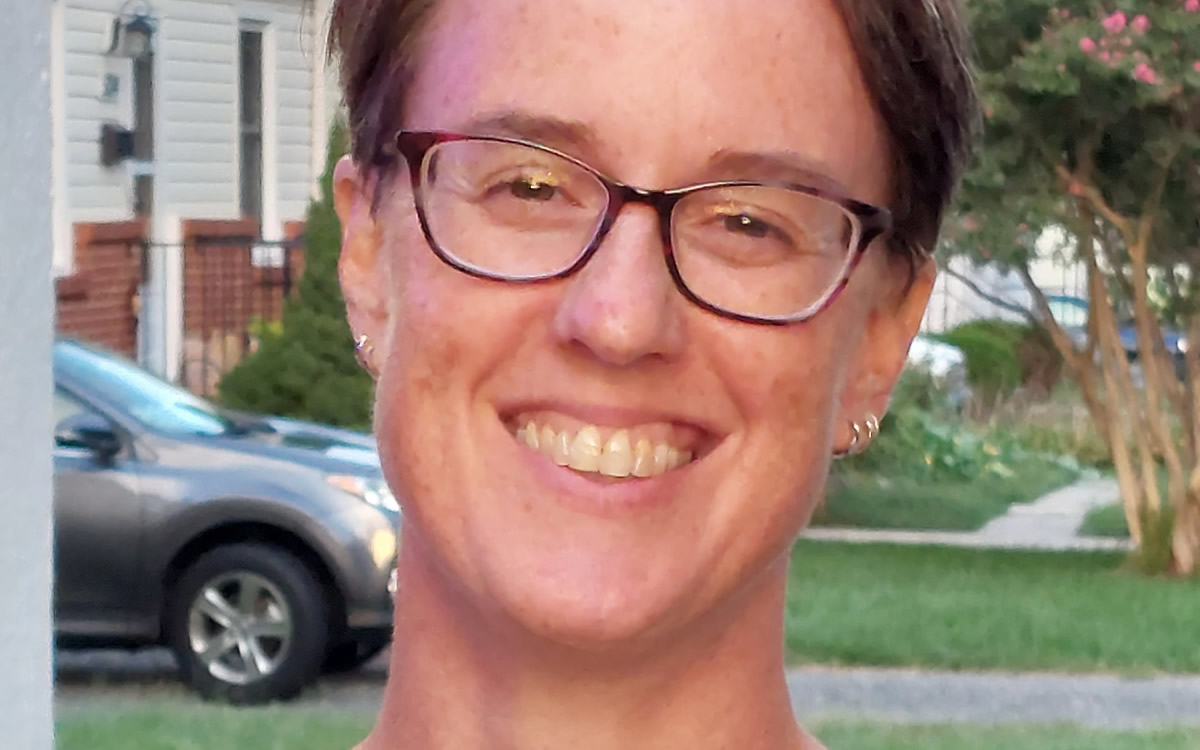 (Editor's note: This piece is a response to last week's Blade cover story by David Lett recounting his suicide attempt. If you are experiencing suicidal ideation, call 988 or one of many LGBTQ-specific advocacy groups offering support. If you would like to share your own story of overcoming isolation, depression, or suicidal ideation, email us at [email protected].)
Perhaps it was the grinding loneliness of the pandemic, but about two years ago my fantasies of being with women became daily distractions. I could not be fully present with my husband and felt a constant tug for something more, something outside of a life I had spent 18 years cultivating. I lived in a constant cycle of fantasy, guilt, denial, back to fantasy.
My supportive husband was willing to try an open marriage, but non-monogamy did not agree with my Christian upbringing. Then, as most stories go, I met someone. She was funny, attractive, and OK with the situation, so we gave it a shot. Each date sailed me up into unprecedented heights and hollowed out an equally deep pit of despair. "Yes! I am like this. . . Oh, dear God, I am really like this!" It was like coming home to who you knew you always were only to find you were now among those most judged, wicked, and despised. With each queer book we read and lesbian drama we watched, I discovered deep and integral parts of me debilitated and atrophied by shame. They started to heal.
The more these parts of me solidified, the more other parts unraveled. A cascade of questions and doubts plagued me. If I was not heterosexual, what else was not true about me? Was my life just a string of acts meant to fulfill social expectations? My career, education, even my friends. Was I me or just performing someone not me for others? The great irony of living by the rules of others is that we live for no one. Without the willingness to bravely share who I truly was, no matter how broken, that primal quest for connection, love and belonging would never be satisfied.
Hence I navigated that precarious path of how out to be — how to stay honest to myself but not cause discomfort. My husband remained open, but my late nights and emotional distance took a great toll on our relationship. I would return home to neatly folded laundry, well-prepared meals and enormous guilt. It was liberating and devastating all at once.
Staying with my husband seemed impossible, but the fear of being alone and rejected from family at age 45 was unbearable. This innate thing inside of me was destroying my life. I imagined cutting myself open and tearing out those parts, but when I looked closely I found they were inseparable — my queerness is fully entwined with my heart, head, and gut. I broke under the weight of this agony and spent weeks in and out of crying spells.
One day I found myself down by the tracks. The sound of a train thundering by broke through my numbness. With a few steps, I could surrender and be free from this torment. I stepped through the thin line of brush that separated me from the tracks. They seductively glistened in the sunlight. Relief. Yes, the final silence of death could take away everything.
Another train raced by, the horn deafening. The blast of wind pushed me away. I collapsed sobbing. I needed help if I was going to survive this.
Thanks to therapy, acupuncture, yoga, LGBTQ support groups and caring friends and family, I am slowly opening the door to self-love. It is much harder for those of us on the margins. The love from others is no substitute, be they a long-time partner, new girlfriend or family member. Unlearning my self-hatred meant letting go of the deeply held but deeply flawed promises of the straight life: be they heteronormativity, monogamy, gender conformity, the picket fence — you name it. I had to break my own heart. Only then I could truly love myself.
Jessica Arends is a writer and artist.