Sights and sounds of SUMMER!
No shortage of gay action in D.C. in July and August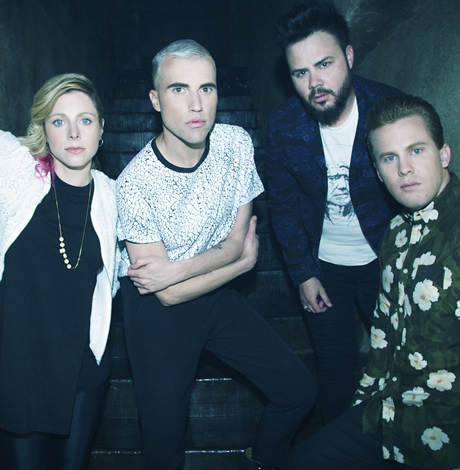 The 29th annual ADODI summer retreat for black "same-gender-loving" men is July 15-19 at Cacapon Resort State Park in Berkeley Springs, W.Va. Cost is $575. Details at adodi.org. The group has a local chapter that's active in Washington and meets bi-monthly at Metropolitan Community Church of Washington.
Idina Menzel plays Jiffy Lube Live (7800 Cellar Door Drive, Bristow, Va.) at 8 p.m. on July 18. Tickets range from $25-270. Details at livenation.com.
Neon Trees, with out lead singer Tyler Glenn, play Rams Head Live! (20 Market Place, Baltimore) at 7 p.m. on July 18 and the 9:30 Club (815 V St., N.W.) at 7 p.m. (doors) on July 20. COIN and Fictionist open. Tickets are $25 for each show. Details at ramsheadlive.com and 930.com respectively.
Out singer Derek Bishop plays Tree House Lounge (1006 Florida Ave., N.E.) at 10 p.m. on July 18. Tickets are $10 and are available at the door only. He's touring his new album "Bicycling in Quicksand."
Gay Los Angeles-based singer/songwriter Ryan Amador plays a benefit concert for Casa Ruby at Brookland Artspace Lofts (3305 8th St. N.E.) at 7:30 p.m. on July 20. Admission is free but donations are requested. Half of the money given will go to Casa Ruby. E-mail to [email protected] for information.
Shania Twain brings her "Rock This Country Tour" to the Verizon Center at 7:30 p.m. on July 21. Tickets range from $50-150 and are available through ticketmaster.com. The tour, her first in 11 years, is billed as a farewell tour.
Gay-affirming pastor and author Rob Bell brings his "Everything is Spiritual Tour" to the Fillmore Silver Spring (8656 Colesville Road, Silver Spring, Md.) at 8:30 p.m. on July 22. Tickets are $25-35 and are available at fillmoresilverspring.com.
Grammy-winning gay singer Sam Smith plays Merriweather Post Pavilion (10475 Little Patuxent Parkway, Columbia, Md.) at 8 p.m. on July 24. Tickets are $45-97.50. Details at merriweathermusic.com.
Baltimore Pride is July 24-26. The parade and block party are on Saturday (July 25) and the festival is on Sunday (July 26). A bevy of other events are planned as well as the festivity celebrates its 40th anniversary. Full details at baltimorepride.org.
D.C. Log Cabin Republicans have their 14th annual Rehoboth Beach Retreat July 24-26.
Well Strung, an all-male string quartet that plays classical and pop, plays the Rehoboth Beach Convention Center (229 Rehoboth Ave., Rehoboth Beach, Del.) at 8 p.m. on July 25. This CAMP Rehoboth event is part of a year-long celebration of its 25th anniversary. Tickets are $35-100. Details at camprehoboth.com.
The Indigo Girls, long-time out folk-rockers, play the Filene Center at Wolf Trap (1551 Trap Rd., Vienna, Va.) at 8 p.m. on July 28. Michelle Malone opens. Tickets are $32-54. Details at wolftrap.org.
The fifth annual OutWrite LGBT Book Fair, a weekend of readings, discussions, author appearances and more, is July 30-Aug. 1 at the Reeves Center, home of the D.C. Center (2000 14th St., N.W. #105). The Center also has constant events all summer long including coffee and conversation for older LGBT adults, volunteer nights, FUK!T packing parties (packing safer-sex kits), workshops, support groups, HIV texting and much more. Details at thedccenter.org.
Lady Gaga and Tony Bennett play the Kennedy Center (2700 F St. N.W.) at 8 p.m. July 31-Aug. 1 performing songs from their duet album of jazz standards "Cheek to Cheek." Tickets are sold out.
It's shaping up to be an uber-gay summer at Wolf Trap. Out singer/songwriter Rufus Wainwright performs with the National Symphony Orchestra at 8:15 p.m. on July 31 at the Filene Center (1551 Trap Rd., Vienna, Va.). Tickets are $25-58 for the two-and-a-half-hour show. Out author and comedian David Sedaris performs at 7 p.m. on Aug. 2. Tickets are $25-55. And Culture Club plays at 8 p.m. Aug. 10. Tickets are $30-60.  Other Wolf Trap shows coming soon include Abba the Concert on Aug. 16, Kristin Chenoweth on Aug. 28 and Kelly Clarkson on Sept. 12-13. Details at wolftrap.org.
Melissa Etheridge performs a solo show behind her "This is M.E." album at 8 p.m. on Aug. 26 at the Strathmore (5301 Tuckerman Lane, North Bethesda, Md.). Tickets are $45-85. Details at strathmore.org.
Reel Affirmations, an LGBT film festival, returns Aug. 28-30 at the Tivoli/GALA Hispanic Theatre (3333 14th St., N.W.). Festival passes are available in a variety of packages ranging from $20-265. Visit reelaffirmations.org for lineup and details.
In other gay film festival news, DIRECTV and the Outfest Los Angeles LGBT Film Festival have launched Outfest Online (outfestonline.com) where content from the festival will be available for viewing anywhere. The festival continues through July 19 and features a variety of shorts, documentaries and features with LGBT themes.
The Strathmore continues its free summer outdoor concerts every Wednesday at 7 p.m. through Aug. 19. Upcoming performers are Team Familiar on July 15, No BS! Brass Band on July 22, Frank Solivan & Dirty Kitchen on July 20 and more. These are held at the Mansion at Strathmore in the Gudelsky Outdoor Concert Gazebo (10701 Rockville Pike, North Bethesda, Md.).
The Kennedy Center continues its free concert series on the Millennium Stage with daily performances at 6 p.m. Performers this month include youth participants in the 2015 NSO Summer Music Institute, the WNO Opera Institute and performers from the 25/40 Celebration, a festival in honor of the 25th anniversary of the American with Disabilities Act. Now in its 17th year, the Millennium Stage performances are also available to be viewed online. Details at kennedy-center.org.
The Georgetown Business Improvement District (BID) continues its Georgetown Sunset Cinema series on Tuesdays through Aug. 4. The films are shown at the Georgetown Waterfront Park at the intersection of K/Water Street and Cecil Place, N.W. Admission is free. Blankets only (no chairs). Picnics welcome. Upcoming films include "State of Play" on July 14, "No Way Out" on July 21, "Burn After Reading" on July 28 and more. Details at georgetowndc.com/sunsetcinema.
Rosa Mexicano (575 7th St., N.W.) holds its annual Ice Cream Festival through the end of July. Flavors of Mexico a la Mode features desserts inspired by classic Mexican dishes paired with handmade ice creams infused with Mexican flavors such as "prickly pear-blueberry sorbet" and "cinnamon-chili spiced chocolate. Details at rosamexicano.com.
Waverly Street Gallery (4600 East-West highway, Bethesda, Md.) features an exhibit called "Benthos" by Nikki O'Neill featuring discoveries and marine habitats in glass. Her work is inspired by evolutionary themes such as the watery, primordial origins of life and the intricate and richly colored primitive creatures that live there — all displayed in glass figures she manipulates with heat, gravity, gas and more. An opening reception is this evening (July 10) from 6-9 p.m. An artist talk is July 18 from 3-5 p.m. Details at waverlystreetgallery.com.
Inner Light Ministries under the leadership of gay pastor Bishop Kwabena Cheeks, continues its 22nd anniversary celebration through this weekend (July 12). Details at innerlightministries-dc.com.
The Al Sura White Attire Affair is at 8 p.m. on July 18 at the Thurgood Marshall Center for Service and Heritage (1816 12th St., N.W.). Tickets are $35 in advance or $50 at the door. Details at alsura.org.
"Ingenue to Icon," an exhibit featuring 70 years of fashion from the collection of legendary socialite Marjorie Merriweather Post, is on display now and through years' end at Hillwood Estate, Museum and Garden (4155 Linnean Ave., N.W.). Hillwood also has its French Festival July 11. Details at hillwoodmuseum.org.
The Ask Rayceen Show has its August taping on Aug. 5 at LIV Nightclub (2001 11th St., N.W.) with doors opening at 6 p.m. The August installment will feature a poetry slam with $100 cash prize, listening lounge with Nia Simmons, DJ Honey and more. Details on the Ask Rayceen page on Facebook.
The D.C. Metro Circle of Friends (part of the National Friendship Movement) hosts its second annual picnic in the park from noon-dusk on Aug. 15 at picnic area no. six in Rock Creek Park. Find the group on Facebook for details.
The Night OUT series continues with Night OUT at the Kastles on July 16, Night OUT at the Mystics on Aug. 5. Details at teamdc.org.
Itching to shop? Gay-owned furniture and home decor shop Mitchell Gold+Bob Williams (1526 14th St., N.W.) has its summer tag sale with 20-60 percent off through July 26. More at mgbwhome.com.
And lest September sneak up on you, mark these events now: Brother Help Thyself Pride Day at King's Dominion (Sept. 5) and the D.C. Shorts Film Festival (Sept. 10-20). Saturday, Sept. 12 is shaping up to be jam-packed with Imperial Court Gala of the Americas, Richmond Pride and the 17th Street Festival. Oh, and Madonna's here that day too.
Tagg turns 10
D.C. magazine thriving post-pandemic with focus on queer women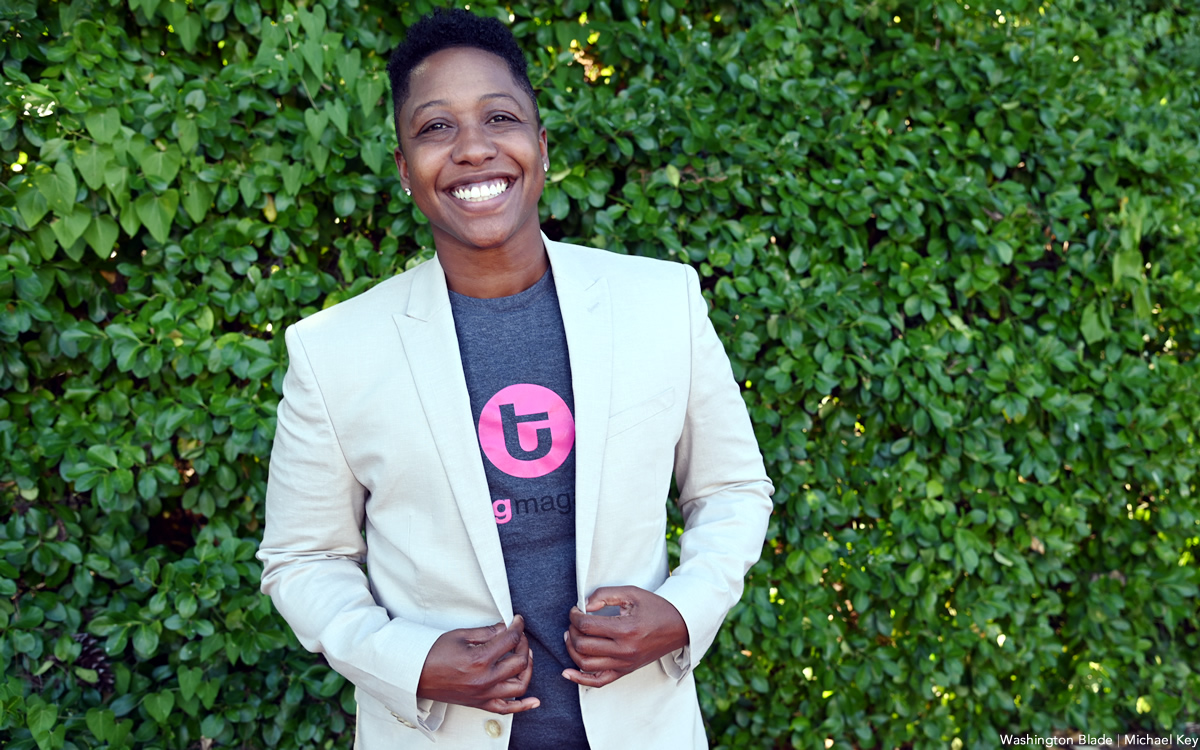 In a 10-year-old YouTube video, owner and editor of Tagg magazine, Eboné Bell, — clad in a white cotton T-shirt, gray vest and matching gray fedora — smiled with all her pearly whites as a correspondent for the magazine interviewed her outside now-closed Cobalt, a gay club in downtown D.C. that hosted the magazine's official launch in the fall of 2012.
"I want to make sure that people know that this is a community publication," Bell said in the video. "It's about the women in this community and we wanted to make sure that they knew that 'This is your magazine.'"
As one of just two queer womxn's magazines in the country, Tagg has established itself as one of the nation's leading and forthright LGBTQ publications that focuses on lesbian and queer culture, news, and events. The magazine is celebrating its 10th anniversary this month.
Among the many beats Tagg covers, it has recently produced work on wide-ranging political issues such as the introduction of the LGBTQ+ History Education Act in the U.S. House of Representatives and the Supreme Court's assault on reproductive rights through a reversal of its landmark Roe v. Wade ruling; and also attracted the attention of international queer celebrities, including Emmy-nominated actress Dominique Jackson through fundraisers.
"Tagg is a form of resistance," Bell said in a Zoom interview with the Washington Blade. "I always say the best form of activism is visibility and we're out there authentically us."
Although the magazine was created to focus on lifestyle, pressing political issues that affect LGBTQ individuals pushed it to dive deeper into political coverage in efforts to bring visibility to LGBTQ issues that specifically affect queer femme individuals.
"We know the majority of our readers are queer women,' said Bell. "[So] we always ask ourselves, 'How does this affect our community?' We are intentional and deliberate about it."
Rebecca Damante, a contributing writer to the magazine echoed Bell's sentiments.
"The movement can sometimes err toward gay white men and it's good that we get to represent other groups," said Damante. "I feel really lucky that a magazine like Tagg exists because it's given me the chance to polish my writing skills and talk about queer representation in media and politics."
Tagg's coverage has attracted younger readers who visit the magazine's website in search of community and belonging. Most readers range between the ages of 25 and 30, Bell said.
"[The magazine] honestly just took on a life of its own," said Bell. "It's like they came to us [and] it makes perfect sense."
Prior to the magazine becoming subscription-based and completely online, it was a free publication that readers could pick up in coffee shops and distribution boxes around D.C., Maryland, and Virginia.
Battling the pandemic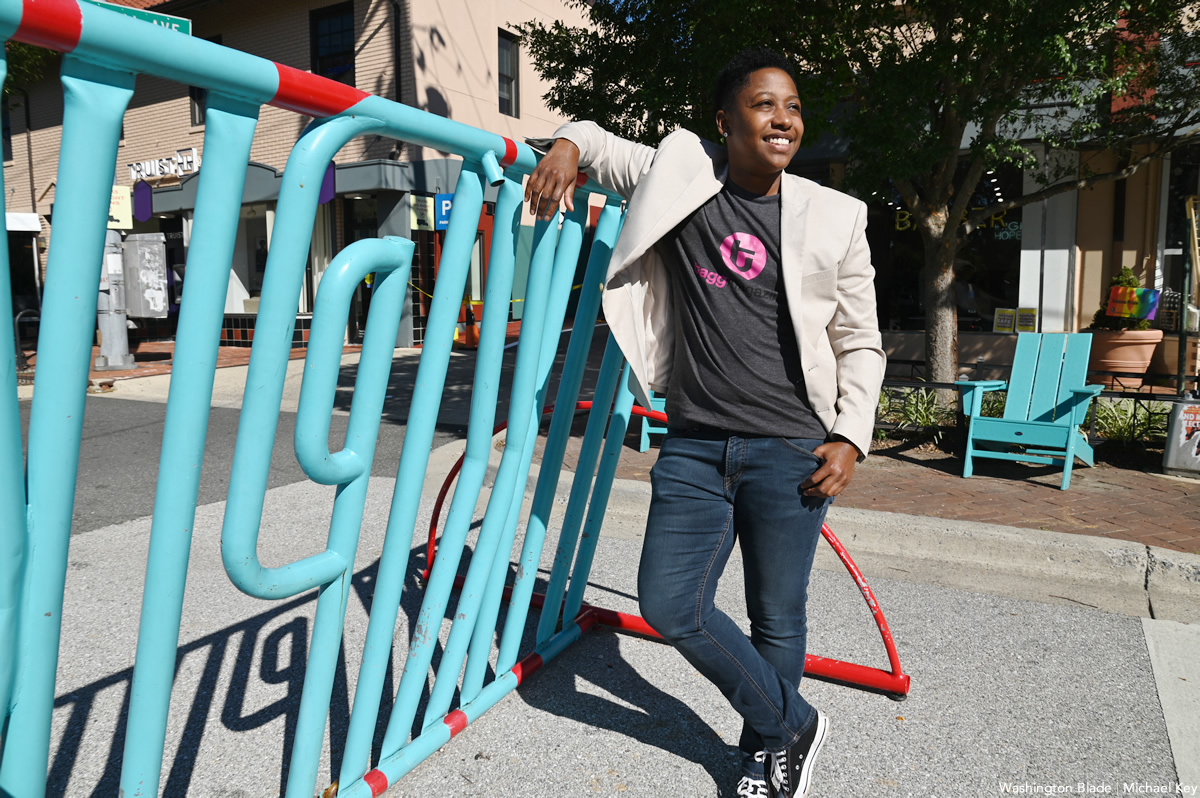 When the COVID-19 pandemic struck in 2020, newsrooms across the world were forced to function virtually. Additionally, economic strife forced many publications to downsize staffs and — in some cases — cancel entire beats as ad revenue decreased, forcing them to find alternative ways to self-sustain financially. Tagg was no exception.
"We didn't fly unscathed," said Bell. "[The pandemic] took a huge emotional toll on me because I thought we were going to close. I thought we were going to fail."
However, the magazine was able to stand firm after a fundraiser titled "Save Tagg Magazine" yielded about $30,000 in donations from the community.
The fundraiser involved a storefront on Tagg's website where donations of LGBTQ merchandise were sold, including a book donated by soccer superstar Megan Rapinoe.
There was also a virtual "Queerantine Con" — an event that was the brainchild of Dana Piccoli, editor of News Is Out— where prominent LGBTQ celebrities such as Rosie O'Donnell, Lea DeLaria and Kate Burrell, gave appearances to help raise money that eventually sustained the publication.
"There was a time where I was ready to be like 'I have to be OK that [Tagg] might not happen anymore," said Bell. "But because of love and support, I'm here."
While the outpouring of love from community members who donated to the magazine helped keep the magazine alive, it was also a stark reminder that smaller publications, led by women of color, have access to fewer resources than mainstream outlets.
"It's statistically known that Black women-owned businesses get significantly less support, venture capital investments, things like that," said Bell. "I saw similar outlets such as Tagg with white people making $100,000 a month."
Bell added that Tagg had to work "10 times harder" to survive, and although the magazine didn't cut back on the people who worked for it, it ended free access to the magazine in the DMV especially as the places that housed the magazine were no longer in business. The publication also moved to a subscription-based model that allowed it to ameliorate printing costs.
Despite the challenges brought about by the pandemic, Tagg remains steadfast in its service to the LGBTQ community. The magazine hired an assistant editor in 2021 and has maintained a team of graphic designers, photographers, writers and an ad sales team who work to ensure fresh content is delivered to readers on a regular basis.
For Bell, Tagg mirrors an important life experience — the moment she discovered Ladders, a lesbian magazine published throughout the 1950s, 1960s and early 1970s.
"To that young person coming up, I want you to see all the things that happened before them, all the people that came before them, all the stories that were being told" she said.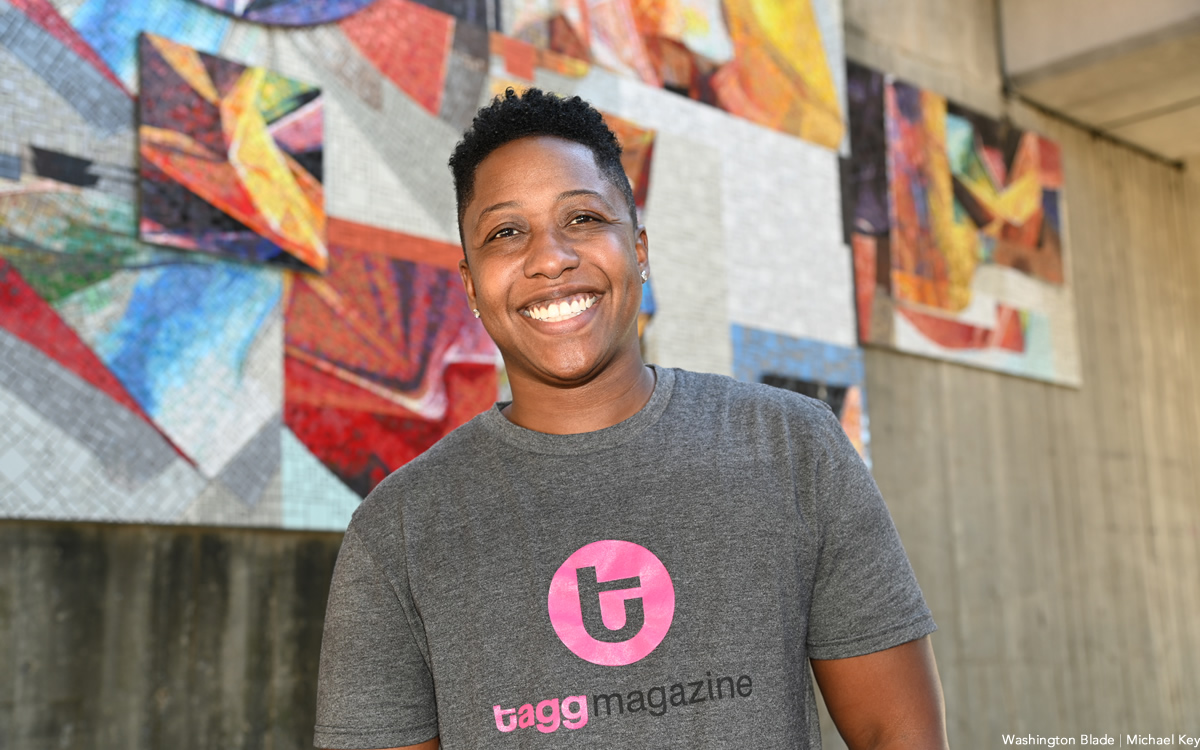 Daisy Edgar-Jones knows why 'the Crawdads sing'
Actress on process, perfecting a southern accent, and her queer following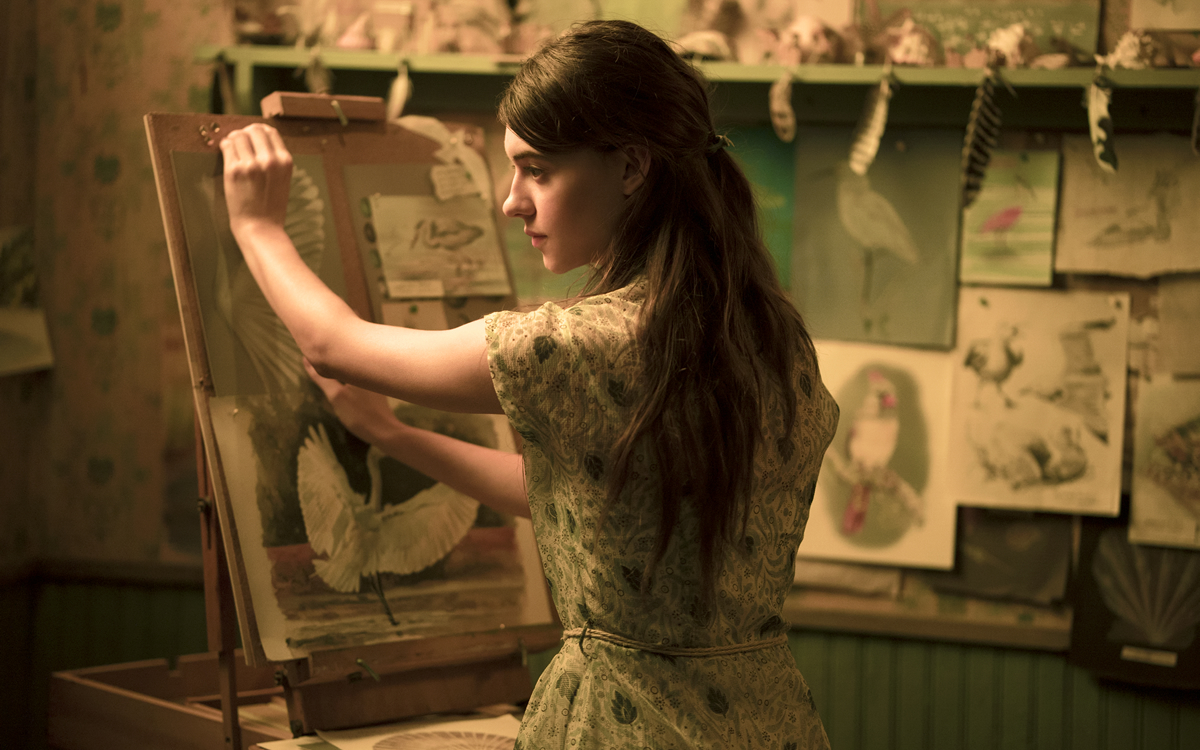 Daisy Edgar-Jones is an actor whose career is blossoming like her namesake. In recent years, she seems to be everywhere. LGBTQ viewers may recognize Edgar-Jones from her role as Delia Rawson in the recently canceled queer HBO series "Gentleman Jack." She also played memorable parts in a pair of popular Hulu series, "Normal People" and "Under the Banner of Heaven." Earlier this year, Edgar-Jones was seen as Noa in the black comedy/horror flick "Fresh" alongside Sebastian Stan.
With her new movie, "Where the Crawdads Sing" (Sony/Columbia), she officially becomes a lead actress. Based on Delia Owens' popular book club title of the same name, the movie spans a considerable period of time, part murder mystery, part courtroom drama. She was kind enough to answer a few questions for the Blade.
BLADE: Daisy, had you read Delia Owens's novel "Where the Crawdads Sing" before signing on to play Kya?
DAISY EDGAR-JONES: I read it during my audition process, as I was auditioning for the part. So, the two went hand in hand.
BLADE: What was it about the character of Kya that appealed to you as an actress?
EDGAR-JONES: There was so much about her that appealed to me. I think the fact that she is a very complicated woman. She's a mixture of things. She's gentle and she's curious. She's strong and she's resilient. She felt like a real person. I love real character studies and it felt like a character I haven't had a chance to delve into. It felt different from anyone I've played before. Her resilience was one that I really admired. So, I really wanted to spend some time with her.
BLADE: While Kya is in jail, accused of killing the character Chase, she is visited by a cat in her cell. Are you a cat person or do you prefer dogs?
EDGAR-JONES: I like both! I think I like the fact that dogs unconditionally love you. While a cat's love can feel a bit conditional. I do think both are very cute. Probably, if I had to choose, it would be dogs.
BLADE: I'm a dog person, so I'm glad you said that.
EDGAR-JONES: [Laughs]
BLADE: Kya lives on the marsh and spends a lot of time on and in the water. Are you a swimmer or do you prefer to be on dry land?
EDGAR-JONES: I like swimming, I do. I grew up swimming a lot. If I'm ever on holidays, I like it to be by the sea or by a nice pool.
BLADE: Kya is also a gifted artist, and it is the thing that brings her great joy. Do you draw or paint?
EDGAR-JONES: I always doodle. I'm an avid doodler. I do love to draw and paint. I loved it at school. I wouldn't say I was anywhere near as skilled as Kya. But I do love drawing if I get the chance to do it.
BLADE: Kya was born and raised in North Carolina. What can you tell me about your process when it comes to doing a southern accent or an American accent in general?
EDGAR-JONES: It's obviously quite different from mine. I've been lucky that I've spent a lot of time working on various accents for different parts for a few years now, so I feel like I'm developed an ear for, I guess, the difference in tone and vowel sounds [laughs]. When it came to this, it was really important to get it right, of course. Kya has a very lyrical, gentle voice, which I think that North Carolina kind of sound really helped me to access. I worked with a brilliant accent coach who helped me out and I just listened and listened.
BLADE: While I was watching "Where the Crawdads Sing" I thought about how Kya could easily be a character from the LGBTQ community because she is considered an outsider, is shunned and ridiculed, and experiences physical and emotional harm. Do you also see the parallels?
EDGAR-JONES: I certainly do. I think that aspect of being an outsider is there, and this film does a really good job of showing how important it is to be kind to everyone. I think this film celebrates the goodness you can give to each other if you choose to be kind. Yes, I definitely see the parallels.
BLADE: Do you have an awareness of an LGBTQ following for your acting career?
EDGAR-JONES: I tend to stay off social media and am honestly not really aware of who follows me, but I do really hope the projects I've worked on resonate with everyone.
BLADE: Are there any upcoming acting projects that you'd like to mention?
EDGAR-JONES: None that I can talk of quite yet. But there are a few things that are coming up next year, so I'm really excited.
CAMP Rehoboth's president talks pandemic, planning, and the future
Wesley Combs marks six months in new role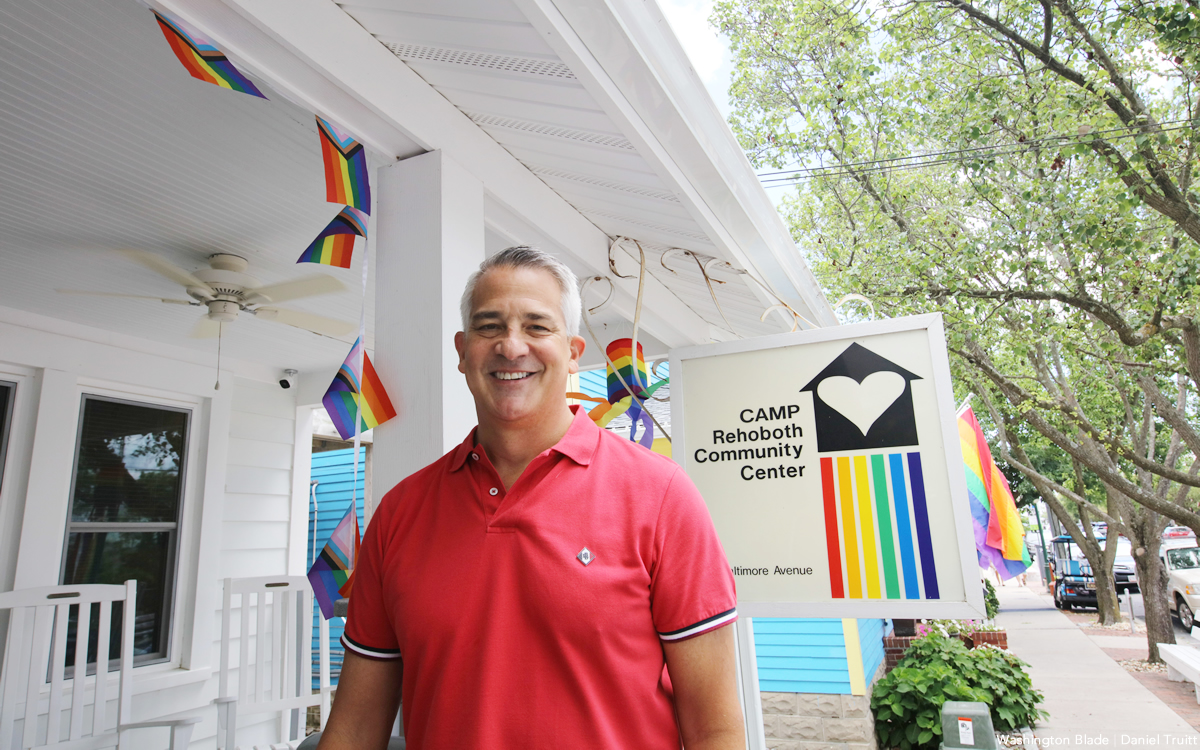 June marks half a year since Wesley Combs stepped into his role as president of CAMP Rehoboth. In a conversation with the Blade, Combs recounted his first six months in the position — a time he said was characterized by transition and learning.
Since 1991, CAMP Rehoboth has worked to develop programming "inclusive of all sexual orientations and gender identities" in the Rehoboth Beach, Del. area, according to the nonprofit's website. As president, Combs oversees the organization's board of directors and executive director, helping determine areas of focus and ensure programming meets community needs.
For Combs, his more than three decades of involvement with CAMP Rehoboth have shaped the course of his life. In the summer of 1989 — just before the organization's creation — he met his now-husband, who was then living in a beach house with Steve Elkins and Murray Archibald, CAMP Rehoboth's founders.
Since then, he has served as a financial supporter of the organization, noting that it has been crucial to fostering understanding that works against an "undercurrent of anti-LGBTQ sentiment" in Rehoboth Beach's history that has, at times, propagated violence against LGBTQ community members.
In 2019, after Elkins passed away, Combs was called upon by CAMP Rehoboth's Board of Directors to serve on a search committee for the organization's next executive director. Later that year, he was invited to become a board member and, this past November, was elected president.
Combs noted that CAMP Rehoboth is also still recovering from the pandemic, and is working to restart programming paused in the switch to remote operations. In his first six months, he has sought to ensure that people feel "comfortable" visiting and engaging with CAMP Rehoboth again, and wants to ensure all community members can access its programming, including those from rural parts of Delaware and those without a means of getting downtown.
Still, Combs's first six months were not without unexpected turns: On May 31, David Mariner stepped down from his role as CAMP Rehoboth executive director, necessitating a search for his replacement. Combs noted that he would help facilitate the search for an interim director to serve for the remainder of the year and ensure that there is "a stable transition of power." CAMP Rehoboth last week announced it has named Lisa Evans to the interim director role.
Chris Beagle, whose term as president of CAMP Rehoboth preceded Combs's own, noted that the experience of participating in a search committee with the organization will "better enable him to lead the process this time."
Before completing his term, Beagle helped prepare Combs for the new role, noting that the "combination of his professional background, his executive leadership (and) his passion for the organization" make Combs a strong president. Regarding the results of the election, "I was extremely confident, and I remain extremely confident," Beagle said.
Bob Witeck, a pioneer in LGBTQ marketing and communications, has known Combs for nearly four decades. The two founded a public relations firm together in 1993 and went on to work together for 20 years, with clients ranging from major businesses like Ford Motor Company to celebrities including Chaz Bono and Christopher Reeve. According to Witeck, Combs's work in the firm is a testament to his commitment to LGBTQ advocacy.
"Our firm was the first founded primarily to work on issues specific to LGBTQ identities, because we wanted to counsel corporations about their marketing and media strategies and working in the LGBTQ market," he explained. By helping develop communications strategies inclusive of those with LGBTQ identities, Combs established a background of LGBTQ advocacy that truly "made a mark," Witeck said.
Witeck emphasized that, in his new position, Combs brings both business experience and a renewed focus on historically underrepresented in LGBTQ advocacy — including people with disabilities, trans people and people of color.
Looking to the rest of the year, CAMP Rehoboth hopes to host a larger-scale event during Labor Day weekend. In addition, the organization will revisit its strategic plan — first developed in 2019 but delayed due to the pandemic — and ensure it still meets the needs of the local community, Combs said. He added that he intends to reexamine the plan and other programming to ensure inclusivity for trans community members.
"CAMP Rehoboth continues to be a vital resource in the community," he said. "The focus for the next two years is to make sure we're doing and delivering services that meet the needs of everyone in our community."