LGBT issues in sports 101
College curricula starting to include gay athletic topics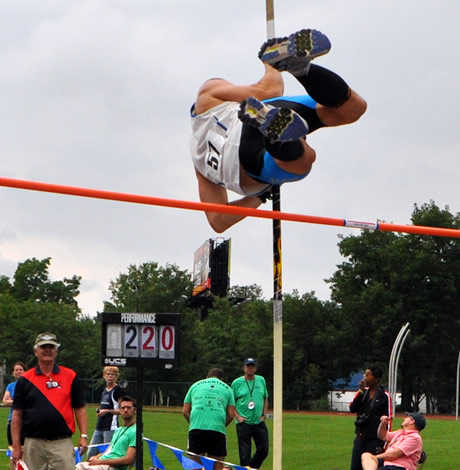 A lot has changed in the realm of sports in terms of LGBT athletes and the role sports have in international LGBT politics. The call for a boycott of the Sochi Olympics in light of recent Russian laws making illegal any kind of "public" declaration of one's sexuality is a perfect example of the important discussions about international human rights happening around sports.
Not only are more and more athletes coming out in sports, but there are out athletes entering sport and willing to be spokespeople for LGBT issues. Further, many national and international sports bodies and organizations are taking a stand on promoting inclusion and speaking out against homophobia.
Some colleges and universities are now tackling the role of sports and LGBT issues, with courses designed to talk about the history, present and future of this important pairing.
The Mark S. Bonham Centre for Sexual Diversity Studies at the University of Toronto, will offer a course next year called "Sports and Sexual Diversity" in its undergraduate program.
"This course will explore the role of sports and wellness programs in promoting or impeding social inclusion, as well as their role in community building among sexual minorities," says Scott Rayter, associate director of the Mark S. Bonham Centre for Sexual Diversity Studies. "It will consider the ways that sexuality has been framed or regulated in sports, as well as the challenges to such limits from among athletes, LGBT community activists and others."
The course's coverage will range from local community and school-based programs, to national amateur and professional sporting activities, to international competitions.
Rayter says the course came about partly as a way of building on the expertise at the university in the areas of sexuality, gender and sport, and to reflect what is a growing body of research and field of study, plus an increasing interest and demand from students to study this area.
"Sport is an interesting place to study issues of sex, gender and the body, since bodies in sport are 'ideal' or non-normative in the sense they do not reflect what most bodies look like or are capable of, and yet sport is also a space that demonstrates an extremely rigid split between male and female bodies," Rayter says. "There is also a growing body of research about sexual and gender violence (and hazing) in sport; it seems every day we hear about some new sex scandal in professional sports."
At some higher learning institutions, there may not be a specific course, but inclusion of the LGBT community and sports is embedded in the curriculum itself.
Laura Burton, associate professor of sport management at the University of Connecticut, says she includes aspects of diversity and inclusion in both undergrad (Intro to Sport Management) and graduate (Management of Sport Services) courses.
"This includes sections on effectively managing diversity in sport organizations. I include examples of LGBT employees/fans/participants in sport as important constituents," she says. "In our Issues in Sport course I will include a chapter on issues faced by the LGBT community. That section will include the experiences of athletes (participants), employees in sport organizations and fans/spectators."
Burton understands that the LGBT community has been and will continue to be an integral part of the larger sport community and feels it's important that they are represented in the sport management curriculum.
"Our students will work with, and some also identify as, members of the LGBT community, and this constituent group is as important as any other group of individuals with an interest in working in, participating in, or being fans of sport," she says. "We also recognize that the LGBT community has been a marginalized/ostracized and silenced constituent within the domain of sport; it is important that we give voice to this marginalization and work toward a more inclusive sport environment."
In the 10 years she has been including LGBT examples in her courses, Burton says she has never received a negative comment from a student.
"I have had numerous students (gay/bi/straight) tell me that they have enjoyed the openness and inclusiveness of the courses, the course content and of the program in general," she says.
Momin Rahman, a professor at Trent University in Ontario, notes that in classes he teaches on the sociology of gender and sexuality, sport is one of the themes discussed both because it interests students and because it is often regarded as one of the last institutions of gender binaries and homophobia.
"Sports are one of the biggest entertainment industries worldwide and an everyday experience of living and seeing gender and sexuality," he says. "Sports are a part of the socialization of childhood as well, so it is an important and wide-ranging experience that needs to be addressed seriously as a location of gender normativity and homophobia."
Rahman says he's touching on new topics all the time and is sure to discuss the latest LGBT issues in his classes.
"For example, trans issues have become a difficult one for organizations such as the Olympics, who are traditionally invested in keeping a binary division between men and women," Rahman says. "We also look at how homophobia operates in sports, particularly as a normalized part of bonding in men's sports, and how this makes it difficult for gay athletes to come out. The widespread community organization of LGBT sports, and international versions such as the OutGames, are partly a response to this."
Vulgar anti-gay slur halts championship final soccer match
The league has written rules and guidelines that call for the referees on the field to halt game play if fans ignore warnings
DENVER, CO. – The Confederation of North, Central America and Caribbean Association Football, (CONCACAF) league's final match in the Mile-High City Sunday was halted after fans disrupted the game play by shouting a homophobic chant directed at players on the field.
ESPN reported the pause occurred during the final moments of the second half before the game went to extra time in the U.S. men's national team's 3-2 win. Referee John Pitti resumed the match after three minutes as players on both sides pleaded with the crowd to stop using the chant.
The league has written rules and guidelines that call for the referees on the field to halt game play if a warning to the spectators by the announcer over the stadium's public address has already warned the crowd to cease and desist. Should the crowd not stop, then the referee has the authority to send the players to the locker rooms and can also call for the match to be abandoned.
ESPN also reported that this was the second tournament match to be halted due to anti-gay chants at Empower Field at Mile High. Mexico's semifinal win over Costa Rica was also briefly paused. That match also saw several fans ejected from the stadium.
Outsports Webzine reported this past Spring that the disgraceful "puto" chant —a vulgar slur for male prostitute — is ubiquitous at Mexican soccer matches, and up until recently, Soccer's governing body, Fédération Internationale de Football Association or FIFA, has been ambivalent towards its eradication. The organization has punished Mexico at least 12 times for the chant since 2015, and yet, it hasn't disappeared.
In March, FIFA opened an investigation into anti-gay chanting by Mexico supporters during an Olympic qualifier against the Dominican Republic ESPN noted.
WATCH: USA Beats Mexico FULL MATCH [CONCACAF Nations League Final] | from CBS Sports. Game play is halted at the 1 hour thirty seven minute mark on the YouTube video:
Niners kick-off Pride with NFL's 1st-ever gender-neutral gear
The team hopes to score another win for its diverse fanbase Thursday with a new retail line that isn't limited by binary gender styles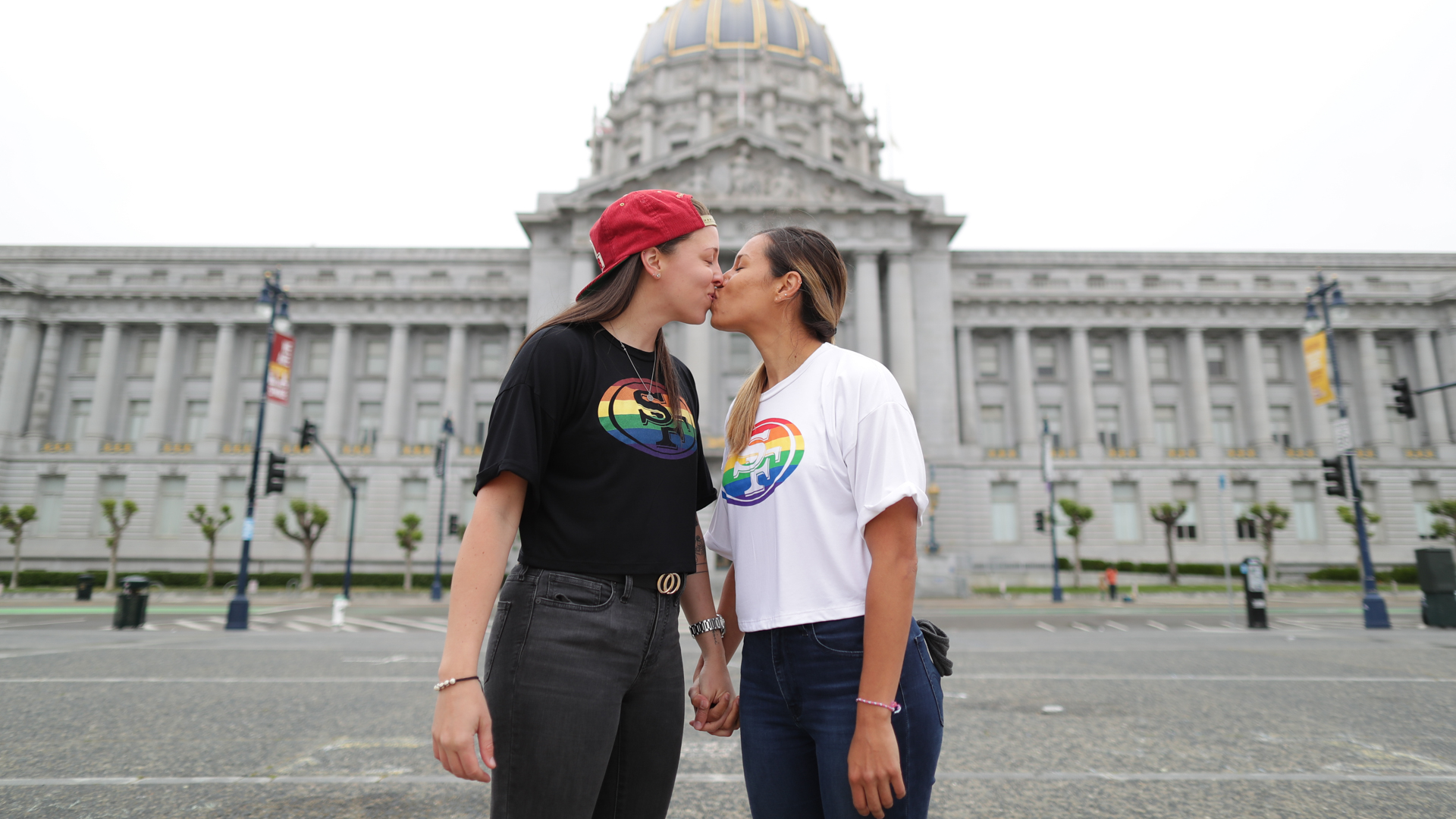 SANTA CLARA, CA. – The San Francisco 49ers have announced month-long plans for the organization's annual celebration of June LGBTQ+ Pride month. Led by 49ers PRIDE, the official fan club of 49ers Faithful who identify as LGBTQ+ and allies, the 2021 celebration will be highlighted by the 2021 49ers PRIDE Collection.
Every fan can feel seen
The San Francisco 49ers call their new retail line of rainbow-logo'd tops, tees and jackets "genderless." We think you'll call them cool- two years after the San Francisco 49ers led the NFL with the first official community for LGBTQ fans and allies, back in May 2019, the team hopes to score another win for its diverse fanbase Thursday with a new retail line that isn't limited by binary gender styles.
The new array of team-branded and Pride-themed clothing is the league's first and only "genderless" collection, according to a news release from the Niners. The threads are by Fanatics and the team promises 100% of the proceeds from this collection will benefit the San Francisco LGBT Center, the Oakland LGBT Center and The LGBTQ Youth Space: San Jose.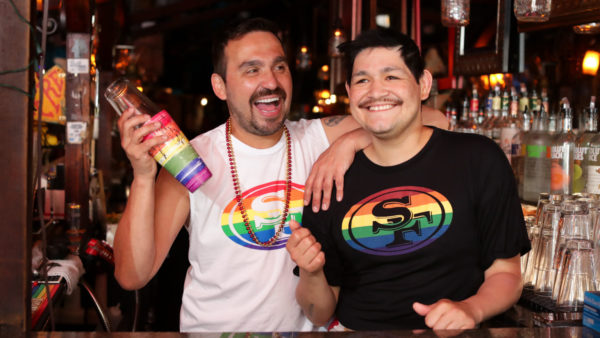 "Supporting the LGBTQ+ community in sports is a priority for the 49ers organization because sport has not always been inviting," the 49ers' Hannah Gordon told the Los Angeles Blade. Gordon is entering her tenth season with the 49ers and third as chief administrative officer and general counsel.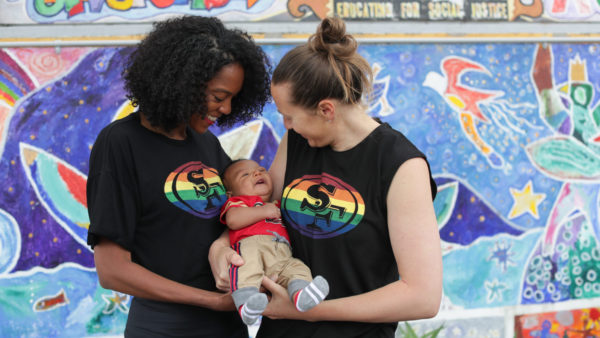 "We created 49ers PRIDE to make space for all of our LGBTQ+ fans and allies and it quickly became an incredible community. This year, we designed the first genderless retail line by an NFL team because we don't want there to be 49ers fan who wants gear but doesn't feel seen. If you want to support the Niners, we have something for you."
There will still be items available that fans who prefer a feminine cut can purchase at the team's online store, but the 2021 Pride collection is specifically geared toward Niners fans who aren't interested in reinforcing gender stereotypes when they support their team and fly their Pride colors.
"With this line, we have pieces that were designed so that however you identify, you can find a fit and any two people can express different styles with the same piece," said Gordon. "I love seeing how our fans wear these pieces and express their style. Doing it your own way is faithful to the Bay."
Click here to view the collection and find out more about 49ers Pride.
Pro rugby player comes out
Devin Ibañez played with New England Free Jacks pre-pandemic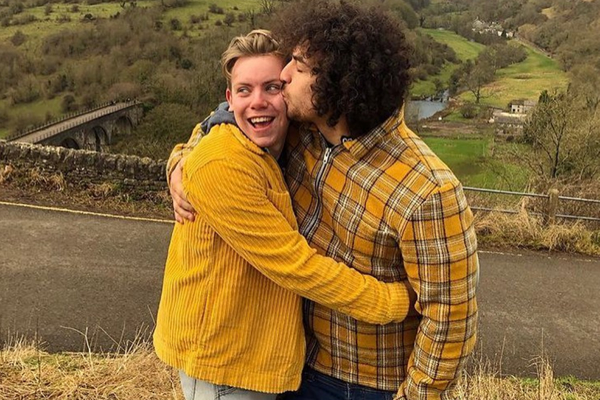 Major League Rugby player Devin Ibañez came out as a gay man on his social media platforms on Tuesday. Sharing pictures of embracing and kissing his partner Fergus Wade, the former New England Free Jacks athlete stated, "as of now I am the only openly gay rugby player to earn a contract with an MLR side. I hope that I will meet others like myself playing a high level of rugby and hoping to inspire the next generation of proud LGBTQ rugby players. So I will proudly call myself 'that gay rugger' in hopes that one day it won't sound strange in men's rugby"
Ibañez shares on his new Instagram account @thatgayrugger, "as 2020 comes to a close I took the time to reflect on my life and what aspects I could control and make positive changes to that would impact my day to day life and happiness."
He continues, "I want to start 2021 by celebrating the love of my life and my partner @ferguswade who has been with me through the highs and the (very) lows of the last three years."