Who gives a Puck?
'Must-read' blog more than just hot, shirtless NHL players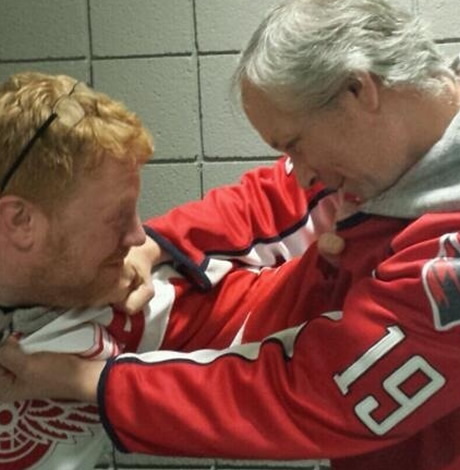 By DOUG JOHNSON & CRAIG BROWNSTEIN
If hockey is a sport of improbabilities – of athletes the size of moose who skate like Johnny Weir and fight like Mike Tyson – then PuckBuddys may well be one of the most improbable sports blogs yet.
Born from an off-color joke (just read the name out loud), we launched PuckBuddys five years ago with the modest goals posting pictures of hot shirtless NHL players, of which there are many, and making cheeky jokes.
To our surprise, our unorthodox hockey blog was welcomed almost immediately by the entire D.C. hockey scene. Somehow we filled a need that nobody really even considered before. With time – and a healthy dollop of sass – PuckBuddys quickly became, as Washington Capitals owner Ted Leonsis called us, "a must read."
And while shirtless hockey players will always have a home on our site, in time the hot-guy gag grew tired.
We wanted to know just how many others like us were out there – in Washington and elsewhere. How many gay players, hit with a locker-room's casual homophobia, are shoved a little deeper in their closet? How many fans in the stands are afraid to show a moment of affection after a game-winning goal?
And then we asked, improbably, could PuckBuddys become a home for them? Maybe even move the meter slightly?
Starting with the 2011-2012 season, we recruited contributors in every city with an NHL team. Being LGBT wasn't a requirement; being accepting was. Our contributors were covering all but two NHL teams, and we were getting credentialed by the NHL to cover the biggest events on the calendar. It was clear for all who would see: LGBT fans were everywhere, and they loved hockey.
Players were everywhere, too, although they were much harder to see. To date, there has never been an openly gay man playing in a North American professional hockey league – even though by our count there have been four women.
But there are LGBT players at every level out there. We know because they began to find us.  And, perhaps most memorably in the case of "Zach," they wanted to be seen and heard.
"Zach," a nom-de-rink, was a talented, closeted high school player from a conservative Midwest family. In a five-part series of interviews, Zach shared his experiences growing up in hockey, being gay — and his struggle to reconcile the two.
In the process, "Zach" came out as Nick Kleidon; he came out to his team, his family and the world. In telling his story, he not only opened up to us but provided a role model for others who were motivated to do the same. We know, because we've heard their stories, too.
When you play hockey, you learn pretty quickly that everyone plays injured. Cut on your cheek? Get a towel. Puck to the mouth? Back out on the ice. Broken leg? Drag yourself in front of the net to stop a goal if you have to. Why? Because perhaps more than any other major sport, hockey means team. You play for the rest of your squad, and they play for you, whatever the team needs and pain be damned. They call it "hockey tough."
Yet as PuckBuddys' contributor Jason Rogers recently wrote, there are all kinds of injuries in life, and most don't involve sutures. A hockey player knows hurt, and a team knows how to fight it together. A former college hockey player, who also happens to be straight, put it this way: "Hockey's a game of misfits, on both sides of the glass," he told us. "Of course you were welcomed. It's not a surprise in the least."
And improbable as it first seemed, maybe that's why PuckBuddys – and all LGBT NHL fans – have been welcomed with near-universal embrace. Player or fan, straight or gay, we're just another member of the bigger hockey family, each of us wounded in some way, knowing that the best way through is together.
Well, that and the sass.
Doug Johnson is a professional journalist and Capitals fan, although he will never root against his Detroit Red Wings. Craig Brownstein works in public relations in D.C. Together, they run the PuckBuddys blog, described by the New York Times as 'an important trailblazer in the game's cybersphere.'
A second Trump administration would be disastrous for LGBTQ people
We cannot afford to go backward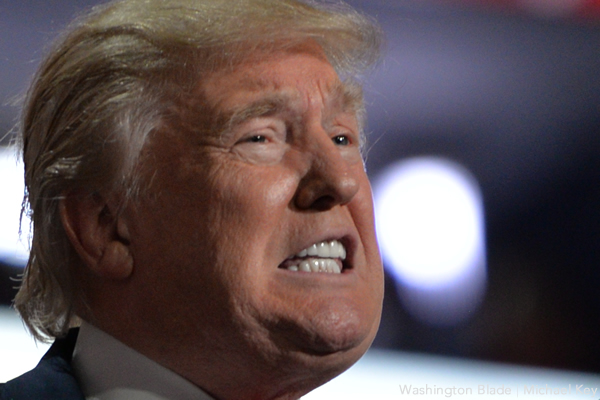 The morning after the 2016 presidential election, GLAAD's leadership team gathered in my office to assess the results of the night before and begin to process the reality that Donald J. Trump would be America's next president. Though emotions were running high, we quickly agreed that the LGBTQ community would be in grave danger for the next four years, and that GLAAD must pivot its priorities and its resources to react and respond to the new administration.
Trump had spent the better part of his campaign having it both ways. He professed to be a friend of our community to the point of literally wrapping himself in the Pride flag at an event, while surrounding himself with some of the most virulent anti-LGBTQ activists and politicians of our era — led by the incoming Vice President Mike Pence. The message was clear — LGBTQ people and our hard won progress would be in the Trump administration crosshairs at every level and in every way possible.
Our charge was not an easy one. The cable news cycle was well into its around-the-clock, obsessive, and incessant 24-hour coverage of Trump and his followers, so we couldn't depend on them to research, dig up and bring to light the nefarious actions that were inevitable. On top of that, we would need to ensure that the LGBTQ community was on high alert and that we were ready to fight back with every weapon in our movement's arsenal.
So on that morning of Nov. 9, 2016, GLAAD's Trump Accountability Project was conceived and launched. For the next four years, we tracked more than 200 attacks in policy and rhetoric coming from the Trump administration. Some of the most egregious include the complete removal of all LGBTQ references from the White House web site on the day of his inauguration; the shameful ban of qualified transgender Americans from military service; the support for businesses to legally discriminate sanctioned by the Justice Department and argued before the U.S. Supreme Court; removal of LGBTQ identifiers from the 2020 U.S. Census; the stripping of protections for transgender people in schools and in healthcare; and a slew of extreme judicial nominees to the federal bench whose anti-LGBTQ views will have a decades-long impact. The list is extensive, and it is sobering now, even in retrospect.
I invite you to fast forward five years and juxtapose that record against that of President Joe Biden as he crosses the one-year mark of his presidency. Just as we did with Donald Trump, it was important for GLAAD to track the actions of President Biden in order to hold him and his administration accountable for delivering on the campaign promises he made to the LGBTQ community.
The results are undeniable and unparalleled by any president in the history of this country. In his first 365 days in office, GLAAD's Biden Accountability Tracker has just documented its 100th item in a quickly growing list of appointments, policies, and statements that advance equality.
These include:
Nominating the first out lesbians to the federal bench — Alison Nathan, Beth Robinson and Charlotte Sweeney — among a record 40 first-year judicial confirmations.
Nominating the first out Cabinet member confirmed by the Senate, Transportation Secretary Pete Buttigieg; first out transgender person confirmed as Assistant Secretary for Health and first female four-star admiral of the U.S. Public Health Service Commissioned Corps, Dr. Rachel Levine.
Issuing the first U.S. passport with a gender-neutral 'X' marker, an option offered to all routine passport applicants in early 2022.
Reinstating of transgender military personnel, as well as expanding coverage for transgender vets' healthcare.
Reversing rollbacks and expanding protections against discrimination based on sexual orientation and gender identity in healthcare, adoption services, and employment.
In a single year, with so many competing priorities, President Biden and his administration have opened doors for LGBTQ Americans and demonstrated unprecedented commitment to ending discrimination and pushing toward full equality in every area of society. Indeed, it's a 180 degree turnaround from the previous administration's attacks on LGBTQ Americans.
There's a good deal of speculation that Donald Trump may once again run for president, and one thing could not be clearer — a second Trump Administration would be disastrous for LGBTQ people. We cannot afford to go backward. Democracy is on the line. Our equality is on the line. And it's not hyperbole to say — our lives are on the line.
This is not a partisan political fight. It's an American imperative. LGBTQ and our allies must not be complacent in 2022. Our work to ensure pro-equality leaders are elected to office — and remain in office — begins now. We cannot skip the midterm elections. We cannot stop paying attention and holding our elected leaders and candidates accountable.
We learned in 2016 and for four years afterward that the train of progress can be reversed, and there are anti-LGBTQ extremists working day and night to do it again. The power is in our hands to not let that happen again.
Sarah Kate Ellis is the president and CEO of GLAAD.
10 ways to build back LGBTQ human infrastructure better
The Build Back Better Act will benefit the community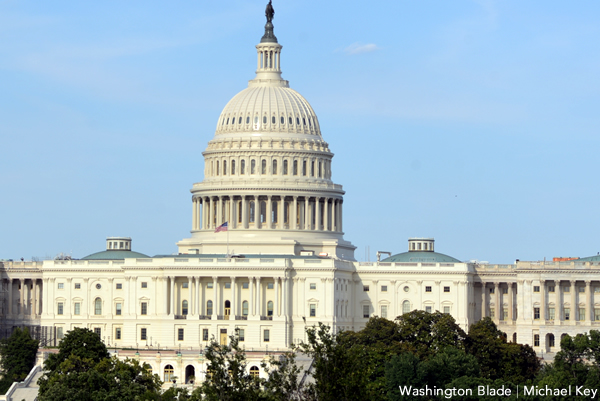 In 2021 the U.S. House of Representatives passed a $1.75 trillion human infrastructure bill — the Build Back Better Act. It contains 10 concrete provisions that it will directly benefit the LGBTQ community. It awaits Senate approval to become law.
Most media reports covered the climate change and social safety net programs. LGBTQ people will undoubtedly benefit from clean air, water and reduced emissions. LGBTQ people of color or those with limited incomes will undoubtedly benefit from the expanded social safety net programs. But sometimes queers, lesbians, Asians, young people or immigrants are overlooked. Here are 10 ways that we benefit.
1. Retroactive benefits for same-sex couples married before 2010
Prior to the Supreme Court's decision in U.S. v. Windsor, the Defense of Marriage Act (DOMA) prohibited the IRS from recognizing same-sex marriages. Windsor changed that, but only for same-sex marriages after 2010. Couples who married before — some wed by then-San Francisco Mayor Gavin Newson, then-New Paltz (N.Y.) Mayor Jason West, or in Canada as far back as 2004 — could not claim federal benefits. The bill allows these couples to back-file claims for federal tax credits and refunds.
2. Queer Asian lesbians who tech
A disproportionate share of immigrant tech workers are lesbian/bi/trans women and/or Asian. The bill extends H-1B visas for these workers by recapturing unused, previously authorized, worker visas. Watch Jenny's video to learn more about LGBTQ Asian immigrant knowledge workers.
3. Enforcement of anti-LGBTQ employment discrimination
The National LGBTQ Task Force tells that nearly two-thirds of LGBTQ Americans report having experienced discrimination in their everyday lives. Last year, the Supreme Court held in Bostock v. Clayton County that the Civil Rights Act protected LGBTQ people from discrimination in employment. (See my amicus brief with TLDEF in that case.) But the Equal Employment Opportunity Commission which conducts investigations and enforcement lawsuits, badly defunded under Trump accrued a backlog of claims. LGBTQ people who lost their jobs are still waiting for their cases to be heard. The bill provides $321 million for the EEOC to resolve those cases.
4. College Financial Aid for Queer Students and DACA Young People
Two provisions will help more LGBTQ young people attend college. First is a $550 increase in the federal Pell Grant; second is the exclusion of Pell Grants as income for tax purposes. It's always been strange that the federal government gave out Pell Grants and then took some of it back through taxes. This exclusion increases the $550 even more.
In addition, undocumented LGBTQ young people, or Dreamers, who enrolled in the Deferred Action for Childhood Arrivals (DACA) program could attend college but were denied federal financial aid. The bill allows them to apply for aid, including Pell Grants and subsidized student loans.
5. Preventing LGBTQ youth suicide, community violence and trauma
The Trevor Project has long shown that LGBTQ youth face the highest rates of suicide. The bill provides $75 million in funding to support the 24/7 National Suicide Prevention Lifeline and its network of crisis centers. It also provides $2.5 billion to support programs to reduce community violence and trauma.
6. Fighting HIV/AIDS
Countless men who have sex with men have died from AIDS. African American, Latino and older gay and bisexual men have the highest rates of HIV disease. APICHA and APAIT remind us that Asian and Pacific Islanders have the highest rates of new infections. The bill provides $75 million to support the Ryan White HIV/AIDS program to provide primary care, support services, and medications to communities disproportionally affected by HIV/AIDS.
7. Supporting LGBTQ families with children
An estimated 3 million LGBTQ Americans are raising or had a child. Family Equality found that 63 percent of LGBTQ millennials have or are planning to have children. The Child Tax Credit, oft regarded as a program to lift low-income families out of poverty, will also help LGBTQ families with a tax credit of $3,000 per child, or $3,600 for children under age six.
8. Protecting vulnerable LGBTQ elders
As more and more LGBTQ age, some have limited support. SAGE reports that many LGBTQ elders lack children or caregivers to look out for their needs. The bill reauthorizes funding for elder justice with programs and trainings to prevent and investigate abuse, neglect and exploitation, especially in nursing homes, as well as $74 million for resources that focus on elder community issues.
9. Protecting LGBTQ undocumented immigrants
There are a quarter million undocumented LGBTQ immigrants in the U.S. Immigration Equality fights hard for them but can't do it all. The bill allows undocumented immigrants to work, protects them from deportation and allows access to social safety net programs.
10. Reuniting LGBTQ immigrant families and workers
LGBTQ Immigrant families have been separated, sometimes for decades. LGBTQ relatives in Mexico, the Philippines, China, Vietnam and India have had to wait up to 19 years to be reunited with their loved ones in the U.S. The bill clears the 10-20 year visa backlog and allows legal immigrants already here to permanently live and work in the U.S. by recapturing 500,000 unused, previously authorized, green cards.
These 10 provisions in the Build Back Better Act can meaningfully improve the lives of so many everyday LGBTQ people.
The House bill now goes to the Senate. It will undergo several changes. Some, many, or even all of these LGBTQ-friendly provisions could be negotiated out. So TAKE ACTION and email your U.S. senator and tell them "I urge you to support the House's $1.75 trillion human infrastructure bill and its provisions that will benefit the LGBT community. Build back our nation's LGBT human infrastructure better!" Call upon our senators to act swiftly in 2022 to make all our lives better by passing the BBB Act and send it to the president's desk to be signed.
Glenn D. Magpantay, Esq., a long-time advocate for the LGBTQ, AAPI and immigrant communities, is the former executive director of NQAPIA. He is a civil rights attorney, and a professor of law and Asian American Studies. He has testified before Congress and authored reports for the congressional record. He is principal at Magpantay and Associates: a nonprofit consulting and legal services firm. 
Magpantay may be reached at [email protected]  or www.linkedin.com/in/glenn-d-magpantay-esq 
'Jilly's Tree' and the power of community
That little two-block stretch is quite a neighborhood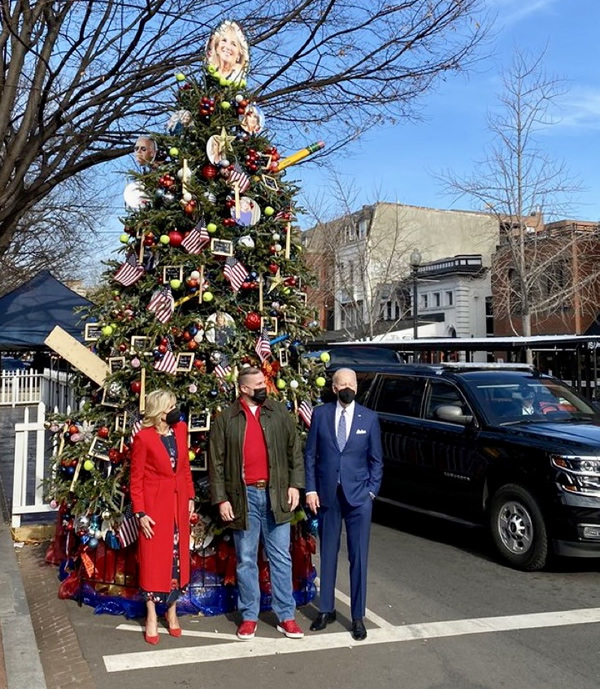 "Look at Jilly's tree!" That was what the president said to his wife on 17th Street on Christmas Eve.
And who could miss it? It stands close to 18-feet tall, almost in the middle of the street. A Frasier fir from the same nursery that supplies the White House itself. It's decked out in hundreds of blue and red lights, American flags, little pieces of educational ephemera — small chalkboards, rulers, a giant pencil — and, of course, dozens of photos of President Biden and his wife, Dr. Jill Biden.
And it was "Jilly's tree" after all. A tree not only dedicated to her, but to all American educators. And that's what President Biden called it, Jilly's Tree, when he and the first lady visited on Christmas Eve. Just past noon, after their unannounced visit to D.C.'s Children's National Hospital, the 40-some odd black automobiles that make up the presidential motorcade came roaring down New Hampshire, taking a left on Corcoran, a right on 17th then in a flash pulling up outside Floriana's, that well-known, well-liked Italian restaurant that has long been an anchor on 17th Street.
Dito Sevilla, the well-known barman at Floriana's, himself a mainstay of the strip, every year since 2012 he's erected a tree in honor of something held dear. In 2018 it honored Nancy Pelosi and all the then newly elected women members of Congress. Pelosi visited the tree on a Friday morning before Christmas. In 2020 it was dedicated to Kamala Harris, then the newly elected first woman vice president. She also came to visit. She got takeout, too. But the tree isn't always political in the strictest sense. In 2019 it was dedicated to Kennedy Center honorees, featuring a giant Big Bird on top.
And no one was really expecting the president to visit. The first lady, sure. That had been rumored for some time and the excitement surrounding that possibility was enough for anyone. But when he popped out of the presidential limousine he handed over this year's White House Christmas ornament. Dito asked if he would hang it on the tree himself. In a sort of avuncular response, Biden replied with a simple "yeah buddy," and placed the ornament among the little chalkboards. Those chalkboards featured the names of teachers across the country.
And in a sense of community, among the teachers featured was everyone from nearby Ross Elementary. After all, Ross Elementary is a model. And not just for education but a model of what the government can provide — a school, maybe a library, a post office, or a park. But the gay community on 17th Street shows indeed what a neighborhood can provide — the charity of Annie's, a Pride festival, a sense of belonging and an 18-foot evergreen that can draw even the president of the United States to our little one-way street of seemingly little importance.
At a glance it could be any street in Washington. But it's that little stretch of two blocks, from R to P, taking in Church and Corcoran streets, that proves the power of community. It was powerful enough to warrant a presidential visit on Christmas Eve. Think what else it could do. Or has done that we're not even in on.
It's now that time of year when discarded Christmas trees litter the sidewalks of the District. And Jilly's Tree will soon be gone, too. But folks are already wondering: What will be next year's theme? Dito is looking forward to honoring Michelle Obama's eight years as first lady. Will she visit, though?
I'd put money on it. 
Brock Thompson is a D.C.-based writer. He contributes regularly to the Blade.